Cool breezes, unparalleled views of the Taal Volcano, and mouth-watering foods are some of the best things that come to mind with every mention of Tagaytay City. Whether you're visiting for a quick escape from the metro or celebrating a special occasion with loved ones, Tagaytay is always a good idea. With that said, it never fails to be on top of every Pinoy's list for weekend getaway destinations!
Dining experiences in Tagaytay are unmatched, courtesy of the city's outstanding scenery and its abundant food options. From cafes and bars to street food kiosks and restaurants, there's just so much to check out on your visit to the south. But if you're specifically looking for the best food spots to dine with a view, look no further because we've got you covered! Here are some of the best overlooking restaurants in Tagaytay for your next road trip. 
Also read: When in Tagaytay: 10 Exciting Things to Do with Your Family 
Must-try overlooking restaurants in Tagaytay City
Filipino restaurants with scenic views of Taal Volcano
1. Balay Dako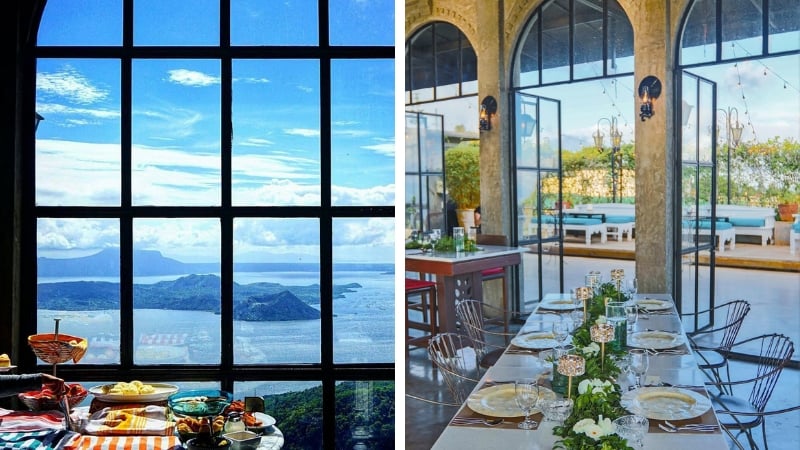 One of the most frequented restaurants in Tagaytay, Balay Dako proudly serves best-loved Filipino dishes like kare-kare and crispy pata. The restaurant's location allows for views of the beautiful Taal Lake that'll surely elevate your dining experience in the city.
Balay Dako hopes to take part in celebrating every customer's shared sense of family and heritage with each dish they serve. If you're in search of a restaurant that serves hearty meals that reminds you of home, then Balay Dako should be on your list! 
For more information, visit Balay Dako on Facebook, Instagram and their official website. 
2. Cecilia's All Day Breakfast and Restaurant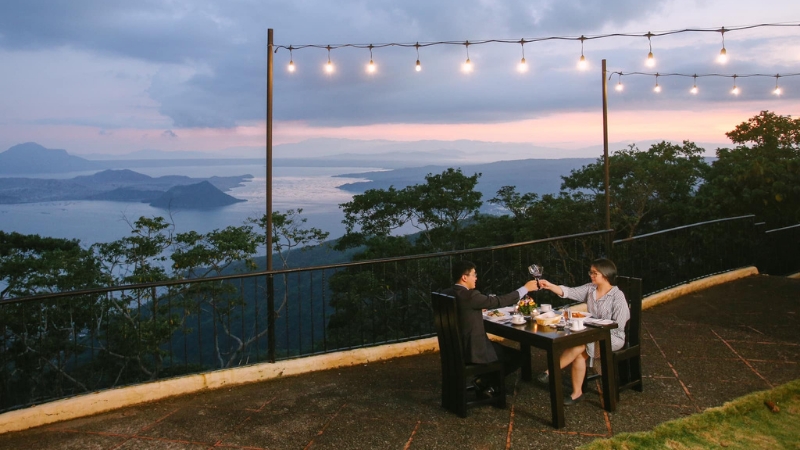 Besides giving you the best and clearest view of Tagaytay's stunning scenery, Cecilia's All Day Breakfast and Restaurant serves mouth-watering breakfast options for you and your family! Their extensive menu includes classic American breakfast foods like waffles and pancakes to Filipino hearty meals like tapsilog and sinigang.
Do you want to bring home a piece of Tagaytay to your loved ones? Drop by Cecilia's Buco Pie, Tarts, and Pasalubong, where you can get the best freshly baked buko pie in town! 
For more information, visit Cecilia's All Day Breakfast and Restaurant on Facebook. 
Also read: 10 Cosy Airbnbs in Tagaytay for Your Next Out-of-Town Trip

3. Leslie's Ridge & Restaurant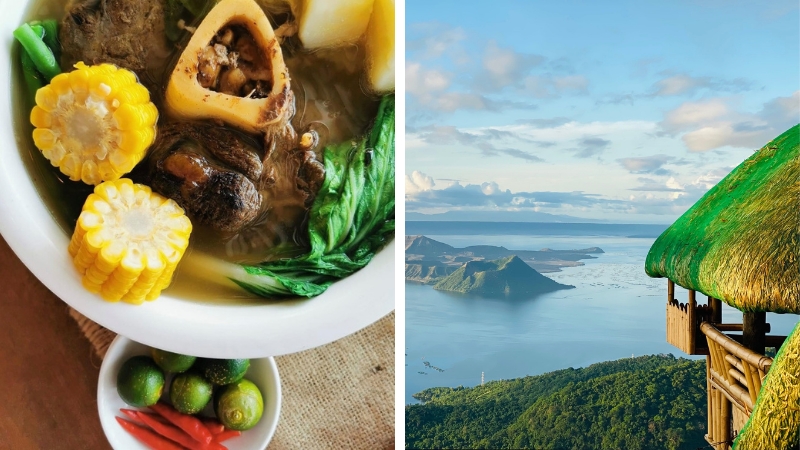 What once started as a small pasalubong shop in 1998 has flourished into one of Tagaytay's most favoured restaurants. Serving classic and authentic Filipino dishes and cold beverages, Leslie's Ridge & Restaurant is here to satisfy all of your Pinoy cravings — with a view! Popular picks among customers include their bulalo, lechon kawali, and sizzling sisig served with fresh buko juice. Choose to stay indoors or hangout by the kubo while indulging in delicious eats and treat yourself to unobstructed views of the Taal Volcano. 
It has long been a tradition for Filipinos to treat their friends and families to Leslie's Ridge & Restaurant. It is not just popular among travellers visiting the city, but to balikbayans and their foreigner friends as well. Truly, it's the go-to Filipino restaurant Pinoys keep coming back to! 
For more information, visit Leslie's Ridge & Restaurant on Facebook. 
4. Cabanas Dine and Bar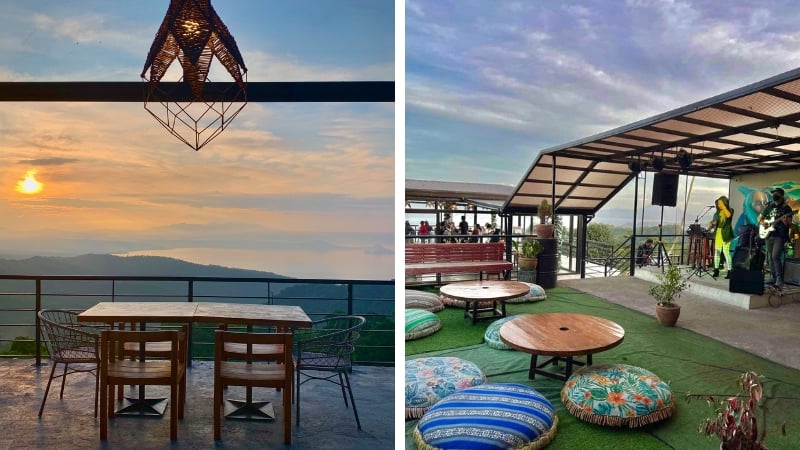 A memorable dining experience in Tagaytay calls for chill vibes and great music. Discover the city's best hangout spot, Cabanas Dine and Bar, when you're on a road trip to Tagaytay with friends. They're ready to impress you with their extensive menu of booze and pulutan, topped with a knock-out view of the majestic Taal Lake and its iconic volcano. Visiting town with your beloved fur buddies? This overlooking tavern provides a safe and pet-friendly space as well! 
For more information, visit Cabanas Dine and Bar on Facebook and Instagram. 
Also read: 10 Coffee Shops in Tagaytay for Your Next Road Trip

5. Josephine Restaurant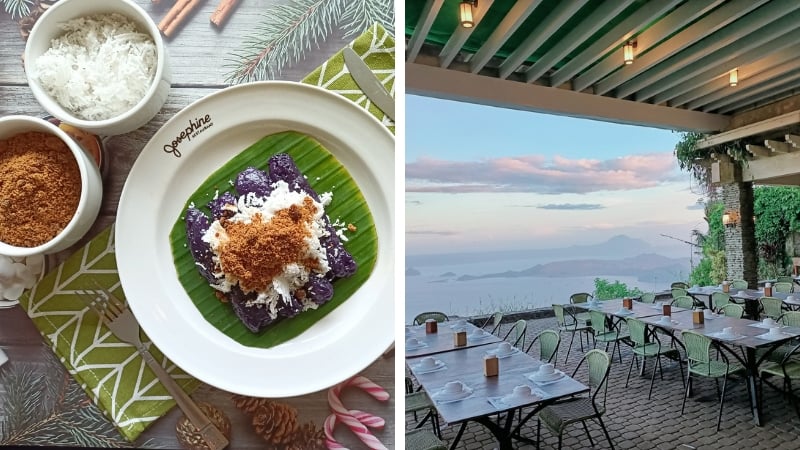 Another staple overlooking restaurant in Tagaytay is Josephine Restaurant, dubbed the "home of Filipino cuisine." While they're more known for their buffet, a la carte meals are available for you as well. They serve your favourite traditional lutong-bahay style dishes like kare-kare, chicken adobo, sinigang na baboy, and beef kaldereta, among others. Their native delicacies such as sapin-sapin and puto bumbong are must-try menu items, too! 
Josephine Restaurant doubles as a great events place given its beautiful view of Taal Lake.  Oftentimes, you'll spot big groups of families celebrating special occasions like birthdays, anniversaries, and weddings here. That being said, it's easily one of the most revisited overlooking restaurants in Tagaytay! 
For more information, visit Josephine Restaurant on Facebook and Instagram. 
6. Sol Victoria's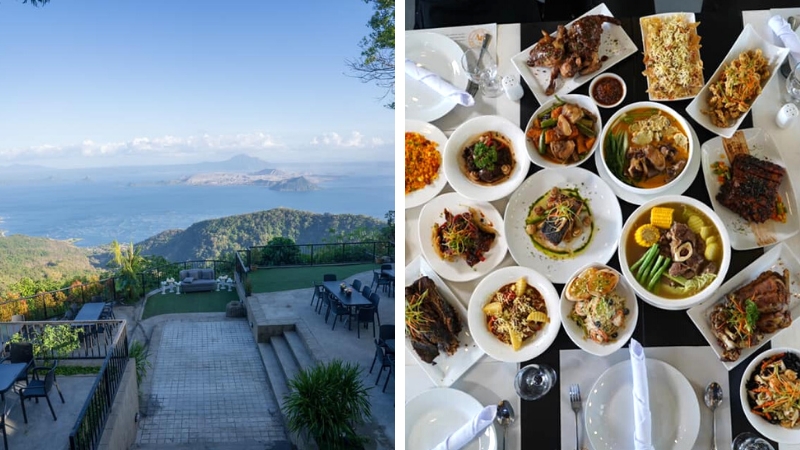 One of the best places to eat bulalo and sisig with a view is at Sol Victoria's. Here, al fresco dining has never been better given the restaurant's eye-catching backdrop, perfect for photo ops! To keep you warm, we suggest having the restaurant's speciality soup, Mutya ng Cavite, a rich and creamy soup prepared with fresh seafood. But besides that, be sure to save room for dessert and treat yourself to Filipino delicacies like bibingka and puto bumbong!
For more information, visit Sol Victoria's on Facebook.

Overlooking restaurants in Tagaytay that serve other Asian cuisines
7. The Teahouse at Qi Wellness Living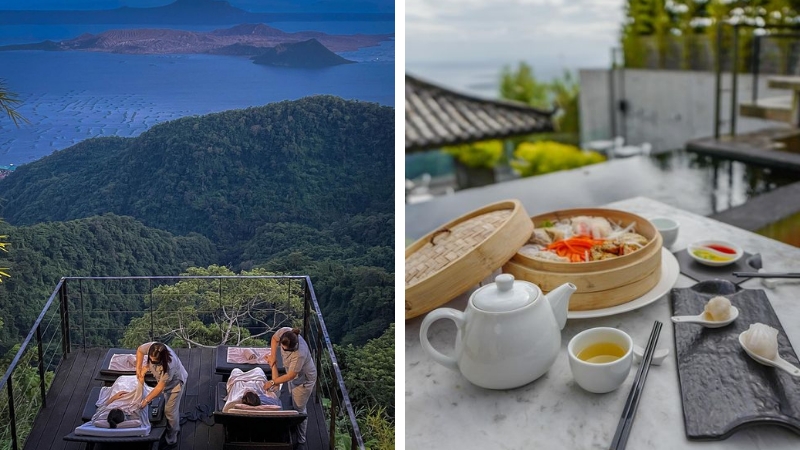 Hoping to get some sense of peace and tranquillity amidst Tagaytay's buzz? Escape to The Teahouse at Qi Wellness Living, a hidden gem nestled in this city that never sleeps. Qi Wellness Living is neither a hotel nor a resort, but it takes great pride in providing restorative healing and relaxation. Here, you can find sleek modern guest homes, bath houses, and a charming teahouse ready to serve you an authentic Chinese dining experience. 
Although not exactly a restaurant, The Teahouse offers multi-course and ala carte menus made with seasonal ingredients and modern culinary techniques. Some top picks include traditional dim sum treats paired with a warm herbal tea of your choice. Of course, its strategic location treats you to the majestic scenery of Tagaytay! 
For more information, visit Qi Wellness Living on Facebook, Instagram, and their official website.

Also read: Overlooking Restaurants and Cafés Near Manila? These Ones Aren't in Antipolo
8. Aozora Japanese Cafe and Bistro
Indeed, you can never go wrong with authentic Japanese cuisine! Most overlooking restaurants in Tagaytay usually offer popular Filipino foods and delicacies; but if you're on the lookout for something different during your visit, Aozora Japanese Restaurant might be the breath of fresh air you need!
Their menu consists of authentic ramen noodles, rice bowls, maki sushi, and grilled dishes among others. Additionally, they have been awarded the Traveller's Choice Award, which makes them the top pick for Japanese restaurants in town! 
For more information, visit Aozora Japanese Restaurant on Facebook and Instagram.

Also read: 15 Antipolo Overlooking Spots to Visit Right Now

9. Mr. Kimchi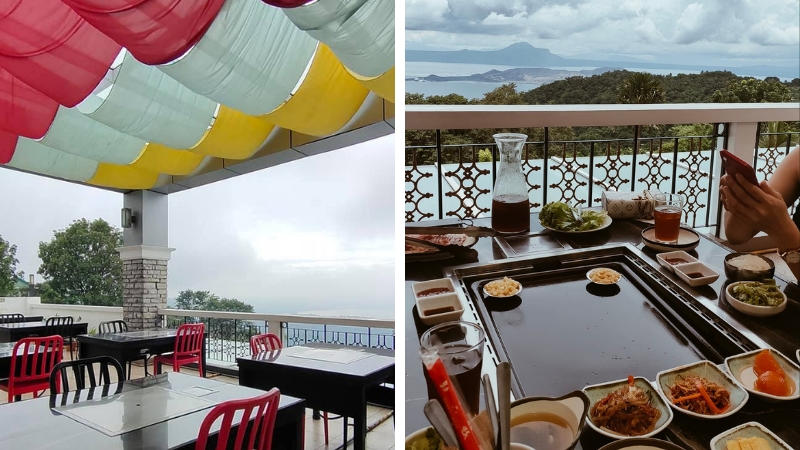 Korean barbecue restaurants have become a crowd favourite among Pinoys, and so has Mr. Kimchi in Tagaytay! The act of gathering around the table to cook a meal together with your friends and family is a great way to elevate the dining experience. Additionally, Mr. Kimchi's fantastic overlooking view adds to the restaurant's relaxed ambience.
Craving some samgyupsal during your trip out of town? Mr. Kimchi has got you covered with eat-all-you-can pork belly and unlimited traditional Korean side dishes! 
For more information, visit Mr. Kimchi Tagaytay on Facebook.  
10. Lime and Basil Thai Restaurant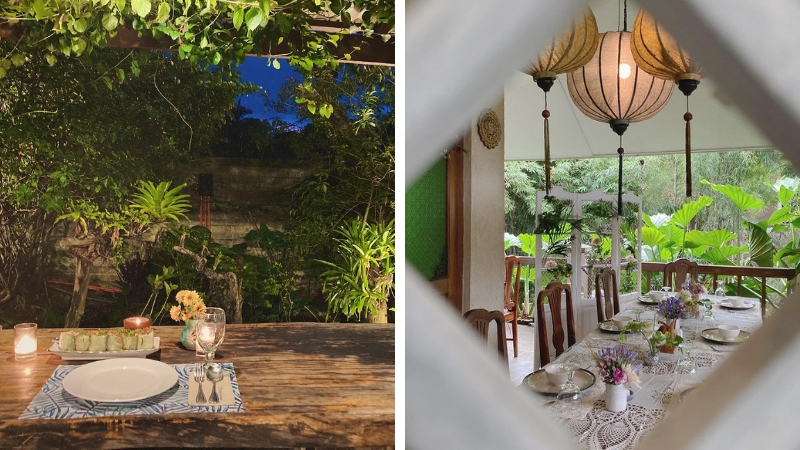 Tagaytay City is home to must-try overlooking restaurants with great views, and this next one on our list is undoubtedly one of them! Lime and Basil Thai Restaurant offers the perfect venue for a garden themed brunch or date with your loved one. This garden cafe offers a hearty and healthy Thai menu which comprises all day breakfast options, savoury starters, and traditional noodles.
It stands out among other garden cafes in town with their exclusive all day breakfast options and classic Thai dishes. Indulge in mouth-watering eats like pad thai, tom yum, and fresh spring rolls best paired with hot Thai tea or coffee! 
For more information, visit Lime and Basil Thai Restaurant on Facebook, Instagram, and their official website. 
Also read: Top 10 Things to Do in Tagaytay for a Great Weekend Escape
Already eyeing the first restaurant stop for your next quick weekend road trip? Or maybe you have a few go-to overlooking restaurants in Tagaytay that we haven't mentioned yet. We would love to see your food trip adventures in one of the best-loved holiday towns in the country! Be sure to share your stories with us on our official Facebook page.