When it was made clear that Rizal province and dining with a view make one heck of a combination, it's barely possible to visit the province without stopping by Antipolo cafes near Manila. Even more fascinating is that they offer amazing panoramas of the metropolitan centre of the Philippines, not just the fact that they're easy to travel to.
While establishments like Tahanang Bistro and Kaulayaw Cafe have stuck around, it's never a bad idea to explore more of these overlooking restaurants or cafes near Manila that aren't as popular. To enjoy one of the most beautiful Philippine cities day and night, consider the following lesser-known destinations. Like those cafes in Antipolo, they're but a quick drive or commute from the National Capital Region.
Also read: The Most Instagram-Worthy Cafes in Metro Manila
Restaurants or cafes near Manila with amazing views of the Philippine capital
1. ArtSector Gallery & Chimney Cafe 360º
As its name suggests, this cafe in Binangonan, Rizal is known for its panoramic sight of Metro Manila from over 20 kilometres. Considering this distance, you can enjoy stunning attractions near Manila like Laguna Lake, Sierra Madre Mountains, and Pililla Windmills from more or less a single point of view. Not bad for a budget-friendly Rizal itinerary!
ArtSector Gallery & Chimney Cafe 360º was designed by Antonio "Tony" Leaños, the same architect behind Pinto Art Museum's Mediterranean-inspired facade. Embodying that same aesthetic, this overlooking cafe, which mainly serves as an events place, presents countless photo opportunities in and out of the main building.
As for its menu, ArtSector Gallery & Chimney Cafe 360º serves coffee from an affordable ₱99, tea from ₱79, and cocktails from ₱159. Their food differs from time to time (often every month), but among their more interesting offerings include a Hawaiian empanada, sugar-free apple pie, and pizza Margherita, which are perfect for small gatherings.
Address: Lot 18 Block 178 Eastridge Executive Village, Col. Guido Road, Tayuman, Binangonan, Rizal
2. The Nest Dining in The Sky
Technically, we know that Muntinlupa is in Metro Manila, despite being significantly closer to Laguna. But it's also this distance that makes it a treasure trove of hidden spots, such as those that let you marvel at the cityscape while enjoying luxurious noshes. Something that's very much accessible at The Nest Dining in The Sky.
Towering over Filinvest City, The Nest Dining in The Sky (or simply The Nest) boasts an outdoor terrace all the way from the 31st floor of Vivere Hotel. You can come as early as dawn until the late hours of the evening, and we highly recommend that you make reservations in advance to avail your preferred table — before everyone else does!
Because it's open most hours of the day, The Nest lets you choose the kind of ambience you want for dining above the ground. Will it be in the morning where the views are more likely to be serene? Or in the evening when it's vibrant and romantic? That, combined with its selection of international cuisine and comfort drinks, makes it one of the best overlooking cafes near Manila, or the heart of it at least.
Address: 31st Floor, Vivere Hotel, 5102 Bridgeway Avenue, Filinvest City, Alabang, Muntinlupa
3. Silayan Dining Room
Normally, one would go to Masungi Georeserve to escape the hustle and bustle of the city. But after it opened its own restaurant, Silayan Dining Room, which doubles as one of those underrated overlooking cafes near Manila, exceptions have been made. Up to a certain point, it lets you enjoy the metropolitan from a different perspective which makes it well worth the visit.
Silayan is housed in a glass hut whose main features include a Filipino-made roof built from cogon and other highlights inspired by its surroundings. Perched atop a gorgeous hill in Masungi Georeserve's multi-purpose zones in Baras, it gives you a sprawling 360-degree view of the Metro Manila skyline, Laguna de Bay, and the Susong Dalaga Mountains.
Silayan already prides itself on sumptuous culinary offerings rooted in Rizal's agricultural landscape. But what will spice up your visit here is dining in its alfresco area during sunset, where you can make the most of the fresh air and, of course, the views of Manila from several kilometres away. And if you were itching to know, yes, its name comes from the Tagalog translation of "to glimpse", or silayan. Quite a fitting name!
Address: Masungi Georeserve, Kilometer 47, Marcos Highway, Baras, Rizal

4. Coffee Rush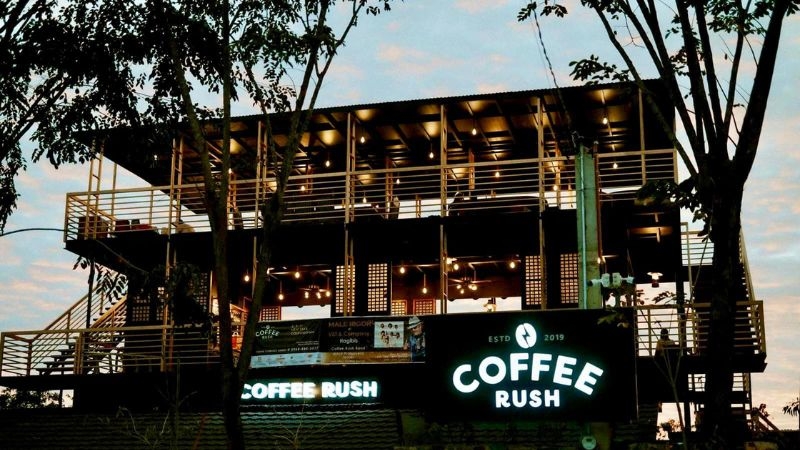 Serving up fresh brews and cold booze, Coffee Rush, nestled atop the mountainous province of Rizal, provides a dining experience like no other. If you're looking for cafes near Manila that offer great eats and stunning views, then you can miss this. What's more, it frequently holds music nights and jamming sessions which add to the overall ambience of the place.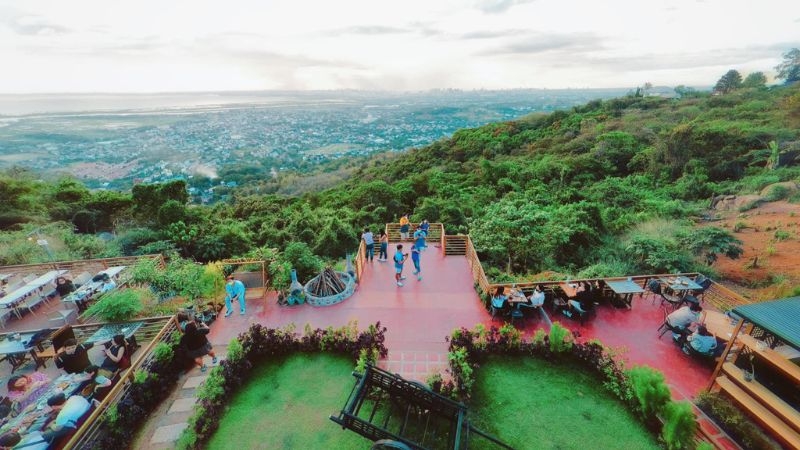 As for its menu, you can sip on classics like cafe Americano and caramel macchiato, or opt for signature drinks like coconut latte and popcorn latte. Feeling a bit famished? They also have an all-day breakfast menu comprising Pinoy classic dishes like beef tapa and daing na bangus. And when evening rolls in, enjoy local beers, cocktails, and wine with your friends and family. Enjoy all of these while witnessing the sun sink into the horizon! 
Address: Coffee Rush Eastridge, Eastridge Executive Village Binangonan, Philippines
5. Cafe Katerina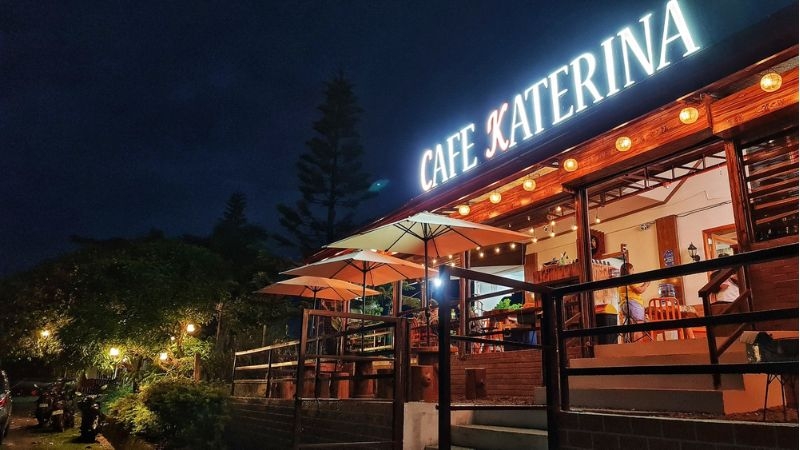 For your Filipino food cravings, step into Cafe Katerina tucked away in Tanay, Rizal. Here, you can enjoy your favourite lutong-bahay dishes like bulalo, pakbet, and pansit canton. Apart from offering a sumptuous menu, its location treats you to views of the Sierra Madre mountain range. Additionally, customers can enjoy the cool breeze which gives off that best-loved Tagaytay feels.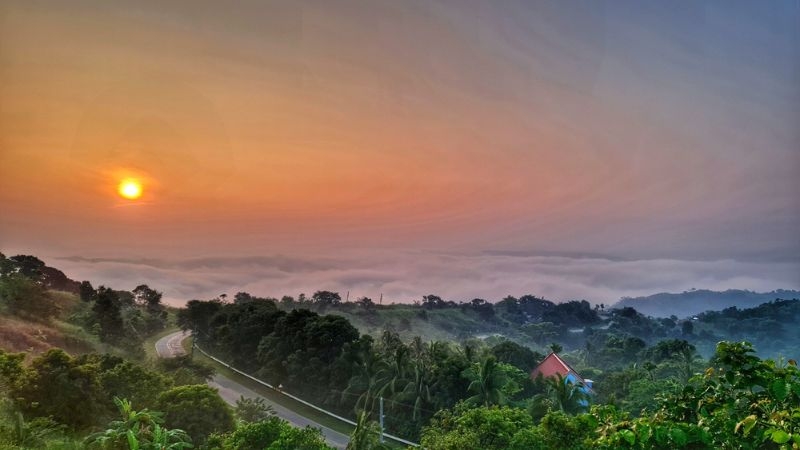 Note: As it is one of the most popular cafe-and-restos in Rizal, it is often jam-packed with customers during peak hours.

Address: 1980 Tanay, Rizal, Philippines
Also read: 15 Antipolo Overlooking Spots to Visit Right Now 
6. Kape Natividad Roastery and Cafe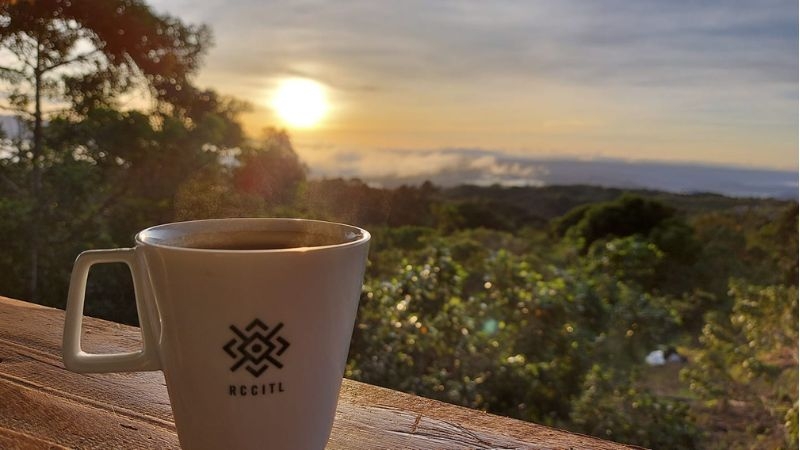 Ever wondered what it's like to dine in a sea of clouds? At Kape Natividad Roastery and Cafe, you'll get to experience just that! This homegrown cafe in Tanay, Rizal serves up affordable, mouth-watering eats and offers beautiful mountain views. It's often frequented for its espresso-based coffee creations and pugon-baked pizzas. For a quick escape from the metro, head to this quaint haven, take time off to relax, and simply chill out.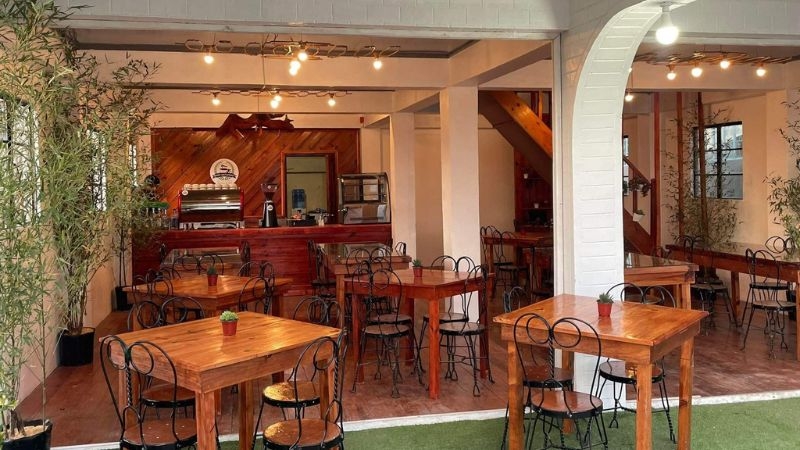 Address: Marilaque Highway, Sitio Mayagay 1, Tanay, Philippines

Also read: 10 Best Mountain Cafes in the Philippines for Your Peak Coffee Experience 

7. Tukadon Biker's Cafe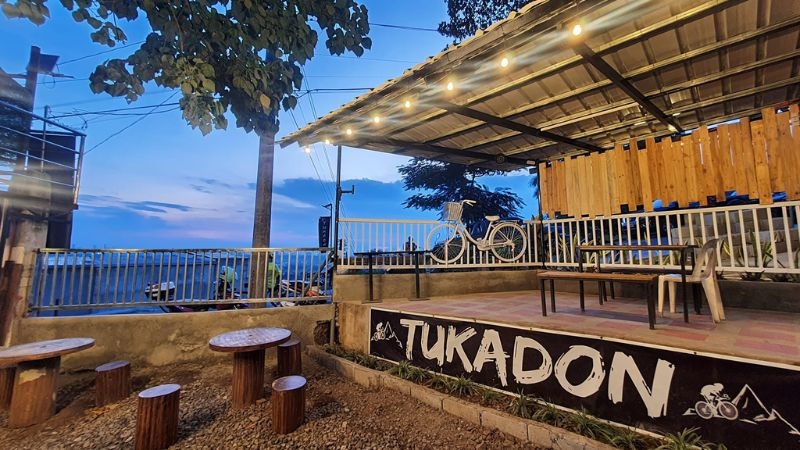 It's no secret that curbside cafes have been sprawling all over the country. Tukadon Biker's Cafe is every cyclist and biker's nook for a quick coffee break. In fact, it remains to be one of the top cafes near Manila. Perched in San Mateo, Rizal, this cafe certainly has a strategic location. Here, passersby can indulge in hearty meals, breakfast staples, snacks, coffees, and ice-cold beers. Ultimately, it offers the perfect place to rest your tired body and mind, especially after long hours of travelling on two wheels.

Address: Old Lot 76-D & 5 New Lot 76 Block 1 Mountain View Drive Monterey Hill Subd. Silangan San Mateo Rizal 
Also read: This Biker Cafe in Marikina is A Must-Visit for Cyclists 
8. Hidden Peak Restaurant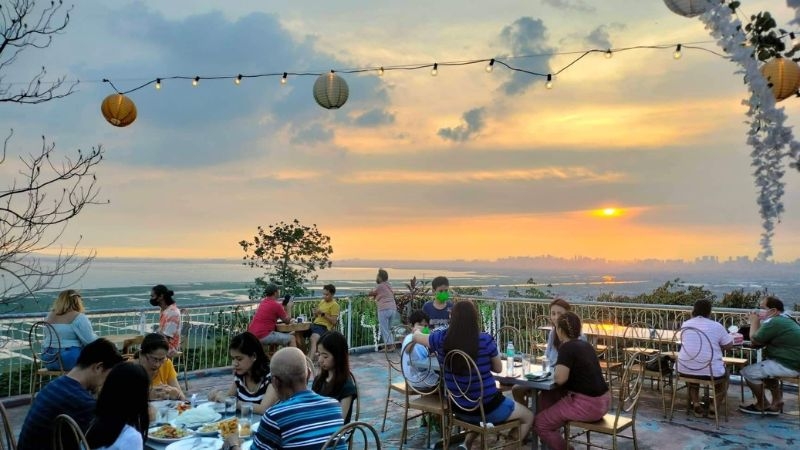 Undoubtedly, the town of Bingangonan, Rizal is another alternative destination where you can admire the panoramic sights of Manila. This hilly enclave also offers excellent foodie spots for weekend road-trippers and riders — one of them being Hidden Peak Restaurant. Here, you can take your pick among freshly cooked seafood, classic Filipino dishes, and other crowd-fave international cuisines. Got a special occasion coming up? Its rooftop area can make your celebration extra special with unlimited views of Laguna de Bay.

Address: Hidden Peak, San Carlos Heights Subdivision, Binangonan, Philippines
Also read: Top 10 Mountains in The Philippines with The Most Incredible Views
With the word out about these overlooking cafes near Manila (that aren't in Antipolo, for a change), it's about time you expand your horizons when dining away from the city. More than their top-notch views and menu, they offer clean, properly ventilated, and above all, social distancing-friendly spaces — a must for quick and safe getaways from the bustling metropolis that is Metro Manila.
---
Facebook image credit: Silayan | Official Facebook Page