Among all the neighbouring weekend destinations, Antipolo is oftentimes the top choice for its proximity and accessibility to Metro Manila. Truth be told, an Antipolo day tour has everything you're looking for — as far as escaping from the hustle and bustle of the metro is concerned. With its scenic mountain views, (usually) cold fresh air, and the comfort of provincial life, how can you say no? But more than these, Antipolo's burgeoning art scene, exciting restaurant roster, and nature-centric hideouts are what will keep you coming back for more. 
Read on to find out what to do during your next Antipolo day tour! 
8.00 to 9.10am: Kickstart your morning at Burrow Café
Top of the morning to ya! Best to head up early enough and avoid the crazy traffic. And it's a good thing that Burrow Café at Antipolo Beehouse opens as early as 8am. Housed in a 'rabbit hole' adjacent to a creative space and nature reserve, you'll find lush greenery everywhere you look. Nothing like starting your Antipolo day tour right with a scrumptious breakfast in a serene, relaxing environment, yes?
Once inside, the place will make you feel right at home with its rustic décor, while the floor-to-ceiling windows offer a forest view as you savour your breakfast. Given its limited seating capacity, it guarantees a cosy and intimate atmosphere. Though, this is also why reserving ahead is recommended, especially on weekends! 
This all-day breakfast and brunch café is known for serving hearty meals and decadent desserts, as well as speciality coffee that's perfect for your much-needed caffeine kick! TBH, we don't know which is the best part: the reasonably sulit price range (the rice bowls, most especially!) or the Instagram-ready plates. Our top recommendations would be their Eggs Benedict, Smoked Salmon & Bacon, Tender Beef Tapa, and Lechon & Gising-Gising Rice Bowl. 
Note: Despite the full name of the place, Burrow Café is technically in the municipality of Taytay and not Antipolo City. However, it's quite close to the border of the latter!
Address: #113 Beverly Hills Avenue, Beverly Hills Subdivision, Taytay
Opening hours: Wednesday to Friday, 8am to 4pm; Saturday to Sunday, 8am to 5pm
Price range: Approx. ₱1200 for two people
Also read: 8 Airbnbs in Antipolo for Your Next Stargazing Trip
9.20 to 10am: Commune with nature at Hinulugang Taktak Falls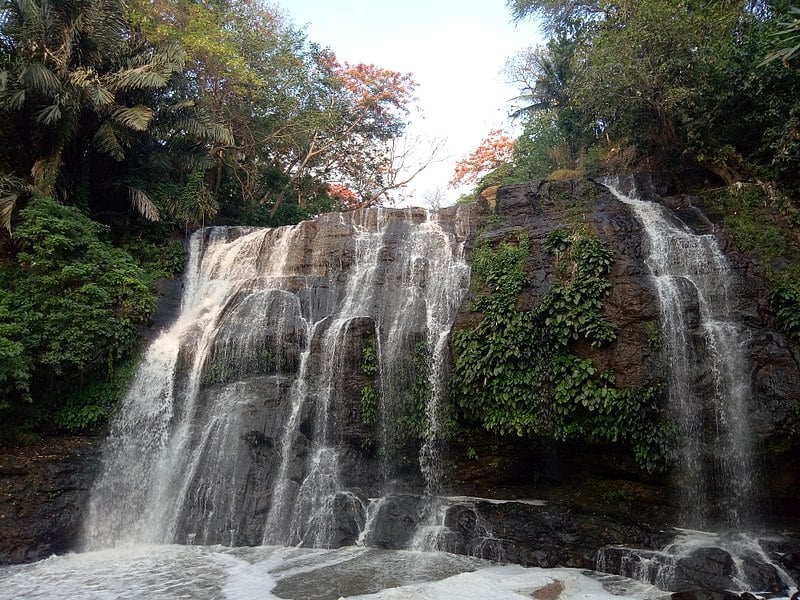 While it's not yet too hot, head over to this popular national park that recently reopened! The rehabilitation of Hinulugang Taktak took over a year, with help from the local community and several NGOs. It's one of the most popular tourist spots in Antipolo, especially since there aren't a lot of waterfalls that are quite near Metro Manila.
Enjoy the viewing deck, gazebos, meditation area, and mini-forest around the park. It's an ideal quick stop for a post-breakfast morning walk. Have your photo taken in front of the waterfalls or even by the bridge over the Sapang Bato. It's Antipolo's most famous natural landmark, so might as well, right? 
Fun fact: Legend has it that Hinulugang Taktak earned its name after a large bell (taktak) was thrown (hinulog) into the falls during the Spanish Era. And even from afar, the locals still heard the sound! 
Address: Daang Bakal Road, Barangay Dela Paz, Antipolo City
Opening hours: Monday to Sunday, 8am to 5pm 
Admission fee: ₱30 for adults; ₱15 for students; ₱100 for foreigners
10.15am to 2pm: Spend some art and culture appreciation time at Pinto Art Museum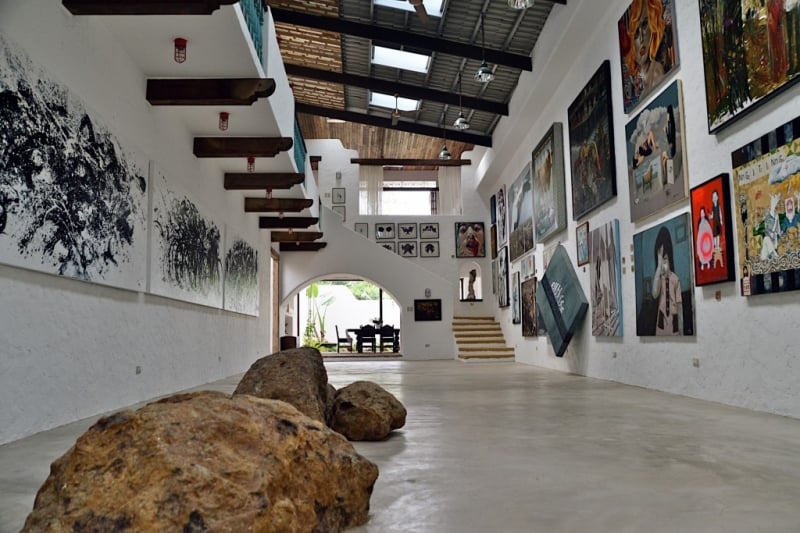 Step inside this art haven known for being one of the best art museums in the country. With a collection of indigenous, traditional, and contemporary local art for you to peruse, you'll definitely learn a lot about Philippine culture, both old and new. Amidst the sprawling gardens, the galleries are scattered across whitewashed open-air villas of Mission Revival architecture. It's one of those Antipolo day tour spots you wish had already existed during your school field trips! 
It will take you around three hours to see everything that Pinto Art Museum has to offer — from the impressive artworks to the lush outdoor scenery. It's one of those places that make you feel like you have all the time in the world! It recently opened its newest and seventh wing that boasts further contemporary art, most of which have been showcased in Art Fair Philippines from previous years.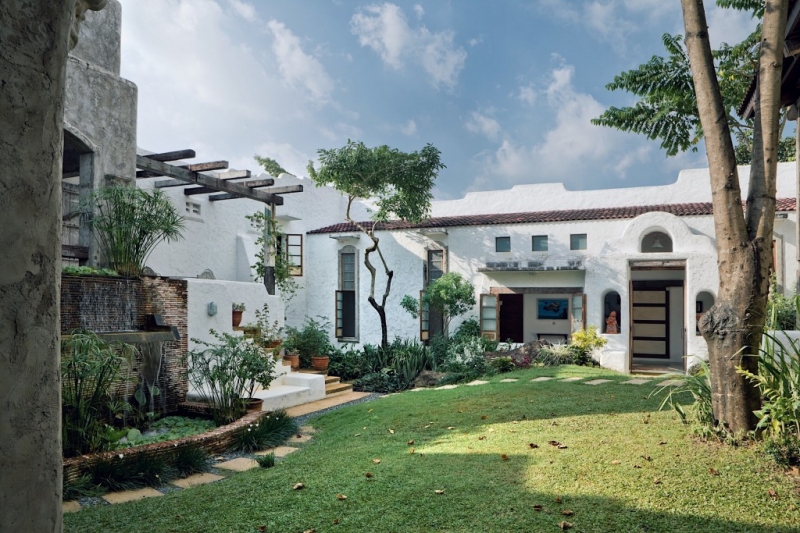 Trust us when we say that it's best to come here early in the morning when there are fewer people. During peak hours, the number of people trying to have their photos taken with the artworks can be quite a hassle. So, enjoy the serenity of the museum during its early hours, with sunshine coming through the windows and illuminating your surroundings. 
In between gallery-hopping, enjoy a leisurely lunch at Cafe Rizal by Peppermill, the museum's in-house restaurant. With the food and impressive interiors, it's every bit as Instagrammable as the galleries and gardens. Its extensive menu has almost 100 dishes of various cuisines, such as French, Japanese, Filipino, Spanish, and more. Whether or not you're a picky eater, this one definitely has you covered!
Address: #1 Sierra Madre Street, Grand Heights Road, Antipolo City
Opening hours: Tuesday to Sunday, 9am to 6pm
Admission fee: ₱200 for adults; ₱180 for senior citizens/PWD with valid IDs; ₱100 for students with valid school IDs
Also read: Museum Etiquette: Don'ts That People Still Do Anyway
2.30 to 3.15pm: Visit the historic Antipolo Cathedral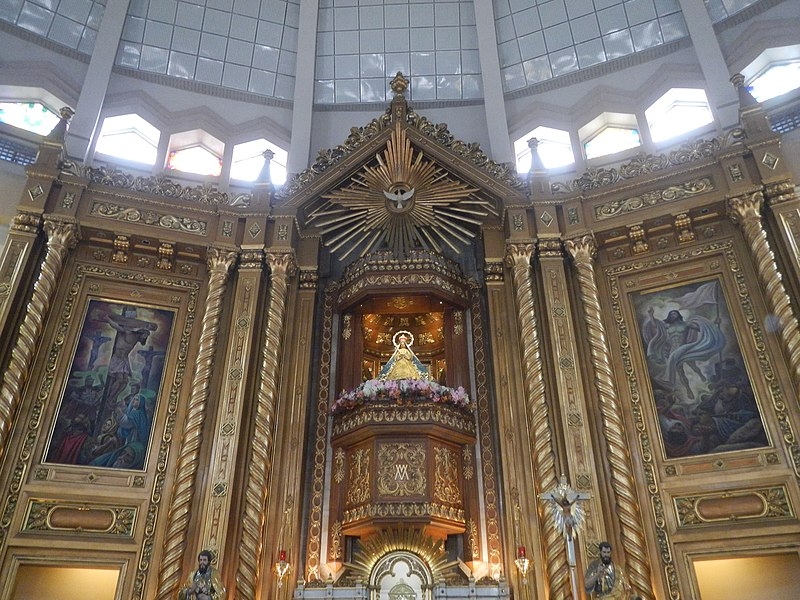 For most of us who had a religious upbringing, we first knew of Antipolo as a pilgrimage city. Housed inside Antipolo Cathedral is the Virgin of Antipolo (also known as Our Lady of Peace and Good Voyage). This 17th-century wooden statue of the Virgin Mary is believed to bless all kinds of travellers and keep them safe on their journeys. Since this church is near Metro Manila, many devotees flock here as the main part of their Antipolo day tour (especially during Holy Week). 
Afterwards, you can buy some food or trinkets from surrounding pasalubong shops. Good thing there's a lot to choose from outside the church. Some of the delicacies you have to try (if you haven't yet!) are kalamay, adobong kasoy, and suman paired with mangoes. Gotta bring home some (or all) of these goodies that make for a delicious merienda! 
Address: Dela Paz Street, Antipolo City
3.30 to 6.30pm: Unwind at Luljetta's Hanging Gardens Spa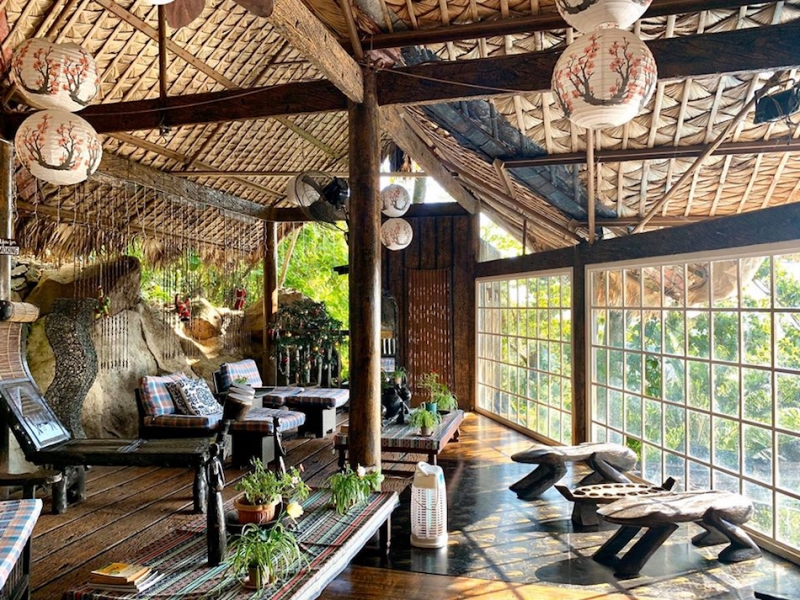 Despite being a newcomer, Luljetta's Hanging Gardens Spa has quickly become a weekend getaway favourite. After a day of exploring the sights and sounds, head over here for some rest and relaxation in the company of nature. Bask in the golden hour and soothing background tunes, while taking in views of Rizal, Laguna de Bay, and Metro Manila. For an hour or so, take a well-deserved breather and feel your worries slip away. 
This stunning mountain resort has three different pools, a Jacuzzi, fish spa, various spa services, and even decades-old balete trees. Luljetta's offers a day tour package of just ₱1,150 per person. With this, you can access their facilities, from the infinity pool and sauna to the movie lounge and massage cabins.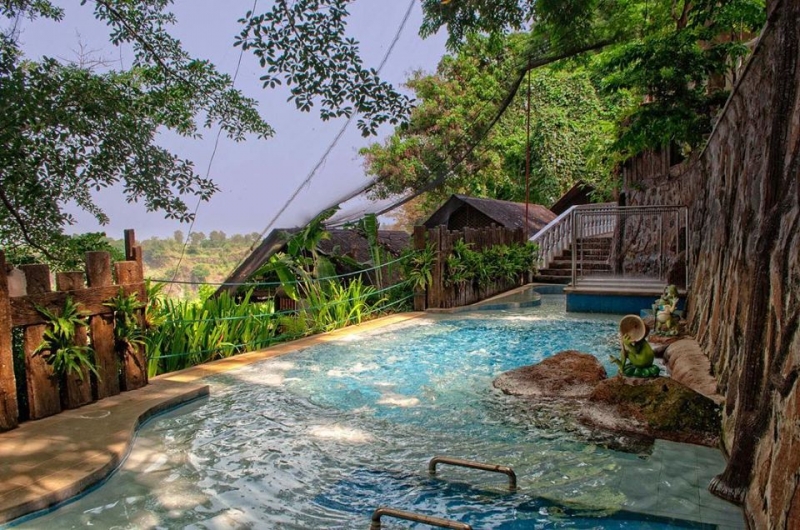 Cap off your short but sweet visit at the Sunset Hut. True to its name, it's the perfect place to sit back and watch the sunset. And while you're at it, enjoy your complimentary lemongrass iced tea and suman with mango and crushed cashews. (Though these treats are offered upon your arrival, you can opt to have them for later!) #TreatYoSelf, am I right? 
Address: Sitio Loreland, Barangay San Roque, Antipolo City
Opening hours: Sunday to Friday, 10am to 9pm; Saturday, 10am to 11pm
Price range: Day tour packages start at ₱1,150 per person
7 to 9pm: Treat your tastebuds to Tahanan Bistro's one-of-a-kind dishes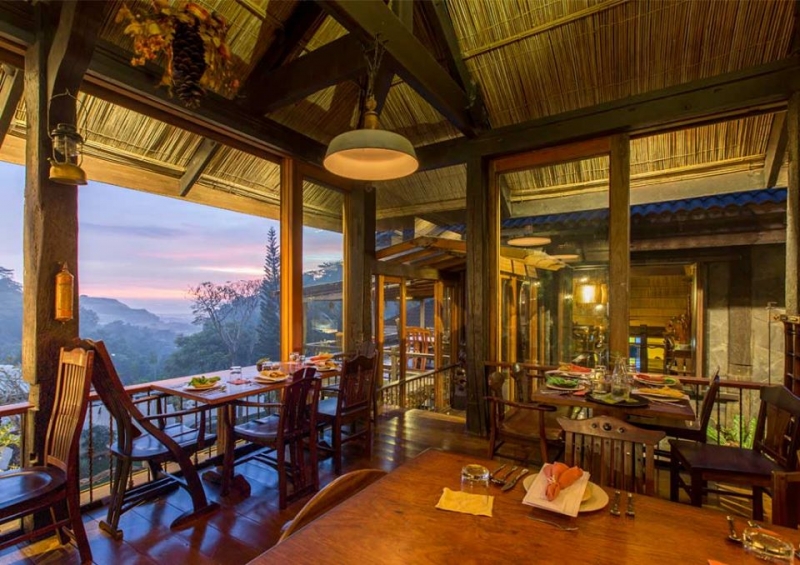 Have one more for the road by dining at Tahanan Bistro! You'll find this hidden gem inside the ancestral house of Filipino furniture artist, Benji Reyes. This restaurant is all about redefining the typical fine dining experience. Overall, it's a study in artisanal woodwork and experimental flavours.
For big groups, you can reserve the long table at the Lanai (the main dining area). For smaller groups, there's the more intimate alfresco area called the Deck. Whichever you pick, the picture windows guarantee a breathtaking view of the family's tropical garden and the Manila skyline. Inside, you're surrounded by artworks of different Filipino artists — including the owner. In fact, some of the restaurant chairs and tables were designed by Reyes himself! 
Their set menus change twice a year, so there's often something new and interesting to expect! And don't let the 'fine dining' part daunt you; their five-course degustation menus are reasonably priced at ₱1,350 per head. Ala carte items are also available for children aged 12 and below.
As for the 'casual' part, the ambience is artsy and tasteful, yet laid-back and true to its name. In fact, guests are required to leave their shoes by the door, just like in most Filipino homes! So, you might want to bring socks if walking around barefoot isn't your thing.  
Note: Make sure to book a table ahead, as the restaurant doesn't allow walk-ins due to the limited seating capacity. 
Address: #22 Loresville Drive, Lores Farm Subdivision, San Roque, Antipolo City
Opening hours: Saturday to Sunday, 11am to 4pm and 6pm to 10pm
Price range: Approx. ₱2,800 for two people
Who ever said an Antipolo day tour has to be bitin or boring? These spots say otherwise. Gather up your favourite kaladkarin friends and schedule that trip soon. Perhaps this weekend, yes? We can't wait to hear and see your stories after. Don't forget to tag us on Instagram at @tripzillaph, and use our hashtags #TripZillaPH and #MakeTravelHappen!