The Mabuhay Singers' Tayo Na Sa Antipolo song reminds us of all the things Antipolo can boast of: the sweet delicacies, the Antipolonean culture and people — and of course, the "hi-hi-hinulugang taktak" falls.
For those of us who live in Metro Manila, this neighbouring city also poses as one of our favourite weekend destinations. Only a few hours away, Antipolo promises a quick escape to the clouds (and we, metropolitan-dwellers, need this from time to time). Antipolo has long been a go-to for our nature-laden escapades and stargazing trips.
Over the years, Antipolo has garnered even more attention as the city birthed more picturesque cafés, impressive museums, and awe-inspiring spas. All these merely being the cherry on top of Antipolo's natural wonders, you'll definitely want to stay longer in this city. So for your next trip here, make sure to check out these Airbnb homes in Antipolo.
Also read: Rizal Travel Guide 2023: Where to Stay, What to Eat, Things to Do
Top Airbnb homes in Antipolo for a relaxing staycation
1. This jungalow in the city
Listing name: Antipolo – Secluded and Romantic
Listing type: Entire home
Max. no. of guests: 6
No. of bedrooms: 2
Located inside a subdivision, this Airbnb in Antipolo assures a serene stay amidst forest trees while still being accessible enough to most city privileges. This jungalow makes a perfect staycation for a group of friends: it has an outdoor grill for a fun cook-out, a lotus pond for more intimate conversations, and even a laptop-friendly workspace for that one friend who only agrees to join if he or she can work. As for stargazing, guests can do it while night swimming in the property's private pool. 
2. This industrial-style al fresco apartment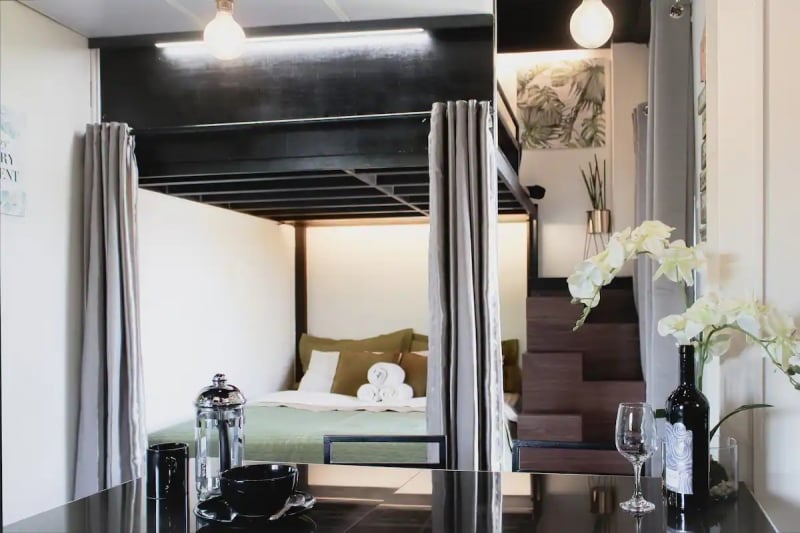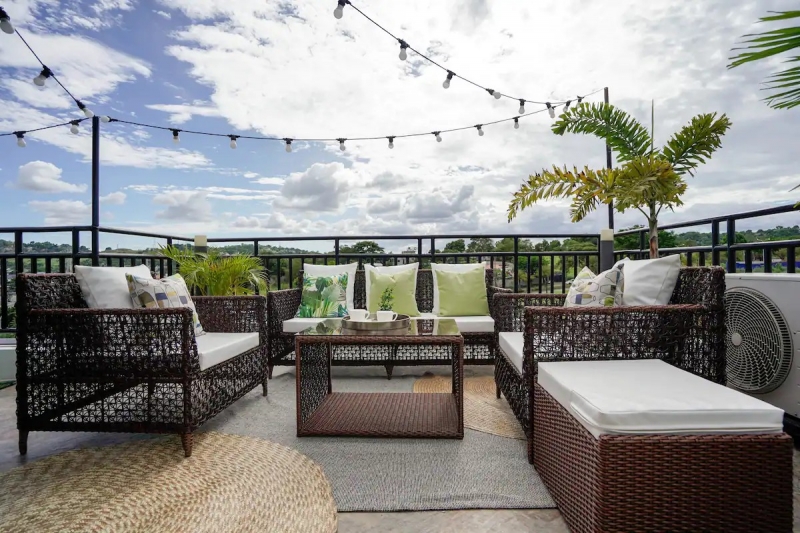 Listing name: Cozy Industrial Chic apartment in Antipolo
Listing type: Entire home
Max. no. of guests: 4
No. of bedrooms: 2
A newly built Airbnb in Antipolo, this stylish property has chic and modern interiors resemblant of Scandinavian motifs. Donning a no-nonsense look, the whole space is practical and easy for guests who are just looking for a comfortable place to stay. It has all the appliances you need; groceries and malls are close by, too. Within walking distance to the main road, this home is ideal even if guests don't bring a private vehicle.
Tip: Enjoy your stargazing trip on the private roof deck, where you can grill your food while toasting a few drinks!
Also read: 10 Airbnbs in Tanay That Are Perfect for a Weekend Getaway
3. This mountain house with a whirlpool and karaoke
Listing name: Mountain house with minipool and karaoke room
Listing type: Entire home
Max. no. of guests: 13
No. of bedrooms: 3
Nothing screams "best Pinoy staycation" like a karaoke room. But this cosy mountainside home has that and a whirlpool! Perched atop a mountain, this Airbnb in Antipolo has breathtaking views to boot, as well. That said, the address is quite remote and inaccessible — but these also allow a more relaxing and laid-back vibe once you reach the spot. 
Also read: 10 Airbnbs in Laguna That Are Staycation Goals
4. This modern villa with lush mountain views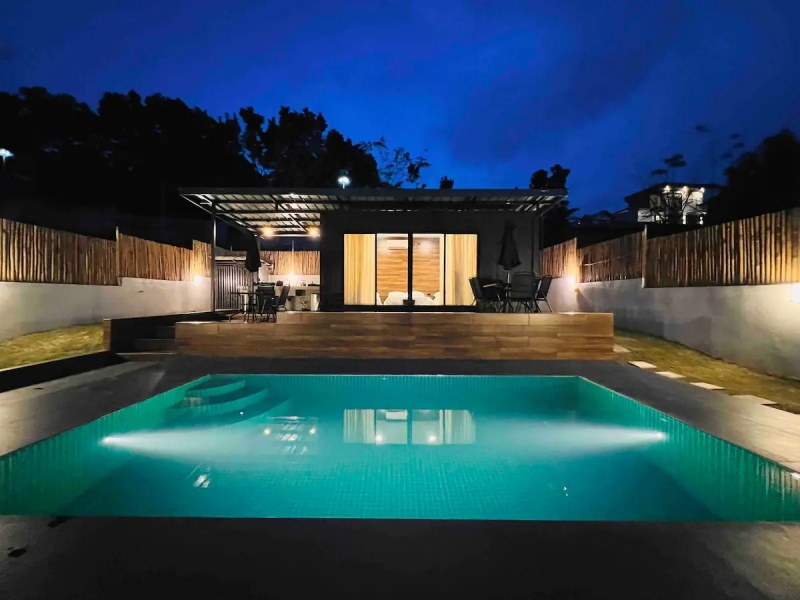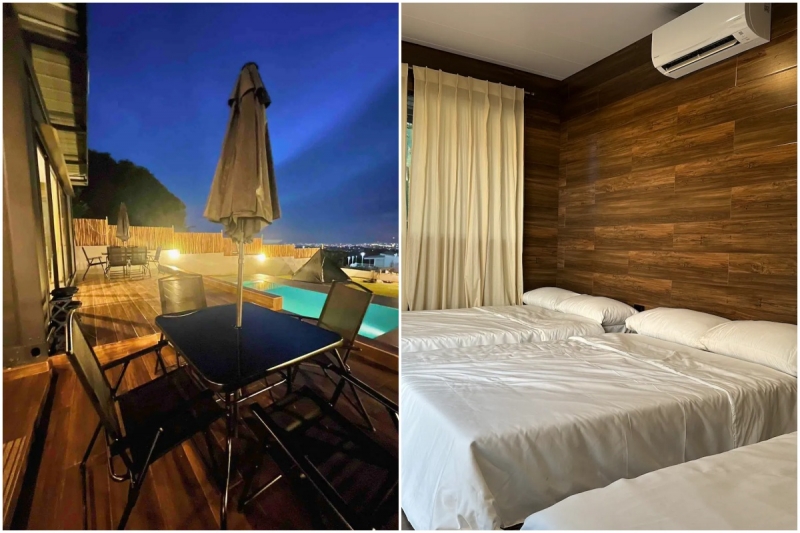 Listing name: Modern minimalist cabin with pool
Listing type: Entire cabin
Max. no. of guests: 10
No. of bedrooms: 1
Regardless of how sublime they look, the photos don't do the panoramic views of this serene hideaway justice. Nestled in a secluded neighbourhood away from the busy city centre, it's one of the best Airbnb homes for guests who want to relax and savour Antipolo's breathtaking scenery. Aside from the views and thoughtfully designed interiors, guests can also enjoy access to their own private pool during their stay. 
Also read: 10 Airbnbs Near Manila With Private Pools and Breathtaking Views
5. This intimate suite for a simple staycation
Listing name: Contemporary Apmt, Balcony,Netflix,WiFi, Antipolo
Listing type: Entire home
Max. no. of guests: 4
No. of bedrooms: 2
Maybe you're not looking for anything too fancy and just want a quick refreshing break. If that's the case, this Airbnb in Antipolo is perfect for you!
While simple and quaint, this chic apartment boasts well-designed interiors. Every corner holds true to its modern industrial theme, providing guests with a dash of New York apartment living. The room itself has a private balcony — a perfect area for an intimate date night! But if you want a better view of the stars, head to the roof deck area where you can have a barbecue and a few drinks.
Also read: 12 Best Airbnbs in New York City for Every Traveller
6. This magical villa best for overnight swimming
Listing name: Villa Palomo Private Resort
Listing type: Entire villa
Max. no. of guests: 16+
No. of bedrooms: 3
Fairy lights, a private pool, an outdoor grill, and a videoke machine — what else can you ask for? Complete with amenities that ensure a magical celebration, this Airbnb in Antipolo is the perfect place for intimate social gatherings. In fact, the villa has a spacious social hall that can accommodate up to 60 people! When it's time to rest, pristine bedrooms promise a comfy place to sleep.
7. This chic suite with Pinterest-worthy interiors
Listing name: Designers' Suite, Antipolo, Netflix, WiFi, Parking
Listing type: Entire apartment
Max. no. of guests: 4
No. of bedrooms: Studio
If you're looking for a cosy staycation in Antipolo, this pretty apartment is for you. Furnished with modern mid-century pieces, the Airbnb is picture-perfect at every turn. But aside from its stunning interiors, the space is also packed with fun features and amenities. It has a 50-inch Smart TV with Netflix, sanitised yoga mats, a BBQ grill, a patio, a workspace, and a furnished kitchen. 
Guests are also welcome to enjoy the rooftop any time of the day: It's a great spot to have breakfast al fresco and a romantic area to have dinner under the stars.
Also read: Outdoor Dining in Manila: 20 Restaurants With the Best Al Fresco Areas
8. This modern glasshouse overlooking Antipolo
Listing name: Maddie's Mi-Santorini "BEST SCENIC" (Antipolo)2020
Listing type: Entire villa
Max. no. of guests: 16+
No. of bedrooms: 3
Can't get enough of the spots in Antipolo with overlooking views? Then go for this magnificent villa that generously gives its guests the best sceneries in the city. Not only does this Airbnb have a roof deck that offers a 360° view of Antipolo; it also has floor-to-ceiling windows and an infinity pool. Here, you can take in the breathtaking panorama from different corners of the home! 
Also read: 20 Airbnb Glasshouses in the Philippines With Spectacular Views
9. This mountain cabin for refreshing nature views
Listing name: Antipolo Mountain Cabin
Listing type: Farm stay
Max. no. of guests: 6
No. of bedrooms: 1
Cityscapes definitely have their charm; but if you appreciate the great outdoors more, then you can stay in this mountain cabin instead. Tucked away in a hidden farm, this Airbnb offers guests repose and recreation in Antipolo.
As it sits in a nature hideaway, the Airbnb doesn't have the best access to water, electricity, or cellular signal. But if you're open to letting go of these city comforts, you'll be able to appreciate the humble amenities of this home, including the tidy and breezy bedroom, the long outdoor table, and the private pool. The best part? Pets are welcome here, too! 
10. This one-of-a-kind villa in the heart of nature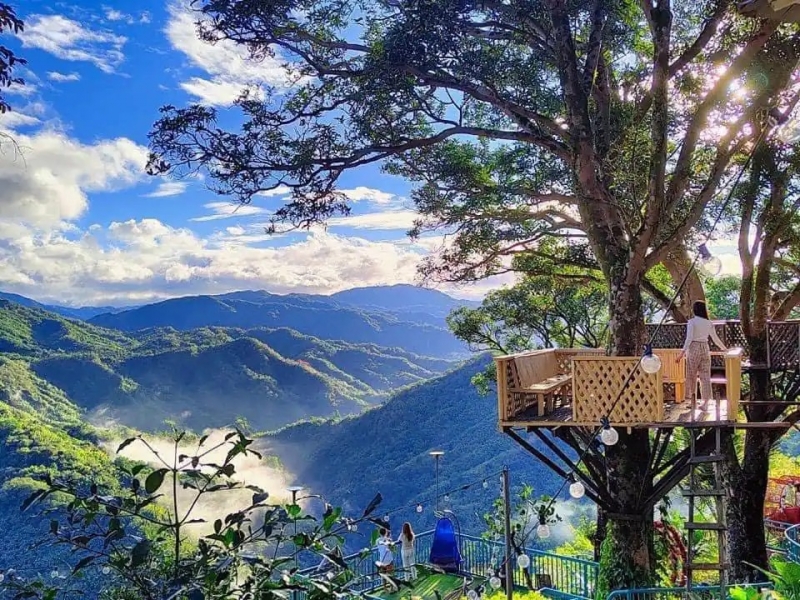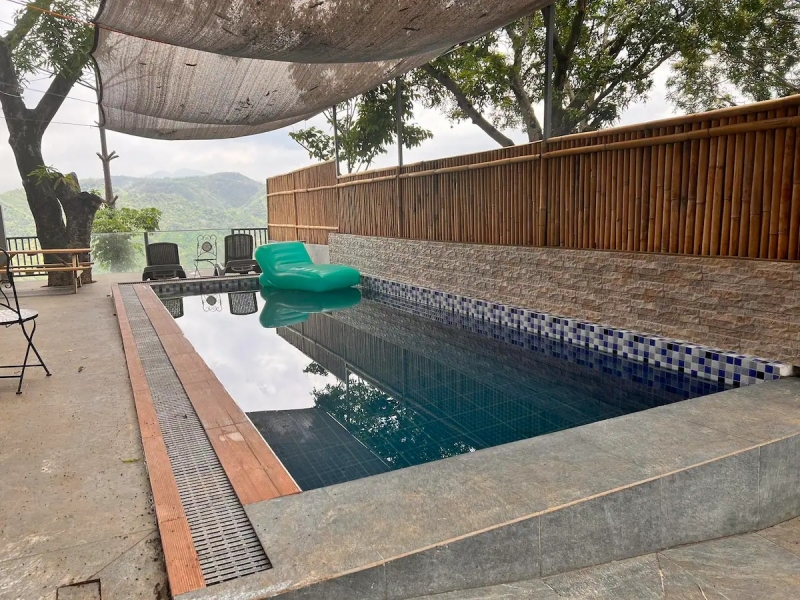 Listing name: Caza Peregrine Villa 2 with swimming pool
Listing type: Nature lodge
Max. no. of guests: 15
No. of bedrooms: 3
If you're visiting Antipolo for a nature escape, then you might as well pick an Airbnb that puts you close to the mountains, right? Travellers who want views of the great outdoors with the comforts of home will be delighted with this spacious vacation house with a pool. Natural vistas are absolutely spectacular; wake up early for the sea of fluffy clouds blanketing the mountains. 
Inside, Caza Peregrine is clean and cosy. Three bedrooms fit up to 15 guests — a previous guest even said it can accommodate more. So, go ahead and bring the whole brood to your staycation! 
11. This colourful tiny home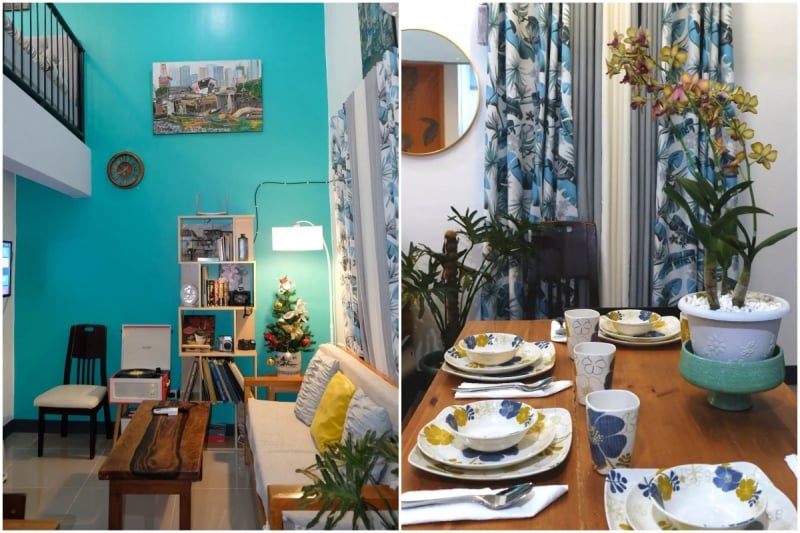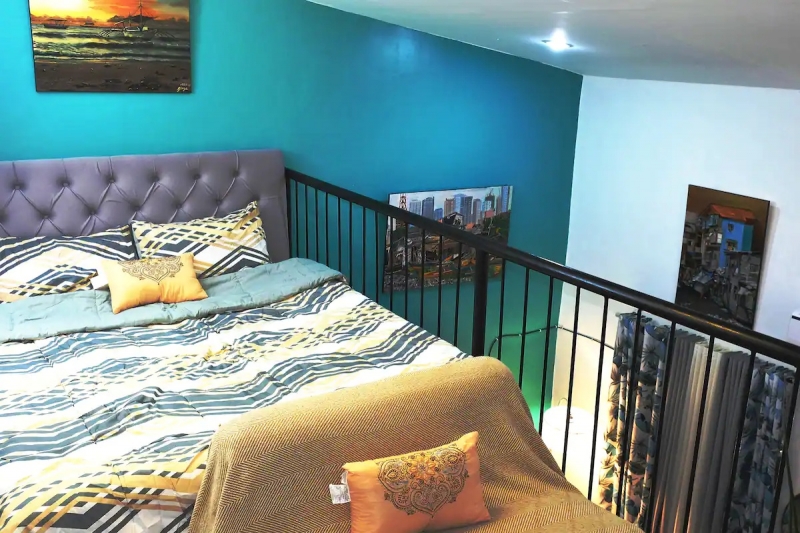 Listing name: Designer's Tiny home (Netflix, Disney+, PrimeVid)
Listing type: Tiny home
Max. no. of guests: 4
No. of bedrooms: 1
Tiny? Sure. But this haven packs a punch! At first glance, it's easy to be enamoured with this Airbnb with its bright colours and paintings. Look closer and you'll find even more charming details: TV with streaming services, JBL speakers, and cute books and cameras on the bookshelf. 
Another great thing about the newly built rental is its location. Not only is the Airbnb within walking distance from a mini-mart, but there's also a tricycle terminal nearby for easy transport around Antipolo. 
12. This tropical-inspired pool oasis in a safe village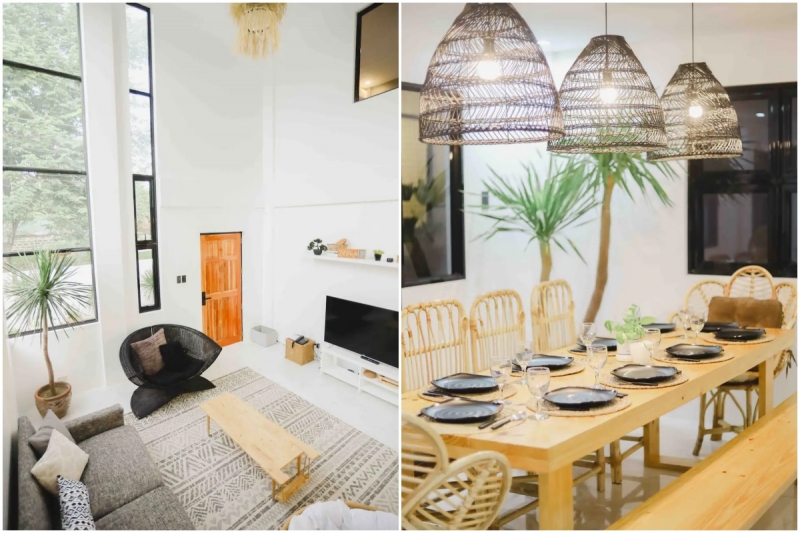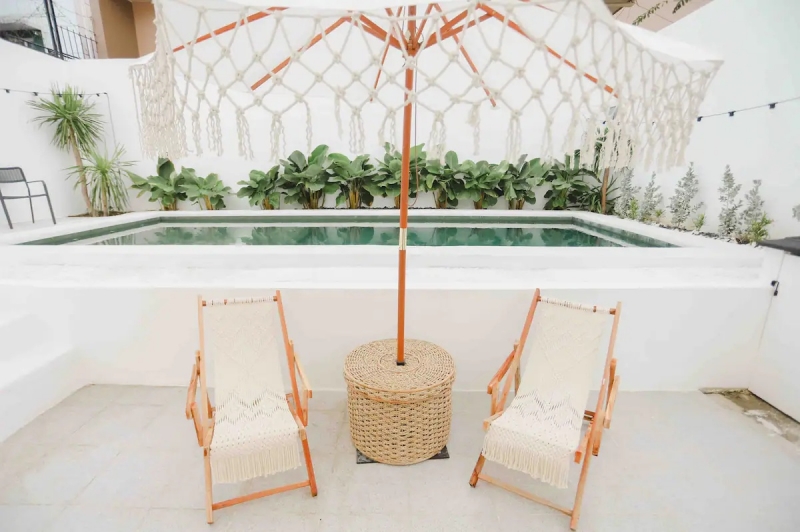 Listing name: 3BR villa with pool in Antipolo (Miras Villa)
Listing type: Entire villa
Max. no. of guests: 10
No. of bedrooms: 3
We may be in the mountains but that won't keep us from enjoying a tropical-themed vacay! This beautifully designed villa is one of our favourite Airbnb options in Antipolo. Beautiful interiors guarantee an aesthetically pleasing place to hang out with the crew from sunrise to sundown. But if you're here primarily to snap photos for the 'Gram, then the enchanting pool and outdoor deck area is your best bet.
Also read: 10 Antipolo Restaurants With Beautiful Interiors & Breathtaking Views
There's absolutely no need to travel far for a relaxing staycation. Check out our other Airbnb picks in Manila, Tagaytay, and Batangas for more inspiration!
---
This article contains affiliate links. When you book through these links, we may earn a small commission at no additional cost to you. All images courtesy of the respective property listings unless otherwise mentioned.