Between heavy traffic and the hassles of finding a ride, getting from one point to another in Manila can take forever. If you're catching an early morning flight, your stress multiplies tenfold as the threat of missing the plane looms over your head. So, why not find a place to stay within a stone's throw from the airport instead? Explore your options with our picks of top hotels near the Manila airport below. 
Also read: 15 Things You Should NEVER Do at the Airport
1. Okada Manila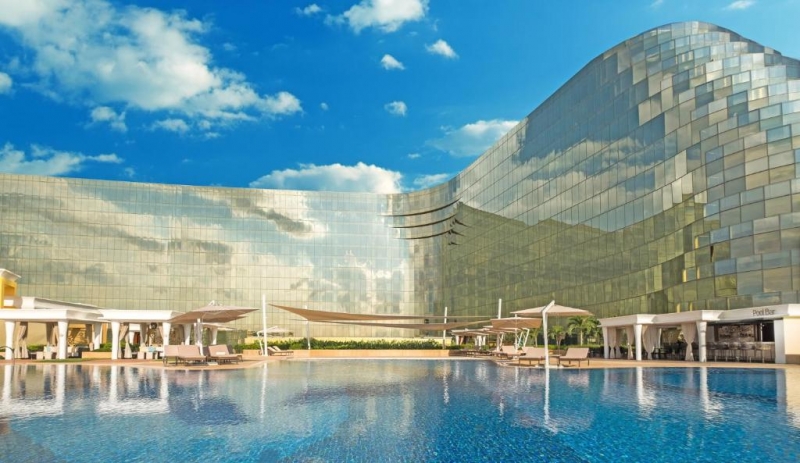 Feel like royalty while staying in Okada Manila, a magnificent five-star hotel that blends luxury and tranquillity for an unforgettable stay in the centre of the city. Lavish rooms and suites boast exquisite design and abundant space. If you can, try to get a room with scenic views of Manila Bay — you'll thank us later, once you experience one of the bay's famous sunsets. And when it comes to entertainment, few other hotels can beat Okada with its spa, wellness centre, casino, and outdoor pool overlooking the bay. The hotel is only around 4km from the Manila Airport.
Address: New Seaside Drive, Entertainment City, Parañaque 
2. Hilton Manila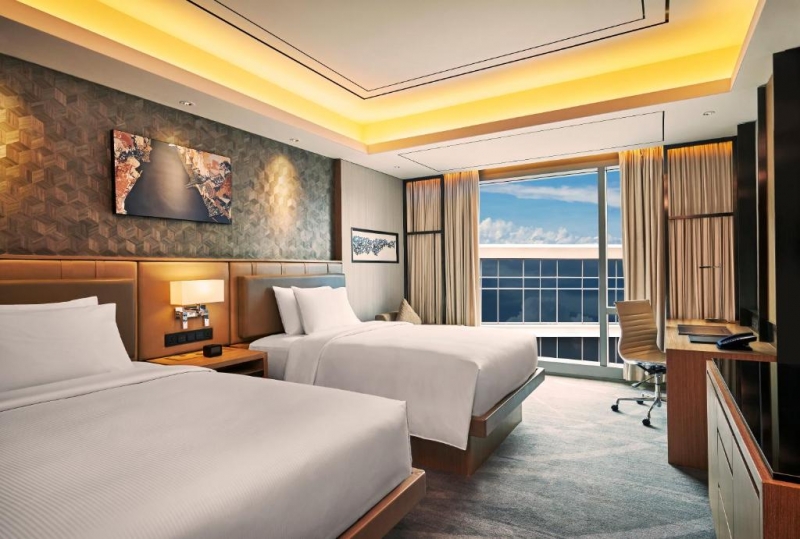 The four-minute drive from the five-star Hilton Manila in Newport City to the Manila Airport means you don't have to spend much time stressing out in the car. Sleek rooms and suites with tasteful decor, high-quality furnishings, and a cosy seating area provide a restful place to stay before flying out. Fitness buffs will also enjoy a quick workout any time of the day at the 24-hour fitness centre. Other notable amenities include multiple well-received restaurants and event venues.
Address: 1 Newport Blvd., Newport City, Pasay
3. Manila Marriott Hotel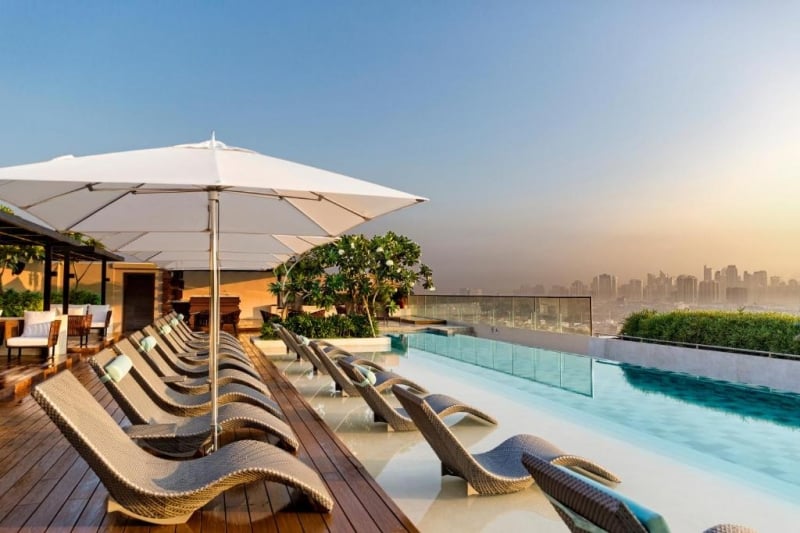 Another five-star option in Newport City's Resorts World Manila is Manila Marriott Hotel. Besides ensuring you're only across Terminal 3, the stylish hotel lets travellers bask in contemporary luxury while waiting for their flight. It's a VIP favourite, with elegant suites and rooms equipped with marble bathrooms, high-tech amenities, and world-class dining spots. Expect nothing but the best at Marriott, from the tranquil Quan Spa to an outdoor pool overlooking the city. There's also a sprawling Grand Ballroom perfect for large events in the heart of the metro.
Address: 2 Resort Drive, Pasay
4. Holiday Inn Express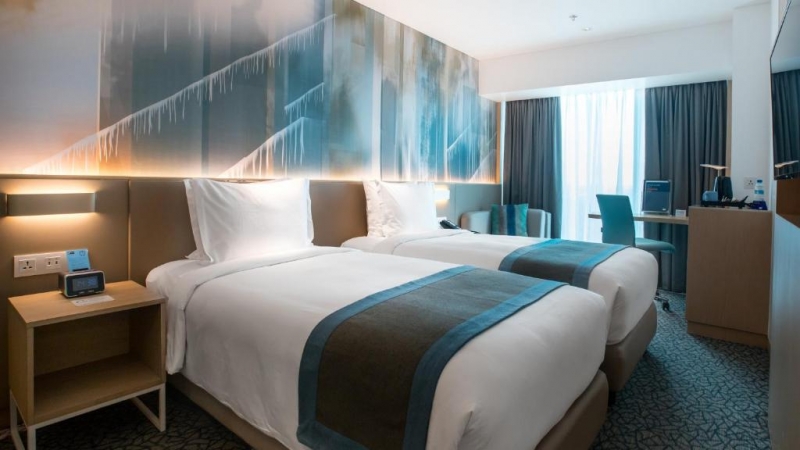 If you don't have the budget to splurge on splashy digs, Holiday Inn Express is a more affordable option that offers modern style. Business and leisure travellers will delight in staying in contemporary guestrooms with all the essentials: plush beds, coffee and tea facilities, pristine bathrooms, and free WiFi. Apartments provide a roomier option for families. Besides being one of the relaxing hotels near the Manila airport, Holiday Inn Express enjoys easy access to Resorts World hotspots.
Address: 1 Jasmine Drive, Resorts World Manila, Pasay
5. Belmont Hotel Manila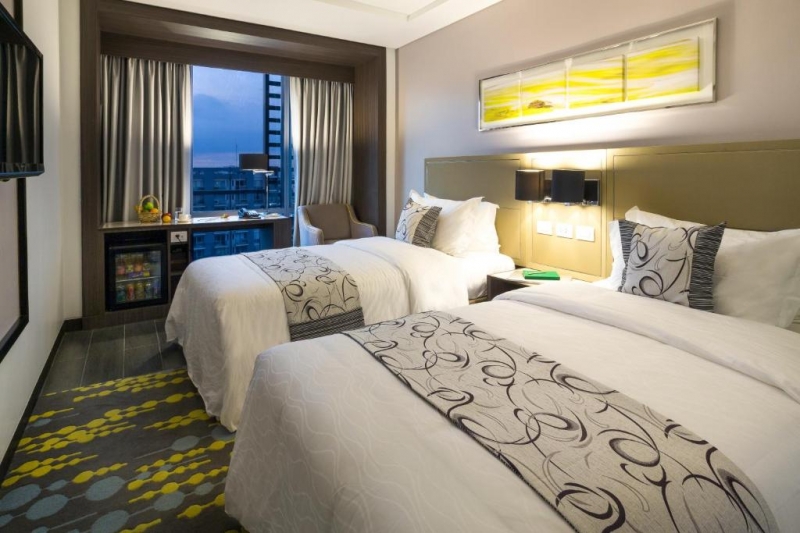 Set at the heart of Resorts World Manila, Belmont Hotel is an easy stroll away from NAIA Terminal 3, thanks to Runway Manila. The four-star hotel is impressively designed, with a restaurant, cafe, rooftop pool, and fitness centre to keep you occupied. Bright, comfortable rooms come in a variety of sizes. Some guestrooms in Belmont even enjoy views of the airport — if you end up being late, you can wave to your plane as it leaves you behind!
Address: Newport Blvd., Newport City, Pasay 
6. Savoy Hotel Manila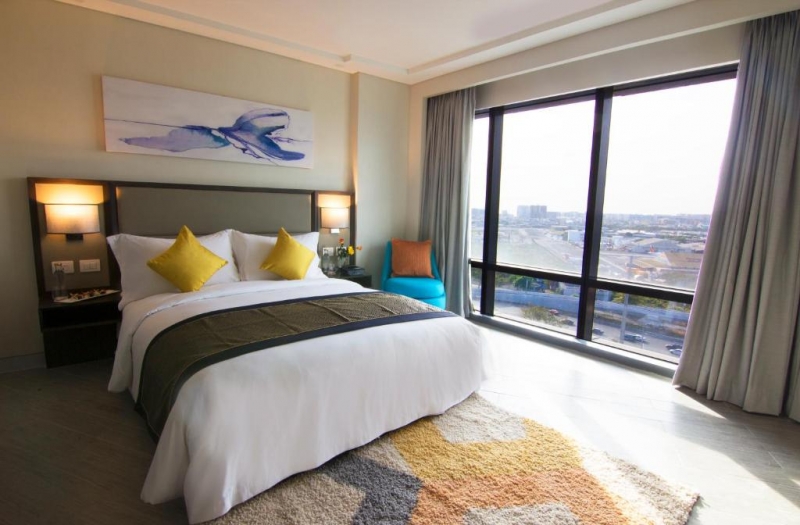 Sit back and relax before a long flight at Savoy Hotel, a modern hotel that's only 350 metres from the airport. Savoy is designed to be a traveller's home away from home, and it's easy to feel at home in the clean, colourful, and cosy bedrooms. Make the most of your stay by taking a refreshing dip in the outdoor pool to combat the Manila humidity, or working up a sweat at the well-equipped gym.
Address: 101 Andrews Ave., Pasay
7. Hotel Okura Manila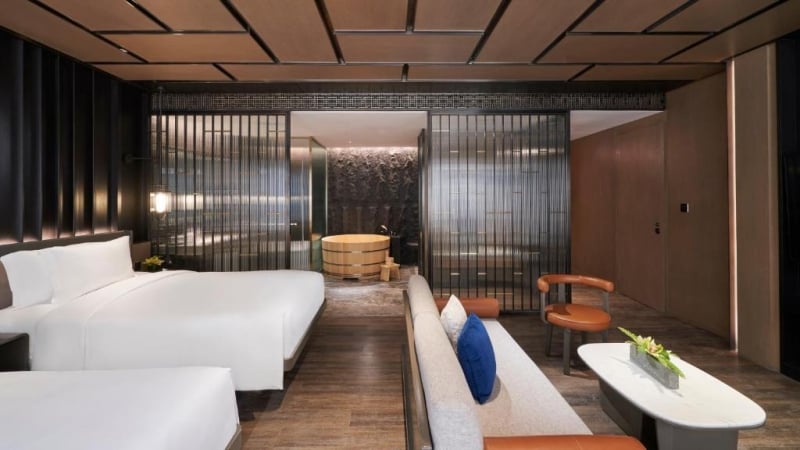 Missing Japan? Get a taste of the tourist favourite at Hotel Okura Manila, a luxury Japanese hotel in the Resorts World complex with easy access to the airport. First-class travellers will enjoy the refined bedrooms designed with Japanese elements in mind. Some of the grander suites are absolutely palatial, especially the Hinoki-yu Rooms featuring handcrafted wooden bathtubs for soothing soaks. Dining is a pleasure at the Japanese restaurant Yamazato, where guests can savour a kaiseki-style meal. A state-of-the-art gym and heated pool also sit on the rooftop area. 
Address: 2 Portwood St., Resorts World Manila, Newport City, Pasay
8. Red Planet Manila Aseana City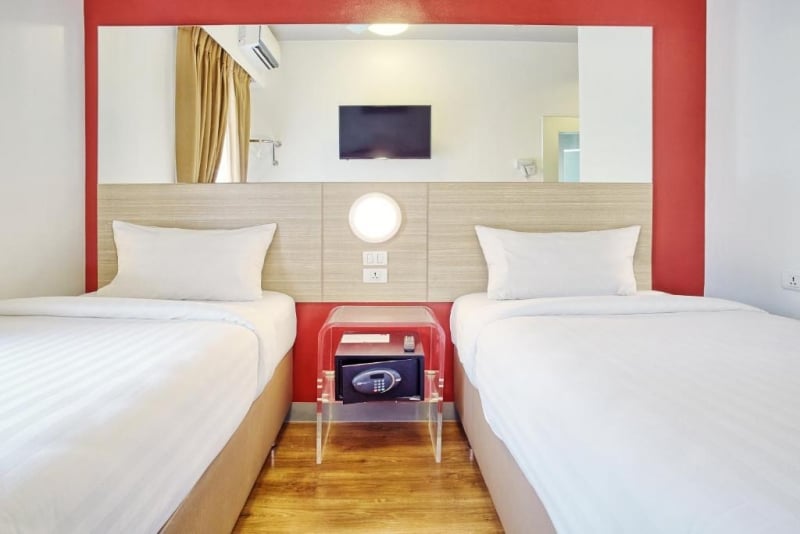 For a no-nonsense stay, Red Planet is a fantastic option. It's about 4km away, so travellers only have a short way to go before they can hop on their plane. In the meantime, rest and recharge in the hotel's bright bedrooms, each with air-conditioning, flat-screen TVs, and ensuite bathrooms. Low rates make Red Planet Manila one of the best-value hotels near Manila Airport, especially considering its convenient location near hotspots like the City of Dreams and SM Mall of Asia.
Address: Lot 38 Block 2, Bradco Ave., Aseana City, Parañaque
9. Hyatt Regency Manila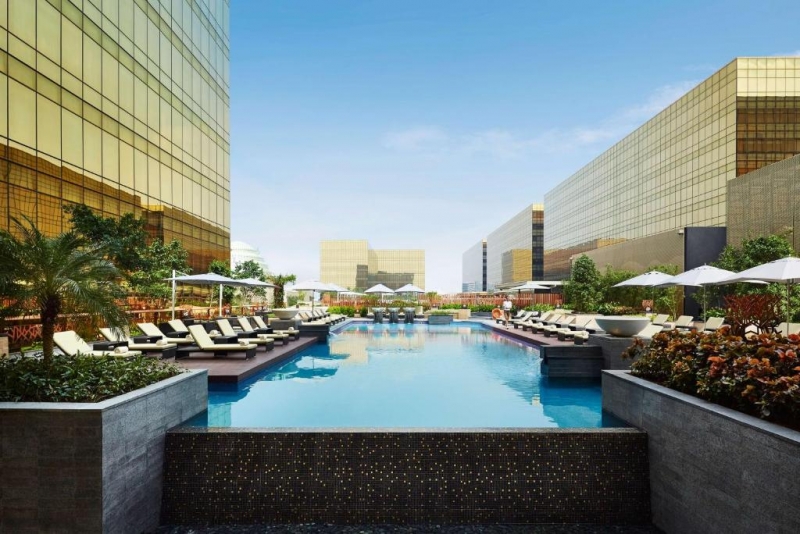 If it's a mini-vacation you're looking for, Hyatt Regency Manila is the perfect fit. As a guest in this dazzling five-star hotel, you'll enjoy access to the show-stopping City of Dreams complex. Sophisticated rooms feature luxurious beddings and lavish bathrooms, while the outdoor pool sits between the hotel's two glittering towers. Dine in style at the international restaurant or grab a drink at the cocktail bar without worrying about missing your flight. Located around 5 km from Manila's international airport, Hyatt is only minutes away by car.  
Address: Asean Ave. corner Roxas Blvd., Entertainment City, Parañaque
10. Nüwa Hotel Manila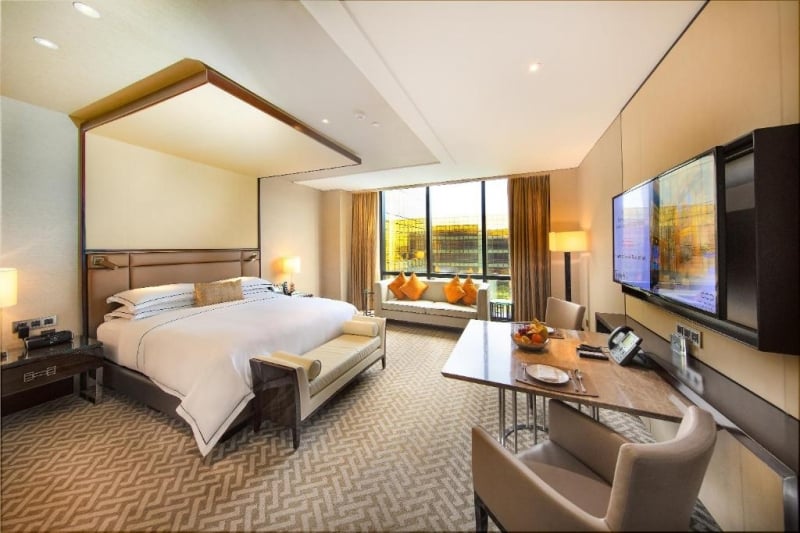 Travellers on a green journey will love Nüwa Hotel Manila's sustainable take on luxury living. Awarded the ASEAN Green Hotel Award in 2022, the five-star hotel is well on its way to achieving its goals of carbon-neutral and zero-waste operations by 2030. It's also a stunning hotel from the inside out, thanks to the work of acclaimed architect Michael Fiebrich. 
Luxurious amenities include the Nüwa Spa, an outdoor pool, a sauna and steam room, and a fitness centre. Plus, all the entertainment the City of Dreams has to offer! Nüwa is relatively new but it's already one of the best accommodations in the metro and definitely one of our top choices of hotels near the Manila airport.
Address: Aseana Ave. corner Roxas Blvd., Entertainment City, Parañaque 
11. Sheraton Manila Hotel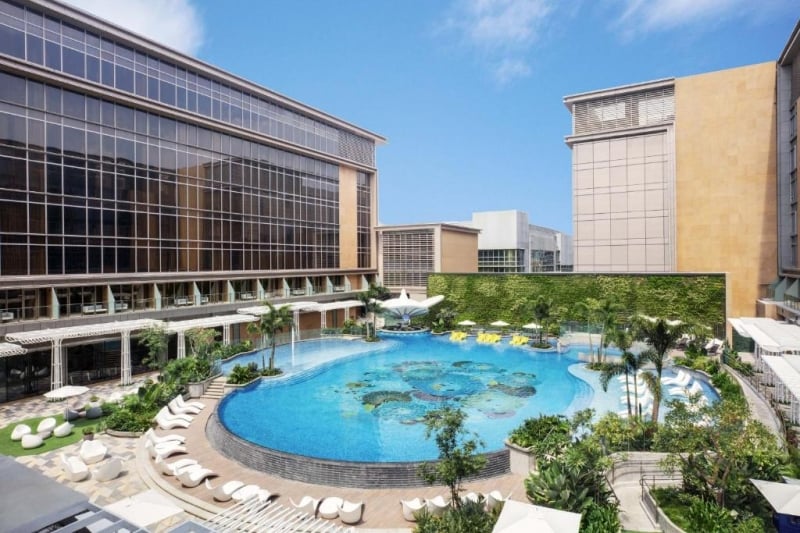 Find luxury and convenience in Sheraton Manila Hotel, a five-star hotel situated in Newport City across Ninoy Aquino International Airport (NAIA) Terminal 3. Travellers can easily cross over to the airport via the air-conditioned Runway Manila walkway, making this one of the most accessible hotels near Manila Airport. Superb rooms promise uninterrupted sleep — just don't forget to set your alarm to wake up in time to catch your plane! 
Meanwhile, a host of dining and recreational options in the hotel and nearby Resort's World will keep you busy as you kill time. We recommend the in-house luxury spa. There's nothing quite like indulging in a relaxing massage to boost our spirits before a long flight.
Address: 80 Andrews Ave., Pasay
12. Solaire Resort and Casino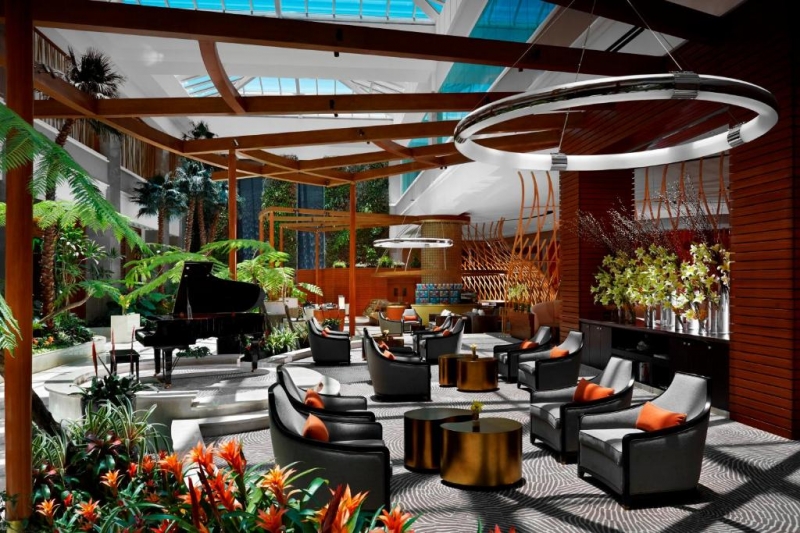 Guests can expect only the best at Solaire Resort and Casino, the first integrated destination resort in Manila's Entertainment City. Lavishly appointed rooms and suites are only one part of the luxurious Solaire experience. There are also multiple dining options with world-class chefs, a spa, an outdoor pool, a state-of-the-art lyric theatre, and a sprawling casino with 1,200 slot machines and 300 table games. Moreover, it's only around 6km away from the Ninoy Aquino International Airport, making it ideal for travellers who want a taste of five-star treatment while waiting to fly out of the country.
Address: 1 Aseana Ave., Entertainment City, Parañaque
Also read: Things to Do Near Manila Airport While Waiting for Your Flight
The next time you're set for an early morning flight, consider a quick staycation nearby instead of racing to catch the plane at the crack of dawn. By booking one of the hotels near the Manila airport, you get to kick off (or end) your vacation totally stress-free.
---
This article contains affiliate links. When you book through these links, we may earn a small commission at no additional cost to you. All images courtesy of Booking.com.