Escolta is known to have been Manila's premier leisure, cultural, and business district in its former years. It's also home to many of the country's firsts and architectural gems patterned after classic Western designs. To this day, some of its buildings have remained, but most have struggled to withstand the test of time. 
In more recent years, what was once known as the "Queen of the Streets" has slowly found its way back into the spotlight. Its small community of passionate activists, creative individuals, and a collective called 98B COLLABoratory, have worked hand in hand to reimagine Old Manila. The initiative became a way to breathe new life into the old buildings, as they are no longer economically viable in today's more advanced and sophisticated landscape. Ultimately, this led the community to introduce new ideas and fresh things to do in Escolta.
With the onset of the global pandemic, the Escolta community has been finding fresh ways to adapt and keep the spark they've worked so hard to reignite. Here are some of the best things to do in Escolta on your next day trip to Old Manila.
Also read: Travel Back to the 18th Century Philippines at Las Casas Filipinas De Acuzar
Things to do and discover in Escolta, Manila
1. Experiment with street photography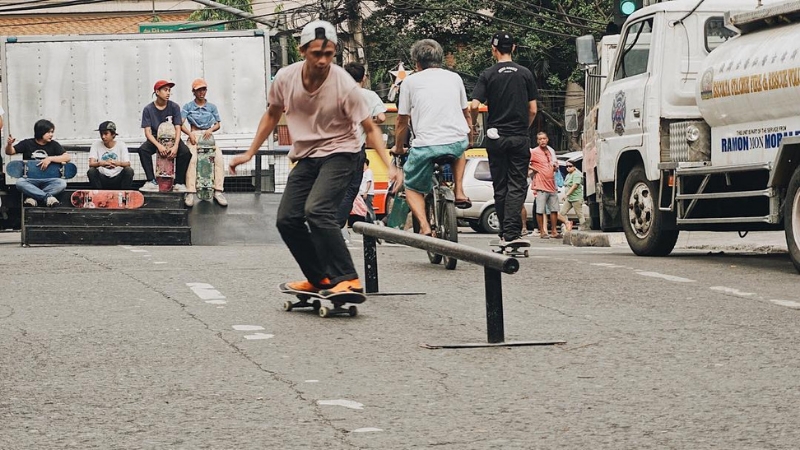 Escolta holds a variety of historical buildings for both commerce and entertainment. The first bank, theatre, ice cream parlour, and luxury department stores were established on this quaint street. It's only fitting that you delve into a bit of street photography or perhaps start a mini photoshoot with your friends. Show what "old meets new" could look like through your lens!
Also read: 8 Film Photography Apps That Will Level Up Your Travel Photos 
2. Travel back in time by visiting the Calvo Museum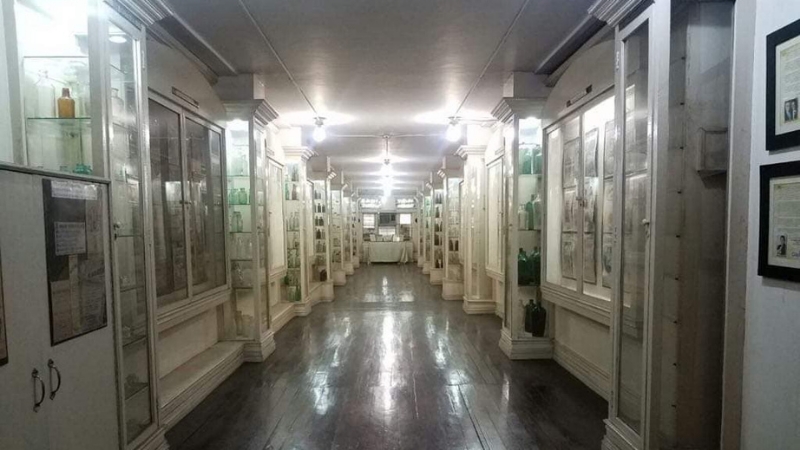 The Calvo Museum located in the Calvo Building carries so much antiquity and memorabilia from Old Manila, from early print advertisements and postcards to collections of vintage bottles and film posters. It's like a time machine that allows visitors to see the culture, trends, and ways of the past. 
Also read: 5 Reasons Why You Should Visit Philippine Museums 
3. Stop by the First United Building for arts and culture
The First United Building, formerly known as the Perez-Samanillo Building, exhibits a variety of spaces that promote homegrown and handmade goods, culture, and the arts. It is also often referred to as the Art Deco building of Binondo, Manila, and is where a lot of creative individuals come together to share their craft.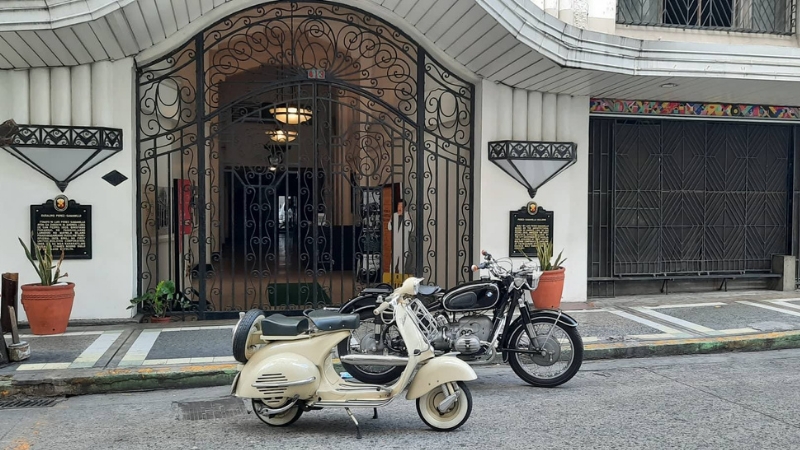 Here, you'll find interesting pop-ups and boutiques, a homey co-working space, a bar that specialises in craft beer, and a small coffee shop that sometimes doubles as an exhibit for local rising artists. There's so much for you to check out at the First United Building that taking a trip here is easily one of the best things to do in Escolta. We guarantee you'll never get bored!
4. Grab a coffee over at The Den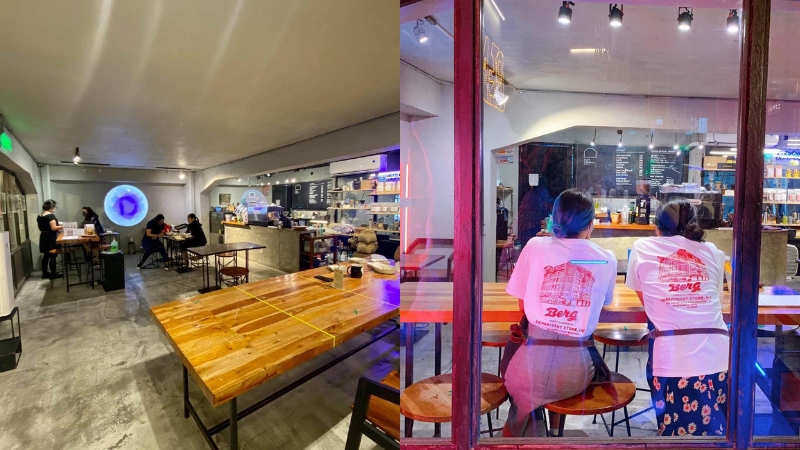 The Den is a little coffee shop located inside the First United Building. It takes pride in its locally made coffee and contemporary culture that cuts across multiple art forms and fields of interest. It's quite an ideal place for chilling out after your stroll along Escolta Street! You'll find a bunch of  locally made home goods and products littered around the shop as well. 
Also read: Coffee Delivery in Manila: Where to Order Beans & Bottled Brews
5. Go day drinking at Fred's Revolucion
If you're feeling a little frisky, you can also opt to grab a couple of drinks over at Fred's Revolucion. This local pub specialises in local craft beer and serves a variety of food platters and sides to munch on. Eye-catching trinkets and statement posters which hold cultural and historical significance can also be found around the bar.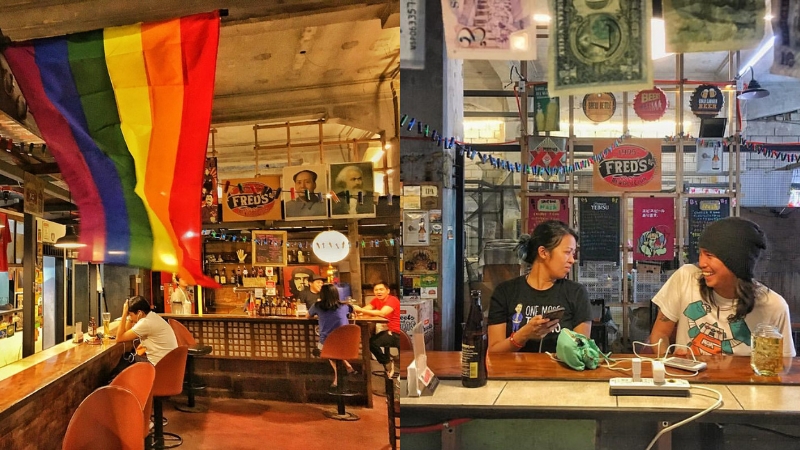 If you're from the North and Manila seems too far for you, they have a branch over at Cubao Expo, too! Heads up, though: They change their operating hours from time to time, depending on the pandemic restrictions and dine-in regulations. We highly suggest you look into their socials for any updates!
Also read: Nightlife in Manila: 10 Speakeasies You Have to Check Out 
6. Support local and shop at the HUB: Make Lab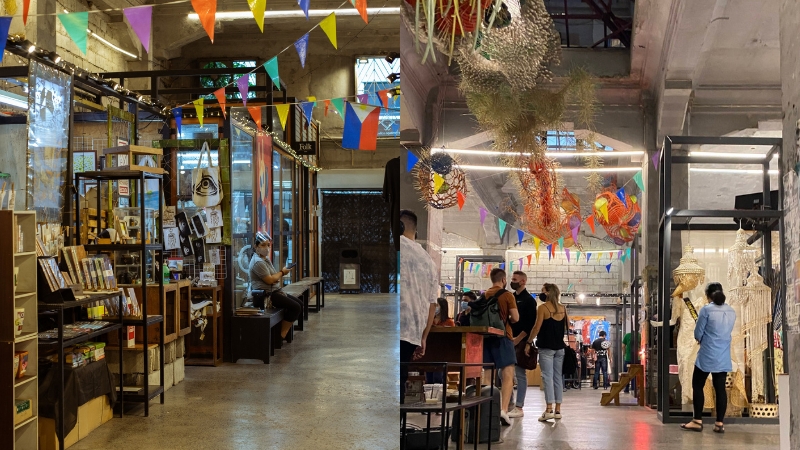 The HUB: Make Lab carries pop-ups and stalls that sell products created by locals for locals. Here, you'll spot a ton of handmade and homegrown goods and knickknacks. You'll find a bunch of vintage and thrifted items as well. Treat it as your little souvenir or pasalubong shop for your friends and family! 
7. Anticipate the return of Escolta Block Festival
One of the most exciting things to do in Escolta (before the COVID-19 pandemic hit) is to attend the annual Escolta Block Festival. The street gathering is celebrated by the local community so that more people can participate in its heritage and history. It's a way for individuals of different ages and different walks of life to come together and be united through diversity by acknowledging their individuality.  
It has almost been three years since the last Escolta Block Festival. Ever since the pandemic, the community has innovated ways to keep its street alive by hosting exhibits, programs, and even their staple Future Market on some occasions. Till then, we wait patiently for its iconic tradition to return and ignite its street with good music, good food, and good company once again. 
Also read: 15 Festivals in the Philippines to Anticipate Every Month
The Queen of  Streets will continue to pave the way for new beginnings while still being true to its heritage. If you're looking for fresh things to do in Escolta, Manila, we definitely recommend you check out these spots! 
---
Featured image credit: Escolta Block | Official Facebook Page