I remember it quite vividly — how I ended up adding San Juan, La Union to my travel bucket list. Kim Jones was one of my favourite people to follow on Instagram, and it seemed that she was there every single weekend, posting photos of its picture-perfect scenes. Soon, everyone would rave about the town's gorgeous sunsets, the trendy hostels, exciting parties, and excellent restaurants.
Also read: 20 Restaurants in La Union: Your Guide to the Best Eats in Elyu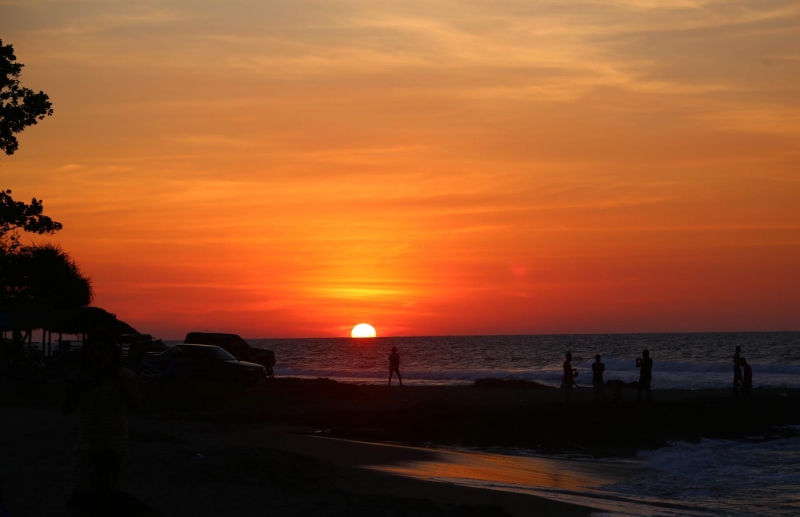 On top of that, Indie film I'm Drunk, I Love You featured Maja Salvador and Paulo Avelino on an action- (and drama) packed La Union trip that boasted San Juan's beach, nightlife, and of course, bagnet, bagnet, bagnet. Once I saw the movie, I just knew it — La Union was calling me!
San Juan, La Union: The ultimate weekend destination
The destination seemed to offer absolutely everything I was looking for in a weekend getaway. But that was the catch — everyone else thought so, too. And when I finally gathered a bunch of my friends and started planning my first LU trip, it turned out that nearly every accommodation (from budget hostels to pricier hotels) was fully booked practically every weekend.
Also read: 12 Long Weekends in the Philippines in 2021 + Calendar and Cheat Sheet!
And so I resorted to looking for Airbnb homes in La Union… But this was a failed attempt, too. Sure, there were some barkada-friendly homes around the vicinity. However, it seemed that they were all situated a little too far away from San Juan's trendy tourist spots. (They weren't that aesthetically pleasing, either, to be honest!)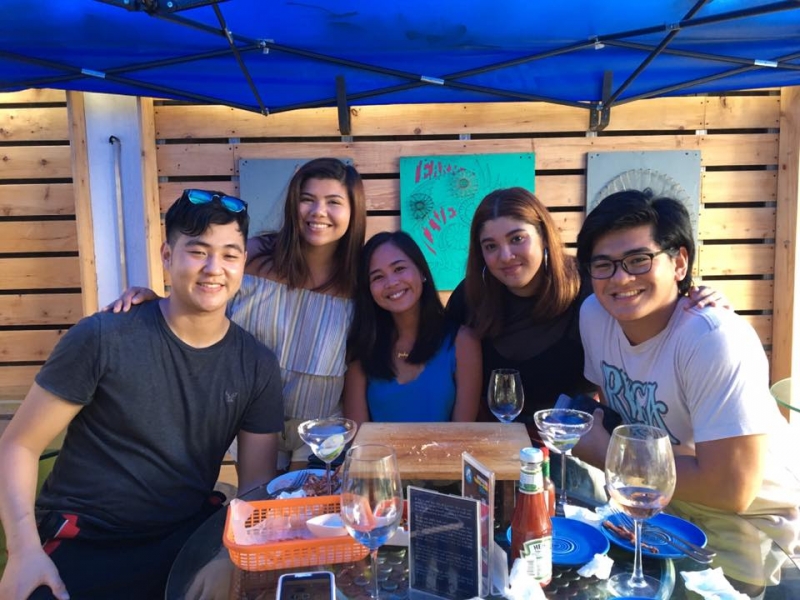 Long story short, we ended up giving up and booking a hotel way in advance in order to actually make this trip happen.
Airbnbs in La Union are now more accessible
Fast forward a few years later. A group of friends and I planned yet another La Union trip with just a little over a week to spare. As we scrambled for available accommodations, we came across a bunch of Airbnb homes in La Union that were conveniently located near San Juan's most popular spots — some, even Instagram-worthy!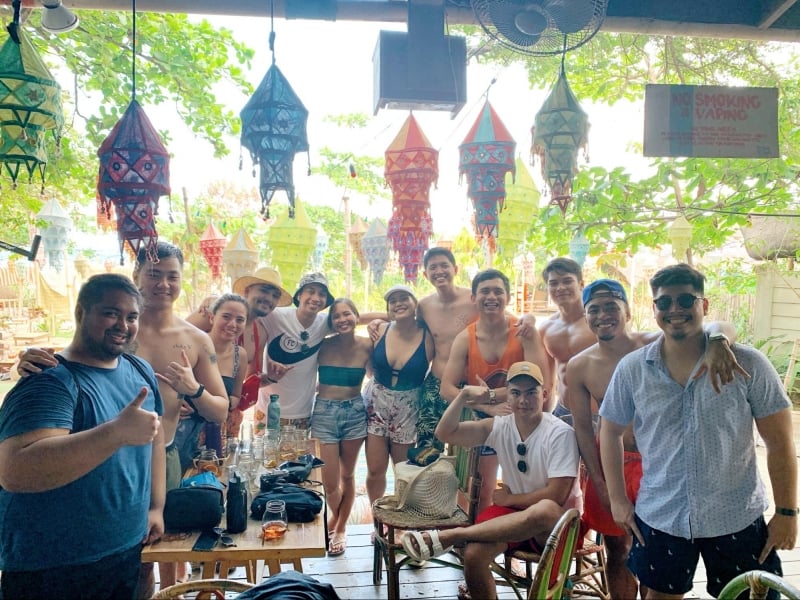 After my futile attempts to find the perfect La Union Airbnb a few years back, I was pleasantly surprised to find that there are now significantly more (and better) options. And now, I'm excited to share these great finds with all of you.
Whether you're travelling solo, going on a couples' getaway, or planning a trip with a big group, you're sure to find a place that will work for you. We've handpicked the top Airbnbs in La Union with regard to location, design, and amenities. Check them out below!
Also read: 7 Premium Buses in Manila and Where They Can Take You
Top Airbnb homes in La Union
1. This Instagram-worthy villa that'll instantly transport you to Bali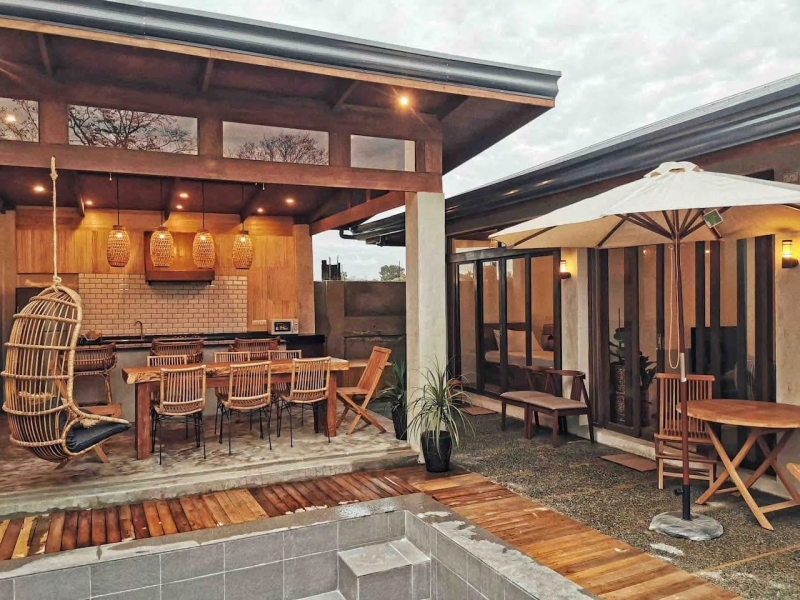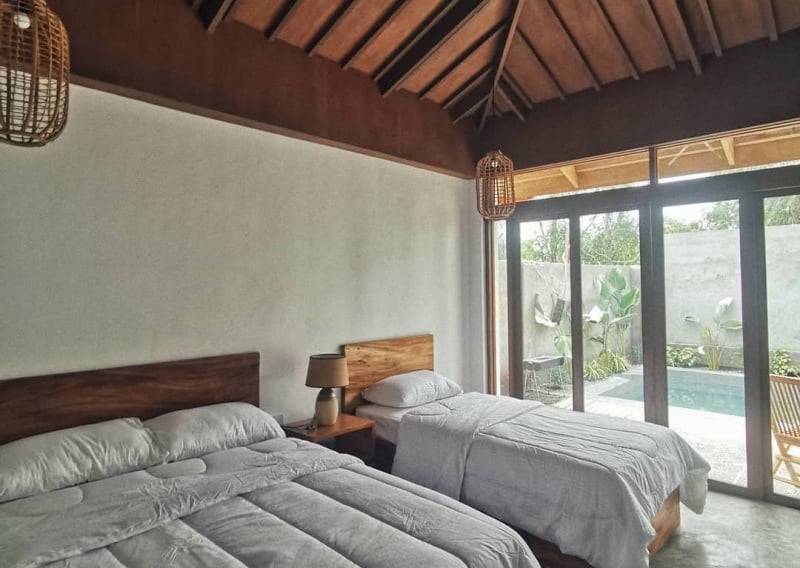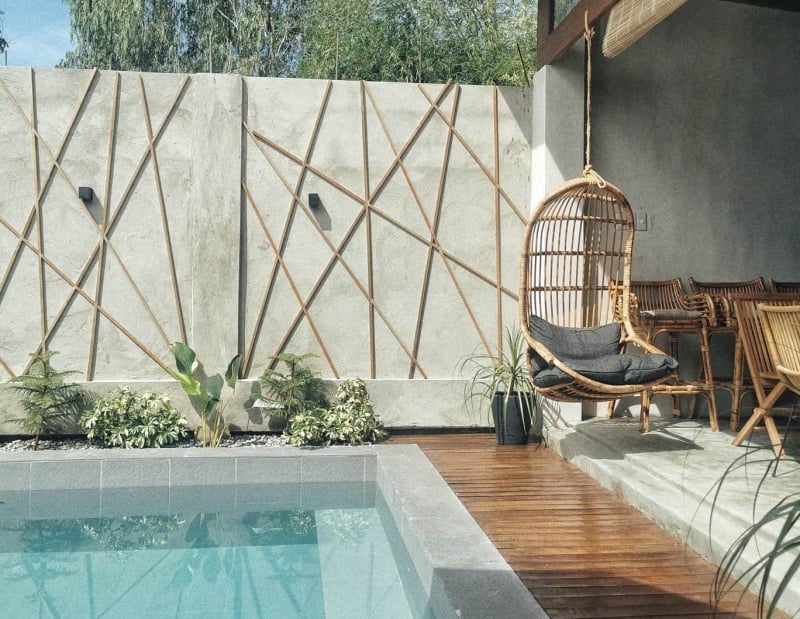 Listing name: Ysla 1-Bedroom Villa w/ Private Pool San Juan LU
Listing type: Entire home
Max. no. of guests: 2
No. of bedrooms: 1
Nope, you aren't looking at photos of a villa in Bali — this stylish retreat is just a six-minute drive from San Juan's surfing area, trendy hotels, and restaurants. And yes, it absolutely can be your home away from home in Elyu! (Just imagine all the Instagram-worthy snaps you and your barkada will be taking here!) The beach is just a short walk from here as well. What more could you ask for, really?
You may not even want to step outside of this home: The villa comes complete with a private pool, and an outdoor kitchen, grill, and dining area. Towels and toiletries are provided — and there's free parking, too! Learn more about this Airbnb here.
2. This cute, cosy room that's perfect for a trip with your BFF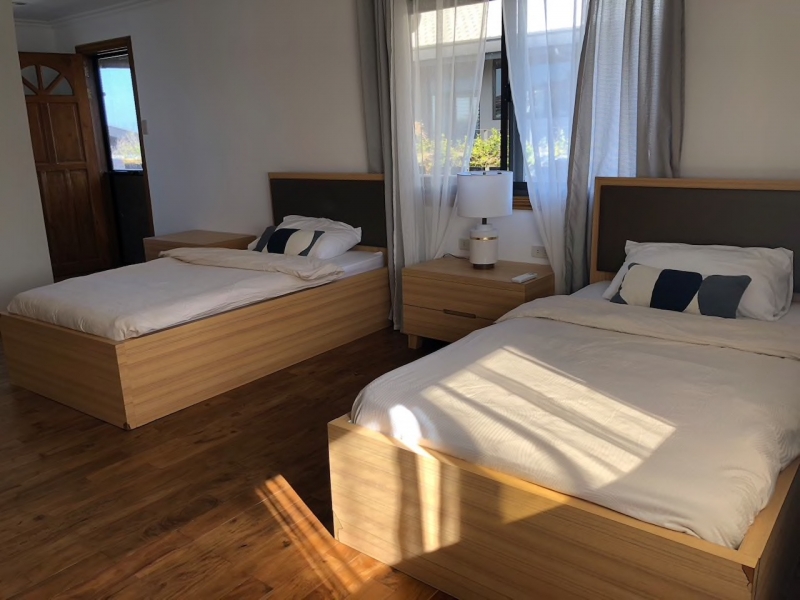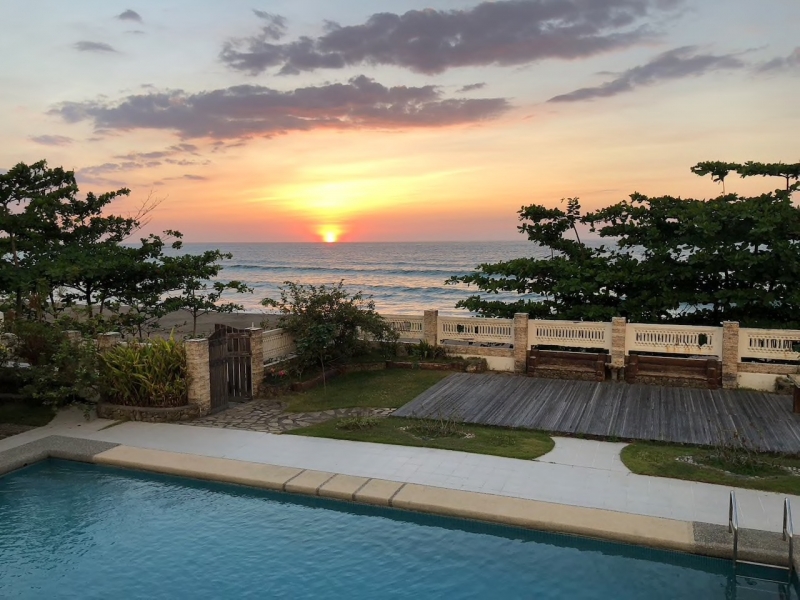 Listing name: Kai'ea Beach House room with private entrance
Listing type: Private room in house
Max. no. of guests: 2
No. of bedrooms: 1
On the lookout for a La Union Airbnb for your next BFF bonding trip? This room set in a cosy beachfront home just might be the perfect one for you. Set in a quiet and peaceful location just five minutes from San Juan's surf town, it'll offer you everything you need for the ultimate vacation. Expect to fall asleep to the calming sounds of waves and the sea breeze — the ideal way to end a day of enjoying Elyu's sights and sounds, if you ask us.
Besides a cosy, clean place to come home to, you'll also get to take advantage of shared amenities like the fully-equipped kitchen and the outdoor pool with gorgeous sunset views. And yes, in case you were wondering — towels, toiletries, and parking are provided here, too!
To top it all off, A Sea Turtle Conservation is just two houses away. If you get the timing just right, you can easily head over there to witness adorable turtle hatchlings make their way to the sea! Learn more about this Airbnb here.
3. This laid-back retreat close to Elyu's most popular establishments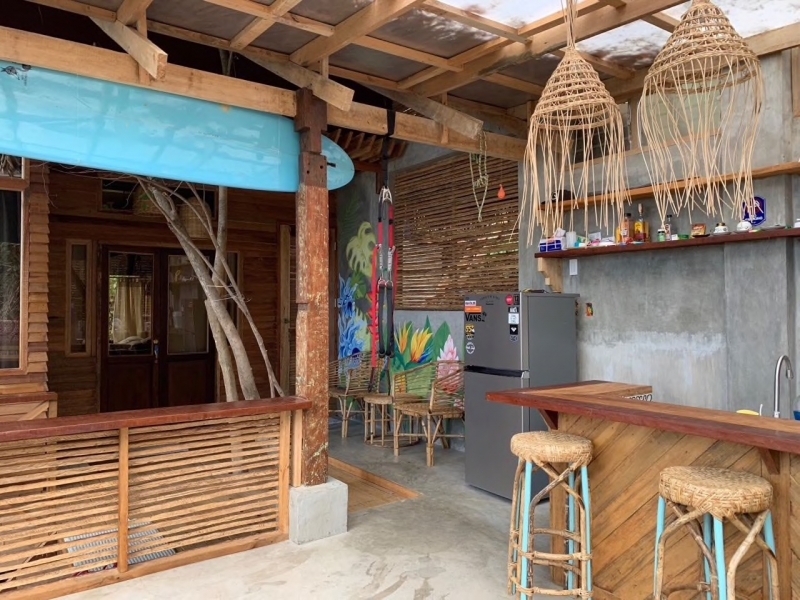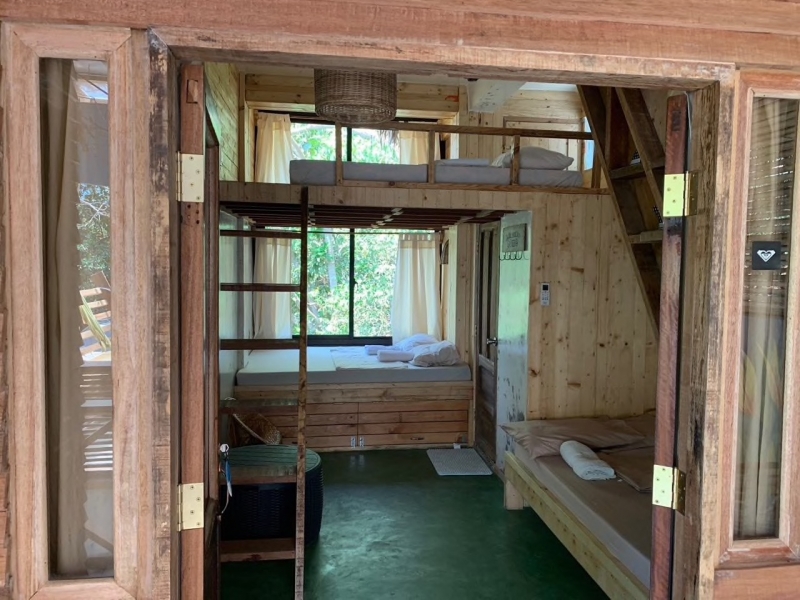 Listing name: Alon and Sandy room for big group
Listing type: Private room in tiny house
Max. no. of guests: 8
No. of bedrooms: 1
If being in close proximity to San Juan's trendiest establishments is your priority, then let this particular La Union Airbnb be your first choice. Flotsam and Jetsam Hostel and The Great Northwest are just a few minutes' walk from this rustic bedroom, which is nestled in a modern treehouse in a quiet neighbourhood.
Before you book this Airbnb, know that it takes a bit of a climb to get here! Some find that the short hike is very manageable; plus, the breathtaking views make a stay at this home worth every bit of the journey it takes to get here. The accommodating hosts, the cool surf shack vibe, and the free pandesal and coffee in the morning are amazing bonuses as well! Learn more about this Airbnb here.
4. This charming penthouse apartment that's sure to feel like home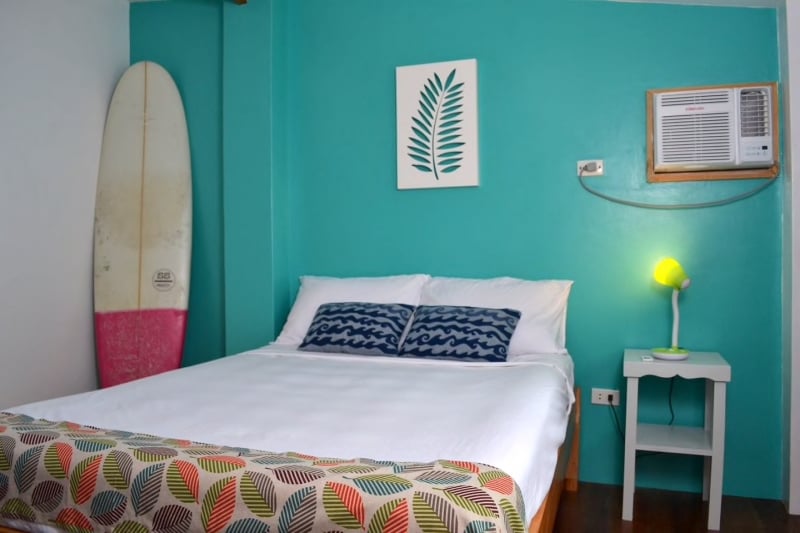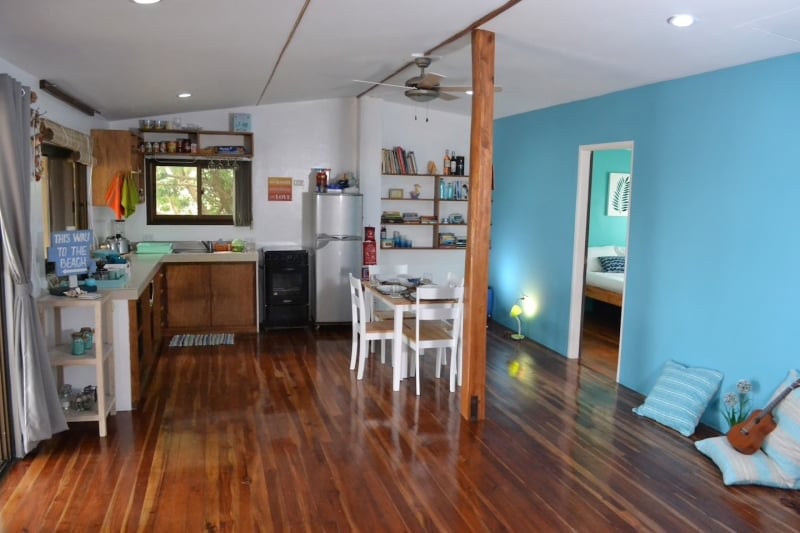 Listing name: SEASCAPE – Dreams
Listing type: Entire home
Max. no. of guests: 6
No. of bedrooms: 2
Considered one of La Union's gems, this Airbnb is one that guests have booked again and again; in one review, a guest actually revealed that they booked it for the fourth time! Situated right in the heart of Surf Town, this penthouse apartment places you just five minutes away from some of San Juan's most popular restaurants like Mad Monkey, Tagpuan, and Olas Banditos.
On top of its great location, this home's generous set of amenities and hospitable hosts make it such an excellent choice. Fresh towels and linens are provided, along with board games, free Wi-Fi, coffee, and drinking water. Its shared living spaces make it worthy of a group staycation — the modern living room and spacious balcony are perfect spots for catching up with friends. To add to all that, a stay at this apartment also comes with free parking! Learn more about this Airbnb here.
5. This simple yet stylish resting place for travellers who plan to stay out and about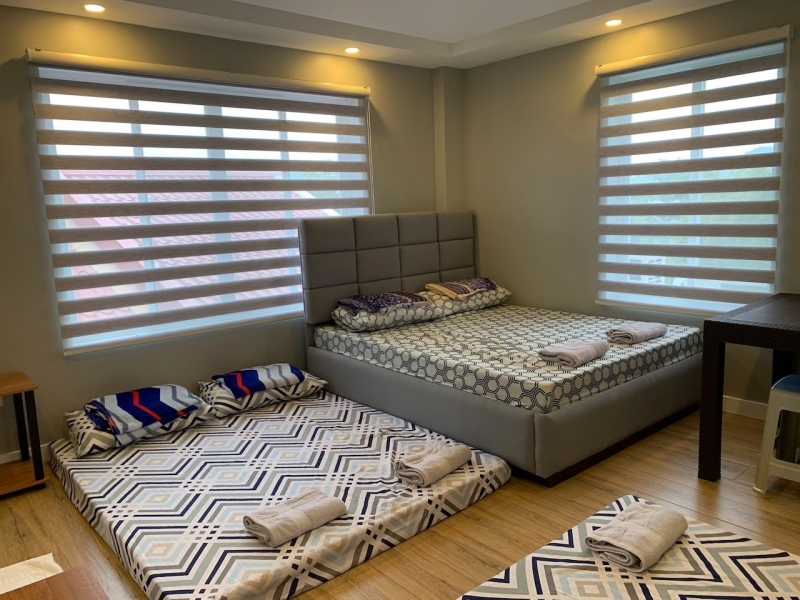 Listing name: Elyu's Cozy Place /Modern room good for 6pax B1
Listing type: Private room in house
Max. no. of guests: 6
No. of bedrooms: 1
Perhaps you're the type of traveller who doesn't need any special amenities — just a nice, clean place to stay. This private room is simple yet spotless, and despite its minimalist aesthetic, still quite a stylish choice. Tucked in a quiet area, it's a quick five-minute drive away from San Juan's trendiest restaurants, hotels, and surfing spots. (Plus points: Free parking is provided, so you won't have to park your car on the street!)
Within just a few minutes, you'll be able to walk to a quiet, less crowded slice of the beach. Whether you're travelling solo, in pairs, or with a group of up to six people, this Airbnb is a great pick — especially if you prefer to stay away from bustling tourist areas! Learn more about this Airbnb here.
6. This fan-cooled kubo just a minute away from the beach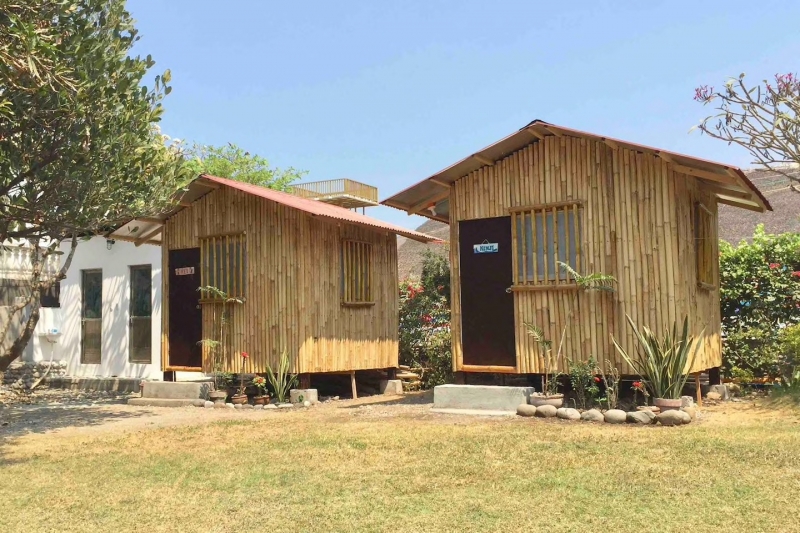 Listing name: Kenji Surf Kubo – in Aki Surf Place (Fan Room)
Listing type: Entire home
Max. no. of guests: 2
No. of bedrooms: 1
Is surfing the number one item on your agenda? Then look no further! This Airbnb is owned by Japanese surfer Kazuo "Aki" Akinaga himself — one of the pioneers who made San Juan the surfing capital of the North that it is today. In addition, it's right by all the action that Elyu is known for, making it ideal for first-time visitors.
Located within the compound of San Juan Surf Resort, this kubo is situated within a spacious garden where you'll surely love having a cup of coffee or bonding over drinks with your friends. Despite that the room is fan-cooled, previous guests swear you won't feel the heat! Much like in hostels, the bathrooms here are shared — but this place is often commended for being clean and well-kept, and towels as well as shower essentials are provided! Learn more about this Airbnb here.
7. This funky room at one of Surftown's trendiest hotels
Listing name: Hyde's Room at Funky Quarters
Listing type: Private room in apartment
Max. no. of guests: 2
No. of bedrooms: 1
Level up your Elyu experience by booking a stay at Funky Quarters, a popular boutique hotel in San Juan. Standing out among other accommodations in the area, the hotel is known for its unique theme inspired by music, surf, and art. Not only will you love the groovy interiors — when you book a stay at this Airbnb, you'll get to enjoy a lot of cool amenities, too.
Guests will love their private bathroom's Aesop toiletries and Japanese-style toilets (we kid you not!). In addition, a stay here also comes with complimentary breakfasts — plus, access to Funky Quarters' common areas such as the glass room, lounge, and Hyde's Bar and Kitchen. To top it all off, your pets are welcome here, too! Learn more about this Airbnb here.
Also read: 10 Pet-Friendly Airbnbs in the Philippines That Are Absolutely Purr-fect
8. This cosy, chill cabin in the heart of Surftown
Listing name: Bohemian Hill
Listing type: Entire cabin
Max. no. of guests: 3
No. of bedrooms: Studio
Looking to stay close to the beach and Elyu's best bars and restaurants? This Airbnb in La Union has the perfect location! And while Surftown's hottest spots are just within walking distance, you wouldn't even know it — that's how peaceful it is here.
Situated atop a hill, this cabin boasts some of the most gorgeous views in San Juan. When you book a stay here, you'll even have your very own balcony, which you should certainly take full advantage of. You can also enjoy shared spaces, such as the pool, garden, outdoor lounge area, and viewing deck. Learn more about this Airbnb here.
9. This minimalist home that's fit for the whole barkada
Listing name: Naranja Home
Listing type: Entire home
Max. no. of guests: 7
No. of bedrooms: 2
There's no denying that Elyu is best enjoyed with a big group of friends; that being said, we love that this Airbnb is spacious enough for a large barkada! We also appreciate that there's lots of space for lounging and bonding — because the best barkada trips always involve simply chilling out and enjoying each other's company. Oh, and did we mention there's free parking, too?
You're sure to love this house design-wise as well. The decor is minimalist, with lots of lovely rattan touches — offering just the right balance between modern and traditional. We're already excited to see all your Instagram photos! Learn more about this Airbnb here.
10. This tropical-inspired home with a private pool
Listing name: Cozy Beach House w/ Pool for 6 pax *ADULTS ONLY*
Listing type: Entire house
Max. no. of guests: 6
No. of bedrooms: 2
Looking for an Airbnb in La Union with a private pool? Here's one you should definitely consider! Loved for its cosy, laid-back feel, this house was designed to make guests feel right at home. Whether you plan to stay indoors or be out and about, you'll never have a dull moment when booking a stay at this home.
You'll not only love the amenities, but also the great location — close to all the Elyu action, but still far enough away to enjoy some peace and quiet. In addition to the town's hotspots, the public market is just within walking distance, too: so you and your travel buds can enjoy San Juan's local flavours and home-cooked meals! Learn more about this Airbnb here.
Also read: 12 Airbnbs for Your Next Barkada Staycation Near Manila
So, did you find your perfect La Union Airbnb on this list? Before embarking on your trip, make sure to read up on the proper safety protocols and register with the Region 1 tourist pass system. Wishing you happy and safe travels!
Got a property you'd like TripZilla to feature? Inquire with us here.