It's no secret that the Philippines is home to a wide variety of interesting accommodations. From glamping in igloo-like tents to private mini-islands in a lake, there's definitely always something new to experience around the archipelago! But how about treehouse hotels? We don't know about you, but these are one of those things we always wished we had as kids.
Also read: Treehouse Airbnbs: Fall in Love with These Listings from Around the World
If you're a closet treehouse fanatic like us, then we've got great news for you: there are a lot of these around the country that you can rent for a night or three! From Baguio to Siargao, these treehouse hotels and Airbnbs in the Philippines come in all vibes, shapes, and sizes that you can imagine. 
Best treehouse hotels and Airbnbs in the Philippines
1. This hilltop nipa treehouse in Busuanga, Palawan
Listing name: Sanctuaria Treehouses
Listing type: Entire room
Max. no. of guests: 4
No. of bedrooms: 1
Situated on a hill overlooking Busuanga Bay, Sanctuaria Treehouses offers a lush, secluded experience that many travellers flock to Palawan for. There, you'll find many options for fun, nature-filled activities; from kayaking and swimming at the private mangrove area, to outdoor BBQ under the stars at night. You can also check out some of the nearby diving sites and island-hopping tours, both just a short ride away! 
In between, why not take a nap at the treehouse balcony or in the hanging nest-like baskets? Few things are more invigorating than waking up to a panoramic view of the ocean, after all! And as for animal lovers, keep an eye out of their resident doggo named Buhay. We heard he sometimes goes along on the kayak tours! (Aww!)
Also read: 17 Secluded Hotels & Resorts in Palawan That Are Off The Tourist Radar
2. This spacious riverside villa in Balamban, Cebu
Listing name: Treehouse De Valentine
Listing type: Entire villa
Max. no. of guests: 8
No. of bedrooms: 3
Ever wondered what the local tabing-ilog lifestyle is like? Well, you're about to find out in Treehouse De Valentine, an elevated treehouse abode that's right next to a tiny river. Families and barkadas looking for an off-the-grid retreat will enjoy the respite from the bustle of metropolitan Cebu. 
We can't pick what we love most about this treehouse villa: the wooden hot tub, the patios overlooking the rainforest, or the overall rustic decor. Despite the remote location, it has all sorts of amenities like flat-screen TVs, a full kitchen, and even a laptop-friendly workspace! For outdoor activities, you can either brave the constantly cold river or go on a guided trek around the vicinity.
3. This über-aesthetic beachside gem in Siargao
Listing name: Tarzan's Treehouse
Listing type: Entire house
Max. no. of guests: 2
No. of bedrooms: 1
Let's be real — few things say 'Instagram-worthy aesthetic' better than minimalist, wood-and-glass interiors. Such is the case with Tarzan's Treehouse, a beach house that literally has two palm trees 'incorporated' in its architecture. There, you'll find that almost any corner makes for a lovely photo backdrop; from the indoor hammock and attic-slash-bedroom to the snappy writings on the walls. 
Not to be outdone, though, the view from the floor-to-ceiling windows is just as breathtaking. Imagine waking up to the sound of waves crashing and the sight of lush palm trees! Also, it's a stone's throw away from popular Siargao attractions like Cloud 9 Boardwalk as well as many of the island's top restos and cafés.  No wonder it's one of the best treehouse hotels that are a must-experience!
Also read: 7 Things I Wish I Knew Before Travelling to Siargao for the First Time
4. These luxurious tropical villas in Boracay
Listing name: Shangri-La Boracay Resort & Spa
Listing type: Entire villa
Max. no. of guests: 4
No. of bedrooms: 1
For treehouse hotels that are on the shmancy side, look no further than the Tree House Villas at Shangri-La Boracay Resort & Spa. Yep, leave it to this global company to come up with an upscale take on your childhood favourite! Perched on a hillside, each two-story villa offers majestic ocean views from the floor-to-ceiling windows. And then once dusk settles, this is also perhaps the best place on the island to catch the sunset.
The master bedroom is found on the lower floor, whereas the upper floor houses the living area and balcony deck. The latter features a heated jacuzzi tub, where you can bask in all the tropical luxury anytime you wish! Seriously, if these don't make for a perfect romantic getaway, then we don't know what does.
Also read: Best Boracay Hotels, From Luxury Resorts to Budget Stays
5. This coco-centric hut in Abra de Ilog, Occidental Mindoro
Listing name: Coconut Tree House
Listing type: Entire house
Max. no. of guests: 2
No. of bedrooms: 1
One look and you'll see that Coconut Tree House stays true to its name: It's a nipa hut that's in the middle of, well, coconut trees! You'll find it in the serene village of Udalo, where all sorts of adventure await; from snorkelling and chasing waterfalls to visiting a nearby ethnic community. 
Despite the quaint space, they make up for it in hospitality with a 24/7 mini-store and scrumptious meals cooked by the hosts themselves! Suffice to say, it feels like a home away from home. Oh, and did we mention that it's just one bus and two boat rides away from Metro Manila? Right between these coconut trees, you can definitely leave your worries!
6. This whimsical backyard treehouse in Subic
Listing name: Subic Green Tree House
Listing type: Entire house
Max. no. of guests: 2
No. of bedrooms: 1
Looking for someplace around Central Luzon? Well then, Subic is the way to go. But instead of the usual American-style country homes, we recommend Subic Green Tree House. Among all the treehouse hotels we've seen, this is probably the most vibrant and artsy, with murals and bohemian decors nearly in every corner. 
It's also quite the treehouse of your childhood dreams, given its unassuming backyard garden location and pops of colour everywhere! Oh, and did we mention that there's a two-person swing downstairs? Lastly, they also offer homemade brick-oven pizza, which you can enjoy at the outdoor BBQ area. (Yum!) 
Also read: 10 Airbnbs for Your Next Barkada Staycation Near Manila
7. This charming farmhouse in Carmen, Cebu
Listing name: Alhibe Farm
Listing type: Entire house
Max. no. of guests: 6
No. of bedrooms: 1
There's something so enticing about farm stays; maybe it's the opportunity to experience actual farm life, or simply the overall seclusion and peace it brings. Either way, this treehouse in Alhibe Farm gives you exclusive access to the one-hectare property that's slowly being repurposed into an eco-friendly boutique resort. There, you can bask in the lush company of native trees and plants, paired with the cold mountain breeze.
Those looking forward to a rejuvenating time will enjoy the natural spring water pool, as well as the yoga deck in the middle of the forest! For those who like exploring the great outdoors, you can check out their private forest trail. Though, if you'd rather hole up in the cosy treehouse, there are board games, musical instruments, books, and even a movie night setup that you can borrow!
8. These contemporary treehouses in the Baguio woods
Listing name: Twin Glass Treehouse at Tudor in the Pines
Listing type: Twin houses
Max. no. of guests: 4
No. of bedrooms: 2
Up north in the City of Pines, you'll find several glass-filled structures at the burgeoning homestay, Tudor in The Pines. All are tucked in the middle of the forest, with each accommodation slightly varying from the other. Though, if it's treehouse hotels you're looking for, then we definitely recommend the Twin Glass Treehouse.
Since the walls-slash-windows are mostly glass, you can definitely take in the lush pine-filled scenery day in and day out. Imagine having a cup of native hot chocolate, while admiring the view out and below! Another cool factor? The timber deck connecting the two treehouses, as well as the hanging bridge 30 feet above the ground. Don't these remind you of those cool treehouses you grew up seeing on TV when you were a kid?
Also read: Where to Stay in Baguio: 25 Vacation Rentals for All Budgets
9. This beachside sanctuary in Mabini, Batangas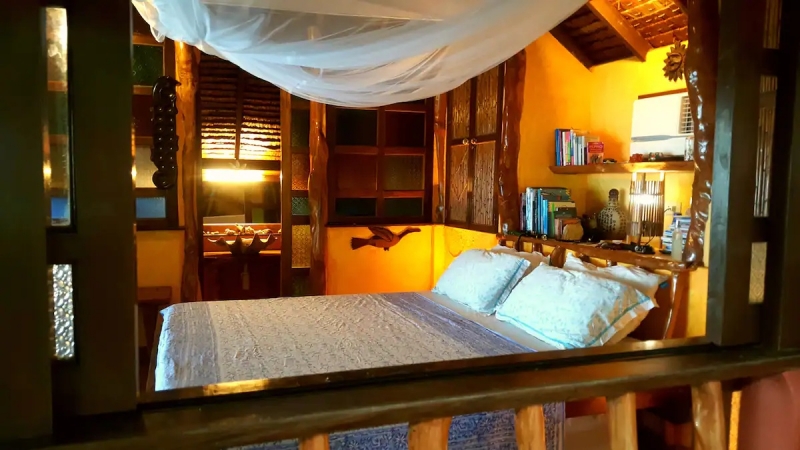 Listing name: OceanViewKubo
Listing type: Private room in treehouse
Max. no. of guests: 2
No. of bedrooms: 1
The quiet town of Mabini boasts a handful of rural beach resorts and dive spots that make it a great pick for under-the-radar vacations. And few things say "chill" better than this quaint Ocean View Kubo overlooking the bay. Doesn't that balcony make you look forward to watching the sunrise during your stay?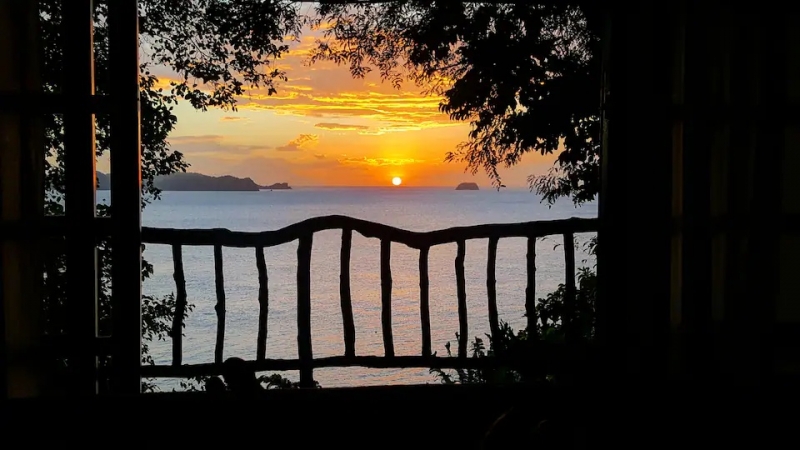 A short walk from the treehouse, you'll find a charming coral beach. This is the jump-off point of a variety of water adventures like swimming, snorkelling, free diving, and scuba diving. Snorkelling gear, life jackets, and booties are available at the treehouse. And yes, don't worry, all rentals are free!
10. This vibrant, proudly local hut in Calatagan, Batangas
Listing name: Tree House by the ocean with pool ( for 2 guests)
Listing type: Entire room
Max. no. of guests: 2
No. of bedrooms: 1
An elevated hut made entirely out of local raw materials like bamboo and cogon grass? Don't mind if we do. Our top pick for this would be Tree House by the Ocean, a beach house in sunny Calatagan. Don't you just love those colourful accents mixed with nature-inspired elements?
Go snorkelling to see some coral reefs during the day, and then unwind in their scenic pool from sunset till evening. The night sky here is also apt for stargazing! What's more, the place offers home cooked Spanish and Italian dishes that you can pre-order a few hours in advance.
Also read: 16 Airbnbs & Vacation Rentals in Batangas for Quick Escapes
11. This rustic home near Vigan's heritage village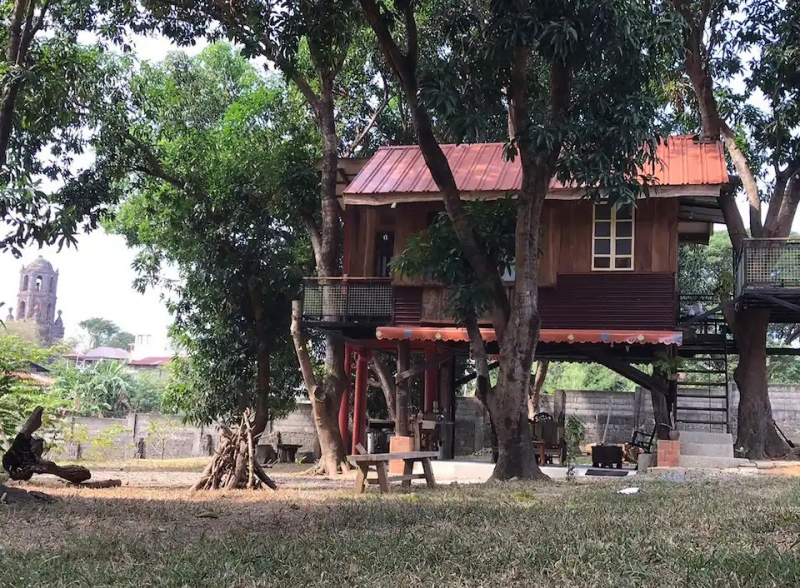 Listing name: Lili's Treehouse
Listing type: Treehouse
Max. no. of guests: 3
No. of bedrooms: 1 
While the cobblestone streets of Vigan are only a five- to 10-minute drive away, this beautifully designed treehouse lies delightfully off the beaten path. This Ilocos home is nestled between two majestic mango trees in a private mango orchard that will make you feel worlds away from the city. Here, you can embrace the laidback charm of provincial life.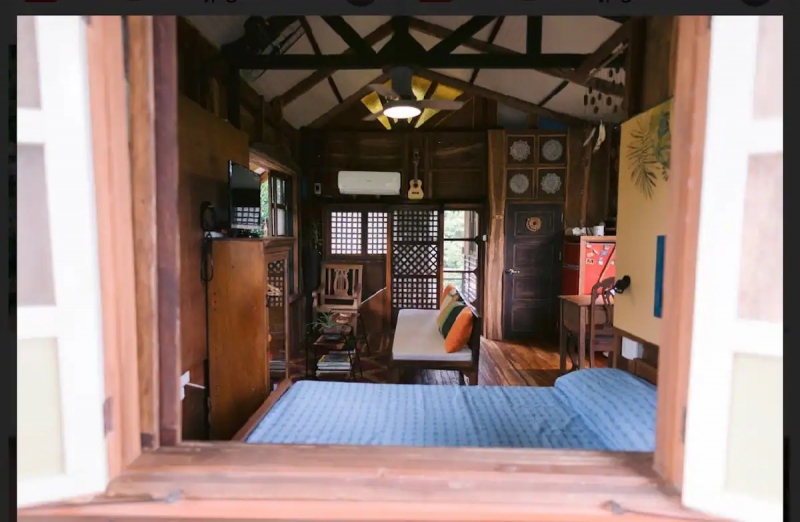 Relax inside the tiny home crafted from sturdy reclaimed wood. If you take a peek out of the west window, you'll even get a glimpse of the famous Bantay Bell Tower. But while the classic interiors are easy on the eyes, we prefer spending time outdoors, whether that means lounging on the hammock or enjoying views of the sprawling orchard from the balcony.
12. This lovely cottage in a lush Dumaguete nature park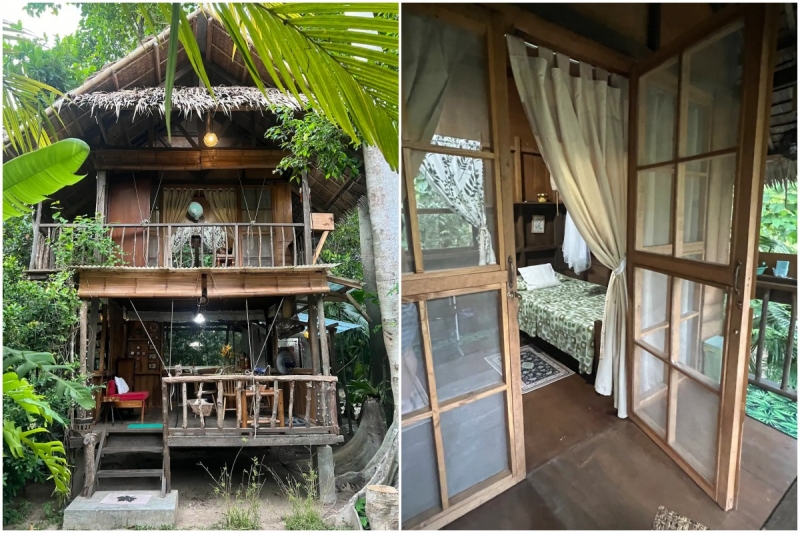 Listing name: Plantasia Park's Cottage in the Trees
Listing type: Treehouse
Max. no. of guests: 4
No. of bedrooms: 1 
Bask in the hush of nature in this two-storey cottage tucked amid the forest cover in Sibulan, Negros Oriental. Stroll through the nature park that's home to over 3,000 species of plants, as well as wild and domestic animals roaming the expanse. If you've ever dreamt of living out in the woods, this Airbnb lets you get a taste of that rugged life à la Henry David Thoreau.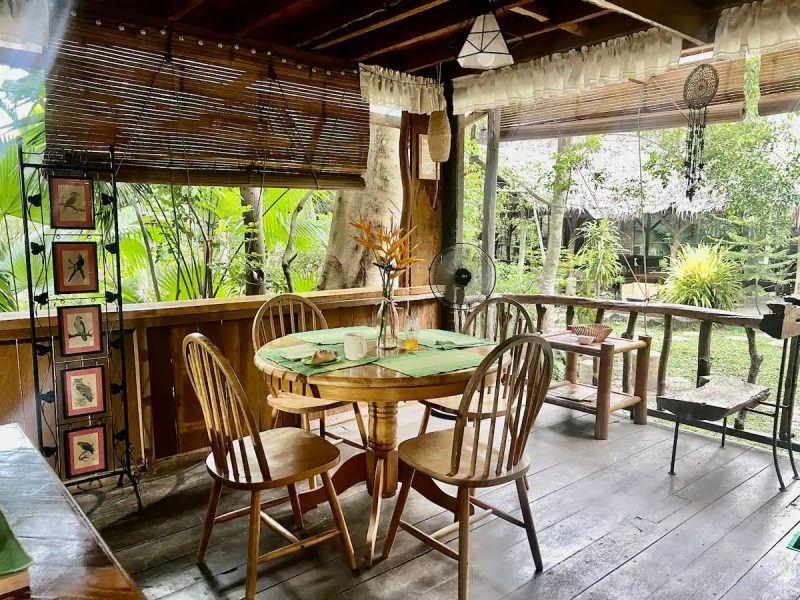 Inside this idyllic treehouse hotel, you'll find a cosy bedroom with two beds with kulambo to keep guests safe from pesky bug bites. Savouring meals in the indoor-outdoor dining area is endlessly pleasant. Best of all, this cottage's location near the highway makes it the perfect base for exploring Sibulan and nearby Dumaguete.
Also read: 10 Rustic Airbnbs in Dumaguete for a Seaside Vacation
13. This chill tiny home at Surf Town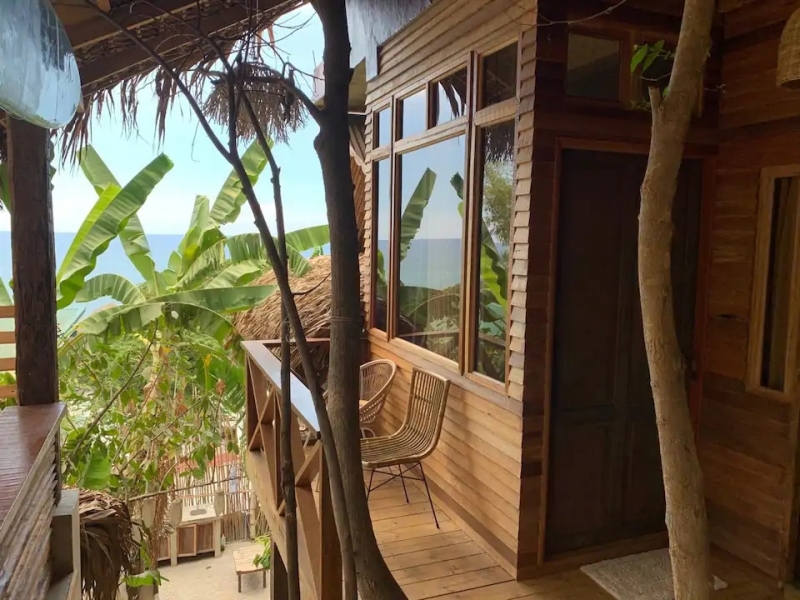 Listing name: Alon and Sandy room for small group
Listing type: Private room in tiny home
Max. no. of guests: 6
No. of bedrooms: 1 
Treehouse charm meets tiny home living in this laidback yet vibrant haven in San Juan, La Union. This vibrant Alon and Sandy room is a great find for Elyu weekenders, with comfy beds and a shared minibar that can also be used as a workspace for remote workers.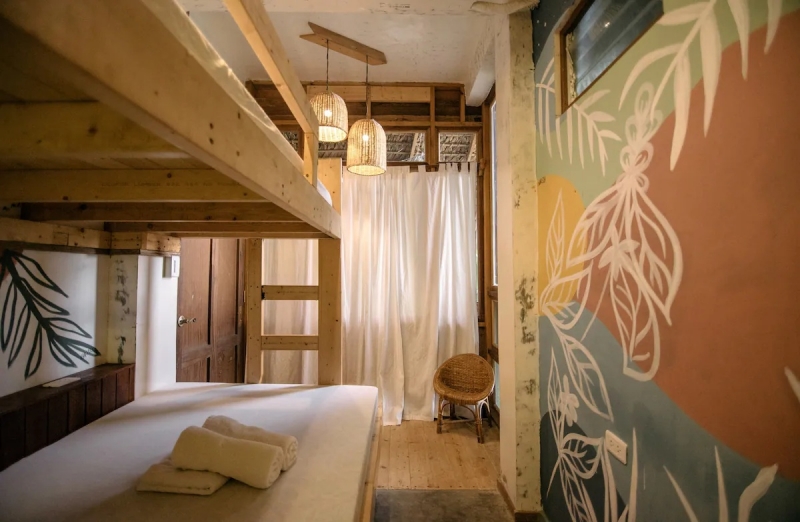 To get to this Airbnb, you'll have to climb up an alley that's quite steep. However, this home away from home tops our list of treehouse hotels for its relaxed vibe, friendly staff, and clean bedrooms. Plus, when the waves start calling, you and your surfboard will only be a short walk away from the surf. Sounds like paradise, if you ask us!
Also read: 13 Airbnb Homes & Hotels in La Union For Your Next Elyu Trip
14. This tropical hideaway in Puerto Galera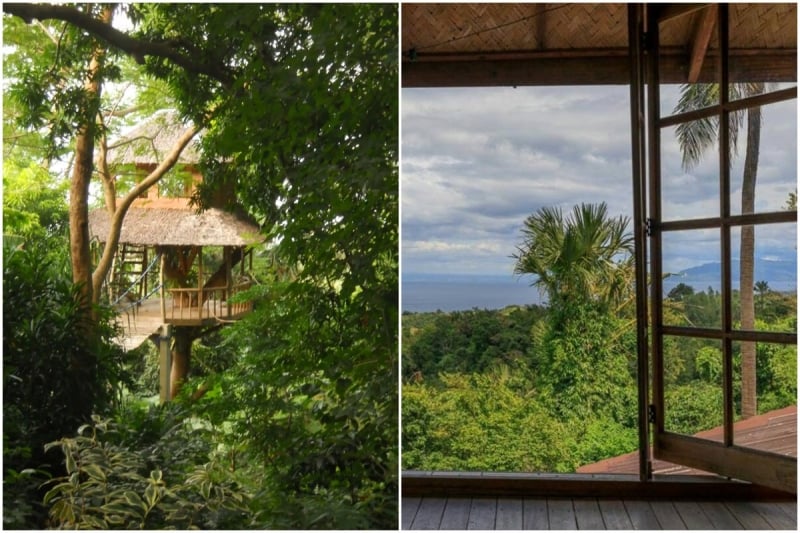 Listing name: Necerita's BnB Tropical Retreat
Listing type: Entire villa
Max. no. of guests: 6
No. of bedrooms: 3 
There are many resorts to choose from in sunny Puerto Galera. But if your heart is set on treehouse hotels, this secluded pet-friendly homestay is one that you'll love. Guests get access to a spacious self-contained suite on the upper floor of a family home, as well as a treehouse built on a 75-year-old mango tree and attached to the main house with a hanging bridge.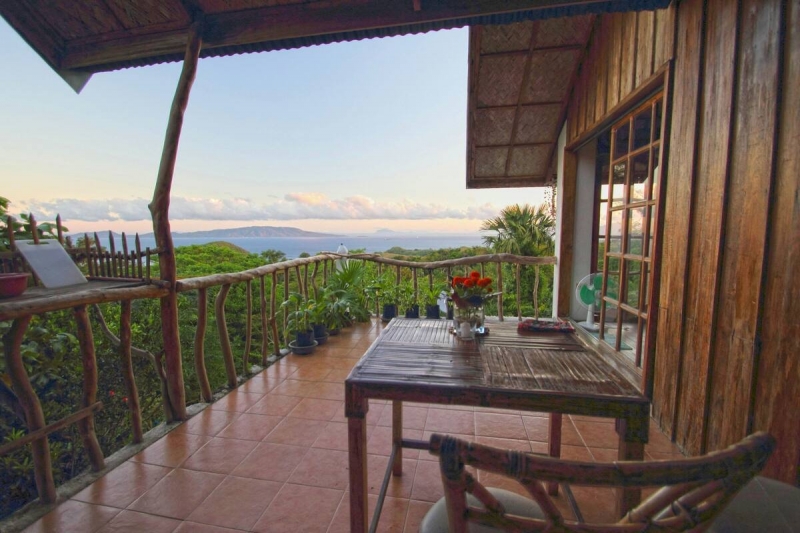 Explore the lush 2.2-hectare property around the home, including the beautifully landscaped gardens home to rare flora and century-old trees. The famous White Beach is only a five-minute drive away, but we recommend taking the scenic route through the jungle.
Also read: 10 Airbnbs for Your Next Barkada Staycation Near Manila
15. This stilt house on a secluded El Nido beach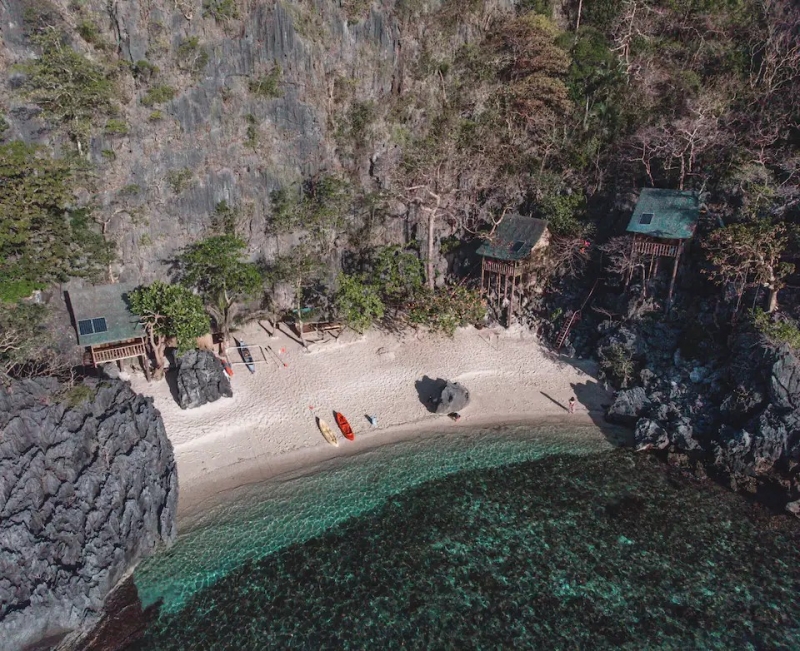 Listing name: Bungallow with Panoramic View in Shante Island – 2
Listing type: Private room in island
Max. no. of guests: 2
No. of bedrooms: 1 
Live like a castaway on a remote beach on Palawan's Matinloc Island. Sounds magical, right? Simple as these treehouse accommodations may be, its backdrop of fine white sand, turquoise waters, and lush treeline make it a dream destination for beach lovers. Wake up to picture-perfect seaside vistas daily. At night, fall asleep to the soothing sound of crashing waves.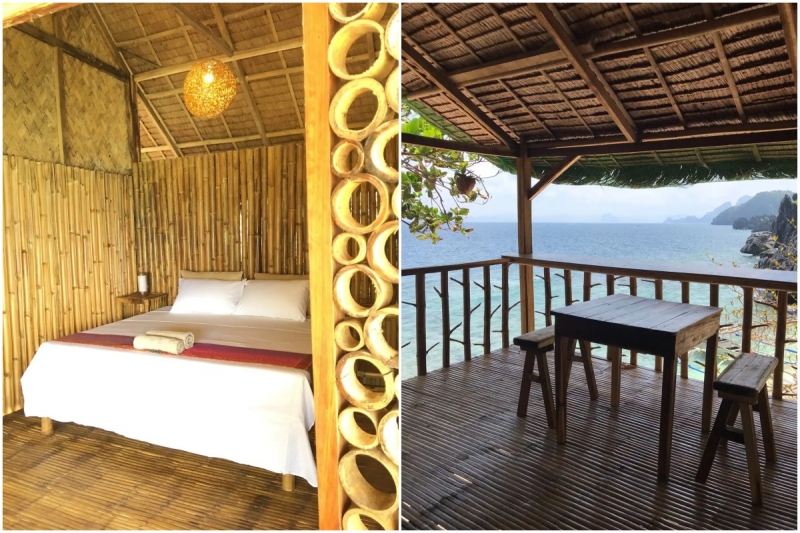 Every stay includes full meals, so you won't have to worry about food during your vacation. Another plus: Shante Island is an eco-hotel completely powered by solar energy.
Also read: 15 Airbnb Homes & Vacation Rentals in El Nido Where You Can Live Out Your Island Dreams
Which of these treehouse hotels and Airbnbs in the Philippines has caught your eye the most? Or better yet, have you been to any of these already? Either way, we'd love to hear more about it. So, go on and share your treehouse stories in the comments!
Got a property you'd like TripZilla to feature? Inquire with us here. 
---
This article contains affiliate links. When you book through these links, we may earn a small commission at no additional cost to you. All images courtesy of the respective property listings.