Sure, most of us go to Baguio to experience the cold weather (and bring out those wintry clothes without the need for a plane ticket!). Some come up here for some soul-searching, while others just want a change of scenery; some like hiking around the forest trails, while others come for the thrift stores and designer outlets. But if there's one thing we can all agree on, it's that no trip here is complete without going to a few Baguio cafes. 
Make the most out of your stay in the City of Pines by taking the time to unwind and enjoy the highland life. And that includes grabbing some coffee and/or hot chocolate from these top Baguio cafes! 
Also read: Where to Eat in Baguio: 22 Restaurants for the Wandering Foodie
Top Baguio cafes for great coffee and hot chocolate
1. Choco-late de Batirol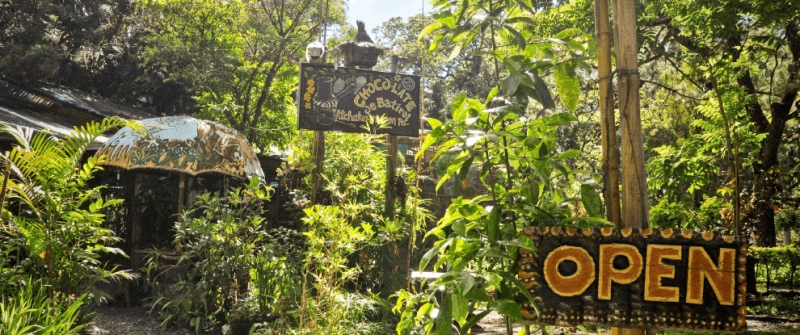 Among all the Baguio cafes, Choco-late de Batirol is by far the most popular among locals and tourists alike! You'll find it inside a garden shack in the verdant hills of Camp John Hay, giving it a forest hideout charm.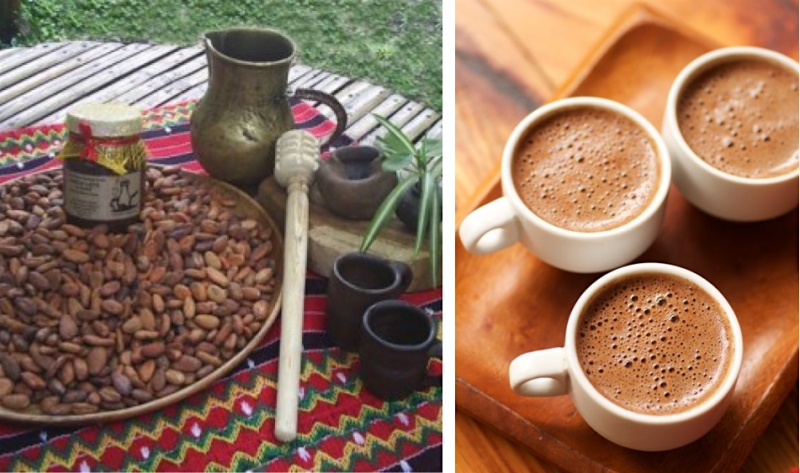 Here, you can try their signature hot tsokolate drink. It's traditionally made using a metal pot, where they stir the melted cacao using a batirol (wooden rod), giving it a thick texture. It's best paired with their bibingka and suman sa lihia for a perfect merienda! 
Address: Igorot Park, Gate 2, Camp John Hay, Baguio City
Hours: Monday to Sunday, 8am to 9pm
2. The Coffee Library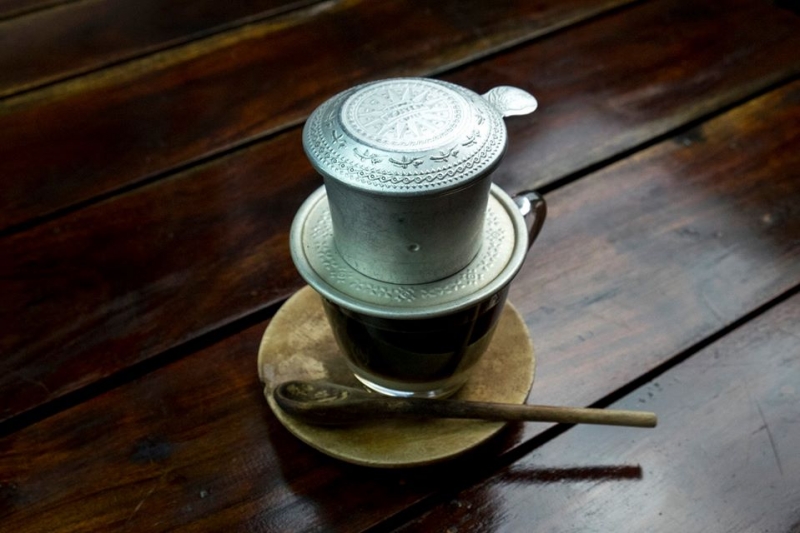 The Coffee Library features a wide array of different coffee blends ranging from Italian, Filipino, to Vietnamese. It's situated a bit further away from the usual tourist haunts, so you can expect that most of its patrons are locals.
Another perk is that everything on the menu is affordable, as it's a usual hangout spot for university students. Their must-try include the caphe sua chua (coffee with yoghurt), ca phe sua (coffee with condensed milk), and Kapangan coffee (traditional Benguet brew). 
Note: The Coffee Library has two more branches in La Union and Pasay.
Address: Rex Hall, Upper Bonifacio St, Baguio City
Hours: Monday to Sunday, 8am to 11pm
3. Kaffeeklatsch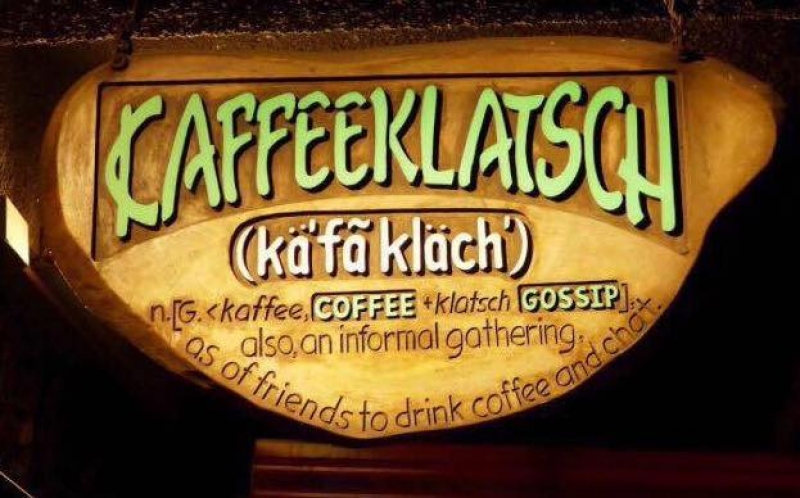 Head over to Kaffeeklatsch for a healthy dose of cosy rustic interiors, live acoustic tunes — and of course, delicious coffee. Whether you want to have some alone time or catch up with friends, this is your best bet. It's also one of the few Baguio cafes that are open till midnight!
It derived its name from the German words kaffee (coffee) and klatsch (gossip), roughly translating to "an informal gathering for coffee and conversation." Oh, and they even saved you the Google search: the pronunciation is right on their sign! 
Address: #39 City Camp Road, Baguio City
Hours: Tuesday to Sunday, 4pm to 12am
4. Hatch Coffee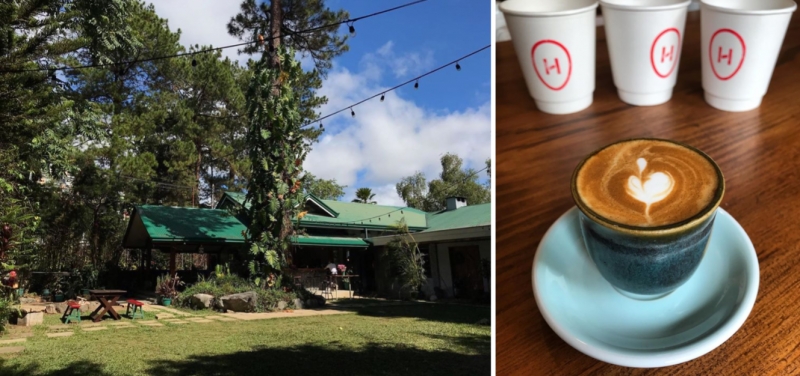 You'll find Hatch Coffee tucked away in Easter Road, right beside the bed and breakfast, Easter Home (hence the "hatch" name). It's a charming bungalow hidden behind vine-covered walls, and surrounded by a lush garden. Woodsy country-style decors will welcome you as you step inside, making you feel right at home.
Their speciality drinks include their Dirty Hatchata (horchata), flat white, cortado, and mocha. We enjoyed pairing these with the Easter Sandwich, which has Baguio longganisa, scrambled egg, crunchy tomatoes, and habaneros inside! 
Note: Did we mention that they have a few adorable doggos hanging around the place?
Address: 135 Easter Road corner Road 1, Manzanillo, Baguio City
Hours: Wednesday to Sunday, 10am to 7pm
5. Tsokolateria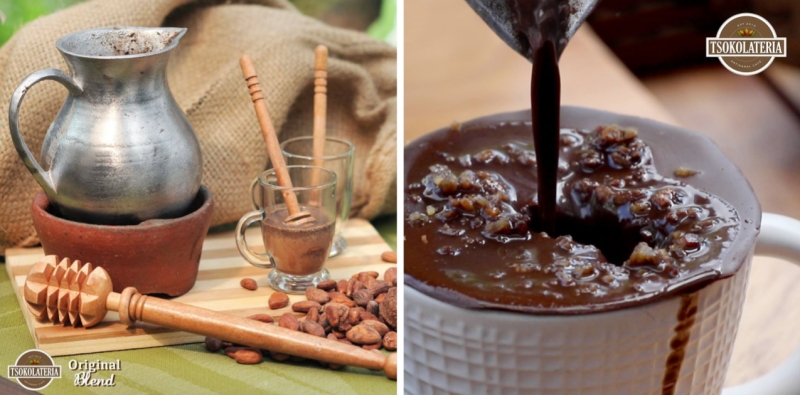 True to its name, Tsokolateria is a chocolate lover's haven. Their menu comprises of chocolate-infused food and drinks, ranging from the traditional variety to unexpected twists. You'll easily spot it along the famous Igorot Stairs on Upper Session Road. Enjoy a relaxing merienda or romantic dinner at one of the lanai spots, which complements the cool Baguio breeze. 
Take your pick among different hot chocolate: the Tablea House Blend (it's even good for two), the Tsokolate ah and Tsokolate eh (Noli Me Tangere throwback, I know), and the Sili Labuyo Tsoko Blend. Oh, and the chocolates they use are all locally sourced — from Baguio all the way to Davao! For something to munch on, try their Tablea Champorado; it's sweet and crunchy, with a hint of savoury! 
Note: Tsokolateria has two more branches in Tagaytay and Quezon City.
Address: Igorot Stairs, Upper Session Road, Baguio City
Hours: Monday to Sunday, 10am to 10pm
6. Arca's Yard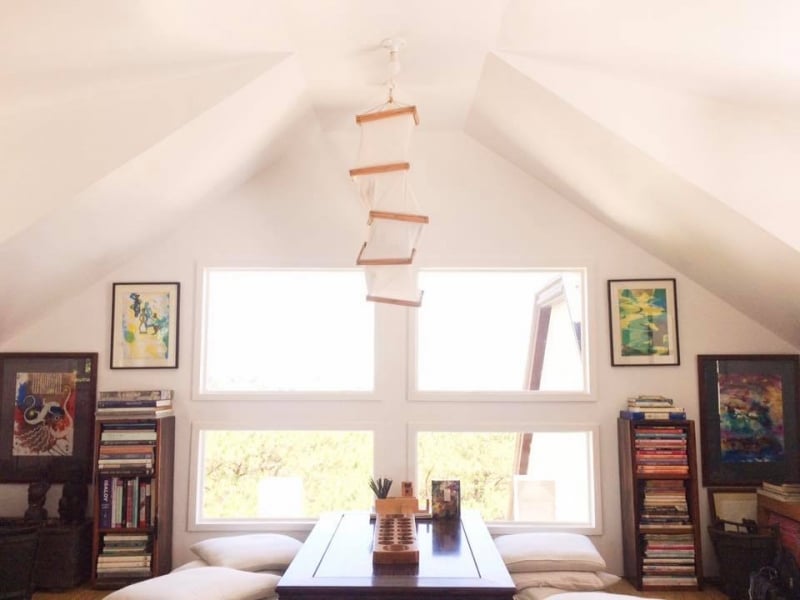 Though Arca's Yard is a bit further away, trust us when we say that the drive up here is worth it! It's one of those quaint Baguio cafes that offer picturesque views of the woodlands, whether from the balcony or through the wide windows. It also doubles as a mini-library and museum showcasing Igorot culture and antiquities.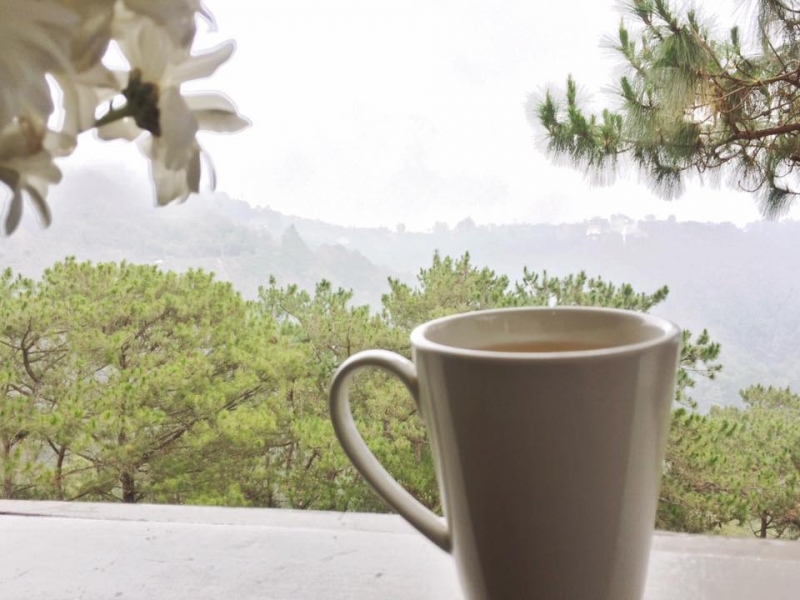 Enjoy their Cacao Hot Choco and/or Benguet coffee, both of which are best paired with their scrumptious Sweet Potato Pie Ala Mode. Yum!
Address: Ambuclao Road, Baguio City
Hours: Monday to Sunday, 9am to 8pm
Also read: 10 Best Mountain Cafes in the Philippines for Your Peak Coffee Experience
7. Rewind Cafe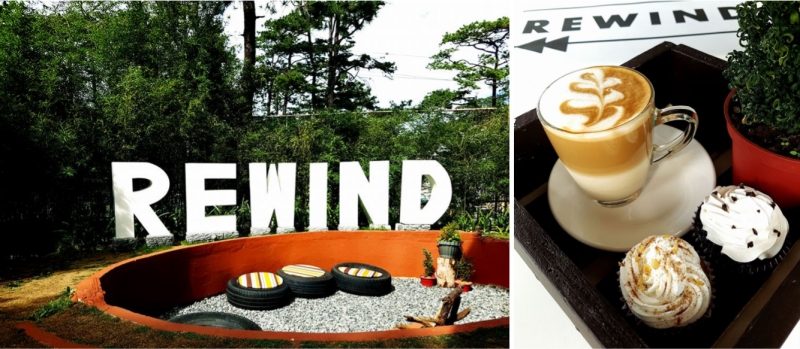 If you're one of those people with fond childhood memories in the City of Pines, then Rewind Cafe is worth a visit. Located along winding Gibraltar Road, it will take you on a trip down memory lane. With its stone and brick walls, wooden furnishings, and high ceilings, it's how you'd imagine an ideal mountain home looks like. There's even a wall featuring curated photos of old Baguio — dating all the way back to the 1940s. Definitely not something you see in most Baguio cafes! 
As for their coffee concoctions, the soya coffee blends are great if you're looking for something new. Take your pick among the regular, hazelnut, raspberry, and salted caramel flavours. With the soy components, it's somewhat healthier than your usual coffee drink. 
Address: #2 C. Arellano Street Extension, Longboan Alley, Gibraltar Road, Baguio City
Hours: Monday to Saturday, 10am to 8.30pm
8. Coffee & Pine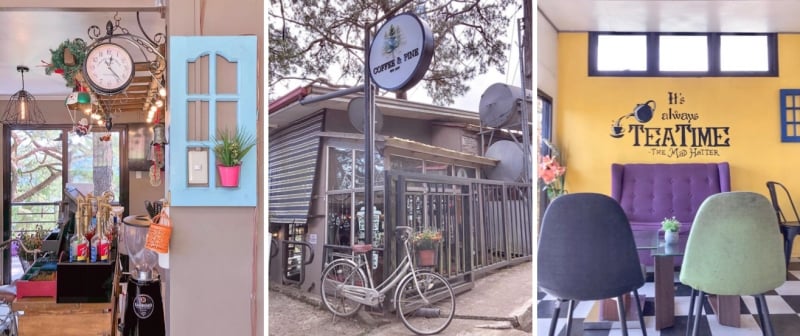 True to its name, this roadside Baguio cafe really is surrounded by pine trees. Nothing says 'Baguio' better than a view filled with pine trees — and of course, some good coffee or hot chocolate.
Not to be upstaged by the outdoor scenery, the interiors are also quite Instagrammable with its minimalist decor and shelves of glass jars and tiny sculptures. Enjoy all these while trying some of Coffee & Pine's bestsellers, like the mochaccino, hot choco, choco macadamia latte, and blueberry cheesecake coffee! And yes, they're all as delightful as they sound. 
Address: 26 Outlook Drive, Baguio City
Hours: Monday to Sunday, 9am to 10pm
9. Gossip Coffee Shop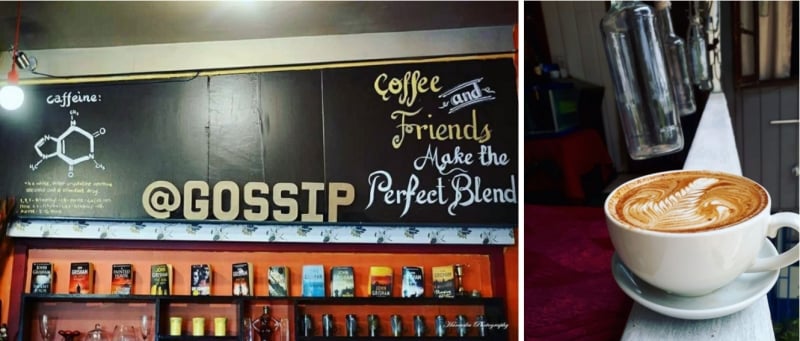 Ask any Baguio local, and they'll probably agree that Gossip Coffee Shop is indeed an ideal place to make chika with your friends. Their vibrant orange walls are a welcome change from the usual rustic decor of most Baguio cafes. Though since it's an old house-turned-coffee shop, you can still expect a charming homey vibe. 
For the ultimate kwentuhan session, order their Gossip Food Trip Platter: it has fries, nachos, quesadillas, and club sandwiches. Don't forget to pair it with a classic Café Latte, or something different like the Camp Fire Latte, Butterscotch Latte, or Choco Hazelnut! 
Address: 76 Upper General Luna Road, Baguio City
Hours: Monday to Sunday, 10am to 10pm
10. Café Adriana by Hill Station

Hot drinks and comfort food topped off with sweeping views of the Cordillera mountains? Don't mind if we do. You'll find Café Adriana by Hill Station on the deck of Outlook Ridge Residences. We recommend getting a table beside the fireplace, for that "look, I'm totally in Baguio" photo-op. 
Unlike other Baguio cafes that offer mostly cake and other baked goods, this one's best-selling dishes are their paellas. But hey, who said you can't pair this with your preferred hot beverage? Their signature Filtered Coffee and Tableya Hot Chocolate say otherwise. Though, if you're coming here for dinner, we recommend the Cafe Don Pedro: coffee with a shot of Fundador brandy and a scoop of vanilla ice cream. Muy bien! 
Address: DMCI Outlook Ridge Residences, V. Delos Reyes Street, Outlook Drive, Baguio City
Hours: Sunday to Thursday, 8am to 10pm; Friday to Saturday, 8am to 10.30pm
11. Hot Cat Specialty Coffee
In a city that takes coffee seriously, Hot Cat Specialty Coffee manifests the best elements of local artisanship. On top of the third-wave coffee movement, this Baguio cafe serves speciality coffee with expertise and precision. Their baristas are always ready to converse with customers about their coffee-making process, from bean sources and grind sizes to espresso flavours and preparation methods.
Aside from having an impeccable range of beans, the cafe also has quite a scenic atmosphere. Coffee connoisseurs will surely relish scouring their menu options, but if you need recommendations, try out their Cinnamon Latte and pair it with a Burnt Basque Cheesecake.
Note: Hot Cat Specialty Coffee sits right below the speciality bookstore, Mt Cloud Bookshop!
Address: 1 Yangco Road Corner Brent Road, Baguio City
Hours: Sunday to Monday, 1pm to 5pm; Tuesday to Saturday, 10am to 5pm
Also read: Coffee Culture in the Philippines & Where to Find the Best Brews
12. Taguan Cafe
Taguan Cafe is a hidden gem tucked behind the acclaimed GypsyBaguio by Chef Waya, which is the former's parent restaurant. Its name is inspired by the owner's vision to create a "safe space for coffee and conversations," and its ambience stays true to this: There are cosy sitting areas with zabutons on the floor, as well as friendly dogs that roam around the area. (If you get the chance to meet the adorable resident pomeranian named Yakult, say hi!)
As for their coffee, Taguan Cafe uses Philippine beans exclusively (Arabica and Robusta beans from Atok and Cavite) to create their own Taguán blend. In the mood for something fun? Order their delicious Dirty Ube Latte, an espresso-based drink made with ube puree, ube halaya, and coconut milk.
Address: 6 Quezon Hill Road 2, Baguio City
Hours: Sunday to Saturday, 11am to 9pm
13. Foam Coffee
We love an aesthetically pleasing cafe that serves actually decent coffee. Foam Coffee has our hearts because it goes beyond stylish interiors — although they're definitely good at that, boasting high ceilings, full-length windows that allow the sunlight to seep in, and thoughtfully designed seating spaces that accommodate several customers at a time.
Their namesake signature latte is a favourite among those who enjoy their coffee sweet and creamy. Meanwhile, their Black Sesame Foam Latte makes an interesting choice for customers craving deeper and nuttier flavours. Not a coffee drinker? Foam Coffee has a long list of non-caffeinated drinks, including the Pink Latte and the Horchata. If you can't get enough of their saccharine treats, you can also order a box of Glazed Artisan Donuts to go with your drink.
Address: Upper G/F Travelite Hotel, Shuntug St., Baguio City
Hours: Monday to Thursday, 8am to 10pm; Friday to Saturday, 8am to 11pm
14. Peakcup Coffee
The interiors of Peakcup Coffee scream "third wave coffee haven," where contemporary design is king. It checks all the boxes: skinny corner lamps, stone counters, exposed beams, and an open layout. Coffee equipment lay bare, allowing customers to gaze as baristas prepare their beverages. But its straightforward design only complements its menu: It has everything to offer and nothing to hide. 
Whether you go for their Shoyu Caramel Latte or Cotton Candy Horchata, you'll find yourself satisfied. Patrons attest that this quaint Baguio coffee shop can compete with the bigger cafes in the market, but has the edge of sourcing only speciality-grade coffee beans from local roasters. As for their food selection, Peakcup Coffee offers filling dishes, too. We suggest that you order their Strawberry Burger and Cajun Fries; on the other hand, you can't go wrong with their rice meals either.
Address: Aspiras-Palispis Highway, Baguio City
Hours: Monday, Wednesday to Saturday, 9am to 6pm; Sunday, 1pm to 7pm
15. Nest Coffee Roasters
Nest Coffee Roasters is a hipster coffee paradise — and we mean this in the best way possible. Formerly Cafe Yagam, a local favourite cafe in Baguio, Nest Coffee Roasters serves top-tier Cordilleran coffee, slowly brewed to perfection. 
Treating customers to a highly personalised coffee experience, Nest Coffee gives you the option to choose your beans (Yagam single origin or nest special blends) and brewing methods (pour-over, Aeropress, or siphon). Alternatively, you can go for the premade speciality beverages and pair them with their delicious pastries and dessert.
Note: Their packed Yagam coffee beans make a great Baguio pasalubong!
Address: 3 Escoda Street, Calle Uno Food Hub, Corner Naguilian Road, Quezon Hill, Baguio City
Hours: Sunday to Saturday, 10am to 7.30pm
Also read: Where to Stay in Baguio: 26 Vacation Rentals for All Budgets
Make sure to do some cafe-hopping in Baguio and try some of the yummy caffeine and choco concoctions they have to offer!
How about planning a weekend trip to the City of Pines soon? We'd love to hear all about it afterwards. Don't forget to tag us on Instagram at @tripzillaph, and use our hashtags #TripZillaPH and #MakeTravelHappen!