There are few places in the southern Philippines that are as enticing as Davao. Its regional centre, Davao City, is the largest city in the country at 2,400 square kilometres. It's also hailed as one of the cleanest cities in the Philippines. And apart from its dynamic metropolis, the Davao region is also home to several natural wonders like waterfalls, beaches, and wildlife sanctuaries like the Philippine Eagle Centre. And of course, let's not forget the highest mountain in the Philippines, Mt. Apo.
Planning a trip to explore all these wonders? Check out these lovely Airbnb homes in Davao that offer a taste of what this region can offer. Most of the listings included below are situated in Davao City, but you'll also find a couple of options from Samal Island and Mati.
Also read: 18 Airbnb Homes in Batangas for When You Need a Quick Escape
Top Airbnb homes to book in Davao
1. This sophisticated family home with a Jacuzzi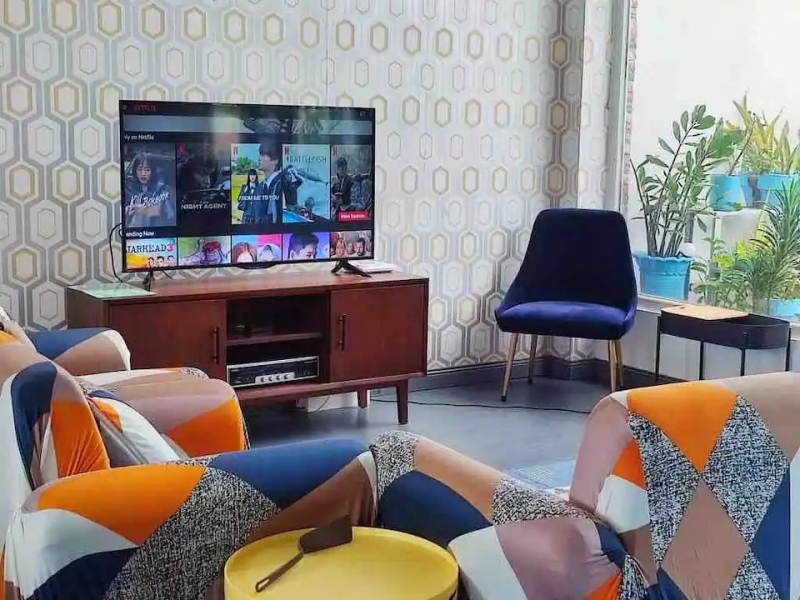 Listing name: Stunning House near Davao Airport.
Listing type: Entire house
Max. no. of guests: 5
No. of bedrooms: 2
A magpie mix of design themes, this Airbnb in Davao is a refreshing pick. In contemporary fashion, greys, whites, and accent blue punctuate the open-plan ground floor, which includes a bright living room, kitchen, and dining area for six. Meanwhile, three ample-sized bedrooms on the second floor employ more playful hues. Families travelling down south will love this home's hot tub, the cool breeze coming in from the front terrace, and the view of Mt. Apo from the master bedroom. 
2. This industrial-themed studio with a view of Mt. Apo
Listing name: Industrial condo: great view of Mt Apo @ Avida
Listing type: Entire condominium
Max. no. of guests: 3
No. of bedrooms: Studio
Brick wall and chipboard panelling, dim, moody lighting, and vintage furnishings complete the dramatic industrial look of this chic pad. Small but functional, this studio features a queen bed, an extra mattress, a 50-inch smart TV with Netflix access, and a kitchenette. The breakfast bar with industrial metal chairs is a nice touch. But the real star in this Davao Airbnb is the majestic view of Mt. Apo from the window. 
3. This cosy and understated crib in the heart of the city
Listing name: Chic condo near SM City (Free pool+ Netflix)
Listing type: Entire condominium
Max. no. of guests: 4
No. of bedrooms: Studio
It may not seem like much at first glance, but this homey Airbnb in Davao has everything you'll need for a convenient stay: a snug bed with a pullout, a fully equipped kitchen, hot and cold shower, WiFi and Netflix access; and proximity to major establishments in the city. You and your companions can lounge on the roomy sofa or chill out by the pool. 
Also read: 10 Cebu Airbnb Homes for a Relaxing Staycation
4. This dreamy beach-themed suite on Samal Island
Listing name: Beach Room Studio @ Castle View
Listing type: Room in a guest suite
Max. no. of guests: 2
No. of bedrooms: 1
Had your fill of the city? Retreat from the hustle and bustle and stay in the Island Garden City of Samal, dubbed the "largest resort city in the Philippines." This beachy studio is set in Castle View, which sits atop an overlooking ridge line in Samal Island.
The perfect spot for panoramic sunset views across the city and Davao Gulf is right from your room's patio door. The room itself exudes beach vibes with its aqua walls and turquoise sheets. Perfect for a romantic getaway, this suite also features an infinity pool, BBQ areas, and a lush garden. 
5. This posh Davao Airbnb with hotel-like amenities
Listing name: #112 2BR w/ Parking Pool Netflix Wi-Fi @Northpoint
Listing type: Entire condominium
Max. no. of guests: 10
No. of bedrooms: 2
Choosing to skip the hotel stay in Davao doesn't mean compromising on amenities. Au contraire, this elegant abode provides most of the standard hotel amenities plus more privacy; and this two-bedroom home near Abreeza Mall does just that.
Here, you'll have access to cushy beds, a fitted-out kitchen, hot shower and toiletries, fast WiFi and Netflix, and even free use of the swimming pool and gym. These conveniences, plus the home's overall elegant feel (thanks to the thoughtful decor) make for a memorable stay. 
6. This beachfront cabana on Dahican Beach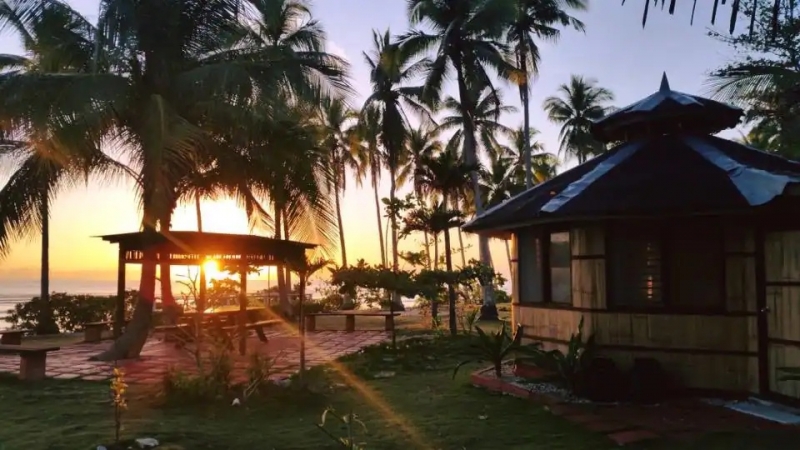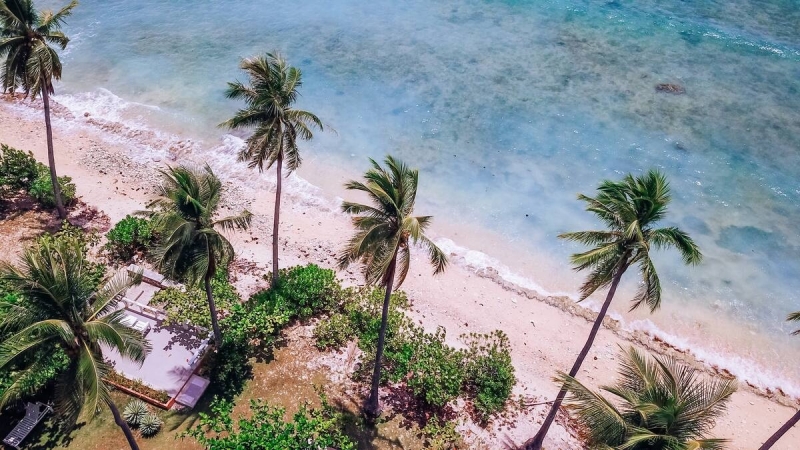 Listing name: Cabana 1 Destination Dahican
Listing type: Place to stay in a hut
Max. no. of guests: 6
No. of bedrooms: 1
Dahican Beach in Mati, Davao Oriental is famed for its turquoise waters, powdery white sand, palm tree-lined beaches, and strong waves for surfing. Staying in this beachfront cabana lets you enjoy all of these and more.
The room is sparsely decorated but with a marvellous view like this, you will hardly stay indoors. Pick a spot for destressing: the roofed picnic area, the lounge chairs, the hammocks, or the view deck. All of these are right by the beach! And don't miss out on Dahican's sunrise. Definitely worth waking up early for. 
7. This comfy home for the singleton in the city
Listing name: Dee's Place:Abreeza mall+wifi+wash&dry+SmartTV
Listing type: Entire condominium
Max. no. of guests: 2
No. of bedrooms: studio
Clean, cosy, and well-equipped — this is how previous guests describe Dee's Place. Perfect for solo adventurers but also awesome for couples, this Airbnb in Davao has a nice, snug bed that's beside floor-to-ceiling windows. The TV sits at the foot of the bed, perfect for binging on Netflix shows while you're propped on the bed. And if you need to shop or dine outside, major malls and restaurants are just within walking distance. 
Also read: 10 Airbnbs in Puerto Princesa That We'd Love to Live In
8. This swanky private villa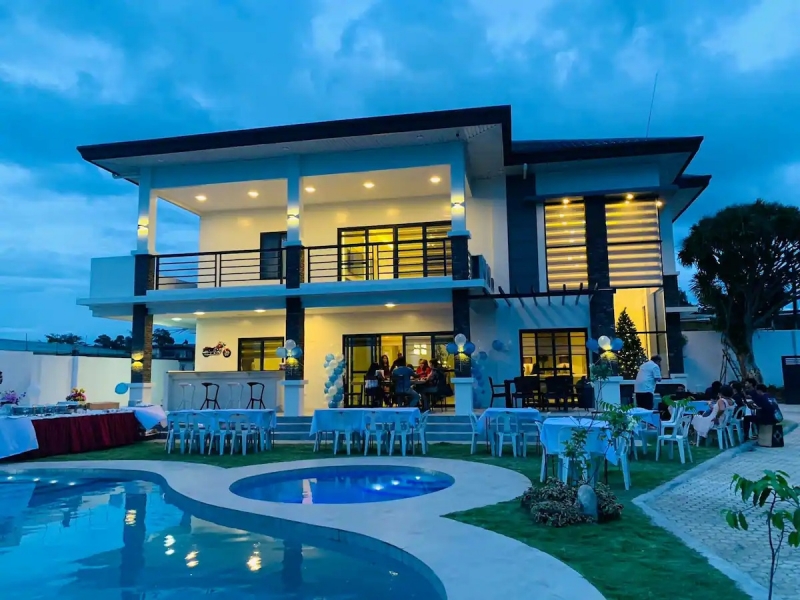 Listing name: Beautiful Luxury Villa in Davao City
Listing type: Entire villa
Max. no. of guests: 8
No. of bedrooms: 4
A fab family vacation calls for a luxurious home. With generously-sized bedrooms, luxe decor, a gorgeous kitchen, and expansive outdoor spaces, this five-star home is exactly that. 
Situated in an exclusive village, you and your fam can enjoy private bonding time while still being close to the city's attractions. Mornings are best spent sipping coffee on the second level deck while basking in the view of Mt. Apo. Spend a relaxing afternoon at the pools, and cap off the night with a Netflix party. How's that for a fun time? 
9. This elegant haven with city and ocean views
Listing name: Homey Comfy CondoTel – Avida Towers
Listing type: Entire condominium
Max. no. of guests: 3
No. of bedrooms: 1
This Airbnb in Davao has managed to make a limited space look classy through choice furnishing. From the comfy bed that sports 300-thread count sheets to the high-class decor, the host has made sure to create a cosy home away from home. What's more, this unit has a window overlooking amazing views of Samal and Mt. Apo. 
10. This minimalist bungalow near the airport


Listing name: Cozy House 10pax in Sasa near Airport,Samal
Listing type: Entire bungalow
Max. no. of guests: 10
No. of bedrooms: 4
This minimalist home may not catch your eye at first glance, but don't dismiss it yet. It's got good reviews for several reasons: it's squeaky clean, spacious, and has all the modern conveniences you'll need for a comfy group stay. Plus, it's mere minutes away from the Davao International Airport, the Sasa Wharf going to Samal Island, and major malls. 
Highlights also include four air conditioned rooms, two bathrooms, two carports, and a kitchen equipped with cooking and baking appliances. 
11. This Christmas-themed cabin in a quiet part of the city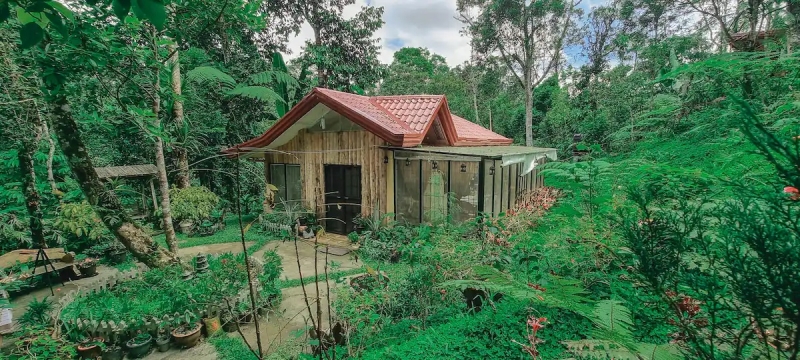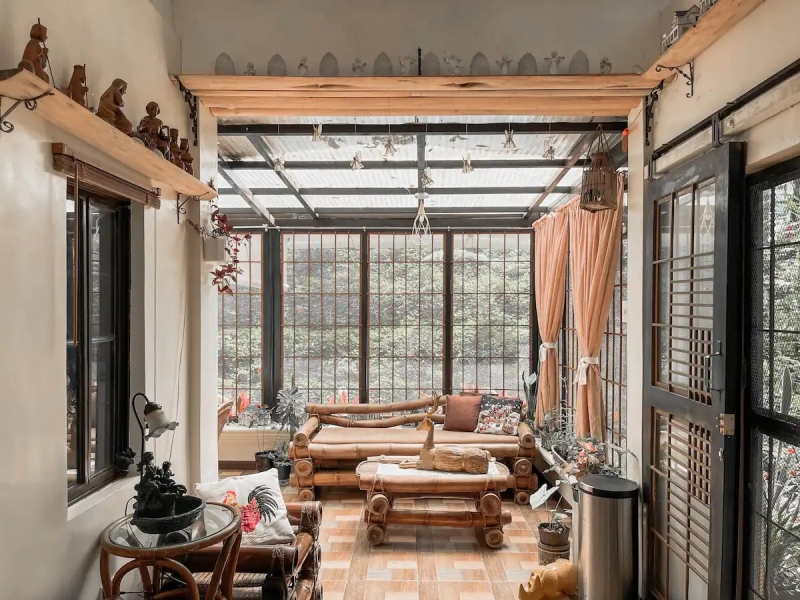 Listing name: TwinkleVille: Christmas-themed cottage
Listing type: Entire home
Max. no. of guests: 8
No. of bedrooms: 1
Tucked in a peaceful part of Davao City, this charming cottage is the Airbnb of choice of travellers in search of a quiet place to land. Sun-drenched interiors, beautiful wooden furnishings, and an outdoor dining area create a picture-perfect retreat for group vacations. Large windows look out onto the lush garden — it definitely gives a different vibe than the buzzy city centre!
Love the Christmas season? Holiday decor stays up all year round in this Christmas-themed cottage!
12. This Instagrammable tropical hideaway in Carmen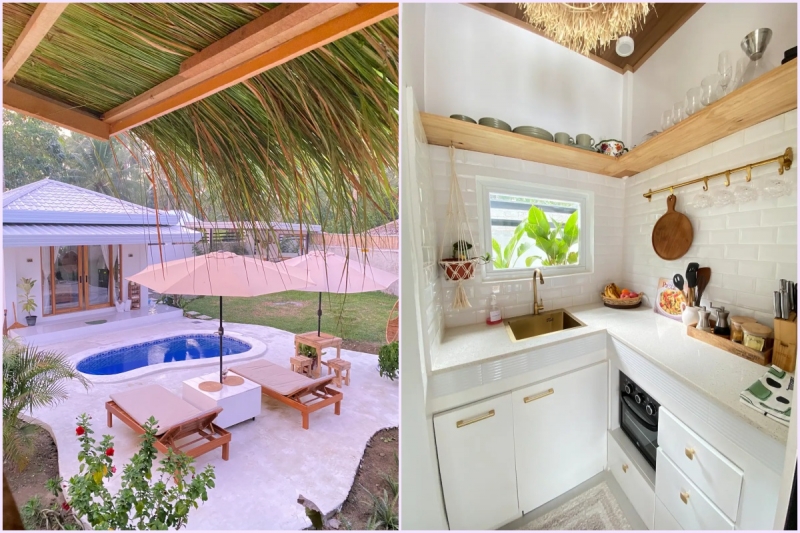 Listing name: The Browns Casita-A tropical hideaway
Listing type: Entire villa
Max. no. of guests: 4
No. of bedrooms: 1
Check out this tropical-inspired casita in Carmen — it looks straight out of Pinterest, right? Dubbed The Browns Casita, it's a relaxed Airbnb for your Davao getaway with friends. It comes with all the essentials, including a cosy sleeping area, a picturesque kitchen, and an outdoor plunge pool. Plus, digital nomads will be happy with a dedicated workspace and free speedy WiFi.
Also read: 10 Things to Do in Davao — The King City of the South
Did any of these Airbnb listings in Davao appeal to you? We hope you made your choice — that's one less thing off your travel planning list!
Got a property you'd like TripZilla to feature? Inquire with us here.
---
This article contains affiliate links. When you book through these links, we may earn a small commission at no additional cost to you. All images courtesy of the respective property listings.