Quit your job. Sell everything you own. Move your life into a van. Travel the world. 
Does this outrageous scenario sound familiar to you? Like many travel enthusiasts, you might've also dreamt of embracing the #vanlife movement. After all, it's become the benchmark of the Instagram dream life, with over 14 million hashtags on the social media platform as of writing.
Realistically speaking, however, #vanlife isn't for everyone. With mouths to feed and bills to pay, most of us are committed to 9-to-5 jobs that require face-to-face meetings once in a while. But of course, this shouldn't stop us from dreaming. In fact, experiencing the #vanlife is finally feasible for the regular folk, with Airbnb trailers in the Philippines finally popping up!
It's true: You can finally get a taste of the nomadic lifestyle — even if you're not quite ready to leave everything behind just yet. Test your mettle on the road with a staycation at these RV trailers in the Philippines that you can book on Airbnb. 
Also read: 15 Unique Airbnb Rentals in the Philippines for an Epic Vacation
Airbnb trailers in the Philippines for your next adventure
1. This dreamy Airstream that exudes boho-chic vibes — Calaca, Batangas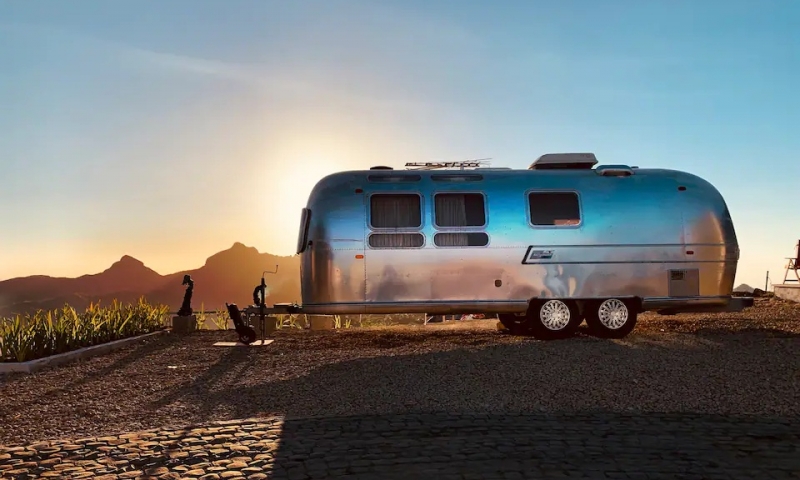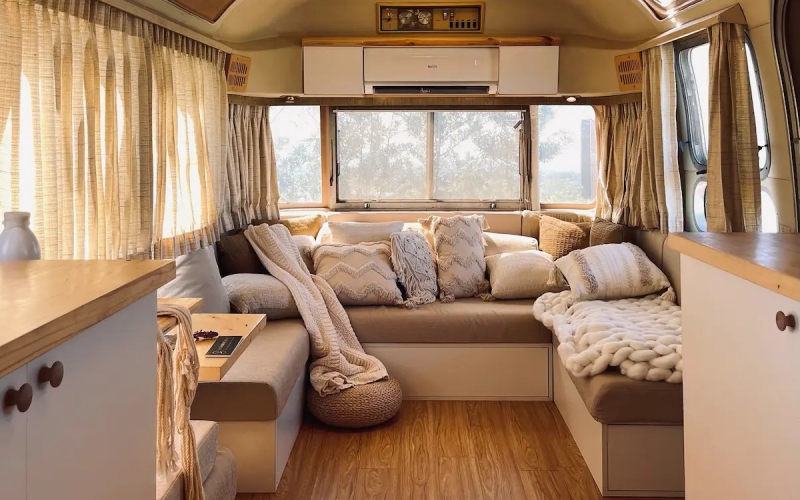 Listing name: Vintage Airstream Suite on Top of a Hill
Listing type: Camper/RV
Max. no. of guests: 2
No. of bedrooms: 1
If you've ever daydreamed about a life of constant travel, you can probably recognise the Airstream, one of the most popular travel trailers in the world. And if you've ever wondered what it's like to live in one of these, fret not — Camper and Cabin has finally brought the first Airstream accommodation to the Philippines!
This boho-minimalist trailer was set up for travellers to experience the ultimate bohemian lifestyle. Tiny as it is, the 25-foot space covers everything you need to live simply and enjoy the present moment. Basic amenities aside, the Airbnb also boasts of an outstanding view of its neighbouring towns, plus an outdoor grilling area for campers to fully take in the surroundings. 
2. This old-school Volkswagen by the Subic coast — Subic Bay Freeport Zone
Listing name: Yvon Kombi SRR: Pet Friendly, Vanlife, AC, Kitchen
Listing type: Camper/RV
Max. no. of guests: 2
No. of bedrooms: 1
If you're into the whole retro aesthetic, you'll undoubtedly fall in love with the Yvon 1971 Kombi Campervan. Now a rentable Airbnb trailer in the Philippines, the 49-year-old Kombi was restored and upgraded into a home for travellers seeking adventure and one-of-a-kind experiences. For the whole of 2021, the campervan will be parked in Subic Bay Freeport Zone, as an extension to the Saya Nest Airbnb.
Promoting the minimalist lifestyle, the Yvon trailer has just enough for you to live and relish in the space around it. Inside the van, you'll find a queen-sized bed, a small electric fan, and a mosquito net. Right outside is a cosy lounge, an outdoor bathroom, and an exterior dining area good for six. Contact the hosts if you'd like to rent a mountain bike, learn how to surf, or practise yoga; again, this home was built for travellers to enjoy the great outdoors. 
Also read: 17 Airbnb Homes in Zambales That You'll Never Want to Leave 
3. This jeepney camper for an unforgettable glamping experience — Tanay, Rizal
Listing name: Jeepney Camper – Glamping in Tanay, RIzal.
Listing type: Camper/RV
Max. no. of guests: 4
No. of bedrooms: 2
A jeepney converted into a cosy accommodation, this Airbnb trailer in the Philippines makes 'vandwelling' a proudly Pinoy experience. Nestled in the rainforests of Sierra Madre, Balai Tanay lets travellers reconnect with nature and all that it offers. It has a queen-sized bed and a kitchenette, but also a campfire pit and a pool so that you can enjoy the outdoors even more. 
As the Airbnb is but a stone throw's away from Manila, it's an easy escape from the hustle and bustle of the city. Most guests enjoy checking into this jeepney camper and getting lost in the luscious jungles of Tanay for a quick weekend getaway. 
Also read: 12 Airbnbs in Tanay That Are Perfect for a Weekend Getaway
4. This gorgeous trailer with unbeatable sunsets — Tanay, Rizal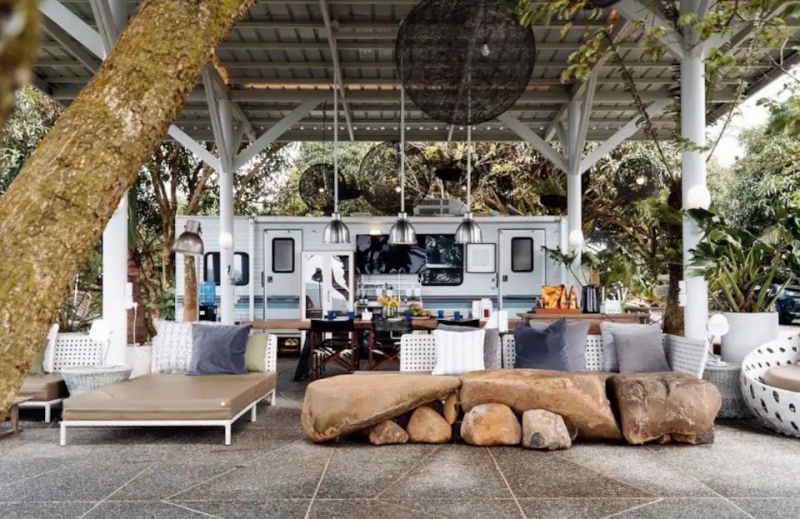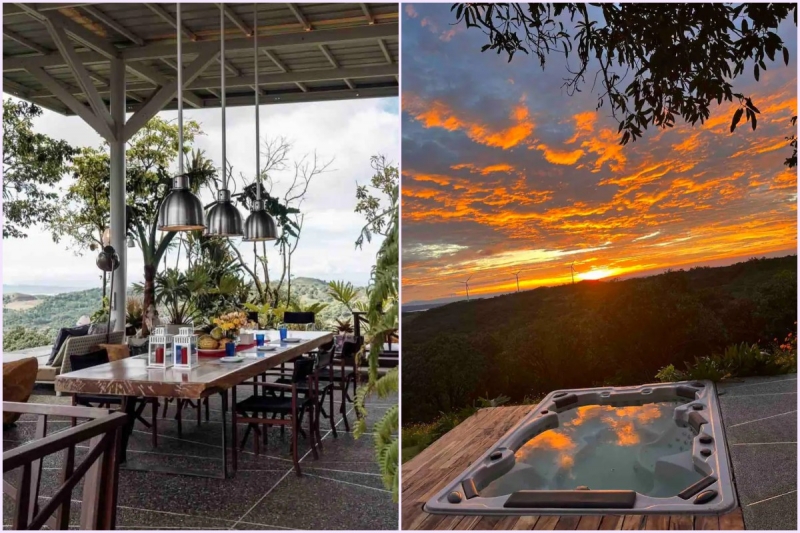 Listing name: Experience Luxury+Camping
Listing type: Camper/RV
Max. no. of guests: 6
No. of bedrooms: 2
It's not hard to fall in love with #vanlife if you're staying in a camper like this beautifully designed trailer home in Tanay. Travellers won't have to rough it at all; with cosy beds, an airconditioned interior, a sprawling outdoor lounge, and a jacuzzi, it feels more like a beautiful villa than a rugged trailer. 
Not to mention, the scenery is absolutely stunning. When you book the 16-hectare farm property, you'll get to wake up to 360-degree views of the Sierra Madre Mountain Range, Laguna Lake, and the picturesque Pililla Wind Farm. Come sunset, the landscape lights up in vibrant fiery hues. Make sure you're ready with your camera for the golden hour!
5. This romantic hideout overlooking the city — Binangonan, Rizal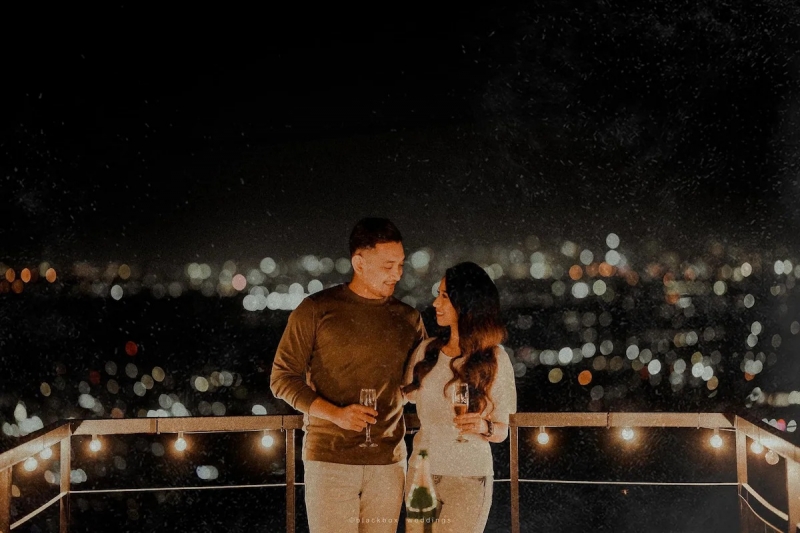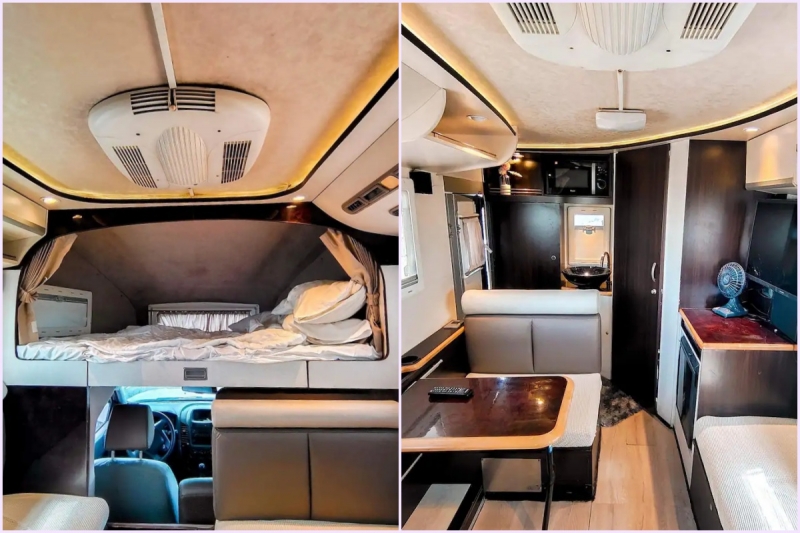 Listing name: Experience Camper RV overlooking
Listing type: Private room in a camper/rv
Max. no. of guests: 2
No. of bedrooms: 1
Couples can escape the city and fall in love all over again at this cute camper on the hilly slopes of Binangonan. After all, what better way to reconnect with each other than holing up in a private hideaway? One of the charms of staying in Airbnb trailers in the Philippines is the tranquillity and relative seclusion away from the ever-bustling city crowds. 
At the same time, guests will enjoy modern essentials such as a TV with Netflix, a pristine bathroom, and an infinity pool overlooking the Rizal mountains. Free WiFi guarantees you'll never be completely off-grid. 
6. This delightful red camper with a hot tub and roof deck — Baras, Rizal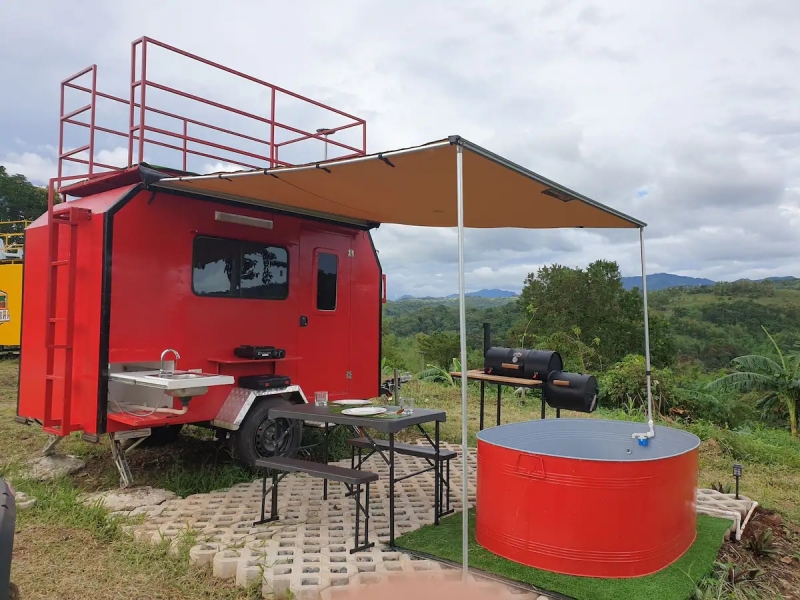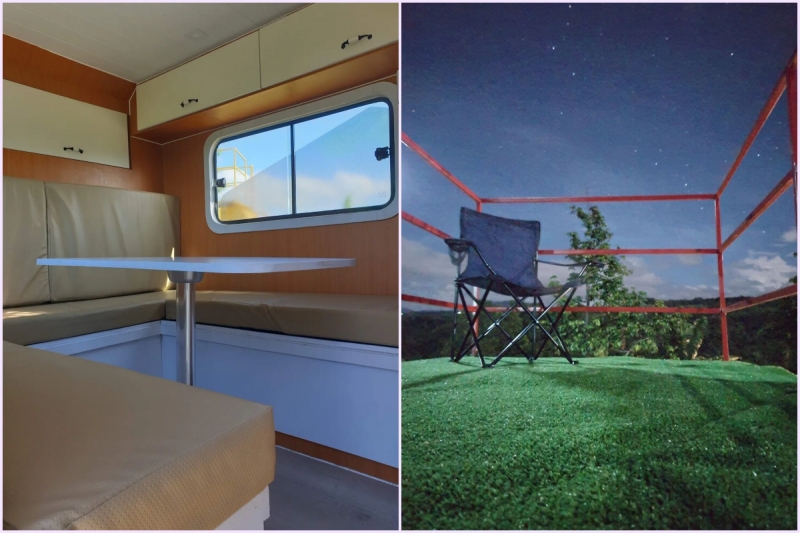 Listing Name: T-Camper Red with tub & roof deck
Listing Type: Camper/RV
Max. no. of guests: 2
No. of bedrooms: 1
Rizal is truly the perfect place for an outdoorsy escape in the Philippines; this bright red camper van in Baras is another property offering Airbnb trailers for explorers. The air conditioned trailer means guests can rest in complete comfort indoors. 
But if we're honest, we'll probably be spending most of our time outside, anyway. A barbecue on the covered deck is an excellent way to bond with the family, while the hot tub offers a relaxing activity for stressed-out metro dwellers. If you're lucky, you'll be there on a clear night and the stars will be out in full force!
7. This colourful vintage bus surrounded with lush gardens — Alfonso, Cavite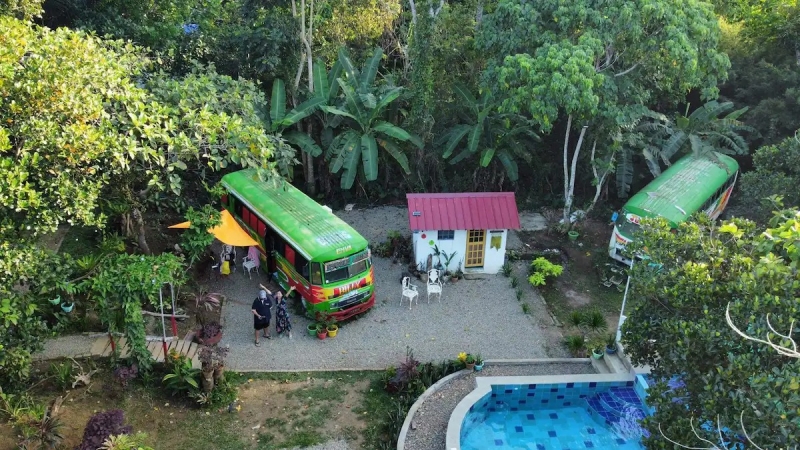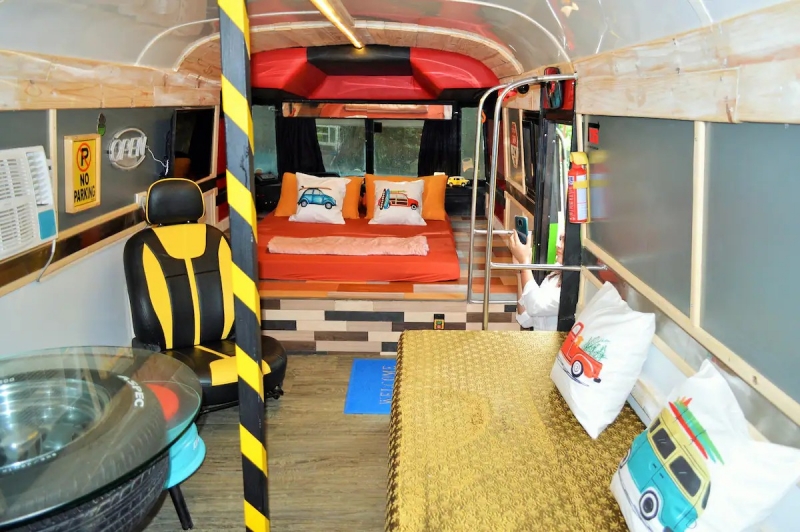 Listing name: BuzzOne
Listing type: Bus
Max. no. of guests: 4
No. of bedrooms: 1
At first glance, this colourful bus in Marielle's Ville looks like an unassuming passenger vehicle parked in a sprawling garden property. But once you step inside, you'll actually find that it's a cosy air-conditioned bedroom with a TV! It also features a tiny kitchenette, a private bathroom, and even pool access. This Airbnb makes camping in trailers in the Philippines a comfortable experience for travellers while keeping them close to the great outdoors.  
Take a walk down memory lane? You won't see these vintage mini buses on the streets anymore, but they used to shuttle students and yuppies from Cavite to Manila in the 1960s. We've lost the opportunity to ride these iconic vehicles, but you can still take a vacation in one.
Also read: 11 Glamping Sites in the Philippines for Your Next Barkada Trip
Compared to its global scene, the #vanlife movement is still young but growing in our country. With this, we'll certainly stay on the lookout for more promising Airbnb trailers in the Philippines!
Got a property you'd like TripZilla to feature? Inquire with us here.
---
This article contains affiliate links. When you book through these links, we may earn a small commission at no additional cost to you. All images courtesy of the respective property listings unless otherwise mentioned.