Manila International Airport Authority (MIAA) has partnered with Grab Philippines to improve the transport service for arrivals at the Ninoy Aquino International Airport (NAIA). Now, travellers arriving in Metro Manila can use the newly launched "Airport to Anywhere" (ATA) program to get from the airport to their destination with relative ease. 
Also read: 12 Hotels Near Manila Airport (For When Your Flight is Too Early)
Airport to Anywhere by Grab, MIAA
Frequent travellers know that getting back to Manila after the end of a vacation can be a drag. Not only does it mean your vacation is officially coming to a close, but you'll also have to face the famously dreadful Manila traffic. Many times, it's a battle just to get a ride out of the airport. Well, hopefully, things are looking up on this end.
As a response to the soaring demand for transport vehicles in NAIA, MIAA and Grab Philippines have launched the Airport to Anywhere initiative. It will initially deploy a fleet of 200 Grab-accredited vehicles. Each one is specially dedicated to shuttle commuters from NAIA to their respective destinations. Best of all, rides booked under the ATA service will feature fixed pricing based on drop-off location with no surge charges.
Commuters can access the ATA transport service on the Grab ride-hailing mobile app starting 15 Dec 2022.
ATA launched in time for holiday vacations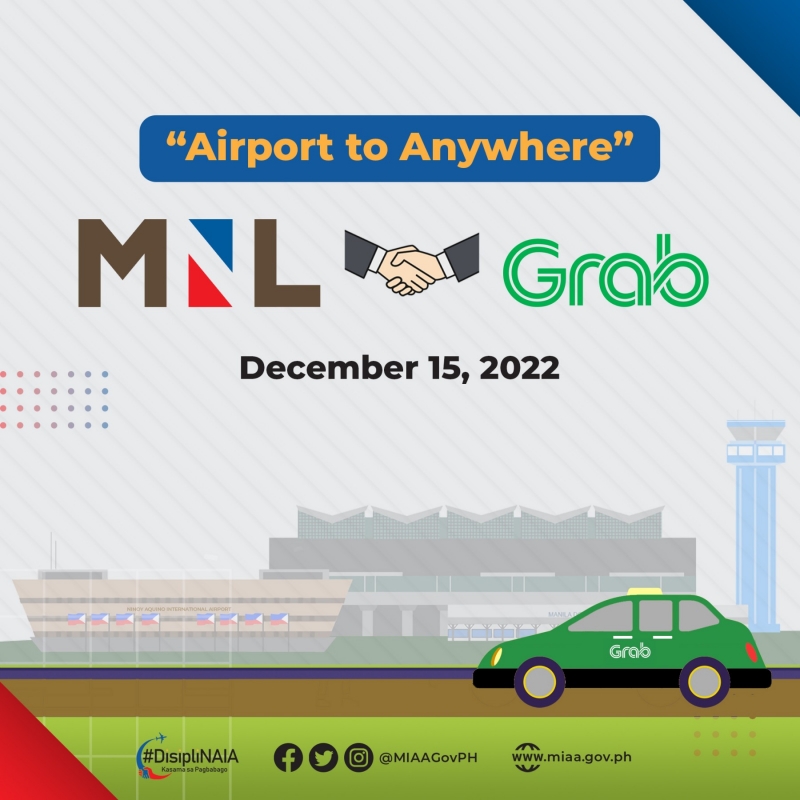 MIAA General Manager Cesar Chiong revealed that the Manila airport management had been in talks with Grab Philippines since September. He said, "We explored this partnership as part of our preparations for the Christmas season. We thank Grab Philippines and the LTFRB for joining hands with us in the interest of our air-riding public."
Airport to Anywhere comes in time for the holiday rush as Filipinos from all over the world fly to the Philippines for Christmas. As travelling picks up after two years of the COVID-19 pandemic lockdowns, an uptick in airport activity is also expected. According to MIAA, NAIA's monthly passenger volume in November 2022 reached 3.1 million. This marks a 229% increase from the previous year.
Also read: 10 Unique Airbnb Rentals in the Philippines for an Epic Vacation 
Hopefully, the pilot program makes a difference in improving transportation in NAIA. We'd really like to end our getaways on a high note, whether we're coming back from the provinces or a far-flung international destination!
Don't have time to leave the metro? Channel vacation vibes without going far and check out our picks of staycation spots and Airbnbs in Manila here.

---
Featured image credit: Mara Rivera | Unsplash
Facebook image credit: Maliz Ong | Public Domain Pictures; Grab | Facebook