For over a century now, the iconic brand Swarovski has been the bearer of all things bright and beautiful. It is known across the globe as a powerhouse for the creation of crystals and jewellery, and now, it is also a home for visionaries seeking to bring fantasy to life.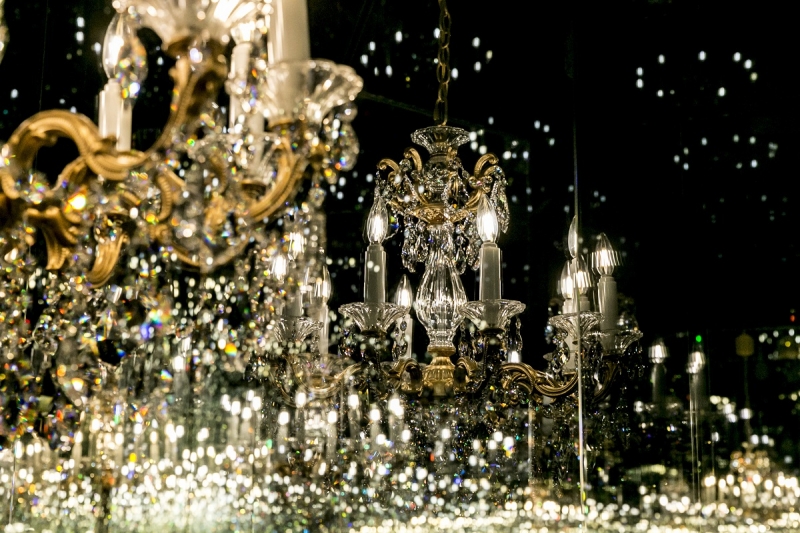 But the brilliant minds behind Swarovski make one thing crystal clear: That through its evolution, the company remains as multi-faceted as its dazzling creations.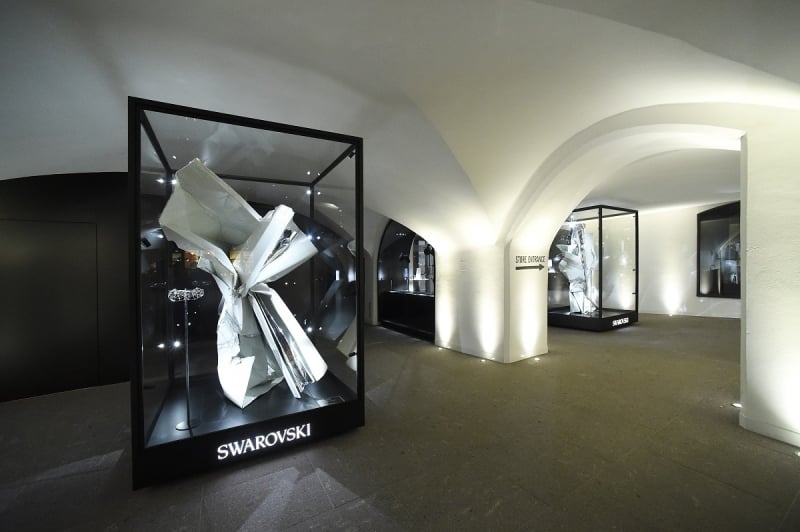 Visit Austria's Swarovski stores
To fully understand this ever-changing dynamic, you must step into the many realms that Swarovski has opened to curious individuals. A trip to a Swarovski shop nearest you will give you a taste of what the brand stands for. But Swarovski has curated three special gateways for an experience of a lifetime — and all of these Swarovski stores can be found in the brand's birthplace, Austria. Are you ready to be transported to worlds beyond your wildest imagination? Swarovski beckons.
1. Swarovski Kristallwelten Store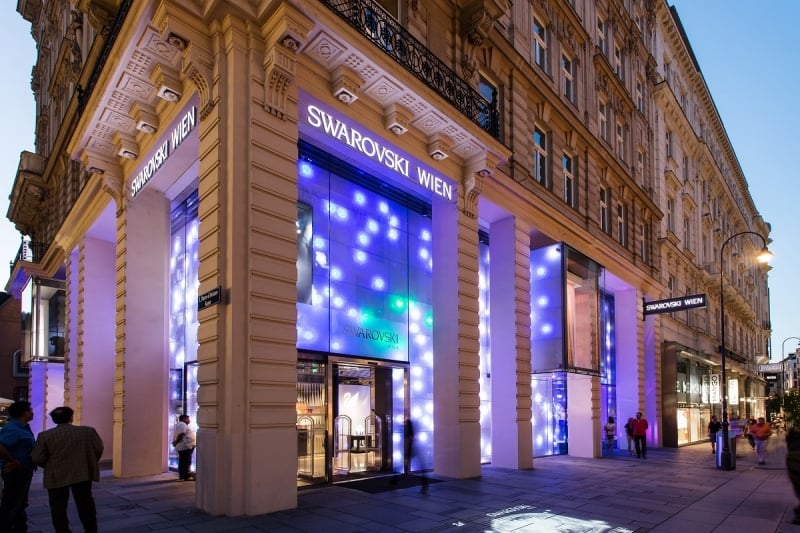 A haven for classical music and a home to Baroque architecture, Vienna makes for the ultimate European destination. Did you know that it was even voted the world's most liveable city for nine years straight? If you find yourself in the Austrian capital, there's a Swarovski store that you shouldn't miss. Swarovski Kristallwelten Store Wien or Store Vienna should be a staple in any Vienna itinerary, but here are a few highlights to make sure you'll drop by.
See "Northern Lights" up close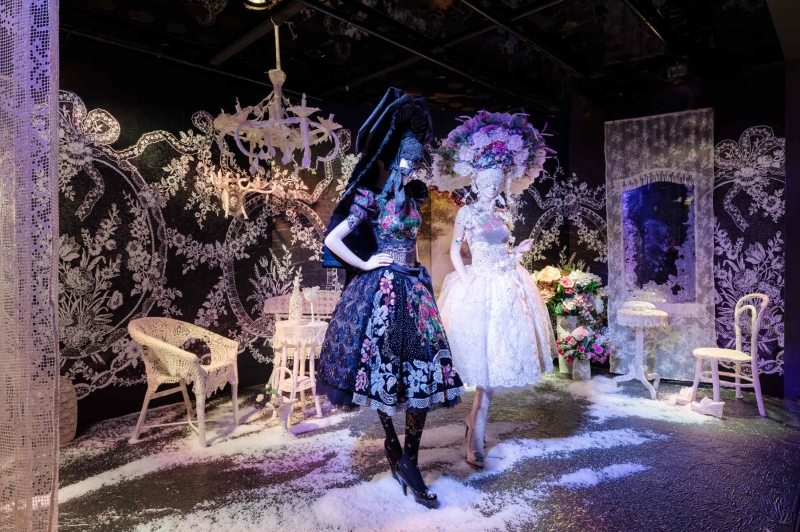 One of the most exciting display areas at Swarovski Kristallwelten Store Vienna, its art space holds changing exhibitions that occupy the space for months at a time. Until April 2019, guests can view an avant-garde installation titled "Northern Lights" by Viennese designer Susanne Bisovsky.
The concept is hinged on contrasts and the unreal; although it is seemingly set indoors (you'll notice a chandelier hanging above), the quaint scene also depicts a winter wonderland complete with a sprinkling of snow on the floor. Despite its obvious icy undertones, the area is set aglow with a flurry of shocking neon lights.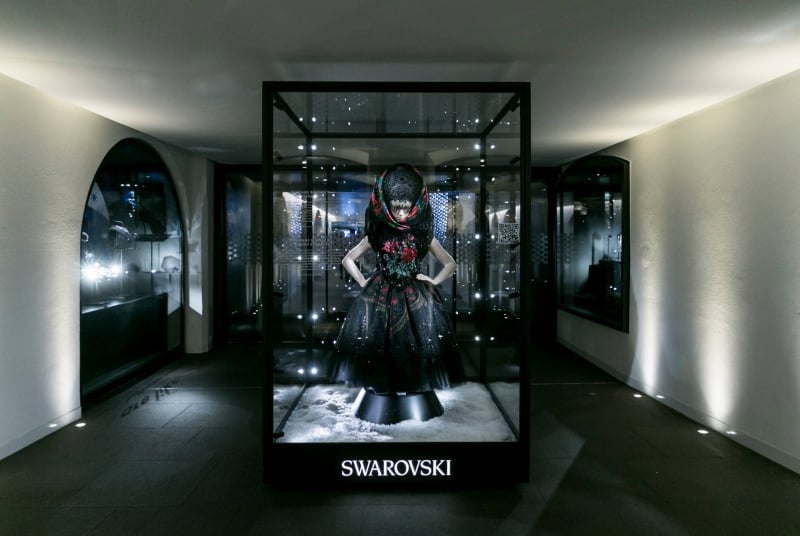 Two mannequins poshly dressed in haute couture serve as centrepieces. If not for splashes of colour provided by lace appliques, a few brightly tinged flowers in the background, and the light design, the rest of the scene would be devoid of colour. In fact, from the dresses to the set itself, everything is either in black or white.
The scene is both an exploration and interpretation of the natural occurrence we know as Aurora Borealis — proof that in this life, something very real could still be magical. Certainly, it's not far off from what Swarovski represents for many people. And alternatively, garments by Bisovsky from the same collection can also be found inside the Swarovski Kristallwelten Store in Innsbruck.
Behold the "Lake of Shimmer"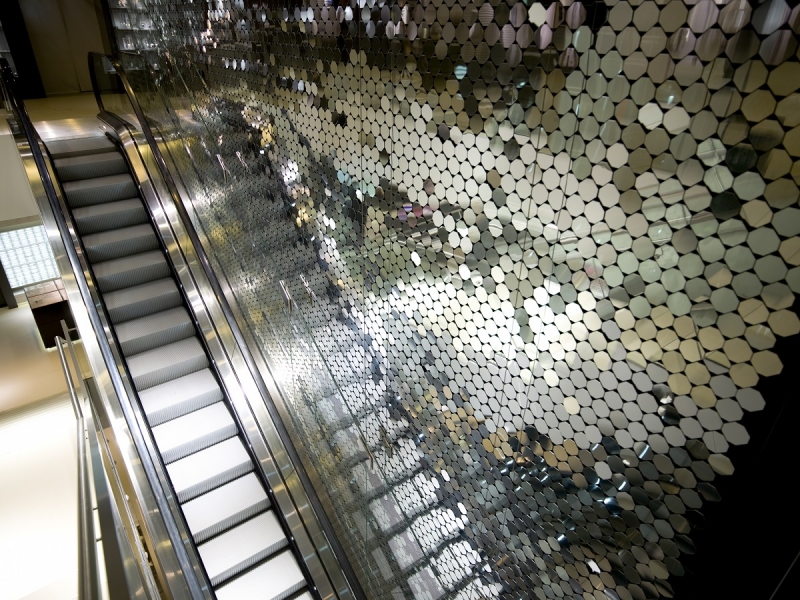 Aside from seasonal displays, Swarovski Kristallwelten Store Vienna also houses permanent installations by prominent artists. Perhaps one of its most iconic creative concepts is the "Lake of Shimmer", a brainchild of celebrated Japanese designer Tokujin Yoshioka and his collaboration with the inventive in-house technicians of Swarovski.
An art installation that "links all three levels" of Swarovski Kristallwelten Store Vienna, "Lake of Shimmer" is at once the artist's masterpiece and an engineering marvel. According to Swarovski Kristallwelten, the piece features 16,016 tiny mirrors all electronically controlled to move like water — to mimic the captivating surface of a calm lake shimmering under warm sunlight.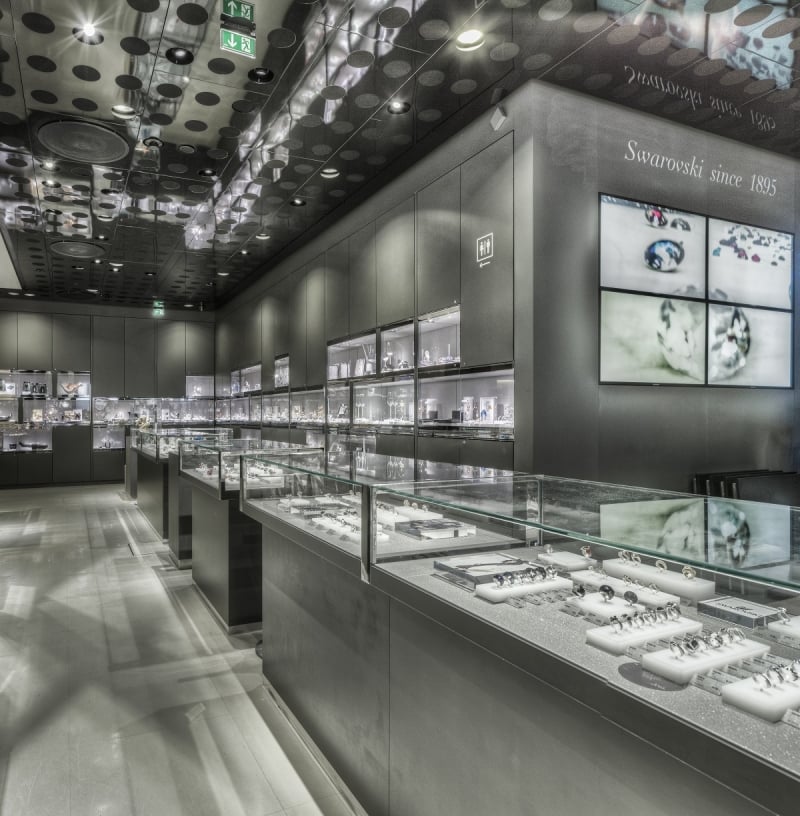 Insider Tip: If you intend to shop for Swarovski items in Vienna, this store is your best option. It offers numerous product lines from Swarovski's many lifestyle brands, from Atelier Swarovski to Swarovski Kristallwelten. Here, you can also cop collaborations with top designers such as Karl Lagerfeld and Roberto Cavalli. When you're done shopping, head to the Moet Chandon Bar for refreshments. Or you can also check out the other installations.
Find Swarovski Vienna
Address: Swarovski Kristallwelten Store Wien, Kärntner Strasse 24, 1010 Wien, Austria
How to get there: From Vienna International Airport, Swarovski Vienna is about a 30-minute car ride away. If you aren't driving, take the City Airport Train from the airport to the Wien Mitte station, where you can change stations to board a train heading to the city centre. Make your way to Landstraße station and ride the train to Karlsplatz station. From there, Swarovski Vienna is less than 10 minutes away by foot. You'll find Swarovski Vienna in the middle of the pedestrian zone between St. Stephen's Cathedral and the Vienna State Opera. Walking around the area is easy and safe — just wear comfortable shoes!
2. Swarovski Kristallwelten Store Innsbruck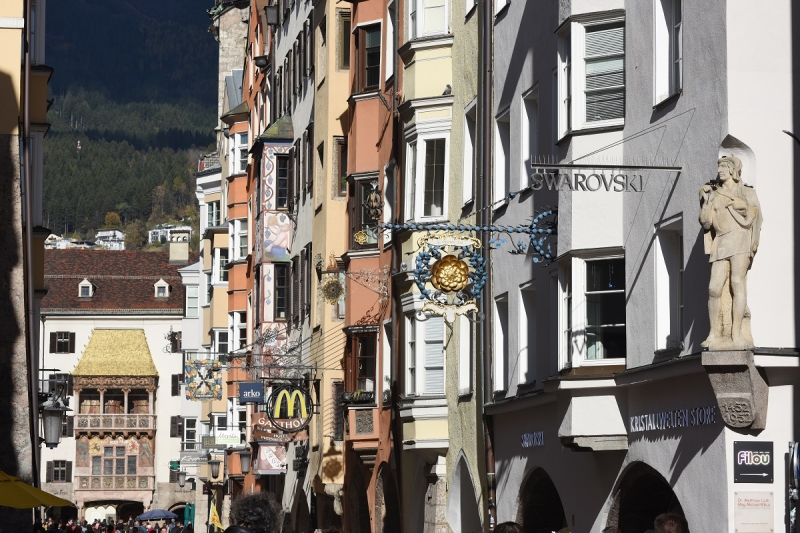 Known as Austria's very own 'Capital of the Alps', Innsbruck presents a unique combination of city life in the Tyrol region and the great Alpine outdoors, which is simply breathtaking regardless of the season. In addition to your long list of to-dos and must-sees in the area, drop by Swarovski Kristallwelten Store Innsbruck. Like its Viennese counterpart, Swarovski Kristallwelten Store Innsbruck takes you to a different dimension — one that sparkles and shines from any angle. Here is a snippet of things to come.
Notice the extraordinary in "Ordinary Life"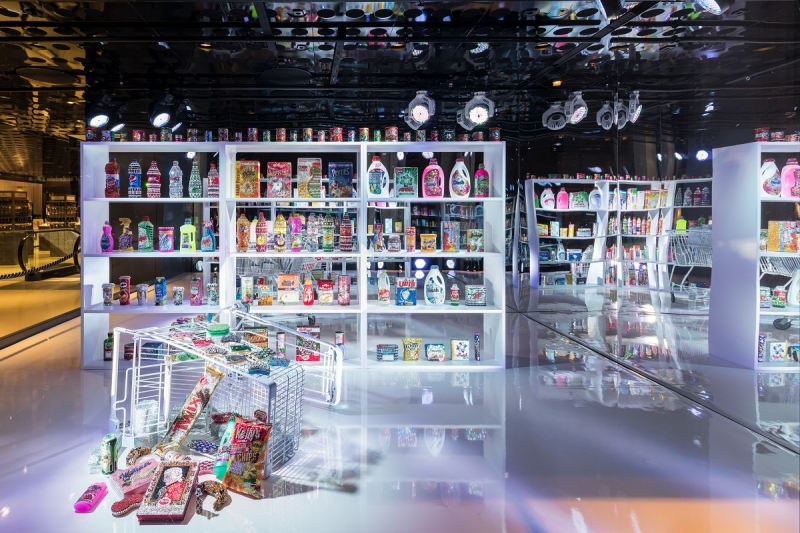 A most glitzy embodiment of domestic bliss, "Ordinary Life" is French designer Shourouk Rhaiem's take on the everydayness of household items commonly found in grocery stores and in many homes. But there is nothing ordinary about Rhaiem's contemporary still life, which is now a permanent fixture at the Swarovski Kristallwelten Store Innsbruck Chamber of Wonder. In the artist's effort to rethink everyday things, bottles of cleaning agents, an assortment of snacks, and cans of soda are transformed into colourful works of art ornamented by 150 kilograms of Swarovski crystals.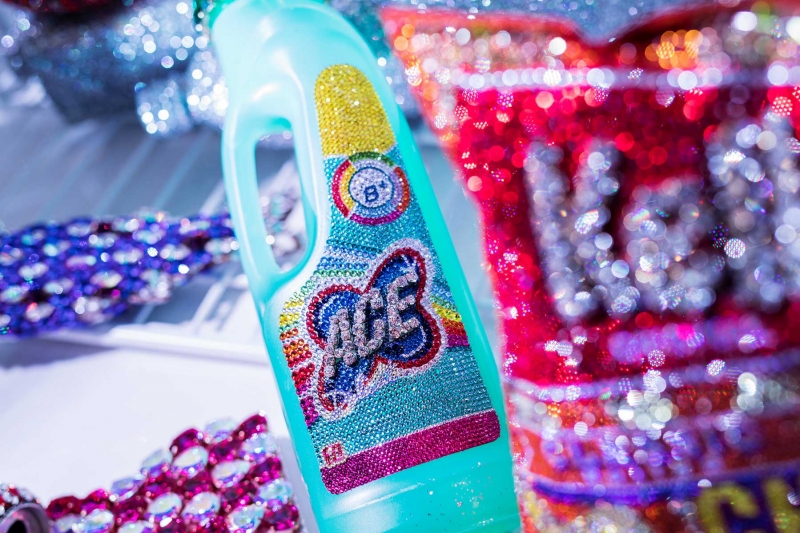 Each painstakingly bedazzled by hand, the consumer goods that make up the whimsical supermarket scene bring to mind the genius of Andy Warhol and the pop-art movement of the 1960s. While "Ordinary Life" is indeed a true pièce de résistance crafted by Rhaiem, it is also an ode to how Swarovski elevates what is regular to that which is remarkable.
Discover Swarovski's "Timeless" appeal
Swarovski doesn't only bring you to otherworldly realms; it also transports you back in time. What better way to appreciate the odyssey of Swarovski than by walking through a visual timeline of its past? A museum-like experience that spans Swarovski's long history, "Timeless" is a permanent exhibition that allows guests to understand how the brand has evolved through the decades. Moreover, the exhibit pays homage to the man who started it all, Daniel Swarovski.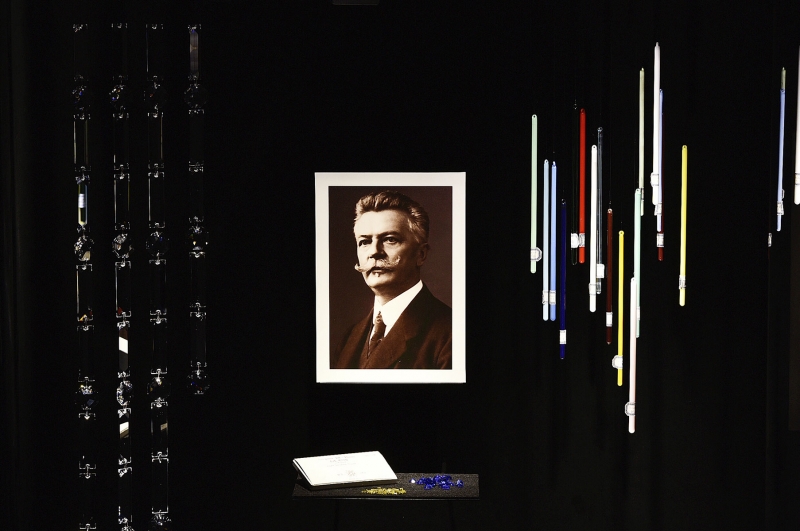 It also houses key items that show off Swarovski's prowess in fashion, art, technology, and now, tourism and entertainment. Discover how the first Swarovski stores reached their world-renowned status and gain a deeper understanding of the brand's inner workings. As you might have already guessed, Swarovski has many secrets. Wouldn't you like to uncover them all?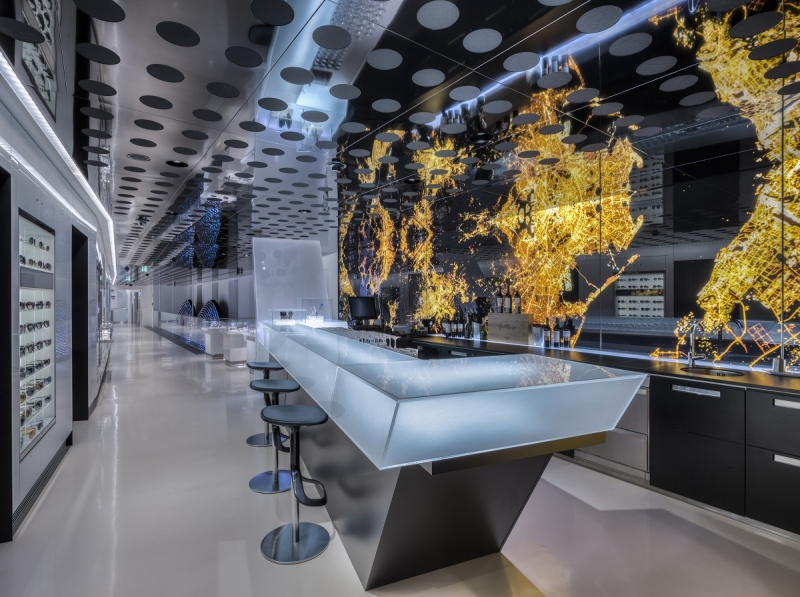 Insider Tip: At Swarovski Kristallwelten Store Innsbruck, The Bar will cater to all your refreshment needs, post-tour and post-shopping. The futuristic ambience is something of a photo opportunity as well, with satellite images of metropolises such as Athens, Rio de Janeiro, Johannesburg, New York, and Dubai illuminating the walls. Guests will be surprised to know these are actually blown-up pictures taken by actual NASA cameras — definitely an Instagrammable feature! Click here to know more about Swarovski Kristallwelten Store Innsbruck.
Find Swarovski Innsbruck
Address: Swarovski Kristallwelten Store Innsbruck, Herzog-Friedrich-Strasse 39, 6020 Innsbruck/Tirol, Austria
How to get there: You'll find Swarovski Innsbruck near the historical Golden Roof (Goldenes Dachl) in the Old Town (Altstadt). If you're already in Old Town, then you're in luck! All you have to do is hold on to your map and walk. You can also take the Sightseer Bus if you're in another part of Innsbruck. This makes for a very convenient trip around the city because it just hops from one tourist site to the next. Just remember, your stop should be the Golden Roof. From the Innsbruck Airport, Old Town is just a quick ride away — approximately 10 minutes. Chances are you'll be staying near this area, too, if you're touring Innsbruck.
3. Swarovski Crystal Worlds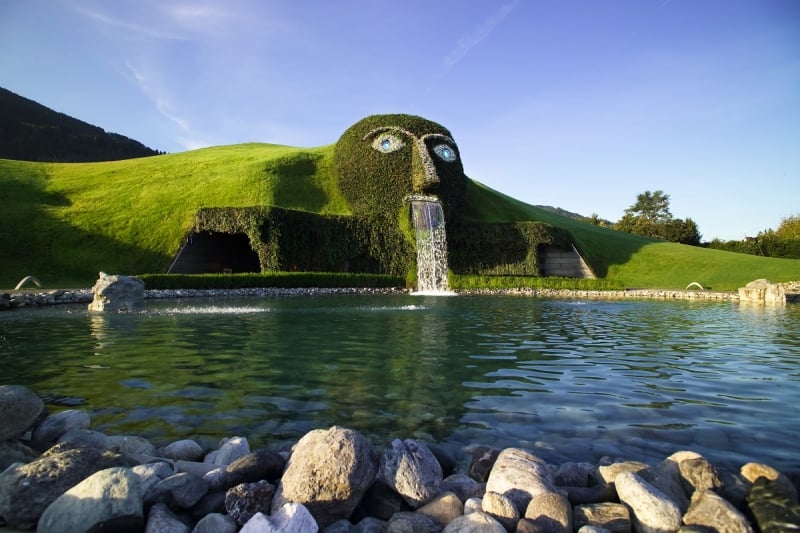 Now on to Swarovski's crowning glory — Swarovski Kristallwelten or Swarovski Crystal Worlds, a museum, exhibition centre, and outdoor theme park that was opened in Wattens to commemorate Swarovski's centennial anniversary in 1995. The property boasts of 2,000 square metres purely dedicated to giving guests the ultimate Swarovski experience.
Also read: Inside the Dazzling Realm of Swarovski Crystal Worlds — What to See & Do
But what exactly awaits at Swarovski Crystal Worlds? For starters, the Giant's Realm leads you to the Chambers of Wonder, where the world's best treasures are kept. Playtowers and labyrinths enchant those eager to explore, while crystal raindrops stay suspended in a lush garden. These are what crystal dreams are made of, and Swarovski gives you the rare opportunity to step into one. Wait till you hear all about the cherry on top.
Get lost in Yayoi Kusama's newest Chamber of Wonder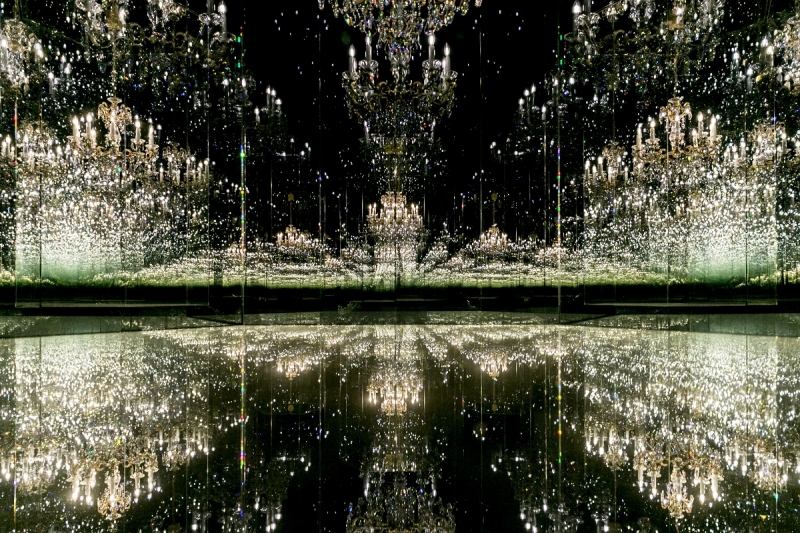 No doubt Swarovski Crystal Worlds established its Chambers of Wonders to boggle the minds of guests and to take their breaths away with designers' and artists' all-out creative release. But Swarovski has outdone itself yet again with its newest addition to the Chambers of Wonder, "Chandelier of Grief", celebrated Japanese artist Yayoi Kusama's first and only permanent installation in the world so far.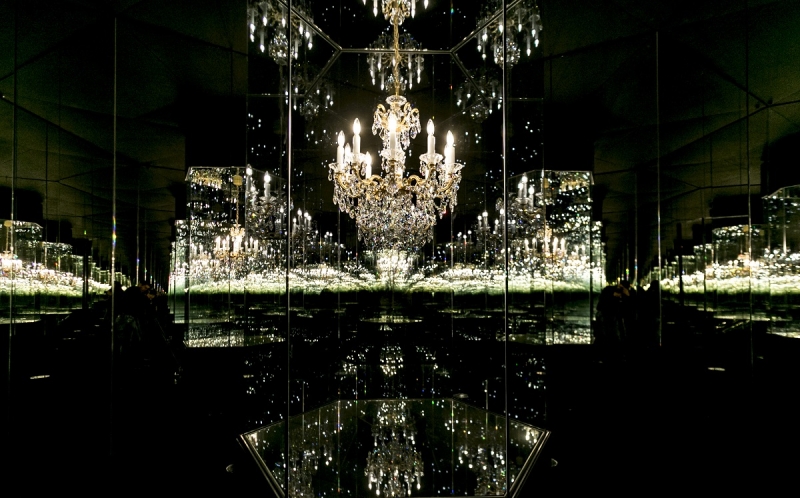 Found in a darkened room is Kusama's centrepiece, a rotating classic chandelier that is nothing short of a crystal wonder. The piece was, of course, fashioned out of Swarovski crystals — providing it with incomparable lustre. As light dances off the facets of the chandelier's glimmering parts, it also interacts with glass panels that fully line the space. The result is a beautiful infinity room that will transfix all who enter. With one central piece and glass all around, Kusama is able to make viewers feel as if they've slipped into an alternate dimension where concepts of time and space are warped.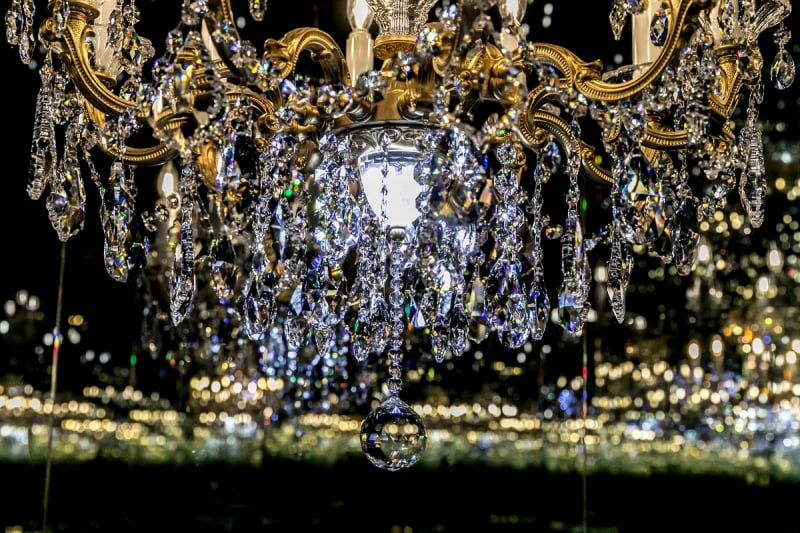 Truly, Kusama's work is a stunning addition to Swarovski's growing collection. And unlike most of Kusama's viral installations around the globe, this one has found a home in Swarovski Crystal Worlds, where guests can enjoy it endlessly. Read about the "Chandelier of Grief" to know more.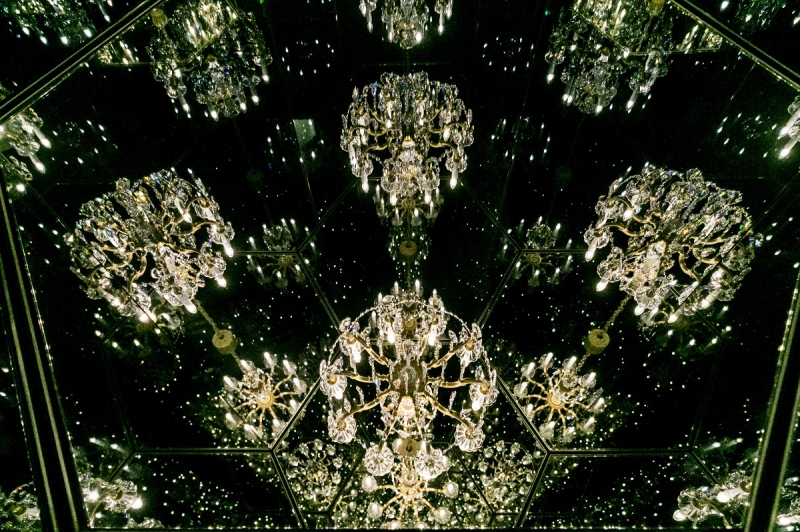 Find Swarovski Crystal Worlds
Address: Swarovski Kristallwelten, Kristallweltenstraße 1, 6112 Wattens/Tirol, Austria
How to get there: If you're heading to Swarovski Crystal Worlds, Innsbruck is the ideal base. From Innsbruck, you can take the Swarovski Kristallwelten Shuttle to Swarovski Crystal Worlds and back to the pick-up point. You can board the shuttles at Hauptbahnhof or Congress/Hofburg, where the service makes a stop five times in one day. See the schedule here.
Insider Tip: Of course, you can visit other Swarovski stores without securing appointments. But for an even more memorable visit to Swarovski Crystal Worlds, make your trip hassle-free. Purchase presale tickets from Swarovski's online ticket shop and simply redeem your tickets at designated desks upon arrival. Click here to reserve your slots today.
Aside from Swarovski Crystal Worlds and Swarovski stores in Austria, you can see more of the country and all its breathtaking wonders with this 7D6N Tour Package. It comes with daily buffet breakfast, excursions to Hallstatt, Zell am See and Kitzsteinhorn, city tours in Innsbruck, Vienna and Salzburg, and so much more!
Time and time again, Swarovski proves that they go beyond sparkle and shine; that Swarovski stores venture into the unknown and make something awe-inspiring from every creative expedition they embark on. Through its different realms and its collaborations with the world's most stellar talents, visitors are made to believe that in a place where fantasy is brought to life, the possibilities are endless. So what's holding you back? It's time to enter the winsome worlds of Swarovski.
For more information, please visit Swarovski Kristallwelten official website and Facebook page.
---
Brought to you by Austrian National Tourist Office (ANTO) and Swarovski Kristallwelten.
Originally posted on TripZilla.com