There's nothing like the Arlberg region of Austria — a stunning cluster of villages enamelled by the surrounding magical Alpine mountains and the smorgasbord of thrilling outdoor activities they offer. It's one of the world's finest natural paradises, but to be quite honest, even this reputation doesn't completely do the place justice. You'll know what I mean once you see it with your own eyes!
They say the Arlberg region is also one of the top ski venues in the world. A label that ultimately launched the Arlberg as a go-to destination for skiers, beginners and experts alike. Meanwhile, what it holds for those who fail to fall under either category remains a mystery to many. But you only need to take a closer look to discover this charming region's underrated facets. Believe me, they exist!
But first, some fun facts about the Arlberg and its villages
Like renowned Austrian adventurer Felix Baumgartner and his bold antics — the Arlberg knows no limits. That said, each and every traveller will find something to occupy oneself within and around its villages.
If it's your first time hearing or reading about the Arlberg, know that it's actually a massif, a region and an alpine pass all in one. Resting at an elevation of 1,793 masl, it borders three mountain groups in Western Austria while encompassing nine distinct communities or ski resorts. Let me shed some light on these standout resorts!
Lech am Arlberg: A stylish world gourmet destination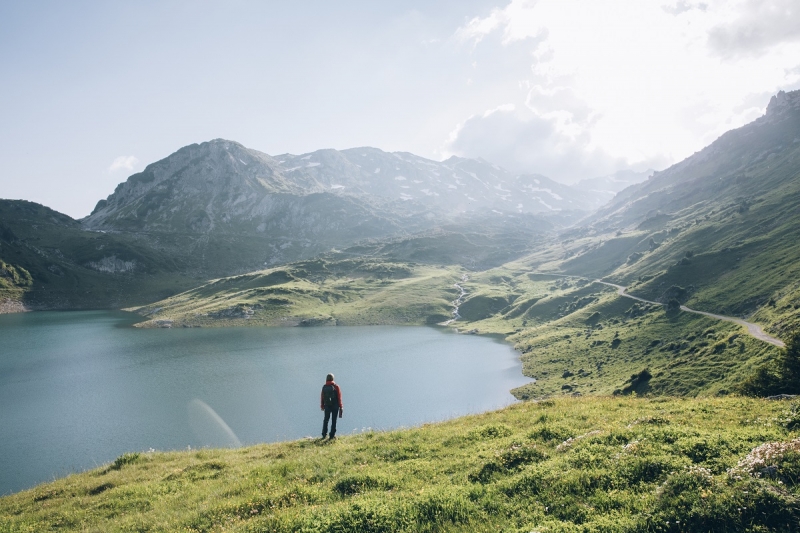 Exquisite nature views abound in Austria, but it would be hard to beat the epic panoramas of Lech am Arlberg — possibly one of the most beautiful villages in Europe! This stature has led to millions of tourist arrivals over the years. Even then, the village has retained its distinct mountain allure. This can be seen in sub-districts like the Oberlech, known for its underground tunnels that turn into Lech's busiest thoroughfares during the winter season — leaving the village totally vehicle-free on the surface!
Lech's undeniable elegance has also made it the perfect venue for dining thousands of feet in the Austrian mountains. In the village, you'll find some of the highest restaurants in Europe. And when I say "highest", I really do mean in both quality and altitude. The culinary scene at Lech Zürs am Arlberg (the combined resorts of Lech and Zürs) for example, is so good — the resort was awarded the title World Gourmet Village by the Vöslauer-Falstaff Awards in 2008. Truly, dining at up to 2,450 masl can't get any better than this!
Zürs am Arlberg: Where nature meets luxury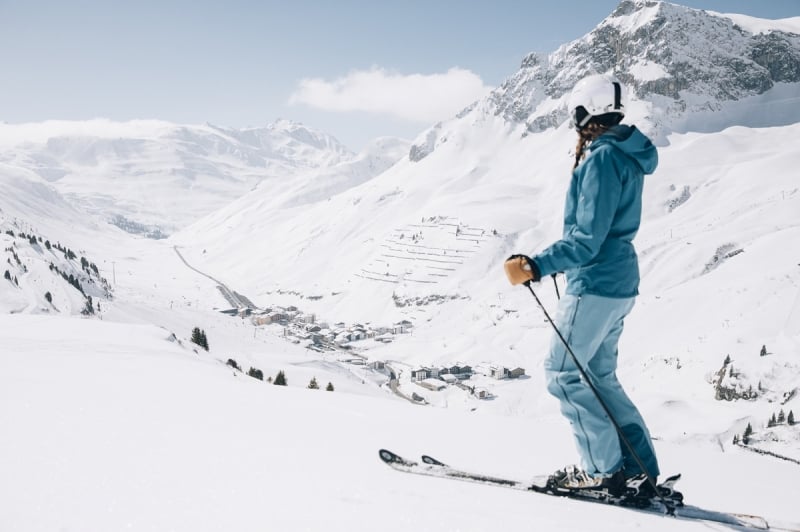 The overall ambience of the Arlberg oftentimes calls for unconventional and uninterrupted ski sessions, which is why you won't help but adore Zürs am Arlberg. Concealed by the 1,773-masl Flexen Pass, this exclusive village has been an adventure playground for celebrity and VIP sports enthusiasts taking on off-piste or backcountry skiing. This entails moving along unmarked trails outside the parametres of ski resorts in the Arlberg.
Because of its discrete location, Zürs continues to be popular for heli-skiing tours. Here, skiers hop on helicopters that will take them to the start of the trail, rather than riding ski lifts or trekking. In the same way, luxury hotels are prevalent on this side of the region. These stunning mountain accommodations provide unparalleled winter hospitality to those who value exclusivity, while providing opportunities to enjoy all the wonderful things to do in the Arlberg.
St. Anton am Arlberg: The birthplace of Alpine skiing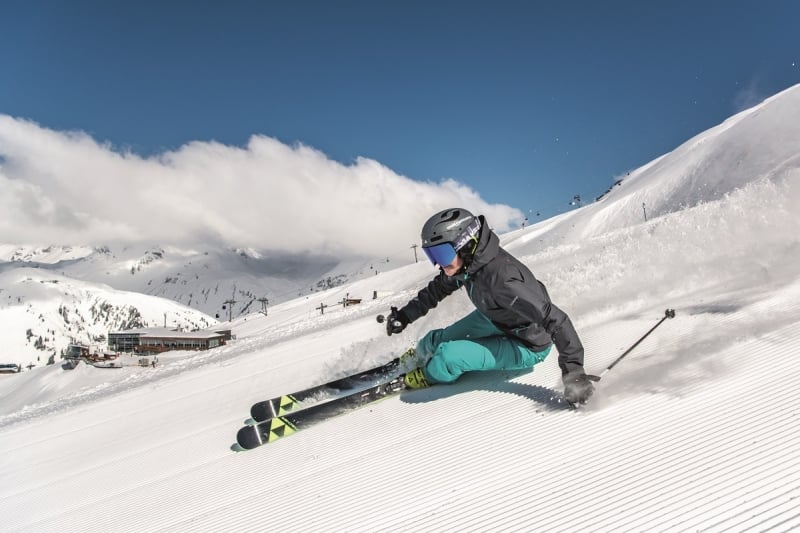 Skiing comes in many different forms, but popularity-wise, Alpine or Downhill Skiing definitely takes the cake — and St. Anton am Arlberg is where it all started. In this sport, a person skis on slopes rather than flat land. Simple as it may sound, it's actually one of the most physically demanding winter sports there is. Fortunately, ski instructor Hannes Schneider founded Austria's first ski school in Austria in St. Anton am Arlberg in 1921, which paved the way for others to master the craft. This then revolutionised skiing in the years that followed.
St. Anton am Arlberg has also made a name for hosting the first Kandahar Race in 1928 and one of the world's largest ski events found at the Arlberg — "The White Thrill". Beyond its role in winter sports, St. Anton am Arlberg has captivated visitors with its impressive blend of culture and sophistication. This can be seen through its top-notch infrastructure and dreamy architecture. In 2017, the village also received a prestigious recognition at the Entente Florale Europe (Flowery Alliance of Europe) for its horticultural displays!
St. Christoph am Arlberg: When quaint oozes sophistication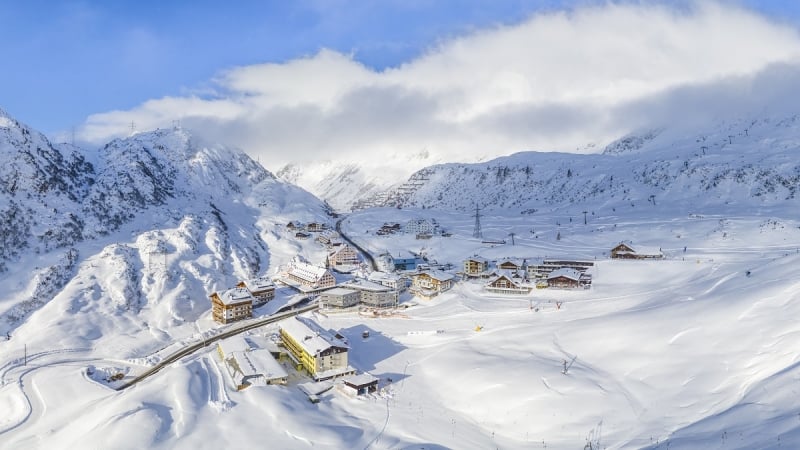 At 1,800 masl, St. Christoph stands proud as the Arlberg's highest village and one of Austria's highest ski resorts in terms of elevation. It is home to no more than 50 permanent residents and 25 buildings, making it one of the smallest Austrian locales in terms of population.
Here's the catch, though: This Austrian village is also home to some of Arlberg's highly acclaimed exclusive accommodations, like the Arlberg Hospiz, and top-of-the-line ski facilities, like the Ski Austria Academy. Visitors can also enjoy St. Christoph's rich Tyrolean culture, which you can learn more about by watching one of the presentations at arlberg1800, the highest contemporary art and concert hall in Europe.
Not just a skiers winter haven, St. Christoph am Arlberg prides itself with irresistible mountain hiking trails best conquered during summer. It's certainly the idyllic place to take on multi-day hiking trips while marvelling at the panoramic beauty of the Alps!
Stuben am Arlberg: Stunning outdoor playgrounds all year 'round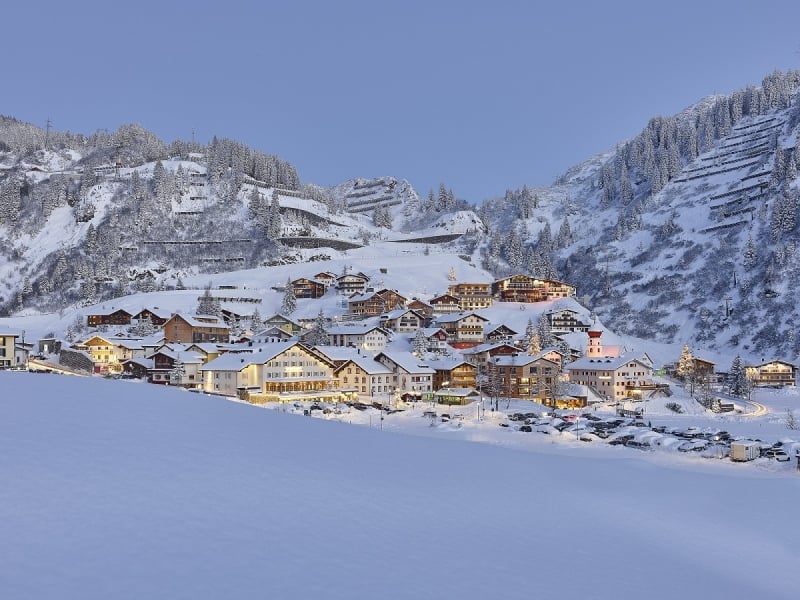 Stuben am Arlberg exudes a laid-back aura conducive to family visits with its expansive deep snow playgrounds, particularly in the Mount Albona vicinity. Meanwhile, adrenaline junkies can take pleasure in several of Stuben's mountain biking and motorcycle routes. And yes, they all come with amazing views of the Alpine mountains too!
It's also said that modern snowboarding first saw the light of day in Michigan, USA sometime in 1965. But it wasn't until 1999, nearly 40 years later, when the first massive international snowboarding event took place in Stuben. This is known as the Longboard Classic, and it was founded by no less than snowboarding legend Paul Gruber. Every year since then, more than 400 snowboarders from across the world make their way to the village to take part in a four-category race, a grand music festival, and other events.
The Arlberg region is truly an Alpine skiing paradise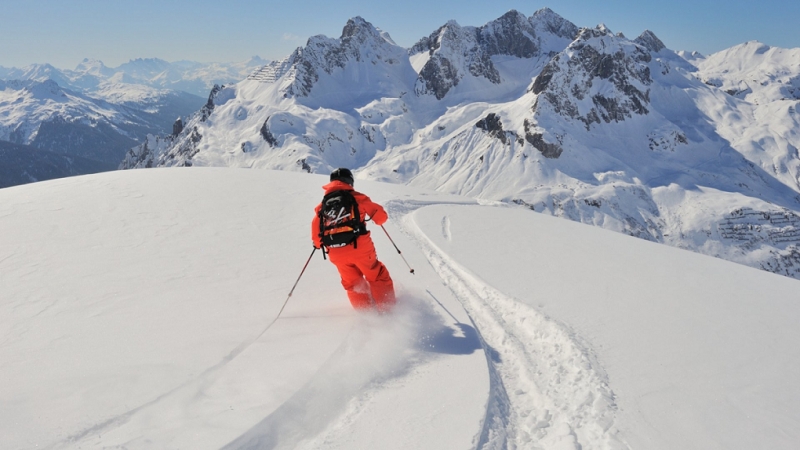 The list of things to do in the Arlberg can go on for days, but you'll most likely remember it for its Alpine skiing opportunities. It is the "cradle of Alpine skiing", after all. To put it in context, the Arlberg boasts of 305 km of ski runs and at least 200 km of high Alpine deep-snow skiing. This makes it the largest ski zone in all of Austria, and the fifth largest in the world!
First populated roughly 700 years ago, the Arlberg has come a long way in the eyes of ski experts. It seems only yesterday when the village saw its first competitive skiing guests back in the 1900s. This milestone practically introduced the coveted winter sport to the rest of the continent! With more skiing enthusiasts inevitably flocking to the village, so did companies wanting to invest in its potential as a certified skiing paradise. Pretty soon, there came ski hotels, ski transportation and ski schools that would cater to the needs of that thriving market.
Through decades of development, the Arlberg hasn't lost much of its original charm and remains to be one of the more underrated holiday destinations in Austria. Recently, it was recognised as a 5-Star Ski Resort for the 19th time by Skiresort.de, which is the largest ski resort test portal in the world!
Things to do in the Arlberg for non-skiers
I've established the Arlberg as a world-class skiing destination loud and clear. Should that mean the region loses its charm outside winter, or if you were to experience it as a non-skier? Of course not. As it happens, the Arlberg is a destination designed for all seasons and all kinds of travellers. Take your pick from these things to do in the Arlberg!
1. Meet legendary skiing pioneers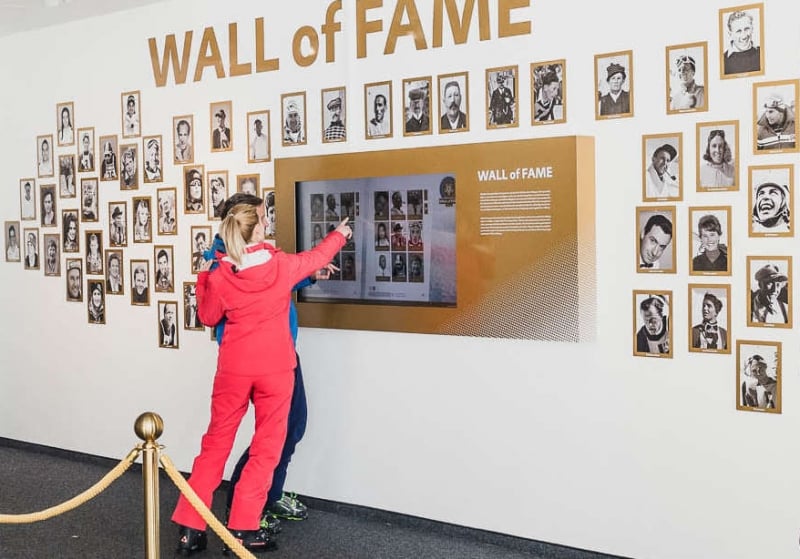 Set your skis aside and take a moment to pay tribute to the Arlberg's century-long legacy in this celebrated winter sport. You can do this by visiting the Hall of Fame at Ski Arlberg. Located at the Flexenbahn cable car station, this exhibition shows you everything you need to know about skiing in the Arlberg, from historic moments to the lives of legendary skiers like Hannes Schneider, and Olympic Gold medalists Egon Zimmermann and Mario Matt.
Aside from photo displays, you'll find audio samples, video games, and even get to watch ski films like the Bridget Jones: The Edge of Reason from 2004. These ought to set the vibe for you as you explore more of the Arlberg. Entry to the museum itself is free, so you'll only need to pay for your ski lift pass to access the facility.
2. Conquer the Arlberg terrain on foot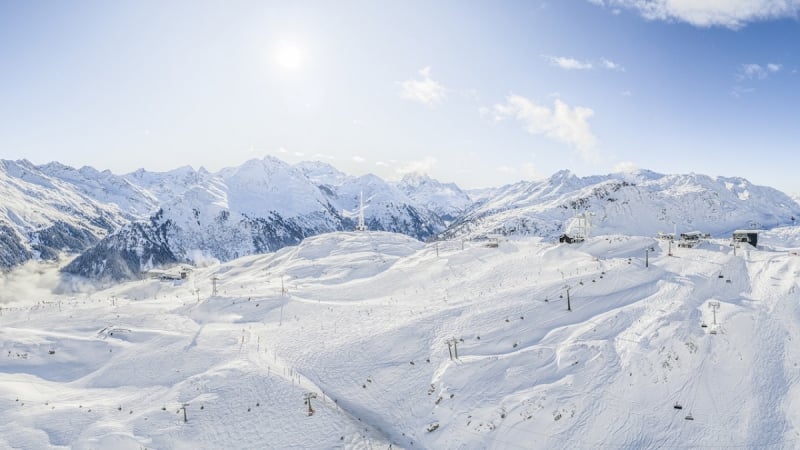 Despite being one of Europe's most breathtaking winter wonderlands, the Arlberg dazzles effortlessly throughout the rest of the year too. In fact, summer in the Arlberg is a sight to behold on its own. With its inviting outdoors, the region offers fantastic opportunities for family-friendly walks in Austria.
The walking trails at St. Anton am Arlberg give you as much flexibility as you can afford with their 12 trail selections. These range from a quick 1 km walk between the Arlberg WellCom centre and Nasserein cable car station, to a long scenic 18 km round-trip journey to Schnann via Pettneu. If you're not so keen on heading too far out, simply go for the 2.5 km easy loop around the village. The views are nonetheless exciting and definitely worth gawking at!
Want more of a challenge? Take the Zugertal winter hiking trail which will take you to the beautiful Lake Formarinsee at 1,793 masl. The path will be mostly covered in forest, a literal "change of scenery" from the apparent valley and mountain peak views you'll see from other hiking trails in the Arlberg.
3. Live out your fairytales on a horse-drawn sleigh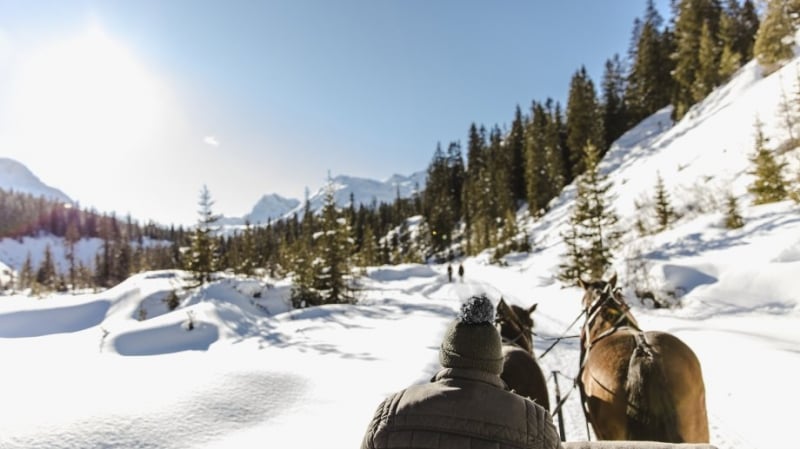 Among travellers with a penchant for luxury, horse-drawn sleigh rides have been a popular way of sightseeing at Lech Zürs as well as at St. Anton am Arlberg. It saves you time, energy, and most of all, it lets you live out a childhood fairytale dream while taking in the radiant beauty of the Austrian Alps. See the Verwall Valley or the Zugertal Valley from a new perspective — you don't even have to break a sweat for it!
4. Get a dose of adrenaline on an ice rink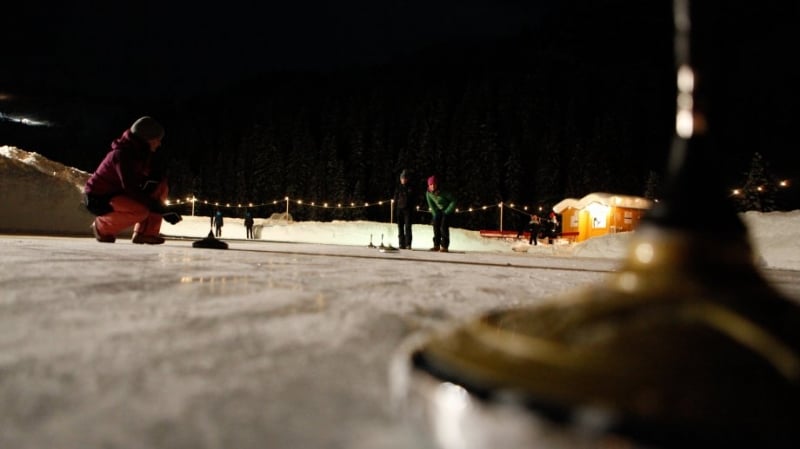 Pole-free adventures are a thing in the Arlberg, and they too have gone on to be a favourite among families and couples visiting the village. Case in point: Ice skating! In this region, you can indulge in this exciting recreational sport in plenty of ways and at varying conditions. Skating in natural ice rinks, for example, offers a breath of fresh air while letting you enjoy Austrian nature at its best. Meanwhile, couples can avail of the famous candlelight ice skating in Lech Zürs am Arlberg, which takes place every Wednesday!
Some of the skating centres in this mountainous region also save you the risk of falling into broken sheets of ice by building artificial ice rinks. One such facility is found at St. Anton am Arlberg. Open daily, not only does it let you skate, but also let's you enjoy the underrated thrills of ice curling. In simplest terms, this winter sport can be described as "bowling on ice", wherein you'll need to hit designated targets by sliding stones across the rink.
5. Take in the beauty of nature from a modern viewpoint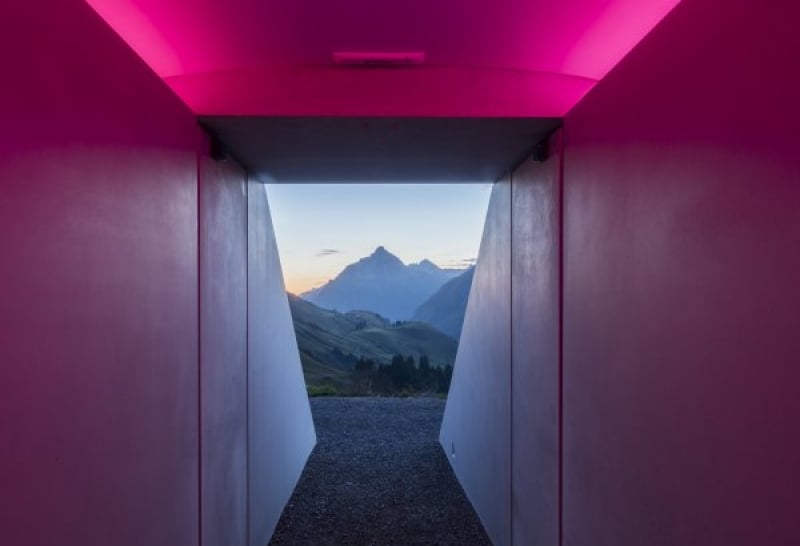 Opened in Sep 2018, Skyspace Lech is one of the freshest attractions in the Arlberg that will change the way you see space, light and the world as a whole. Located on the hills of Tannberg in Oberlech, this UFO-like facility is the product of none other than renowned American artist James Turrell. For the last 50 years, his ongoing Roden Crater Project in Arizona, USA has also been generating quite a buzz among many art connoisseurs from around the world.
Skyspace Lech is mostly notable for the opening in its oval main room. Here, the play of natural light at specific hours of the day gives the illusion of being in a completely different universe, when you're really just in an underground art museum far away from the village's more popular places of interest. Take note, this natural light show only occurs at sunrise and sunset, so be sure to craft your list of things to do in the Arlberg accordingly! Another highlight of the avant-garde facility is the 15-metre-long tunnel, which doubles as the entrance and viewing site for the Biberkopf peak in the distance.
While certainly enticing, Skyspace Lech is only open on favourable weather conditions. Visit Skyspace Lech's official website for regular updates, particularly changes in schedules, for a hassle-free holiday in the Arlberg!
6. Start a cross-country skiing adventure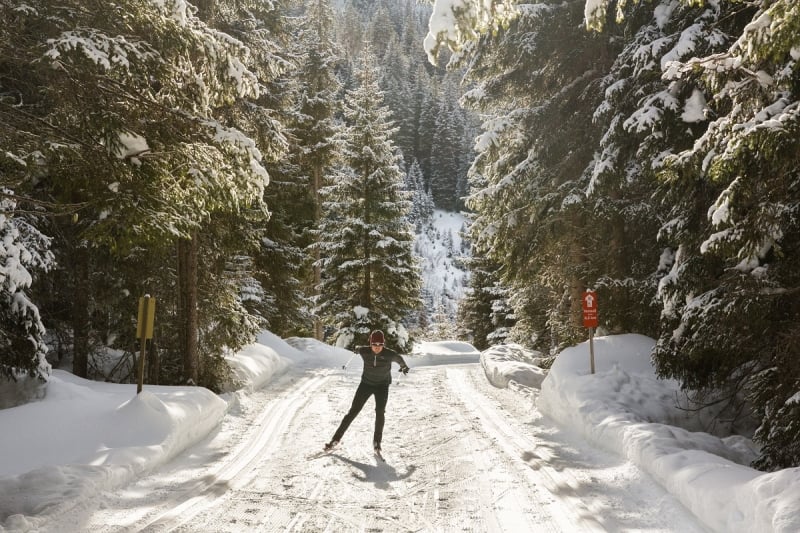 If you thought cross-country skiing meant literally travelling from one country to another by gliding on a pair of skis, then you're wrong. Instead, it involves moving across terrain without the sliding or gliding motion. Your heel isn't attached to the ski, hence allowing you to raise your feet in a normal walking motion while wearing your skis. This variation of the popular winter sports in Austria provides the same magnitude of exhilaration most winter sports enthusiasts can relate to. If typical skiing isn't your forte, then this might be the activity for you!
St. Anton am Arlberg alone has a 40 km-long network of trails that allows you to see the different vistas of the locale. Starters can take the 1.5 km Pofel Runde, while those with more experience can sign up for the 22 km Loipe Stanzertal, which will take you along one of the most beautiful rivers in Austria! In Lech Zürs am Arlberg, you'll be treated to over 27 km network of ski trails categorised according to different levels of difficulty. Perhaps the most famous of them is the Älpele-Spullerwald-Zug trail, a 6.6 km path characterised by flat terrain, and adrenaline-pumping ascents and descents in the Alps.
Strong cardiovascular endurance is highly recommended for this activity. However, skiing centres around the Arlberg will be more than happy to teach you a tip or two on how to conquer cross-country skiing in Austria in the most energy-saving ways possible!
7. Admire the unparalleled charm of the mighty Valluga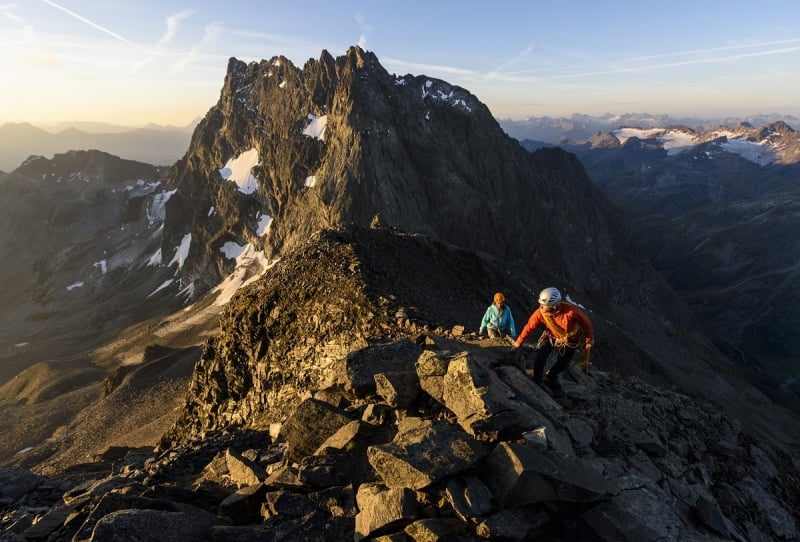 Valluga Mountain is the region's highest and most remarkable peak, which stands at 2,811 masl northwest of St. Anton am Arlberg. Unlike many of the summits of other well-known mountain groups outside Europe, Valluga is equipped with a cable car system and several hiking trails. This makes it relatively easy to access the mountain's peak even for the least adventurous or physically fit person in the bunch.
From the top, enjoy the view of several Alpine peaks which include those of the Lechtal, Allgäu, Ötztal, and Stubai. While there are many, the impressive summits of Paziellfernerspitzen, Pazielspitze and Roggspitze will stick out to you the most. The best time to visit the mountain is during the summer season. However, skiers are more than welcome to take on the Valluga's slopes during wintertime, too!
8. Devour world-class meals at Europe's highest restaurants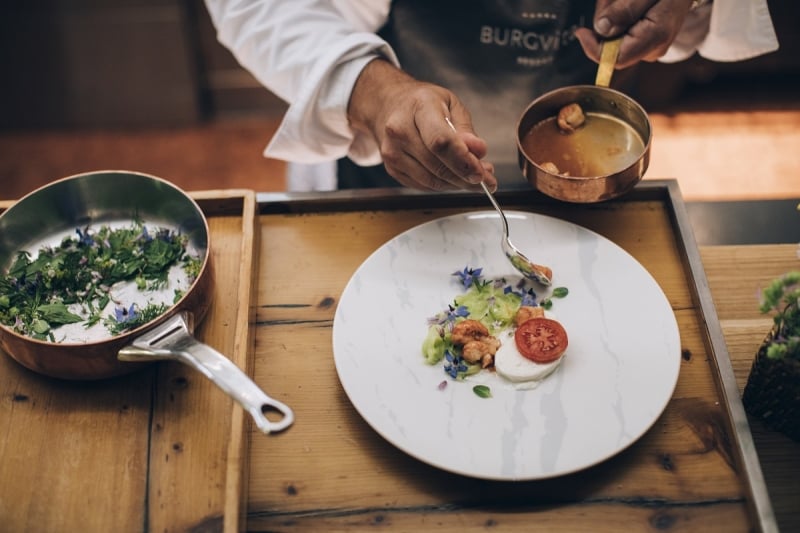 Austria is home to many of the continent's highest restaurants. Anywhere and anytime, you can always get a dose of local, regional and international cuisines from these world-class facilities, including the famed Kaiserschmarren and Tafelspitz – Apfelsemmelkren. Just don't forget to enjoy them with a glass or two of stellar Austrian wine!
But why the concentration of such restaurants in the Arlberg, you may ask? Simple, sportsmen and women (or every other outdoorsy person for that matter) need a nice hearty meal after an exhilarating ski run (among other things to do in the Arlberg). Truly, Arlberg promises more than just mouthwatering meals. They also take pride in outstanding village hospitality and endless mountain sceneries to match!
Also read: Europe on a Budget: DIY Travel Guide for Filipinos
Being in the Arlberg is all about appreciating nature to the fullest. It's about having an adventurous spirit, while knowing how to have a great time even if you don't necessarily fit into a certain mould. It's an unquestionable piece of paradise that's been under the radar from the international travel community for far too long. Yet one look at it, whether from the comforts of a cosy mountain chalet or high up one of the nearby snow-covered peaks, would tell you that it could very well be the Alps' most promising holiday destination.
When I said that the list of things to do in the Arlberg has no limits, I meant it. It's high time more people visit this stunning mountain village in Austria for all the wonderful surprises it has to offer. But don't let me spoil you — you'll just have to experience them for yourself!
For more information, please visit the Arlberg's official website and the Facebook pages of Lech Zürs am Arlberg, St. Anton am Arlberg and Stuben am Arlberg.
---
Brought to you by Austrian National Tourist Office (ANTO) and the Arlberg.
Originally posted on TripZilla.com