Contributed by Wander with MI
If you have happened to come across my social media pages, you would know that last June 2017, my husband and I had an amazing time visiting two countries in the Caucasus Region, namely Georgia and Armenia. Some of our friends were so engrossed with the pictures that we posted, that's why they keep on asking us for our itinerary, as well as other details regarding our trip. On this blog post, I will try my best to give you as much information as I can to help you draft your own itinerary. If you want to know how much we spent on this trip, I will be posting a breakdown of our expenses soon.
Also read: Armenia Travel Guide: Visa. Budget & Itinerary for Filipinos
Day 1: Arrival in Tbilisi and a visit to Georgia National Museum and Mtatsminda Park
Coming from Doha, Qatar, we arrived in Tbilisi, Georgia around 12.20am via Qatar Airways. We took a taxi going to our hotel (Noah's Ark B&B), checked in and then took a rest. It was around 12pm when we started our day by going to the city centre, which is a 20 to 30-minute bus ride from our hotel. Initially, our plan was to join a free walking tour of the city. However, we were late, so I just decided to go somewhere else.
We first went to the Georgia National Museum where we spent almost two hours walking around. It's not a big museum but there are some interesting things to see.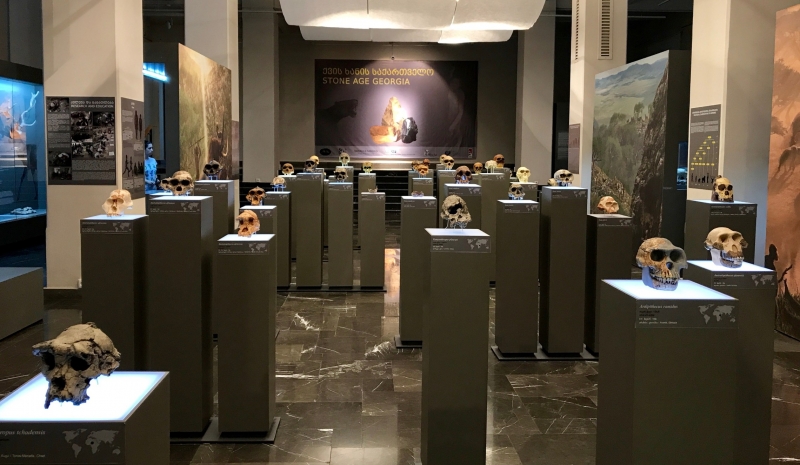 Next, we headed to Mtatsminda Park. It is an amusement park located at the top of Mtatsminda Mountain, giving you a fantastic view of the city.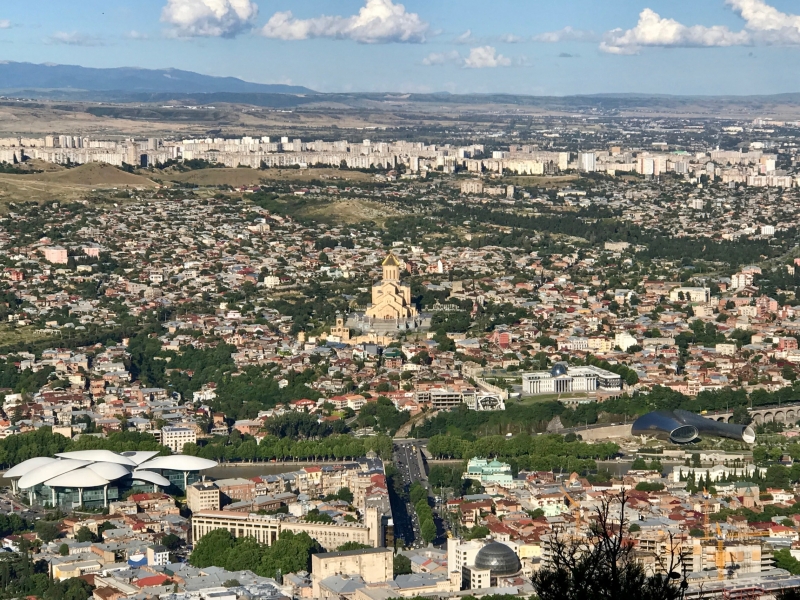 Day 2: Mashrutka (shared taxi) ride from Tbilisi, Georgia to Yerevan, Armenia
It usually takes six to seven hours to reach Armenia from Georgia by land. This is the reason why we started early that day. We were at the station around 8.15am but the Mashrutka left at 9.30am because it needed to get full before it could leave. When we reached the Georgia and Armenia border, all of us went down for the passport control.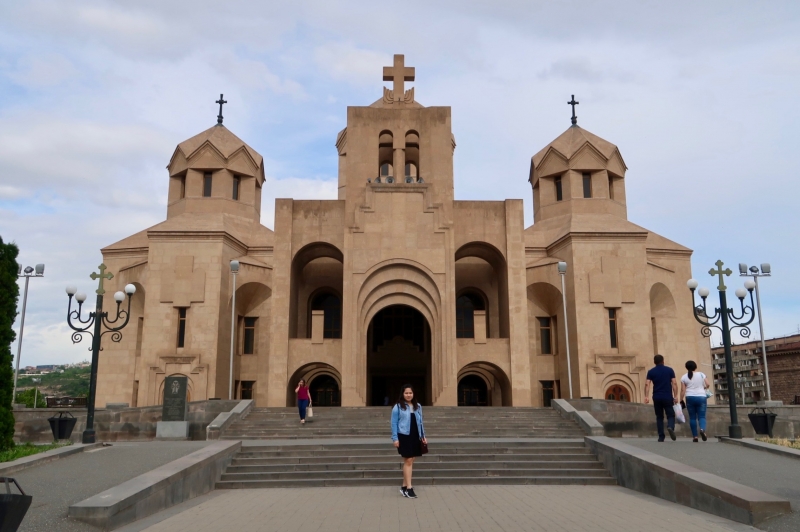 It was almost 4pm when we arrived in Yerevan, the capital city of Armenia. After checking in at our rented studio apartment (Apricot Studios), we walked for 10 minutes towards the city centre. We stopped for a while at St. Gregory the Illuminator Cathedral, which is the largest Armenian Church in the world. Again, we were supposed to have a free city tour, but since it was raining, we just cancelled it and had dinner at one of the local restaurants.
Day 3: Tatev Monastery tour
This was the longest day tour that we had during this trip, but believe me, it was worth it. We started at 6.30am and were back at the apartment at around 12 midnight. Tatev Monastery was our main destination for this tour and it is located in the southmost part of Armenia. You can reach this Monastery either by car or by riding a cable car, called Wings of Tatev. Apart from this, we also visited other places such as Khor Virap Monastery, Areni Winery, Noravank, Tatev Devil Bridge, Harsnadzor and Shaki Waterfalls. I will be writing more about this tour soon.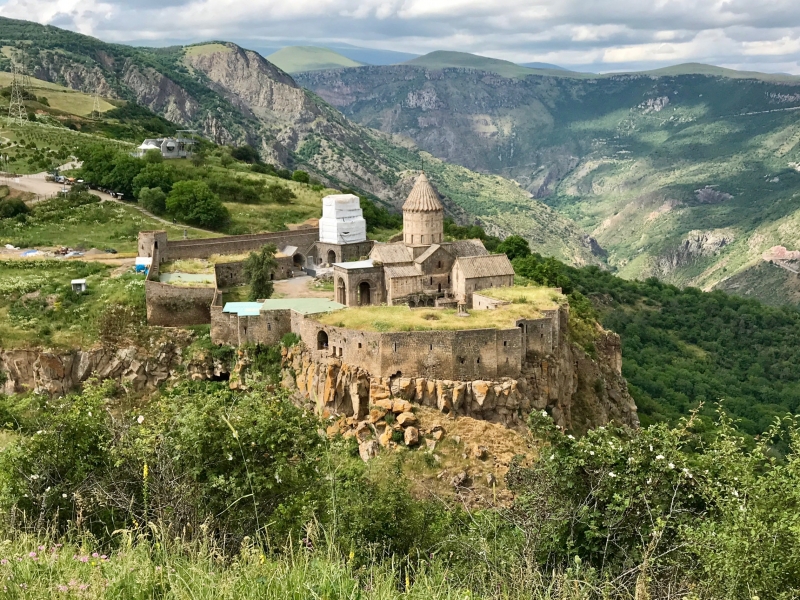 Our host at the apartment recommended a guy named Artur to be our driver-guide for this tour. We also got his service for the rest of our days in Armenia.
Day 4: Mt. Aragats tour and a short trip to the city at night
It was only on the night of Day 3 when we decided to do this tour. We were supposed to go back to Georgia by train this day, but we totally changed our minds when we learned the places that we would see on this tour. There were five stops, which enabled us to visit monasteries, see stunning views of Armenia and experience snow.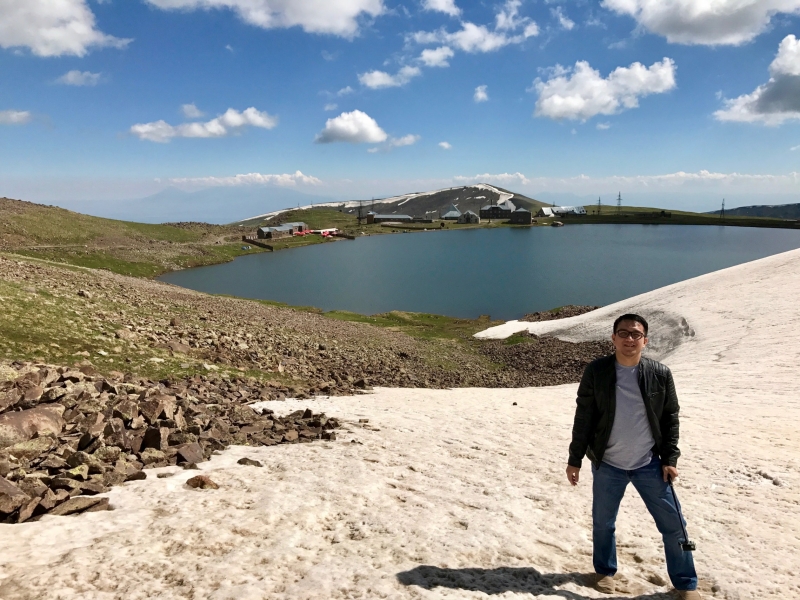 After the tour, we went to the city centre to watch the fountain show at the Freedom Square. It was not the best fountain show I've seen, but consider checking it out. This was also the time that we visited the Yerevan Cascade, which is a 500-step stairway that has multiple levels with fountains and sculptures. Once you reach the top, you will be rewarded with a breathtaking view of the city.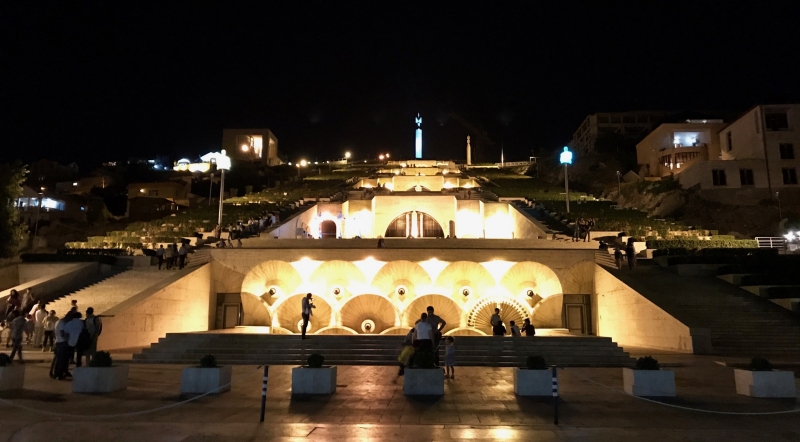 Day 5: A private ride from Armenia to Georgia with a side trip to Garni Temple, Geghard Monastery and Lake Sevan
On this day, we hired the service of Artur again to get us to Georgia. But before waving goodbye to Armenia, we made side trips to Garni Temple, Geghard Monastery, Sevanavank and Lake Sevan, which were along the way.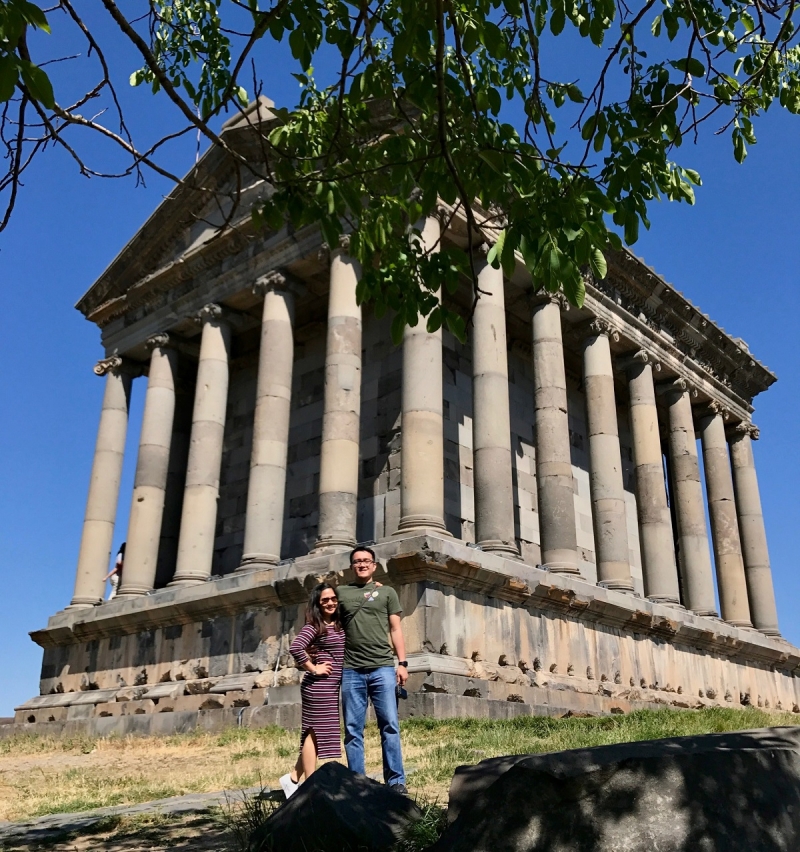 When we reached Georgia, we immediately checked in at Hotel Four Brothers, then had dinner. Afterwards, we just roamed around Rike Park and Bridge of Peace which are a short walk from our hotel.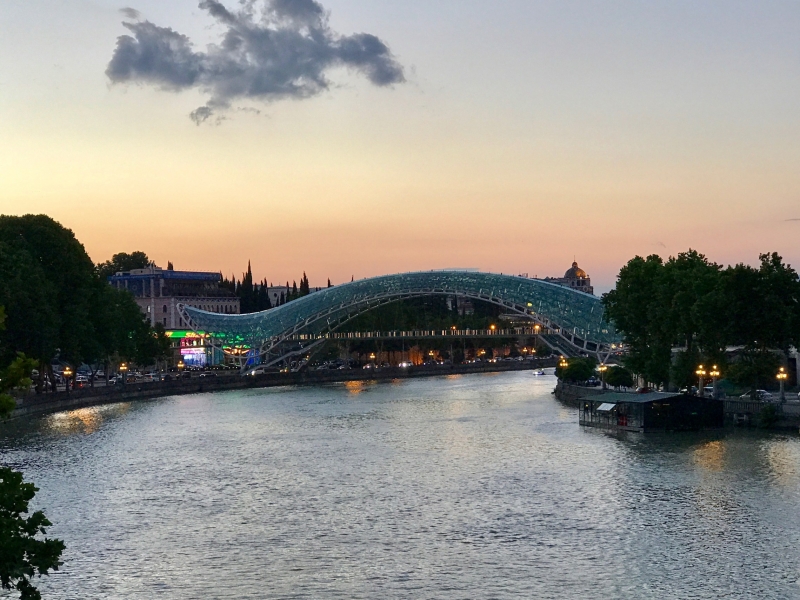 Day 6: A Long Drive to Vardzia Cave and Rabati Castle
Two of our friends from Qatar joined us on this trip and we hired Kartveli Tours to take us to Vardzia Cave and Rabati Castle. It took us four hours from the city by car to reach our first destination. We spent some time walking around Vardzia Cave, which is a monastery built on the slopes of the mountain. The hot weather of Georgia that day was too much for us to handle and was the reason why we were not able to reach the end of the cave. Then, we drove for another hour to get to our next stop which was the Rabati Castle. After spending some time at the castle, we immediately went back to the city.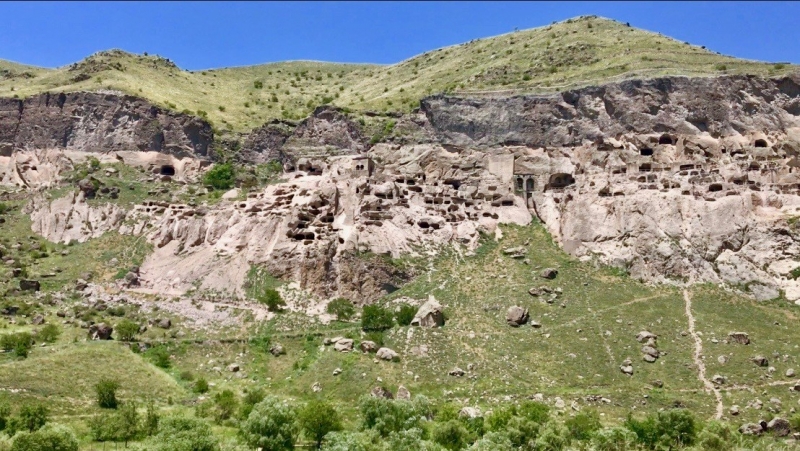 Day 7: Kazbegi adventure and paragliding
Our tour started at 9am and was provided by Kartveli Tours. This was the day that I'd been looking forward to because of the paragliding experience which we did at Guduari. But apart from that, we also visited Zhinvali Water Reservoir, Ananuri Fortress, Friendship Monument, Kazbegi and Gergeti Monastery. We also got the chance to have lunch with a local family and they even taught us how to make Khinkhali, a Georgian dumpling.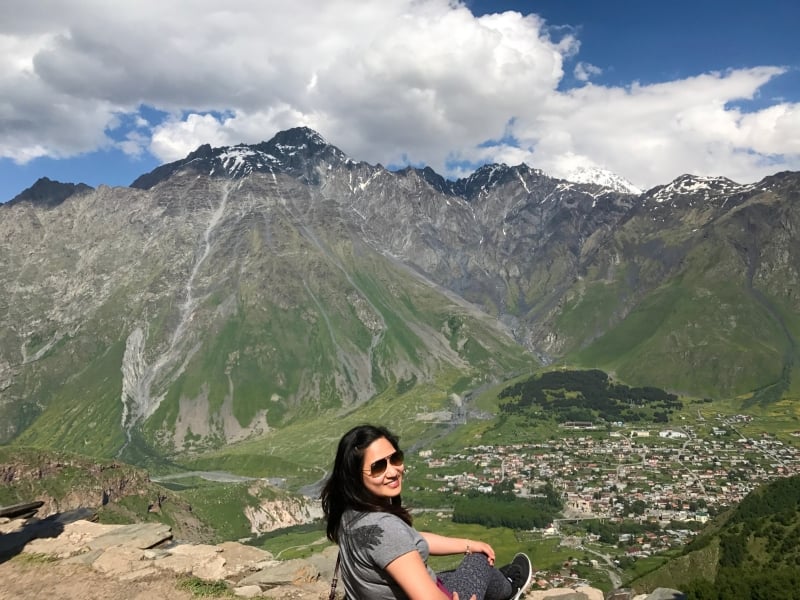 Day 8: Kakheti and Signaghi tour and cable car ride to Narikala Fortress
For this day, we got our tour from G7 Euro Travel and Tours (including the tour for Day 9 and airport drop-off). There were various places that we visited on this tour such as Bodbe Monastery, Signaghi (known as Georgia's City of Love), Ilia's Lake and Chelti Winery in Kakheti, where we learned the process of winemaking and got the opportunity to taste Georgian wines and chacha (vine vodka).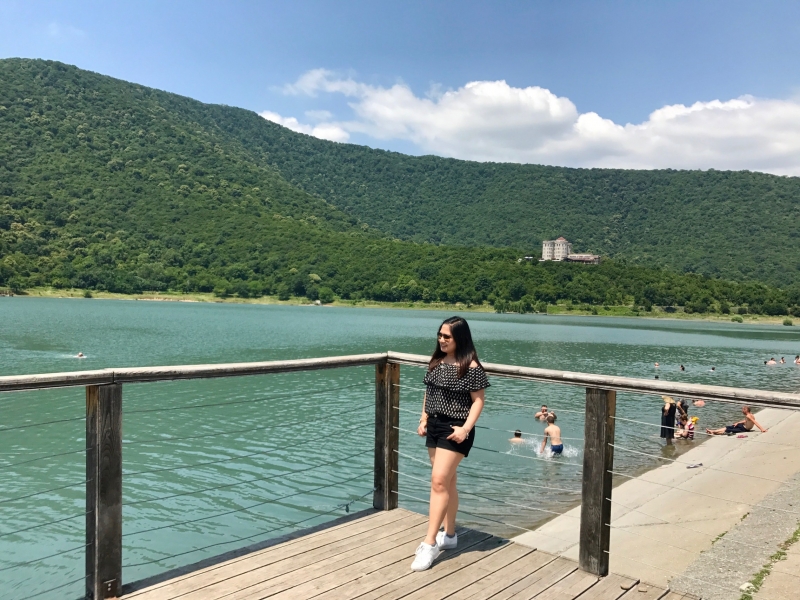 Upon reaching the city centre after the tour, we hopped on the cable car that brought us to the Sololaki Hill. We just walked around the area which offers a great view of the city. This is also the place where you can see the statue of Kartlis Deda (Mother of Georgia) and the Narikala Fortress.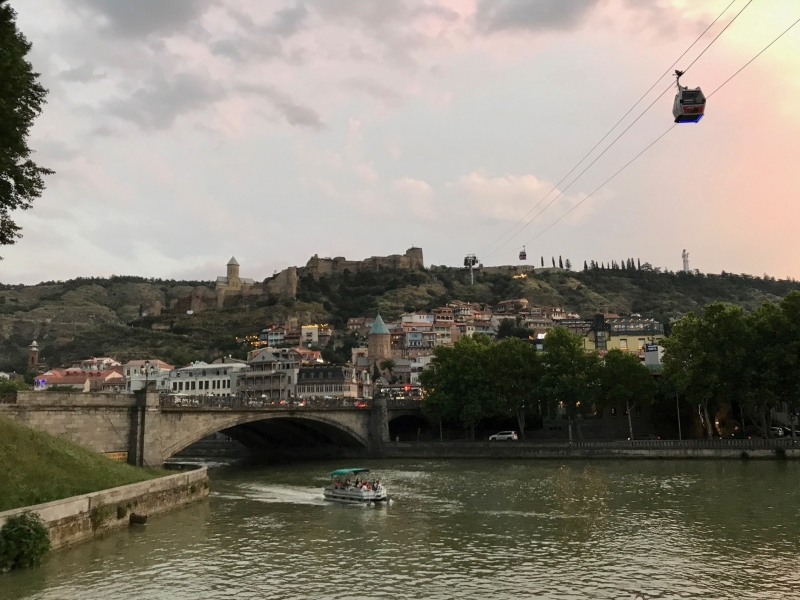 Day 9: Temca, Mtskheta and Gori Excursion and flight back to Doha
We started our last day with a drive to Temca to see The Chronicles of Georgia, which is a massive structure depicting the history of Christianity in Georgia. Next, we went to Mtskheta to see Jvaris Monastery and Svetitskhoveli Cathedral. Then, we're off to Gori where we visited the Uplitsikhe and Gori Fortress. We were back in the city at around 7pm.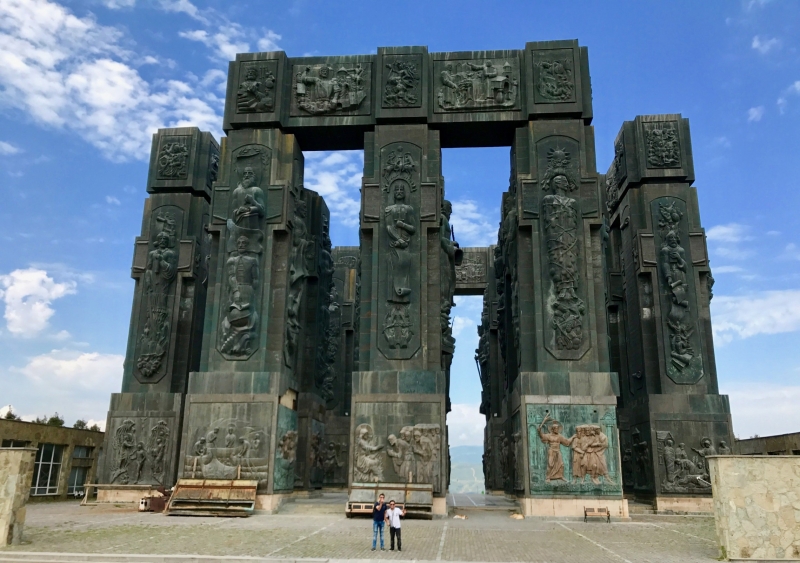 Initially, our plan was to either have a massage or roam around the city while waiting for our 2am flight. But it rained so hard so we just stayed at the hotel and had dinner afterwards at a local restaurant.
We were picked up at the hotel for drop-off at the airport around 11pm. Then, we flew back to Doha, Qatar.
That concluded our amazing nine-day trip to Georgia and Armenia. Every day was fully packed with activities, but we still got plenty of time to rest since most of the tours usually ended around 8pm, except for the in Day 3. I will be writing more about each tour on the succeeding blogs. I hope this will help you for now, especially if you are planning to go during the Eid Al Adha holiday.
Also read: Why You Should Visit Mestia, A Quaint Little Town in Georgia
By the way, I properly planned this trip. However, there are really some circumstances that are way out of our control, which is why it is always best to have a Plan B. Meanwhile, here are more details of our tour operators from the trip:
Tours in Armenia:
Artur 
+374 91 584 550 (available also in WhatsApp)
Tours in Georgia
Kartveli Tours
+995 557 213 515 (available also in WhatsApp)
[email protected]
G7 Euro Travel and Tours
+ 995-579-128-007 (available also in WhatsApp)
[email protected]