Like many Filipinos under quarantine, I started baking; and now, I can't seem to quit. Nothing compares to the pure joy and gratification of taking out baked goods from the oven, no matter how crumbly or imperfect they may be. That heavenly aroma of fresh, ooey-gooey cookies? Unbeatable. 
Some bakeries may have started opening their doors, but the home baking craze isn't going anywhere just yet. Whether you're whipping up desserts for your loved ones or hoping to start your own business, these baking speciality stores have got you covered. 
Here's your ultimate resource for baking essentials and where to find them around Metro Manila! 
Also read: 12 Best Cookies in Manila and Where You Can Find Them
1. Auro Chocolate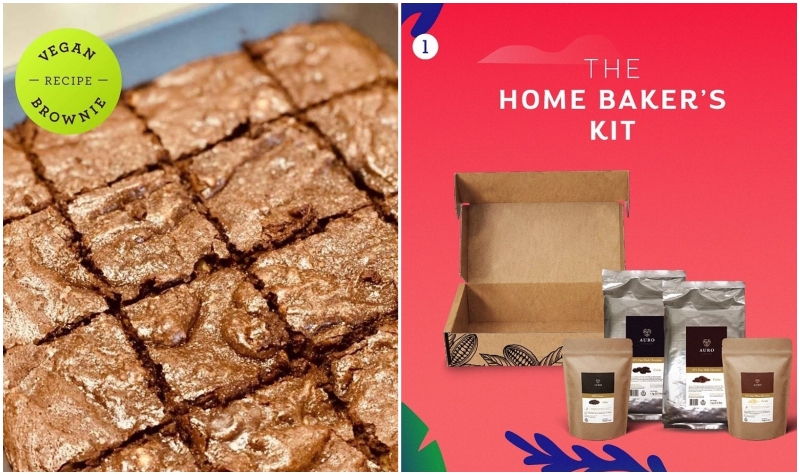 Want to give your chocolate chip cookies that decadent touch? Maybe it's time to level up your chocolate ingredients! Consider Auro Chocolate, a bean-to-bar company that sources Philippine cacao beans directly from local farms in Davao and other communities in Mindanao. 
Famous for representing Philippine chocolate in global competitions, Auro Chocolate has released the Home Baker's Kit to help bakers fulfil their passion during the quarantine. This package includes artisanal cacao nibs and coins of dark, milk, and white chocolate — all available for delivery anywhere within Metro Manila. From dark chocolate cake to chocolate banana bread, you can quaran-treat yourself to these addictive desserts at home! 
For prices and more delivery info, click here. 
2. The Baker's Co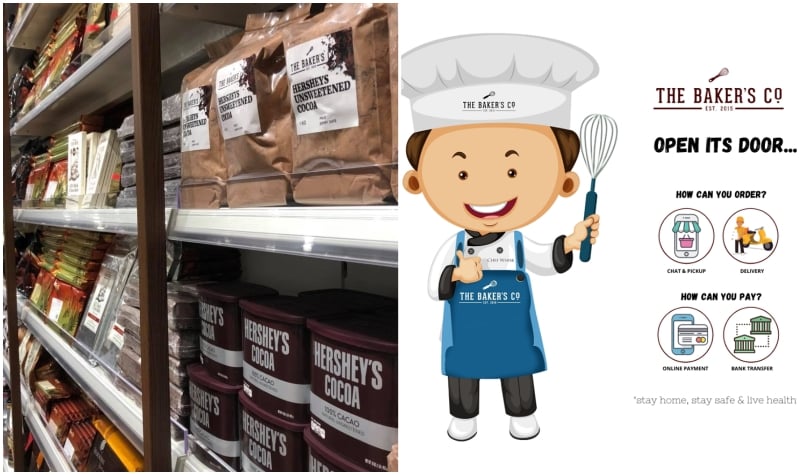 Any cake boss will surely find something to hoard from the shelves of The Baker's Co. Located on Panay Avenue in Quezon City, this store offers all the necessary kitchen tools and confectionery supplies for aspiring bakers and business owners alike. 
Take your pick from their premium cocoa and chocolate products, as well as ingredients that will pack your desserts with extra flavours: cheesecake puffs, nata de coco, strawberry and matcha powder, ube, and tapioca pearls, just to name a few! Currently, they accept online orders through their official hotline and Facebook page.
For prices and more delivery info, click here.
3. Wonderbake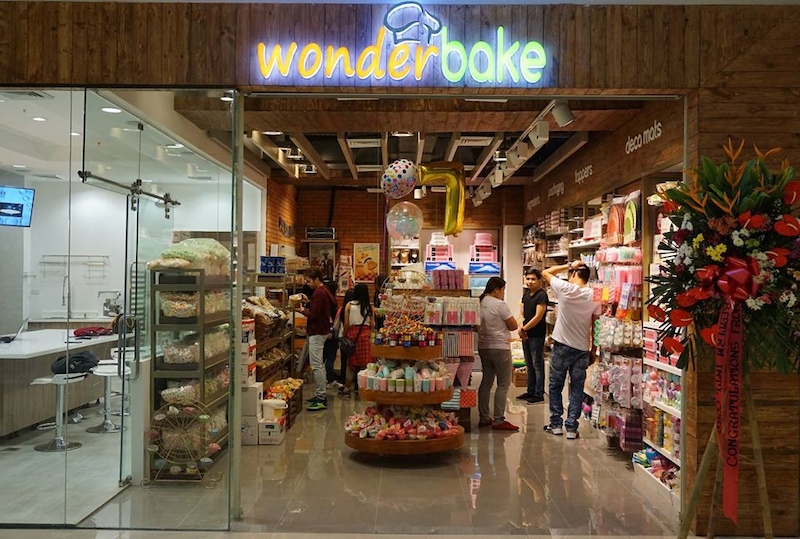 Who doesn't feel a little nostalgic for Wonderbake? Luckily, you can still purchase their bakeware pieces without stepping out of your home. Just head to Wonderbake's official Facebook page to see their exciting selection of products, which include top-of-the-line blenders, electric mixers, rolling pins, cake toppers, icing decorations, cutters, raw ingredients, and so forth. 
Everything you need to indulge your sweet cravings is right here. Spruce up your muffins by arranging them in a Ferris wheel cupcake holder, or try their frozen cookie doughs that are ready to bake in the oven. It's up to you! 
For prices and more delivery info, click here. 
4. Em's Baker's Depot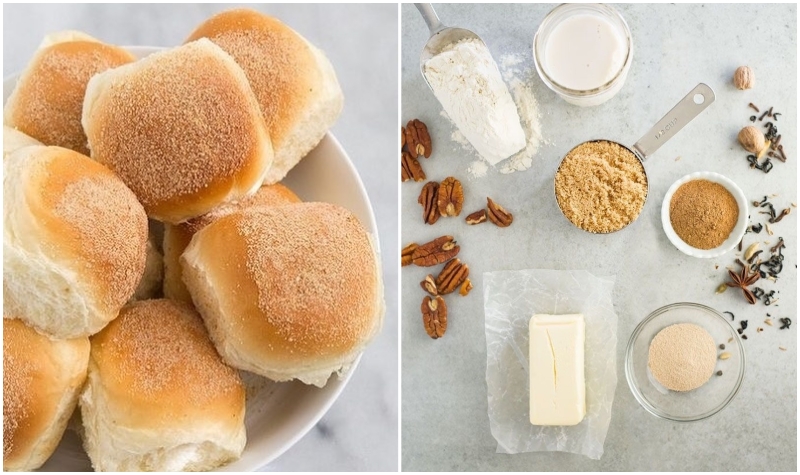 Looking for fine bread crumbs to sprinkle on top of your pandesal? Em's Baker's Depot comes highly recommended by Filipino bakers due to the store's wide range of ingredients, which include different varieties of chocolate compounds, flour, sugar, yeast, cream cheese, and yes, bread crumbs, too! Be sure to check out their official Instagram page for updates from time to time, as they tend to restock their supplies quite frequently. 
More than these baking essentials, Em's Baker's Depot also loves to showcase recipes and mouth-watering desserts from their followers as well. Feel free to send them a photograph of your own delicious creations! That's part of what makes baking so fun, after all. 
For prices and more delivery info, click here.
5. Harvest Basket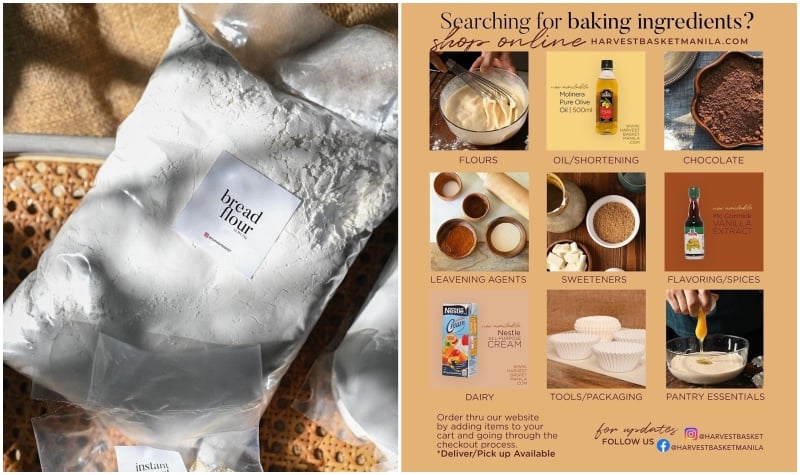 Perfect your Spanish bread recipe with top-notch ingredients from Harvest Basket! From bread flour to sweeteners to leavening agents, you can order the baking essentials you need from their official website. Their online catalogue also features pantry staples like muffin pans, baking tins, parchment paper, cupcake liners and wrappers, and cookie sheets. All of these items are available for pick-up or delivery around selected areas within Metro Manila.
Feeling short on inspiration? You don't need to open a cookbook — just drop by Harvest Basket's Instagram page for baking ideas and recipes you can try! Recent customers have used their ingredients to churn out popular Filipino treats such as in ube cheese pandesal, banana bread, mango float, and more. 
For prices and more delivery info, click here. 
Also read: 11 Yummy Filipino Desserts We'll Probably Crave All Summer Long
6. All About Baking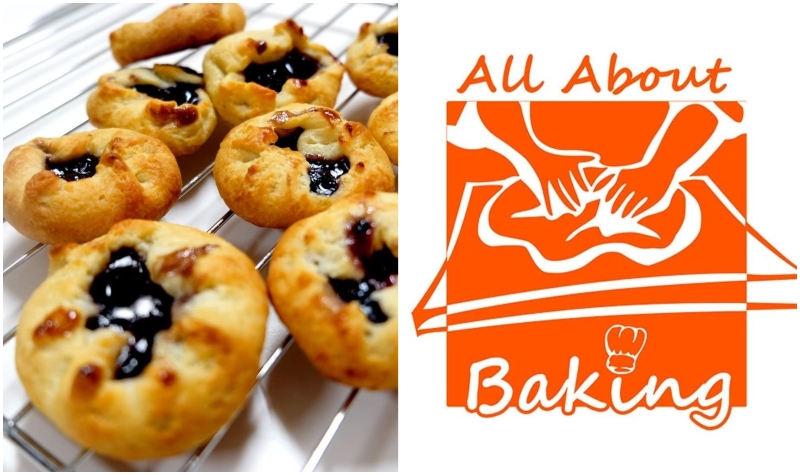 If you're looking for a one-stop shop for all your baking essentials, then you can't go wrong with All About Baking. With branches around Metro Manila and Iloilo, this store is a home baker's haven for quality ingredients and equipment. Keep your kitchen stocked with brand new stand mixers, measuring cups, baking moulds, cake testers, cupcake stands, and packaging items that are perfect for throwing parties at home. 
All deliveries and pick-ups will be originating from their Congressional Avenue branch in Quezon City. Message them directly through their official Facebook page for orders! 
For prices and more delivery info, click here. 
7. Chocolate Lover, Inc.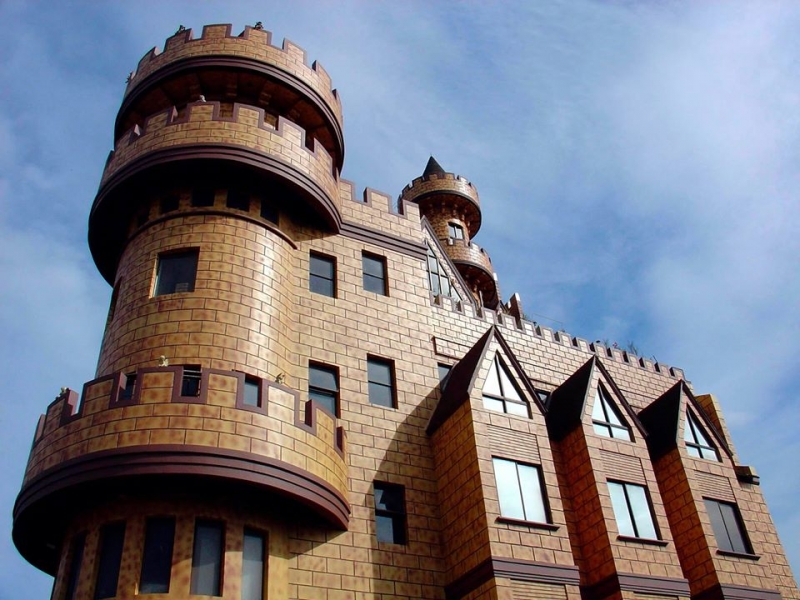 Got a craving for chocolate? Then you mustn't leave out Chocolate Lover, Inc. from your search of the best baking tools and ingredients in Metro Manila. 
Operating since 1994, this castle-like store on P. Tuazon in Cubao, Quezon City is a treasure trove for affordable baking supplies, especially if you're someone who thinks there's no such thing as too much chocolate. And let's be real. There isn't.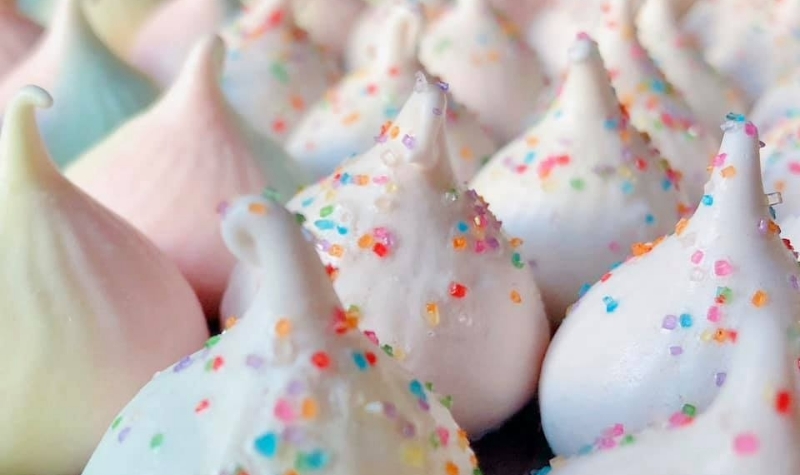 Besides the obvious chocolate chips, chunks, and cocoa powder, Chocolate Lover's shelves are brimming with dessert toppings like meringue kisses, desiccated coconut, icing, pie fillings, vanilla, fondue, and all the imported nuts you can think of: macadamias, walnuts, cashews, hazelnuts, and almonds. 
You can check the full list of available products at their official website here. When you're ready to order, call them at their designated hotlines or slide into their messages on Facebook for store-to-door delivery. 
For prices and more delivery info, click here. 
Also read: Craving Cookies and Bread? These 25 Shops Have Got You Covered! 
Let's get this bread, home bakers! We hope you discovered a gem or two from this round-up of speciality stores that sell baking essentials around Metro Manila. 
Any idea on what sweet treat you'll bake next? From mug cakes to Japanese pancake soufflés, TripZilla has plenty of recipes you can recreate with just a little flour, sugar, and butter. Don't forget to tag us on Instagram at @tripzillaph on your next baking adventures! 
---
Featured image credit: Harvest Basket | Facebook.