On the hunt for the best cookies in Manila? Well, look no further! Being a certified cookie monster myself, I'm always on the lookout for places that serve freshly baked chocolate chip cookies — specifically the type that melts in your mouth!
Also read: 10 Unique Themed Cafes in Manila Worth Checking Out
1. Purple Oven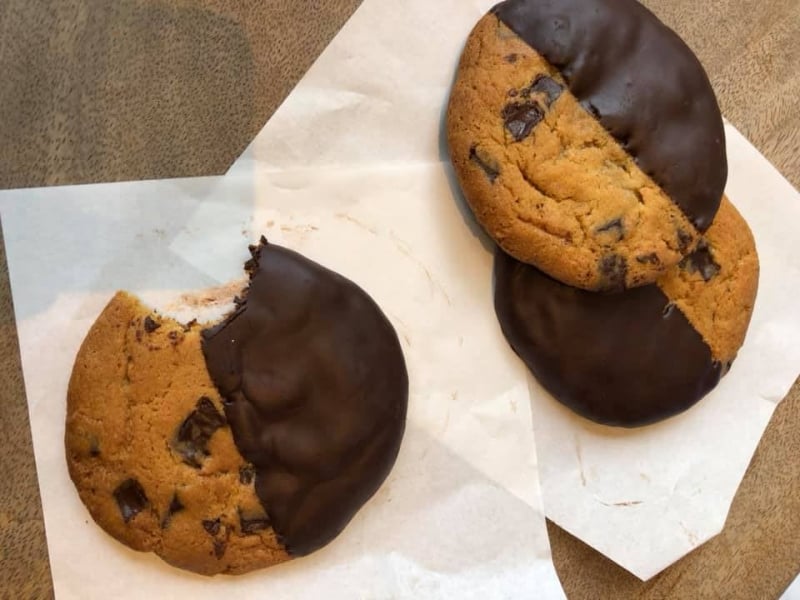 I've always known Purple Oven for its cakes, revel bars, and lemon bars — but their cookies were a pleasant surprise! Their chocolate dipped cookie is a personal favourite: it's basically your regular chocolate chip cookie, with one side dipped in chocolate. (Just remember to double-check your teeth for chocolate stains after taking a few bites!)
In addition to this, their menu features a whole bunch of other mouthwatering flavours that include double chocolate chip, Reese's peanut butter, chocolate macadamia and oatmeal raisin! Plus, an insider tip: Come by at 11am or 1pm, when the cookies are fresh out of the oven!
2. Mo' Cookies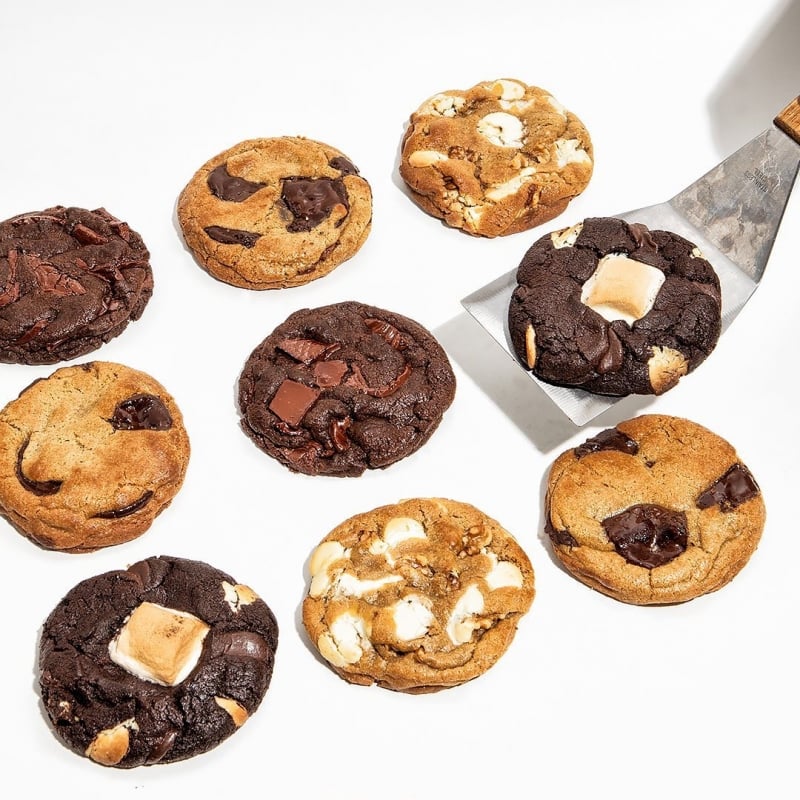 If you have a serious sweet tooth as I do, then you have to try Mo' Cookies! Known to serve cookies bigger than your palm, their treats are great for sharing (or savouring all to yourself!). But if you prefer smaller, bite-size cookies, they have those, too!
You certainly can't go wrong with their classic chocolate chip cookie: it's crunchy on the outside, chewy on the inside, and the generously sized chocolate chunks melt in your mouth! Mo' Cookies also offers delicious flavours like dark chocolate macadamia, white chocolate walnut, South Cotabato Fudge, triple choco mallow, and more!
3. Classic Confections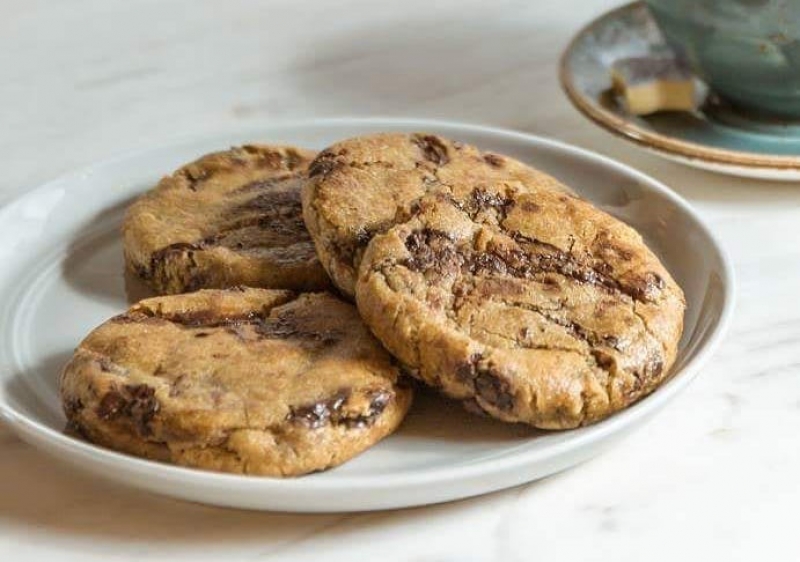 On your next tita brunch at Nono's, make sure to check out their dessert menu! Their cookies, cakes, and other pastries are actually supplied by Classic Confections.
While I often regret ordering cookies at cafes (especially when they've just been sitting around in glass cases all day), chocolate chip cookie is one I don't regret trying! I actually came back to get more a few days later, and they've since become a favourite. The texture is perfect for anyone who loves their cookies soft and chewy! Their other flavours include double chocolate and oatmeal raisin!
4. Scout's Honor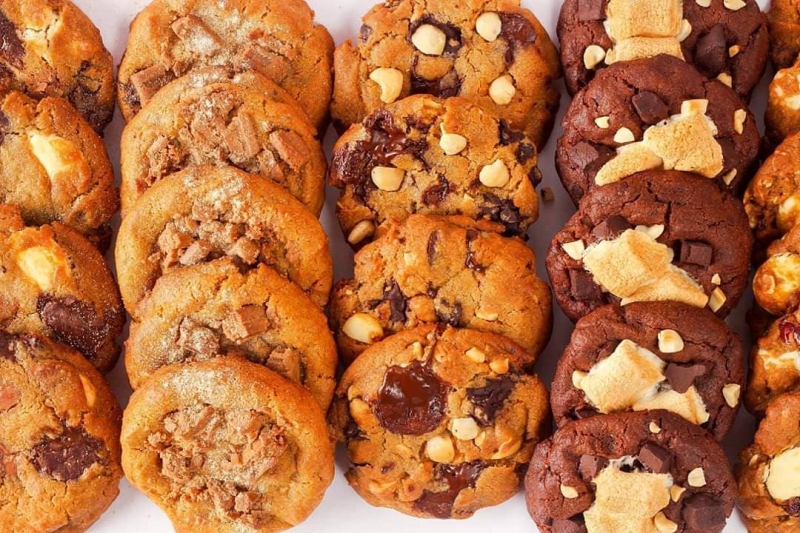 An entire store dedicated to cookies? Apparently, it isn't too good to be true! Scout's Honor is one place that any Manila-based cookie lover can't miss. While they started out as a stall serving craft cookies, they now have full-size shops — complete with takeout windows for those on the go! (They serve delicious meals, too.)
With an array of flavours like 'Cookie Inception' (chocolate chip cookies with Oreos baked inside), 'Matcha Sesame', and 'UItimate Chocolate Chip', how could any self-confessed sweet tooth resist? Their 'craft your own cookie' option, however, is my absolute favourite. With free rein to choose their dough and toppings, everyone goes home a winner!
5. Workshop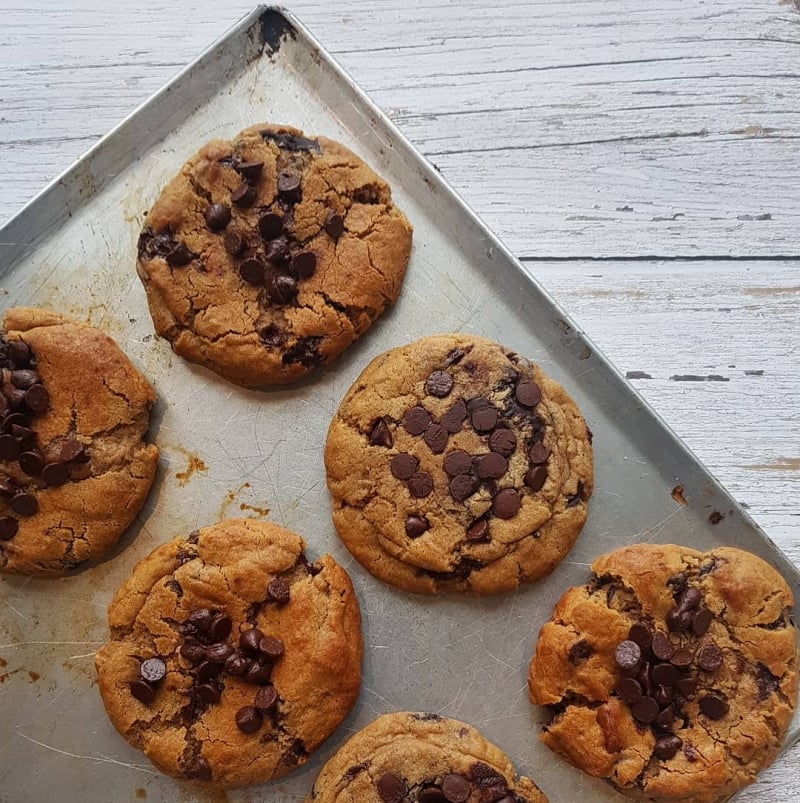 Like your cookies big and chunky? Make sure to check out Workshop — a bespoke bakery brought to us by the same group behind Le Petit Souffle. (Incidentally, you can also enjoy Workshop's treats at the restaurant's two branches!)
Apart from their popular 17-layer cakes, Workshop's cookies are a must-try! Equal parts chewy and chunky, they definitely deliver on that 'melt-in-your-mouth' goodness that we cookie lovers require! In addition to your usual chocolate chip, they're also available in dark chocolate truffle, and oatmeal raisin.
6. Moloko
On my search for the best cookies in Manila, many have recommended Moloko's cookies. A crowd favourite? Their NY-Style Chip n' Chunx, without a doubt! They taste as delicious as they look — so expect nothing other than melt-in-your-mouth chocolatey goodness when you take a bite!
Besides their best seller, their Super Brown Butter cookies are a must-try, too! We also love that they have a Philippine Finest Series — these cookies are baked with locally made chocolates like Auro Chocolate and Malagos Chocolate.
7. The Flour Girl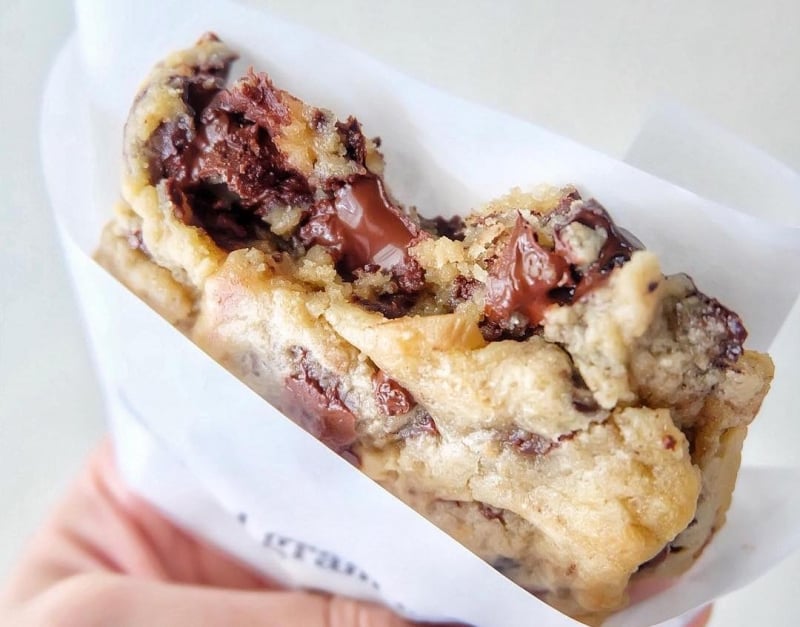 While on the hunt for any cookie similar to those from New York's Levain Bakery, I stumbled upon The Flour Girl's hundred gram cookie. While hers comes pretty close, I find that it has something of its very own. They're the kind of cookies you'll crave the moment you finish devouring them!
The Flour Girl's bigger-than-average cookies are soft, moist, and baked with generous amounts of chocolate (drool!). Classic chocolate chip and choco-chip walnut are personal favourites; she also offers double chocolate, white chip macadamia, hazelnut milk chocolate, and more!
Tip: While she doesn't have a standalone store, you can find The Flour Girl at The Power Plant Mall Baker's Dozen bazaars.
8. Ben's Cookies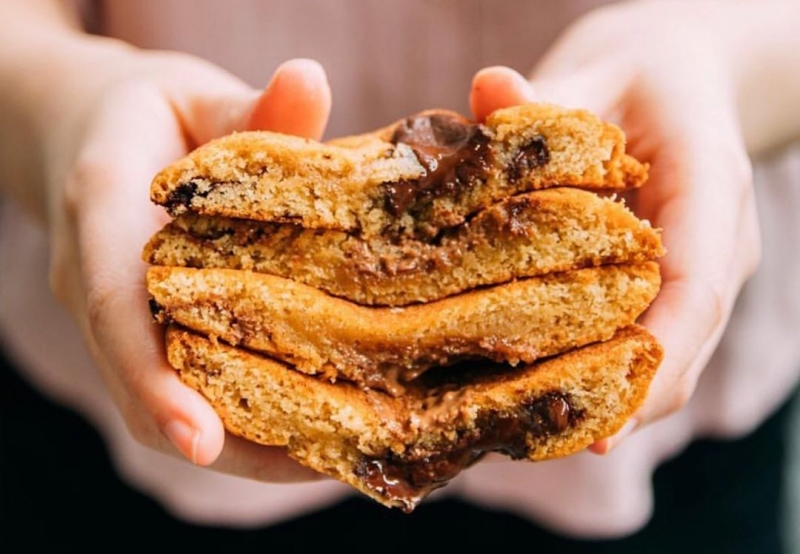 As England's world-famous Ben's Cookies has finally found a home in the Philippines, how could I not include it on this list of the best cookies in Manila? While they're baked crisp on the outside, expect to bite into melty, gooey goodness!
Served freshly baked, these mouthwatering treats come in lots of different flavours. These include milk chocolate chunk, white chocolate chunk, dark chocolate chunk, and other interesting must-try varieties!
9. Le Bar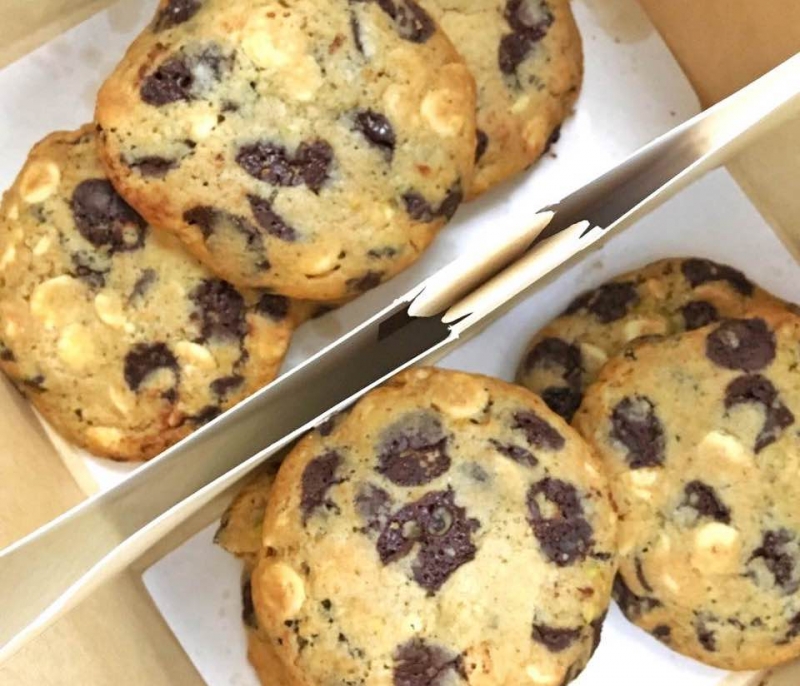 Sofitel may be famous for their buffet, but it's about time their chocolate chip cookies received the spotlight! Find these goodies at Le Bar, a French bistro and patisserie found within one of Manila's most popular hotels.
Le Bar's cookies are made with a generous amount of chocolate chunks! They're bigger than your usual cookie, not too sweet and without a doubt — addicting! 
Enjoy them while they're freshly baked!
10. Toby's Estate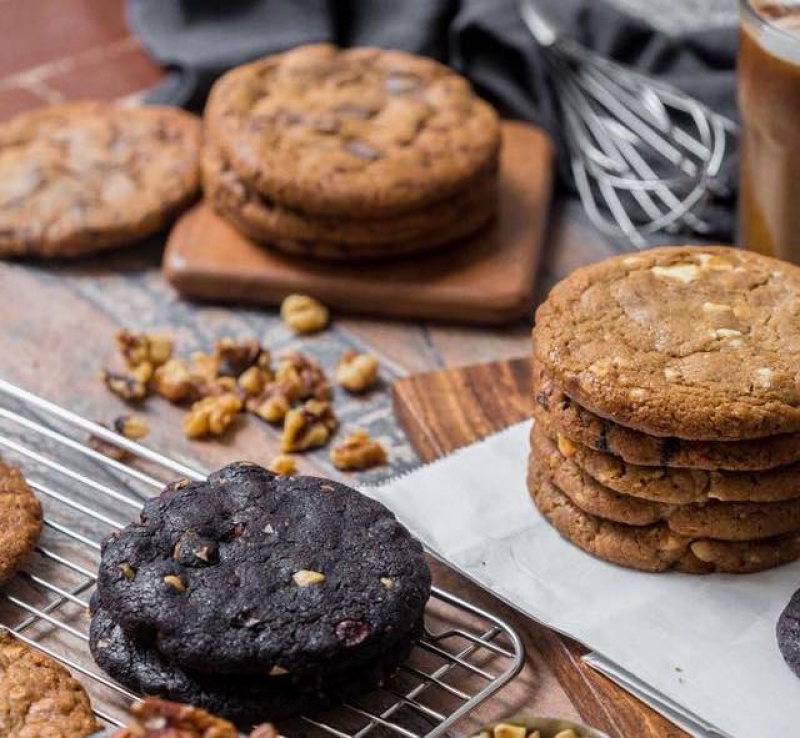 Toby's Estate isn't just an ideal place for a cup of quality coffee. They serve delicious cookies, too! And even better? The two make the perfect pairing!
With flavours like chocolate chip and peanut butter, Toby's Estate's cookies are best enjoyed while they're warm. Prepare yourself for some soft, chewy, melt-in-your-mouth goodness!
11. Borough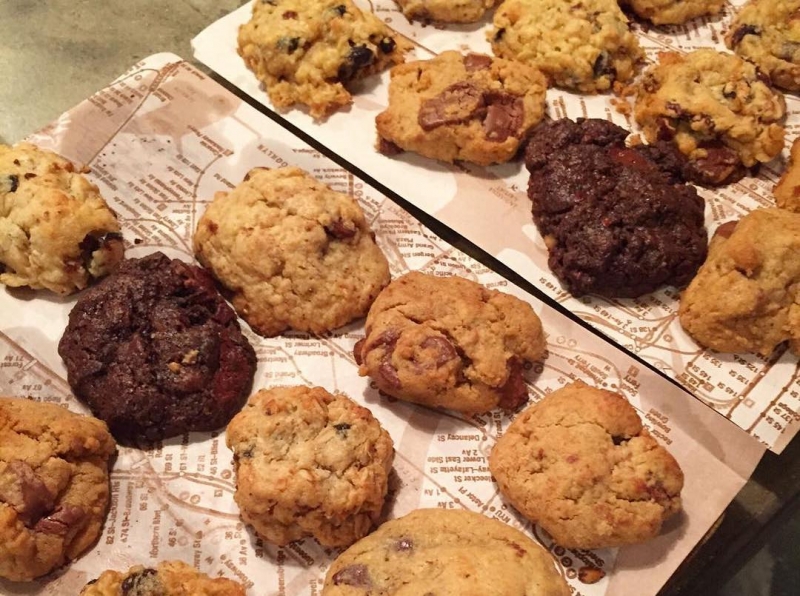 A cult-favourite place to enjoy a nightcap, Borough is known for serving comfort food. So naturally, they offer milk and cookies — a nostalgic pairing that takes us back to easier days. (Though let's be real, many of us still enjoy our cookies this way!)
These chewy, bite-sized cookies are served fresh out of the oven, along with an ice-cold bottle of milk. Flavours include chocolate chip, white chocolate with cranberry, gingerbread, and peanut butter!
12. Chili's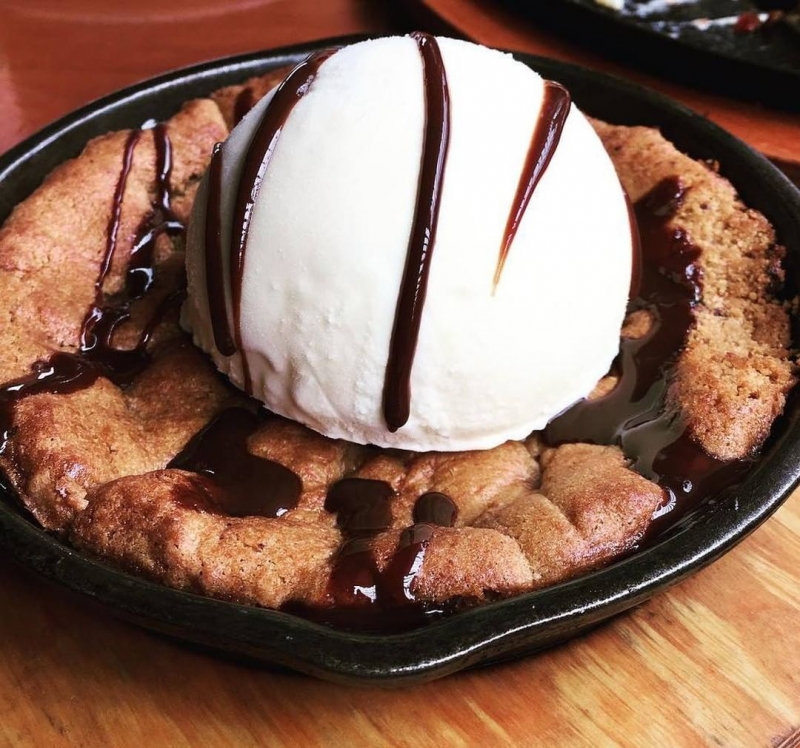 Chili's skillet cookie isn't the type you can order now and enjoy later — but it definitely still deserves a spot on this list of the best cookies in Manila!
This dessert makes for the perfect sweet ending, and never fails to leave me and my sweet tooth satisfied. If you aren't sharing your skillet cookie with a big group, then make sure to save an ample amount of space in your stomach. This one isn't meant to be enjoyed alone — unless you're up for a challenge!
Also read: Something to Sip on: 10 Underrated Milk Tea Places in Manila
Anything missing on this list of the best cookies in Manila? Feel free to let us know in the comments section!