One weekend, my fiancé and I decided to go to Bantayan Island in Cebu. It was mainly because there was no electricity at home that I wanted to escape somewhere for a short while. I've been yearning to be at the beach, and I couldn't wait to dip my toes in the sand. If you want to have a quick weekend getaway just like us, here's our Bantayan Island 2-day itinerary with cost breakdown for your reference.
Also read: Our South Cebu Adventure: 4-Day Itinerary, Cost Breakdown & Highlights
How we got there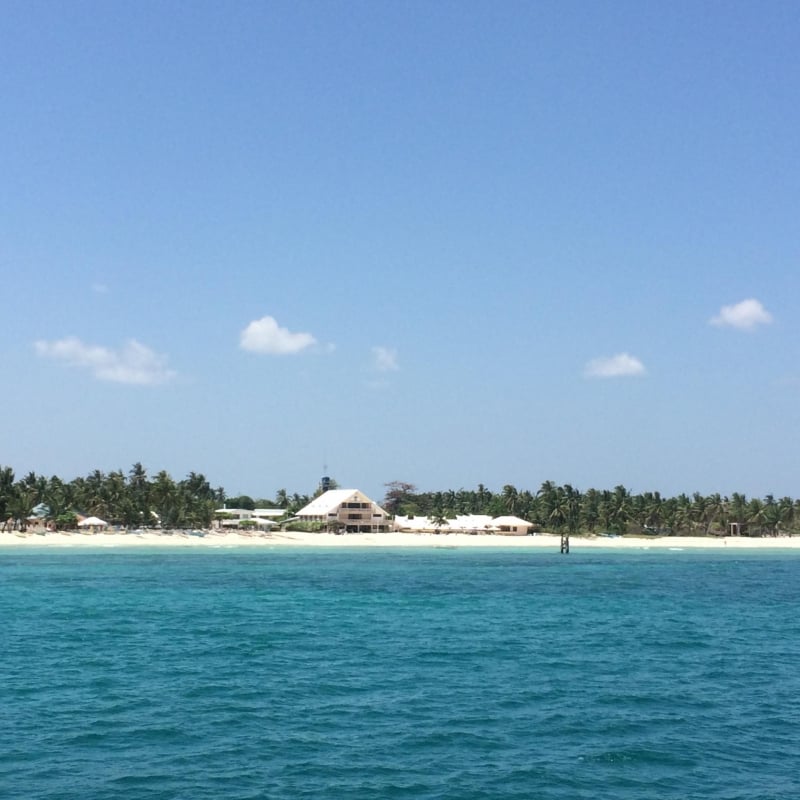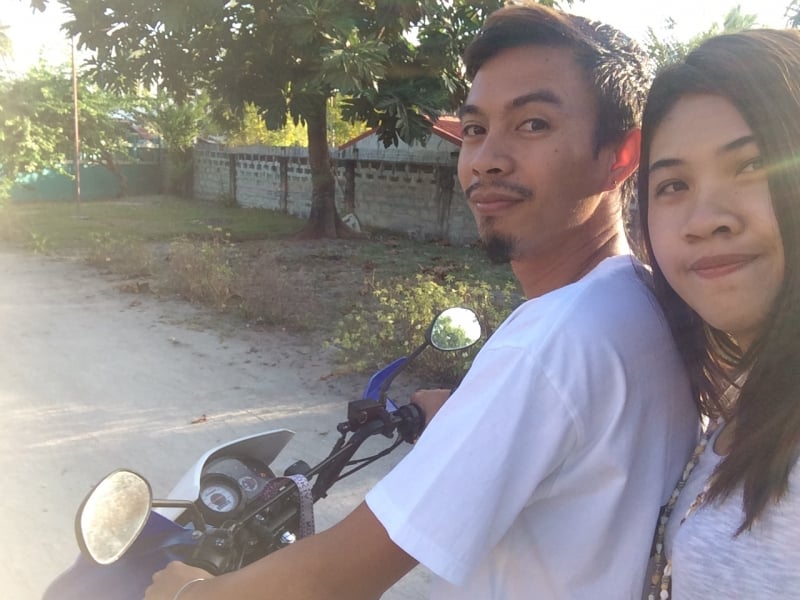 From Cebu City, it will take about four to five hours of travel to Hagnaya port depending on the traffic. It's better to wake up early to catch the earliest bus to avoid the traffic. We ate breakfast at home to save some cash then headed to the Cebu North Bus Terminal. When we arrived at Hagnaya port, I didn't expect that there would be so many passengers since it wasn't summer break or a long weekend. We arrived just in time to catch the 10.30am ride going to Bantayan Island. While on the boat, we slept to make up for lost sleep. After an hour, we arrived safe and sound on the island.
The caretaker of the resort suggested that we rent a motorbike for only ₱350 for 24 hours. Not bad at all. We didn't waste any time and headed to the Bantayan town proper. In case you were wondering, Bantayan Island is composed of three municipalities. The first is Sta. Fe, the municipality that will welcome you in the port and the place that we checked in. The second is Bantayan Island, which is the centre of trade and industry, and lastly, Madridejos where sunsets are best viewed.
Day 1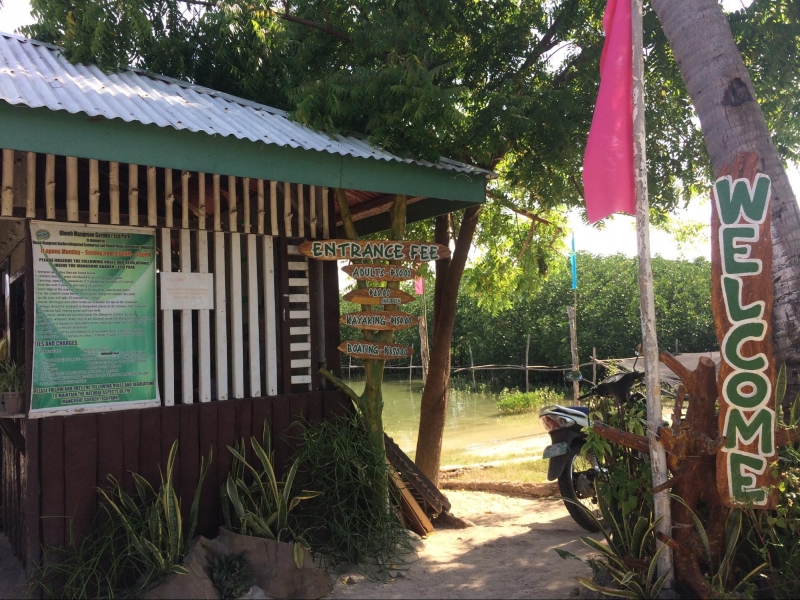 Most of our trip's itinerary consisted of visiting the places where the movie Camp Sawi filmed. Yeah, you can say we're avid fans here. Our first stop was the Omagieca Mangrove Garden in Ob-ob which I'm sure all nature-lovers would really love. The path walks were made of bamboo and they really preserved the place.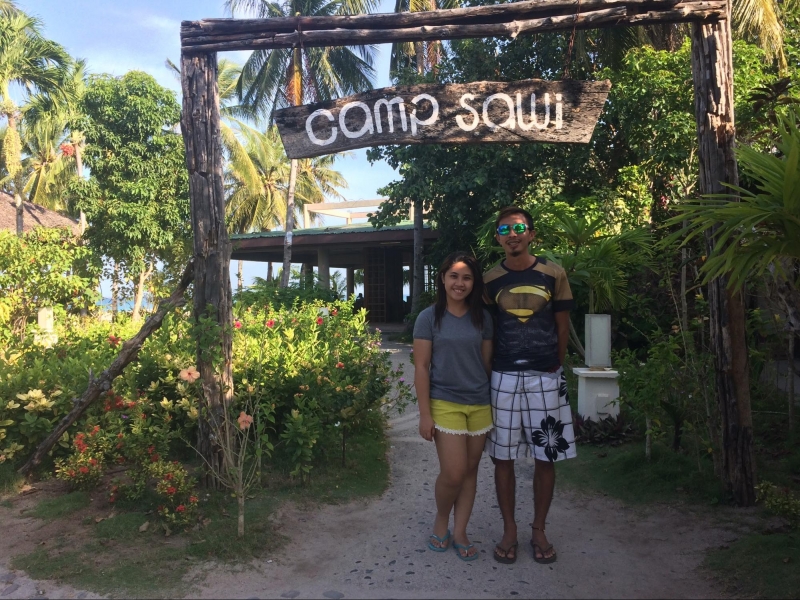 You have to walk a couple of minutes before you'll reach the end where they shot the scene of Sam Milby's special nook. The place was so serene and tranquil that it would make you want to spend your time lying in the hut's benches. They also offer other activities such as kayaking and boating. You can see the rates in the photo above.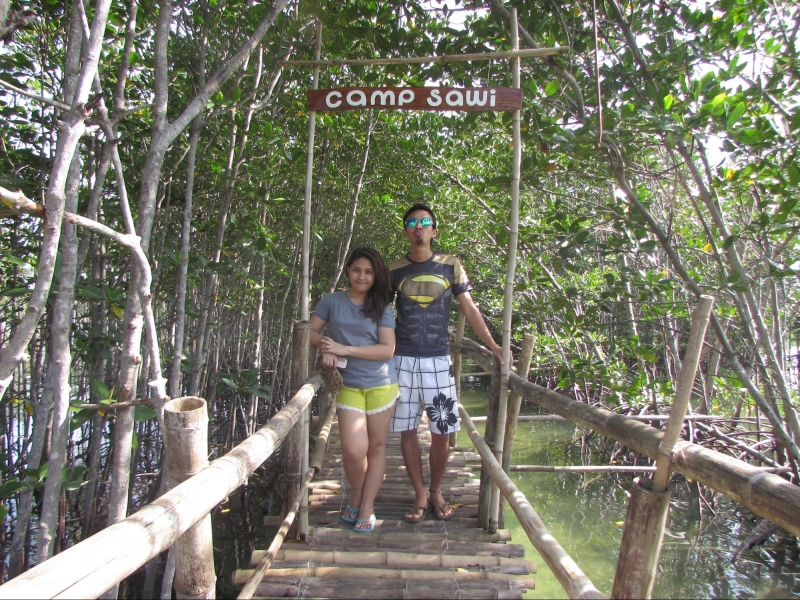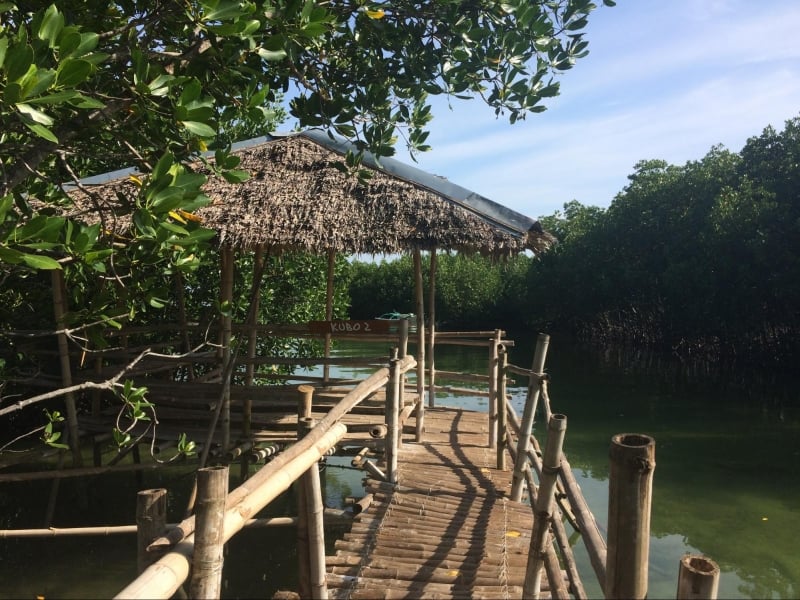 We went back to Kota Beach to check the place out and take some snaps. It's just too sad that we couldn't spend the night there because they were fully booked. Well, there's always a next time. A lot of people were taking photos in the famous 'Camp Sawi' banner at the entrance.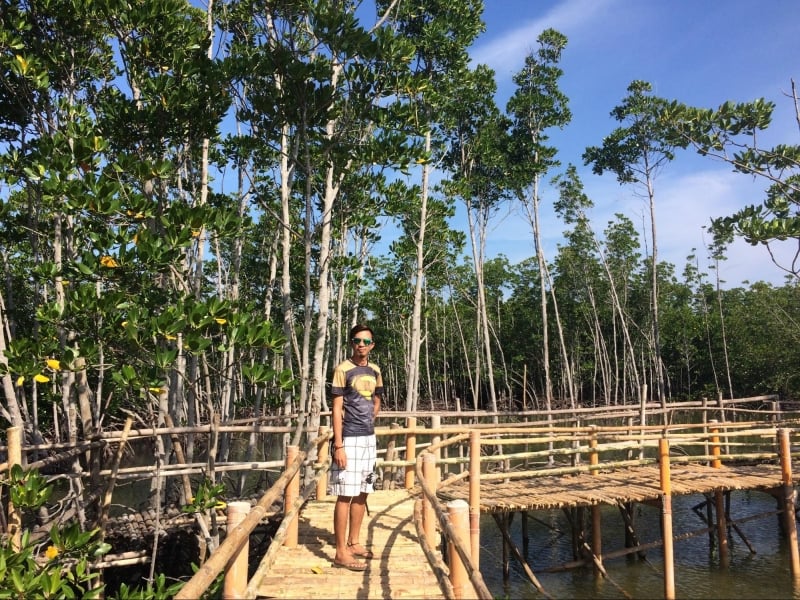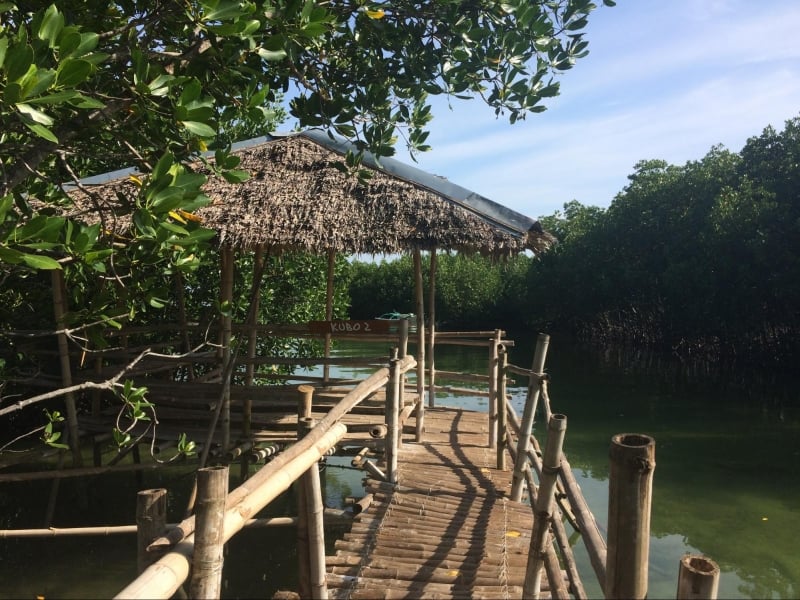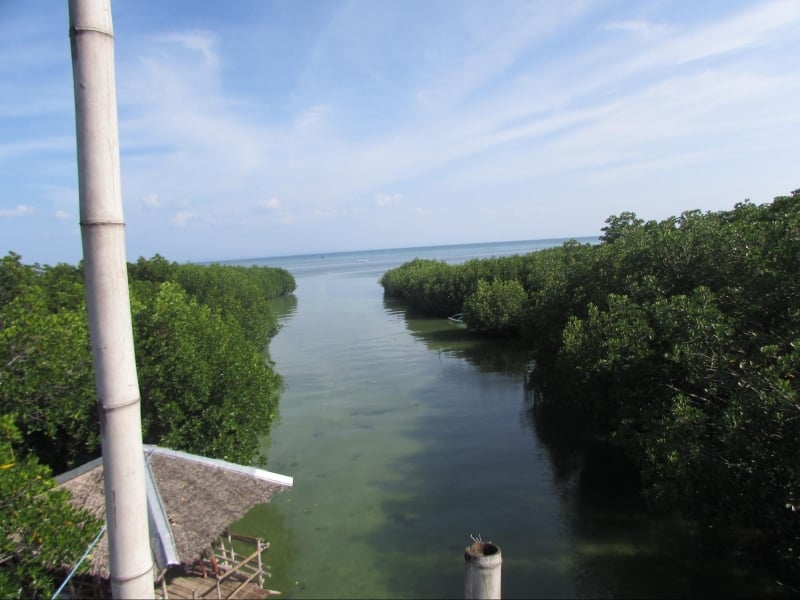 There's no need to pay for an entrance fee, but if you buy something from their restaurant, you can tour around the vicinity and that's what we did. The place was so amazing, especially the long sand bar. We ordered two fruit shakes to quench our thirst but it took them 30 minutes to serve it, a lot of customers were complaining also but we didn't mind the time because while waiting, we were also touring the place. But I do hope they'll improve their service. It's really a minus to their overall ratings.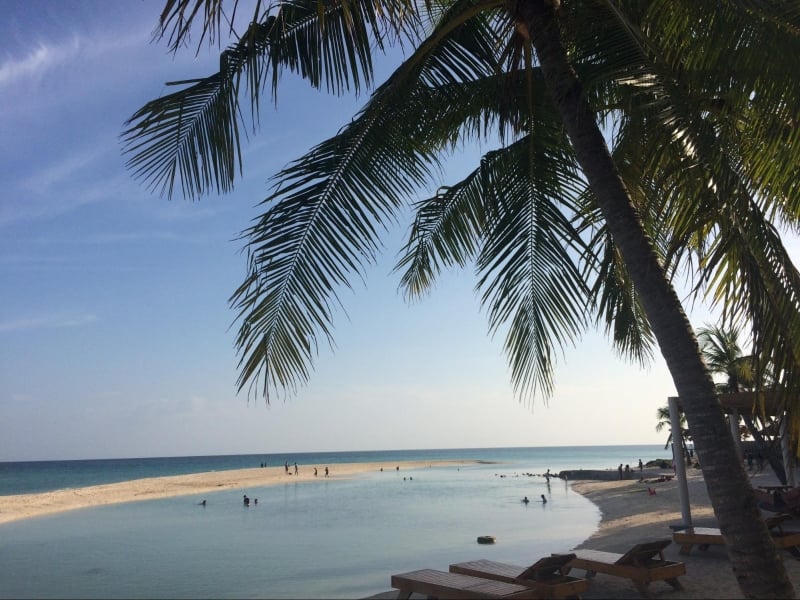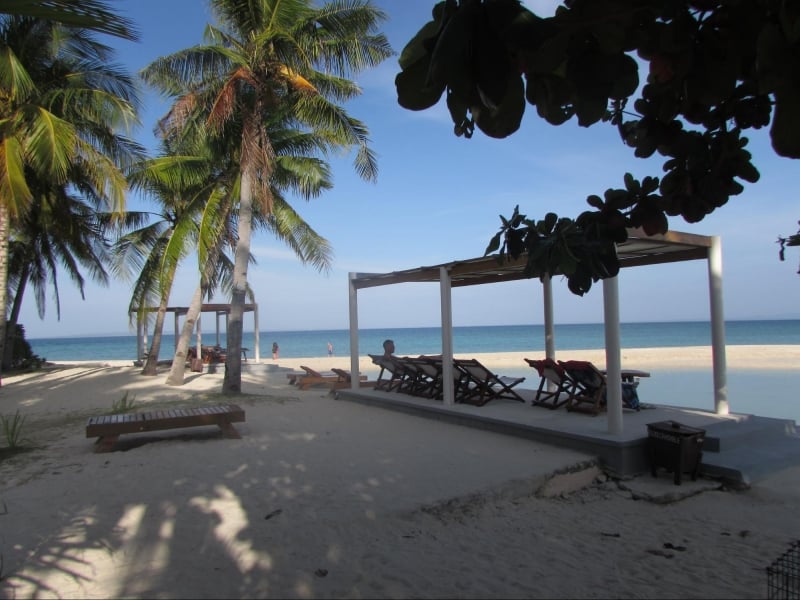 After being under the heat of the sun, we headed back to the resort to get some rest. Unfortunately, we overslept and missed the sunset, so we roamed around Sta. Fe to look for some good food for dinner. Then we saw some BBQ stalls near the plaza where a lot of people were queuing. I was guessing the food must be delicious. They had a lot of seafood, some unique looking BBQ that looks like a kebab, and the ordinary pork/chicken BBQ. That solved our problem on where to eat our dinner!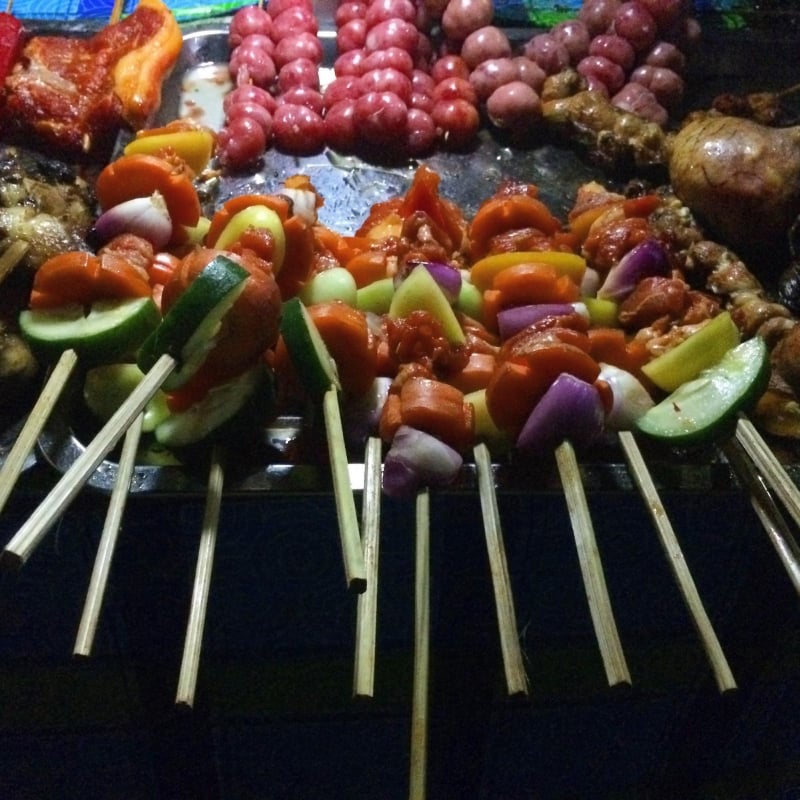 Since we were so full, we just spent the night walking on the long sand bar of the resort where we checked in. The room that we got didn't have TV or WiFi. I'm guessing they did this intentionally so that guests could spend some time with nature. The place was so peaceful and there were a lot of tourists camping near the beach. We lay down in the sand for a while and watched the stars; we always loved to stargaze. It'll always amaze me how beautifully God created them in the sky and made me think how blessed I am to witness His creations. We slept early to hopefully catch the sunrise.
Day 2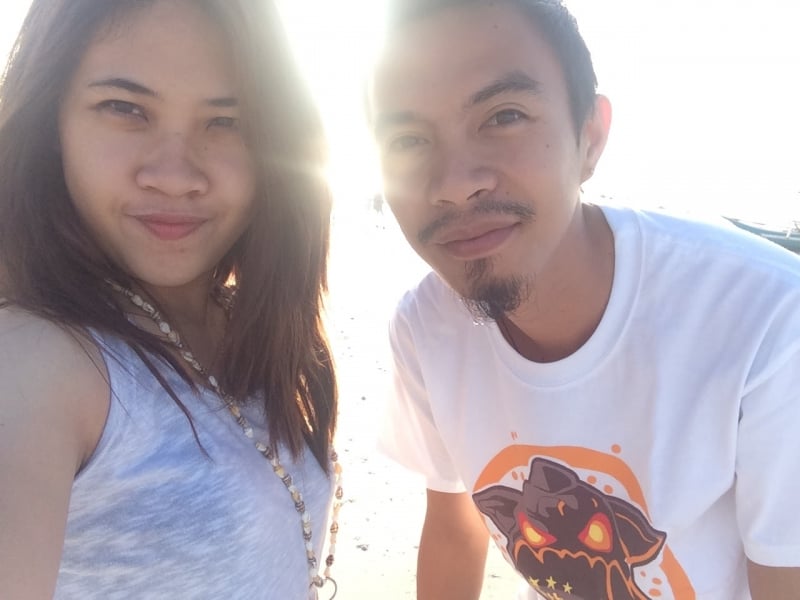 We woke up around 5am because we were waiting for the sun to come. But the beachfront sadly didn't have a good spot for the sunrise. We still enjoyed the beach, it was low tide and we ended up taking a lot of snaps. We even played with a foreigner's dog who thought we were doing some dog tricks as my fiancé struck his signature pose. Funny!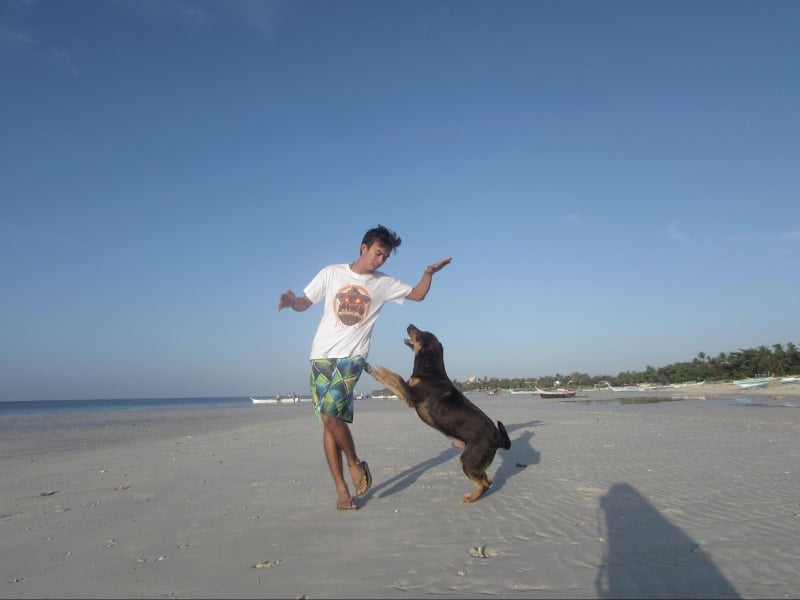 After we had our morning walk, we ate our breakfast then prepared our stuff for swimming. We headed first to Ogtong Cave but we were too early because they open at 8am in the morning. Instead, we proceeded to our next destination — the ruins that was just a few metres away from Ogtong.
The Bantayan Ruins is known as the perfect spot for cliff diving. It was also featured in the movie Camp Sawi. When we went there, it was low tide so all that we could do was to take more snaps. But the place was Instagram-worthy after all!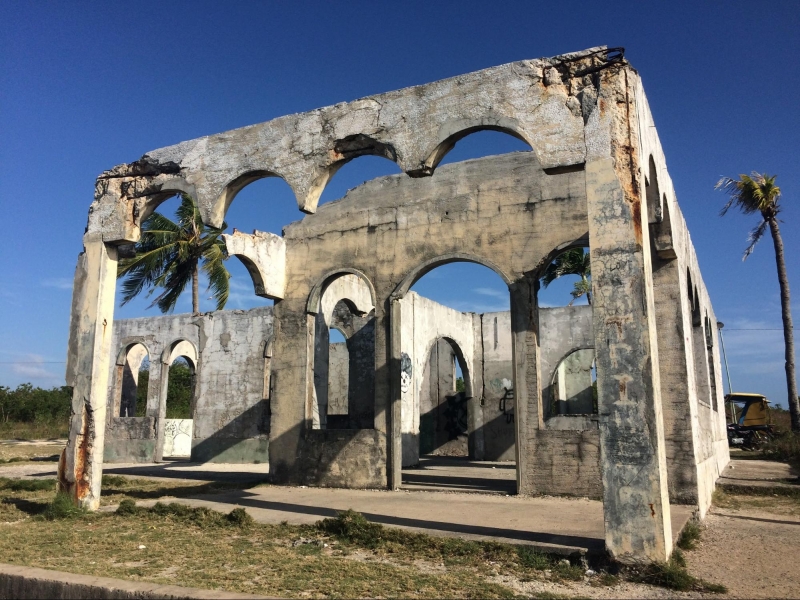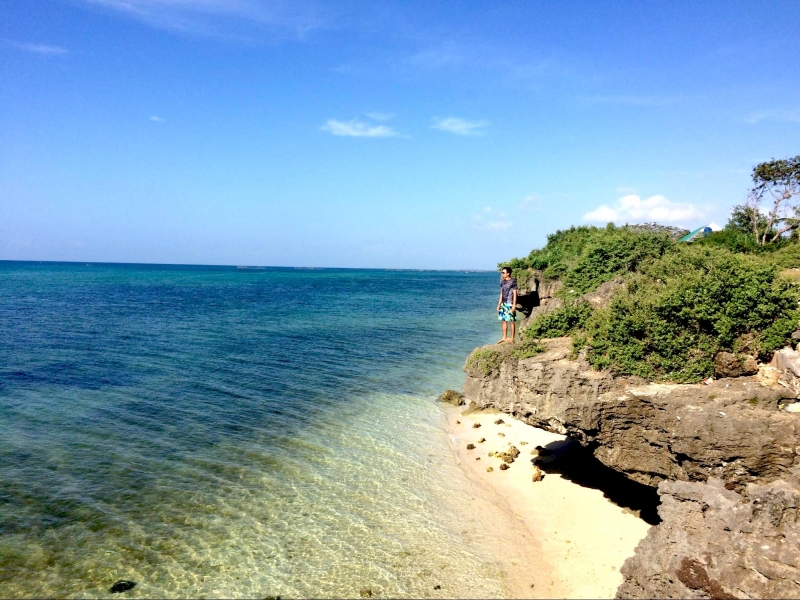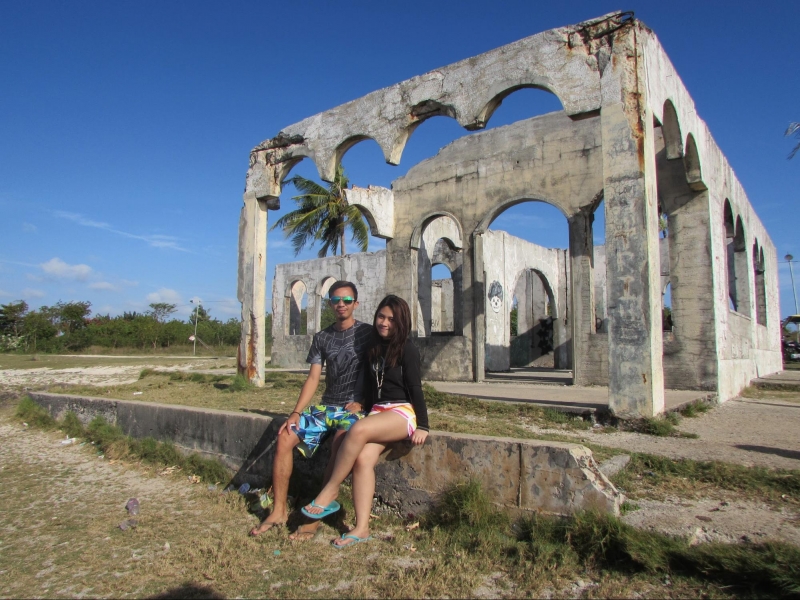 We went back to Ogtong Cave since it was past 8am already. We paid ₱100 each for the entrance fee, but this is already inclusive of access to their swimming pool, beach, and the Ogtong Cave. We immediately went to the cave because it was our main purpose after all. We totally didn't regret it at all. Like what others say, it is truly awesome and the water is so clear that you can clearly see what's deep underneath. Unlike other caves that have stalagmites, Ogtong Cave is more commercialized so they put cement on the ceiling and lights at the bottom part of the cave. The stalagmites are visible but very minimal.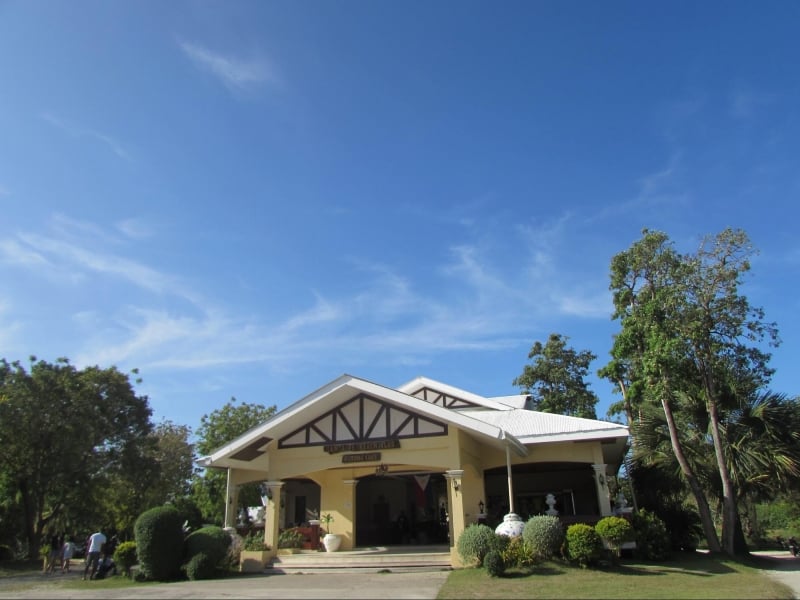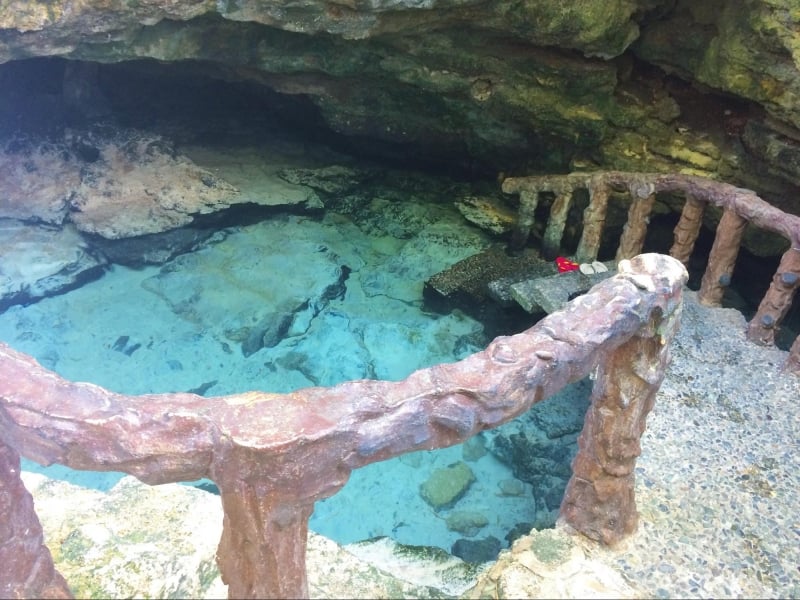 We really enjoyed soaking in the water. It was fresh and the temperature was just right. Unfortunately, we didn't have an underwater camera. If you're planning to visit Bantayan, it's better if you bring one.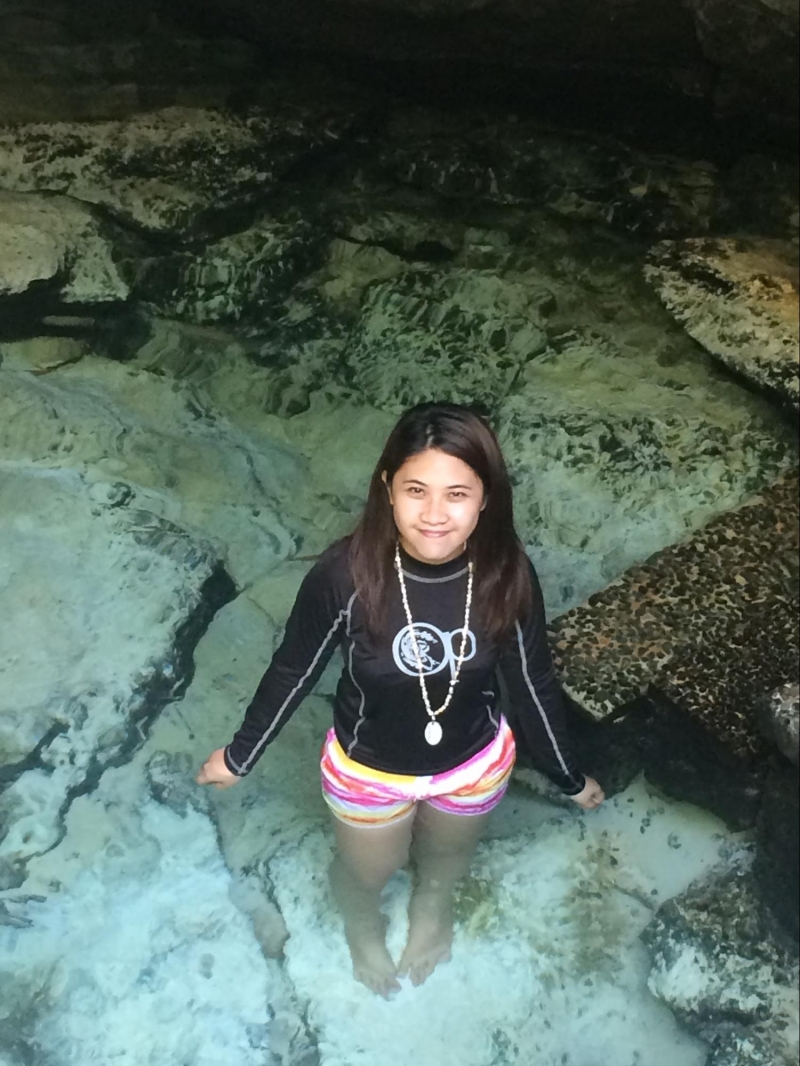 We went back to the resort to wash up before going to our last two spots to visit. After drying up, we headed back to Bantayan to see the famous century-old church, the Sts. Peter and Paul Church. It's known to be a place that has a huge number of tourists during Holy Week because it's the only place that is exempted from the 'no meat' abstinence on Good Friday. Want to know why? Well based on history, it was said that fishermen were the ones who helped build the church while there was a shortage of fish. Thus, the Pope decided to exempt them from the rule that until now is still valid.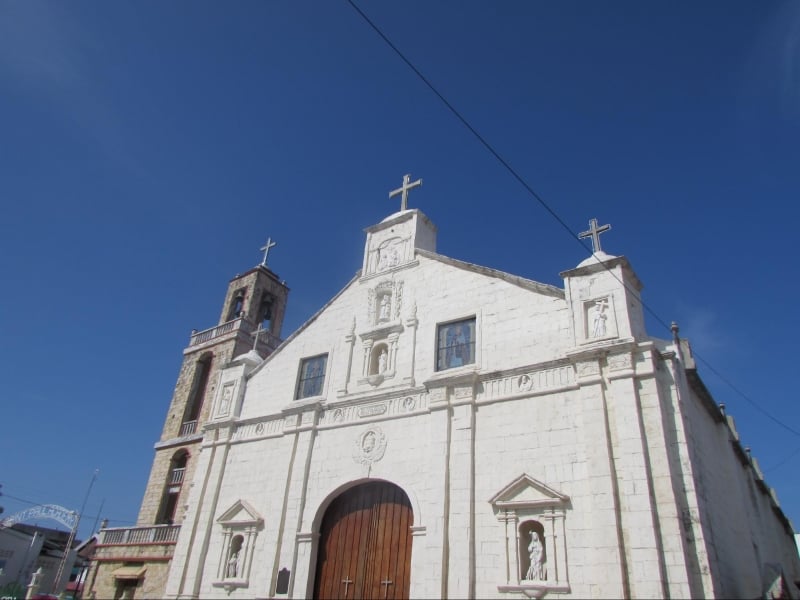 Then, we headed to Sto. Niño Parish that is located in the heart of Sta. Fe. Like other churches, its architecture and design left me in awe. What I loved most about this church was its cathedral glass, especially the one in the centre with the big Sto. Niño.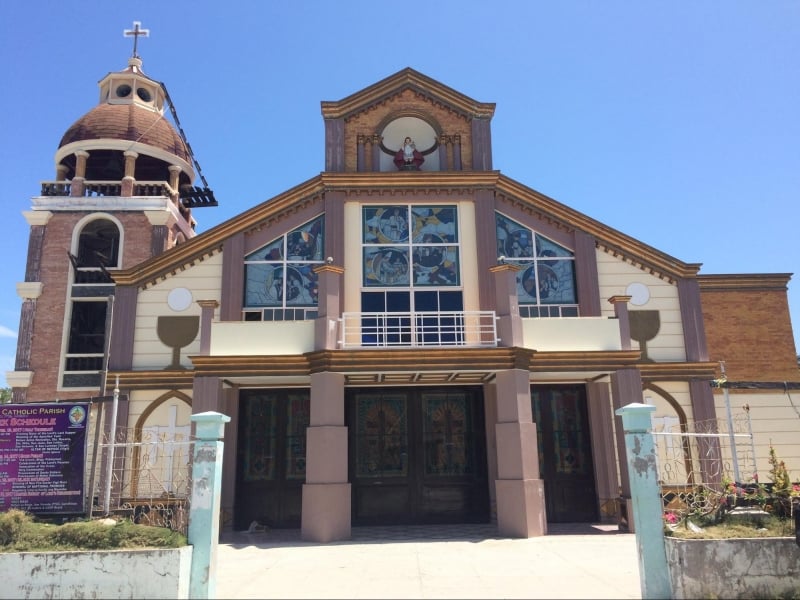 It was really amazing and I couldn't help but say wow. We said a little prayer and left. Visiting churches will always be part of my travel itinerary. Aside from thanking God for a safe trip, it'll always fulfil and satisfy my trip. We ate our lunch before heading back to the port at Sunshine Resort. But we didn't expect that their food would be really pricey. It's actually delicious though.
Here's our itinerary and budget for this weekend trip. If you're into extreme outdoor adventures, they also offer Skydiving but it's very pricey. There's a lot more to check out! If you have been to Bantayan Island, share your experience, and the places you visited, with us!
Also read: See You In Cebu: A Three-Day Barkada Material Itinerary