In 2018, travelling from Manila to Bataan by ferry was made possible by 1Bataan Integrated Transport System Inc. No longer do Filipinos need to endure the five-hour transit from Manila by bus or private vehicle (unless you'd still rather do that, of course) — the Bataan ferry ride takes only an hour and costs as low as ₱450 for a one-way trip. Planning a Bataan itinerary without involving a hefty amount of travel time? Read on as I give you a step-by-step guide on getting from Manila to Bataan by ferry, based on personal experience!
Also read: A Simple Travel Guide to Hermosa, Bataan
Bataan by ferry in 3 easy steps
Step 1: Book your ticket online
First things first, you should know that 1Bataan offers the options for booking your ticket online or in person. However, since this entails a whopping ₱300 fare difference, I don't recommend it at all other than in emergency (in such a case, just show up at the ferry terminal at the day of your travel). To book your Bataan ferry ticket online, simply go to 1Bataan's website.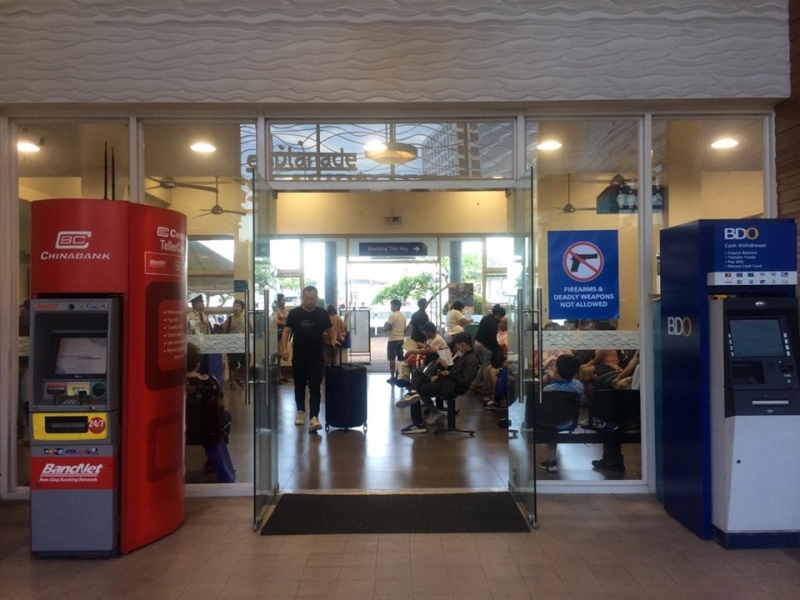 You'll only need to provide information such as your preferred date of departure and return (if you plan to book a round-trip ticket), your preferred time, and personal information (name, mobile phone number, email address, home address, gender, nationality and birthdate). For payment, choose from any of the following: Credit or debit card, pay later, online banking, over-the-counter bank payment or over-the-counter non-bank payment. You can either print or download your ticket to your smartphone. Note that tickets get sold out easily for weekend departures, so make sure to book yours at least three days before your trip.
Step 2: Arrive on your date of travel and check-in
The Bataan ferry departs from the Esplanade Seaside Terminal along Seaside Boulevard in Pasay City. If you're familiar with the SM Mall of Asia vicinity, particularly the seaside part, you should have no trouble finding it. Arrive an hour and a half early or 30 minutes before your time of departure at the latest as you'll still have to go through check-in and boarding, just like at the airport.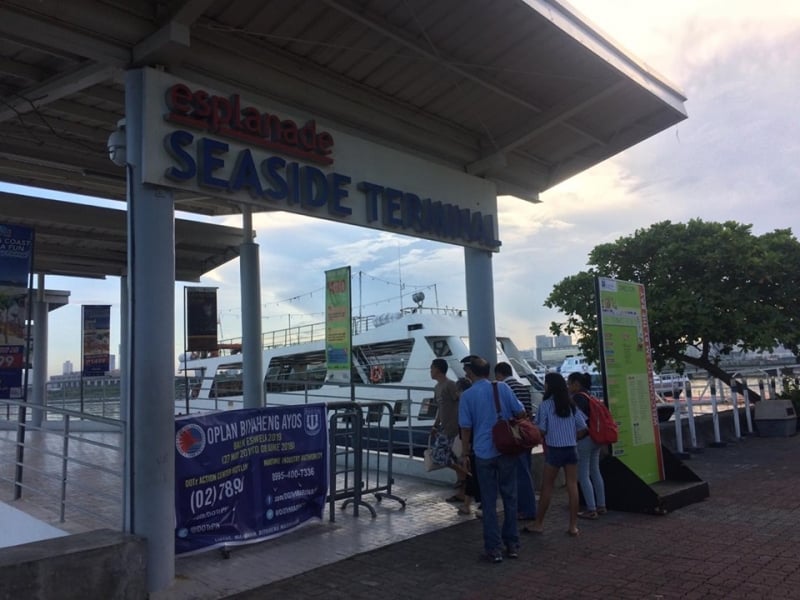 Upon entering the terminal, you'll instantly see the four ticket counters to your left, which are designated for different ferry companies. 1Bataan is at Counter 3, in between Camaya Coast and Sun Cruises. Fall in line and have your printed or downloaded ticket ready. When it's your turn, show your ticket and a valid ID to the 1Bataan personnel, who'll then hand you a copy of your boarding pass and official receipt.
Step 3: Wait for your boarding call and prepare for departure
Yes, it's that quick. Like with most ferries leaving from the Esplanade Seaside Terminal, the 1Bataan ferry strictly follows their exact schedules. The boarding call is made 30 minutes before departure — try not to go out of the terminal until you hear it.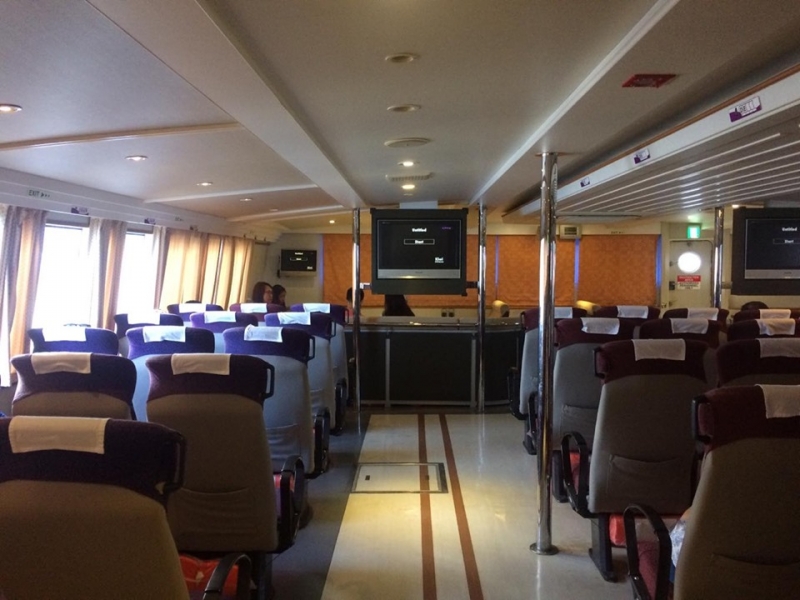 Once you hear the announcement, make your way to the boarding gate at the opposite side of the terminal entrance. Present your boarding pass to another personnel standing by and follow the crowd to your designated ferry. Don't keep your boarding pass yet as you'll still have to present it at least two more times before getting into your ferry. With not much crowd, it takes about three minutes to get from the boarding gate to the actual port. A ferry crew will meet you at the door and help locate your seat. In approximately an hour, you'll arrive in Capinpin Port in Orion, Bataan.
Bataan by ferry tips and reminders
The check-in and boarding area of the Esplanade Seaside Terminal is no bigger than a standard local 7-Eleven or Mini Stop. There are seats provided, albeit only good for 50 people.
There are no food stalls inside the ferry. However, outside the terminal is a 7-Eleven store where you can buy something to eat and other supplies for your trip to Bataan.
The ferry has its own toilet, albeit quite compact and hard to get into. I'd recommend simply going to the toilet at the terminal if you feel like doing any kind of business.
Your ticket includes a free shuttle transfer to select Bataan destinations, including Mariveles and Dinalupihan. When checking in, the personnel will ask you for your preferred stop.
There's WiFi and an LED TV showing films on board the ferry. (I missed out on both as I slept through the entire journey due to the early morning departure.)
You may only bring one hand-carry luggage up to 7 kg, and no larger than 56cm x 36cm x 23cm. Pregnant women and pets are not allowed in the 1Bataan ferry for safety reasons.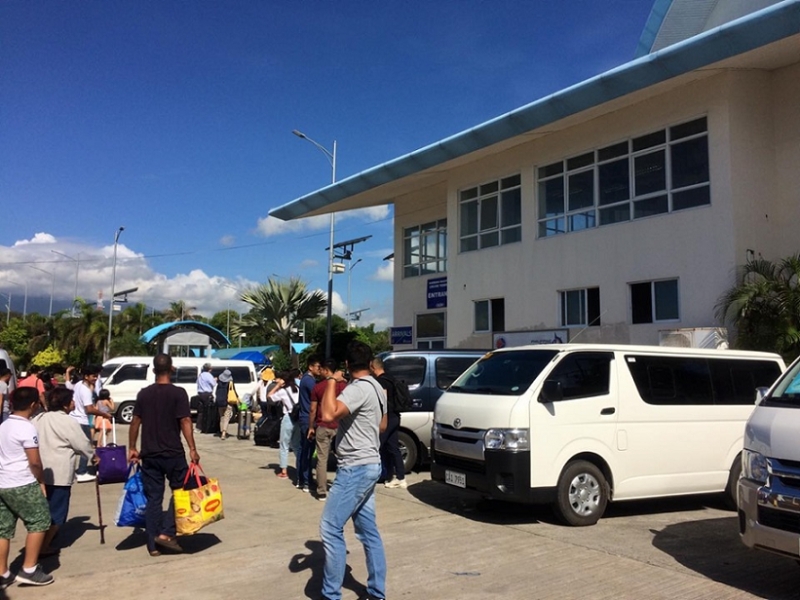 For other useful information about riding the 1Bataan ferry, click here.
Bataan ferry destinations and schedule
Manila to Orion: 7am and 12pm daily
Orion to Manila: 9am and 2pm daily
Manila to Mariveles: 6am daily
Mariveles to Manila: 2.30pm daily
Also read: Around the Philippines Without Flying: Best Bus & Boat Trips From Manila
Overall, I was pleased with my first Bataan by ferry trip, from booking my tickets online to taking the free shuttle service upon arriving in Bataan. With a bigger terminal and a more organised port, the entire experience almost reminded me of the ferry trips I used to take in Hong Kong and Macao. Well, we're still a long way from their standards. But, who knows, right?