Coffee is a big thing in South Korea; it doesn't take much to realise that. Whether by experiencing Seoul's thriving café culture yourself or by watching your favourite K-drama characters sip on keopi on-screen, you'd know that coffee shops in Seoul are aplenty!
But did you know that coffee shops in Seoul are also some of the best in Asia? The first time I got a sense of how truly serious the café scene is in South Korea's capital was in 2010, through the hit K-drama series Coffee Prince. Now don't laugh — that was a really good K-drama (it starred Gong Yoo!) and it portrayed a unique plot that spotlights Seoul's coffee culture.
Also read: Coffee Culture in the Philippines & Where to Find the Best Brews
I was already a fan of the brew then, although at that time my obsession with coffee would be limited to savouring the wafting aroma of whatever my parents were sipping. But watching Coffee Prince opened a whole new world of possibilities for a budding coffee lover like me. And finishing Itaewon Class recently reignited my interest in South Korea's vibrant café scene; the characters kept chatting over coffee or soft tofu stew!
Your bucket list of the best coffee shops in Seoul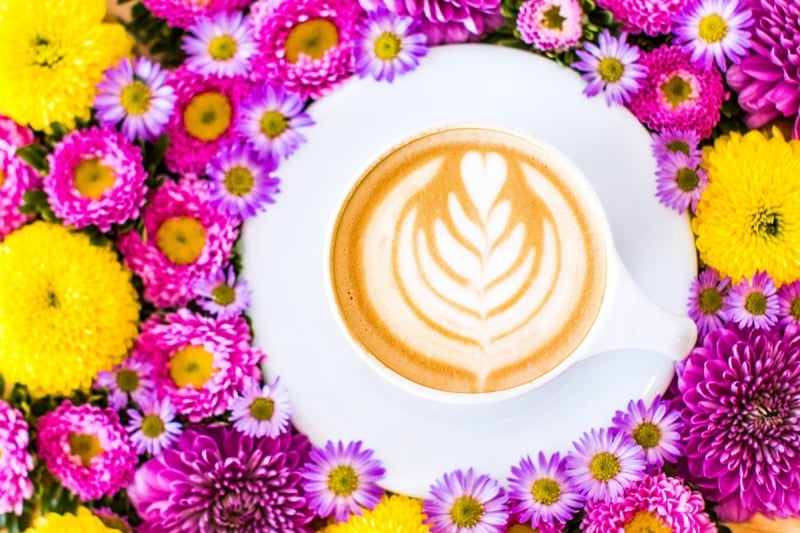 So to all fellow caffeinated wanderers out there, note that there is an epicentre of coffee goodness that awaits in South Korea (if you haven't experienced it yet!). To kickstart your K-java adventure, bookmark these best coffee shops in Seoul. We promise they'll satisfy even the pickiest of coffee connoisseurs!
1. Anthracite Coffee Roasters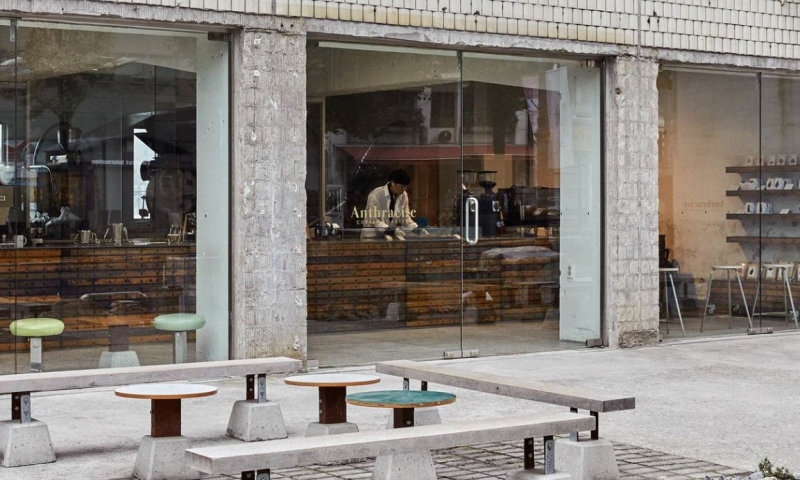 A local roaster and café with several branches in Seoul, Anthracite Coffee Roasters is as loved as it is respected because of the care and attention it pays to all stages of the coffee-making process. You could say that the folks behind the brand all have doctorate degrees in coffee, whether they specialise in roasting or the extraction process. Not only does Anthracite serve its concoctions in-house; other restaurants, cafés, and bars also carry their signature beans — so don't be surprised if you see their logo around the city.
Why it's among the best coffee shops in Seoul
Anthracite's industrial-chic aesthetic is effortlessly cool. If the aroma of single-origin coffee doesn't draw you in, then its Instagrammable interiors will. They're known for creating spaces where coffee lovers can take their time enjoying their cuppa joe.
And it doesn't stop there. Anthracite also invites coffee drinkers to learn more about the journey of their favourite drink, from bean to brew. This is why they offer public cupping sessions for free in their Hapjeong and Hannam branches. In addition, their coffee shops always boast of an open-floor layout, which allows visitors to watch baristas and roasters at work.
Don't miss: Any of their espresso-based drinks, which uses their signature Butter Fat Trio blend. Take advantage of the performance unfolding right before your very eyes; watch your knowledgeable barista slow-pour! They also have a branch on Jeju Island, so that's another cool site to visit outside of Seoul.
Address: Anthracite Hannam Branch 240, Itaewon-ro, Yongsan-gu, Seoul, South Korea
Anthracite Hapjeong Branch 10, Tojeong-ro 5-gil, Mapo-gu, Seoul, South Korea
Anthracite Yeonhee Branch, 135 Yeonhui-ro, Seodaemun-gu, Seoul, South Korea
2. Namusairo Coffee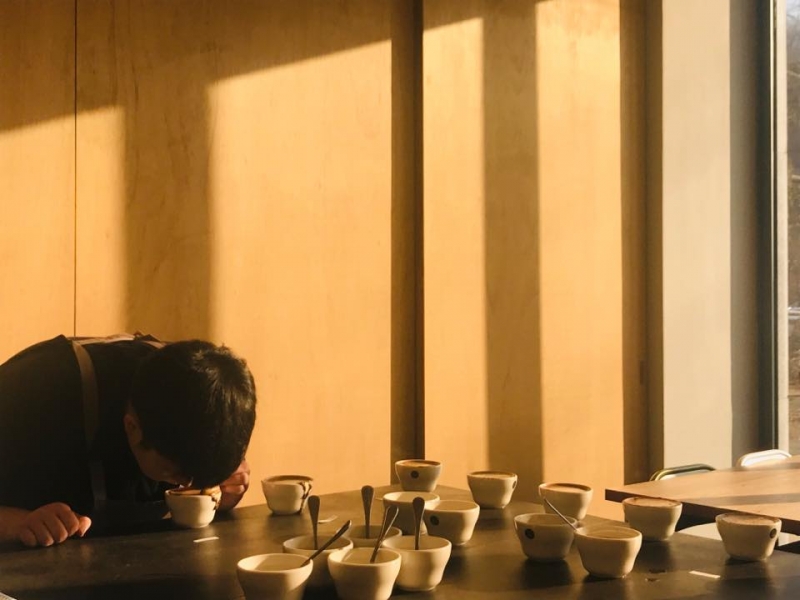 Namusairo Coffee has been one of Seoul's top speciality coffee shops since 2002. Their quaint space near Gwanghwamun shows the adaptive reuse of an old hanok or traditional Korean house. This old-world charm pairs well with Namusairo's modern hand-drip techniques and rare coffee beans.
They offer small-lot single-origin and speciality coffee beans, most of which are highly rated by professional coffee reviewers in South Korea and abroad. That said, expect to pay a little bit more for your coffee fix at Namusairo. We promise it's worth it.
Why it's among the best coffee shops in Seoul
Namusairo's menu features beans so rare, we're pretty sure you haven't come across some of them on your travels. For instance, there was a time when they offered the award-winning and pleasantly fruity Ethiopian Semeon Abay, which you should definitely try if available during your visit.
The place gets cramped at times, but only because it's a hangout for those on a mission to try speciality coffee in South Korea. Even on busy days, Namusairo radiates this peaceful vibe — like a sanctuary for the perpetually caffeinated.
Don't miss: Their Panama Geisha beans — hand-dripped, of course. The slow pour process brings out bright berry notes waiting to be awakened in this very light brew. Some say it's almost like tea. For maximum enjoyment, stay in the courtyard for some fresh air. If it's warm outside, opt for their cold brew latte.
Address: 21 Sajik-ro 8-gil, Sajik-dong, Jongno-gu, Seoul, South Korea
3. Felt Coffee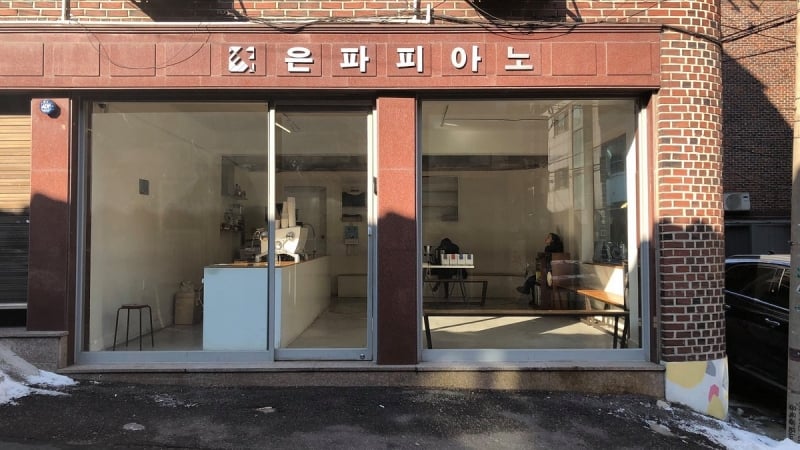 Straightforward satisfaction brought about by a perfect cuppa joe — this is what Felt Coffee is all about. Though bare, their minimalist interiors effectively uncomplicate the coffee drinking experience. They do away with all the layers of cramped seating, yellow lighting, and power outlets that will only encourage you to turn on your laptop and let your brew sit past its best hour.
Much like Anthracite, Felt Coffee takes pride in immersing themselves in the coffee-making process, from selecting speciality green beans from reputable farmers to tapping the right roaster for the job.
Why it's among the best coffee shops in Seoul
Since their expert baristas only use speciality-grade beans, you can bet that every cup of coffee you order from Felt Coffee satisfies. Their brews are affordable, too; you won't spend more than ₩10,000 (~₱400) here, even with a friend! With not much space to stay long, a visit to Felt Coffee will somehow "force" you to focus on simply enjoying your coffee while listening to music from the record player.
Don't miss: Their Classic Espresso — a fan favourite that's made subtly sweet thanks to a chocolatey flavour palate. Need something that's even sweeter? Felt's affogato should do the trick!
Address: 23 Seogang-ro 11-gil, Changjeon-dong, Mapo-gu, Seoul, South Korea
4. Hell Cafe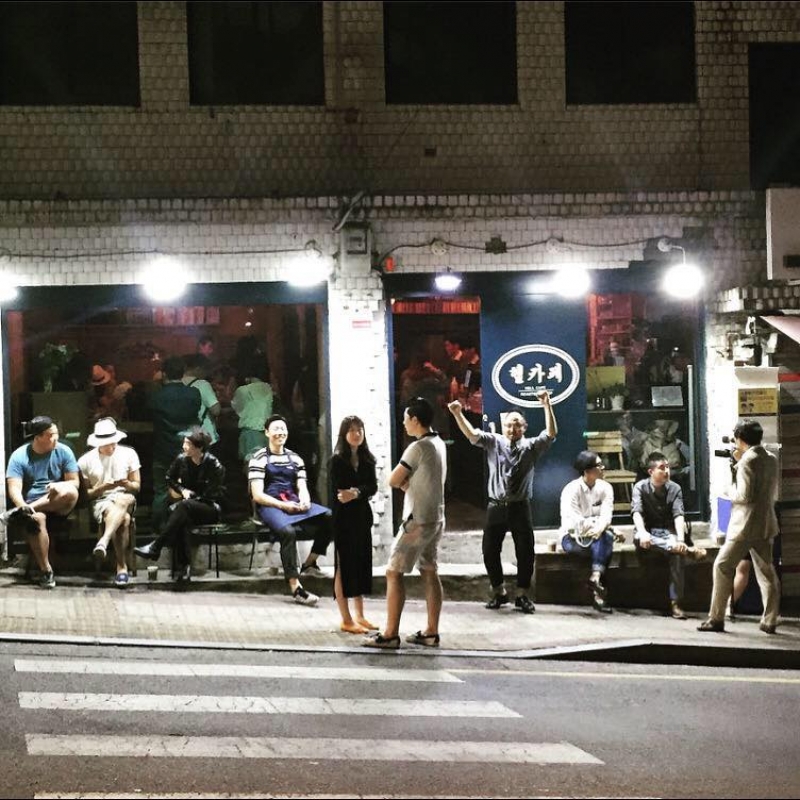 At Hell Cafe, you're always in good hands. The skilled baristas behind this café all have feathers in their caps. They're either award-winning or can make a mean brew with their eyes closed. Some completed training with celebrated baristas, while others were previously affiliated with respected competition. Don't let its weathered facade and seemingly cramped interiors fool you. Once you've had a taste of Hell Cafe, you'll find yourself craving for more.
Why it's among the best coffee shops in Seoul
We've already talked about their baristas' laudable expertise so you're assured of perfectly brewed coffee each visit to Hell Cafe. But you should know that they also roast their own beans in small batches via a hand crank drum roaster. This brings out a bolder, richer flavour from the beans but minimises its bitter aftertaste.
The cherry on top is Hell Cafe's location. It's just a stone's throw away from the busier parts of Itaewon, which means you can get your coffee fix right here while exploring the neighbourhood!
Don't miss: The Hell Latte for your caffeine fix and any of its cocktails to kickstart a night out in the trendy area.
Address: 238-43 Bogwang-dong, Yongsan-gu, Seoul, South Korea
5. Mesh Coffee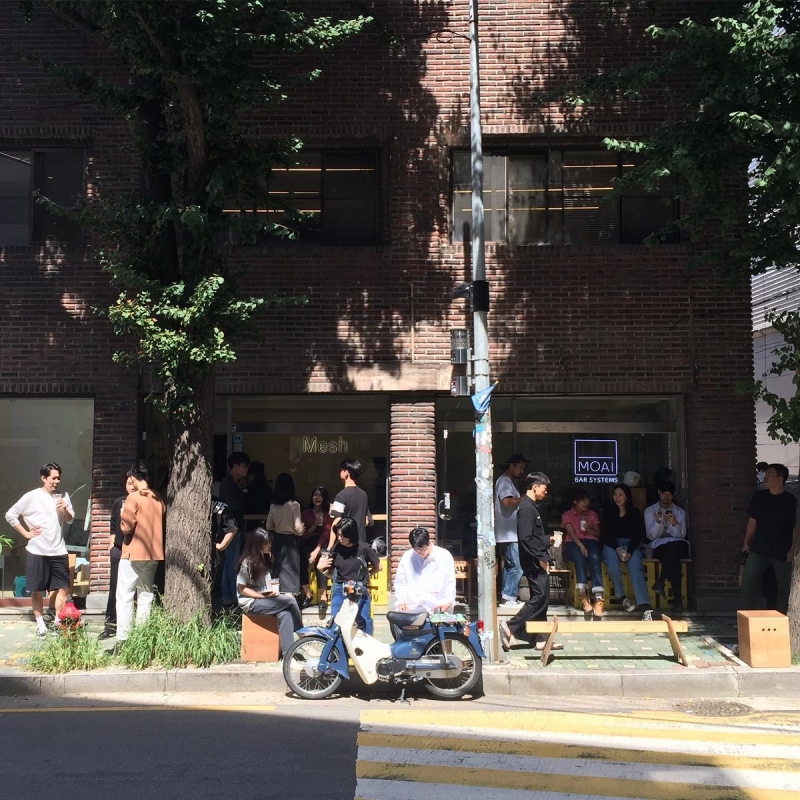 The first time I laid my eyes upon Mesh Coffee, its facade gave me serious Bonifacio Global City (BGC) vibes. It's hip, bright, warm, cosy — and it certainly looks like a great way to stay your day even if it's just a tiny space. It also looks like a nice place to meet (cute) fellow coffee lovers, but I leave that to you to discern when you're there. *wink*
The owners are two coffee geeks who have dedicated their careers to perfecting light roast brews and unique coffee concoctions. They even often serve as judges in coffee competitions in South Korea and beyond. Expect endless conversions on good coffee when you drop by Mesh. If the owners don't chat you up while they're there, the friendly baristas will. Who knows, this might even kickstart your own professional passion for our favourite caffeinated beverage!
Why it's among the best coffee shops in Seoul
There are many reasons why Mesh Coffee rose to popularity. Aside from the laid-back ambiance that attracts both coffee snobs and java neophytes, there's the case of its creative drinks selection. They use a variety of add-ons to make your drink come alive, but of course the star of the show is always the coffee.
There's the Kickflip Coffee, for example — an Espresso blend mixed with a thick, milky syrup. You could say it's their version of ca phe sua da or the variety of Vietnamese coffee with condensed milk. Another must-try is the Shanghai Latte, which is infused with tea syrup. 
Mesh Coffee has the basics down to a T as well; they impress with their staple flat white. Those who want to bring Mesh Coffee home with them don't need to fret. Beans are on sale, as the coffee shop doubles as a small-batch roaster.
This last reason is probably what takes the cake for a coffee enthusiast like me. The owners of Mesh Coffee recently published a book about everything they know about speciality coffee! It's titled Oh! Yeah! but there seems to be no English version yet. Till I learn Hangul, this can just be a nice collector's item-cum-keepsake.
Don't miss: The Kickflip Coffee, of course, and their signature Love Blend — Colombia and Guatemala beans combined and roasted. For ₩15,000 (~₱600), you can also purchase a Lucky Box, their in-house coffee sampler. You won't know beans are inside, but the suspense is part of the fun!
Address: 43 Seoulsup-gil, Seongsu-dong 1(il)-ga, Seongdong-gu, Seoul, South Korea
6. Low Key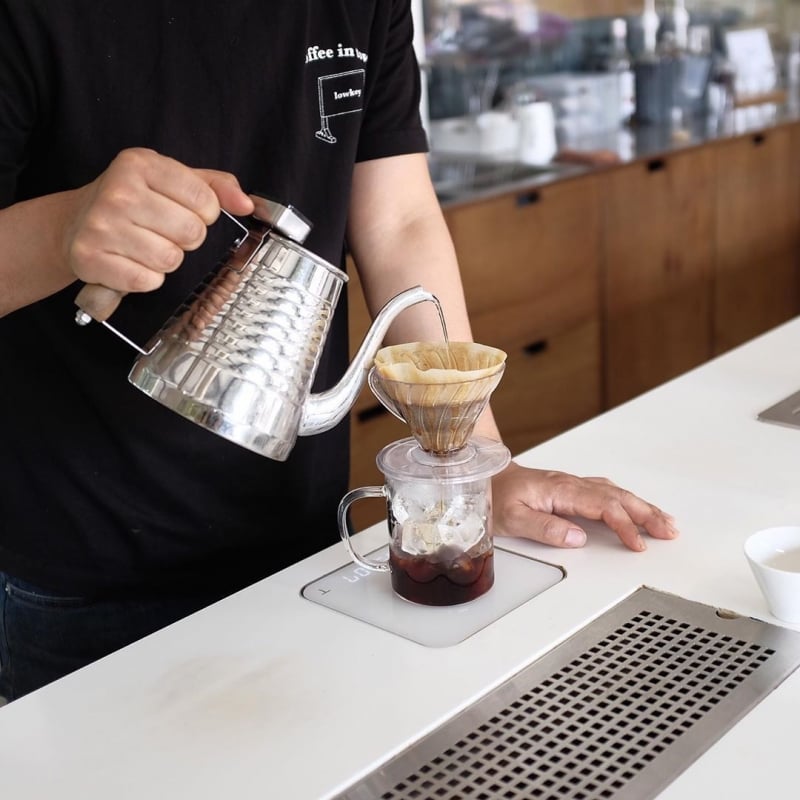 Low Key has three branches in the capital, but one is just a few steps away from Mesh Coffee. The name of this café speaks for itself. I think it embodies that trendy, effortlessly cool vibe that Seoul is known for. Low Key's clean aesthetic made it easy for the coffee shop to branch out into a lifestyle brand, with its website now peppered with merchandise that make for cute souvenirs.
This coffee joint is where you go if you're looking to chat over great brews. The space is roomy and there are plenty of sit-down options — perfect for bigger travel parties craving for a coffee break.
Why it's among the best coffee shops in Seoul
Much like Mesh, Low Key is all about speciality coffee, roasting their own beans, and establishing a deeper connection with their clientele. They do this via a coffee bean subscription that delivers premium beans straight to your doorstep for a whole month. If you're a coffee lover staying longer or living temporarily in Seoul, this might pique your interest!
Low Key also holds weekly cupping sessions open to everyone and anyone. Now this is perfect for those who are just visiting for leisure. If simply savouring a good cup of coffee is more your thing, Low Key has you covered with a variety of bean blends.
Don't miss: Their award-winning El Manzano blend, coffee beans that placed second in the El Salvador Cup of Excellence. Low Key's cold brew is a great to-go option, too.
Address: 46 Yeonmujang 3(sam)-gil, Seongsu 2(i)-ga 3(sam)-dong, Seongdong-gu, Seoul, South Korea
7. El Café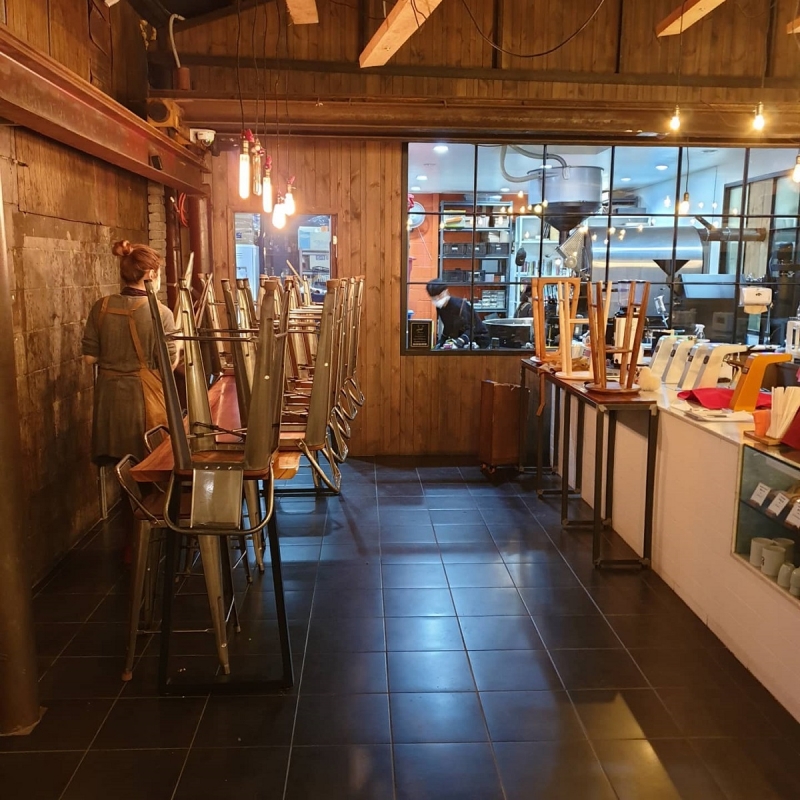 Looking for an independent coffee shop known for their superb use of light and medium roast beans? Look no further; pick your poison at El Café. This joint started offering speciality coffee long before it was a trend in Seoul's java scene. They have single origin beans on-hand in their store and online, which you can all sample should you find yourself in Seoul one day.
Why it's among the best coffee shops in Seoul
Although their physical space is also a must-visit for public cupping sessions and just getting the genuine El Café experience, we can't help but gush about its official website. It's user-friendly and you'll find all products that El Café sells, from the beans that they roast to the coffee-making paraphernalia they recommend.
The best part? El Café is a coffee shop with a heart for fair trade and knowing their beans' journey. They're known to work directly with coffee farmers, so they definitely help the industry thrive in all stages of coffee production and consumption.
Don't miss: Their home-brewing subscription packages, for coffee fans who are staying in Seoul long-term. If you drop by their physical store, any of their direct trade coffee beans are worth a try. But a great addition to your purchase would be pure honey that El Café sources from local beekeepers! If you look closely at the packaging, you'll even see the beekeepers' name. Cute, right? 
Address: 7 Yangpyeong-ro 21na-gil, Yangpyeongdong 5(o)-ga, Yeongdeungpo-gu, Seoul, South Korea
8. Club Espresso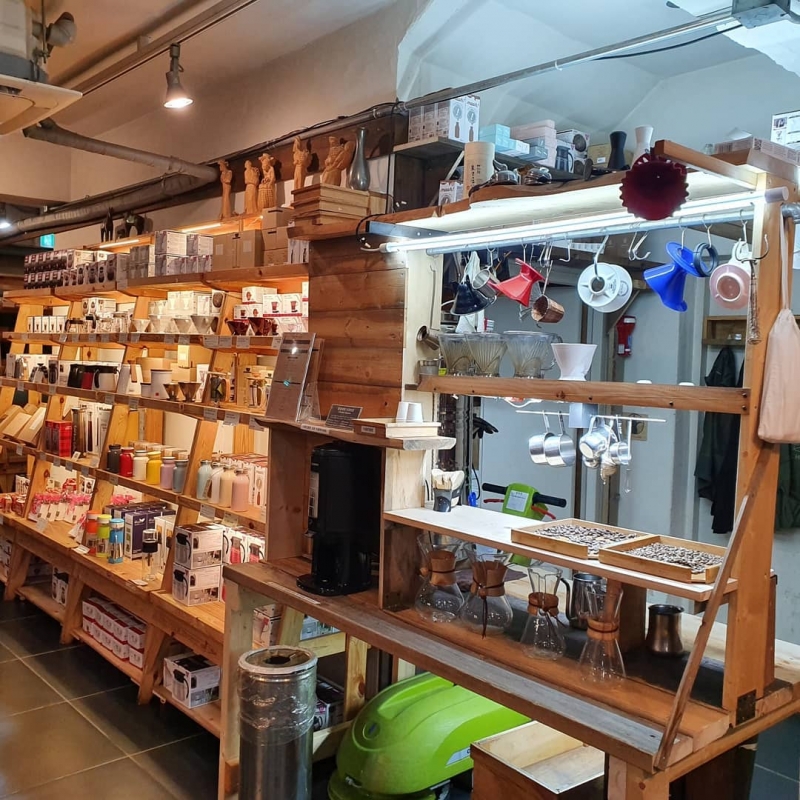 Roasting and brewing coffee since 1990, Club Espresso is an oldie but goodie. It certainly is one of Seoul's java veterans, considering that most of the city's top cafés only sprouted in the early 2000s. In fact, some java-chugging locals will tell you that Club Espresso started their love affair with South Korea's coffee culture.
Step inside and you're transported to a realm that's all about the art of coffee. You'll notice that its largely wooden interiors are dated, but it's quite homey. If the wide range of coffee concoctions don't draw you in, then perhaps its coffee lab will.
Why it's among the best coffee shops in Seoul
One you think you can always bank on with Club Espresso is its consistency. For 30 years and counting, they've been touted as the go-to for the best espresso in Seoul. What will get serious coffee lovers excited, though, is Club Espresso's hands-on and immersive approach to elevating anyone's coffee experience.
Aside from a blog that runs you through countless heartwarming coffee-centric stories and interesting tidbits, Club Espresso also has a coffee factory you can tour in Seorak and a coffee academy you can enroll in if you're staying long enough. These spots are in different locations, so why not make a whole South Korean 'javadventure' out of your getaway?
Don't miss: Club Espresso's, well, espresso! It's heavenly when enjoyed with ice cream, so the affogato comes highly recommended for those with a sweet tooth.
Address: 132 Changuimun-ro, Buam-dong, Jongno-gu, Seoul, South Korea
9. Coffee Libre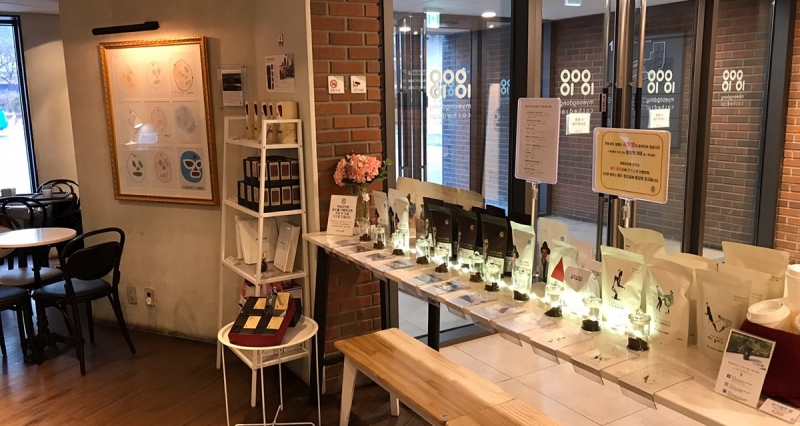 First things first: Coffee Libre is easily missed, so you'll have to keep an eye out for it when you venture to its branch in Myeongdong. While it has two other branches, we highlighted the one in this area because it's right across the Myeongdong Cathedral — perfect for whispering a prayer and touring around before you get your coffee fix.
That said, this café is a hidden gem for coffee addicts and lovers of direct trade, single origin beans. Some of their blends are award-winning beans, so go ahead and strike up a conversation with any of their approachable baristas to ask what's available.
Why it's among the best coffee shops in Seoul
We love any chance we get to support fair and direct trade with coffee farms, so this is one thing that Coffee Libre is doing right. As I've mentioned above, some of their blends are held in high regard, bagging awards such as Cup of Excellence! The branch in Myeongdong is smaller compared to the one in Times Square but it's very cosy and quaint.
You can park on one of the high stools while sipping on your brew of choice or take your coffee-to-go. One of the perks of visiting Myeongdong is its convenient location. You're already in the heart of a famous tourist area; take advantage of that and walk around! Staying longer in South Korea and liked what you tasted at Coffee Libre? Sign up for their CoffeeHolic Single Origin Subscription. We hear it's worth the splurge at for ₩48,000 (~₱1,970)!
Don't miss: The Dutch Iced Latte, the perfect milky yet caffeinated concoction! It's great for warmer weather, too. Too cold for an iced coffee? Their Americano is a failsafe option, but for added oomph, ask the barista to use an Aeropress. You'll find the flavours come out clean and crisp!
Address: 74 Myeongdong-gil, Myeongdong 2(i)-ga, Jung-gu, Seoul, South Korea
227-15 Yeonnam-dong, Mapo-gu, Seoul, South Korea
442-1 Yeongdeungpodong 4(sa)-g, Yeongdeungpo-gu, Seoul, South Korea 
10. Caffe Themselves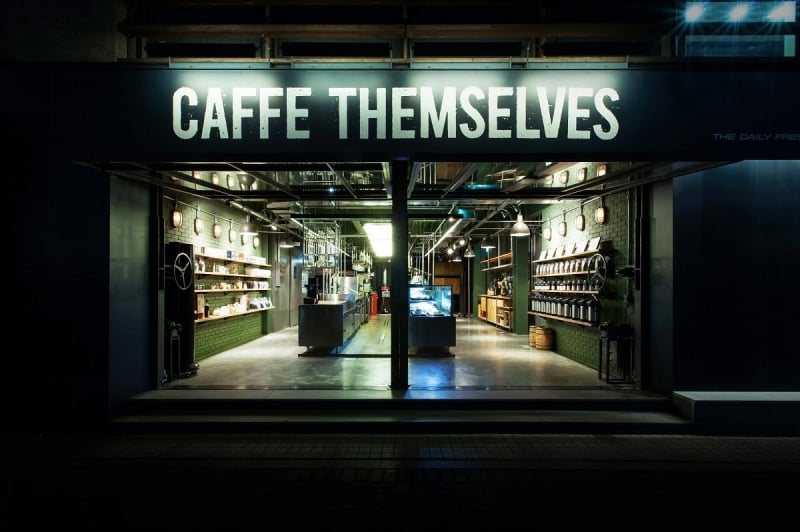 Coffee Project, is that you? Kidding aside, seeing the outside of hip Caffe Themselves during the day will remind any Manila dweller of Coffee Project back home. And to a certain extent, they are similar. 
Caffe Themselves offers an extensive range of coffee beans and sweet concoctions, but single origin brews take centrestage. They also offer Instagrammable desserts and unlike some of the smaller speciality shops in Seoul, this one attracts even students who stay and study over coffee. It's that friendly and welcoming to all types of visitors.
Why it's among the best coffee shops in Seoul
The folks at Caffe Themselves strike a balance between what's trendy even to non-javaholics and what's respected within the local speciality coffee scene. A lot of the local baristas and brewers will tell you that Caffe Themselves is a training ground of sorts for Seoul's up-and-coming coffee superstars because it's true. A lot of big names in the industry started out here. And it's a great stepping stone, too, because the place comes equipped with a coffee lab and a roasting room on the upper floors. If you want an introduction to the local coffee industry, we say this is a good jump-off point.
Don't miss: Free samples at the coffee bar! Or the Sweet Rice Puffs Latte! Better yet, take the chance to taste their brews before you order one in full size. For a frothy and sweet delight, their Italian-inspired cappuccino pairs nicely any of the photogenic pastries on display. If you need a place to sit down for a bit, head upstairs. There's free reliable Wi-Fi and even some power outlets for charging. We hope you find a seat, though! The place stays packed for most of the day.
Address: 68-5, Cheongdam-dong, Jongno-gu, Seoul, South Korea
Now that we're at the end of our Seoul coffee crawl list, let me conclude by tracing back to the beginning. Remember when I told you that Coffee Prince played a big role in the realisation that Seoul was also the centre of South Korea's hip and happening coffee scene? Well, you can actually visit the shops that served as filming locations of the coffee-centic K-drama!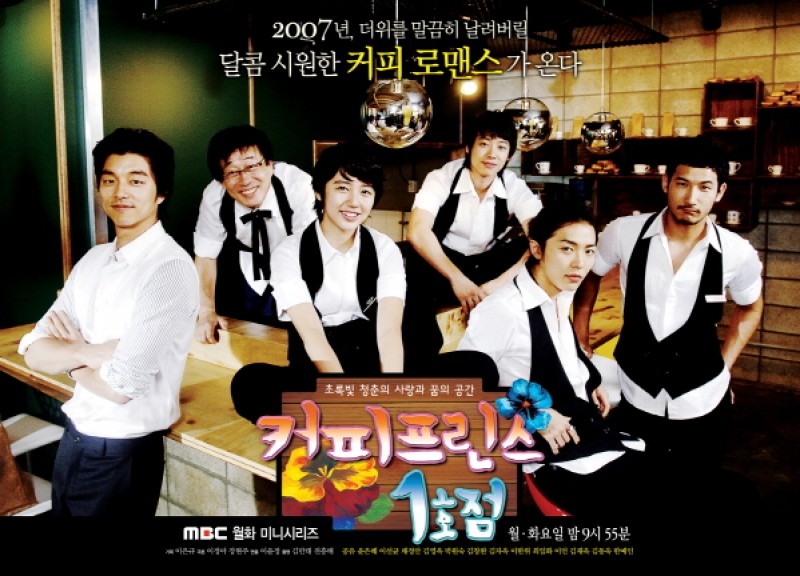 There's the actual café in the series, which is a bit rundown now but still operational. You'll find it in Hongdae, near the Hongik University Station subway station. If you've watched Coffee Prince, this place will surely bring you back to its iconic scenes. The caretaker is nice, but make sure to actually order some coffee at the place and not just take a few photos for the 'gram! Let's help this tourist spot survive!
Address: 327-17 Seogyo-dong, Mapo-gu, Seoul, South Korea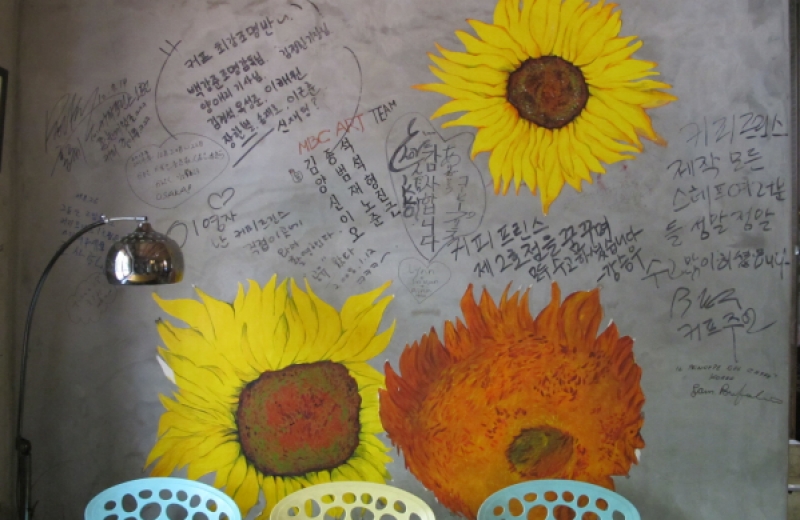 If you want to go all-out, you can also plan a trip to Sanmotoonge Cafe, which was used as the house of the equally dashing Choi Han-sung, played by Lee Sun-gyun who also appeared in the highly decorated film, Parasite.
Sanmotoonge Cafe is a bit farther from the city centre, but it boasts of some of the most breathtaking hillside views of Seoul! Great brews, lovely views, plus its rightful place in the Hallyu hall-of-fame — you can never go wrong with a visit to Sanmotoonge Cafe.
Address: 153 Baekseokdong-gil, Buam-dong, Jongno-gu, Seoul, South Korea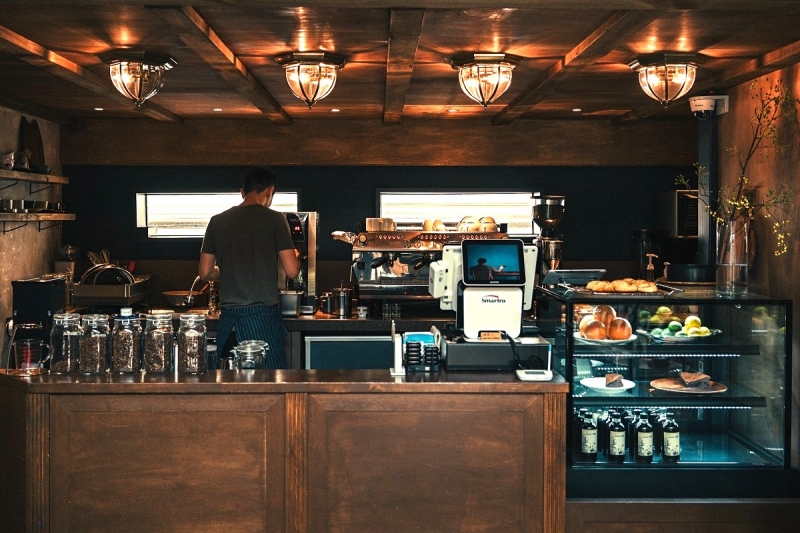 Treat these two bonus entries as the travel inspiration you need to see the best coffee shops in Seoul. May your coffee be as strong as your wanderlust!