Image credit: Boodle Fight Manila Official Facebook Page
What's your favourite Filipino dish?
Okay, that was a trick question. Ask any Filipino that, and what you'll initially get are just two things: a really, really long pause or a whirlwind of lip-smacking, tummy-grumbling answers! No doubt we Pinoys just love Filipino food — and lots of it!
Patikim muna
There's just something about Filipino dishes, from the way they fill our bellies to how they always seem to pair perfectly with heaping mounds of steaming rice. Devouring these specialities is a multisensory affair: You see the overwhelming serving; smell the symphony of ingredients and rekados; hear the swishing of soup, the sizzling of meat, or the crackling of crisped skin. Then comes the taste — it's salty and savoury. It's sour and sweet. Or sometimes it's a mindblowing combination. It feels heavenly on the palate, different textures coming together… and later, it settles in your tummy. You feel a little too full, but satisfyingly so.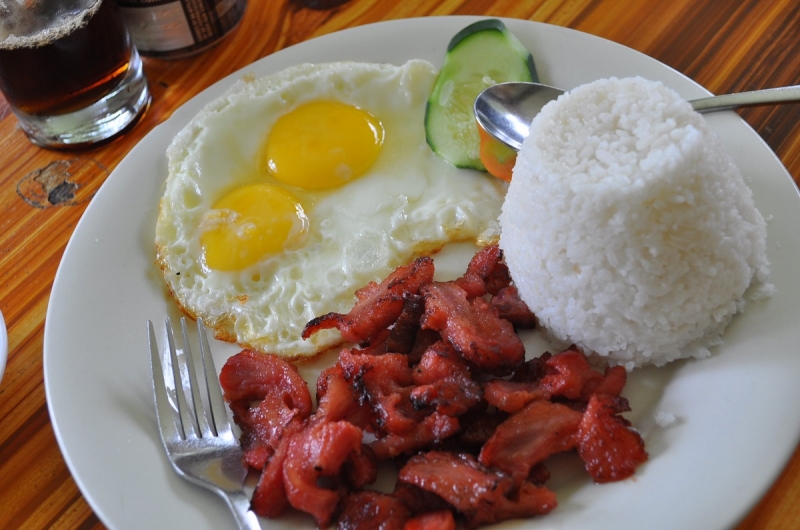 I'm sure we'll all end up craving for something at the end of this article. So let's use that craving as inspiration for when you tour a foreign friend around the Philippines. Or maybe you can learn to whip up these best Filipino dishes for your next trip abroad? If you're staying with family or at an Airbnb, it would be a nice way to thank your host!   
1. Adobo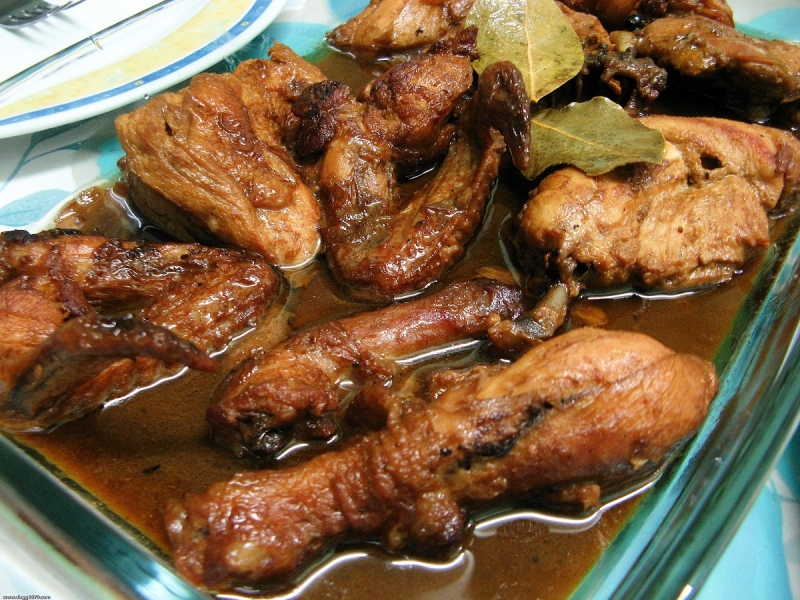 Let's start with the dish that's often a cause of debate. Reason being: Many people think of Adobo as the honorary pambansang ulam. But then again, there's also Team Sinigang (we'll get to this in a bit).
I won't explain every dish in detail, as I'm assuming you all know them by heart. Our Adobo, like other Filipino dishes, comes in many forms. There's a soupy variant, a fried variant. We regularly have Adobo that's pork or Adobo that's chicken. And although the origins of Adobo is often credited to its Spanish and Mexican cousins (dishes of the same name), the Filipino Adobo has paved for itself a unique identity. The Spanish Adobo is quite spicy; its distinct bite and acidity is brought about by chili, cinnamon, and tomato paste. Its Mexican counterpart, on the other hand, features cumin and oregano. The difference in flavour profiles is so stark, some food historians claim that the Filipino Adobo is an original recipe, only with its native or indigenous name lost to centuries of Spanish rule in the Philippines.
In any case, Adobo is so iconic in the country that it's even a well-liked flavour for treats! In fact, anything can be Adobong <insert food here>. There's Adobong frogs legs, Adobong mani, Adobong kangkong, even Adobong chocolate — you get the picture. The term lies in the way it's cooked. Filipino Adobo is basically meat marinated in a mixture of spices, vinegar, and soy sauce then browned in oil made fragrant by lots of garlic! It's best eaten with big helpings of rice. Yum!
2. Sinigang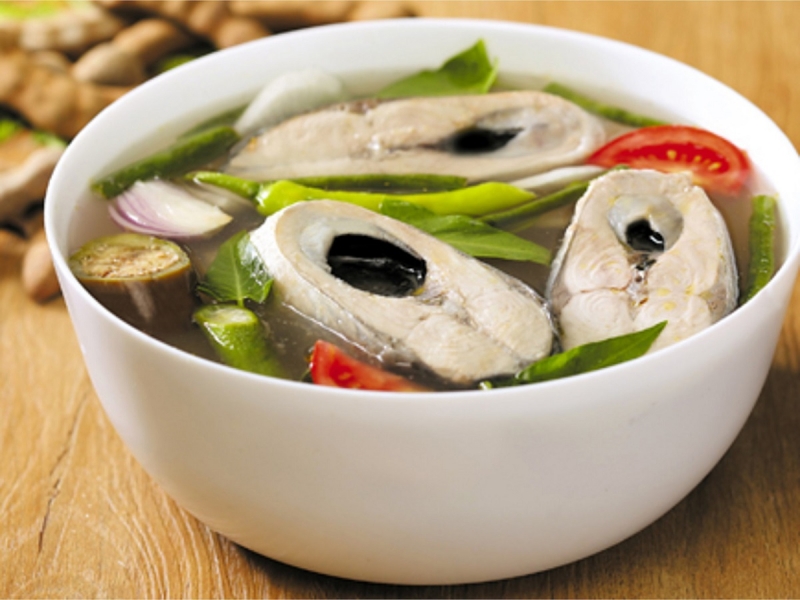 Alright, if Adobo's always in the running for pambansang ulam, its perpetual challenger is Sinigang. This flavourful stew is at once savoury and sour, making it quite a treat for anyone's taste buds. Traditionally, the sour flavour comes from sampaloc or tamarind, but other variants also use kamias or green mangoes. It also includes any meat of your choice: pork, beef, fish, shrimp, you name it!
 This dish is where the term asim kilig gained its popularity — that feeling you get when you sip on Sinigang and your entire body seems to react to the tartness on your tongue. Watch your foreign friend slurp on Sinigang and see if he or she makes that asim kilig face!
3. Mechado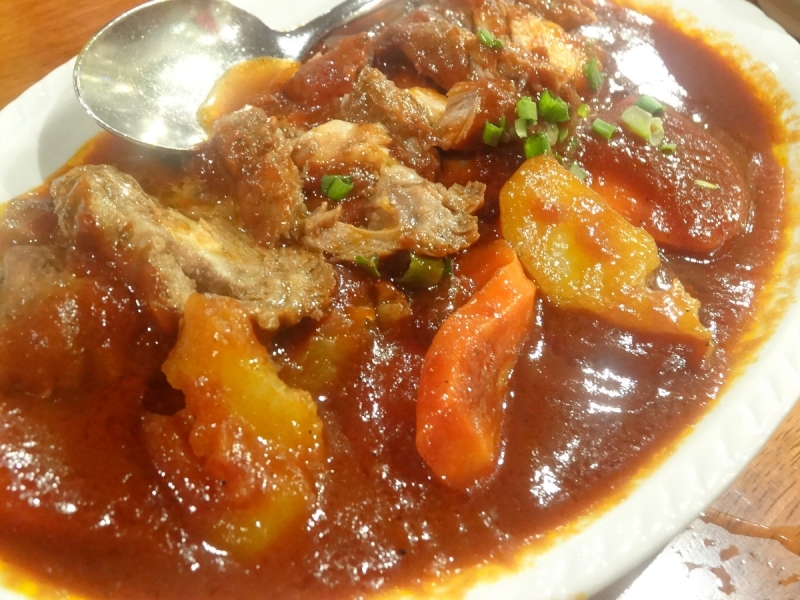 We've already established that a lot of the Filipino dishes we enjoy today have Spanish influences. They colonised the country for more than 300 years, after all, so it's only natural that we inherited a trick or two from their cookbooks.
Another dish we have the Spaniards to thank for is heavenly Mechado. A braised beef preparation, Mechado uses tomato sauce as its wet base so the final dish turns out with a rich, meaty sauce perfect for drizzling on top of rice! Mechado is also often served with carrots, potatoes, and bell pepper, so all the flavours come together nicely. At home, my dad (who is an awesome cook) adds a sprinkling of cheese on top of our Mechado, and it makes all the difference! Just note that this added ingredient also makes the speciality all the more sinful… but oh so worth it. 
4. Lechon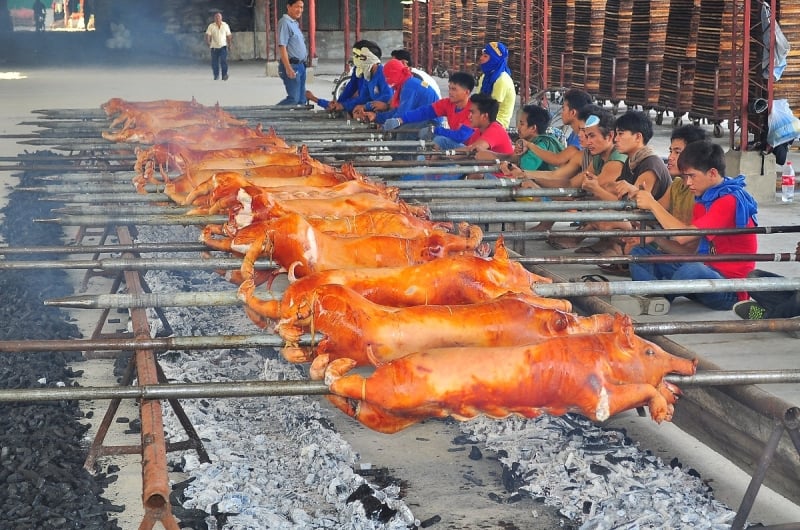 Ahhh, few can resist the drool-inducing allure of Lechon or roast pig — especially when, in the Philippines, the delicacy is usually only served whole on special occasions. From its crunchy skin to the flavourful meat, no part is left to waste! If you have a foreign friend over, though, the best place to sample Lechon is in Cebu. Why not make a vacation out of it?
Also read: See You In Cebu: A Three-Day Barkada Material Itinerary
Other Filipino dishes similar to Lechon that will have pork lovers swooning are Crispy Pata, Lechong Kawali, Bagnet, and Chicharon. If your guests are adventurous enough, let them try other variants such as Chicharon Baka and Lechon Kambing.
5. Sisig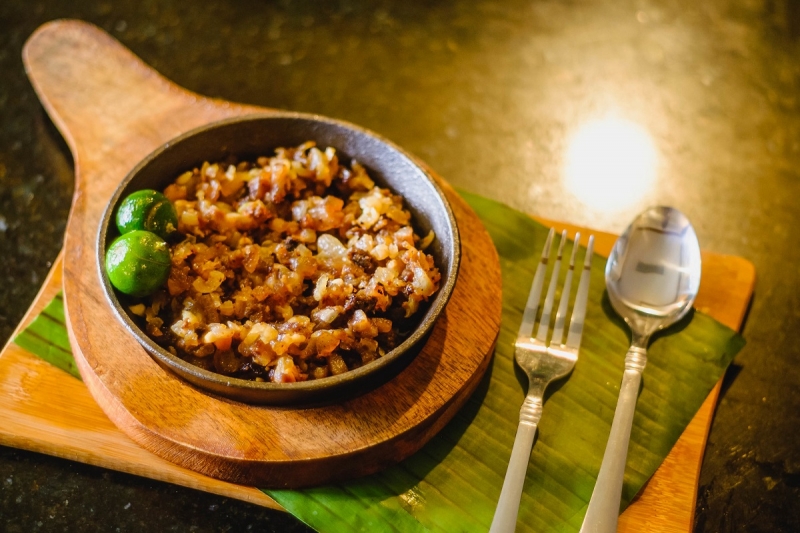 Take it from the late culinary genius and writer-traveller extraordinaire Anthony Bourdain, who told CNN Philippines in 2017 that  "…sisig is perfectly positioned to win the hearts and minds of the world as a whole." 
Also read: Remembering Anthony Bourdain – a True Food Lover and Traveller
Bourdain regarded the pork dish, which features the otherwise uneaten and unwanted parts of a pig (bits of its head and liver), as the ideal introduction to Filipino cuisine. This sizzling pork dish —  often served with a raw egg left to cook on a hot plate — is a popular bar chow. And this is exactly what Bourdain loved about it, describing it as a "casual, accessible, and exactly what you need after a few beers". So go ahead, arrange a drinking session with your foreign friends and some Sisig, and let out a hearty "Kampay!" in honour of Bourdain. 
Oh, and if you're wondering where to go for legendary Sisig, schedule a road trip during the Sisig Festival in Angeles City, Pampanga. It's usually held in April! For those looking for a Halal-option of this Filipino dish, fret not. It's offered in seafood variants as well. 
Also read: 8 Halal-Friendly Destinations in the Philippines 
6. 'Silog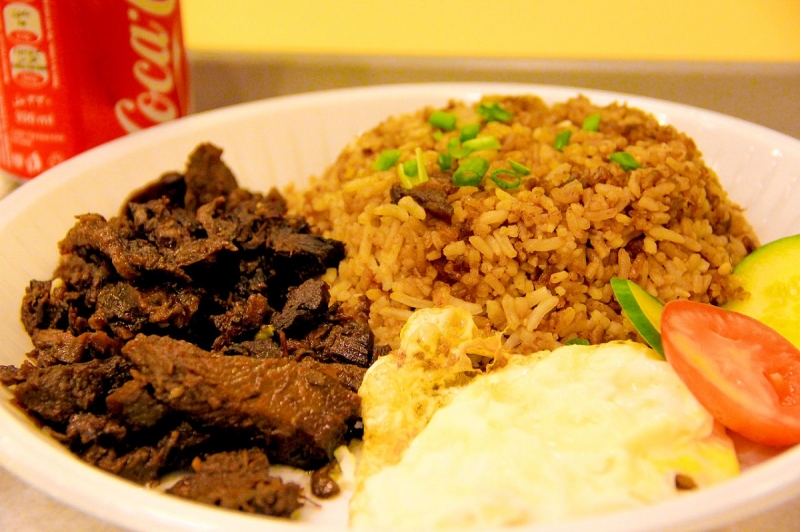 As a certified breakfast food lover, I can't ignore the masterpiece that is the 'Silog. I'm going to take a page off Anthony Bourdain's book for this one and say that it's also extremely "casual and accessible". Its simple, 'anything goes' formula is what takes the cake: Your choice of meat or viand, a fried egg (or two), and garlic rice. Voila! The perfect Pinoy breakfast. 
The 'Silog is not as complicated and impressive as other Filipino recipes, but it's a go-to for many foodies on a budget. Your foreign friends are sure to love its hefty servings, too. The only thing missing is some greens, which you can make up for by preparing a fruit-and-veg smoothie, or maybe even whipping up a side salad or ensalada. You can even opt to slice some tomatoes and cucumbers, and you're done. Now that's how you start your day with all the food groups, as far as Filipino dishes are concerned. Remember to go, grow, and glow!
7. Champorado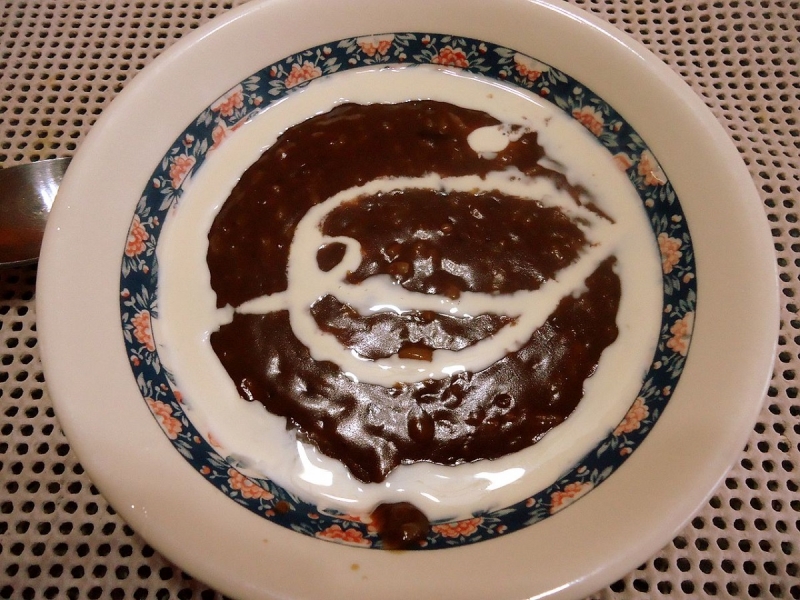 Speaking of breakfast… Champorado fans, can I get a holler?! Other countries have their own versions of lugaw and porridge, but most of my foreign friends are completely flabbergasted by Champorado. And can you imagine the look on their faces when we start to sprinkle tuyo and evaporated milk on top of that chocolatey goodness? If you're planning on serving a simple Filipino breakfast, blow their minds with Champorado (also spelled Tsamporado). It. Always. Works.
8. Ginataang Gulay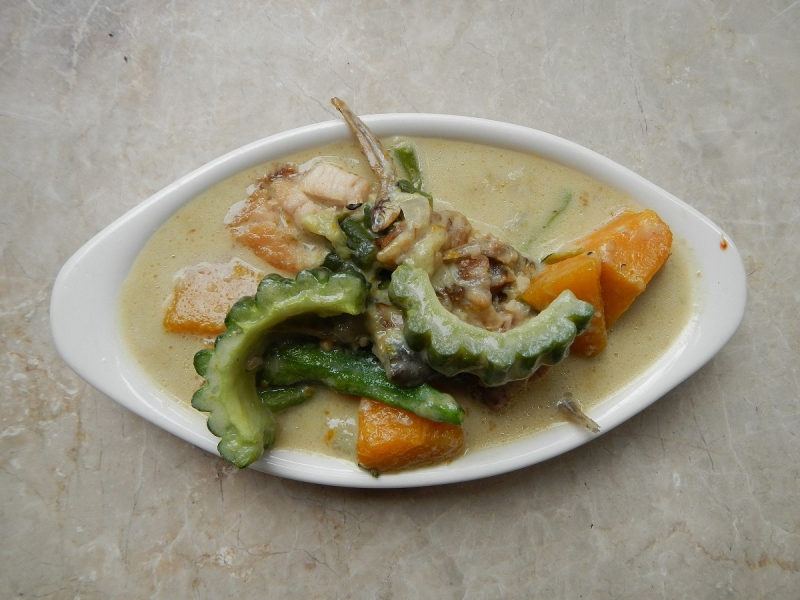 We all know most Filipinos are meat lovers. Which is probably why this list lacks in the vegetable department. I myself love my greens, so I just had to include a personal favourite: ginataang gulay. Again, we see the flexibility of Filipino dishes. Ginataang Gulay can, in fact, feature an array of vegetable combinations, the most common being squash and green beans or sitaw. Some provinces have their own versions of Ginataang Gulay, too. A regional version of the Filipino dish is Luzon's Gising-Gising, which uses winged beans or sigarilyas. No matter the ingredients, one remains integral: coconut milk or gata, which is why it's called ginataan!
If your foreign friends are more of herbivores, this might be a good way to deviate from an otherwise largely meaty diet. Plus, it's vegan — since you only use coconut milk to create a light, creamy base!
9. Chicken Inasal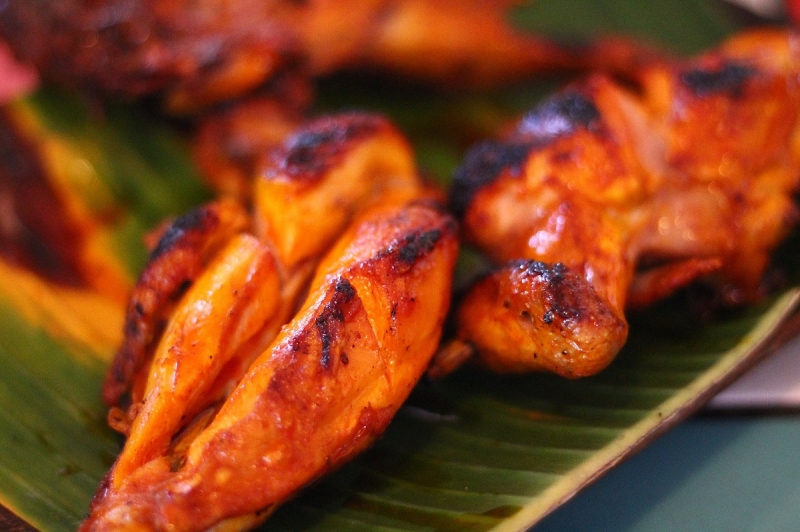 Of course, we just had to feature a chicken dish. Chicken Inasal or simply Inasal, is a roasted chicken dish that hails from the Philippines' Negros region. There are two things that make this Filipino speciality a hit: its marinade and its signature condiment, chicken oil. Before it's slow-cooked on a spit, Inasal is patiently and generously marinated in a mixture of vinegar, calamansi, ginger, atsuete (made from annatto seeds), and loads of garlic. Some add other secret ingredients in the marinade, depending on the chicken house you go to. The second highlight is the chicken oil, made from drippings collected from the chicken itself while it is being roasted. Serve this with soy sauce, sili, and unlimited rice, and you've got yourself a winner winner chicken dinner! Literally.
Also read: 10 Cheap and Delicious Restaurants to Try in Metro Manila
10. Pako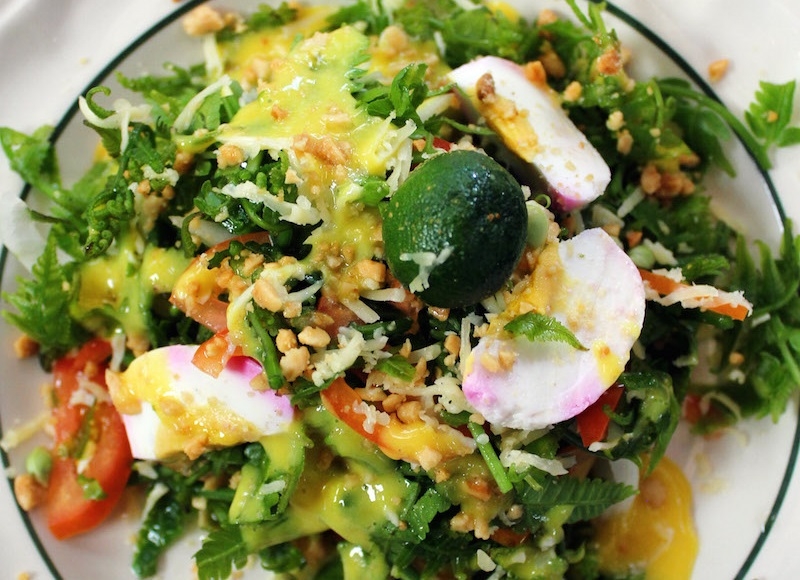 What's a winning list without a wildcard? Ours would be Pako! The Philippines, as you should know, is an archipelago, which means many of our provinces enjoy endless bounty from the sea and other bodies of water. As it happens, Pako or the Fiddlehead Fern is a terrestrial plant that only grows along the banks of cold streams or rivers… or wherever there's a healthy supply of flowing freshwater. It's good however it's served: raw, blanched, and even covered in tasty batter and fried till crispy! It's best with salted egg, seafood, and — you got it — rice. 
Among the Filipino dishes on this list, Pako is the most difficult to source if you're in Manila. But finding fresh servings of this edible fern shouldn't be a problem if you'll head to Baler. Surf trip, anyone?
Also read: Where to Eat in Baler: 15 Yummiest Bites for the Hungry Surfer
As expected, these Filipino dishes made our tummies whine like crazy. How about you? What Filipino specialities do you serve to friends and family visiting from other countries and impress them without fail? Let us know! Or post a photo of your favourite Filipino dish and tag us on Instagram @tripzillaph.