Next to glassy waves and an uncrowded lineup, there's one thing that every surfer loves: Food. Surfing takes up so much energy that we need to make up for through eating. And eating. And eating some more. This said, when you visit the very birthplace of Philippine surfing, there are two important things you need to know about: where to surf, and where to eat in Baler. Look no further: We've compiled a list of the best Baler restaurants for your next trip to the land of the golden sunrise.
Also read: Baler, Aurora: The Ultimate Travel Guide with Insider Tips!
Must-try Baler restaurants for your next beach trip
1. Crash Pad Baler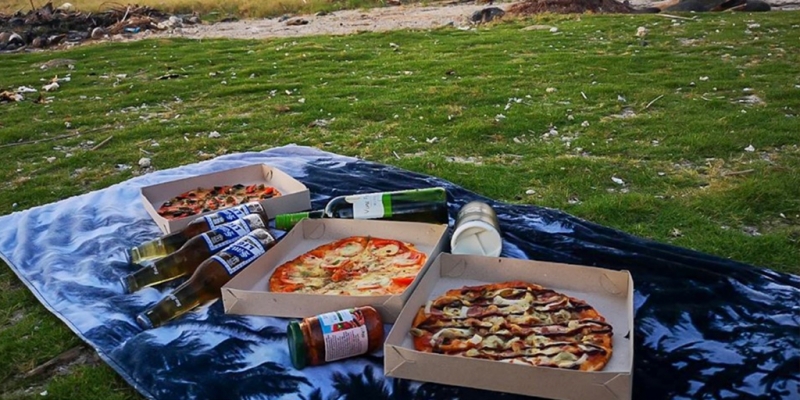 Radiating the surf culture Baler is known for, Crash Pad is a laid-back eatery with an open space. They serve all sorts of food items — from crispy brick oven pizza to authentic Indian cuisine. With music nights and ice-cold beer, Crash Pad is the perfect chill place for barkadas. However, as the place is usually packed with eager customers, the serving time is quite slow. If you're not in a hurry, though, you might find out that the wait is worth the handmade fresh pizza and pasta.
Address: Buton St., Alley 2, Sabang
2. Kubli Bistro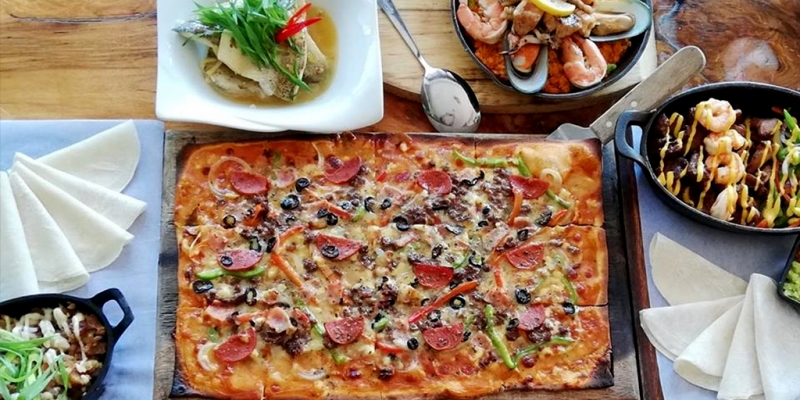 If you're in Baler with your family, Kubli Bistro is just the restaurant for you. Offering savoury Filipino dishes, Kubli Bistro mostly caters to large guests as most of the food items are good for sharing. Owned by a long-time local surfer, this restaurant reminisces the classic days of surfing in the town. On the walls, you'll see multiple photos, mostly greying with age, of local surfers and old-school Baler. 
Address: Buton St., Alley 2, Sabang
3. Dogtown Collective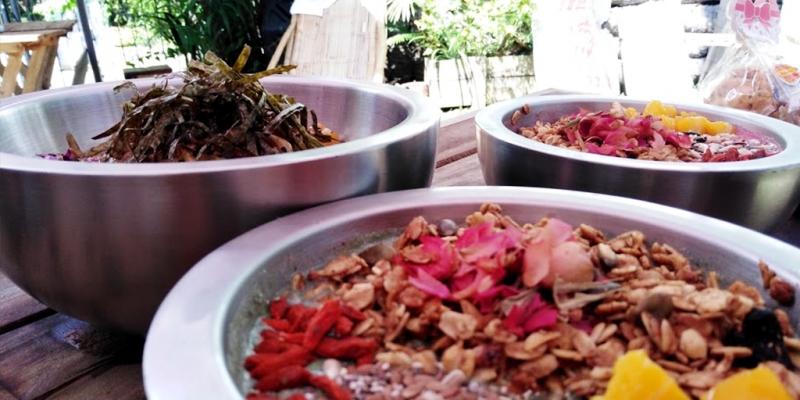 Poke bowls, artisan beverages, and vegan dishes are what make Dogtown Collective the perfect archetype of modern-day surf culture. This quaint park houses several hippie food pop-ups, with its regulars including Halle's Kitchen, Gagays, and Kai Smoothies. If you're unsure of what you're craving for, head to this place and you'll probably make up your mind. Oh, and just so you know, Dogtown Collective has its doors open for dogs anytime; hence, the name.
Address: Buton St., Alley 2, Sabang
4. Charlie Does Cafe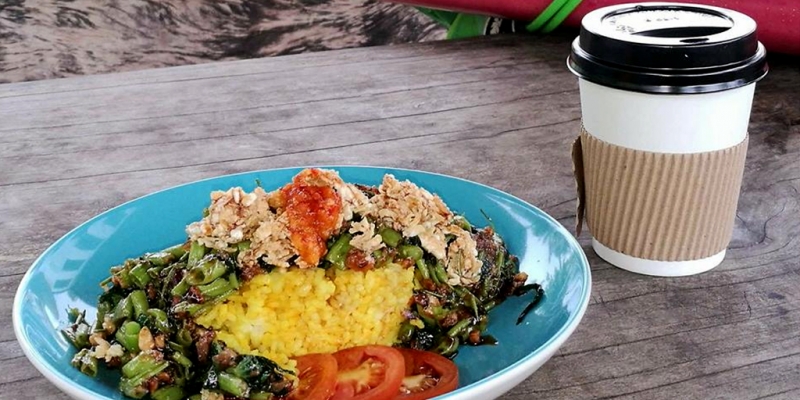 Vegan or not, you'll definitely have your fill in Charlie Does Cafe. Offering mostly plant-based meals, this cafe is a go-to for people on the search for healthy and delectable grub. Aside from its vegan and vegetarian meals, Charlie Does Cafe also sells handcrafted coffee, surfwear, and surf accessories.
Address: Baywalk, Sabang Beach
5. The Good Food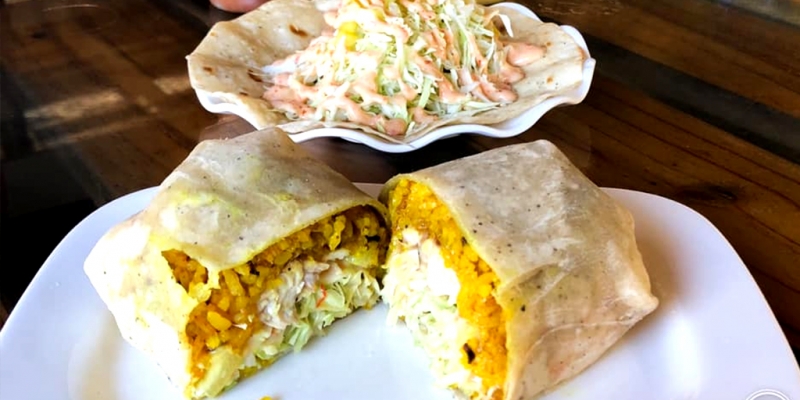 I'm not much of a Mexican fan, but The Good Food has won me over with their hearty burritos. This spot is a must-try, especially for travellers coming from the city, as each meal is unbelievably filling yet still so affordable. They also provide vegan options (their tofu burritos are the bomb!) which are perfect for those who are avoiding meat. 
Address: Buton Street, Sabang
6. Kusina Luntian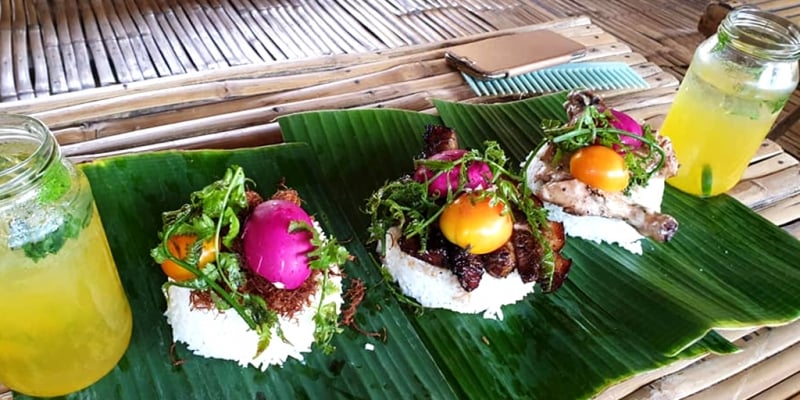 Whenever anyone asks me for suggestions on where to eat in Baler, Kusina Luntian is always at the top of my list. Every traveller has to try their famous pako salad, which even locals admit to loving. Most of their rice meals are served with pako salad, but we usually order an extra serving — it's that addicting. Their best-seller, at least among my friends, is the grilled liempo. It tastes even better because you have to eat it with your bare hands — an ode to the classic palas–na-serper (hungry surfer) style.
Address: Dela Torre Street, Sabang
7. Madison's Cafe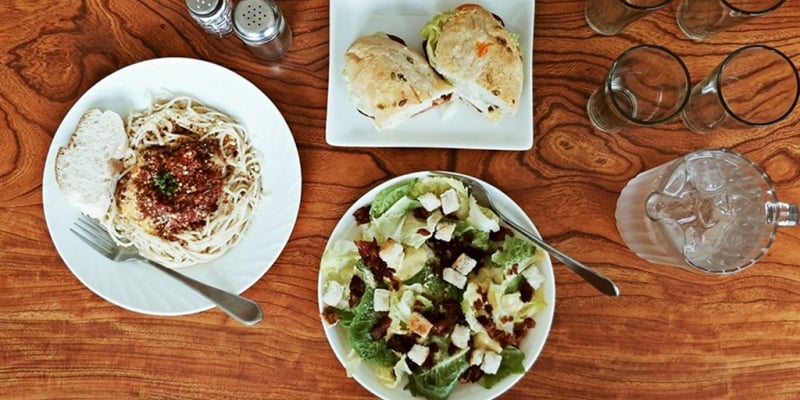 Serving mouthwatering meals and pastries, Madison's Cafe is the coffee shop I wish we had in the city. Their prices are way cheaper than what we're used to in Manila, and their food is just as delicious… if not better-tasting. Of all the times I've dined in this shop, I've never been disappointed with any order. All their salads, pasta, sandwiches, cakes, and coffee are to die for. Plus, their shops are air-conditioned and with WiFi. Who needs Starbucks, am I right?
Address: 97 Quezon St, Poblacion; Baywalk, Sabang
8. YahMon Food Joint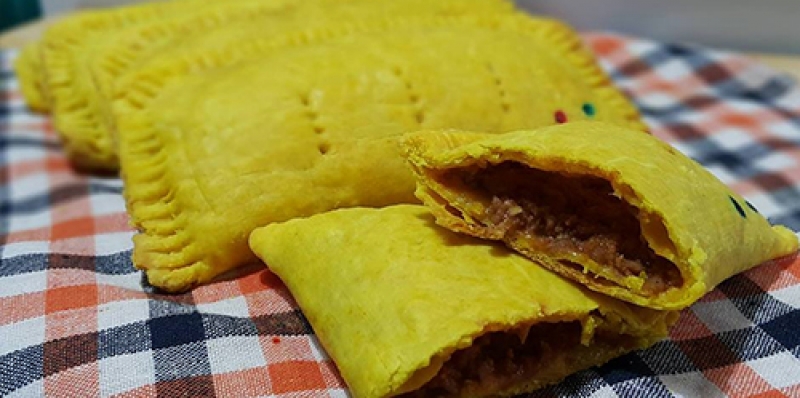 Looking for a quick bite? Grab some freshly-baked Jamaican patties at YahMon Food Joint. As this tiny stall is conveniently located between Sabang beach and the town centre, you can easily dine here for merienda time. Aside from the baked goodies, YahMon also offers rice meals all below ₱70.
Address: 429 Aurora Street, Barangay 4
9. Dialyn's Bakeshop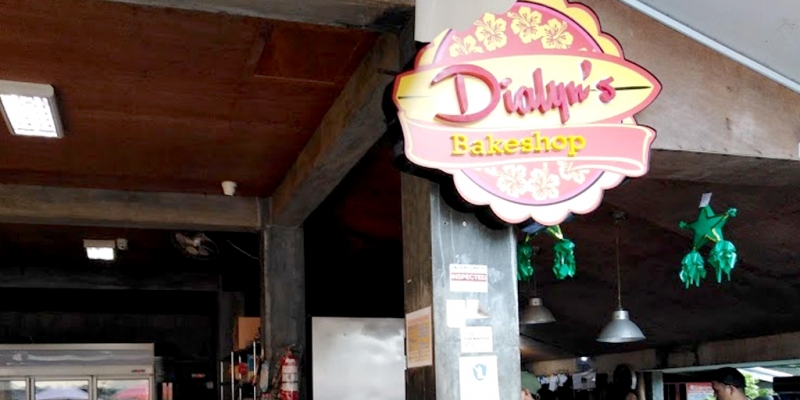 When surf time doesn't come till 8am, Dialyn's Bakeshop is my pre-surf stop. They offer the yummiest pastries and brewed coffee sourced from a neighbouring town of Baler, Diarabasin. Make a run for this bakeshop in the morning, so that you score the freshest bread out of the oven.
Address: Poblacion Street, Sabang
10. 1697 Bubble Tea House
Good news, bubble tea lovers! You don't have to miss out on your regular dose of milk tea when in Baler. In 1697 Bubble Tea House, you can order your favourite drink for a much cheaper price. They have a wide variety of flavours you'll adore — from the classic Pearl Milk Tea to the innovative Cream Cheese Cake Milk Tea. Balance the sweetness with something salty: An order of cheese fries, a plate of nachos, or even a serving of Thai food!
Address: Suklayin, Quezon Highway
11. Sonia's at Surfer's Garden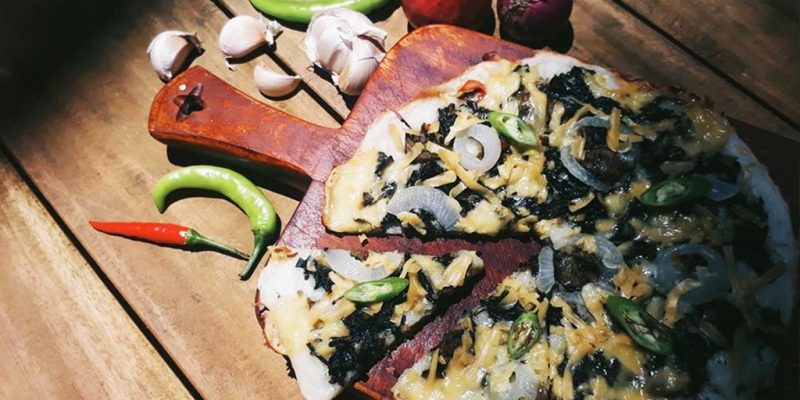 If you're feeling adventurous, you can try to visit Sonia's at Surfer's Garden. Finding this secret spot is a challenge, so ready your maps before travelling to this place. When you arrive at this haven, however, you'll find yourself in a paradisiacal garden. Coconut trees shade the wooden tables, and the kitchen is in the form of a charming nipa hut. Sonia's offers interesting delicacies like laing pizza and island chicken skewers. 
Address: Purok 1 Sitio Monreo, Buhangin
12. Nalu Surf Camp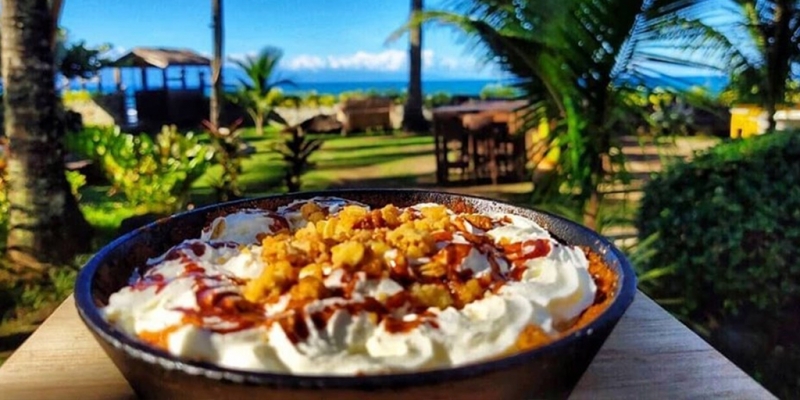 Nalu Surf Camp is where to eat in Baler when you're looking for a place to dine by Sabang beach. With the beautiful view of the sea, Nalu Surf Camp lets you enjoy your hearty meals outdoors, also offering you the freshest seabreeze. The resort is also a regular host of music events and parties, so you might want to drop by to experience some Baler nightlife. They offer cocktails and beer which you can enjoy as you jam with the live bands performing.
Address: Sitio Labasin, Sabang
13. El Teodoro Lodge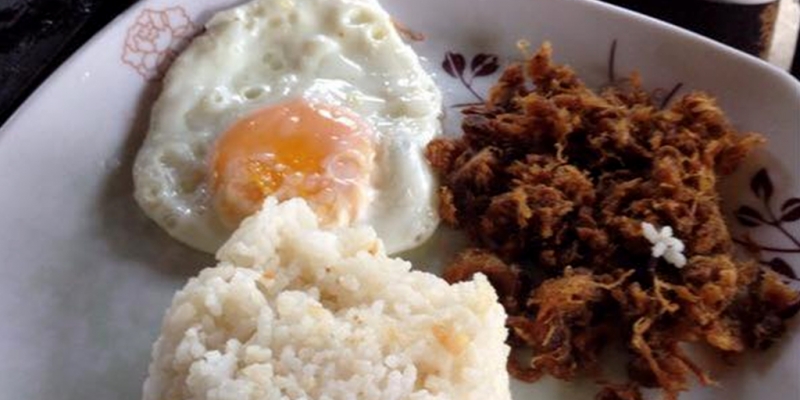 For a taste of homemade breakfast, head to El Teodoro Lodge. While this is a humble carinderia, it has made a name for itself; it's become crowd-favourite, predominantly among surfers. Their best-seller is the crispy tapsilog, which is perfectly filling after an hour of surfing. You can also dine here for lunch — they offer lutong bahay meals as well.
Address: Buton Street, Sabang
14. Yellow Fin Bar & Grill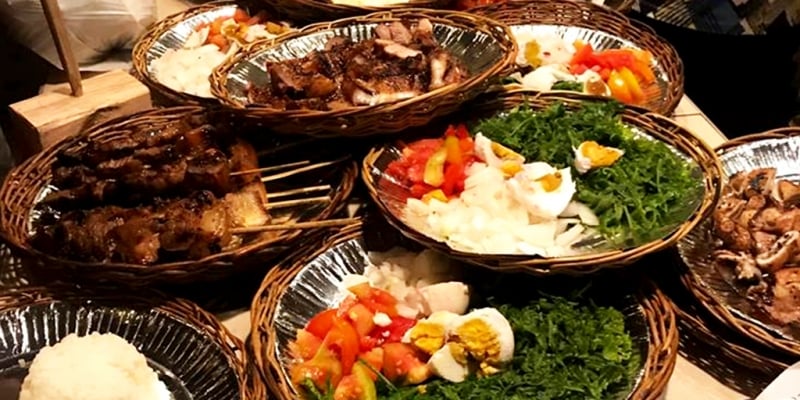 You're at the beach — of course, you're looking for seafood. Your best bet might be Yellow Fin Bar & Grill. They grill fresh seafood as you order, so anticipate a long waiting time. But if your eyes are on the prize, your patience will definitely pay off. Some must-orders are the grilled yellowfin, grilled blue marlin, sizzling sisig, grilled squid. Cleanse your palate with an order of pako salad or a bucket of beer. 
Address: Buton Street, Sabang
15. Yolly's Ihaw-Ihaw and Seafood Restaurant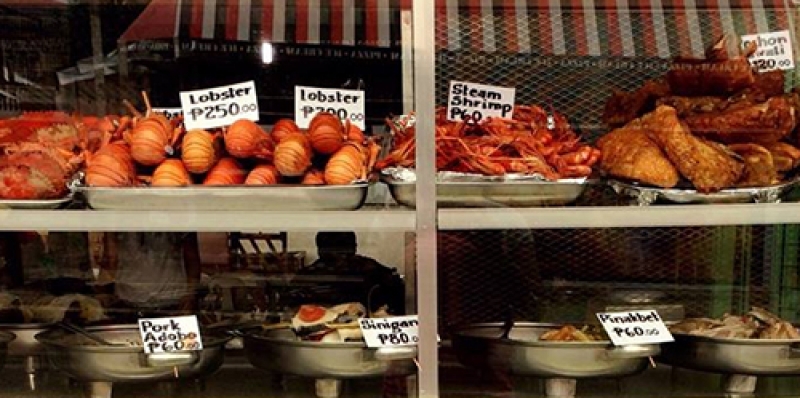 Yolly's Ihaw-Ihaw lands on almost every list of where to eat in Baler. But come to think of it, almost every traveller would be willing to splurge ₱200 for eat-all-you-can. Admittedly, I'm not the biggest fan of Yolly's Ihaw-Ihaw. Still, I think the price is worth it. If you're feeling dauntless, drop by this restaurant. Who knows? You might end up enjoying it as much as all my friends have. It's not every day you can have a buffet for ₱200, after all.
Address: Quezon Street corner Recto Street, Barangay Dos
Also read: Restaurants in Siargao: 15 Places to Eat and Drink in General Luna
I hope this article answers your question of where to eat in Baler. This town is not just a place for surfers, it's also definitely a haven for foodies.
---
Featured image credit: Kevin Romas | Instagram