No doubt about it: Nature lovers will have the time of their lives in the province of Bohol. This tropical paradise has a diverse range of natural wonders that warrant endless exploration. Whether you're sunning on white sand beaches, diving beneath clear blue waters, or visiting the legendary Chocolate Hills, Bohol is a treasure trove of natural gems. Plus, no matter what's on your itinerary, there's a Bohol Airbnb for you. Check out our pick of the best options below. 
Also read: Bohol Becomes the First UNESCO Global Geopark in the Philippines
Top Bohol Airbnb rentals for a blissful getaway
1. This tropical suite in Baclayon overlooking the Bohol Sea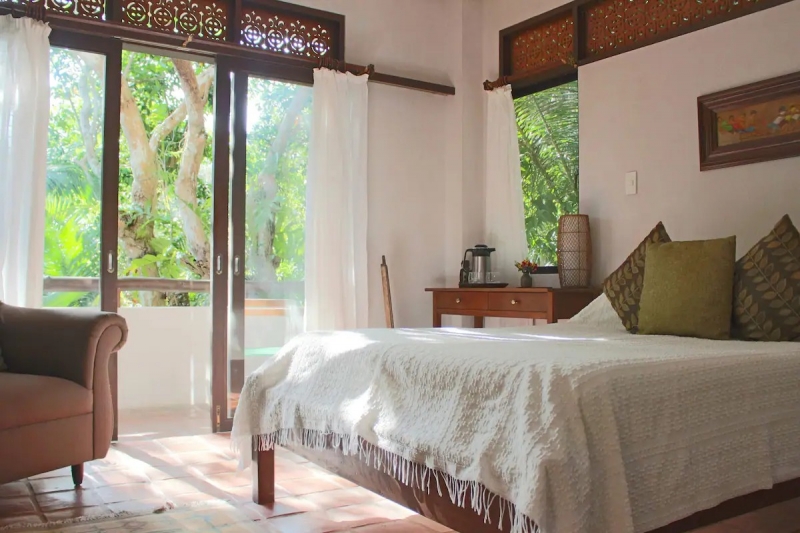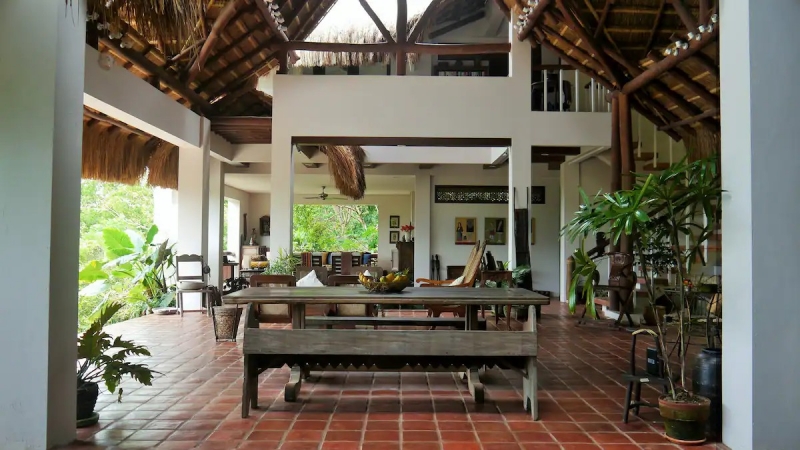 Listing name: La Casita de Baclayon – Orchid Suite and breakfast
Listing type: Private room
Max. no. of guests: 2
No. of bedrooms: 1
One look and you'll see: the luxurious La Casita de Baclayon oozes tropical charm. The tropical escape blends easily in the lush forest landscape — and the ocean views are a definite bonus! To add to that, the boutique resort is thoughtfully designed to showcase Boholano craftsmanship at its best: Furnishings are made out of local materials, while handcrafted art pieces dot the interiors.  
Truly, you won't go wrong staying in the Orchid Suite, which comes with a private ensuite and a balcony overlooking the tranquil rainforest. We love that the Bohol Airbnb serves free breakfast, too — which means you can fuel up well before heading out for sightseeing! Additionally, La Casita de Baclayon is only a 20-minute stroll from Baclayon Pier. Here, tourists can hop on a boat headed to the famous Pamilacan Island for whale and dolphin watching excursions. 
2. This stunning Bali-esque villa with a private pool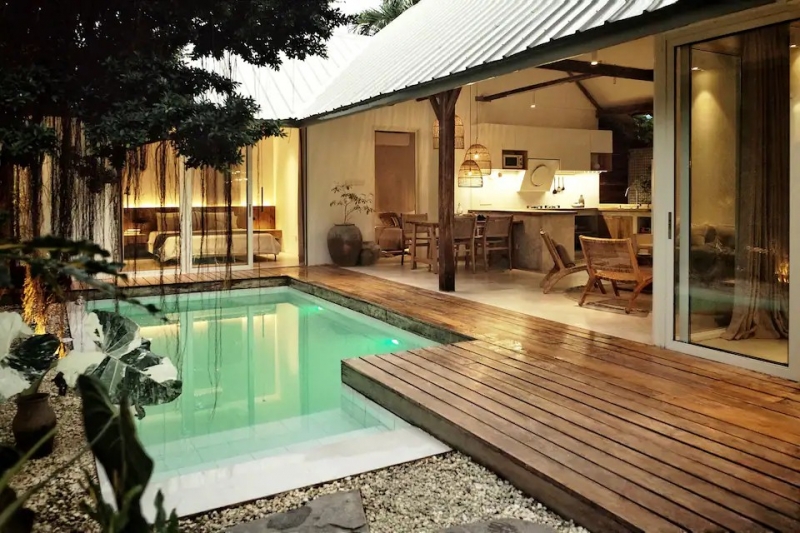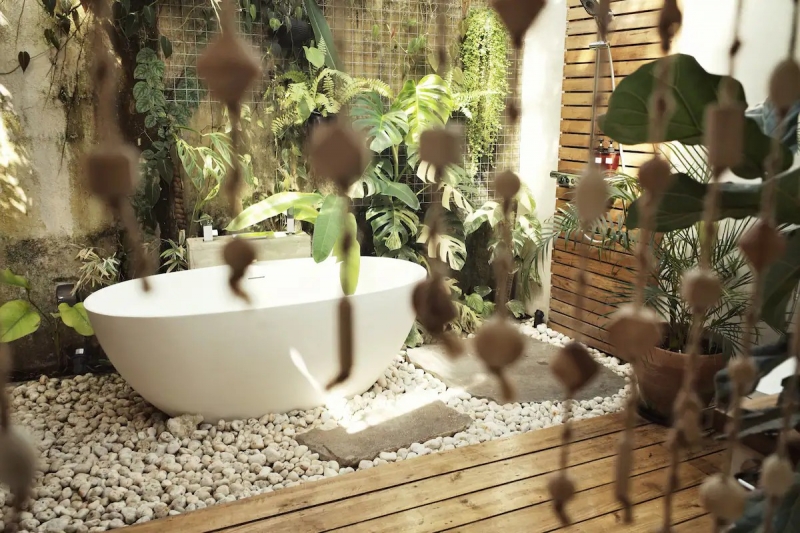 Listing name: Banyan villa with private pool
Listing type: Entire villa
Max. no. of guests: 6
No. of bedrooms: 3
Nothing says vacation quite like a private villa, right? If you agree, then check out this dreamy escape on Panglao Island. It takes inspiration from breezy Bali villas with sliding doors blending indoor and outdoor spaces seamlessly. Flourishing plant life keeps the tropical vibe throughout the property; a huge century-old banyan provides a pleasant canopy over the outdoor pool. 
Guests won't need to stress over anything; the house comes equipped with all the essentials, including a pristine full kitchen, a luxurious pour-over coffee set, and high-speed internet. At night, relax and watch movies using the projector in the living room. There's Netflix and Chromecast, so you can catch up on your favourite shows on vacation.
3. This lovely apartment by the sea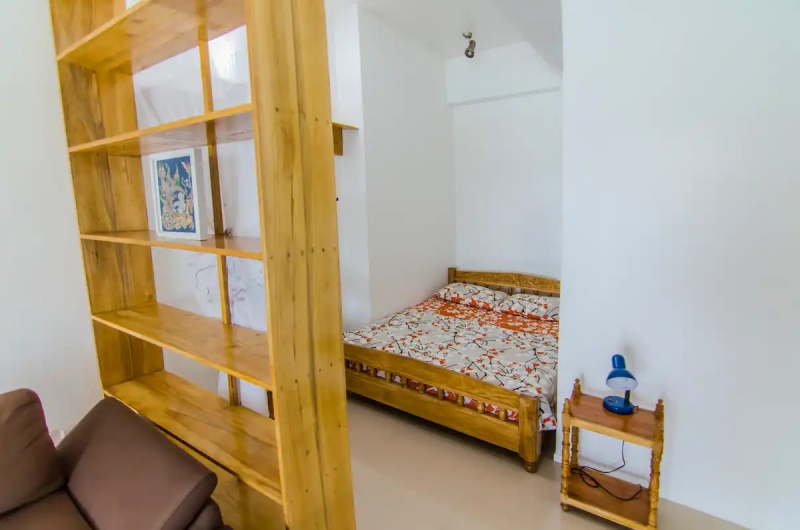 Listing name: La Vela little apartmenthouse by the sea
Listing type: Entire condominium
Max. no. of guests: 2
No. of bedrooms: 2
When in Bohol, an Airbnb by the sea is a must! This beachfront apartment in Tagbilaran offers a serene space to unwind and enjoy breathtaking views after exploring the island. Here, you can take advantage of unbridled views of sunsets, with the apartment's balcony overlooking the dazzling water. It's definitely a fantastic base for two people exploring Bohol.
Not to mention, the location is excellent, with Tagbilaran's port and airport conveniently located nearby. The gorgeous Alona Beach is also just a 25-minute car ride away from the apartment.
4. This European villa in the middle of paradise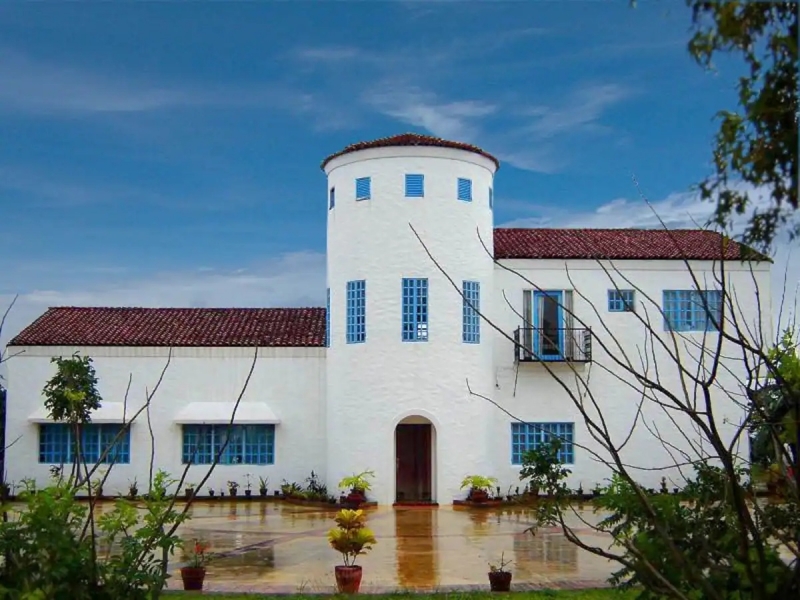 Listing name: Villa Bohol (Casa Santa Barbara)
Listing type: Entire home
Max. no. of guests: 16+
No. of bedrooms: 6
Are we in Bohol or Europe? At first glance, you could almost believe that this Spanish villa is on the other side of the world. At the same time, the house is proudly local. Design lovers will appreciate the classic Filipino detailing inside the villa: antique capiz doors, clay roofs, Vigan floors, and Machuca tiles. 
Vacay like a VIP in this Bohol Airbnb that features a stylish great room, a commercial-style kitchen, and a private beach just steps away from the front door. Additional services such as a cook and a housekeeper are available at a separate daily rate, ensuring a truly pampered experience.
Also read: 10 Must-Visit Bohol Restaurants & Cafes On Your Next Trip to the Island
5. This riverside home with a swimming pool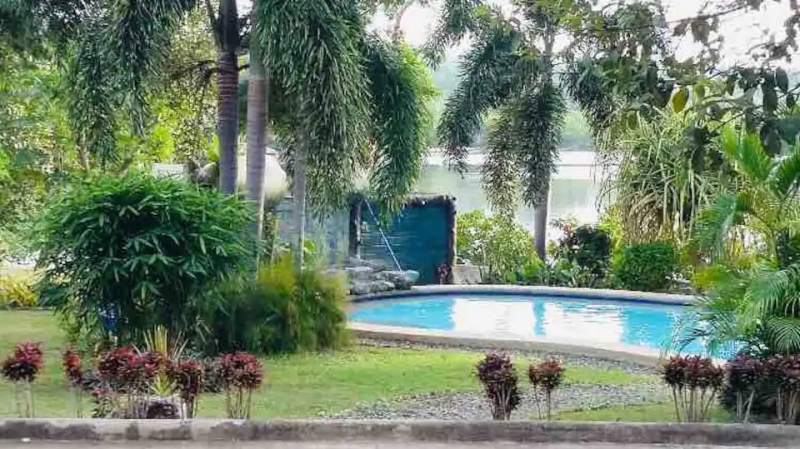 Listing name: Home along the River
Listing type: Entire rental unit
Max. no. of guests: 4
No. of bedrooms: 3
It's hard to beat the locale surrounding this tranquil haven in Dauis: Not only is the Bohol Airbnb beside the only river on Panglao Island but it's also three kilometres from the port and four kilometres from the airport. Plus, white sand beaches are only a 15-minute ride away! The perfect summer break for families and small groups, this escape features fully air-conditioned bedrooms and an outdoor pool. 
Also read: Clarin Bridge: The Latest Eye-Catching Landmark in Bohol
6. This beautiful Bohol Airbnb next to an iconic diving spot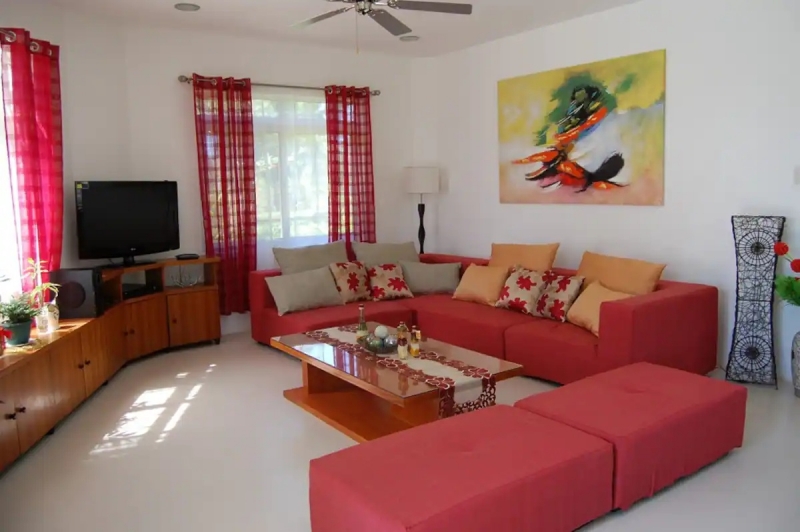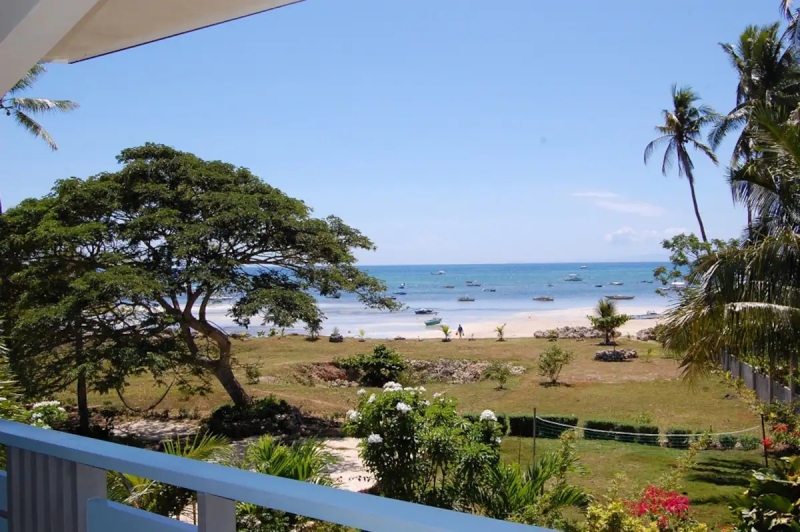 Listing name: Panglao Beach House
Listing type: Entire home
Max. no. of guests: 6
No. of bedrooms: 3
Direct beach access? Yes, please! This super-comfy family home on Danao Beach will make all your tropical dreams come true. Spacious interiors guarantee a cosy stay for families, while the beautifully manicured garden surrounds the gorgeous dwelling. Travellers eager to explore the vibrant underwater world will also be happy to learn that the house is close to exceptional diving opportunities. 
7. This luxe cliffside villa boasting stunning views of the island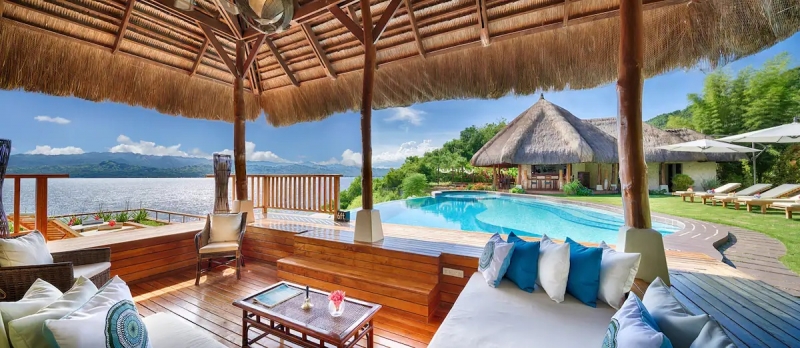 Listing name: Exclusive Private Villa Bohol island, Philippines
Listing type: Entire villa
Max. no. of guests: 10
No. of bedrooms: 5
Nestled on a cliff overlooking the sea, this luxurious villa offers an exclusive island getaway to remember. Featuring a sprawling infinity pool perched over the ocean, a private restaurant exclusively for guests, and the option for massages on the balcony, this place is the textbook definition of island luxury. The villa managers can even arrange customised meals and island tours. Planning an event soon? This private villa is also a brilliant location for birthdays and weddings.
8. This cosy pink Bohol Airbnb near Alona Beach
Listing name: Sophia's House Near Alona Beach With Pool
Listing type: Entire home
Max. no. of guests: 7
No. of bedrooms: 2
This colonial villa blends traditional design with modern comforts. However, the undeniable highlight of this Bohol Airbnb is a private swimming pool. It offers a serene and peaceful setting. Itching to swim in the sea? This lovely haven is also a few minutes away from the beautiful Alona Beach.
9. This hideout on the banks of the idyllic Loboc River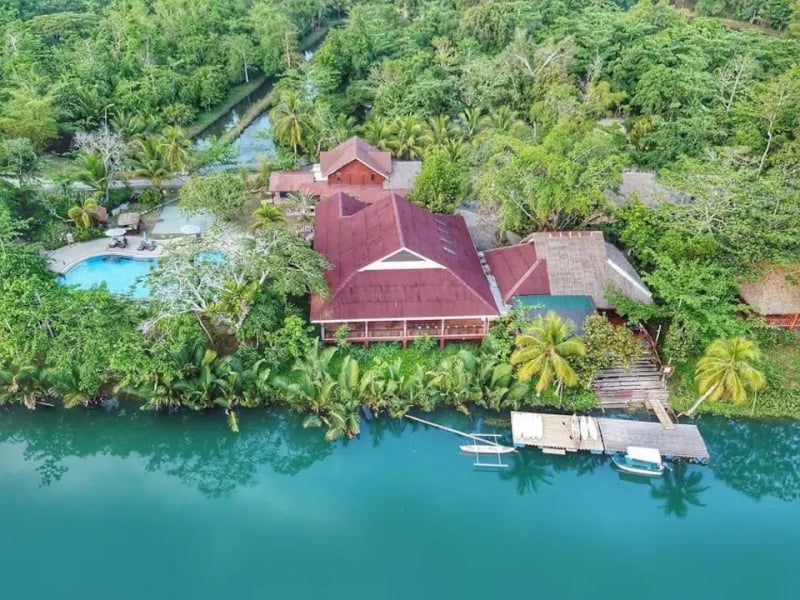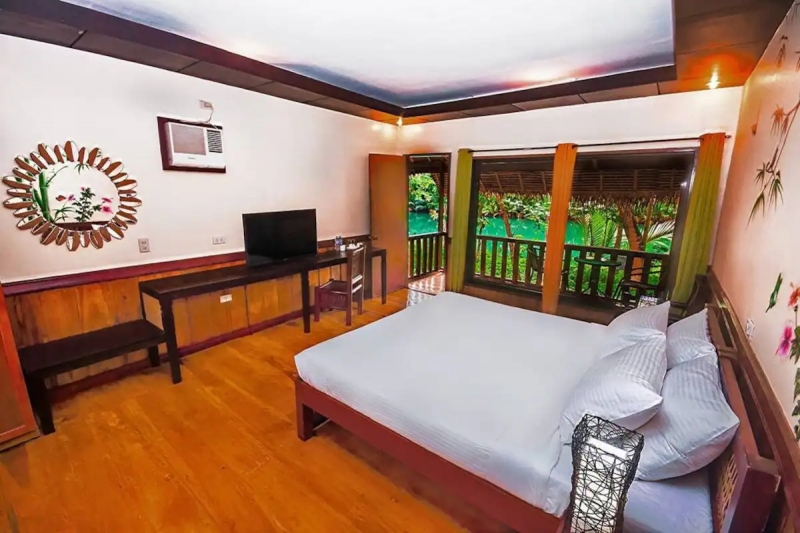 Listing name: Loboc River Room with Swimming Pool and Breakfast
Listing type: Private room in bed and breakfast
Max. no. of guests: 3
No. of bedrooms: 1
Forget simply stopping by the Loboc River, one of the province's most iconic tourist attractions. Why not make the iconic river your base in Bohol? Loboc River Resort lets you indulge in a one-of-a-kind getaway, with river activities like fishing, kayaking, standup paddleboarding, and firefly watching within arm's reach. The room is tastefully designed, too, with complete amenities like a TV, air-conditioning, and WiFi. 
Keep in mind that this Bohol accommodation is often fully booked, so if you manage to catch it when it's available on Airbnb, we recommend booking it as soon as you can!
10. This laid-back farm sanctuary in Danao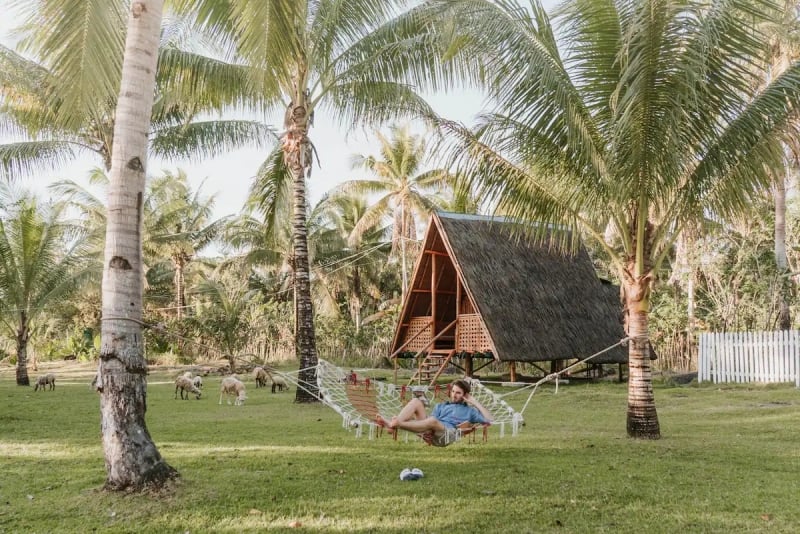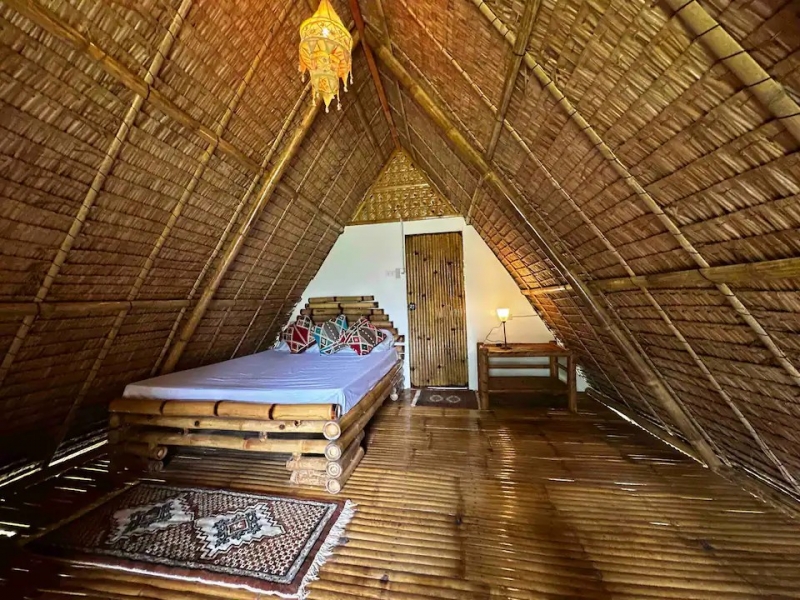 Listing name: Magical Hut in a Farmstay
Listing type: Hut
Max. no. of guests: 3
No. of bedrooms: 1
Travellers from all over the world have given their verdict: This magical farm stay in Danao, Bohol is an absolute delight! Located close to the Sea of Clouds and the Chocolate Hills, the 3.5-hectare property promises an unforgettable stay, especially for animal lovers who can look forward to encounters with rabbits, sheep, chickens, ducks, goats, cows, and three adorable dogs. 
Meet fellow travellers in the sprawling common room with comfy chairs, tables, a TV, board games, and music. At the end of the day, you can get some R&R in your private nipa hut. Previous guests also showered praises on Airbnb Host Lornie, saying that she created a welcoming idyll for tourists and animals in Bohol. 
Also read: 10 Things to Do in Bohol for Every Kind of Adventurer
Whether you're seeking nature or relaxation, Bohol offers a variety of activities to keep you engaged. Enjoy your holiday and make the most of your vacation by renting a Bohol Airbnb!
Got a property you'd like TripZilla to feature? Inquire with us here.
---
This article contains affiliate links. When you book through these links, we may earn a small commission at no additional cost to you. All images courtesy of the respective property listings unless otherwise mentioned.