If there's a country that would be considered freely accessible and out of reach at the same time, Brazil definitely comes to mind. If you're like me and have clicked on that Visa Free Countries for Filipinos article that has been posted & updated on social media, again and again, Brazil is usually one of the countries I pause on. There's something alluring about a country that is not overhyped like the US or Europe but still catches your attention enough that it somehow makes the cut in your travel dream or bucket lists.
Also read: 5 New Visa-Free Countries Filipinos Should Visit ASAP
Why is it freely accessible?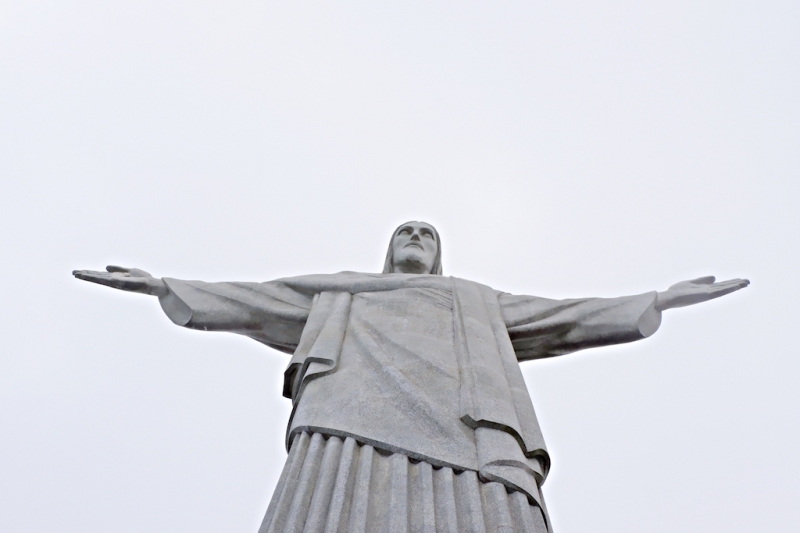 Well, Philippine passport holders can enter Brazil visa-free for 90 days. You'll probably heave a sigh of relief and sing Hallelujah, right? But why is it out of reach? It is 12,000+ miles away and would take a day and a half to get to.
What can you see in Brazil?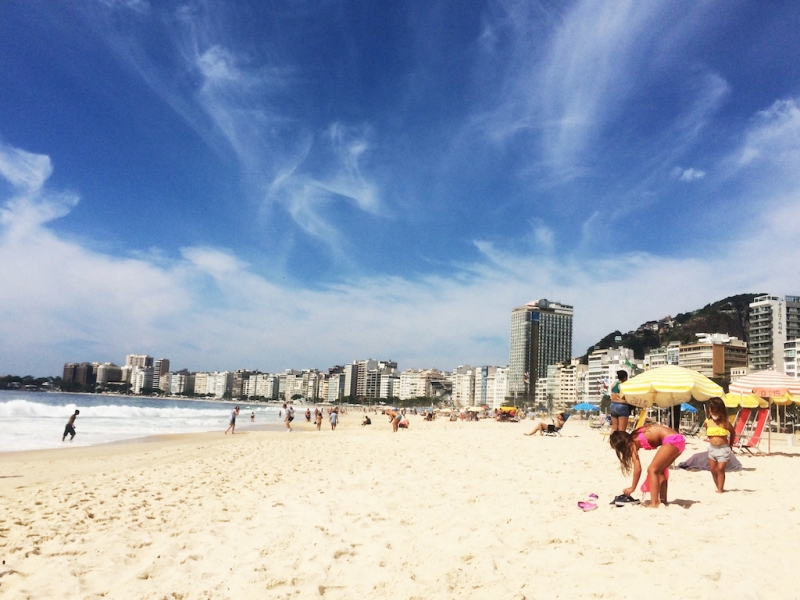 This South American country is known for its towering Christ monument and breathtaking beaches by the city, all featured in mainstream movies like the Twilight Saga or Fast Five. Although Rio was definitely my favourite part of the trip, I can't count out my travel experiences in Foz do Iguacu and São Paulo. I explored these three Brazilian destinations on a quick 10-day trip and it wasn't enough. It was too short to really explore what Brazil can offer to travellers.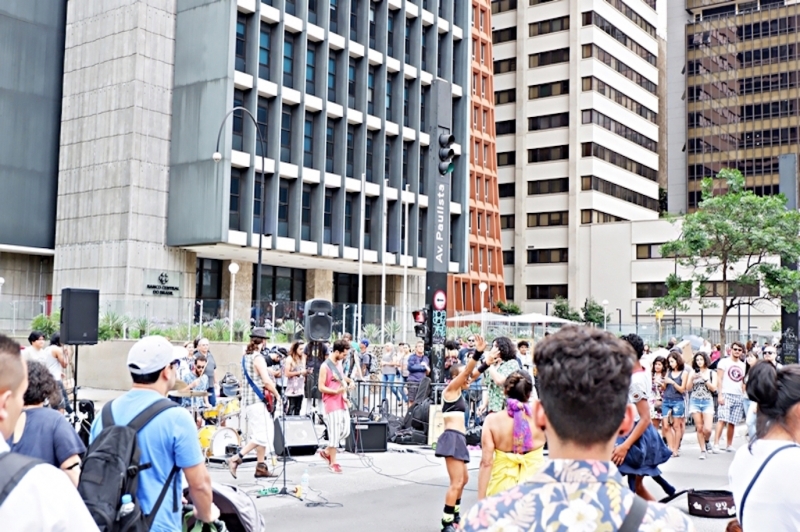 If you browse blogs or articles written by Philippine travellers in Brazil, the posts are limited. There are probably less than 15 travel narratives, flight experiences, and detailed itineraries collectively listed and published on the Internet. To remedy this, here's a travel guide + tips if you're planning your first trip to Brazil from a perspective of a Filipino traveller. Please note that this Brazil guide is based on my travel experiences although a few tips are based on research.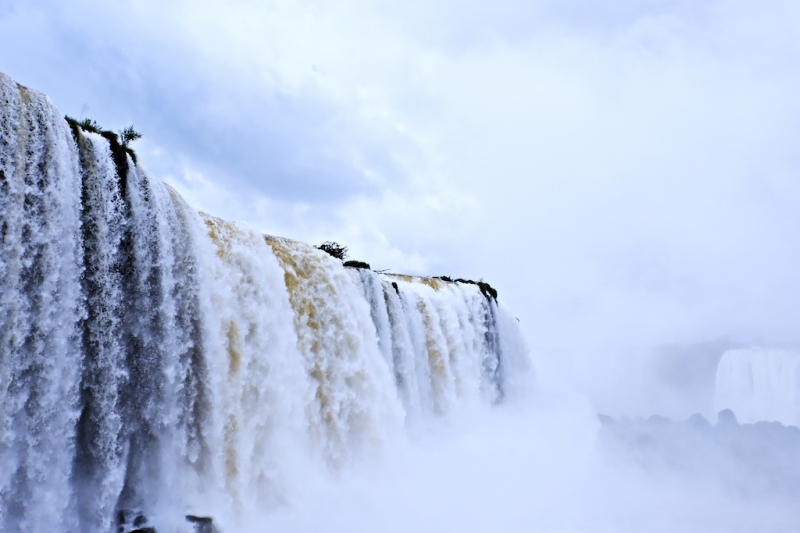 Trip preparations & planning
Do you need a visa?
Nope! Philippine passport holders travelling to Brazil for tourism can enter visa-free for 90 days. But if you're taking a flight that will have a layover in countries like the US or Europe, a transit visa is required.
In my case, I had a four-hour layover in Addis Ababa with Ethiopian Airlines and no transit visa was required. Upon arrival in Brazil, immigration just asked a few questions about my trip and did not require any document to validate my answers.
Getting a Yellow Fever Vaccine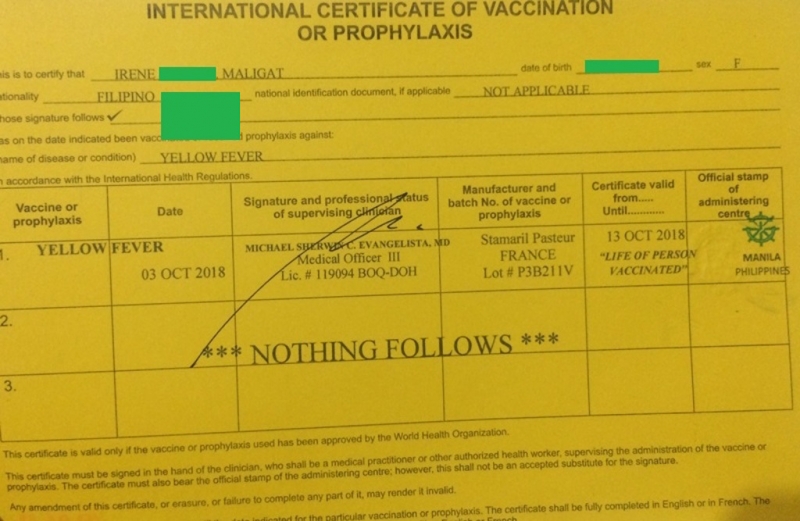 My flight was booked back in June 2018. At the time, there were articles or travel advisories being posted online about the spread of yellow fever all over Brazil even in beach areas such as Rio. So, the vaccine was definitely a must!
Getting one is really easy. You just visit the Bureau of Quarantine in your city, in my case Manila (there's also one in Cebu, Iloilo, and Davao), fill out a form, have a quick check-up by a doctor, be pricked by the vaccine, pay the fee, and you're done! Kudos to the Bureau of Quarantine in Manila! I spent more time in traffic going there than actually getting the vaccine. It took less than 10 minutes! That's the fastest government transaction I've ever had in my life!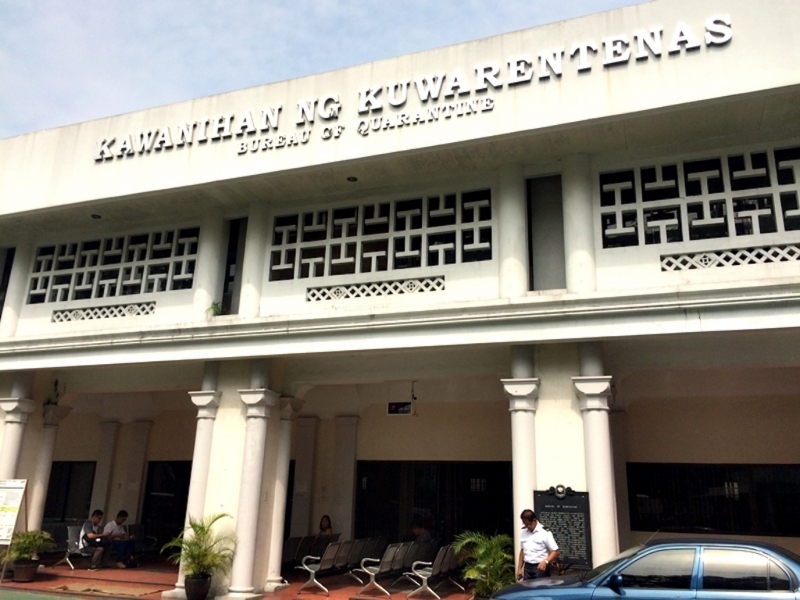 You might ask, "Do you really need one?" I talked to a friend who recently went on a Brazil trip and she told me she didn't get one. During my trip, the airline counters or immigration staff didn't ask for it. They didn't even inquire if I had it. But if you're visiting countries like South America and Africa where receiving the vaccine has been a requirement for quite some time, better be safe than sorry, right? Just get it.
In the Philippines, if it's your first time getting the vaccine, it will cost ₱1,500. But I read in an article from PS I'm On My Way that if you visit any hospital in Brazil, the vaccine is free.
Please note that you should get the Yellow Fever vaccine at least three weeks before your scheduled flight to Brazil. The leeway is for unexpected reactions with the vaccine. My flight was November and I visited the Bureau of Quarantine in October. I did have come and go headaches for a few days but all was well after that.
Travel itinerary
This was the schedule I followed during my stay in Brazil: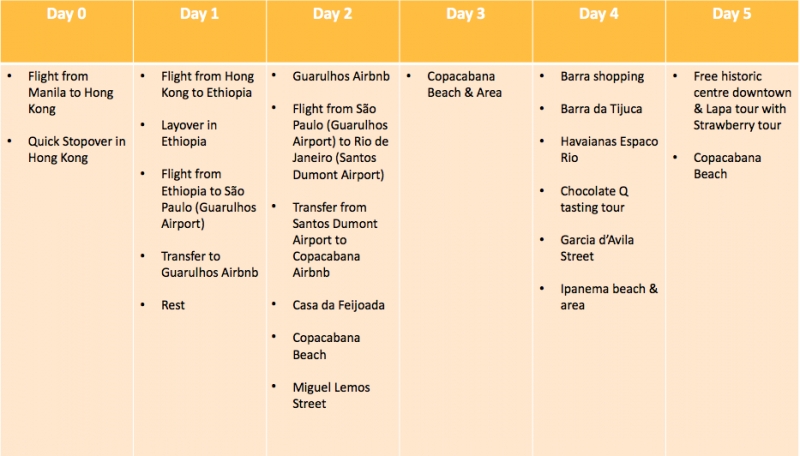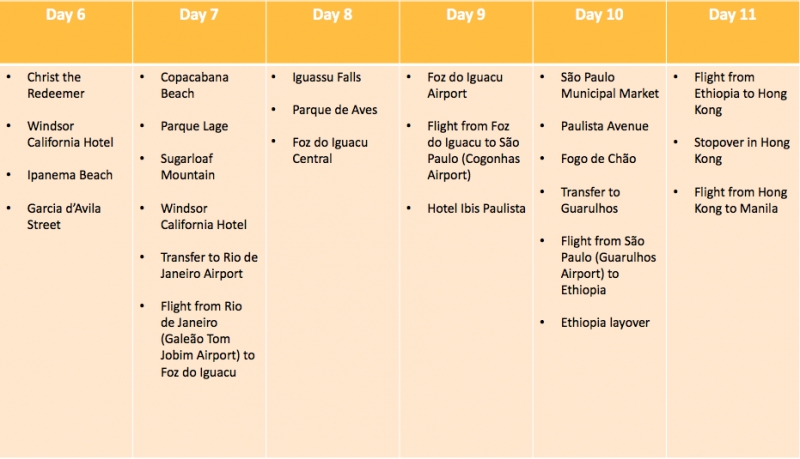 Since it was my first time in Brazil, all the destinations I included are considered as touristy. But I really wanted to see these sights. Based on travel articles and recommendations from other travellers and having personally experienced them, I would say this was a fruitful itinerary.
Important documents
During check-in, not even immigration, the airline staff asked for travel documents so make sure you have the following paperwork during your trip:
Roundtrip flight itinerary

Confirmed accommodations

Travel itinerary

Xerox and e-copies of your passport and other identification cards

Credit or debit cards – Please make sure that prior to your flight you have informed your bank of your trip details.

Yellow Fever Vaccine certificate
Time difference & jet lag
I wanted to include this because this really affected me, negatively at times. There is a huge time difference between the Philippines and Brazil. The Philippines is ahead by 11 hours. So if it's 6pm in Manila, it's just 7am in Brazil.
I arrived in São Paulo at 5pm. When I checked in at my AirBnb, I just showered, ate a snack, and fell asleep immediately but I woke up at 2am and never went back to sleep. I couldn't!
This happened during my first three days in Brazil. I would sleep around 6pm or 7pm and wake up around 1am. By 12nn Brazil time, I would feel groggy and snap out of it because I wanted to maximize my time as much as possible.
I was well adjusted around the 4th or 5th day but I still felt the need to doze off around late afternoon. It was actually much worse when I got home. It took two weeks for me to adjust to Manila time again. I would always sleep at around 6pm and wake up at 12am which made me feel tired all day while I was working.
Also read: 10 Things Every Traveller Should Do To Combat Jet Lag
Based on articles online, to combat jet lag, you must stay hydrated, exercise outside, don't drink coffee or sleeping pills, and be disciplined with the time you sleep. Before your trip, if you're going west, sleep later than normal, and if you're travelling east, try to sleep earlier.
Learn basic Portuguese
Three months before my trip, I tried to memorize one Portuguese (the main language in Brazil) word/phrase and its meaning per day. On weekends, I play five-minute English to Portuguese videos on YouTube to familiarize myself with the language. Brazil is similar to Japan wherein most locals do not understand or speak English. They do try to figure out some of the words I was saying but usually, in the end, most of them did not understand and just smiled. In restaurants or malls whenever I would buy something, clerks would usually call someone to speak with me. I feel like every store had an English speaking representative to communicate with tourists.
I really enjoyed learning basic Portuguese words and it was a rewarding experience being able to apply it locally. It felt thrilling when a Brazilian understood me and I perceived that they felt appreciated that I tried to learn their language. Portuguese is similar in some way to Spanish so it was nostalgic uttering words from Dora the Explorer which I watched for years when I was in elementary.
At times, it was also kind of easy to understand some words in Brazil because a few of them are similar to how Filipino words are pronounced. When I would pass by a store like Pao de Queijo, I would immediately infer that this store is selling cheese because of keso.
Here are just some useful phrases to remember:

Money exchange
Credit/debit cards are widely accepted in Brazil. For UBER, I just used the app via credit card. At the hotels, I used my debit cards.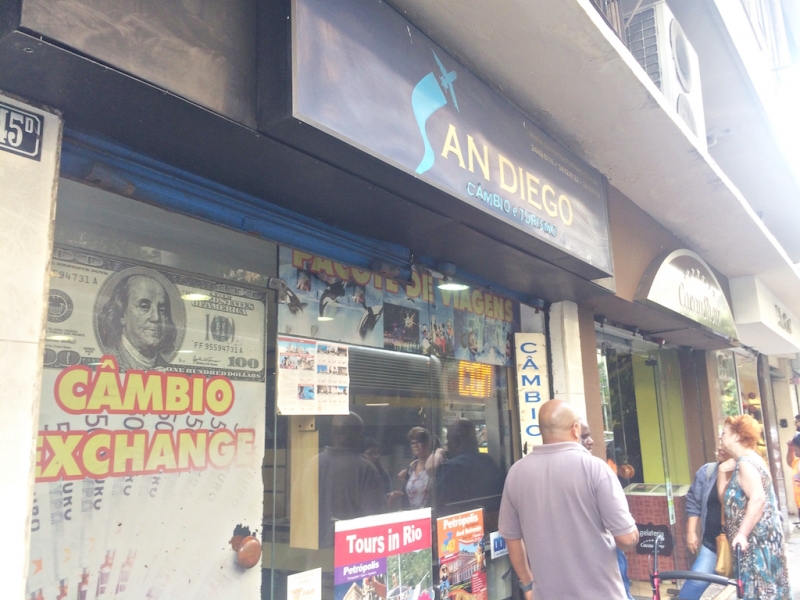 For cash, I exchanged USD at local cambios (currency exchange). Do not exchange at the airport! The rates are ridiculous! If you really need cash, just exchange US$30-$50 but not all of it. The rates are much better at exchange areas near tourist sites. In my case, I exchanged all my US dollars at San Diego Exchange & Tourism at AV Nossa Sra de Copacabana. The normal rate online was US$1 = BR3.8 but at the Guarulhos airport, it was US$1 = 2.7! At the San Diego cambio, the conversion was US$1 = BR 3.7.
Travelling to Brazil
As of February 2019, there are no direct flights from the Philippines to Brazil from any commercial airline. Flights will have at least one layover and will take one day and a half of travel. This includes flight time, departure & arrival procedures, layovers, stopovers, and waiting time at airports.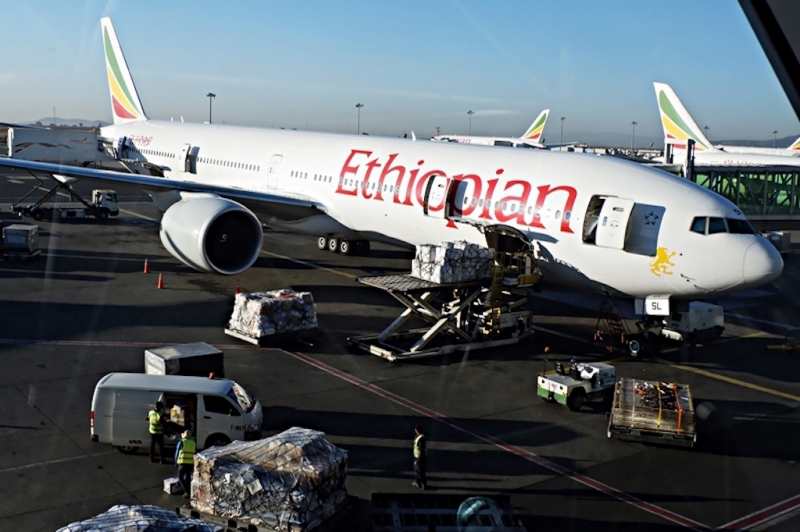 I flew to Brazil with Ethiopian Airlines (EA). The flight has a quick stopover in Hong Kong and a layover in Ethiopia.
If you try mock booking a flight to Brazil and filter out the most affordable option, Ethiopian Airlines, most of the time is the top choice. The average price for a roundtrip economy flight is ₱80,000+. But if you're lucky enough to come across a seat sale (especially special announcements from Secret Flying like the one dated on 3 January 2017! Search 'Secret Flying Manila Brazil' on Facebook!), you can book and fly to Brazil for only ₱26,000+. The sale fare hasn't popped up since but let's cross our fingers that it will soon. Let's follow the social media accounts of Ethiopian Airlines and Secret Flying so we're always aware of these once in a lifetime affordable flight rates.
The flight from Ethiopian Airlines was really long so if you're taking this flight, you have to prepare yourself. The Manila to Hong Kong leg was easy peasy as it only took an hour and a half. It was a night flight so sleeping wasn't a problem. The next flight, Hong Kong to Ethiopia, was long but fine because I was just asleep through most of it.
The layover in Ethiopia was interesting because the cold temperature and the sunrise view from the airport were relaxing to view. I kept busy as well because of the fast internet connection the airport freely provides to travellers.
The real test of patience occurred during the last leg to Brazil. It took another 12 hours from Ethiopia to São Paulo to reach my final destination. I couldn't sleep because I was mostly asleep during the 2nd leg. But when I tried to doze off, time felt turtle-paced. Ethiopian Airlines' in-flight entertainment of movies + TV series + games and two meals + unlimited drinks per long haul flight relieved the waiting time.
If you're looking for the most affordable flights to Brazil, Ethiopian Airlines is your best bet. If you're not into long flights, this might not be a convenient option for you. But if you enjoy flights and low rates, you should definitely check out flights from EA. 
Overall, what I'd really like to commend about the whole flight experience is how safe and incredibly smooth it was! There was no turbulence at all! In any of the flights! I know experts say that turbulence isn't dangerous but the fear is still there when you're being rattled in the sky. But for my whole flight journey with Ethiopian Airlines, it was the smoothest flight(s) I've ever been on!
Getting around Brazil
My Brazil trip only lasted for 10 days so it was quick. To fully maximize my time, I chose the most convenient modes of transportation. Brazil is a large country and the distance between provinces takes up time. Although long-haul and overnight buses were available, I did not prefer the inconvenience. I already had jet lag and I didn't want to be too tired to enjoy the rest of my stay.
Domestic flights
I visited two prominent cities (Rio de Janeiro and São Paulo) and a province (Foz do Iguacu) in Brazil. I flew to each one of them using local low-cost airlines.
From São Paulo (Guarulhos Airport) to Rio de Janeiro (Santos Dumont Airport), I flew with Azul Airlines. I was just transiting through São Paulo as the first part of my trip was Rio attractions. I stayed near Guarulhos Airport and flew early the next day at the same airport to Rio's in-city airport. The flight took less than an hour. After all the flights I've been on for the past few days, the Azul flight felt like a breeze. I chose to land at Santos Dumont airport because of the view upon arrival. It was a stunning way for Brazil to welcome me in Rio. As we were descending, I got breathtaking glimpses of Rio's iconic monuments, Sugarloaf and Christ the Redeemer. If you're taking a flight to Santos Dumont, make sure you're at a window seat on the right side of the aircraft!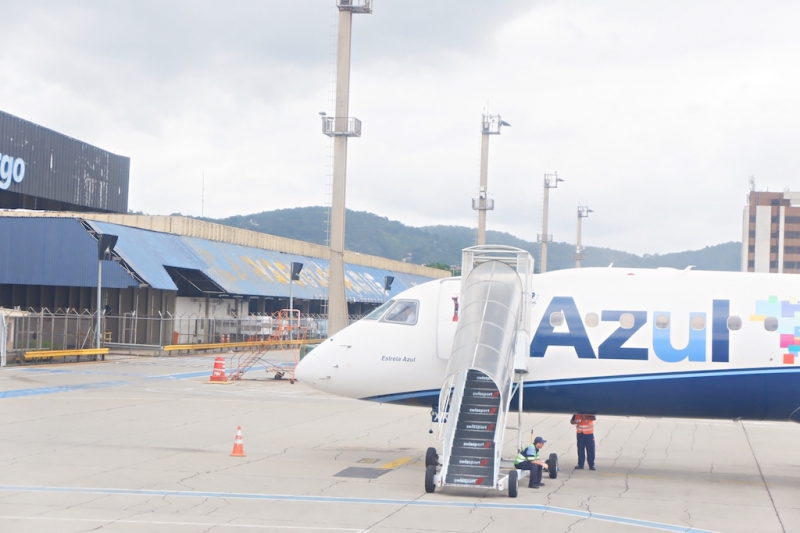 From Rio de Janeiro (Galeão Tom Jobim Airport) to Foz do Iguacu, I booked a flight with GOL. I took the latest flight so I could spend one last full day in Rio. The Rio airport on this flight was outside the city centre. Santos Dumont could be compared to NAIA while Galeão Tom Jobim was Brazil's Clark. This flight took around an hour and a half.
From Foz do Iguacu to São Paulo (Cogonhas Airport), I flew with LATAM. I was supposed to fly out early in the morning but because of flight delays the day before due to weather, my departure for that day was pushed to night time. I wasted my day at the airport instead of going to some São Paulo sites I planned for my itinerary.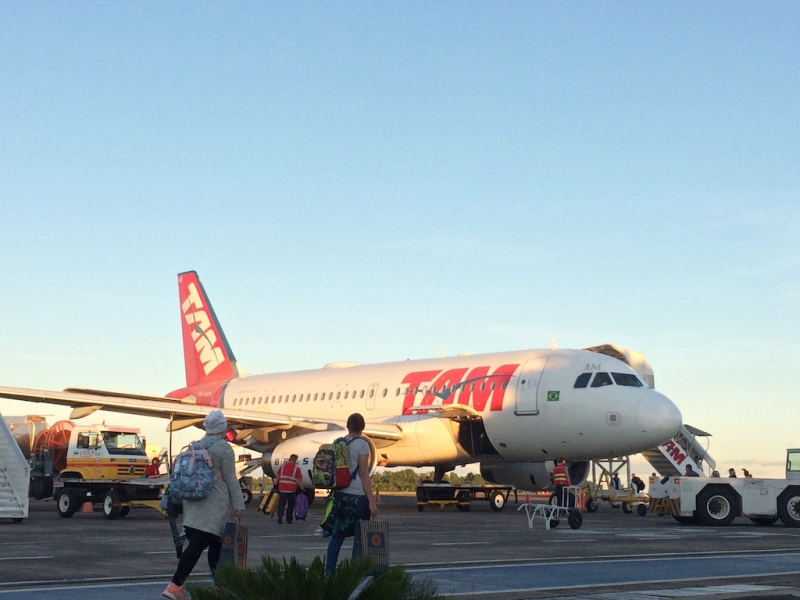 Azul and GOL airlines served free snacks while LATAM did not. All flights were very convenient. If I would compare these three airlines to local Philippine airlines, I would confirm similarities between Azul and Airswift, GOL and Cebu Pacific or Air Asia, and LATAM and Skyjet.
Each flight route costs around ₱5,000 per way but if you chance upon a seat sale, you can book a flight for around ₱2,500 only. These local flights have an English version of their websites so it's easy to book. If I were to choose just one airline to fly all these routes, I really liked the flight experience with Azul. The seats were comfortable and the free food was delightful.
UBER
Even though there were trains and buses available in Rio and São Paulo, I chose to use UBER for convenience and safety. Reading a lot of travel articles on Brazil made me worry about my security. A traveller I met in Hanoi told me that this was the most convenient way.
In Foz do Iguacu, I only used UBER once for the airport. It was a sleepy yet touristy town because of the falls. Most articles I've read confirm that it was safe so I just took the local buses. It was the safest I felt when I was in Brazil.
UBER fares in Brazil are much cheaper than the GRAB fares in Manila.
At the airports, there are designated areas where you can book and be picked up by the UBER driver. Just ask the information centre and they will direct you to the area. There was only one time when a surge happened during a trip and it was when there was serious flooding in Rio.
Weather
I was in Brazil from last week of November to first week of December. This period is considered the summer months in Brazil and a very popular season as those from the north like Canada or US are travelling south because of winter.
During my stay, it was unfortunate that I only had two full days of clear sun in Rio and the rest was rainy and cloudy weather. One of those days even had strong rains. There was no typhoon alert but my UBER  passed through serious flooding to one of the sites I visited. I regretted it and wished I just stayed home or visited sites that didn't require being outside.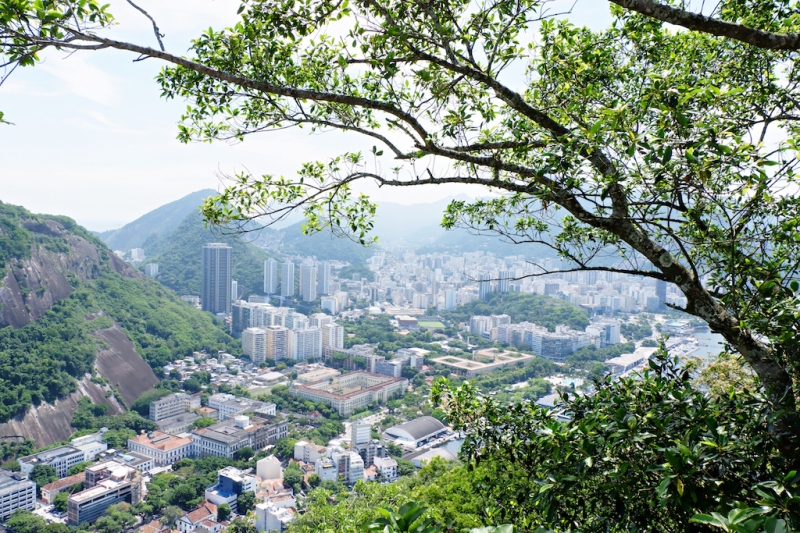 The weather in Brazil is similar to the Philippines – sunshine and rain so it wasn't hard to pack for it. Foz do Iguacu and São Paulo was a little colder than Rio. São Paulo's weather can be comparable to Baguio because they're elevated cities.
One thing to take note of is that if you're taking the flight from Ethiopian Airlines, make sure that you wear warm clothes or pack a jacket because it is very cold if you travel within this period. On my flight back to Manila, I was wearing a dress and the weather was -7. It was freezing!
Where to stay
Brazil has various options in accommodation whether budget, mid-range, or luxury. I booked my accommodations through Airbnb and Agoda.
Airbnb
When I arrived in São Paolo, I was only transiting as my first stop was really Rio. I was supposed to book a hotel at the airport but the reviews are negative so I decided to look for an Airbnb near the area. I found the simple home of Daniel & Daniela which is around 30 minutes or less from the airport depending on the traffic. I chose them because of their accommodation's good reviews and that they offered roundtrip airport transfers too. The one night stay cost me ₱600 + ₱700 (BR50) for the roundtrip airport transfer.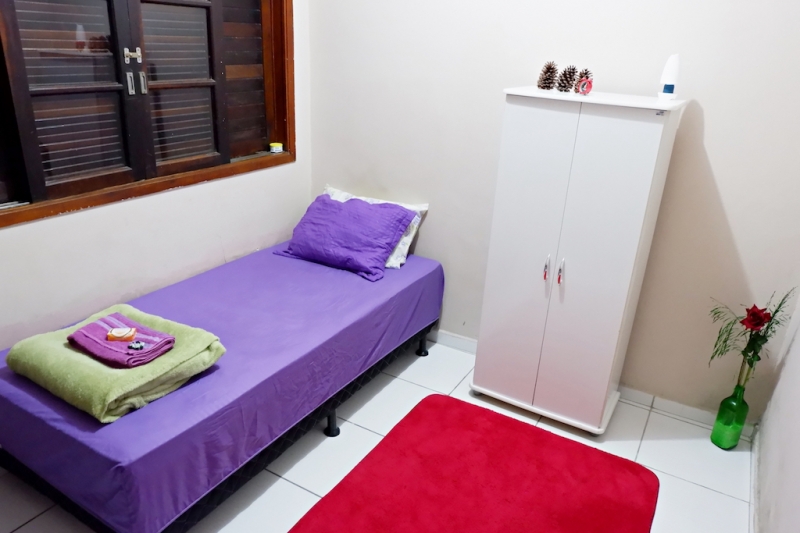 When the plane landed at Guarulhos, I immediately sent a WhatsApp message to Daniel & Daniela that I was at the airport already. When I was outside the arrival area, I found Daniel's car and off we went to their home. It was traffic at the time because it was the rush hour so it took longer than 30 minutes. The Airbnb is situated on a hilly subdivision. Daniel was quick to inform me of places I could explore around the area but I told him that I would just be resting because of the recently concluded long-haul flight. Their home is simple but VERY clean. There was no dust in sight, really! It is cosy and feels like a home away from home. They provide little extras like breakfast (breads and spreads), a clean towel, mint candies, and soap.
Since it's near the airport, you do hear faint sounds of the aeroplanes' take-off or arrival but not really a bother, only once or twice during the night. The next day, I got to meet Daniela and they prepared a simple breakfast of bread, jams, and sweets. I really loved talking to Daniel & Daniela during my stay. We talked about travel and Brazil. They also provided tips that would be useful during my stay.
If you're landing in Guarulhos airport and looking for a place to sleep and rejuvenate for the night, definitely check out Daniela & Daniel's place. You can email them at [email protected].
I feel like I was really lucky in booking Airbnbs in Brazil because I found the ultimate GEM in RIO! I wanted to stay at a beachfront accommodation in Rio so that Copacabana was just a few steps away but all of the good ones would cost around $150 or more per night and that was out of my budget since I was staying in Rio for five nights.
That's when I found Monica's Airbnb in RIO! If you're looking for a place to stay in RIO, don't think, just book! Book Monica's Airbnb! It's a condominium unit situated on Miguel Lemos street located just three blocks away from Copacabana beach! It has a very friendly doorman and surrounded by a lot of establishments that you'll need for your stay – grocery, restaurant, pharmacy, beach, convenience store, subway, etc.
You get so much more than the value that you actually pay. The apartment is cosy, homey, and VERY CLEAN. There are so many extras like new stock of food in the ref (bottled water, orange juice, cream cheese, and a loaf of bread), food in the cupboards (coffee, sugar, and condiments), cleaning supplies for the bathroom, floors, and house, bidet and toiletries in the bathroom, and MANY MORE!
The main bed and sofa bed are very comfortable. There are international adapters provided for all your charging needs. You can cook your own food and store food inside the ref. There's also a breakfast bar where you can easily eat. All basic utensils are provided. Appliances included in the apartment are coffee machine, toaster, microwave, oven, stove, laundry machine, sweepers, etc. It's like if I need something, 95% of the time, Monica's Airbnb has it! The amenities you get are so much more than what you usually receive when you stay at high priced hotels. I'm really glad and grateful that I booked this Airbnb.
On my last day in Rio, I booked a beachfront hotel but I really wish I stayed one more night at Monica's.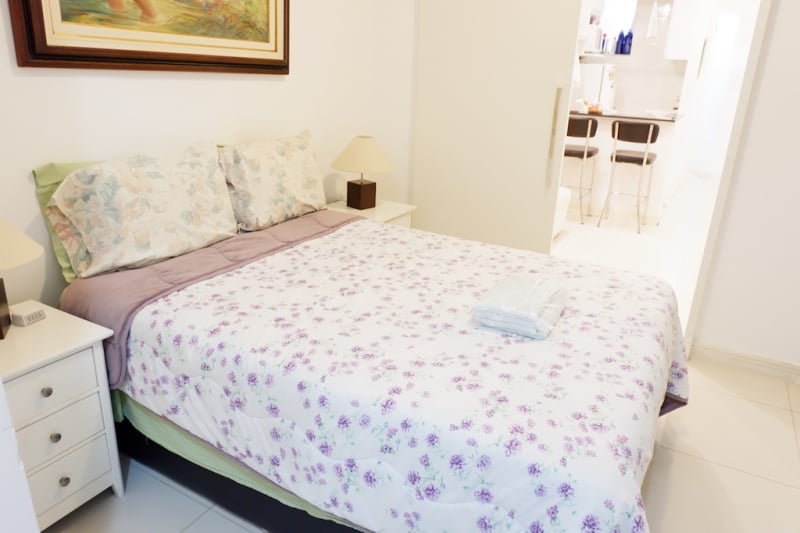 Monica's amazing too! From booking until my departure, she helps out with EVERYTHING — travel tips, Airbnb inquiries, and so much more! Her guidance really eased my stay in Rio. I didn't feel unsafe at all. She's the best! Her apartment is the best.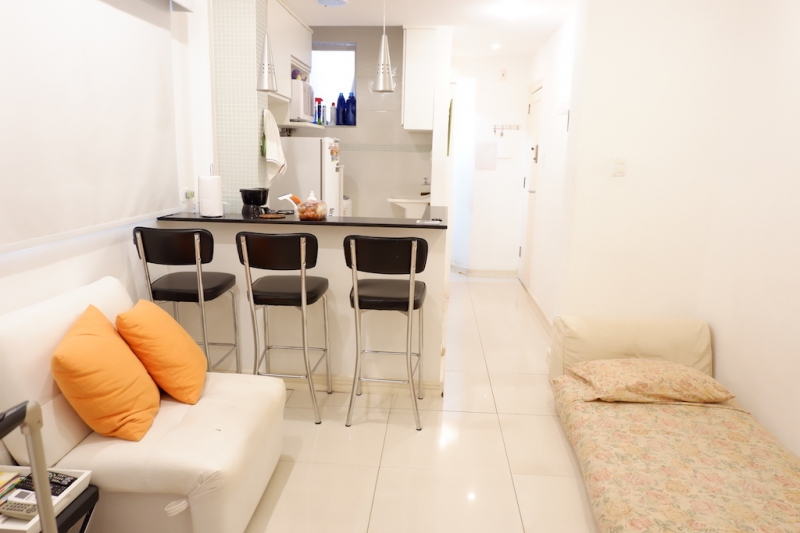 If you're travelling to Rio, Monica's place is a MUST-STAY! A one night stay at this place is ₱2,200 and can accommodate a maximum of three guests. For what you're getting, this is very affordable! I've never had a stay that exceeded my expectations like this. My mom's chef friend told her that if you find an expensive food that is good, then that's expected. But if you find something cheap but the best, that's a treasure. And that's what I feel Monica's service is, a TREASURE! If there were an Airbnb Awards night, I would definitely nominate Monica's and I'm very sure that she would win! You can email her at [email protected].
Hostels/hotels
During my last night in Rio, I booked a beachfront hotel in Copacabana just for the experience. But if I'd known that Monica's AIRBNB would be perfect, I would have stayed at her Airbnb. I booked a stay at the Windsor California Hotel. The sea view room was priced at ₱8,000. The hotel had a good location and the view of Copacabana was majestic. To get to the shores, it would only take a minute walk.
The check-in was a bit long as I waited for around half an hour before it was my turn but there was a seating lounge and they offered welcome drinks. When I got to the room, it was nice and clean. It resembled rooms at Marco Polo Ortigas. The view was breathtaking too! After settling in, I went up to the pool area. With its infinity pool design mirroring the beach's ocean view, it was a relaxing and luxurious place to stay. But it was a bit packed than I expected it to be. The hotel was fully booked so almost all the pool chairs were taken. Overall, it was a good stay. I loved the sea view but Monica's Airbnb was definitely a better and more worth it stay.
In Foz do Iguacu, I stayed at CLH Suites, a popular hostel/hotel chain around Brazil. I stayed there for two nights and cost me ₱1,500 per night for a private room. They offer dorm rooms but I preferred to have my own room because of all my stuff. Plus I'd be arriving late from Rio so I didn't want to disturb anyone who was already sleeping in the room. My room was clean but it had a weird smell at times, kind of medicinal and funky. The hotel had an in-house tour agency (Pratik Tourism) that offers a lot of different tours in Foz do Iguacu. I did a DIY so I didn't need to book any tour from them. The local bus station is a few blocks away from CHL Suites so it was easy to get to the tourist sites.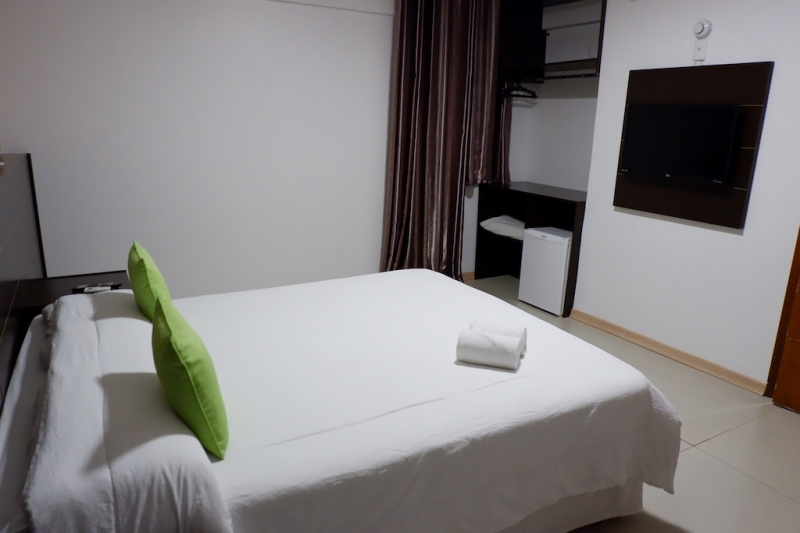 In São Paulo, I booked two night at Ibis Hotel Paulista. It was rated at ₱3,950 per night. I chose this hotel because of the good reviews and its convenient location on Paulista Avenue. I easily had access to nearby shops and UBER drivers know the hotel very well. The hotel was very clean and the bed was pretty comfortable. It was a nice stay. The lobby also had a hostel vibe to it but pretty modern and definitely more upscale than the norm.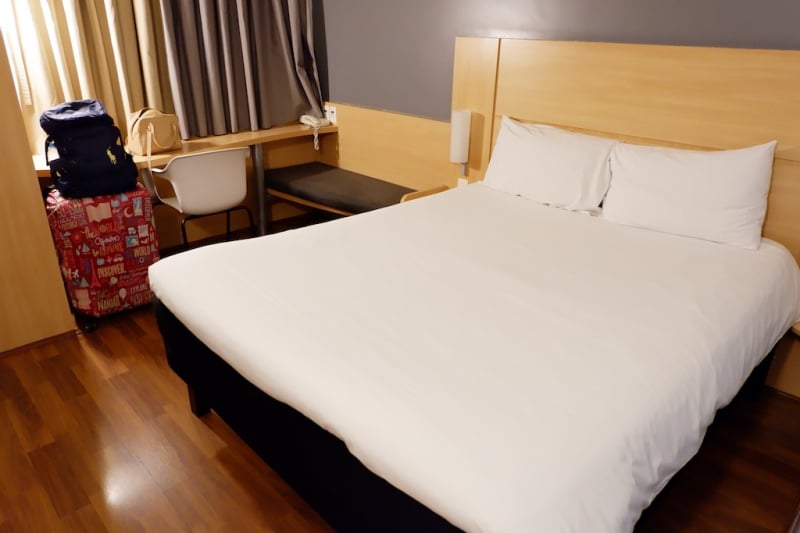 What & where to eat
In the Philippines, I had never encountered anyone going for Brazilian food. It's always been Japanese, Chinese, Filipino, Fast Food, or American varieties. It's a once in a blue moon kind of thing. In my case, I only remember eating at a Brazilian restaurant once when I was in High School and I only assumed it was Brazilian because of its name, Brazil! Brazil!
After my trip to Brazil, I'm assuming that Brazilian food is a cross between American and Mexican. This is just based on all the kinds of food I've tried in my life. Surprisingly, Brazilian food suited my palate.
Here are some of the local delicacies that I had the chance to try: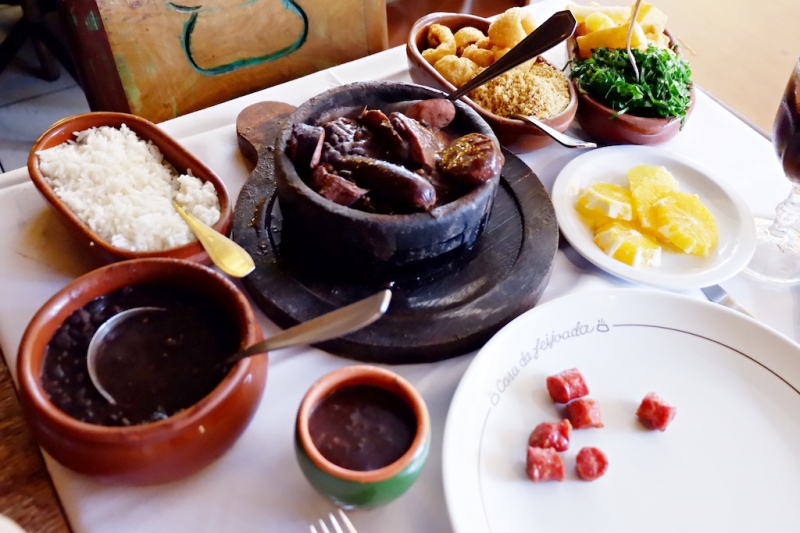 Feijoada

– I refer to this as the

Sinigang of Brazil

. There's no question that

Sinigang

is one of the favourites of Filipinos. After reading so many What to Eat articles, all of them had

Feijoada

on their list. Credited as Brazil's national dish, Feijoada is a set meal consisting of a stew of beans with different kinds of meat, rice, sautéed vegetables, crushed Chicharon, and a kind of sweet potato. I had this at one of the most popular Feijoada places in Ipanema,

Casa da Feijoada

. My meal was served with orange slices to break down the meat and three kinds of compotes (jam) for dessert.
Since I was on my own, the set meal was a lot to take in. At the establishment, most of the customers were families enjoying their Feijoada feast. It was scrumptious! It was kind of like eating pork and beans with more meat and a much flavourful and indulgent sauce base. The rice and crushed Chicharon was definitely rich and heavy. When dessert came, I was surprised to find three kinds of jam and a spoon served on a small plate. I was waiting for some kind of pastry to be served but it never came. I observed people around me and they were eating it like ice cream. I felt like a kid eating a spoon of peanut butter from a bottle. It was really fun!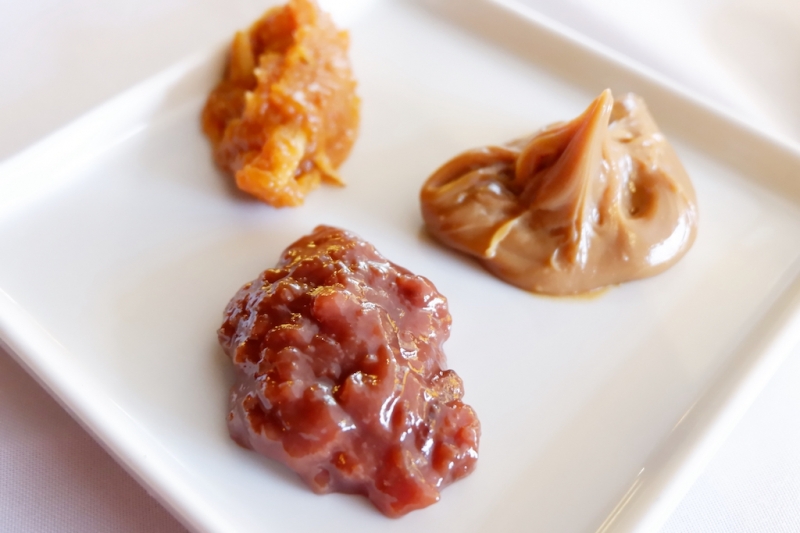 This meal was really heavy so make sure you don't eat anything prior to your visit! I couldn't finish it! But it's definitely a must try Brazilian dish! Regardless of the number of people, the same set meal will be served and the rate is ₱1,500 per person.
Churrascaria –

Churrascaria is a place where meat is served BBQ style. Most Churrascarias serve buffet dishes with different meats served at your table, piece by piece, depending on how many you want. Sides like appetizers, pasta and breads, are served buffet style or ordered ala Carte.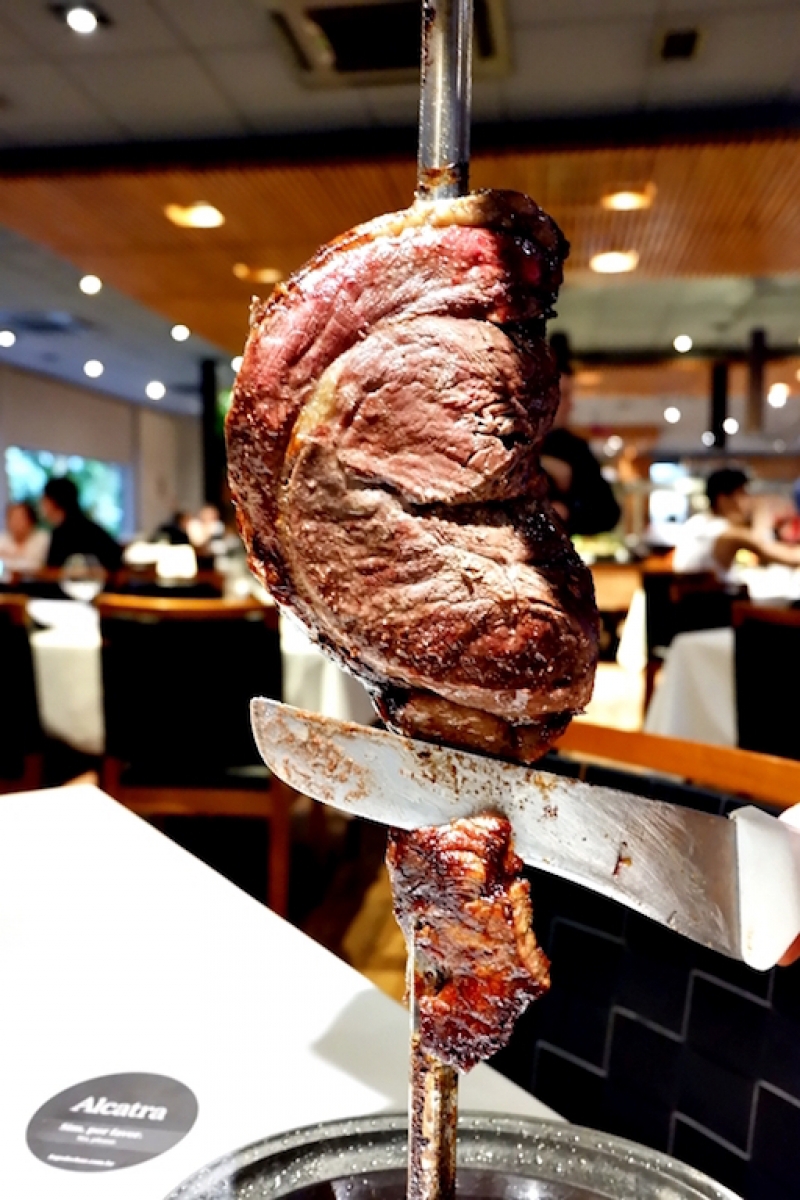 When I was in São Paulo, I tried Churrascaria at the Fogo de Chão branch near Paulista Avenue. Another indulging Brazilian meal, I had the chance to try unlimited Alcatra (Top Sirloin) meat and buffet side dishes. It's similar to eating at a steakhouse serving a lot of sides. The meat was good and the side dishes were tasty. The buffet meal costs ₱1,670.
Brazilian snacks –

It's not hard finding affordable and good food in Brazil because there's a lot of street food vendors and stalls to buy from. If you're in the Copacabana Beach area, there are a lot of vendors selling iced Acai, pastels or empanadas (crust pies with meat fillings), Pao de Queijo (cheese bread), Brigadeiros (chocolate truffles), Coxinha (meat covered in fried potato or dough) and many more. At grocery stores, I also had the chance to try Brazilian chips like Torcidas and Fandangos. They are all so good!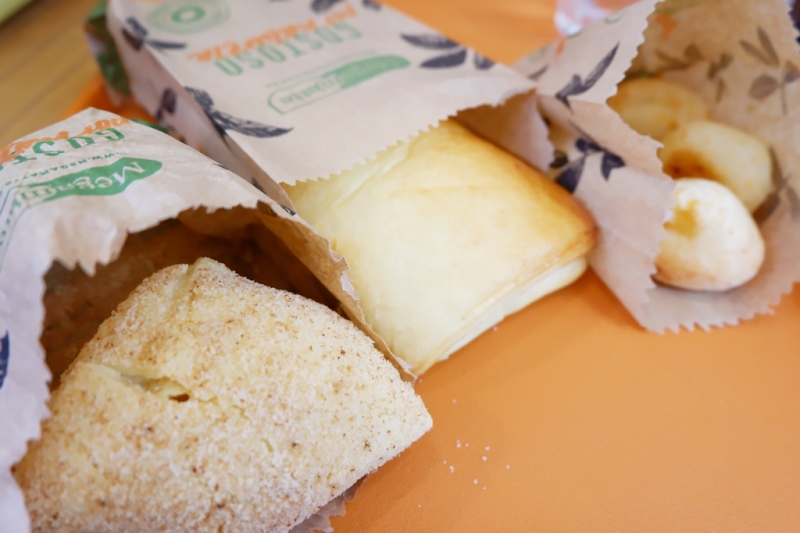 You can find almost all of these at malls, convenience stores, street food stalls, and markets. I especially like the versions of the Pastels, Pao de Queijo, Coxinha, and Brigadeiro at the Barra Shopping food court and Confeitaria Colombo.
Chocolate Q –

If you're looking for amazing desserts in Rio, you should check out Chocolate Q.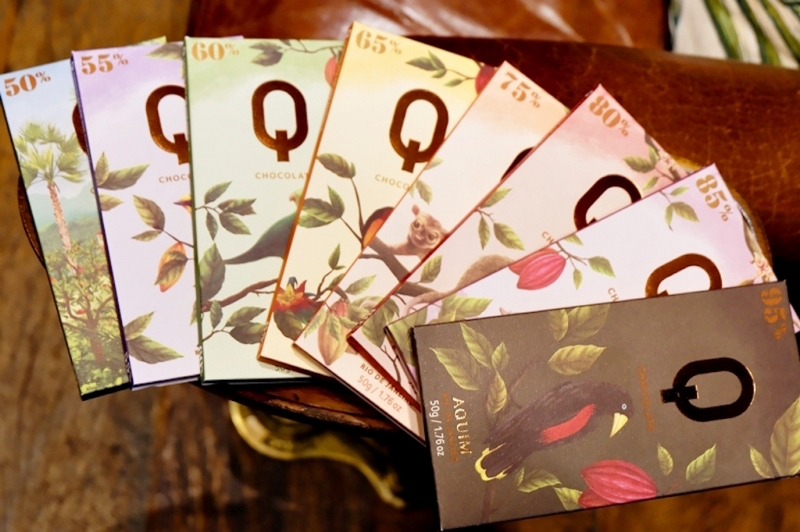 This shop serves the purest and finest chocolate in Brazil and the best brownies I've ever tasted in my life! It's so rich, creamy, and indulgent. They also host a chocolate tasting tour if you want to take a break from the touristy sites in Rio.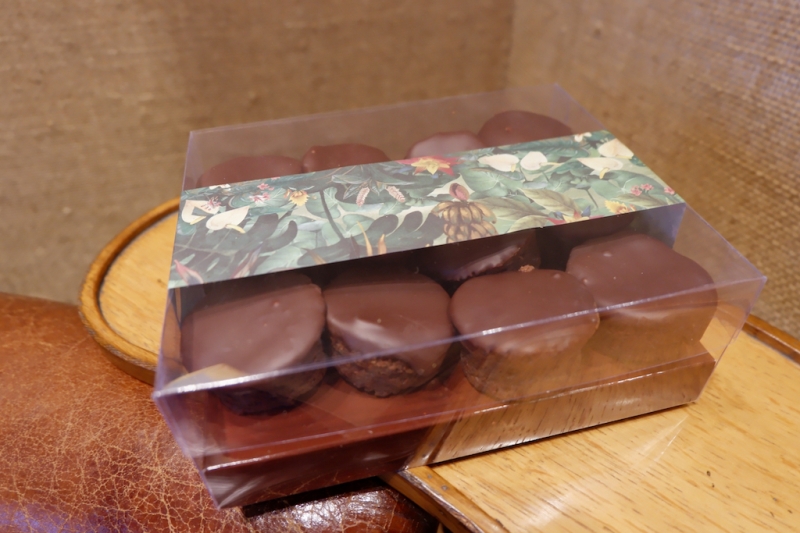 Food market –

I had the chance to visit São Paulo's municipal market. If you're a foodie, this place is a must visit! It's a cross between a wet market, deli store, food court, and mall all in one! Most of the stalls are dedicated to selling fruits, nuts, deli, cheese, seafood, and very popular Mortadella sandwiches. The atmosphere felt unsafe at times especially at the loading areas where what looks like gangs seem to be clustering, but there were guards that helped out tourists at other areas.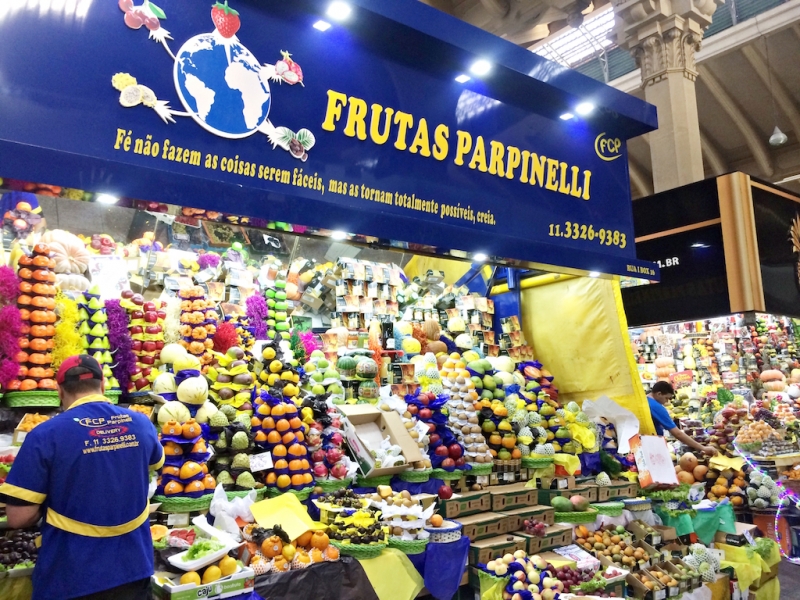 I got to try a Mortadella sandwich, chocolate covered strawberries on a stick, and a Romeo and Juliet dessert pastel.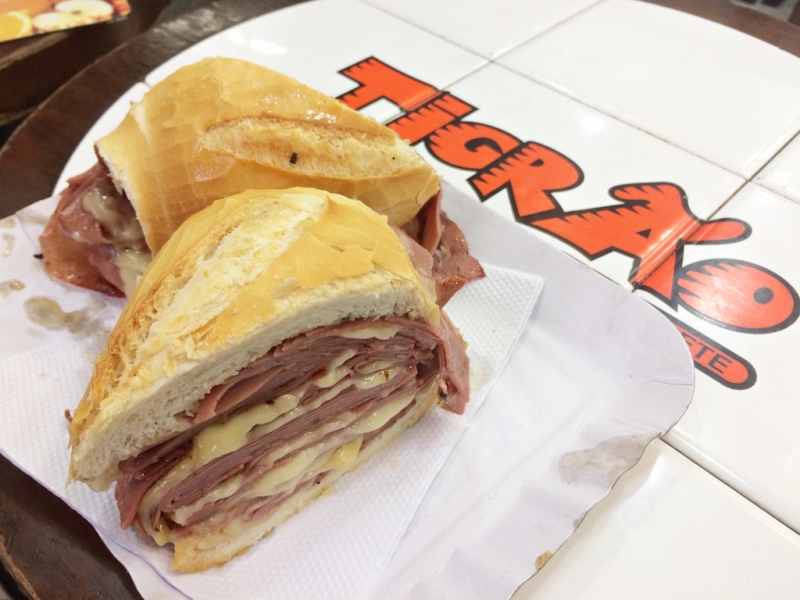 If I wasn't so full, I would have definitely tried the other items that were being sold at the market. There were a lot of stalls selling Brazilian snacks like Coxinha. The first floor hosts the stalls and delis, and the second floor is filled mostly by restaurants and food court-like establishments.
Tourist destinations
Brazil is a large country and 10 days is definitely not enough to experience all of its wonders. Prior to my trip, I had to prioritise the places I wanted to visit more and only choose a few. I didn't want to compress a lot of places in one day as I may not get to appreciate and enjoy a jam-packed itinerary. Based on research, there were already so many to choose from. When I joined a walking group tour, I found out that there are so many more beautiful sites to visit which is why this Brazil trip won't be my first and last.
Here are the destinations I had the opportunity to experience in Brazil: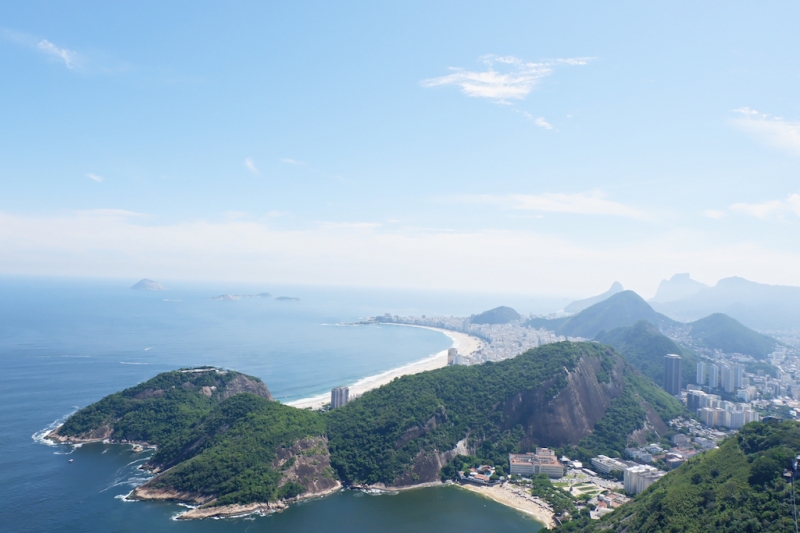 Rio de Janeiro
Copacabana Beach –

Copacabana is gold! I mean literally! The golden-hued sands of Copacabana were a sight to behold! I cried happy tears when I had the chance to sunbathe and take in the beautiful beach with an amazing sun out and about. I didn't just know Copacabana because of the song, I've also come to sit on it, walk on it, and swim by its shore. 

Its fine golden sand is comparable to Boracay's white sand while the strong waves of the beach are similar to the one in Pagudpud beach in Ilocos. Two out of five days in Rio, the weather was amazing which made Copacabana so breathtaking! The road is far from the shore so if you're going midday, the sand can be scorching hot so make sure you pass by the wet sand pathways created by beach hoses. There are also restaurants and food stalls by the road where you can buy food and cold drinks. There are also sellers of Brazilian souvenirs walking by the shores. Copacabana has the most beautiful sunrise too so wake up early for this stunning sight!
Ipanema Beach –

It was unfortunate that I couldn't experience Ipanema in its prime with the heat of the sun because I visited it twice and I was met with spots of rain and cloudy skies. Although not the weather I preferred, it was still beautiful.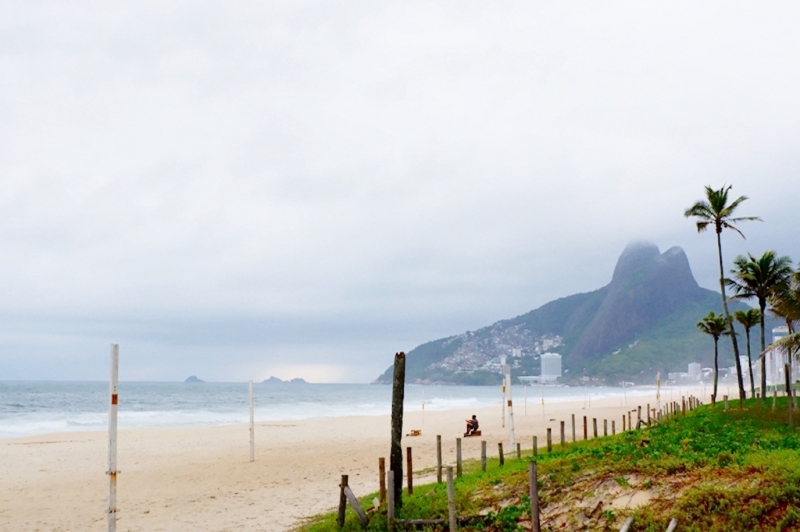 Ipanema is known for its sunset but when I went, it was really cloudy. But I was grateful to have seen glimpses of orange hues through those clouds. Ipanema is less bustling than Copacabana. It was also nice to walk by its beach road.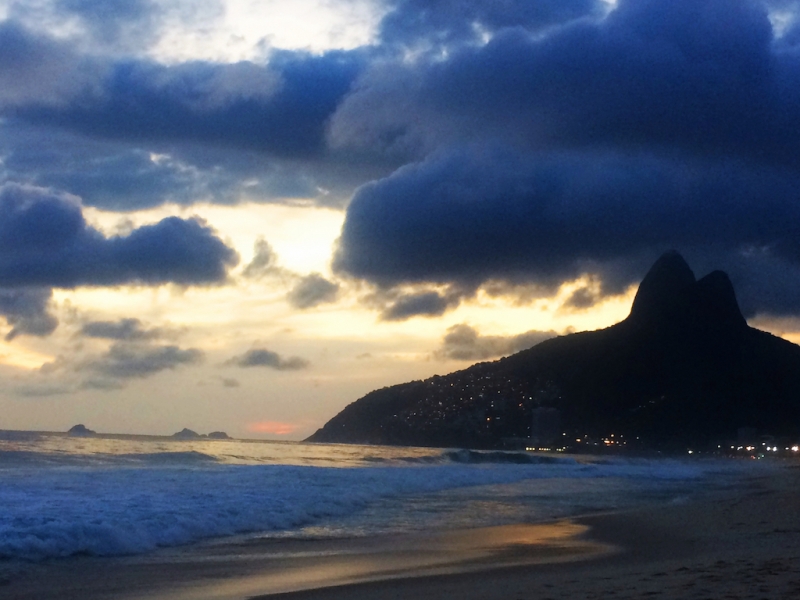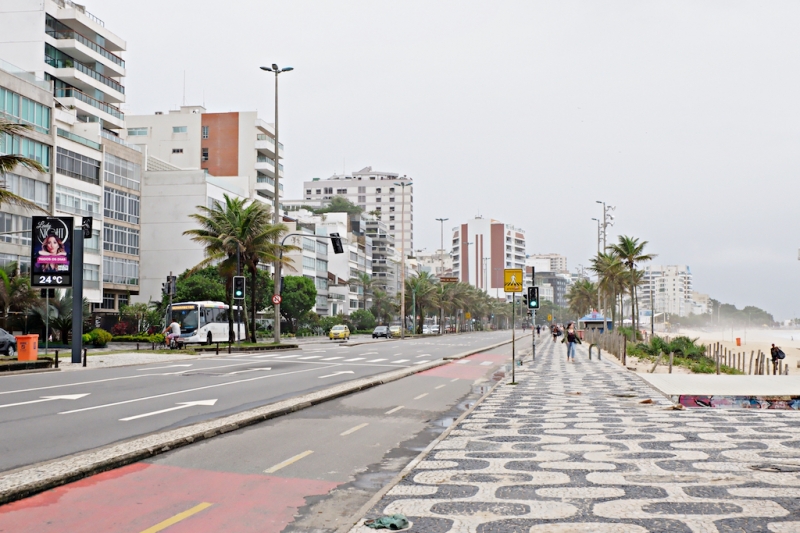 Walking from Ipanema Beach (Garcia d'Avila Street) to Copacabana Beach (Miguel Lemos Street) takes around 15 minutes. It was a relaxing walk in the afternoon.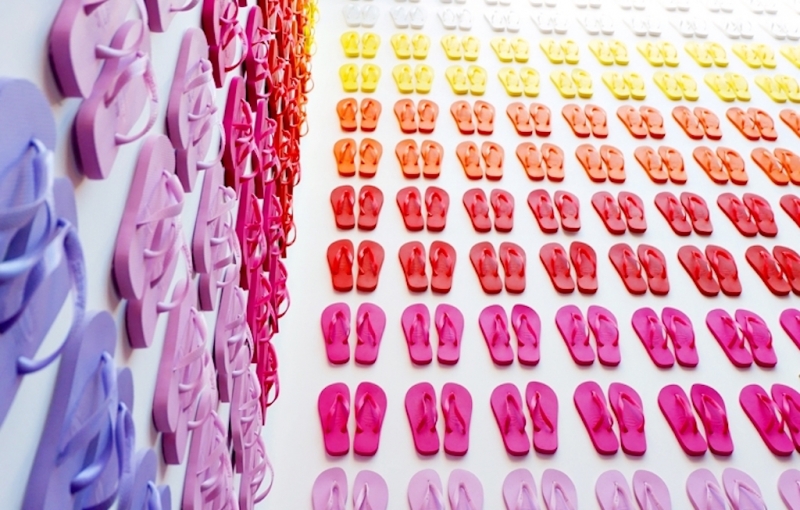 At Garcia d'Avila street, I also visited the newest concept store of Havaianas in Rio, Espaco Havaianas. The cheapest pair I bought was ₱380. The interior walls were filled with different coloured Havaianas pair. It was definitely an Instagram-worthy place!
Barra da Tijuca/Barra Shopping

– I wanted to spend one day at Barra da Tijuca beach but the date I allotted for it had a strong typhoon that caused serious flooding. I was actually on my way to the beach when the flooding hit. It took me and the UBER driver an hour to get there.
Since the rain was strong, I just explored Barra Shopping, one of the most popular malls in Rio. I browsed through Sephora, Lindt, and the food court.
Christ the Redeemer

– When in Rio, a visit to the Christ the Redeemer is a must. During my planned day to the National monument, the forecast was sunny. But when I got to the top, it was cloudy. There was a hoard of tourists idly waiting for the clouds to dissipate.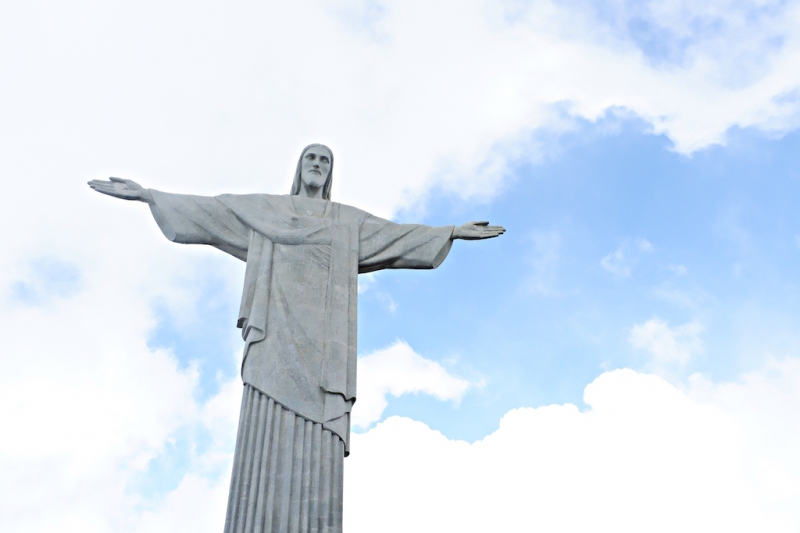 It was actually amusing because when the clouds disappeared for a few minutes, everyone was full of energy taking pictures, mimicking the statue's post, and simply marvelling at the icon. I was one of them.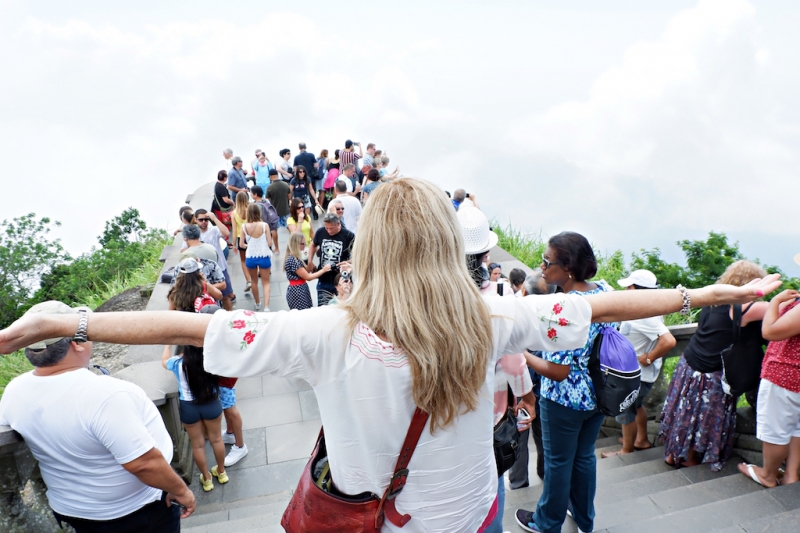 I was there for an hour and the statue was in view every 10 minutes. What was unfortunate was the view of Rio city. I only saw momentary views but the clouds still prevailed over it so I didn't get to see a clear as day scenery of the city and its beaches.
The route I took to Christ the Redeemer was through Paineiras. It's the van route operating to the national park. I bought my ticket online a few days before and showed up at the ticketing booth before opening. I just showed my reserved online ticket and the clerk gave me a physical ticket. I presented this to the driver of the vans stationed at the parking area. The one-way transfer took around an hour. It felt like a ride through Kenon road to Baguio. There were a lot of zigzag roads which I didn't expect. I should have drunk Bonamine because I got dizzy after the ride.
I bought my ticket here and it cost me ₱960. This includes the roundtrip van transfer and entrance to Corcovado.
Downtown Rio & Lapa

– I joined a free walking tour by Strawberry tours to explore Rio's historical centre. It was a learning experience because the guide was very informative. She was also accommodating with our group's questions. We got to see mesmerizing churches like the Metropolitan Cathedral of Saint Sebastian, we ate snacks at the classical Confeitaria Colombo, marvelled at Municipal Theatres, and climbed the most photographed stairs in Rio, the Selaron Steps.
The tour was fun and really safe. The tour is free but you can donate any amount at the end of the tour. To join the tour, you have to reserve a slot here. 
Sugarloaf –

On a very clear, sunny, and perfect last day in Rio, I had the chance to experience the Sugarloaf cable car and mountain.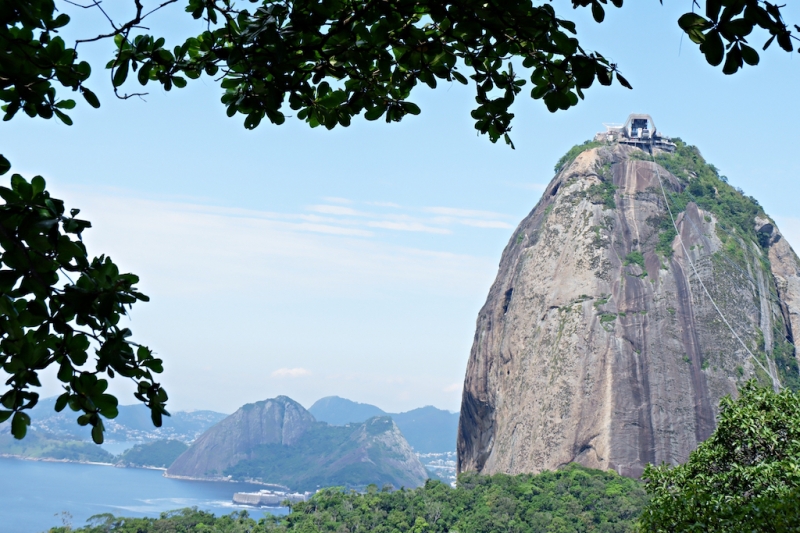 At this site, I got to see breathtaking sites of Copacabana, Ipanema, Rio City, and Christ the Redeemer from a distance. This was my favourite sight!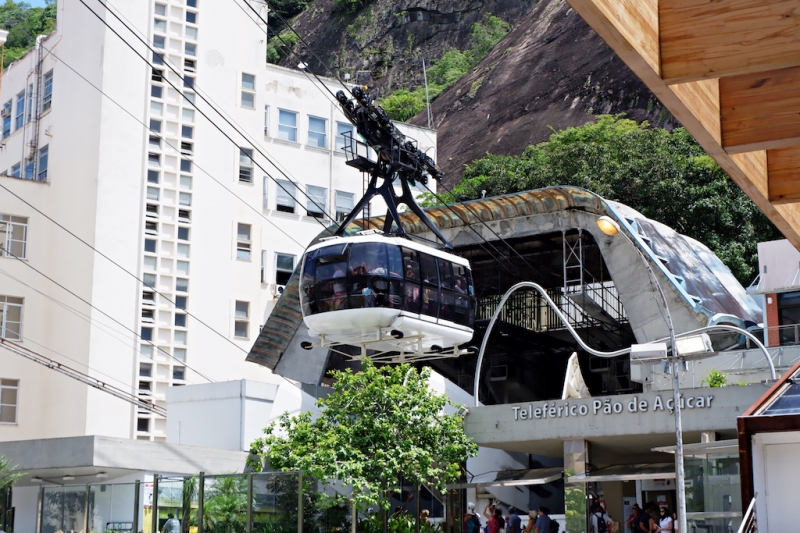 You do not need to reserve tickets beforehand. When I got there, I just bought a ticket from one of the e-kiosks and fell in line for the cable car. It operates every 5-10 minutes so the wait was quick. The roundtrip cable car costs ₱750. You'll actually ride one cable car to the first hill and another one to the main Sugarloaf mountain.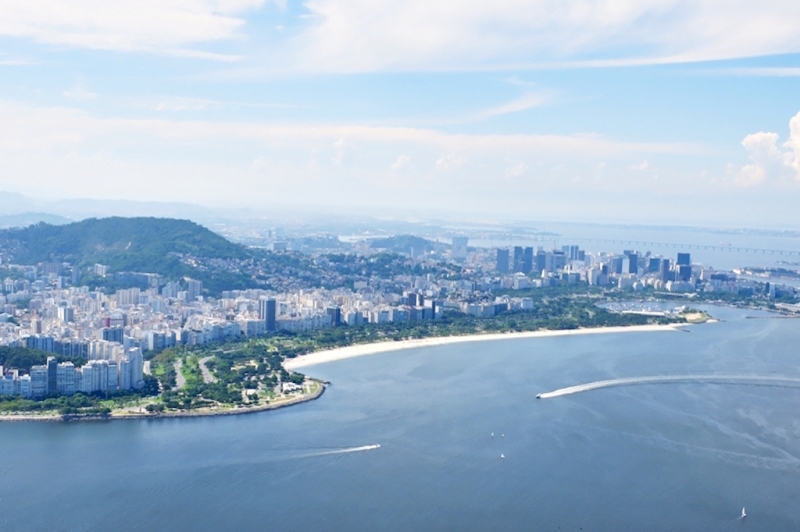 There are restaurants, shops, and bathrooms at the top. There are also benches wherein you can relax. It was a heavenly sight. I'll definitely go back to again!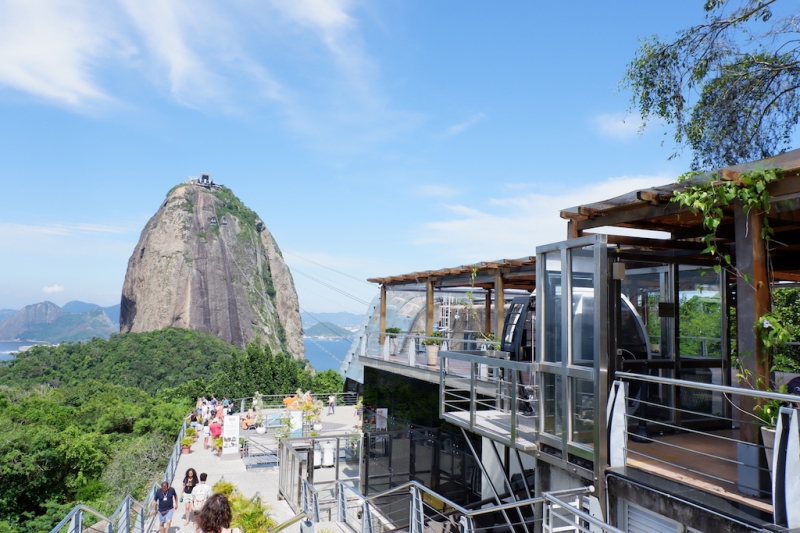 Parque Lage

– I visited Parque Lage to have snacks at Café du Lage. The architectural structure is reminiscent of a scene from TV series like Rome or Game of Thrones where ladies would bathe with their superiors.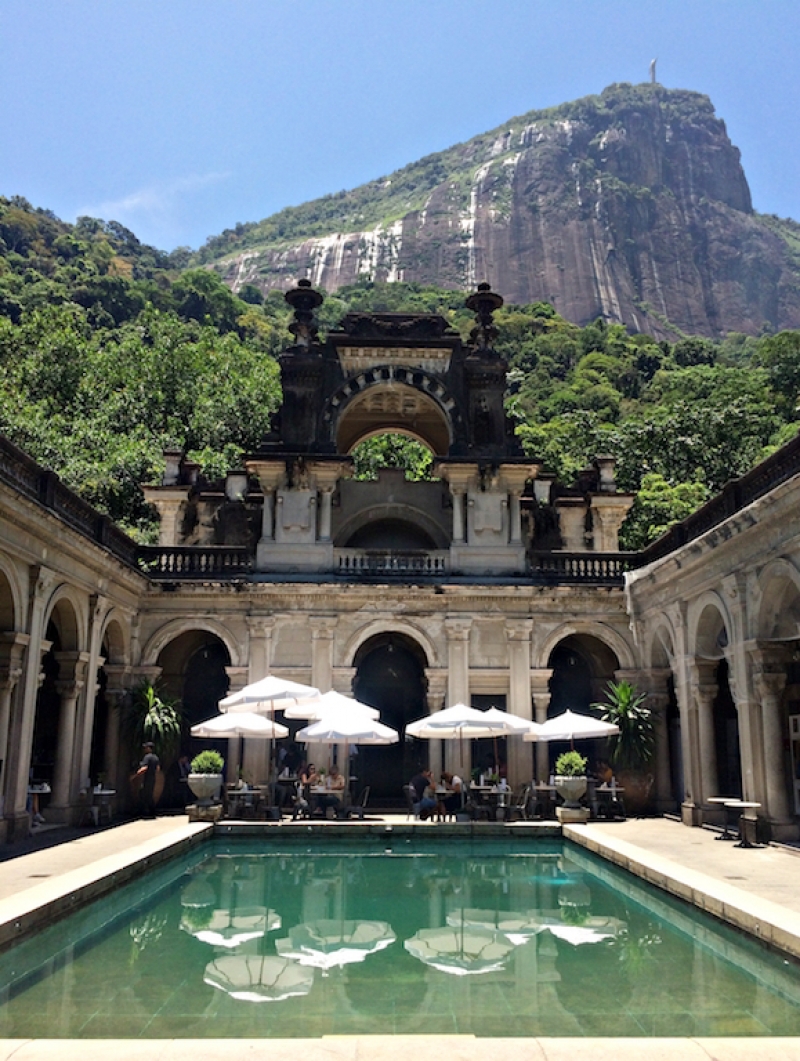 When I entered, I felt like I was sent back in time. I wondered what could have happened on a certain spot I was standing in. If you look up, you'll see a tiny version of the Christ the Redeemer.
I'm not sure why this is a rule but I wasn't allowed to use my mirrorless camera on the premises. The staff said only phones were allowed to capture photos. There is no entrance fee at this park or café.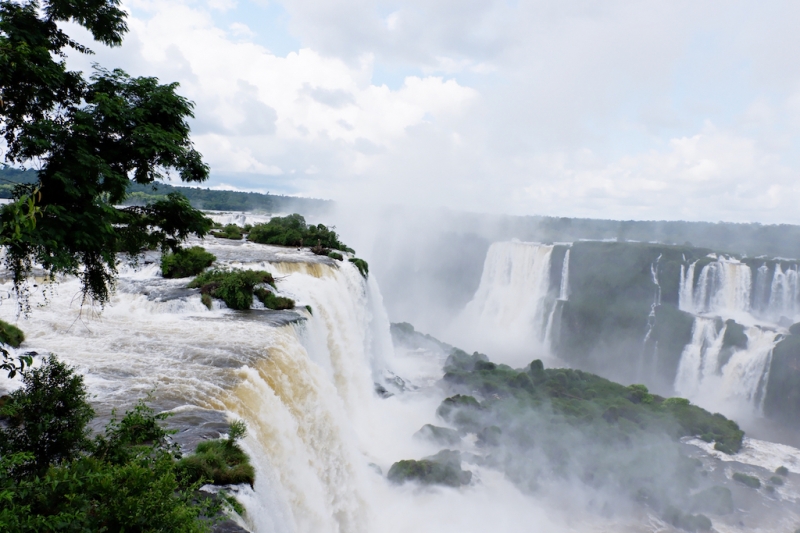 Iguassu Falls

– the only reason I included Foz do Iguacu was for the Iguassu Falls, an honoured wonder of the world. You can view the falls from two perspectives – Brazil or Argentina. Since I needed to avail a visa to cross the border, I only had the chance to view the falls from Foz do Iguacu. It was breathtaking!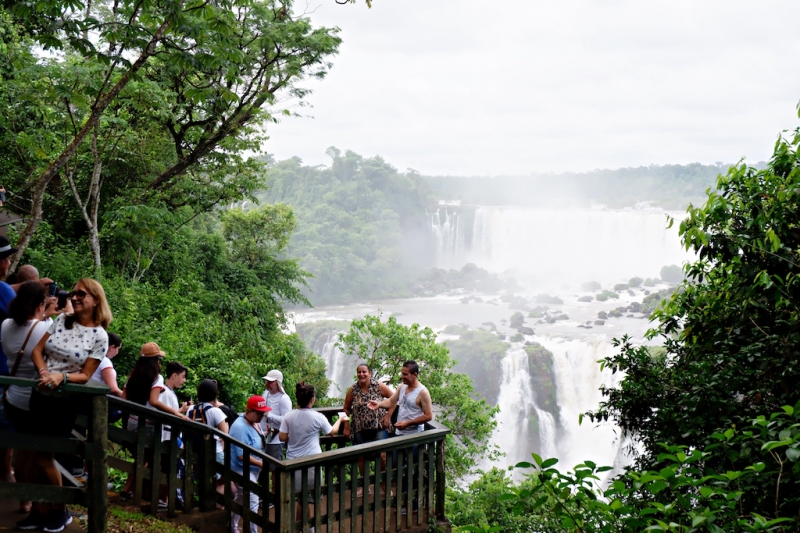 I went on a weekday but this attraction was packed! There were tour groups, field trips, and tourists swarming all over even though I went at opening time. After buying my ticket, I fell in line for the double deck buses bringing all the tourists to the falls. There were three stops: Macuoco Safari (this is for guests who want to ride a boat up close and personal to the falls), the hiking path, and the falls itself. I decided to alight at the hiking path so I could feel a thrill lead up to the main event.
The walk took me around 20 minutes. The walkway was fairly easy and consisted of a few up and down steps but it was fun because the view was full of falls. I couldn't believe I was there! It was definitely a wonder!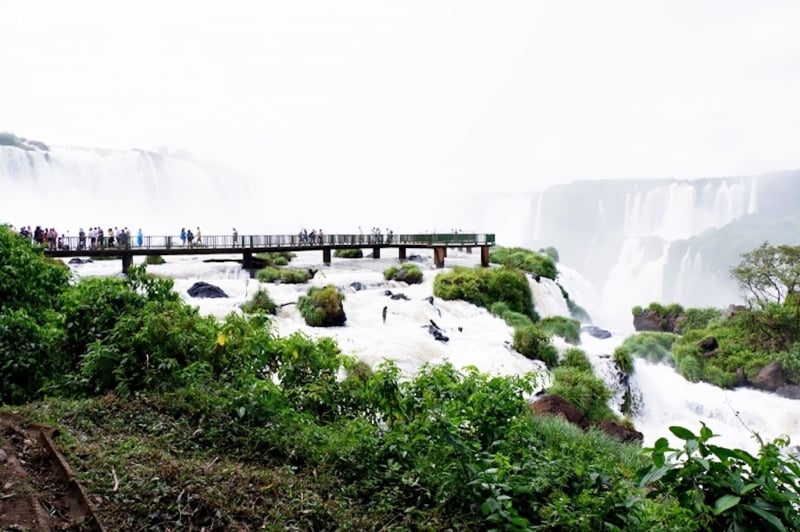 At the main area, the Iguassu falls were a hit! People were getting sprayed by its strong mist! If you follow the bridge way closer to the falls, you'll definitely get wet so make sure you waterproof all your devices! This is a very touristy place so prepare for crowds.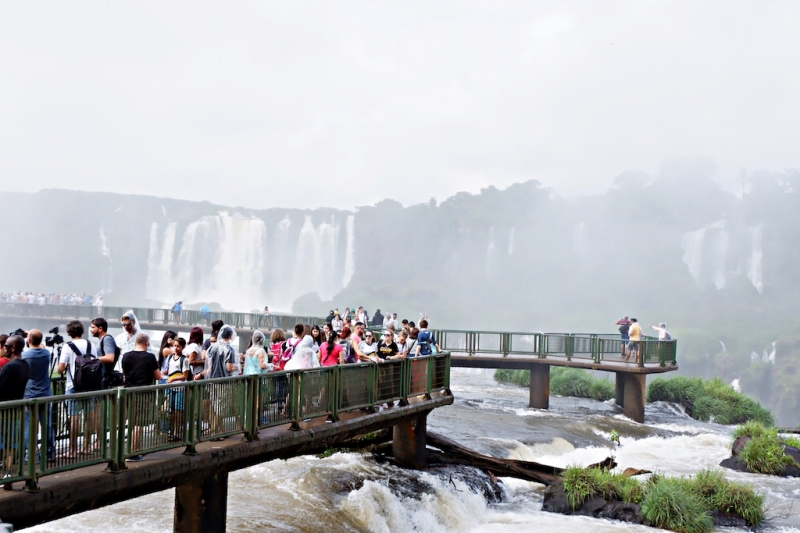 It's a five-minute walk from the area, you'll find a buffet restaurant, convenience stores, and food courts. You can also see a distant view of Argentina Falls bridge from there.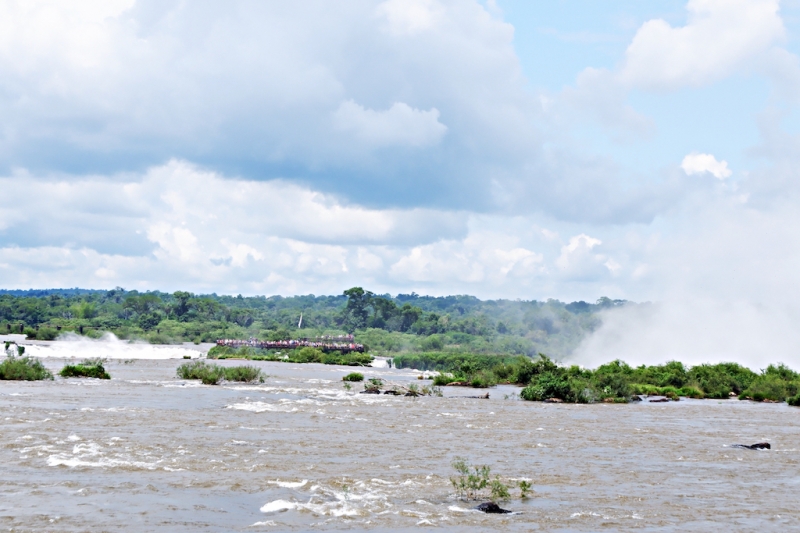 The ticket for the Iguassu falls cost me ₱960.
Parque das Aves

– After the Iguassu Falls, I visited the Bird Park in front of the main entrance. It was just a two-minute walk.
I wanted to see the birds from Rio! the movie. Having been to a lot of zoos in other countries, the place was familiar.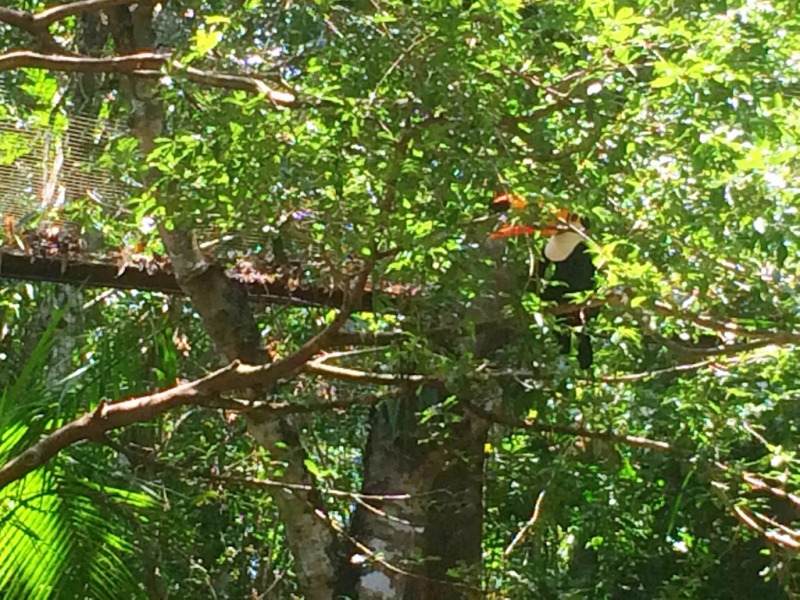 But what I really enjoyed at this park was the Macaws Aviary where a lot of beautiful birds are perched on an indoor cove and would fly around in groups settling on another bar.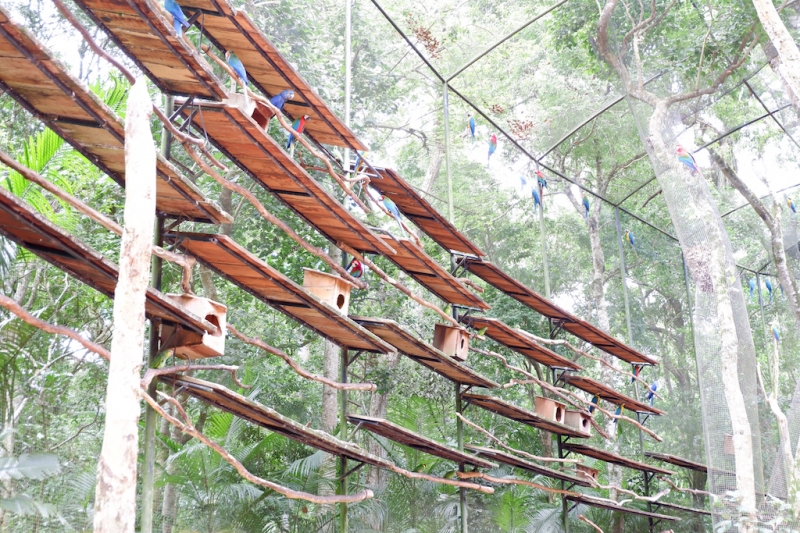 It was fun seeing them flying over us and waiting for the next group to fly around. If you have spare time in Foz do Iguacu, you should definitely check out the Macaws Aviary, all other attractions were just okay. Some of the birds were hiding so I couldn't really see some of them. Entrance fee is priced at ₱630.
São Paulo can be comparable to Baguio because of its climate and cityscapes elevated. There were a lot of hilly roads and pathways. It was a nice city to be in. I was supposed to explore it more but an expected flight delay in Foz do Iguacu limited the attractions I got to visit.
São Paulo Municipal Market

– Looking for a food trip in São Paulo? The Municipal Market is definitely your best bet!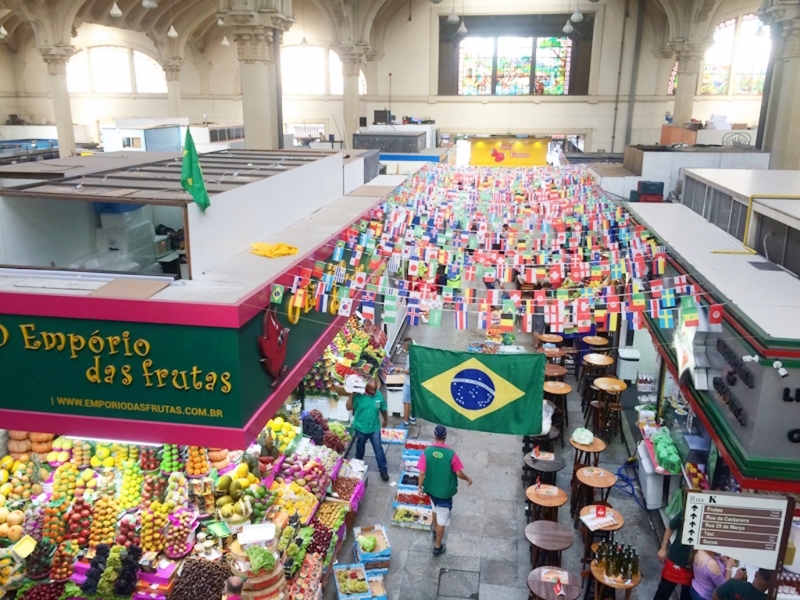 If you want to try all kinds of Brazilian delicacies, you'll find it here.
Paulista Avenue –

I stopped at São Paulo on the right days because on Sundays, Paulista Avenue is closed to motorists and I got to experience what Paulistas do on a Sunday.
It was excitingly bustling with food stalls from left to right, bargain markets, malls, and bands playing all around. It was a plethora of activities!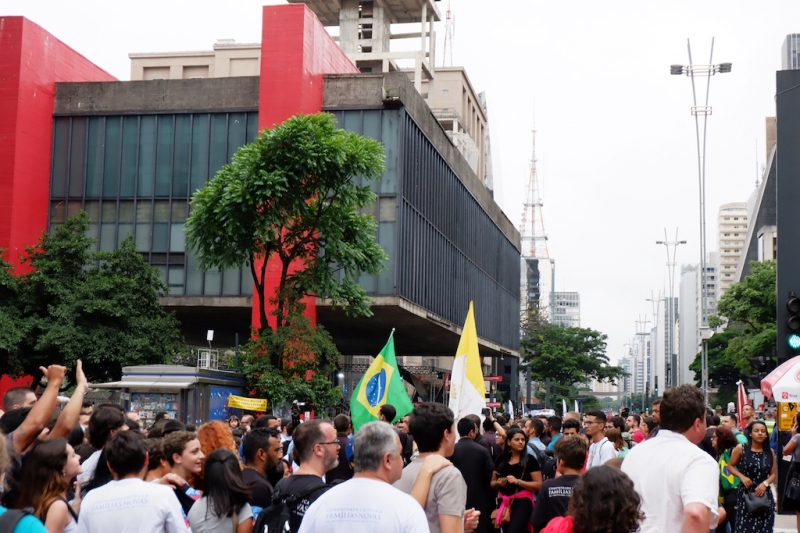 It was like every corner had something different to offer. On my last day, I had a food trip at this avenue, went Havaianas and gift shopping, and just experienced the cultural vibe.
It was straight out of the Sense8 São Paulo scene! It was like a rest day but also a celebration!
Safety tips
Aside from Brazil being a visa-free country, another common perception that seems to be associated with this country is dangerous. After reading so many articles and watching videos, safety was always a concern for travellers. This caused me to worry A LOT. But after personally experiencing it first hand, it's just like any other country (Vietnam, Taiwan, Australia, etc.) I've travelled to. Here are some tips to stay safe during your trip:
Bring a pocket WiFi –

One of the reasons why I felt safe in Brazil was because I stayed connected 24/7 with a travel WiFi. I got to book UBER anywhere and updated my loved ones of my whereabouts. I used the 

Skyroam

 WiFi from Big Sky Nation. 

For information on this travel WiFi, click here.
Use a cross body bag

– I always wear my body bag crossed, having it visible in front of me all the time. When I see a site I like, I take out my camera, take a photo of it, and just return it inside my bag. I never had the feeling that someone was watching me. I just travelled like I always do.
Leave your important documents at your accommodation –

When I explore, I only bring xerox copies of my passport and IDs. I do bring my credit card but that's when I'll use UBER and go to places like malls. But when I go to the beach or markets, I just bring cash.

Use common sense –

Just be aware of your surroundings and still have fun! Don't let fear take over your trip!
Brazil was definitely a country I'll never forget. Aside from its common perceptions, Brazil enchanted me with its cityscapes along beaches, tremendous falls around nature, and electrifying avenues. It's refreshing to be in a country where it feels like home but not really. The uniqueness of it hits you unexpectedly greeting you with its amazing culture, history, and likeness.
Dangerous shouldn't be the term to perceive Brazil or Brazilian. Outgoing, accommodating, fun, hospitable, and many more is more like it! I met the most amazing hosts and locals. I even had the chance to share stories with interesting Uber drivers, albeit English was a challenge for them but we sort of managed. There's just something invigorating about a destination that invites you to enjoy it on a physical, emotional, and spiritual level.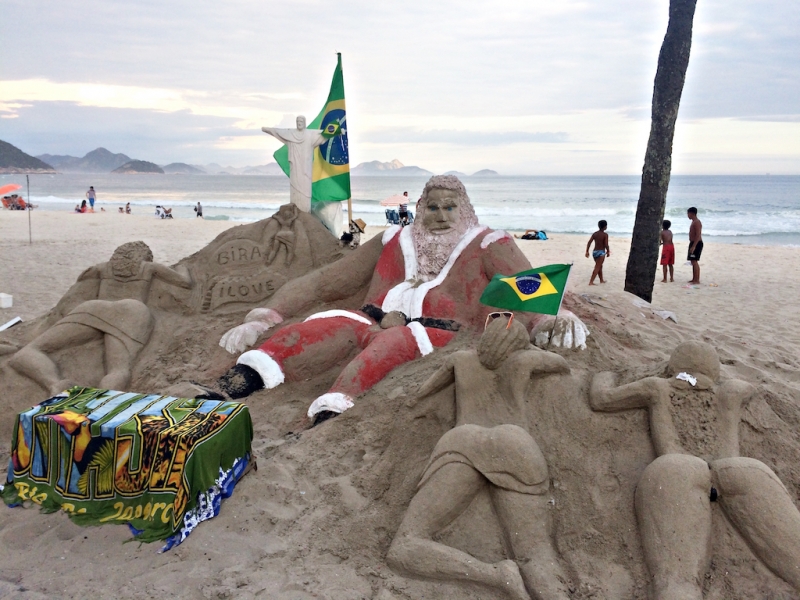 I hope this travel guide will help you plan your dream trip and convert that out of reach feeling for Brazil to a more attainable one. What are you waiting for? Start planning your Brazilian trip today!