Since Filipinos have very close family ties, our affinities for family members have always been celebrated. We have National Siblings' Day, Grandparents' Day, Father's Day, and of course, the oh-so-important Mother's Day. Just a couple of sleeps away, Mother's Day is that one time in a year when we give acknowledgement to the sacrifices that our mother has done for us ever since she introduced us to this world through 9 months of morning sickness, and the agonising delivery. We always make this day special for our moms, so if you still don't have any idea what to do for your main woman, let us help you! Do away from the usual flowers and chocolates and make an extra effort this year.
Also read: 10 Spas in Singapore to Bring Your Mom for Mother's Day
1. Take her out for a Mother's Day buffet
A way to your mom's heart is through her stomach! What better way to celebrate Mother's Day than a feast? She has been cooking all year long so it's about time you feed her. Avoid fancy restaurants because your mom might just complain about how expensive the dishes are. Save the hassle and opt for a buffet instead! More choices at reasonable prices.
2. Pamper your mom with a day at the Spa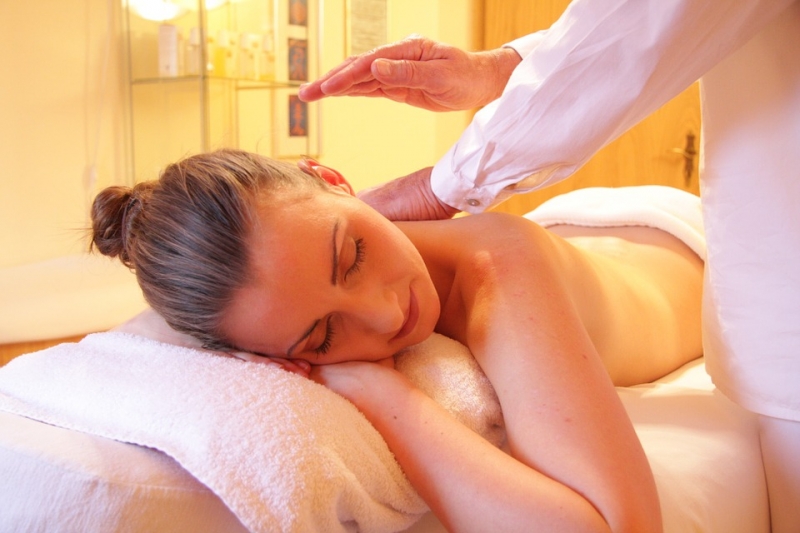 No mom can resist a relaxing day at the spa. Indulge her to a mani-pedi, a different hairstyle, a massage, and a sauna to give her that well-deserved rest. Massage packages are usually available for moms during this special day. After the spa treat, I am sure she will be more than happy to return to her hardworking duties as a mom.
3. Go on a shopping spree!
Shopping is any woman's ecstasy. I know this sounds expensive, but, it is your mom we are talking about! Besides, there are several stores that offer special discounts as a Mother's Day treat. And, you don't really have to bring her to high-end malls. She might just fancy a day at Divisoria, just as long as she spends it with you!
4. Take her to the big screen!
Watching movies is a good way to bond with the whole family on Mother's Day. But since this is her special day, have your mom select the movie that she wants! Whether you like the movie or not, she will surely appreciate it if you watch it with her. Just don't let her see you make a face when you find out it's a KathNiel or a JaDine movie!
Also read: 10 Best Things to Do for Mother's Day in Singapore
5. Connect with her through music
If your mom is musically inclined, then take her to a concert! Most of the time, classic divas hold concerts during the Mother's Day weekend. We heard that Zsa Zsa Padilla and her daughter Zia is having a concert somewhere! Just be prepared when your mother gets all sentimental singing to her favourite hits of long ago.
6. Book her a hotel room for a staycation
If you have the means, book your mom a hotel room for staycation. A lot of times, hotels have staycation packages for moms on this day, which include pampering at the spa, pool access, and a fancy suite. Yes, it will cost a bit more but seeing her happy face will make it all worth it. For top staycations in the Philippines, do check out TripZilla STAYS.
7. Have a day at the beach
Head on to the nearby beach for some fun under the sun. Your mom will definitely enjoy some beach activities and an invigorating dip while doing it with the people that matters to her the most. For this day, choosing a beach that is not so crowded will be a challenge because after all, it is Mother's Day and falls on a Sunday. Spend a bit for a more exclusive beach resort. Take your pick from any of these stunning beach getaways in the Philippines.
Also read: Go Wickedly Special This Mother's Day – Inspirations from Around the World
8. Give her a Mother's Day free-access card
This card will entitle the bearer to drag you wherever she wants to go and whatever she wants to do! Be prepared for activities that any moms dream of doing like pottery classes, cooking school, yoga session, painting, or even Zumba sessions! Just make sure to look excited when she reveals the thing that she wants to do with you.
9. Travel somewhere far
Probably the most expensive in the list, but will definitely create a huge impact! Any mom dreams of travelling with her family, so much more on Mother's Day. If you can afford, book your mom an international flight to nearby destinations such as Singapore, Hong Kong or Thailand. Trust me, if you do some planning, trips to these countries are not as expensive as you thought it to be.
10. Go on an adventure with her
It doesn't mean that your mom is already old, she doesn't like adventure anymore! Take her to an adventure and she might even surprise you. Go ziplining, paragliding, trekking, ATV ride, paintballing, or any activity that you think your mom might enjoy doing!
BONUS: Create a special day for her at home!
A lot of moms would just want to stay at home and bond with her family. If this is the case, it will be great if you create a special day for her right inside your home wherein she doesn't have to do her usual routine. Start by serving her breakfast in bed, cleaning the house, have a DVD marathon of her favourite movies, and give her lots of hugs and kisses! Inexpensive yet very effective.
Also read: Why Your Mom is the Best Travel Buddy You Could Ever Have
There you go! These are just some ideas that you can do for your mom on Mother's Day. The key here is to be creative, always consider what your mom's interests and hobbies are, and spend the day with her! Your mom has been really working hard, she deserves this.
To all the Super Moms, especially to my mom, Edna, HAPPY MOTHER'S DAY!