Unless you've been living under a rock, you'll notice that adaptive reuse is growing more and more prevalent — from historical buildings to heritage houses in the Philippines. What's adaptive reuse, you ask? It's reusing an existing (and often very old) building for a new and different purpose. Perhaps the best example of adaptive reuse in the country is Intramuros: like the Fort Santiago baluartes-turned-cafés and the old casas-turned-commercial establishments. 
From there, the rest of the country followed suit and even came up with more creative concepts. There are a lot more restored buildings that are worth exploring, each one with its own unique character and history! Here are the most interesting historical buildings and heritage houses in the Philippines. 
Also read: 14 Heritage Tours in Manila that Should Be Under Your Travel Radar
1. Las Casas Filipinas de Acuzar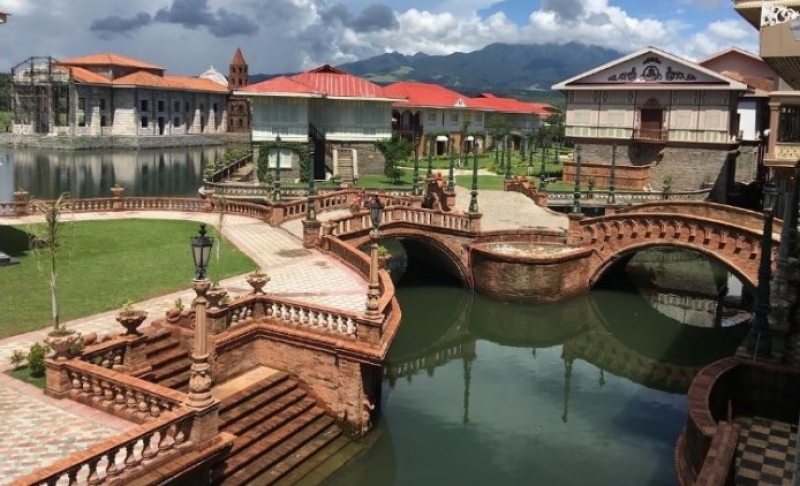 This sprawling resort in Bagac, Bataan recreates a local seaside town from the Spanish Colonial Era. A weekend trip to Las Casas Filipinas de Acuzar is like stepping into a Filipino movie set in the 1800s. History fills its surroundings, with a hint of old-school romance. You'll notice this in the cobblestone roads, authentic architecture, and breathtaking landscape.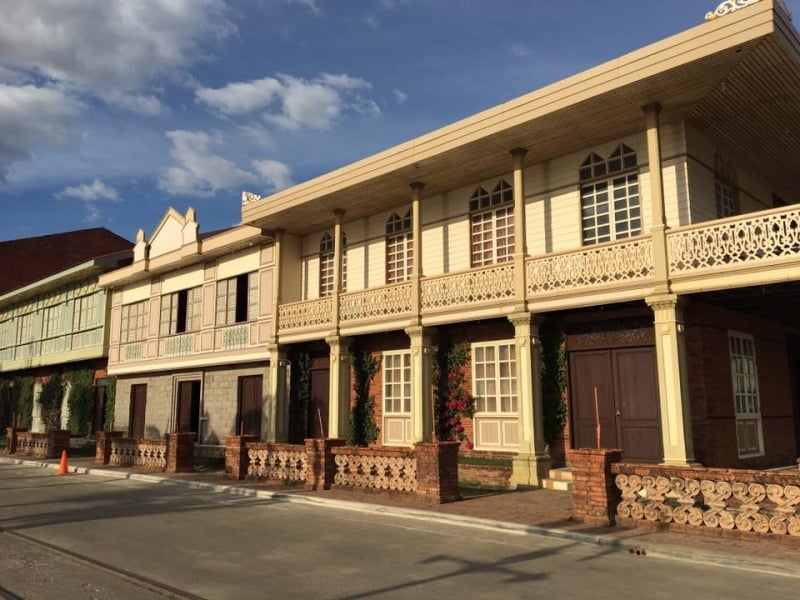 All the historical buildings at the resort were first dismantled from their original locations; upon each building's arrival in Bataan, the resort reassembled and fully restored these structures. It's great how Las Casas Filipinas keeps alive not just our country's history, but also the traditional arts! Local artisans from different parts of the country created every replicated furnishing here.
2. National Museum of Fine Arts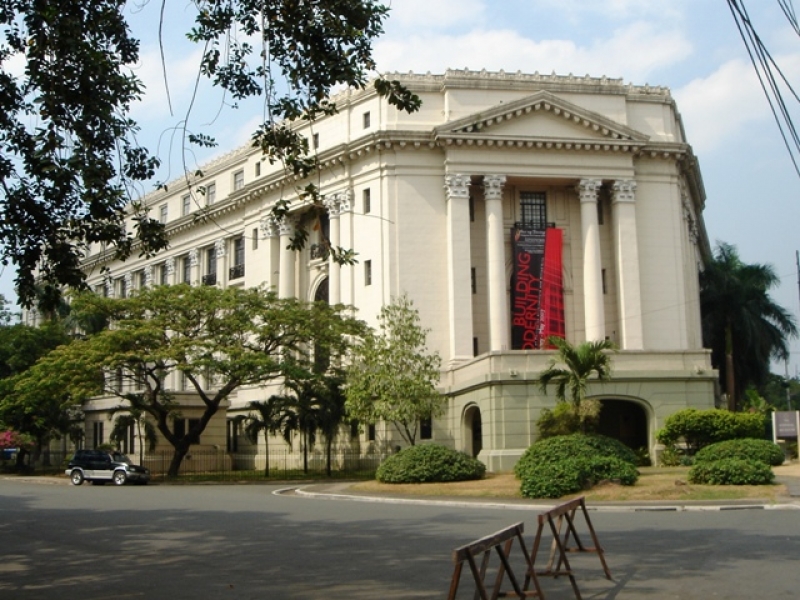 Home to the finest paintings and sculptures by classical Filipino artists, the National Museum of Fine Arts remains to be the most prominent among all our National Museums. It was built during the American Colonial Period, and its neoclassical architecture is the most impressive you'll find in the country.
But did you know that the National Museum used to be the Old Legislative Building? Upon its inauguration in 1926, the ground floor served as home to the National Library. Meanwhile, the Senate and House of Representatives occupied the second to fourth floors. 
Also read: 5 Reasons Why You Should Visit Philippine Museums
3. Blackbird at the Nielson Tower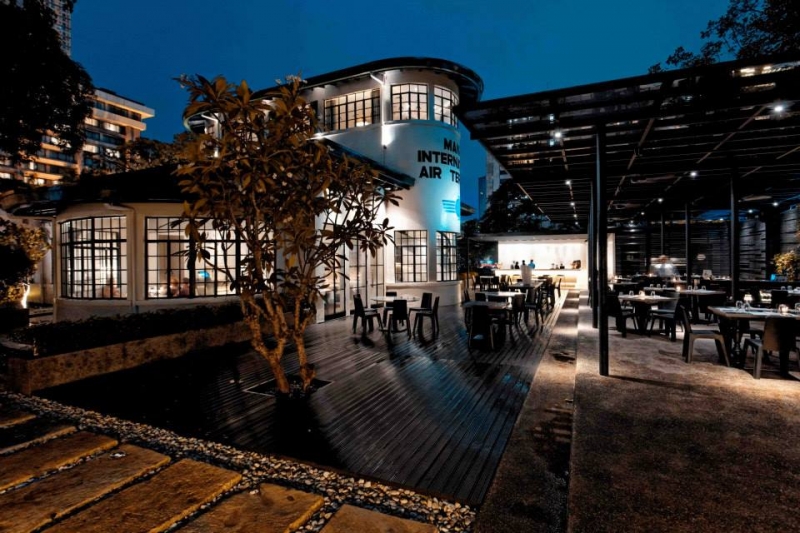 Before it became Metro Manila's top fine-dining restaurant, this impressive Art Deco structure was the control tower of the old Manila International Air Terminal. Nonetheless, you can tell that Blackbird at the Nielson Tower stays true to its roots. Its lavish interiors and furnishings have distinct geometric patterns and a black-and-white motif; at the same time, its contemporary European and Asian menu is also delightful! All these combined allow for an exquisite dining experience. 
Also read: 10 Best Restaurants in Makati for a Culinary Adventure
4. First United Building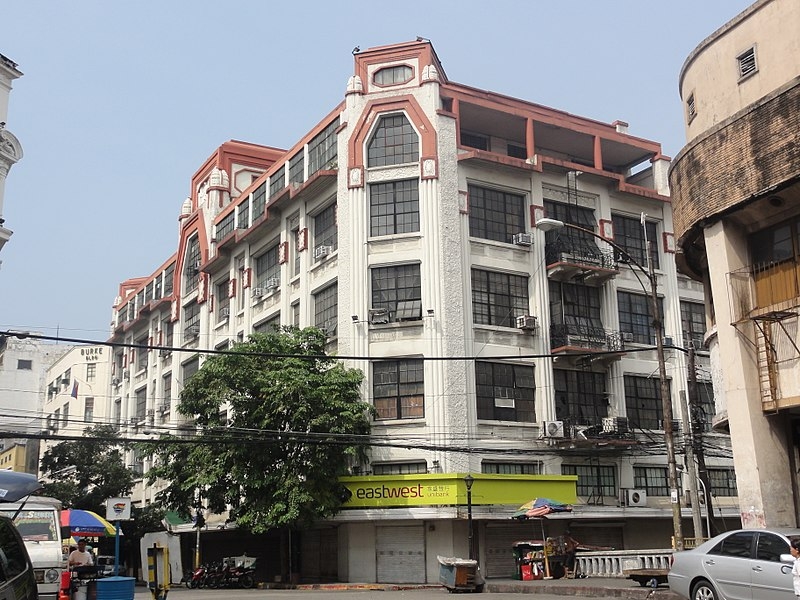 Once upon a time, Escolta was the Wall Street of Manila. Now, it's slowly but surely being revived as a creative hub for the metro's cool millennial crowd. And at the heart of this Escolta revival is the First United Building (formerly known as Perez-Samanillo Building).
This impressive historical building now houses a craft beer pub, a third-wave coffee shop, art exhibits, local indie retailers, and even a coworking space! It's a testament to making our culture and history cool and experimental. 
Fun fact: The architect of the First United Building is Andres Luna de San Pedro, son of Juan Luna.
Also read: 7 Best Things to Do in Escolta on a Day Trip to Old Manila
5. The Henry Hotel Manila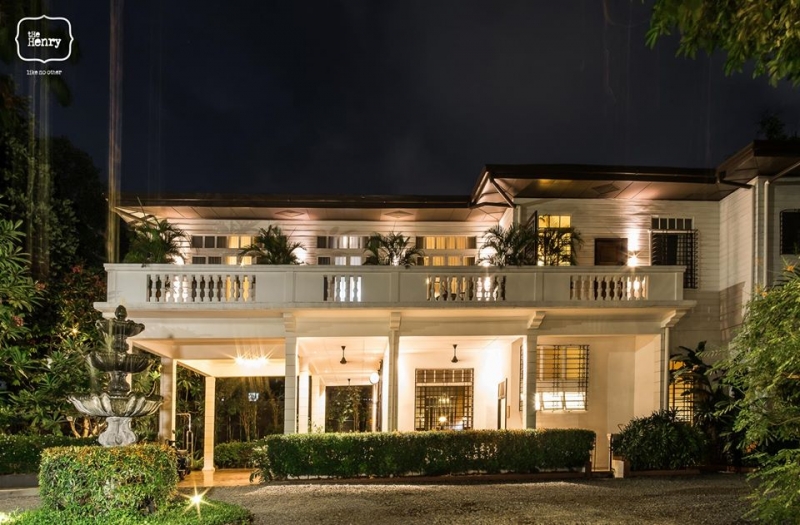 The Henry Hotel Manila welcomes you with an acacia tree-lined driveway, right before you pull up in front of a white mansion with a lovely fountain and manicured gardens. It's like a scene from a mid-1900s Hollywood film — minus the vintage top-down, headscarves, and leather jackets. Or you know, a Lana del Rey music video. 
This boutique hotel in Pasay City used to be a housing complex for the U.S. military during the 1940s. After World War II, the lot was purchased by a Chinese immigrant and converted into an ancestral compound. Fast forward to the present time, it's now The Henry Hotel, with all 32 rooms spread out to five well-preserved houses. Oh, and most of the displayed art pieces are also available for purchase!
6. National Museum of Natural History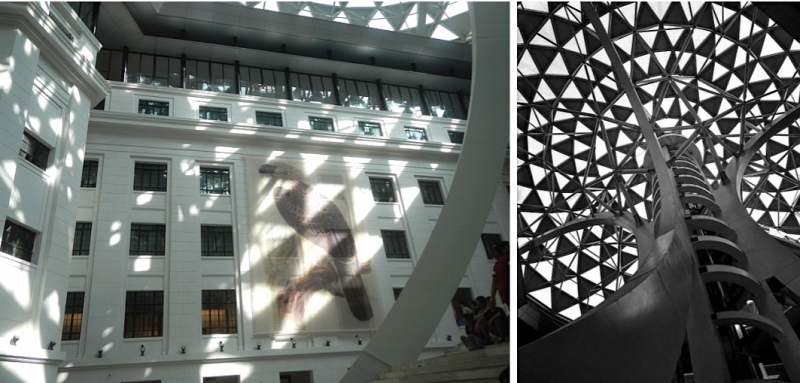 The National Museum of Natural History made waves when it was inaugurated in 2017. With its spectacular neoclassical-meets-futuristic architecture and vast collection of artefacts, there was a pleasantly surprising surge in people visiting this museum. No doubt, it achieved its goal of delving away from the usual boring perception that most Filipinos have about museums. 
This newest addition to the National Museum complex is located at the Agrifina Circle of Rizal Park. Originally, it was the Agriculture and Commerce Building. After that, it became the main office of the Department of Tourism. And in 2013, preparations began for the architectural revival that we see now.
The restoration stayed true to the original design — save for the new glass dome supported by a double helix structure, which looks like a DNA strand. The dome and helix structure are collectively dubbed 'The Tree of Life.' 
7. Casa Tesoro
The district of Ermita used to be the enclave of Manila's wealthy and prominent, up until the Japanese occupation. One of the stately heritage houses, Casa Tesoro, was originally built as a vacation house.
However, Ermita began to decline due to destruction from World War II. It then became a red-light district, which also closed down eventually. Fortunately, Casa Tesoro has regained its old-world charm, thanks to revival efforts by antique dealer Maria Closa and Austrian art collector Rudolph Kratochwill.
Step inside Maria Closa Primitive Arts, a tribal art and antiquities showroom that will leave you in awe. Here, you'll find mesmerising sculptures, textiles, ritual objects, and accessories straight from the Cordillera mountains.
8. Rizal Park Hotel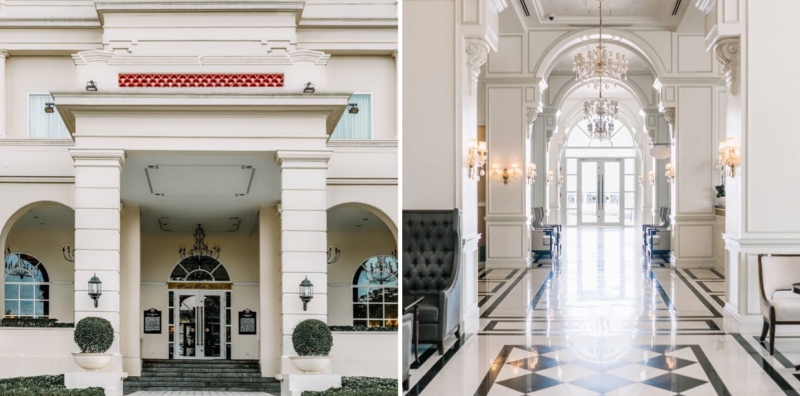 If you've seen the film Goyo (2018), you'll remember a scene where one of the Philippine generals meets with the American generals at a fancy Manila hotel — where there were only Americans and Filipino mestizos in sight. True enough, there was indeed a 'white men-only country club' in the Philippines back then: the Manila Army and Navy Club. It was exclusive to U.S. military officials and expats who wished to wine and dine and take a break from coloniser duties. (Good times, I suppose.)
After World War II, the building was converted into a government office, then into a museum. And then in 2017, it reopened as the Rizal Park Hotel, a 110-room five-star hotel offering gorgeous views of Manila Bay. Fortunately, they've retained its timeless grandiose with elements like tall Doric columns, checkerboard floors, dome ceilings, and wrought iron fences. 
9. 1919 Grand Cafe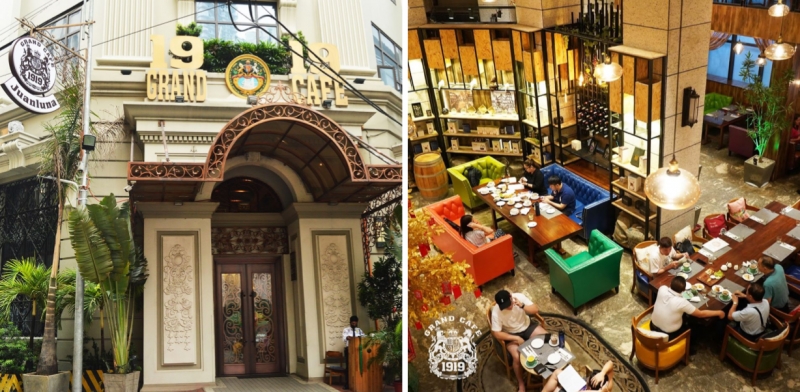 The 1919 Grand Cafe stands out amongst the countless Chinese restaurants and hole-in-the-wall eateries in Binondo. Located on the ground floor of the former HSBC Building on Juan Luna Street, you'll easily spot this even at night, as its neoclassical facade is lit with a golden glow. 
Inside, you'll notice that they've retained the old bank lobby's distinct features — like the 23 feet-high ceilings, grille windows, and Art Deco furnishings. The café itself is a study in old meets new and East meets West. And not just because it's one of the few European-style historical buildings set amidst Chinatown. Their menu is a mishmash of different cuisines, from Filipino, Chinese, American, to Italian. 
Also read: 'Before Sunrise'-Inspired Photoshoot Transforms Binondo Into Vienna
10. Palacio De Memoria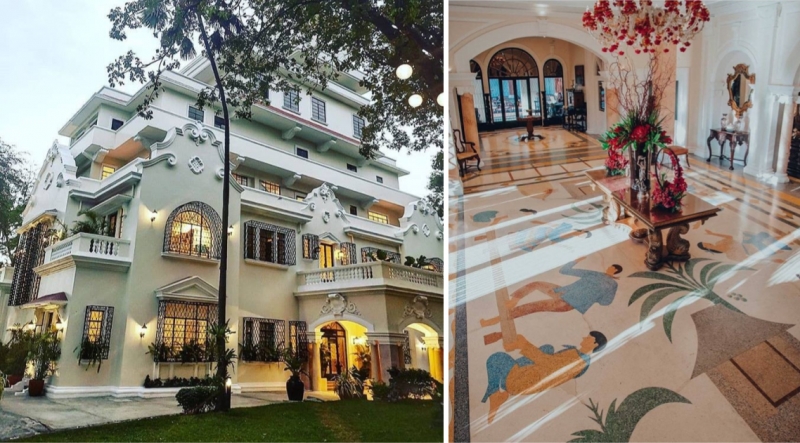 Who would've thought that Parañaque City also has its own palace? And we're not talking about Solaire or City of Dreams. The Palacio De Memoria, formerly the Villaroman Mansion, is one of the last remnants of Roxas Boulevard's glory days. Most of its history remains unknown. For now, all we know is that it survived the Battle of Manila (many other structures were bombed or completely destroyed).
This opulent seven-storey mansion now serves as an outpost of Casa de Memoria, a Makati-based auction house. Its owners, the Lhuillier family, are planning to add an art gallery, bar, and restaurant — making Palacio De Memoria a full-scale artist destination. From the intricate Terrazzo floors to the showcased heirlooms and antiquities, you can see that it's definitely on its way to achieving just that. 
11. Museo Ilocos Norte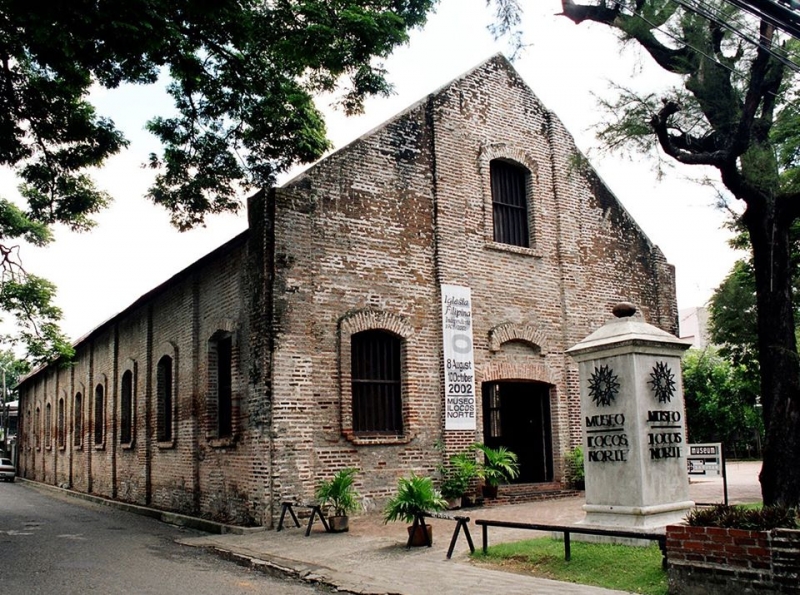 Housed in a former Tabacalera warehouse, the Museo Ilocos Norte is one of the best ethnographic museums in the country. A quick history refresher course: Tabacalera was a Spanish tobacco monopoly built in 1636, making it the oldest in the world. Interestingly, the Ilocos region is home to many tobacco plantations; this was especially true during the Spanish Era. 
Museo Ilocos Norte is sometimes referred to as Gameng Museo, as 'gameng' is the Ilocano word for treasure. And this historical building in Laoag is definitely a treasure trove. It has a massive collection of Ilocano, Igorot, and Itneg traditional clothing. Apart from that, there are also traditional household utensils, handicrafts, and even old tools for farming and fishing!
12. Hotel Luna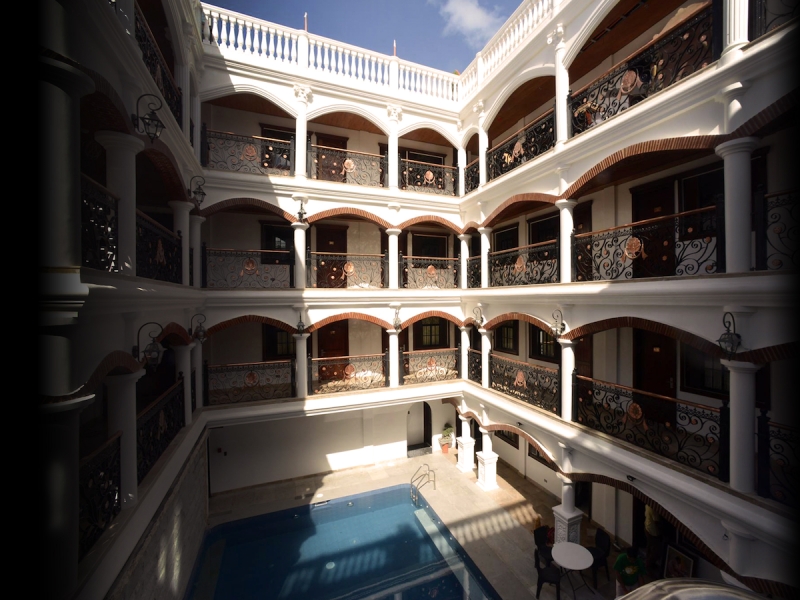 Among the many historic houses in the Philippines, Hotel Luna stands out for being the first and only museum-hotel in the country. Every corner of this luxury hotel stays true to its Spanish Era roots, save for the minimal modernities here and there. (Come on, a hotel completely devoid of modern technology is just not feasible.)
Don Jose Florentino built a two-storey mansion in the late 1800s, as a wedding gift for his daughter. Now, how or why is it a museum-hotel, you ask? Hotel Luna also showcases impressive Filipino artwork. From the main halls to the in-house museum, you'll find a mix of rare classic masterpieces and contemporary pieces. Keep an eye out for the Juan Luna paintings! 
Also read: 12 Heritage Hotels in the Philippines that Transport You Back in Time
13. Maria Ledesma Golez Ancestral House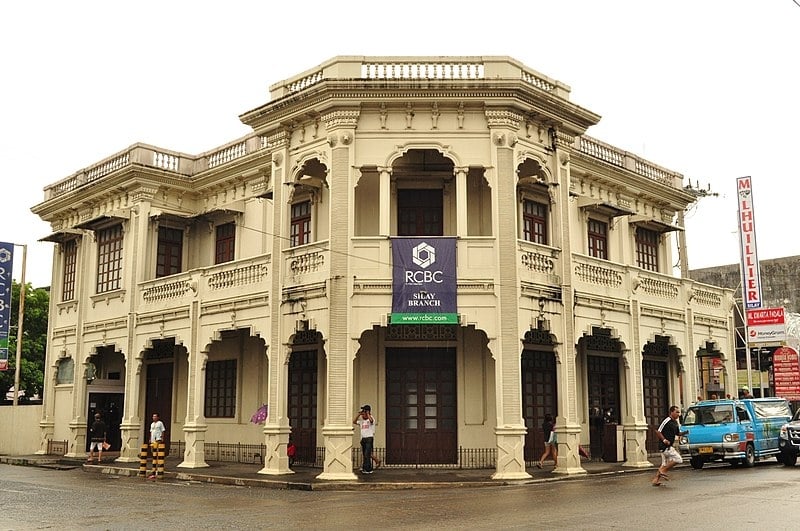 The lovely Silay City in Negros Occidental is home to many historical buildings. It's also quite an underrated destination — which all the more gives it a romantic, quiet old town vibe.
Standing out amongst the many charming well-preserved buildings is the Maria Ledesma Golez Ancestral House, which you'll easily spot in downtown Silay. Today, it's the local branch of RCBC! The bank purchased this house in 1992 and fortunately retained most of its original Art Deco and Baroque details as a testament to its former glory. 
14. Molo Mansion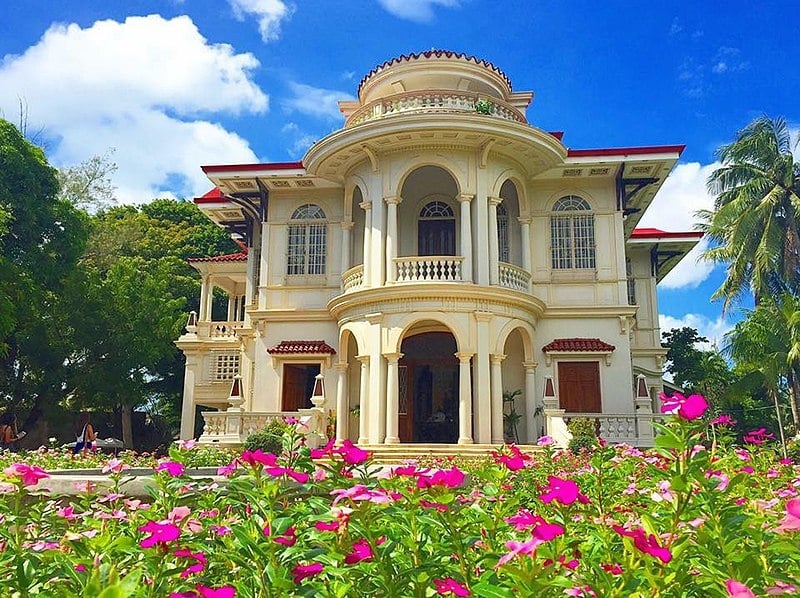 Right across the town plaza of Iloilo City, you'll find the Yusay-Consing Mansion, or simply Molo Mansion. It has a distinct American Colonial architecture, with neoclassical and subtle Art Deco elements. In 2015, local conglomerate SM Group acquired this heritage house and restored it to its old grandeur. The aim was to showcase Ilonggo heritage during the APEC Summit. 
The mansion showcases many local products from SM's Kultura retail store. Aside from that, there's Cafe Panay on the ground floor and even a backyard garden with an artisanal ice cream stall! 
15. Western Visayas Regional Museum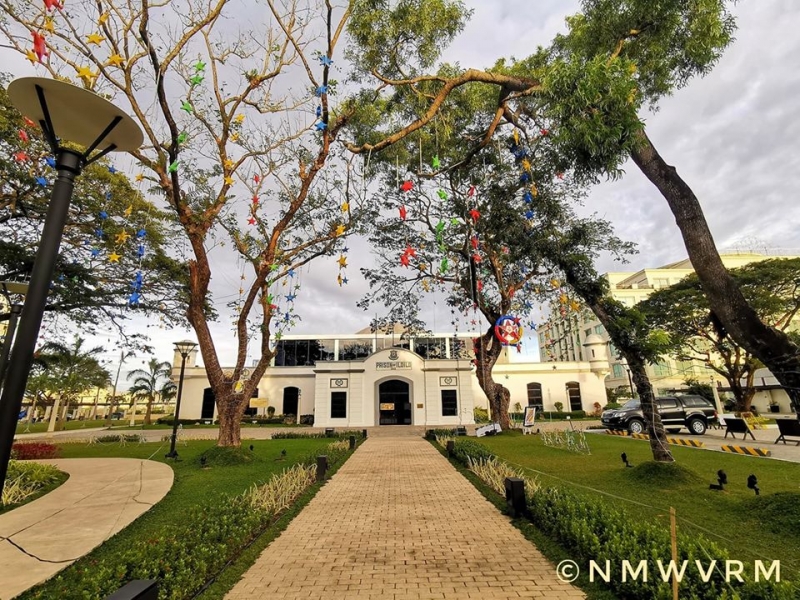 This extension of the National Museum is inside another one of the heritage houses in the Philippines — the former Iloilo Provincial Jail. The centuries-old state-of-the-art prison ceased operations in 2006 when the government built a new provincial jail.
Now, the Western Visayas Regional Museum is one of five regional sites of the National Museum. This opened in 2018, with a permanent exhibition on threads, textiles, looms, and raw materials used in Panay woven artistry. It has four more galleries that will open soon. This is to make room for more archaeological artefacts, fossils, and other cultural relics. 
16. UP Visayas Main Building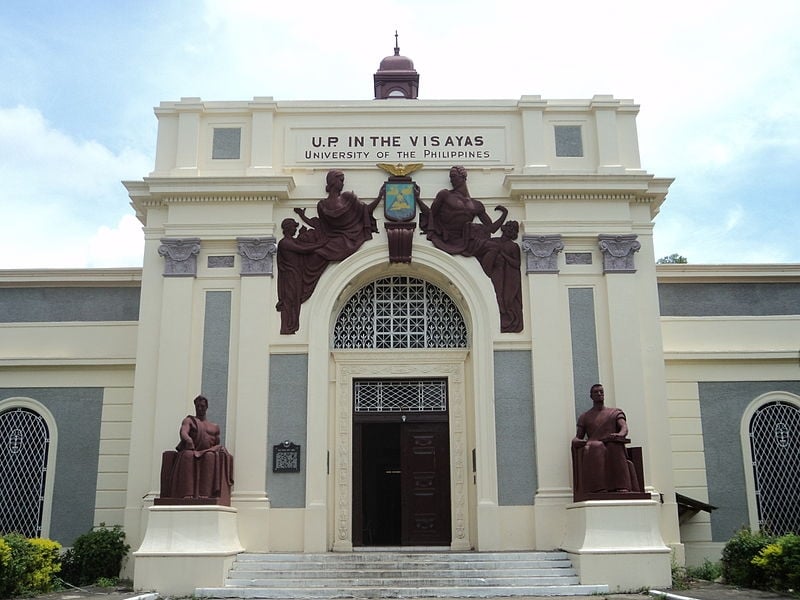 The main building of UP Visayas in Iloilo City has had quite the transformation. From a pre-war city hall to a Japanese military base, to an extension of the country's premier state university. And in 2019, UP Visayas unveiled the newly restored main building after a two-year hiatus. 
With the help of the National Historical Commission of the Philippines, this majestic structure now serves as an icon among Iloilo's many historical buildings. Its most prominent features are the two statues by the entrance: 'Law' and 'Order.'  Italian maestro-slash-expat, Francesco Riccardo Monti created these sculptures. 
17. Juan and Antonio Luna Shrine
One of the best heritage houses in the Philippines to visit belonged to the revered Luna family. You may know two of their most famous family members from Philippine history. General Antonio and legendary painter Juan lived inside this house in Badoc, reconstructed stronger with clay bricks and molave wood. Today, this heritage house functions as a museum with artefacts and exhibits detailing the brothers' careers. From Antonio's warfare tactics to Juan's studio setups, this museum is a closer look at the lives of these prominent Philippine historical figures.
Also read: 10 Ilocos Tourist Spots to Discover Its Rich Culture and History
18. The Ruins
Despite its desolate state, The Ruins in Talisay, Negros Occidental, is still one of the most popular heritage houses in the Philippines to visit. It is endlessly enchanting, as evidenced by the numerous wedding photoshoots enacted within its window frames. Or what's left of it, rather. 
These ruins used to be a mansion founded by a prominent sugar baron in Negros. During World War II, the Imperial Japanese Army eyed the mansion as a site for their outpost. Filipino guerillas denied their advance by razing the mansion. As seen today, the mighty mansion survived the fire and is a revered destination when visiting Bacolod.
Also read: Bacolod Tourist Spots: 10 Things to Do for Foodies & History Buffs
19. Villa Escudero
Grand mansions from affluent sugar barons all over the Philippines were fond of Spanish and American colonial architecture. One of its best examples is the Villa Escudero Heritage House. Located at the heart of Tiaong in Quezon Province, the mansion is smack dab in the middle of the former plantation. While swimming in the resort complex is refreshing, the mansion's museum is also an insightful walk through its history.
20. Bahay Nakpil-Bautista
Manilenyos don't have to travel far should they want to visit heritage houses in the Philippines. Quiapo is practically a Manilenyo's backyard, and deep in its busy streets sits Bahay Nakpil-Bautista. This heritage house seems untouched by time since its preservation is faultless. Showcasing a unique blend of Chinese, Spanish, and Filipino architecture, the house remains a standout in the bustling markets of Quiapo.
Also read: 8 Reasons Filipino Travellers Should Care About History
These historical buildings and heritage houses in the Philippines definitely take adaptive reuse to a new level! Have you been to any of these fascinating restored structures? Let us know all about it! Don't forget to tag us on Instagram at @tripzillaph, and use our hashtags #TripZillaPH and #MakeTravelHappen!