When one thinks of the Philippines, it's easy to imagine the overarching stereotypes: jeepneys hastening in the streets, bahay kubos on a tropical beach, historic churches made of weathered brick and stone. All these, without a doubt, make the Philippines a world-class destination in its own right.
Also read: No, Travelling Locally is Not Settling for Less
That said, we can't deny the fact that our country remains a melting pot of cultures. More than the foreigners who've found their way here, Filipino travellers have also influenced the unique tastes of our establishments nowadays. And lucky for those who miss international travels, many Airbnb homeowners have found a way to bring home tastes of foreign countries to the Philippines.
Can't wait for your next trip abroad? Let these Airbnb homes in the Philippines take you to foreign countries all over the world!
10 Airbnb homes in the Philippines that look like foreign countries
1. This Japanese-inspired studio in Tagaytay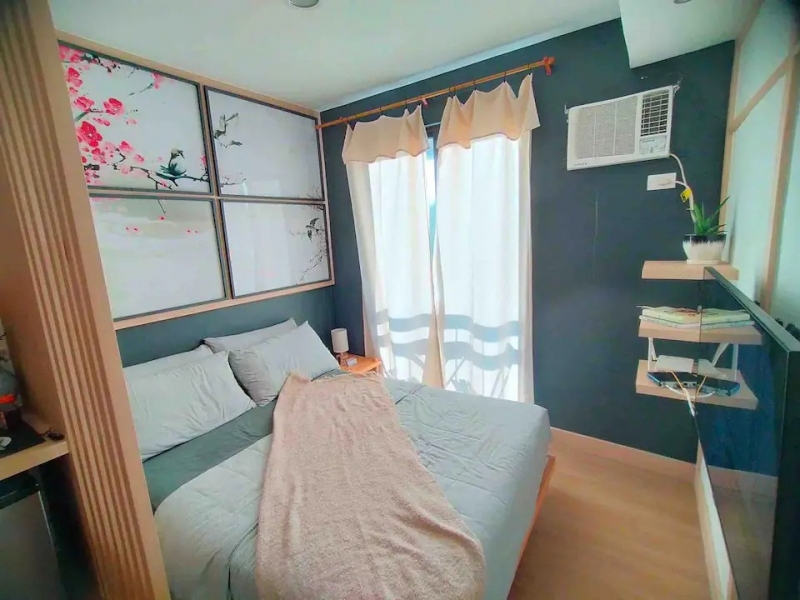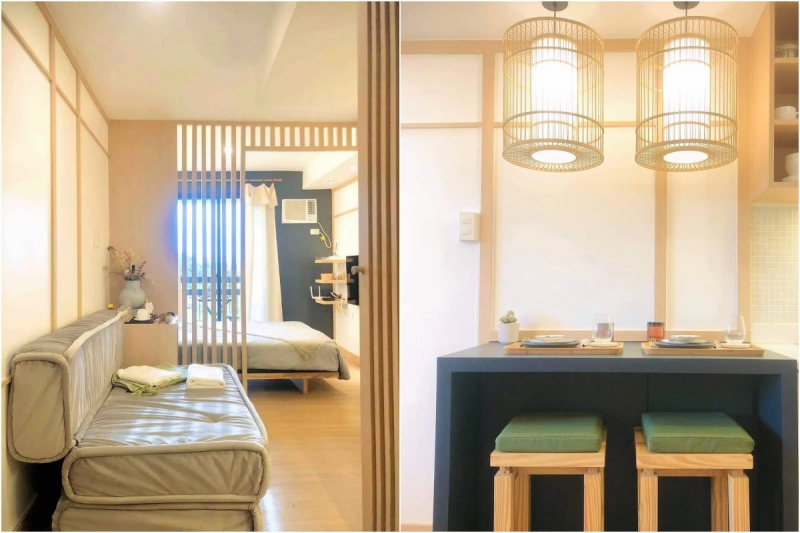 Listing name: Japanese-inspired hideaway in Tagaytay (New)
Listing type: Entire condominium
Max. no. of guests: 4
No. of bedrooms: Studio
A Japanese-inspired Airbnb, this minimalist studio embraces zen in the heart of bustling Tagaytay. Decked out in calming hues, custom-made pine wood furnishings, and Japanese-themed decor, this hideout by Studio Ansei provides each guest with a refreshing stay. It even has a small balcony where you can enjoy fresh air and calming views of the treetops.
2. This Tudor home nestled in Baguio's pine forest
Listing name: Tudor House at Tudor in the Pines
Listing type: Entire house
Max. no. of guests: 10
No. of bedrooms: 4
Tucked in a pine forest in Baguio City, this Tudor home is reminiscent of old English country houses: It has brick walls, gabled roofs, mullioned windows, and even a glasshouse lounge! The host reveals that the house was, in fact, built as inspired by the owner's trips to England; so, expect a lot of English elements throughout the property! Paired with the cold Baguio weather, a vacation at this manor will truly make you feel like you've left our tropical shores.
Also read: Where to Stay in Baguio: 25 Airbnb Homes for All Budgets
3. This industrial loft in Parañaque reminiscent of New York living
Listing name: Cozy New York Industrial Loft
Listing type: Entire condominium
Max. no. of guests: 3
No. of bedrooms: 1
How about an Airbnb in the Philippines that'll remind you of a concrete jungle where dreams are made of? Designed to look like a New York loft, this ultra-cool home exhibits exposed brick walls juxtaposed with bold and vibrant furniture. Mood lighting and monochromatic art complete the look; the fast WiFi and Netflix- and PS4-ready 40-inch TV complete the experience.
4. This Santorini-esque villa at the heart of Tagaytay
Listing name: The Happy Soul Santorini Villa in Tagaytay
Listing type: Entire loft
Max. no. of guests: 4
No. of bedrooms: 1
Cycladic architecture is not new to the Philippines; many resorts overlooking the seas have drawn inspiration from the breezy, whitewashed beauty of Santorini. But in Tagaytay, this breezy loft far away from the waters attempts to recreate the iconic Greek island. Blue and white accents adorn The Happy Soul Santorini Villa, where the Mediterranean experience is but a quick road trip away.
Also read: 10 Stunning Airbnbs in Santorini That Are Worth the Splurge
5. This rejuvenating Bali-style resort in Caliraya
Listing name: Baliraya Resort & Spa
Listing type: Private room in nature lodge
Max. no. of guests: 16
No. of bedrooms: 6
Influenced by the refreshing resorts in Bali, Baliraya boasts of tropical trees, bamboo nests, and even floating breakfasts! Right in the smack of nature, this resort lodge ensures rest and relaxation as it brings guests to the Caliraya lake for kayaking and fishing.
6. This charming Tagaytay studio à la French chalet
Listing name: French Inspired Chalet de la Mémoire
Listing type: Entire apartment
Max. no. of guests: 3
No. of bedrooms: Studio
Inspired by the quaint elegance of a French cottage, this picturesque Airbnb in Tagaytay has chic décor and romantic lighting. The space is mostly neutral, but heavily ornamented with beautiful foliage and vintage items. Bringing the fancy vacation to a whole other level, the host even provides complimentary red wine for all guests!
Also read: 10 Cosy Airbnbs in Tagaytay for Your Next Out-of-Town Trip
7. This sunny Spanish poolside villa in Pampanga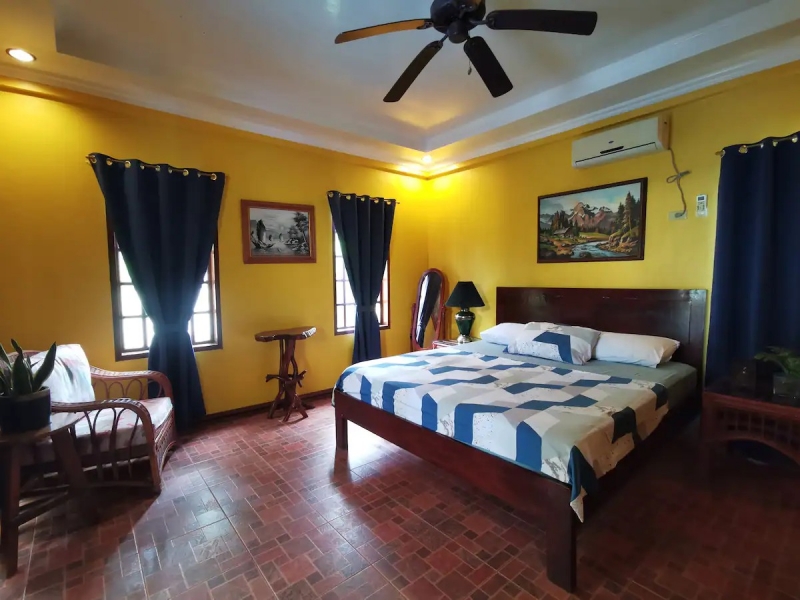 Listing name: Spanish Inspired 3 bedroom Villa – Casa Norrdell
Listing type: Entire villa
Max. no. of guests: 12
No. of bedrooms: 3
A spacious Spanish-inspired villa in Angeles, Casa Norrdell is a wonderful option for intimate gatherings. It has a vast garden, a private pool, a patio, and even an area for barbecue sessions! Aside from its amenities, this home also boasts an excellent location: While it sits in a subdivision that guarantees privacy, it is also just a few minutes away from SM Clark.
8. This Muji-style Bulacan home that embraces kirei
Listing name: Japan Style Home w/ Wi-fi, Netflix, HBO, Disney+
Listing type: Entire home
Max. no. of guests: 6
No. of bedrooms: 2
Named after the Japanese word for "pretty and clean", the Kirei House Bulacan spoils its guests with a minimalist aesthetic. Owned by Japan enthusiasts, this Airbnb in the Philippines instantly transports its guests to the Land of the Rising Sun. Additionally, it has an electric grill best used for yakiniku, an honesty food store and bookstore, and a TV with over 30 Japanese movies!
9. This Balinese villa in Laguna good for private gatherings
Listing name: Donrio Balinese Villa with a stunning pool
Listing type: Entire home
Max. no. of guests: 16
No. of bedrooms: 4
Another Bali-inspired Airbnb in the Philippines, this airy home allows guests to enjoy fun family gatherings in a spacious setting. The area is mostly open, comfortably fitting up to 16 people at a time. Hosted by a traveller himself, the Donrio home emulates Balinese villas while infusing Filipino touches. Present in the home are capiz windows, a century-old Narra door from the Northern Philippines, and a good old karaoke machine.
10. This luxurious Venetian unit in Taguig's Venice Grand Canal
Listing name: Luxury Unit @ Venice Grand Canal, BGC Philippines
Listing type: Entire condominium
Max. no. of guests: 4
No. of bedrooms: Studio
Ever dreamt of visiting Venice? While international travels are on hold, experience this Venetian Airbnb in the Philippines instead! Interconnected with the Venice Grand Canal Mall in Taguig City, this elegant listing fully embraces the luxe and flamboyant aesthetic of the City of Canals.
Also read: These Airbnbs in the Philippines Will Inspire You to Travel Local
Who would've thought that we could easily explore the world from the comforts of our own country? These foreign-looking Airbnb homes in the Philippines can easily transport us to our favourite destinations — not to mention, they're all visa-free, too!
Got a property you'd like TripZilla to feature? Inquire with us here.
---
This article contains affiliate links. When you book through these links, we may earn a small commission at no additional cost to you. All images courtesy of the respective property listings.