It's been a full two years of restricted travel; and now, we can safely say that we're yearning for travel more than ever. The promise of an escape, a change of scenery, and a break from reality with just a simple road trip or plane ride — we're pretty sure we're not the only travellers craving all these things! 
With the new year approaching and promising 12 months of exploration, there's no better time to start mapping out your travels for 2023. After spending much of the pandemic browsing through photos of the most jaw-dropping Airbnb homes in the Philippines, we know exactly where to go. Scroll through this list to view some of the most picturesque homes found in equally gorgeous local destinations!
Airbnbs in the Philippines to bookmark for our next travels
1. This modern Ivatan house in Mahatao, Batanes
Listing name: Modern Ivatan Stone House.Family Getaway.Oceanview
Listing type: Entire cottage
Max. no. of guests: 5
No. of bedrooms: 2
One of the Philippine provinces that most local travellers dream of visiting? Breathtaking Batanes, of course! At this traditional Airbnb in the Philippines, you can experience what it's like to stay in one of the destination's famous Ivatan stone houses — this one in particular is perched on a hill, with stunning views of the sea and the iconic Basco Lighthouse.
Inside, you'll find modern yet rustic interiors that invite you to kick back, relax, and enjoy a vacation filled with the peace and quiet you deserve. With large windows and a second-floor terrace, you'll be sure to enjoy the cool Batanes weather! Sounds like a perfect change of scenery, especially for those who've been hard at work for the past months, don't you think? Learn more about this Airbnb here.
Also read: This Is Why Batanes Is Unlike Any Other Place I've Been To
2. This Instagrammer's paradise in El Nido, Palawan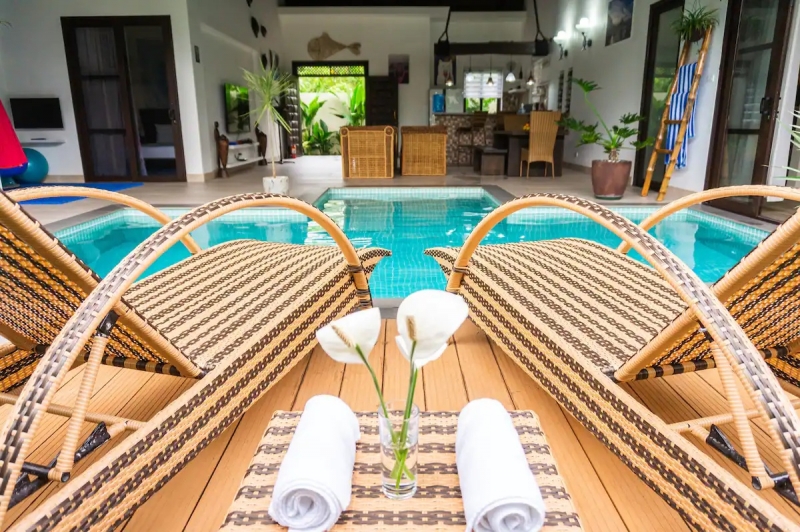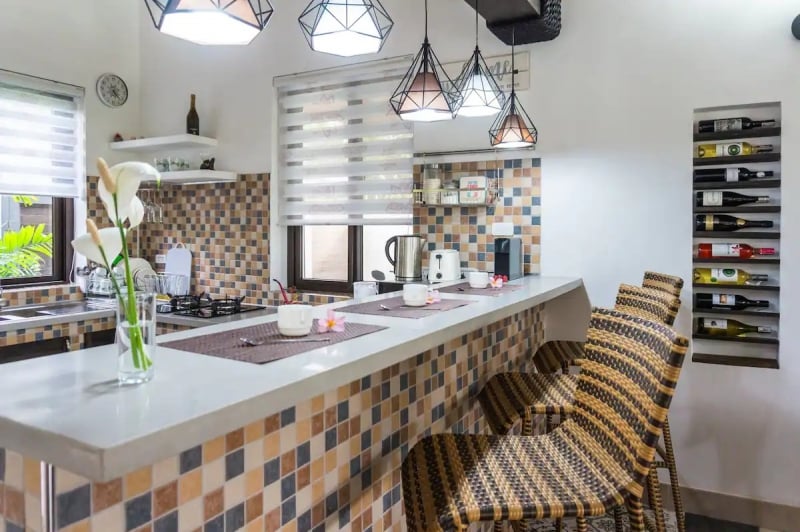 Listing name: Luxury VILLA ELENA with PrivatePool Near Lio Beach
Listing type: Entire villa
Max. no. of guests: 8
No. of bedrooms: 3
This Bali-style Airbnb in the Philippines — particularly in El Nido, Palawan — is basically what all our barkada trip dreams are made of! Clearly built for big group vacations, this dreamy villa can fit up to eight guests. Situated just 10 minutes from the airport, it's tucked away from El Nido's busier streets; instead, you and your travel buddies will find yourselves surrounded by nature!
Here are some of the things your travel group will get to enjoy all to yourselves: a private pool and lounge area, a kids' play area, and free transport to and from the nearby Lio Beach until 5pm daily! Learn more about this Airbnb here.
Also read: 15 Airbnb Homes & Vacation Rentals in El Nido Where You Can Live Out Your Island Dreams
3. This amazing treehouse in Balamban, Cebu
Listing name: Treehouse De Valentine
Listing type: Entire home
Max. no. of guests: 8
No. of bedrooms: 3
We know what you're thinking: Is this really an Airbnb in the Philippines? We totally get it — it seems almost too good to be true. What's more, this breathtaking treehouse is located in Balamban, which is just under two hours away from Cebu City. Paradise is just within reach!
While these photos are already enough to render any of us speechless, be reminded that this Airbnb has even more in store for you. There's a wooden bathtub to complete your rustic treehouse stay, hammocks for lazy mornings and afternoons, and a riverside patio. And that's just the tip of the iceberg! Learn more about this Airbnb here.
Also read: 10 Cebu Airbnb Homes for a Relaxing Staycation
4. This dreamy beach house in Boracay, Aklan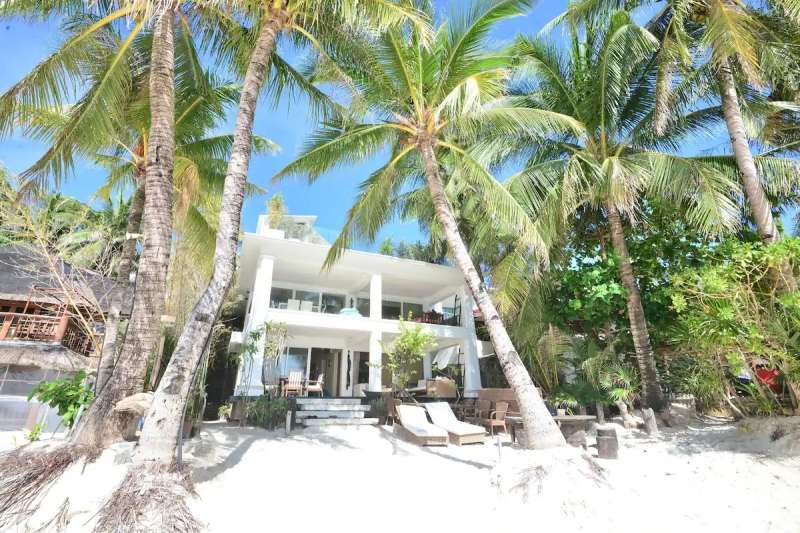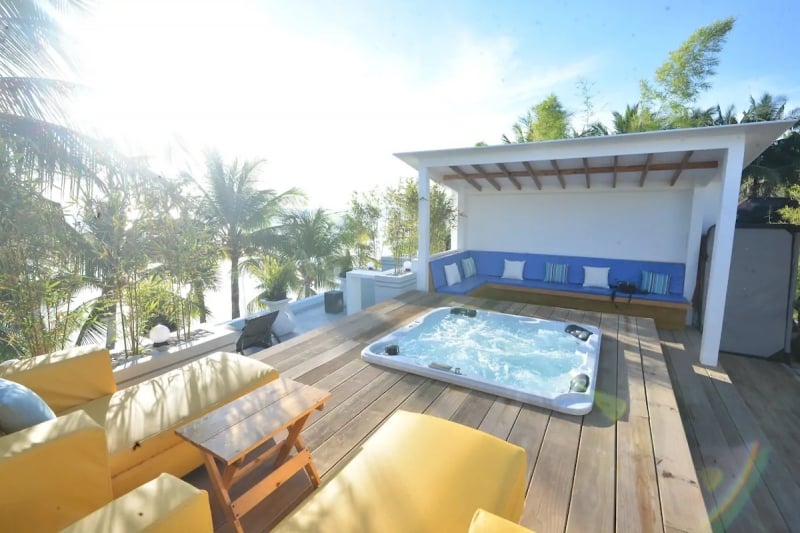 Listing name: Mayumi Beach Villa
Listing type: Entire villa
Max. no. of guests: 11
No. of bedrooms: 5
After years of receiving awards and much praise, Boracay never fails to live up to the hype! We were pleasantly surprised to discover this amazing beach house — and it's situated in no less than Station 1 of Boracay's famous White Beach!
The spacious tropical villa, designed with gorgeous native elements and local artwork, can fit up to 12 people. It's almost like having a little resort all to yourselves! At this Airbnb in the Philippines, you'll be equipped with everything you'll need for beachfront lounging and tanning under the sun — plus, home-cooked meals that are lovingly prepared by the villa's in-house staff. Trust us, you won't ever want to leave! Learn more about this Airbnb here.
Also read: 12 Airbnb Rentals in Boracay for Under ₱50,000 Per Month
5. This boho-chic hut in Subic Bay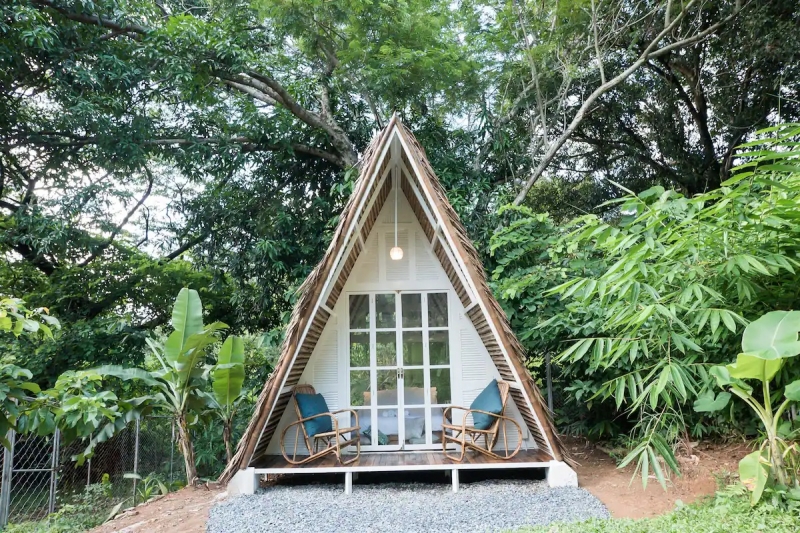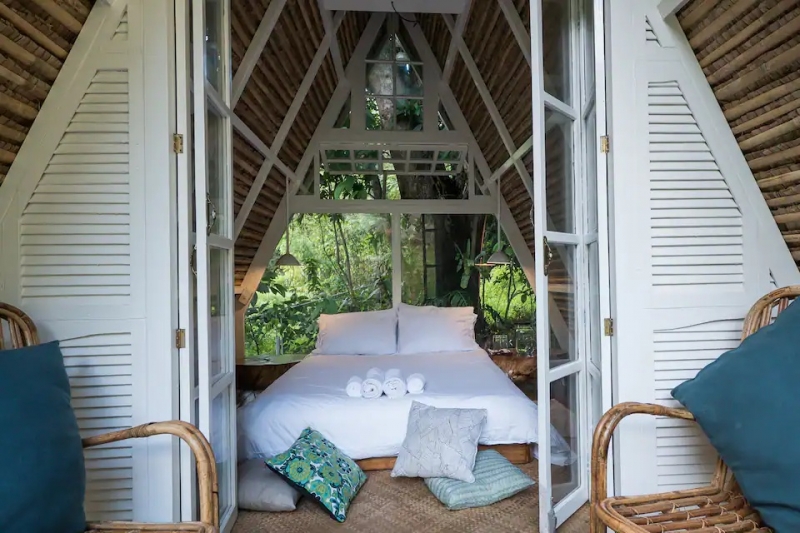 Listing name: Mango Nest Hut: AC, Garden, Wi-fi, Grill!
Listing type: Entire hut
Max. no. of guests: 2
No. of bedrooms: 1
Surely one of Subic's hidden gems, the Mango Nest Hut looks like something straight out of our Pinterest boards! Anyone who values #aesthetic just as much as comfort won't want to miss out on staying at this Airbnb in the Philippines.
This tiny A-frame hut is a 10-minute drive from the Subic CBD and awesome shops and dining spots. Beaches and waterfalls are also within easy reach, making this a great springboard for exploring must-visit attractions. Learn more about this Airbnb here.
6. This tropical villa in General Luna, Siargao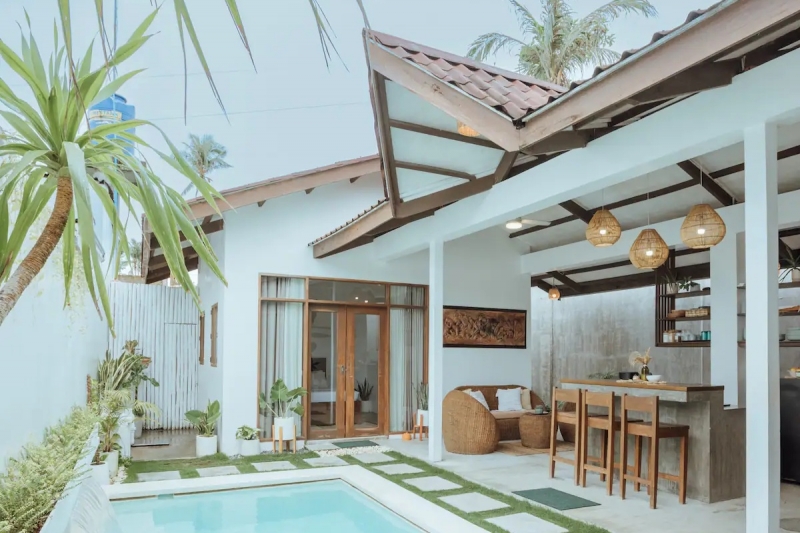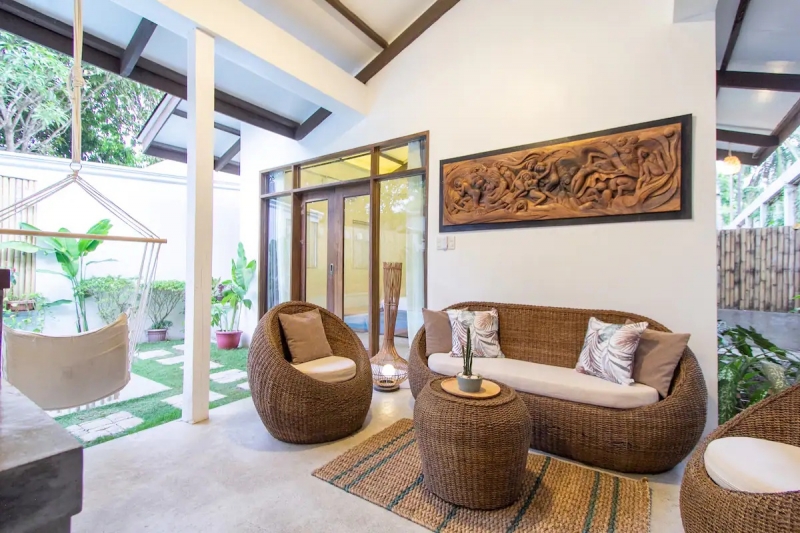 Listing name: Kali Villa – Private Pool Villa Ideal for Groups
Listing type: Entire villa
Max. no. of guests: 8
No. of bedrooms: 2
Even returning travellers never seem to tire of the tropical paradise that is Siargao. Take your visit a step further by booking a stay at this picture-perfect Airbnb, where you and your travel buddies are more than welcome to make yourselves at home.
Tucked in the heart of General Luna, this villa practically calls you to leave your worries behind! Take advantage of the private dipping pool and breezy open-air living area, and treat yourself to the R&R you deserve. A bonus? Siargao's popular establishments are just a few minutes' walk or a habal-habal ride away! Learn more about this Airbnb here.
Also read: 10 Siargao Airbnbs to Complete Your Island Experience
7. This native cottage in San Juan, Siquijor
Listing name: Keady Cottage – 30 metres from the beach and ocean
Listing type: Entire cabin
Max. no. of guests: 2
No. of bedrooms: 1
Located on the mystical island of Siquijor is a home that's just as magical. This rustic abode for two offers the perfect setting for a much-needed romantic getaway; set within a lush tropical garden, its quiet location offers you all the privacy you'll need. Enjoy lazy mornings getting kissed by the sun as you lounge at the front deck — then, treat yourself to a refreshing shower in the outdoor bath area!
Despite its seemingly remote location, guests will be able to enjoy easy access to Siquijor's popular attractions. And what's more, this native villa even has its very own bamboo path that leads straight to the ocean! How cool is that? Learn more about this Airbnb here.
8. This stunning glass house in Baguio, Benguet

Listing name: Garden Terrace at Tudor in the Pines
Listing type: Entire house
Max. no. of guests: 4
No. of bedrooms: 2
As Baguio has long been a regular vacay spot for those living within driving distance, it's one of the places that most weekend road trippers miss dearly. Anyone who plans to visit the City of Pines should definitely bookmark this magnificent Airbnb. And if scheduling a trip there has yet to cross your mind, we're pretty sure that photos of this stunning home will inspire you to start planning!
A glass house surrounded by pines, this Airbnb in the Philippines seems almost unreal! During the day, the rooms are bathed in sunlight; meanwhile, at night, guests are invited to chill out at the fire pit! We can already imagine all the barkada bonding moments to be had amidst the cool Baguio atmosphere, can't you? Learn more about this Airbnb here.
Also read: Where to Stay in Baguio: 26 Vacation Rentals for All Budgets
9. This beachfront cottage in San Vicente, Palawan
Listing name: Beachfront, Off grid, Tropical Paradise
Listing type: Entire cottage
Max. no. of guests: 4
No. of bedrooms: 2
If an off-the-grid vacation is what you're after, then look no further than this lovely beachfront cottage in San Vicente. It's the ideal Palawan alternative if you're looking to stay away from the busier side of the province: Instead of busy beaches, bars, and restaurants, you'll get a quiet slice of paradise. You'll even have a strip of the beach all to yourselves!
Do take note that this secluded home is about an hour and a half away from the airport; but be assured that once you get here, you'll find that it's more than worth the long trip! Learn more about this Airbnb here.
Also read: 17 Secluded Hotels & Resorts in Palawan That Are Off the Tourist Radar
10. This stunning farm villa in Don Salvador Benedicto, Negros Occidental
Listing name: Entire Private Villa: Kwartitos
Listing type: Entire farm stay
Max. no. of guests: 14
No. of bedrooms: 4
This beautiful vacation home in Don Salvador Benedicto seems like it was made for a barkada trip — the kind where all you're after is a change of scenery, a pool, and lots of space for hanging out. Not only is this house spacious; it's set at 3,600sqm and sits 1,800ft above sea level! Needless to say, the panoramic mountain views from up here are definitely something else. 
Apart from the large expanse of land that you're welcome to have picnics on, this Airbnb comes with plenty of amenities for the ultimate stay. There's a lap pool, a Jacuzzi, and an outdoor lounge area complete with a fire pit. You can even set up an outdoor projector and screen for al fresco Netflix and chill sessions! Pretty awesome, right? Learn more about this Airbnb here.
Also read: 12 Airbnbs for Your Next Barkada Staycation Near Manila
11. This tiny mountain home in Tanay, Rizal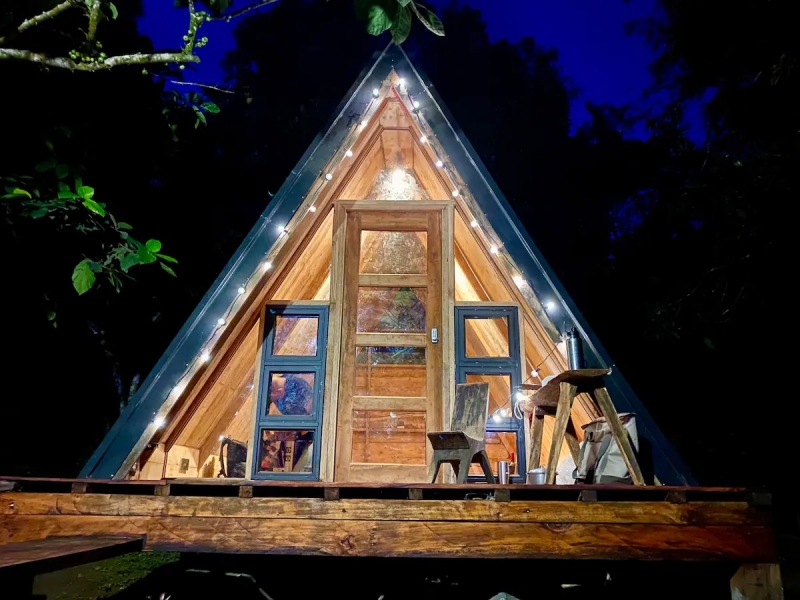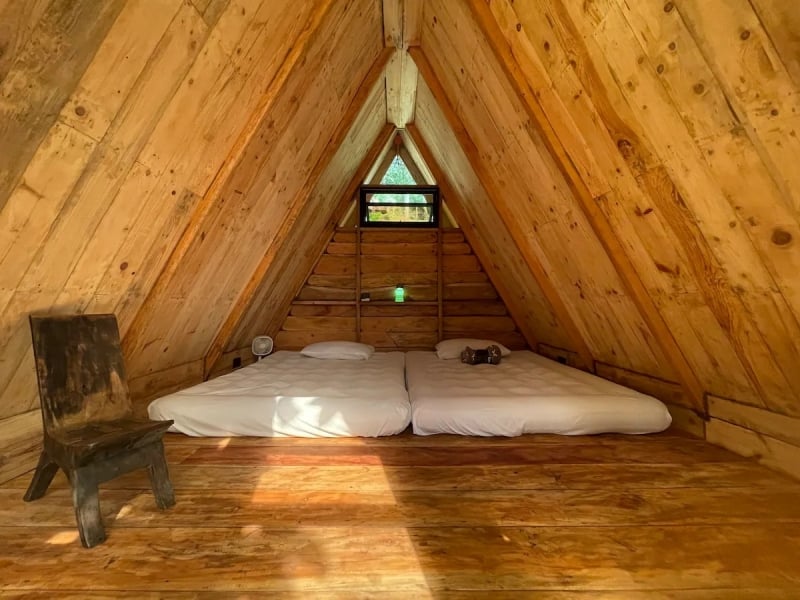 Listing name: Off-Grid Tiny A-Frame House and Campsite
Listing type: Entire tiny home
Max. no. of guests: 10
No. of bedrooms: 1 
Swap luxe stays and high-tech amenities for a few days in the great outdoors. Nestled on the foothills of the Sierra Madre Mountain Range, this A-frame cottage is the ideal escape for travellers looking to unplug. Instead of spending hours bingeing on Netflix, go fishing in the pond, collect fresh eggs from the chicken coop, or plant a tree to leave your mark on this Airbnb before leaving.
Inside, there's ample room for four guests — five or six, even, if your group is okay with a tight fit on the two beds. The staff can set up the comfy six-person dome tent for additional guests. Learn more about this Airbnb here.
12. This modern surf shack in Mati, Davao Oriental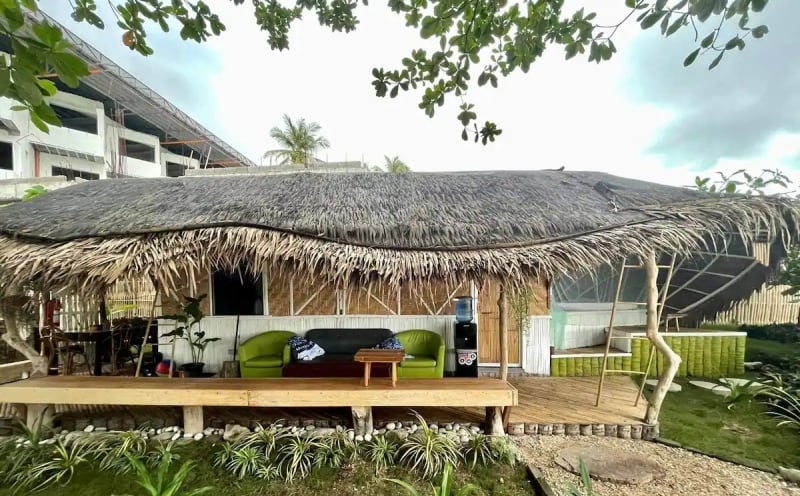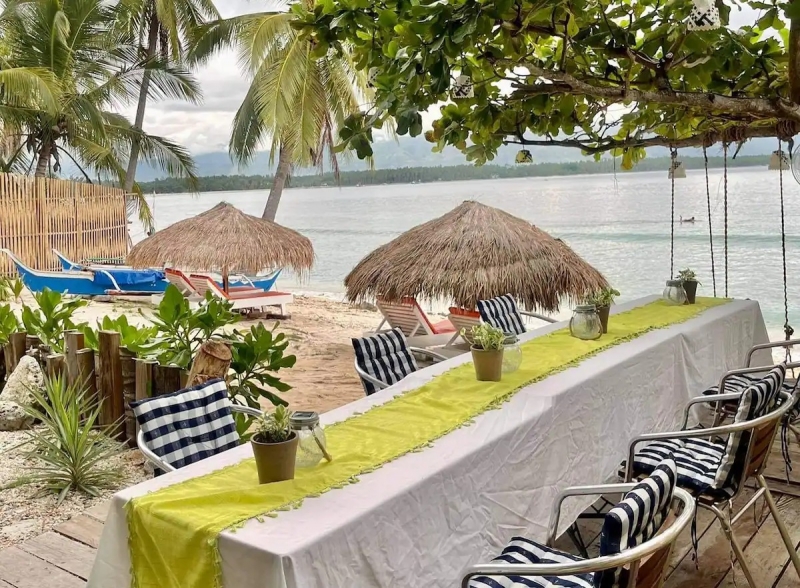 Listing name: Private Beach w/ Unique Hut. WhiteSands. Surfspot
Listing type: Entire hut
Max. no. of guests: 4
No. of bedrooms: 1 
Take over this laid-back hut on your next surf getaway with friends. It's set right on the white-sand Dahican Beach in far-flung Mati, on the southeastern coast of Mindanao. Just a short walk away is Amihan Surf Spot, as well as popular cafes, restaurants, and bars. 
When you're not chasing swells, chill out in your private surf shack. The house is set up to maximise the breezy beach vibes, with an open-air living and dining area that lets guests enjoy the salty air while hanging out and eating. Naturally, the deck offers the best seat in the house, overlooking the beach. Learn more about this Airbnb here.
Also read: 10 Charming Airbnbs in Davao for a Southern Adventure
As we look ahead to 2023, we're pretty excited at the travel possibilities the year has in store. For the next 12 months, we hope you tick off a couple of destinations on your bucket list — and that you embrace the spirit of adventure, whether you're booking a beautiful Airbnb in the Philippines or flying somewhere more remote. Happy travels!
Got a property you'd like TripZilla to feature? Inquire with us here.
---
This article contains affiliate links. When you book through these links, we may earn a small commission at no additional cost to you. All images courtesy of the respective property listings.