If there's anything you should know about the BTS ARMY, it's that we're a force to be reckoned with. We're always inspired by Bangtan's passion for music, relentless hard work, and dedication to their craft and artistry. Usually, we like to show our love and support through conventional ways like streaming their music, attending events, buying merch and whatnot. And most times, our dedication leads us and the boys to reach greater heights. Celebrate the boy's ninth anniversary and upcoming comeback with your fellow ARMYs at these BTS coffee shops in the Philippines. I know you wouldn't want to miss it for the world!
Also read: Heads Up, ARMY: This Local Bakery Makes BTS Cakes & Cupcakes!

BTS-inspired coffee shops in the Philippines for ARMYs to hangout and fangirl at
1. Idol Cafe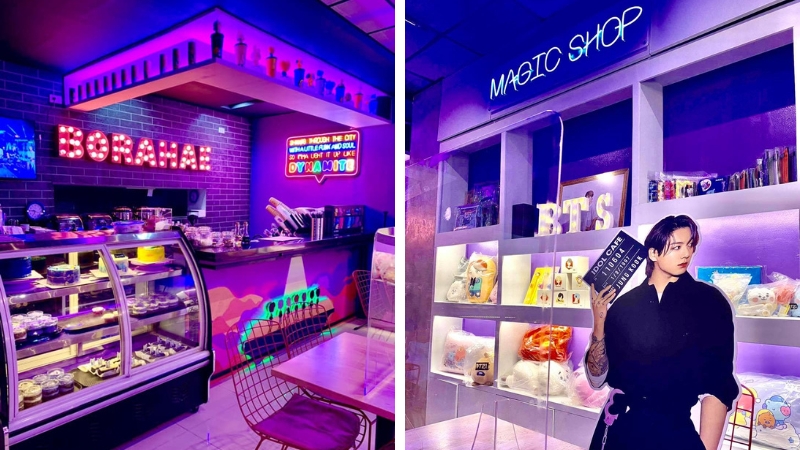 Idol Cafe, located at Aurora Boulevard, is simply every ARMY's haven! Its interiors boast all things Bangtan, from Dynamite-themed neon signs to walls covered in purple hues. Their menu consists of Korean rice bowls, BTS-themed pastries, cakes, and more. Additionally, their Idol Cafe Bar offers a wide variety of beverages. Take your pick among coffees, hot drinks, and even cocktails if you're feeling a bit frisky.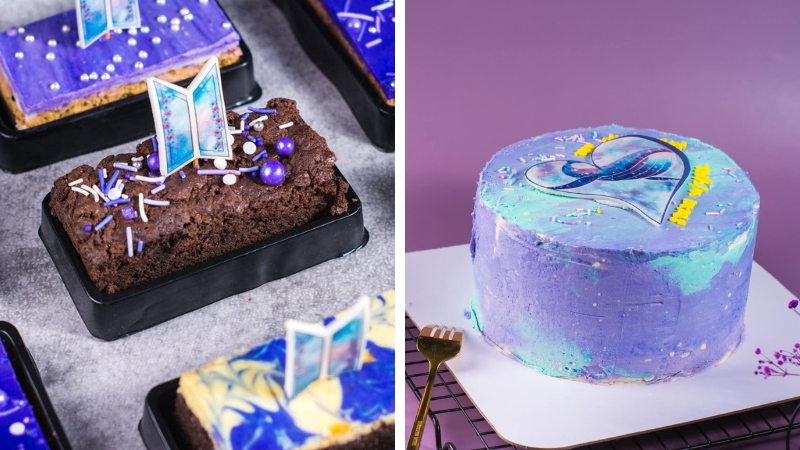 Here, you can dine with your bias and shop BTS merchandise to add to your collection. Plus, you wouldn't want to pass up the opportunity to take selcas with your fellow ARMYs — every corner in this BTS cafe in Manila is IG-worthy! 
Location: 41, 1113 Aurora Blvd, Quezon City
For more information, visit Idol Cafe's Facebook and Instagram pages. 
2. Rkive Cafe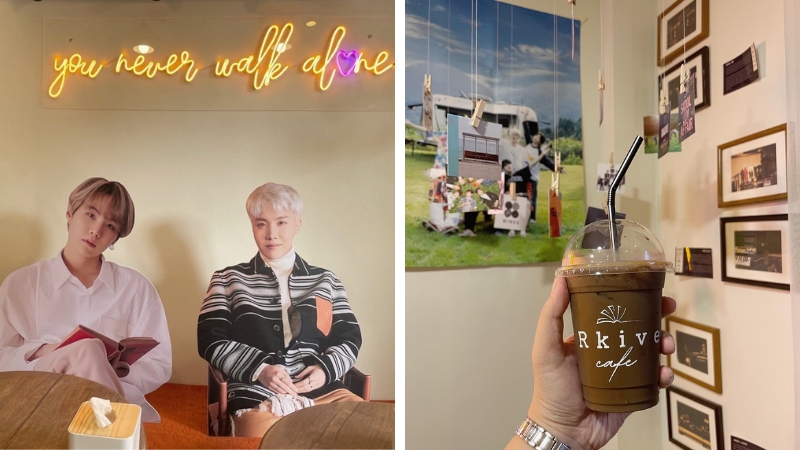 As its name suggests, Rkive Cafe takes inspiration from BTS leader RM's studio space. "Rkive" is a subtle play on words, incorporating the term "archive" and his stage name. Quite the wordsmith right there, Kim Namjoon! 
Much like RM's studio, this BTS cafe in Manila offers a warm and welcoming atmosphere to enjoy one's company. Sink into your seat with a book and sip on iced coffees all afternoon. Rkive Cafe also offers an array of hearty snacks like sandwhiches, pastries, beungeoppang (a popular Korean fish-shaped snack), cheese mandu and more!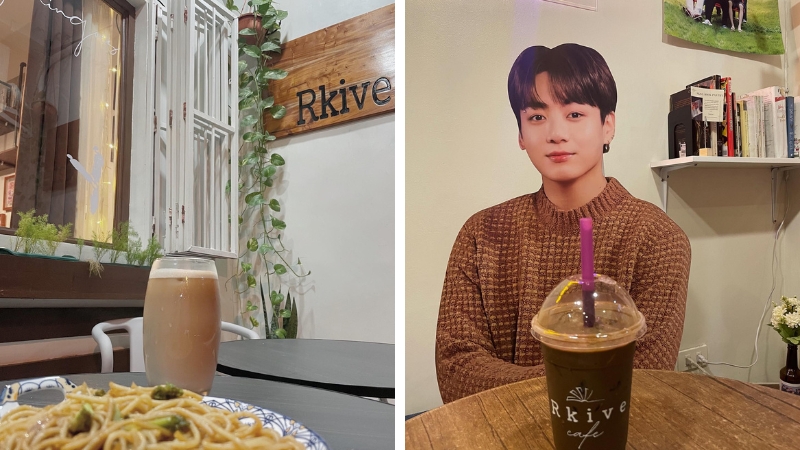 If you're looking for a quaint and picturesque cafe in the city, Rkive Cafe is simply hard to miss. Its minimalist design and BTS-themed decoration easily make it a great space for ARMYs to chill, relax and unwind. Be sure to check their socials for upcoming cup sleeve events and other exciting gimmicks to look forward to! 
Location: 1719 Gen. Lim, Bangkal, Makati City 
For more information, visit Rkive Cafe's Facebook and Instagram pages. 
3. Haruman Cafe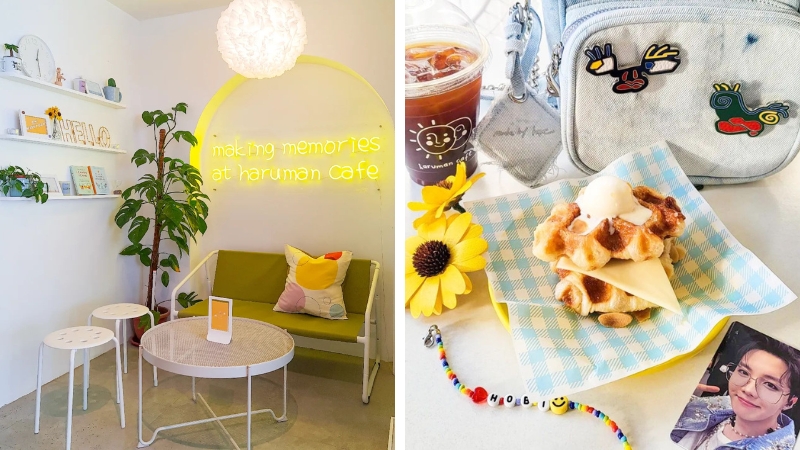 Haruman Cafe, nestled in Makati City, is a neighbourhood coffee shop inspired by one of BTS' best-loved songs, Just One Day. Its interiors are reminiscent of the Korean cafe aesthetic — Insta-worthy and ideal for photo ops with friends. Here, you can enjoy your coffee however you like and munch on cakes, waffles, and sandwiches to satisfy your cravings.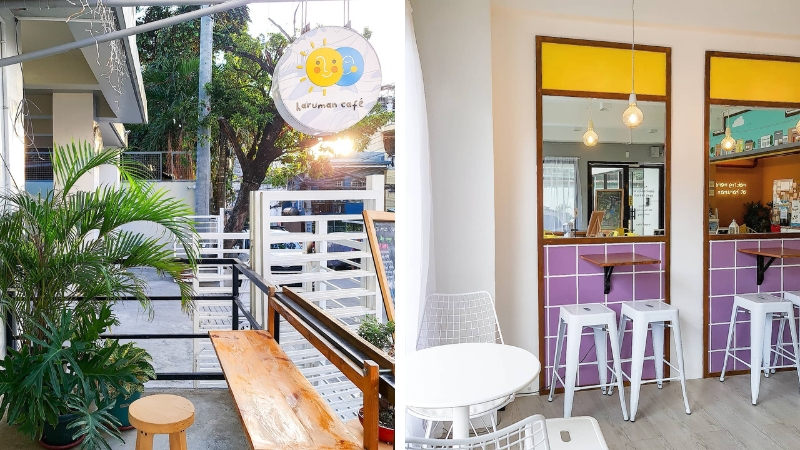 Haruman Cafe also offers pretty minimalist cakes that come in bento sizes, perfect for when you're celebrating special occasions. Ultimately, if you have an affinity for K-culture and K-pop (especially BTS), this might be your next go-to hangout spot! 
Location: FLVJ Printing Shop 404 D.V. Laurilla st Pitogo, Makati City
For more information, visit Haruman Cafe's Facebook and Instagram pages.

Also read: 10 Pinoy BTS Fan Artists to Check Out on Instagram
4. Purple Heart Cafe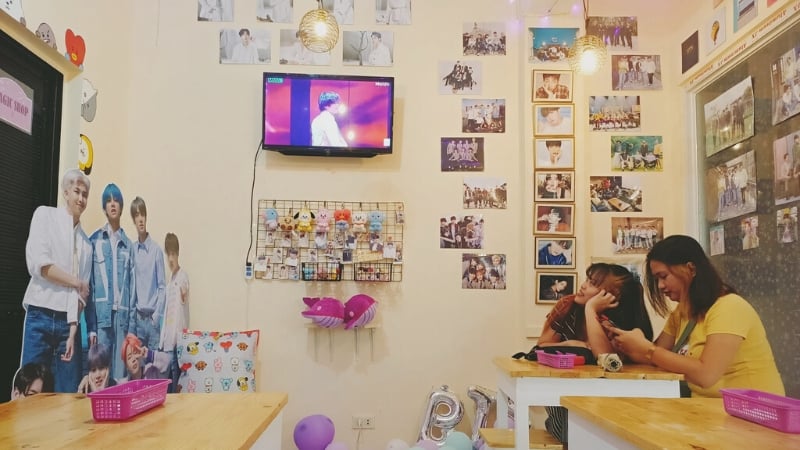 Purple Heart Cafe is a compact yet cosy cafe that doubles as a shop for your K-pop budols! This BTS cafe in Manila offers a range of appetising snacks like Korean corndogs, burgers, and BT21-themed cookies. But munchies aside, their bestsellers actually come from their beverage menu, which consists of handcrafted frappes, milkshakes, and coffee. On top of food and merch, Purple Heart Cafe offers a comfortable space for ARMYs to get together, especially during comeback seasons! 
Location: 636 Llano Road, Doña Ana Building, Barangay 167 1400 Caloocan City 
For more information, visit Purple Heart Cafe's Facebook and Instagram pages. 
5. Magic Sip Cafe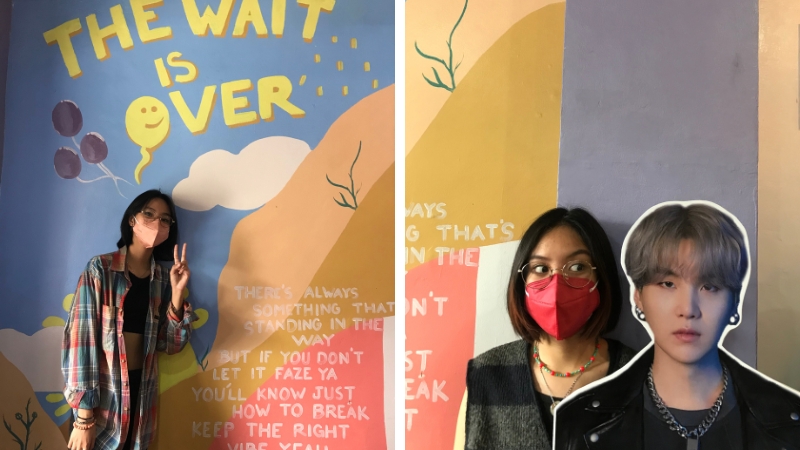 When my sister and I learned about Magic Sip Cafe's opening, we couldn't pass up the opportunity to receive free K-pop merch that day. I wish I was joking when I say we stayed in line for an hour to get our orders and complimentary BTS posters, but I'm not! Of course, for us, it was well worth the wait.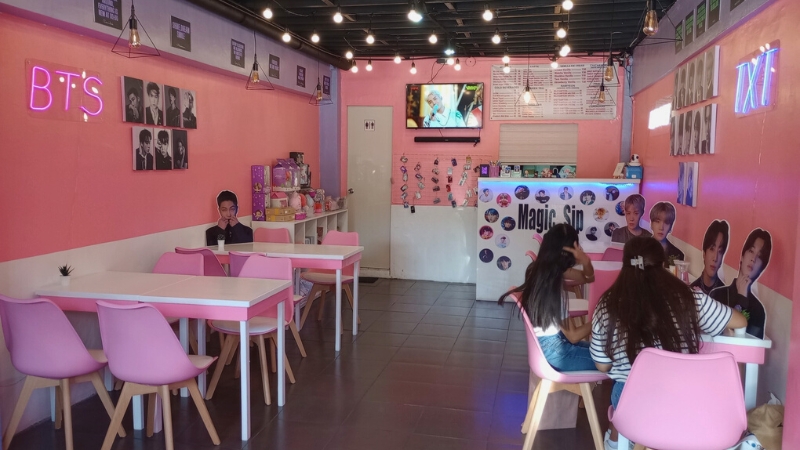 Although they're fairly new to the K-pop cafe scene, expect their place to be packed with ARMYs and K-pop fans. Quench your thirst with their assortment of snacks and meals best paired with their selection of milk teas, iced coffees, and shakes. And, as with most K-pop or BTS cafes in Manila, you should keep an eye out for their events and giveaways!

Location: 080 Padre Campa St, Sampaloc, Manila City
For more information, visit Magic Sip Cafe's Facebook and Instagram pages. 
6. Purple 7 Cafe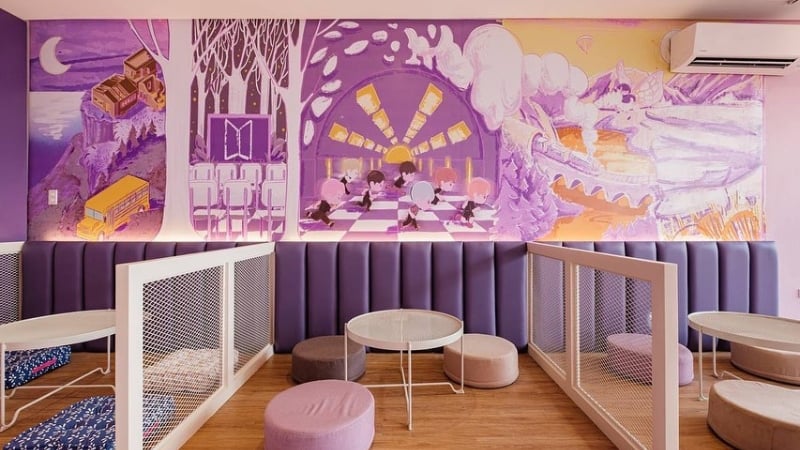 Purple 7 Cafe is a fan-owned BTS-themed cafe located in Tomas Morato, Quezon City. It's one of the more popular K-pop coffee shops in Manila,often lauded for its exceptionally beautiful interiors. Their food menu mainly comprises light afternoon snacks like croffles, cookies, and cakes. But, they also offer hearty and filling pasta dishes to appease your hunger. Their beverage menu, on the other hand, consists of coffee, milk, yoghurt, and fruit-based options for you to try out!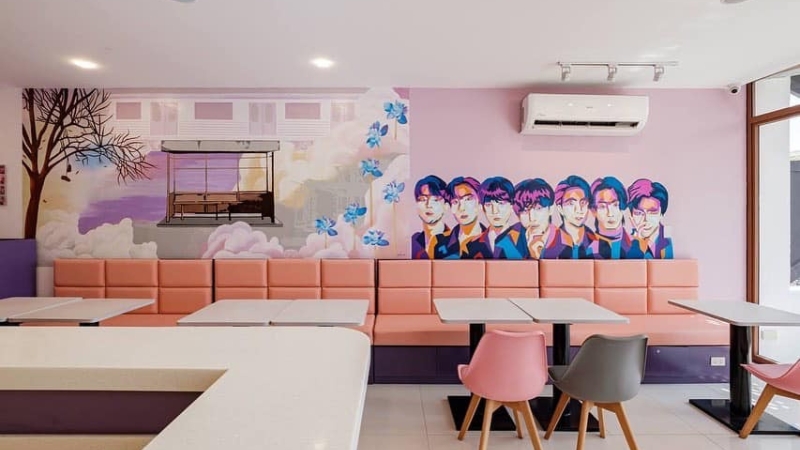 Every nook in this cafe offers an aesthetically pleasing background to show off on your feed and IG stories. Plus, its overall atmosphere makes it a safe space for you and your friends to rave about your faves. Ultimately, Purple 7 Cafe is the perfect place to be for ARMYs like you and me!

Location: 38 Tomas Morato Ave, Quezon City
For more information, visit Purple 7 Cafe's Facebook and Instagram pages. 
Also read: Where to Buy Fanmade BTS Merch That Every ARMY Will Love 
That about sums it up for this list of BTS coffee shops in the Philippines! I'm sure you can't wait to unleash your inner fangirl or fanboy with your fellow ARMYs, too. Know of other BTS or K-Pop-themed coffee shops and hangout spots that you love going to? Be sure to share them with us on our official Facebook page!