It's a well-known fact that almost any celebration calls for cake! Whether it's birthdays or anniversaries, cakes make special occasions more festive and significant. With the rising popularity of minimalist cakes in Manila, different local patisseries are offering custom-made and curated artisan desserts. 
Oftentimes, these minimalist bento cakes come in small sizes and personalised designs made to suit each customer's taste and preferences. We've found that simple and minimalistic ones are often favoured, as they are absolutely IG-worthy. Want to get your hands on some aesthetically pleasing cakes for an upcoming celebration? Look no further because we got you covered!
Also read: 7 No-Bake Desserts You Can Easily Make at Home
Where to buy cute minimalist cakes in Manila
1. Ola Bakes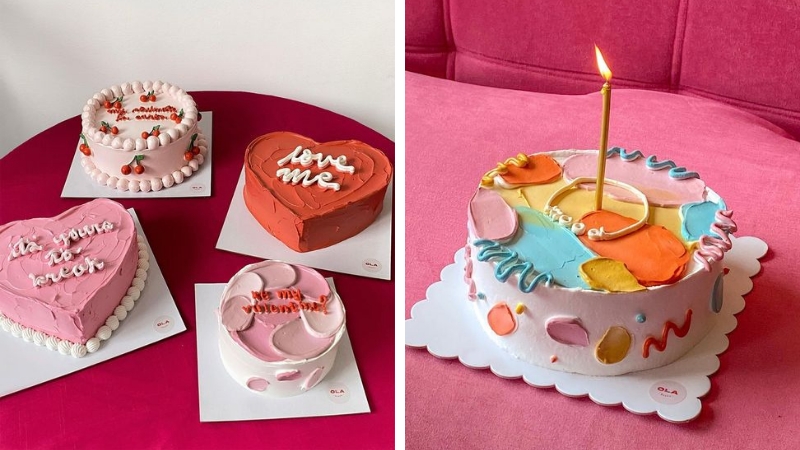 Location: Quezon City 
Ola Bakes is a rising pastry shop that offers minimalist cakes decorated with pretty pastel colours and delicate cursive dedications. With heart's day just around the corner, you and your special someone can celebrate with their exclusive Valentine's Day-themed cakes. They also accept custom design orders perfect for other occasions and different kinds of celebrations! 
For more information, visit Ola Bakes on Instagram and Facebook.
2. Minimalist Cake PH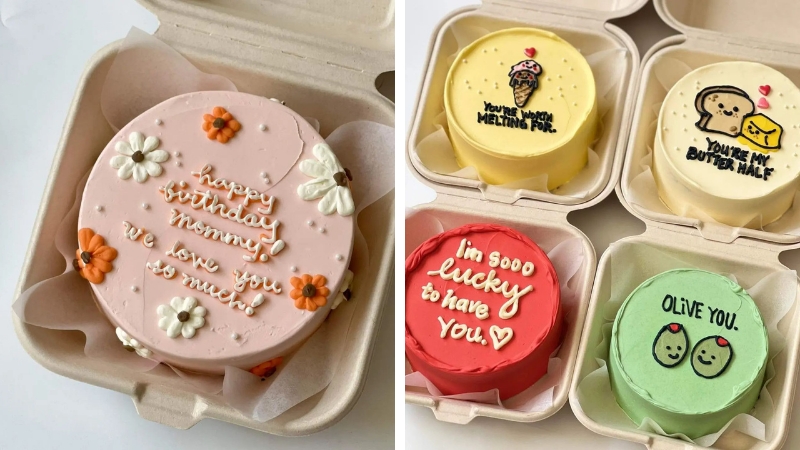 Locations: Novaliches City, Parañaque City, Manila City, Makati City, Santa Rosa City, Cavite City
Did you know that cakes by Minimalist Cake PH are featured on popular social media influencers and celebrities' Instagram pages? With the rising trend of minimalist cakes in Manila, no wonder they're reaching all sorts of customers! They specialise in simple and minimalist bento cakes that come in different flavours like chocolate, red velvet, and vanilla. Other than cakes, they also offer delectable desserts like cookies, macaroons and cupcakes. 
For more infomation, visit Minimalist Cake PH on Instagram and Facebook. 
3. Mae Cakes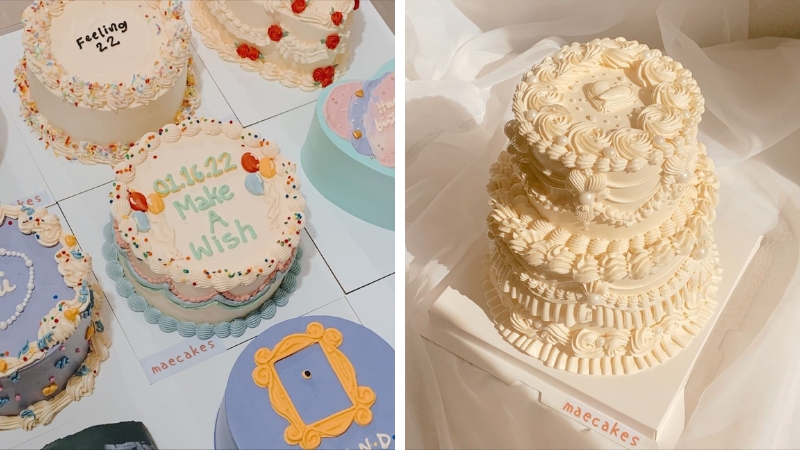 Location: Quezon City 
If there's one thing to be guilty about when eating cake, it's having to slice through the cute and pretty designs! You might find it nearly impossible to consume Mae Cakes' sweet treats, as they are absolutely picturesque. In addition to minimalist Korean-inspired cakes, they also specialise in maximalist vintage cake designs. 
Want to personalise your cake order? You can choose from different cake sizes, shapes, and flavours to make it your own!

For more information, visit Mae Cakes on Instagram, Facebook, and their website. 
4. Icing and Cream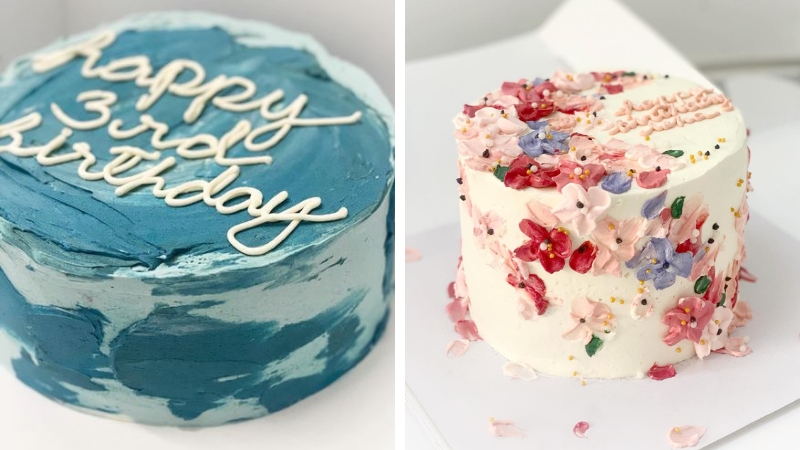 Location: Par​​añaque City 
Icing and Cream offers fully customisable cake designs that you'll simply fall in love with. You can choose different cake base flavours, icing colours, and add little edible embellishments to make your cake extra unique.
Do you have an affinity for all things dainty and floral? Their flower cake designs are an absolute crowd favourite, along with their textured palette inspired cakes. Head over to their socials to see for yourself! 
For more information, visit Icing and Cream on Instagram and Facebook. 
5. Eve and Dough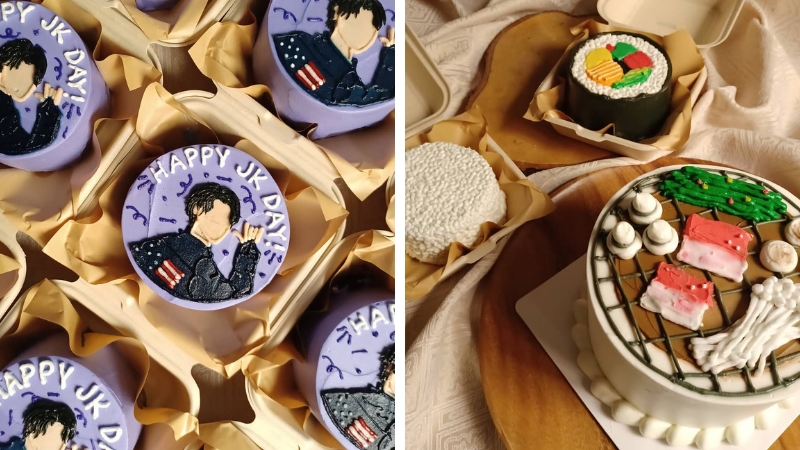 Location: Manila City 
Eve and Dough make all sorts of cakes that will surely spruce up any special moment spent with your loved ones! Their cakes come in the traditional size and the on-demand lunch box cake size.
While they offer clean and minimalist cakes, they also create fun and quirky designs for those who want something out of the box. These unique designs range from custom characters and K-Pop inspired ones to ramen noodles and Filipino food!

For more information, visit Eve and Dough on Instagram and Facebook. 
6. Aegyo Cakes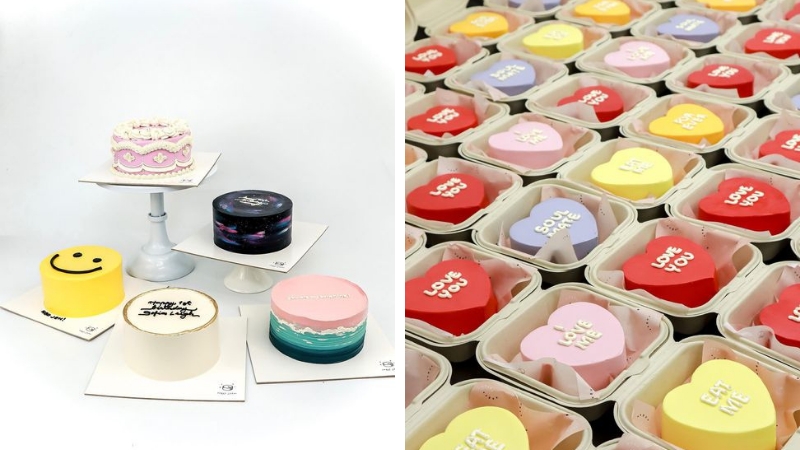 Location: Quezon City 
Aegyo Cakes' delectable desserts are continuously gaining lots of traction on socials with their collection of signature cake designs. Besides offering the ever-so-popular clean and minimalist cake style, they make cakes that are galaxy and beach-inspired, too. 
Of course, they also take custom designs if ever you have any special requests or instructions for your cake. Surely, their cakes will add that extra oomph to your Instagram flat lay photos! 
For more information, visit Aegyo Cakes on Instagram, Facebook, and their website. 
7. Wadough's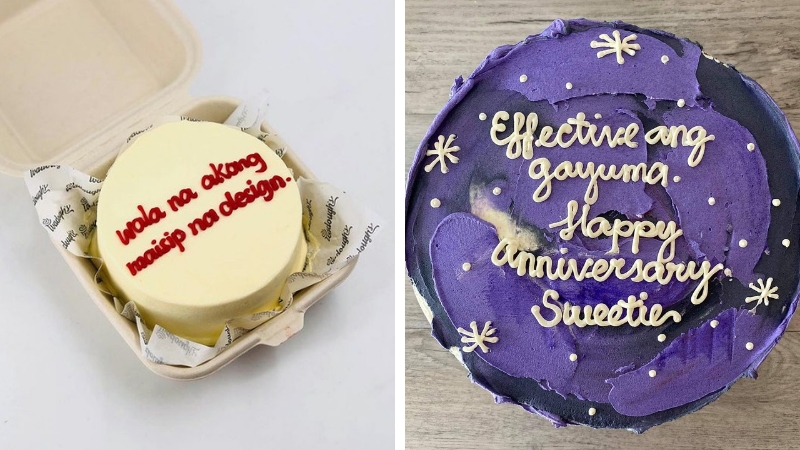 Location: Quezon City 
If you're not familiar with Wadough's funny and witty cake designs, then you're missing out on an extra special celebration! This cake shop is popularly known for using hugot lines and patama quotes to decorate their cakes.
Their designs are completely customisable, so you can achieve that iconic minimalist aesthetic as well. If you're celebrating a loved one's special day, then you might want to go the extra mile by making them smile with their cakes! 
For more information, visit Wadough's on Instagram and Facebook. 
Bakeries near Manila that deliver minimalist cakes to the metro
8. Baked By Claire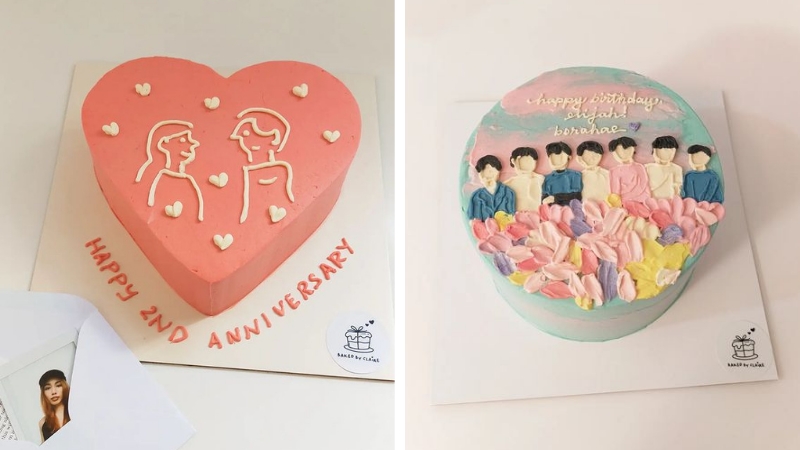 Location: Southgrove Estates, Cavite City 
Level up your edible present with customisable cakes from Baked By Claire, a home-based cake shop in Cavite City. You can choose between a traditional round cake or go extra with a heart-shaped one. 
They offer bento and layered cakes that come in a variety of flavours like chocolate, vanilla, red velvet and coffee. Meanwhile, their premium flavours include strawberry and salted caramel — perfect for those who are looking for something different. They typically have limited slots per month, so be sure to secure yours when a special occasion is coming up! 
For more information, visit Baked by Claire on Instagram. 
9. Bakes By Audrey's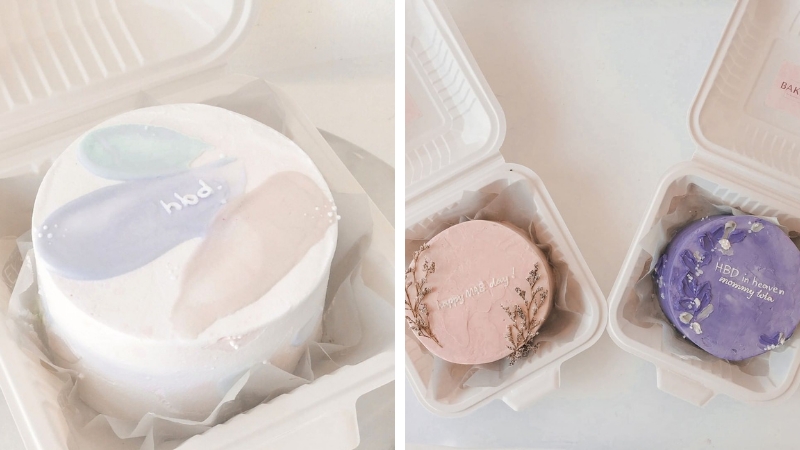 Location: Biñan, Laguna 
Bakes by Audrey's will serve you slices of heaven with their simple yet gorgeous cakes and baked goods. This sweet little cake shop provides classic and customisable artisan cakes that are absolutely perfect for any party table. Truly, all of their pastries make any celebration unforgettable. However, you don't have to wait for any occasion to make someone feel special. Send your loved one a personalised cake with a sweet message anytime!

For more information, visit Bakes by Audrey's on Instagram, Facebook, and their website.
10. Milk and Vanilla PH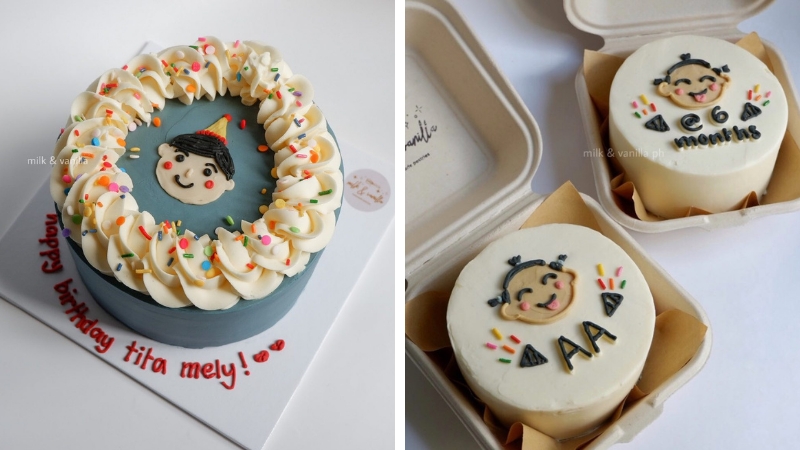 Location: Nuvali, Laguna 
Still looking for more ideas on where to buy minimalist cakes? You'll find a lot of small pastry shops making their way through the corners of the Internet, too! This last (but certainly not the least) one on our list is an up-and-coming dessert shop that creates custom and minimalist cakes. While their Korean-inspired lunch box cakes are more popular, their cute custom character cakes are definitely noteworthy, too. 
For more information, visit Milk and Vanilla PH on Instagram and Facebook. 
Also read: 10 Desserts on Instagram We Can't Stop Thinking About
Show your utmost gratitude and appreciation towards the people you love and care about through these sweet treats. Now that you know where to find cute and minimalist cakes in Manila, you can make celebrations extra memorable. After all, simple is best and less is more!