Travellers around the world know: Thailand is one of the cheapest countries to visit. And Bangkok is especially affordable for backpackers! With the city's plethora of street food markets, a robust transport system, and a wide variety of bargain accommodations, it's shockingly easy to survive on a budget in Bangkok. 
That said, costs can creep up if you don't pay close attention. Looking back at my trip to Bangkok last January, I could've spent even less money if I planned better and prepared more for nearly two weeks in the capital. Here are some tips I wish I knew for cutting costs while travelling in Bangkok on a budget.
1. Don't exchange all your money at the airport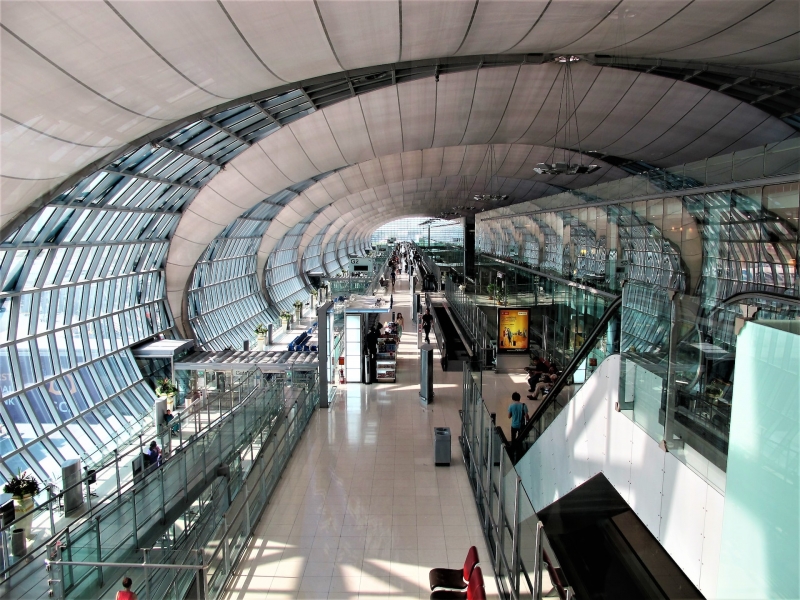 It's common knowledge that exchange rates at airports and hotels are terrible. The best option is to exchange your money before flying to Bangkok. But if you're like us, you may have trouble finding a bank or currency exchange in the Philippines with available baht.
In this case, exchange a bit of your money for baht at the airport just so you have some cash on you. Then, go to a money exchange store in the city for the rest. We recommend SuperRich currency exchange, which offers reasonable rates and has plenty of branches throughout Bangkok.
Also read: 11 Money Tips If You're Not Earning Well Enough to Build a Travel Fund
2. Do explore less popular night markets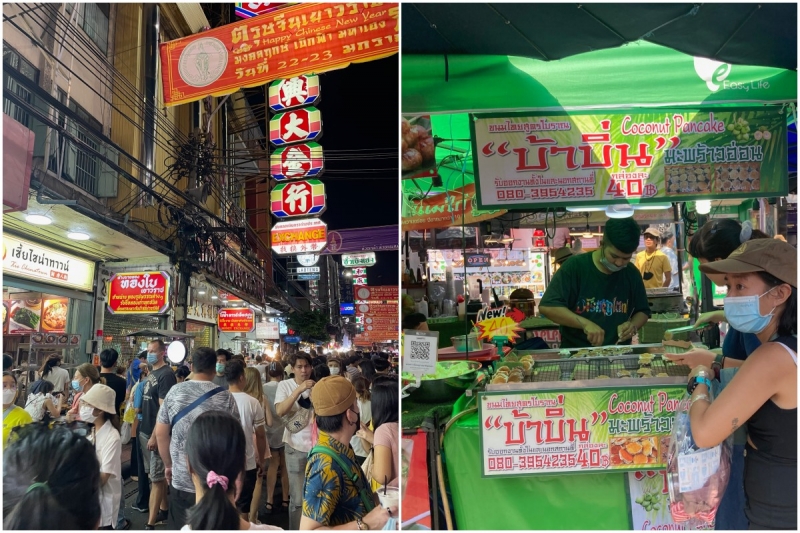 There's plenty to love about Bangkok, but amazing food is probably at the top of most travellers' lists — it's definitely on top of mine! A general rule for budget travellers is to eat like a local, and in Bangkok, that means street stalls, food courts, and night markets. 
During my first week in Bangkok, I stayed with friends in the residential area of Minburi that's an hour or two away from the city centre. That means it's a long drive to many popular markets. Luckily, there are a lot of hidden gems nearby.
One that we went back to over and over again is Paksoi Night Market. Small but packed with delicious and fragrant street food, it's a local haunt with hardly any tourists. Here, we sampled a variety of yummy local fare; highlights are the ฿20 pad thai and the zesty chicken stir-fry dish. Trust us, exploring street food gems isn't just cheap, it's also one of the city's greatest pleasures.
3. Don't take airport taxis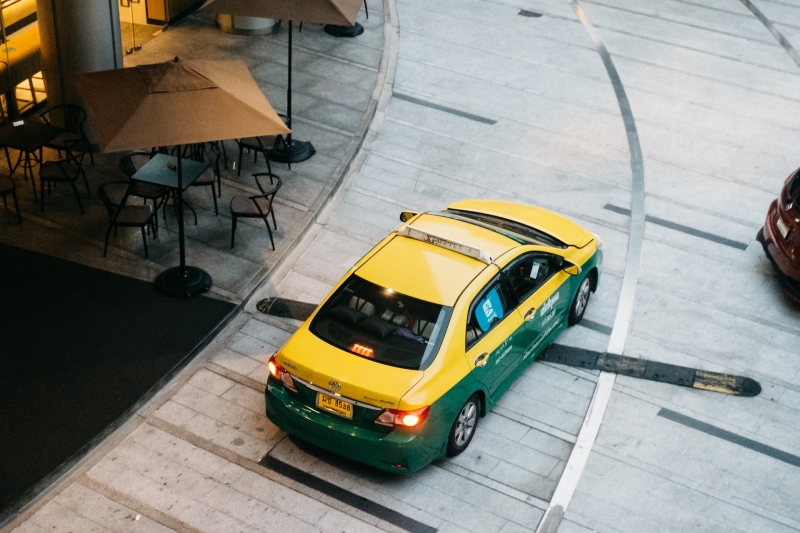 What's true in the Philippines is true in Bangkok: Skip the airport taxi to avoid paying a small fortune! I booked a Grab car to take me from Suvarnabhumi International Airport to my hostel and it was ฿369 plus tolls. If budget is your priority in Bangkok, your best bet is hopping on Suvarnabhumi's Airport Rail Link, which connects to the Skytrain and MRT network.
4. Do be ready with your Grab app
Lucky for us Pinoys, we're pretty used to hailing cars and taxis using the Grab app. It's just as easy to use in Bangkok, and the handy translation feature means you can communicate with your driver over messages with ease. It's more expensive than trains, buses, or walking, but it can be a lifesaver when you're going somewhere more remote.
Travellers really pinching pennies can opt for GrabBike, a motorcycle ride service on Grab that works like Angkas.
5. Don't rush into buying a Rabbit Card (or any other transportation card)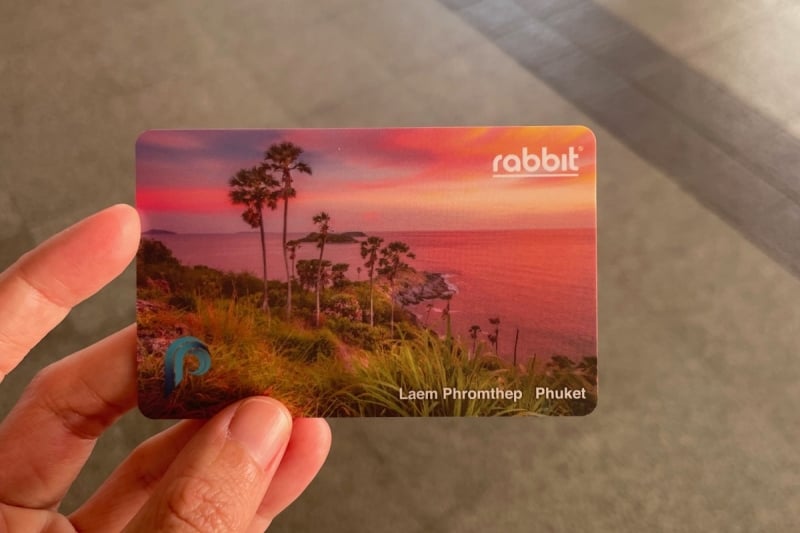 Here's the thing: the Rabbit Card is an amazing purchase if you end up travelling on the BTS Skytrain frequently during your trip. Sure, the Skytrain passes through many tourist spots like Siam, Victory Monument, and Chatuchak Weekend Market. But Bangkok is huge! If your hotel isn't anywhere near a BTS station or if you're targeting attractions serviced by MRT, then you might not even make full use of your Rabbit Card.
Make sure you study the railway network in Bangkok before purchasing any travel card, so you're sure you can maximise its use. (My sister ended up spending her Rabbit Card load on pretzels and coffee.)
6. Do find a hotel or hostel close to a train station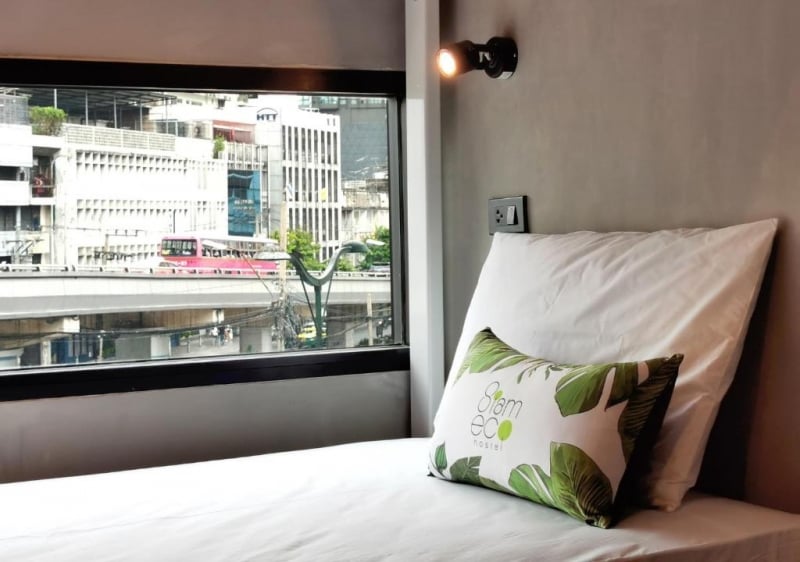 Traffic means that road travel can be pricey and slow in Bangkok. This goes for taxis, Grab rides, and even tuk-tuks. GrabBike is a faster and cheaper alternative, but it's still far more convenient to simply stay near a train station, so you can hop on and hop off at your leisure.
You'll have a lot of choices, but I'm pretty partial to the Siam area, a central district with access to both the SkyTrain and MRT. Plus, you'll be within walking distance of so many popular malls, from the budget-friendly Platinum Fashion Mall to the luxe Siam Paragon.
If you're on a budget in Bangkok, consider booking a hostel. I booked a bed at Siam Eco Hostel, which is right next to the BTS Ratchathewi Station.
Also read: 10 Gorgeous Yet Budget-Friendly Bangkok Airbnbs & Vacation Rentals
7. Don't be afraid to say no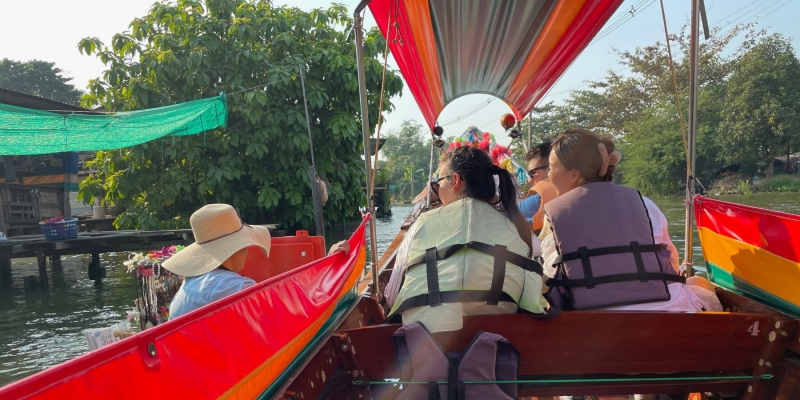 And say no with conviction.
Disclaimer: I truly have a problem with saying no, especially to complete strangers. And so when a friendly tuk-tuk driver whisked me and my sister off to a boat tour, promising to get us cheaper rates, I went along. Even if there were only two days left in our Bangkok vacation, our budget was quickly running out, and we had another tour planned the next day.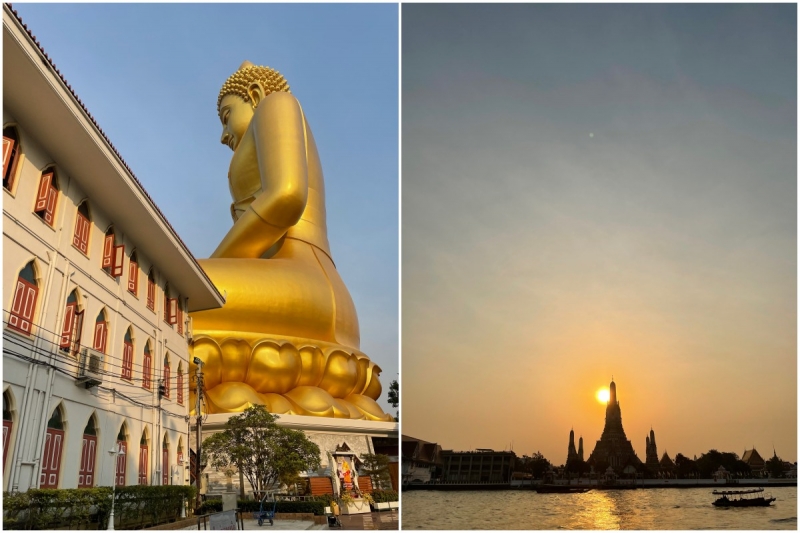 Our tuk-tuk driver herded us to the tour operator, who proceeded to haggle with gusto. "I get you; I know what you're doing!" she exclaimed happily, wagging a finger at me. "1,000 baht each!"
I didn't have the heart to tell her that we didn't really want to go on the tour. And the price just kept getting lower and lower until I felt bad refusing and I ended up dragging my sister on the tour. It ended up being more fun than we expected — but we also had to withdraw money from the ATM because we ran out of cash.
8. Do haggle like a local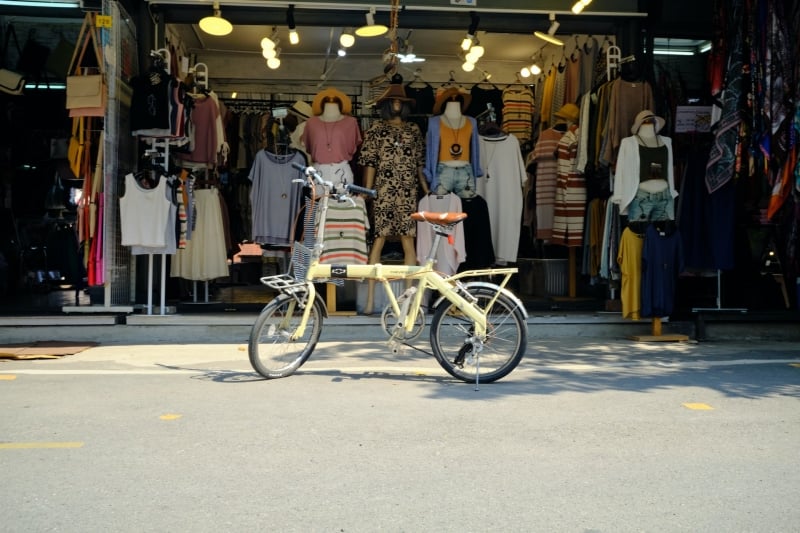 Not everyone is skilled in the art of haggling, but Thailand is the perfect place to perfect your skills. When it comes to budget shopping in Bangkok, haggling is part of the experience — even the vendors expect it. In touristy shopping areas like Chatuchak Market, Platinum Fashion Mall, and Khao San Road, the price on the sign is rarely the true price.
9. Don't take the tolls
Drivers will usually ask whether you'd prefer to take the tolls or not — and they'll sometimes tell you the time difference between the two, too. If you're not in any rush, go ahead and skip the tolls. After all, there's no need to spend the extra baht — the costs add up if you're making these trips multiple times.  
10. Do-it-yourself at Ayutthaya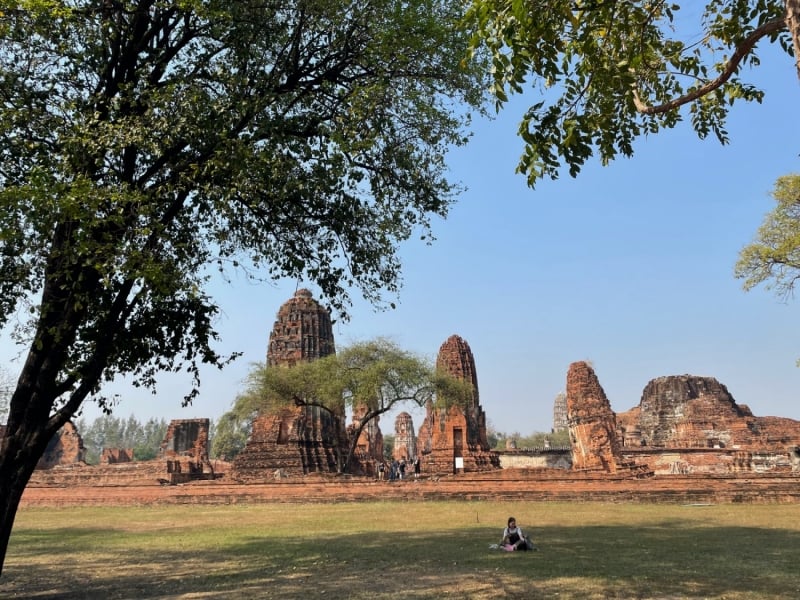 If you're planning to visit the Historic City of Ayutthaya, don't be afraid to do the DIY tour. It's an easy trip from Hua Lamphong Railway Station to Ayutthaya, with choices from a first-class train (over ฿300) to a third-class train (฿20).
One of the railway staff advised us against the non-air-conditioned third-class option, but it was perfect for our schedule. As budget travellers in Bangkok, it worked out well for our dwindling money. And fortunately, riding the cheapest train was fine — albeit slower than the more modern trains at first class.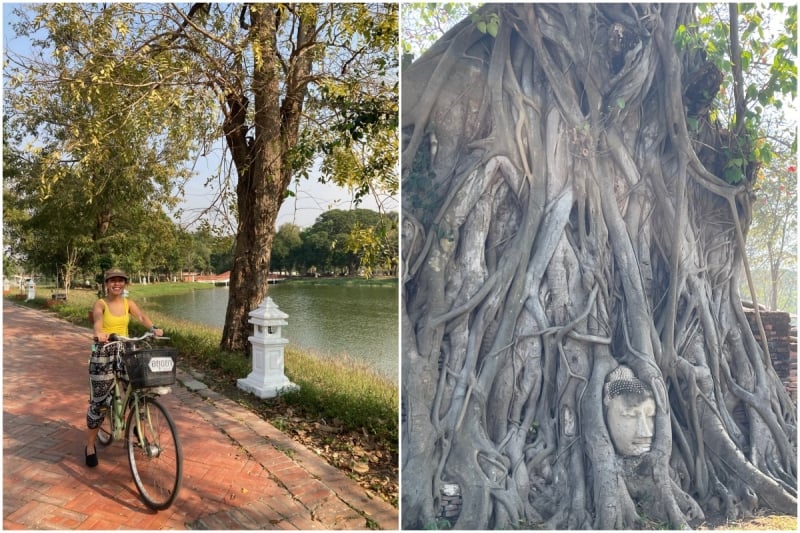 Once in Ayutthaya, you can rent bicycles for just ฿50 and get around the temple complexes by yourself. Most of the temples are free to tourists, while others will set you back up to ฿50 to enter.
Also read: I Survived 24 Hours in Changi Airport: My Essential Tips for Crazy Flight Cancellations
There's always a way to cut costs and travel on a lower budget in Bangkok! If you're feeling the travel itch but your bank account isn't on board, this city in Thailand won't disappoint. 
---
Featured image credit: Geoff Greenwood | Unsplash