Contributed by A Wanderful Sole 
In my quest to unravel more secret treasures in the province of Laguna, my journey to the distant town of Majayjay has taken me to this precious jewel hidden beneath the luscious forest at the foot of the marvellous Mt. Banahaw. Both a natural spring and a waterfall, its water is the coldest I've ever bathed in and the purest I've ever tasted. The scene within its world is completely devoid of any human intervention. It has stayed in its most natural state despite the hundreds of enthusiastic spirits paying her a visit everyday to get a glimpse of her unrivalled beauty. This only proves that human and nature can coexist if we only regard the environment with great discipline and reverence.
Also read: Top Laguna Attractions for Your Next Weekend Escape
The journey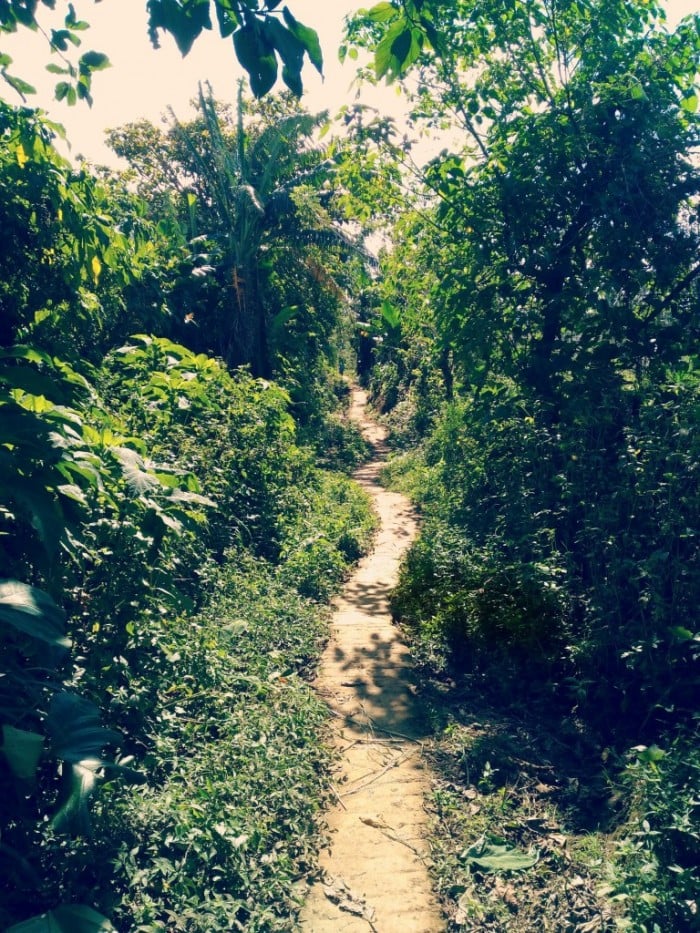 My original plan was to visit Taytay and Bukal Falls both located within Majayjay that same day but the time I have allotted turned out to be not enough. The journey to Majayjay itself took me almost the entire day despite me starting at 5 in the morning and coming only from Biñan. I couldn't really tell whether it was because of the distance or the traffic (I wasn't sure whether it was heavy as I was asleep the entire time), maybe because of both.
I departed for Majayjay from Sta Cruz at 10:45 AM and arrived there a little over 12 noon. I immediately hired a tricycle to take me to Brgy. Bukal despite having only eaten a biscuit for lunch. Upon arriving at Brgy. Bukal barangay hall, another problem presented itself. They no longer had a guide available to take me to Bukal Falls! Just my LUCK huh.
I was tempted to ask whether I can just go to the falls on my own having only to rely on their directions but it was confirmed negative even before I opened my mouth to spit out the question. The local officials do not allow visiting tourists to be on their own mainly for safety and environmental reasons. I weighed whether to still pursue Bukal Falls or skip it for later to go chasing Taytay Falls instead. Just when I was about to leave, the facilitating official found me 2 teenage boys to guide me to the waterfalls!
My guides Aris (18) and Andong (13) may be several years my junior but they sure were very capable. They didn't talk a lot but I sure did have a great time with them. We started trekking towards the falls along a concrete road that was gradually going up. The sun was burning hot but the air blowing was cool against my skin. The concrete road ended and the trek continued to a man-made path that was a few inches more than a foot wide. There wasn't any difficult assaults but the hike really was long, may be taking an hour or more.
From the man-made path, we turned right to a vegetable plantation then descended to a staircase that was a bit beaten up by previous typhoons. Upon reaching the foot of the stair, we then walked several steps along a rugged terrain before crossing a stream that was a knee deep, then ascended a stair again towards where Bukal Falls lies. I could hear the gushing of its water from afar which got me more excited. The minute I heard funny giggles, I knew I was almost there.
Also read: 13 Awe-Inspiring Waterfalls in the Philippines You Must Visit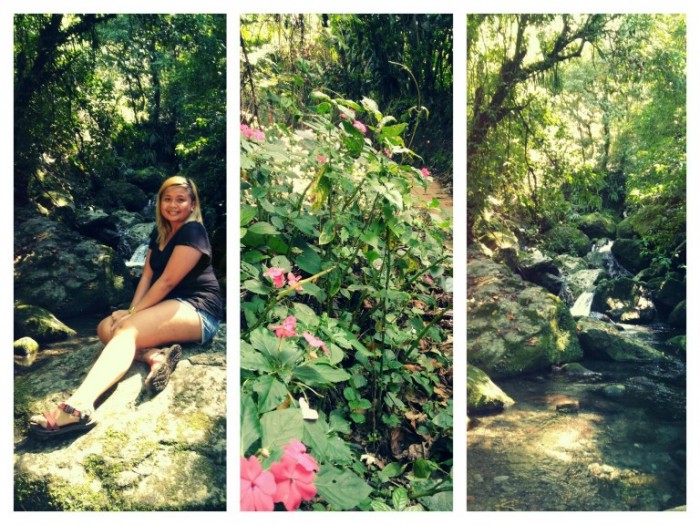 My heart skipped a beat upon seeing the deep blue waters flowing out of the catch basin of the lower tier of Bukal Falls. Several metres up where I stood, I could already tell the waters were as clear as crystals given how I can still see the rocks underneath. I continued walking without taking my eyes off it passing through a narrow path where several tents were pitched, then went to cross over boulders to see the main tier of the falls. I opted to find ourselves first a spot where I can snap my camera some good photos of the falls. I also didn't want to join the crowd of people at the main tier so I contented myself with a glimpse of it from afar. When I found the opportunity to have Bukal Falls all to myself, I went several steps up and couldn't help but just be in so much awe upon seeing its enchanting world.
The crimson rocks covered in moss surrounding the main catch basin and the pristine waters trapped inside it were just in perfect harmony. I wondered how the waters are painted blue revelling at its possible depth. I looked up to see sprinkles of water falling down. The absence of the mighty cascade of water from above down to its enchanting pool didn't take away its charm one bit. The subtlety made it even more endearing. Memorable. I took a few more snaps then settled in to take a dip in its icy cold waters. While afloat the water I thought memories like this can last many lifetimes, can fuel a too exhausting journey and make true an elusive dream. Guess I just found my "happy place".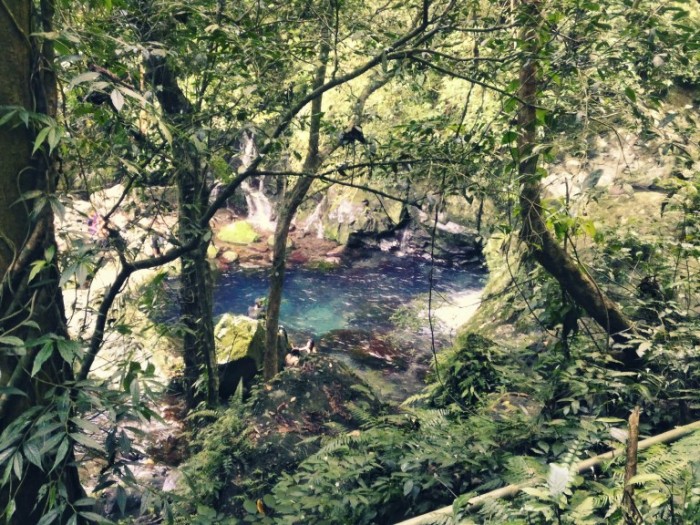 My 50 cents, tips and other info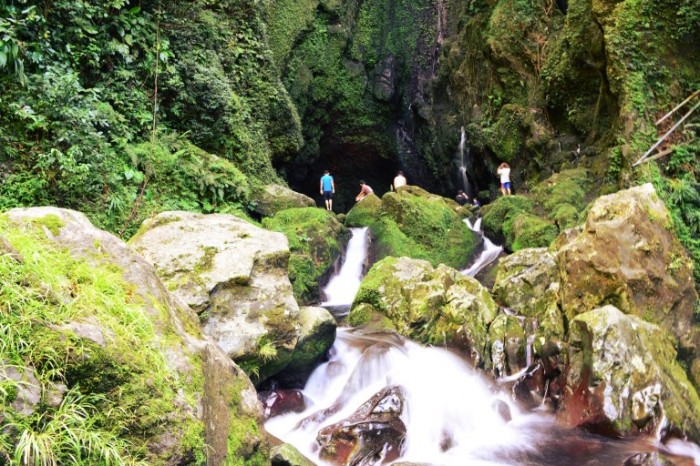 The place is surprisingly clean; please do your part to keep it that way. Don't leave your waste. If you are not the type to bring your trash home with you, at least throw them in the garbage bin. Don't let the locals go after your trash. That isn't their job.
We all are equally entitled to discover and witness the beauty of nature but please avoid mass hike or mass chasing waterfalls. Go in small groups of 5-10 and try going there on weekdays. You'll appreciate nature more when you have it all to yourself. To be able to indulge in the peace and quiet of a waterfall with the gushing water serving as your lullaby is that great reward you can gift yourself after a tiresome trek.
You can spend the night there but you have to find a place aside from the limited space available at the campsite near the waterfalls. You can ask local officials or the residents if they would allow you to camp within their yard for a fee.
There are no stores available near Bukal Falls so make sure you have everything that you need before hiking your way there.
How to go there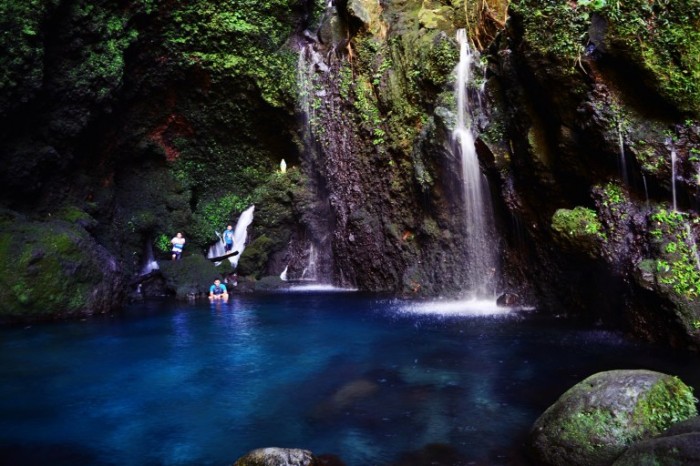 1. Commute
From Metro Manila, ride any bus from Buendia or Cubao Stations to Sta. Cruz. From the drop off in Sta. Cruz, ride a tricycle going to the Public Market. Passenger jeepneys bound for Majayjay are parked along the road and depart every hour. From Majayjay, hire a tricycle going to Brgy. Bukal and asked to be dropped at the Barangay Hall. Register, secure a guide, then trek to the waterfalls.
2. Private Car
From Metro Manila, take SLEX and exit in Calamba. Follow the national Highway going to Sta. Cruz, then head east to Barangay Patimbao Road. Turn right unto Daang Bakal Road continuing to San Luis Road then take Magdalena-Majayjay Rd to Majayjay-Lucban Rd continuing to Liliw Majayjay Road. Turn left at the junction going to Barangay Bukal and drive straight away until you reach the barangay hall. Register, secure parking and guide, then trek to the waterfalls.
Summary of expenses for a group of 5
RT Fare Manila-Sta. Cruz – ₱280
RT Fare Trike Sta. Cruz-Public Market @ ₱80 – ₱16
RT Fare Jeep Sta. Cruz-Majayjay – ₱70
RT Fare Trike Majayjay-Bukal @ ₱60 – ₱12
Environmental Fee – ₱20
Shower – ₱10
Guide @ ₱300 – ₱60
Total: ₱468
Things to bring
Extra clothes
Toiletries
Towel
Garbage bag
Slippers
Packed Lunch
Trail snack
Trail water (1L)
Extra money
Camera
Sample itinerary
0430: Assembly DLTB Bus Terminal Buendia/Cubao
0500: ETD Sta Cruz
0700: Sta Cruz (Ride trike to public market and ask to drop u off in jeepney terminal bound for Majayjay)
0800: Majayjay (ride trike to Brgy Bukal)
0815: Brgy Bukal hall/ Register
0830: Start trek to falls
0915: Bukal falls/bathe/photo ops
1200: Lunch
1600: Pack up/Trek back to Barangay Hall
1730: Majayjay
1830: Sta Cruz
2030: ETA Manila
Updated contact info
Barangay Bukal Local Council: 0928 216 8279 or 0930 133 2309
Tent rental: 0930 837 6616
2 Bedroom House with kitchen rental: 0930 837 6616
Food Service: 0910 452 5537
Important reminder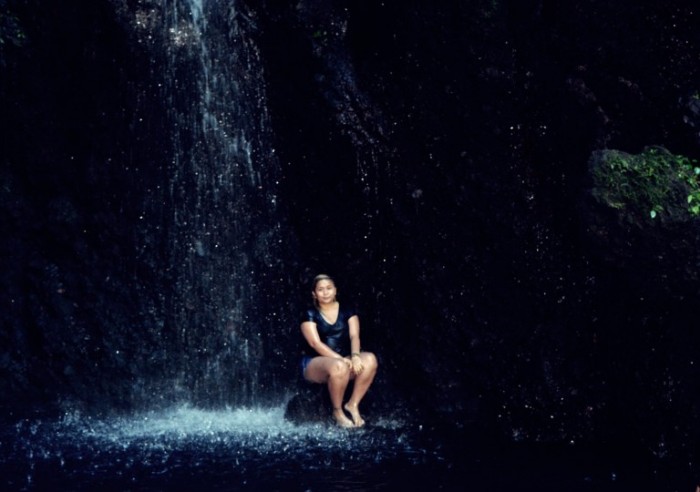 Barangay Bukal Local Council is encouraging visiting tourists to just bring loads which they can manage to carry all throughout the trek from the barangay hall to Bukal falls stating that the local guides they provide are just there to serve as guides, assist during emergency, and ensure safety, and that they are not PORTERS. If it can't be helped, then maybe it is just wise that you give them additional compensation for their service.
Also, they strongly discourage bringing of gas stoves to avoid fire hazard. I hope everyone would adhere to this. And may I please also remind you to mind your waste. The fee that you pay isn't enough reason to disrespect nature. Actually, it isn't at all justifiable so let's all be responsible.
Also read: 7 Leave No Trace Principles Every Traveller Should Know About
Other interesting places in Laguna you might want to see
Isdaan Floating Restaurant
Hulugan Falls
Taytay Falls
Buruwisan Falls
Pagsanjan Falls
Cavinti Underground River Cave
There you go Lovely Peeps. I hope you found this post helpful. If you need more information, feel free to shoot them on the comments box. Please do share this post and spread the word about this stunning waterfall. Until next time. See Yah. 🙂