Contributed by Delish Notes
Here's a rundown of my favourite cafes and restaurants in Cagayan de Oro. I guarantee they won't blow a hole in your wallet!
1. POPS All Filipino Eatery CDO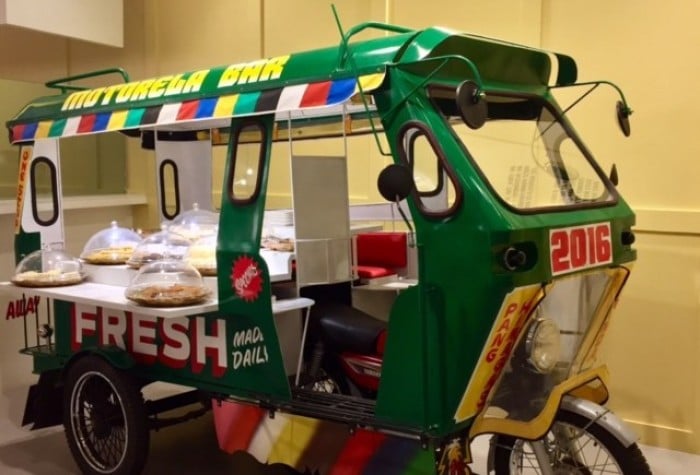 So many thoughts while checking out this new restaurant in town – POPS All Filipino Eatery.
If you know me personally, I have a close-knit family and most of my friends are those I've known all my life. Yes, I'm all about gatherings. My parents used to host a small gathering at home during Sundays, a tradition that was started by my grandparents. My grandmother used to have an eatery or carenderia and most of our childhood were spent there, either we were there for the food or did some chores during summer. Fast forward to college, moving away also meant going out of your comfort zone. One of the biggest challenges was the food. I remember eating at a fast food on my first week in college. Yes, the entire week!
If you happen to pass by Corrales Ave, you probably noticed a big white house (more like a traditional mansion to me) beside 7/11. From the outside, it really looked intriguing to me. I was curious about what's inside and what type of traditional Filipino food they have on their menu. Oh boy, they have a lot to offer. I think it will take time for me to keep up and I'm afraid this will be one of our go-to restaurants. My husband and I have this tendency to be loyal to a restaurant that we really like, like hardcore-loyal.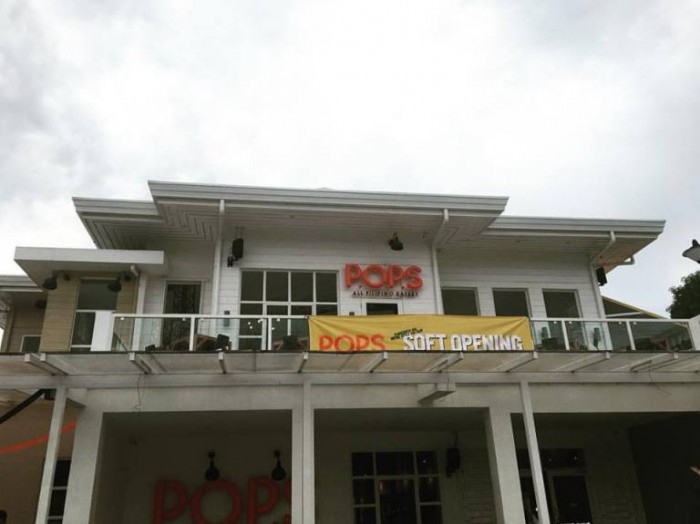 Photo credit: POPS All Filipino Eatery CDO's Facebook page
I like the interiors and the overall look of the place. It's so cosy, so homey. It's so old-school, I had a good laugh looking at the photos of popular Tagalog movies attached to the walls going upstairs.
POPS reminds me of weekly or even random family gatherings. It reminds me of being away from home and your only refuge is eating traditional Pinoy dishes. The feeling that no matter where you go, no matter how many food you like in the countries you go to, you'll always look for home-style, traditional food.
It reminds me of the endless conversations made while eating at home. True enough, we were there for almost three hours and we can't stop ordering. We just want to try everything! We ordered mongo, chicken fingers with mushroom gravy, green mango salad with bagoong and mango tapioca. I was too busy eating and talking so excuse the poor photos.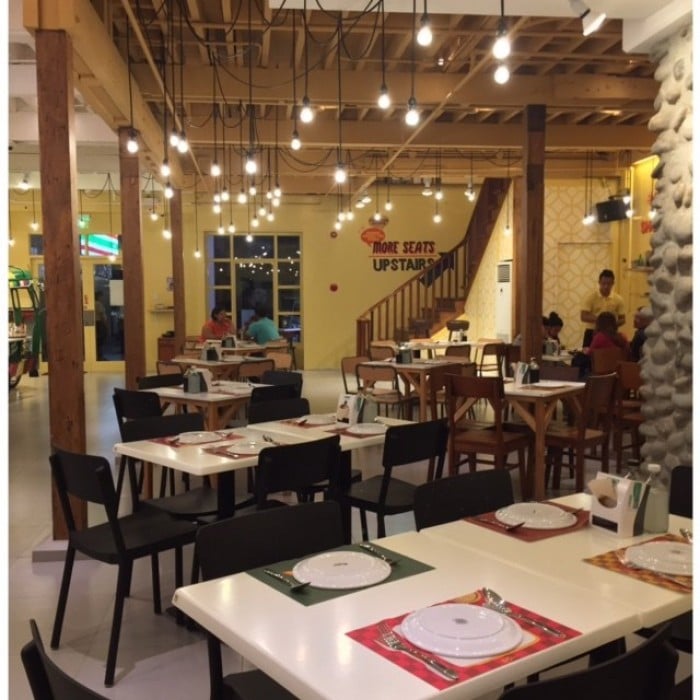 Mongo is something that we usually request at home and I was really surprised that they have it on their menu. That's so cool! I mean, which other restaurant serves that? It didn't disappoint. It tasted really good, just right for my liking. One bowl can be good for 2-3 persons max for only ₱150.
Chicken fingers were really delish, I was so into it. Tender, not too oily and you can really taste the spices used. Plus, the gravy! It was so good I want to order more of it. 6-7 pieces and it was only ₱135. Each piece wasn't thin or small but generously sliced.
The green mango salad with bagoong was only ₱85 and the serving can be good for at least 2-4 persons. The bagoong was not too salty, not too spicy.
For dessert, we had Mango Tapioca and it was heaven!!! The mango, the milk and tapioca is a perfect combination! Why does it have to be so good? It scares me that it may take time for me to get over it.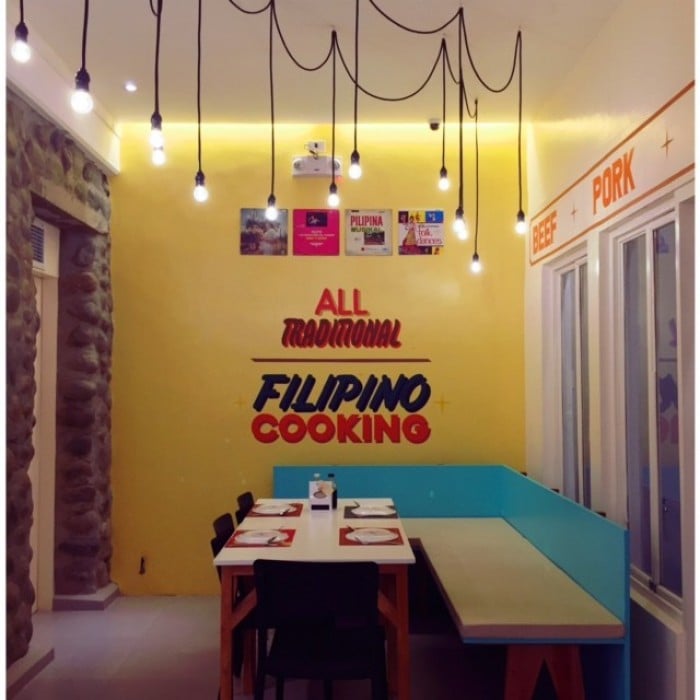 AND THE VERDICT IS? Awesome!! This is where I'd love to bring family and friends. I love restaurants that remind me of good memories and make me want to create more. We were there and it was non-stop eating and talking! If you also want some privacy, hold birthday parties or even office parties, they have a small and big function room.
STILL GOING BACK? Yes, yes and yes! There's so many food they have to offer and I can't wait to try it. Some of it are familiar already but it's not a food that's always available at home or any other restaurant.
VALUE FOR MONEY. Hey, do not let the big white mansion fool you. It does look fancy, right? And I bet most of you already thought it may be a bit expensive there. It's not! Yes, my frugal self tells you that it is not expensive. It is really affordable, worth every penny. Where else can you get traditional food, modern setting, great service and won't hurt your pockets? ₱500 is already a feast for two or even three!
Also read: 25 Popular Street Food & Snacks to Try in The Philippines
2. Moon Shack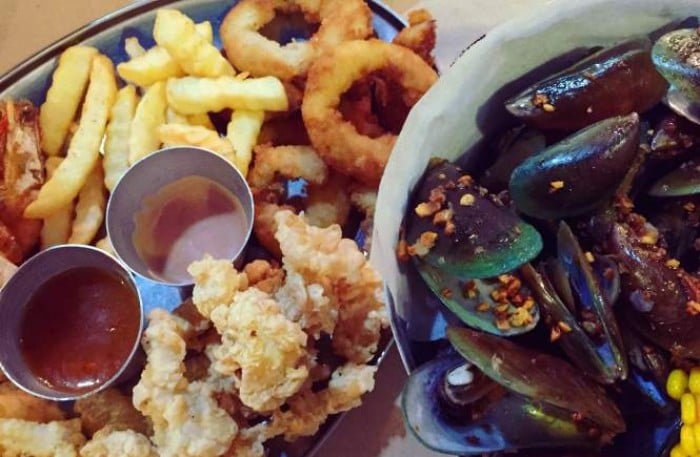 It's a Wednesday, middle of the week, I'm halfway there. Rewarding myself with good food falls on this day, too. It's usually this day when we go out and try something new or go back to one of our favourite food outlets.
Earlier this week, a friend posted about Moon Shack. I knew shack means a small hut used by fishermen. When I first heard about it, I thought about this beach strip in Palawan that comes alive at night with food stalls and music from bars. It also reminded me of the nipa hut cottages in one of the beaches we frequent to when I was a kid.
Moon Shack opened over a month ago. They offer a variety of seafood appetisers and dishes. Surprisingly, they also offer what they call "Out of Water" food like buffalo wings or fried chicken among others. They are located at Justo Ramonal St., corner Corrales Avenue.
Funny story, I had another direction mishap again. Lesson learned: never rely on maps from Facebook pages because it's not accurate. For someone like me who's really bad with directions, I really appreciate restaurants who give specific details or even a sketch.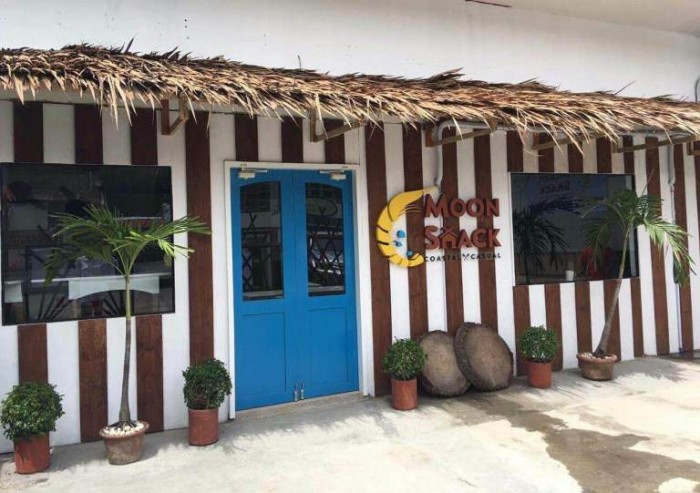 Photo credit: Moon Shack's Facebook page
It was raining that day so as expected, the place wasn't crowded. I love how simple the place is, very neat and they used minimal decors. Very laid back just like when you're dining along the shore. They really did a good job creating that feel.
Their menu was overwhelming and I didn't even think of taking a picture. There were too many good stuff to try. It's mouth-watering, you just want to order right away and start eating! We ordered the seaside platter – garlic shrimp, onion rings, calamares and fries. A bucket of mussels, green mango salad and a fish bowl of cucumber lemonade.
The seaside platter was only ₱395 and it's good for 2-3 persons. The serving was really generous, I think it's also good for a group of 4-5 max. All of the food we had tasted really fresh. I like that it was cooked well, not too oily, not too salty.
When you order their buckets, you get to choose one of their signature sauce and the spice level. We chose White Wine and OMG. Mussels tasted really good with their white wine sauce. One bucket for only ₱175.
For our appetiser, green mango salad with really delish bagoong! I forgot to ask if they made it, it was one of the best bagoongs I've tasted.
Cucumber lemonade is my all-time fave so I always give it a try if it's available. What's interesting about this is it's served using a cute fish bowl. It's good for at least 2 persons and comes in three other flavours.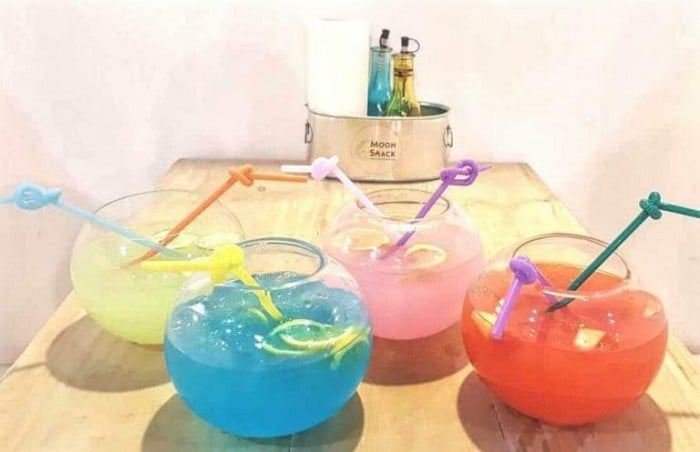 AND THE VERDICT IS? Awesome! The ambience is very laid back. The food is great, they have so much to offer I don't think I can keep up. This may be one of the food outlets that we'll frequent. Yes, we can be loyal like that.
STILL GOING BACK? Definitely! So many mouth-watering food on their menu and I know I should try it. The acoustic music next door completed the whole island vibe.
VALUE FOR MONEY? Affordable and totally worth every penny. We had a salad, a seafood platter, bucket of mussels, rice and a fish bowl drink to finish it off. We only paid around ₱700. Not bad for a feast like that.
3. Meow Café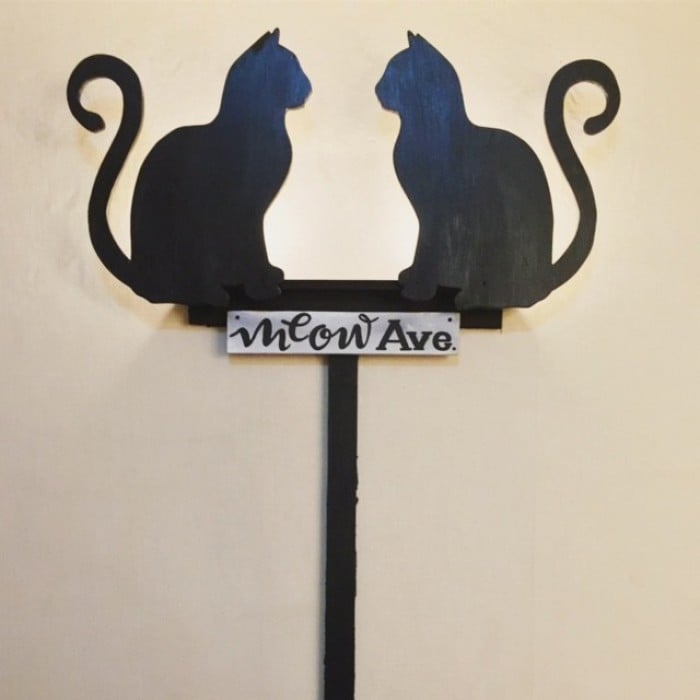 Yes, there's a cat cafe in town! My husband has been fond of cats since I don't know when. Even when we were still just friends, he'd tell me about the adventures of his cat, Batman – a stray cat that was found on the street. Stories like how Batman will hunt or demand for food, play with him and even sleep in his bed.
I've heard about cafes that feature animals – cats, rabbits, dogs. I'm hesitant because first, I'm not really fond of animals. Second, I was worried that food might not be great. Lastly, that people are just there because of these animals and that makes me uncomfortable.
I stumbled upon this cafe while finalising an itinerary for an upcoming trip. I saw their interiors, some of their food and the cats. The photos of the food got me curious like a kid. They have food that's shaped and designed into a cat. Yes, something like that makes me giddy already! It's so cute!
They are located along Corrales-Dolores Sts, right across FICCO. They're open Mondays to Saturdays, 10.30am-9.30pm. They serve a variety of food, from rice meals, snacks and desserts. They also have delivery which is a great thing because yes, their food is great!
We got there past 5pm, so we were undecided if we'll just have snacks or have an early dinner. Why not have both? It's Friday, it means cheat day! We ordered cheese panini, grilled chicken, fries, suman and sikwate plus their over shakes. We had triple chocolate and coffee blast shake. Everything we ordered tasted really good and the wait time isn't that long.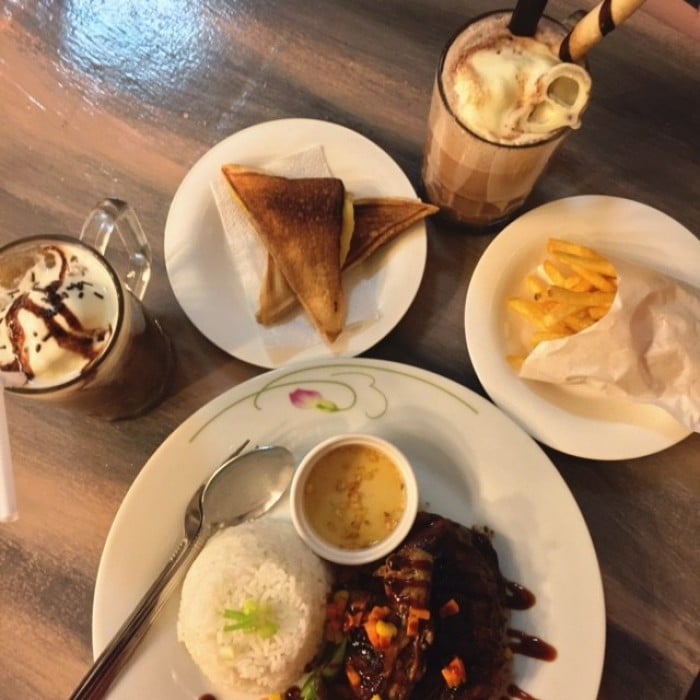 I love the panini with just the right amount of cheese. The grilled chicken with its sauce is now a reason why I want to go back. Chicken is soft, not dry. The sauce tasted just right for our liking. The sweet tooth in us would really recommend trying their shakes. It's topped with ice cream, too!! They really have a lot to offer. If you're not fond of cats, you can still go there and just enjoy their food.
I was mainly there for the food but you simply cannot resist the cats' cute sleepy faces. If you're a cat lover and a foodie, this place is for you.
My husband was really excited to see the cats that he already went inside after he told me what he wants. Their cats are in a separate room, not like on some cafes wherein they're roaming around. You can interact with them for an extra fee of ₱40 for around 15-30minutes. I'm not sure how long we were there, I had the courage to check on the cats since they were sleeping. There were different breeds that the attendant mentioned like Ragamuffin and Persian.
There are two separate rooms. One for dining, and the other room was where the cats are. There are also limited seats right outside their room. If you're not fond of cats, you can opt to eat in the other room. I like that interacting with the cats is just an added feature of their cafe and that they limit your interaction with them. It's also good that someone's there to give you all the cat info and a house reminder posted on the wall.
The ladies behind the counter are most likely family. It was very nice of them to tell us the story behind Meow Cafe and how they managed to have 16 cats! Yes, 16 but there are only 6-9 cats in there. She said cats take shifts, too! 😀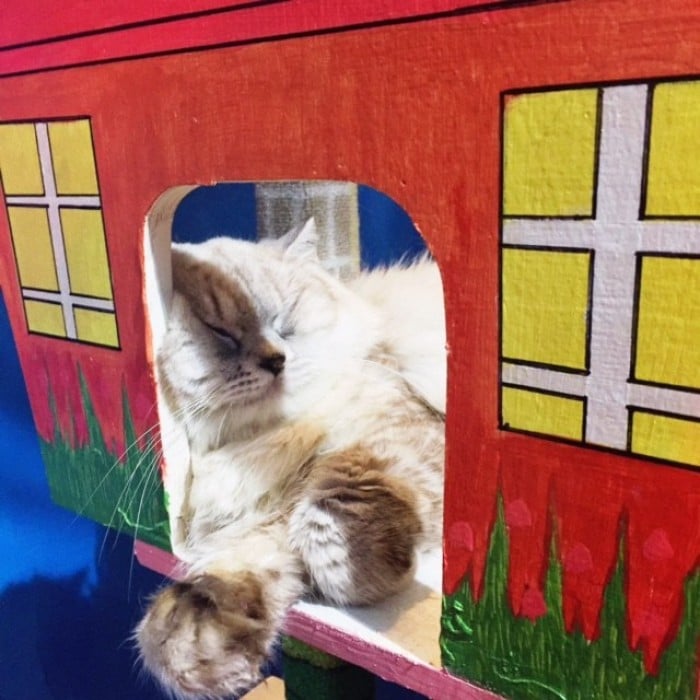 AND THE VERDICT IS? It maybe a cat-themed cafe but the food that they offer and welfare of their cats come first. I was talking to one of the owners and I can feel how they as a whole family love their cats. 16 cats, 16! That's a handful. It's also your choice if you want to play with the cats or simply enjoy the food. Either way, both are worth it.
STILL GOING BACK? Yes! I still need to try their other rice meals, one that has cat-shaped food (haha) plus more of their shakes and cupcakes. The service is really great, you'll really feel at home – with or without the cats.
VALUE FOR MONEY. It's budget-friendly. We ordered dinner, snacks, dessert and only paid around ₱600. Not bad at all.
Also read: 13 Unique Themed Cafes You Never Knew Existed in Metro Cebu
4. Bowties & Butter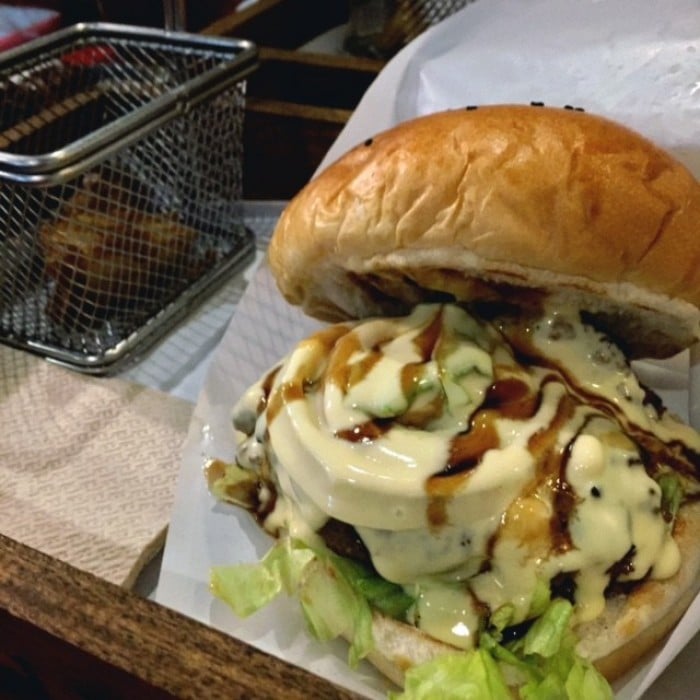 It has been two years since my husband and I settled here in Cagayan de Oro. We've been loyal to our favourite restaurants and cafes to the point that it's like a risk for us to try something new. Recently, it has been challenging squeezing in a quick date due to work and law school. We'd always think of food outlets that are just near the school. That's when I started exploring and blogging regularly. Eating and writing keeps me sane and freshens my mind.
A friend told us about Bowties & Butter and the way she described it got us really curious. She told us not to miss their burgers and signature iced tea. We decided to give it a try for our next date.  You see, my husband and I are all about our date nights and how's your day talk.
Bowties & Butter is located at A.B. Santiago Building, corner Velez-Gaerlan Streets, Cagayan de Oro. They're open from 10am to 11pm on Mondays to Thursdays. 11am to 11pm on Fridays and Saturdays. It's a cute corner shop and it reminds me of American diners that I see on movies. Those that serve good food when you're really hungry, or hangry. More like a comfort food, for when you're binge eating or on your cheat days.
We went there twice before I decided to write a "first impression" as we were in a hurry the first time. On both instances, we were there for dinner. The place isn't that big and it gets really crowded with students and young professionals. Sometimes, it gets loud. I think the best time to go there if you want to avoid the crowd is late afternoons.
Just one thing that I noticed and I'm not really familiar with how it usually works there. On our first visit, it was alright to order burgers within Bowties. The next visit, they asked us to order it on our own. At least they served the burgers to us and no need to go out and get it.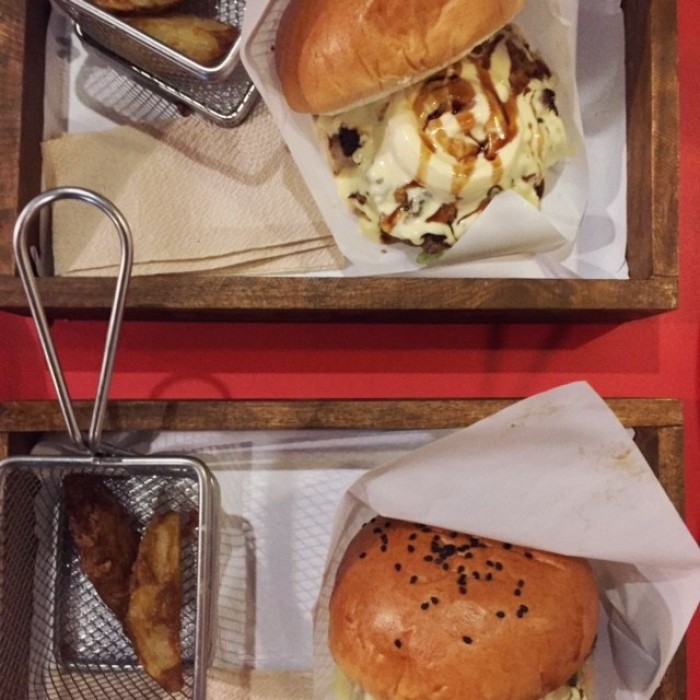 We ordered buffalo wings, cheeseburger, deep fried oreos and their cucumber iced tea. The buffalo wings were big, juicy and tasty. It was really satisfying and something that I can recommend. So far, it's one of the best I've tasted. Plus, it's only ₱95 for 6 pieces!
Their cheeseburger or The Old Blue Burgers is the bomb! I'll write a separate review for these burgers. Like seriously, it's one of the big burgers in town that I can actually finish. I love the melting cheese, the big patty, the soft bun and how it can get messy so they give you plastic hand gloves. It's only ₱99 and it comes with potato wedges.
The deep fried oreos is now added to my list of go-to comfort food. The first time we were there, we were in a hurry and didn't have room for dessert. It got me curious because we were seated near the kitchen and a lot were ordering it. I promised myself I'll try it on our next visit. It's so mouth-watering and even with the ice cream on top, the sweetness is just right.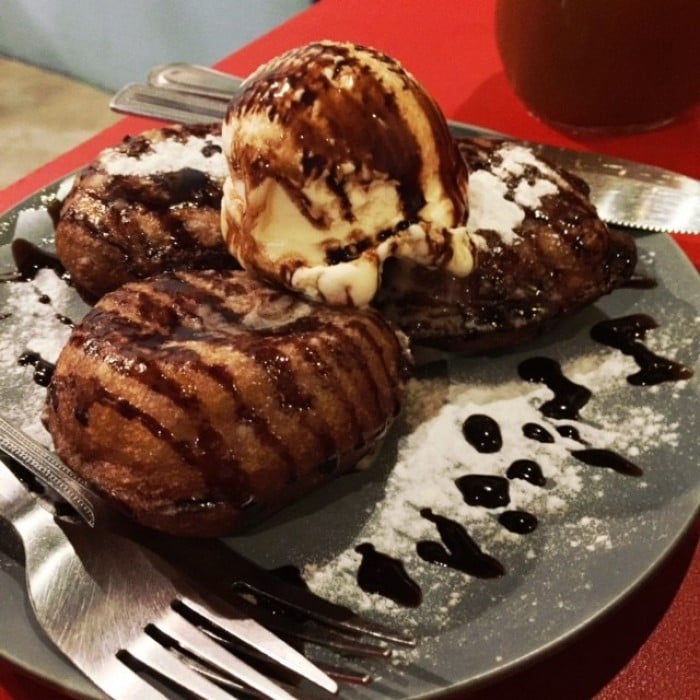 AND THE VERDICT IS? It's a great place for when you want to eat something indulging but somewhere low-key. It's a place that I can recommend to someone looking for affordable, budget-friendly but really good eats.
STILL GOING BACK? Yes. I still can't get over their deep fried oreos and I still need to try their funnel cakes. The burgers are really good when you're hangry – hungry and angry!
VALUE FOR MONEY. It's budget-friendly, won't hurt your pockets. Great for students and young professionals. Want to reward yourself after a long day but you're on a budget? Bowties & Butter is for you.
5. FOUR Café & Restaurant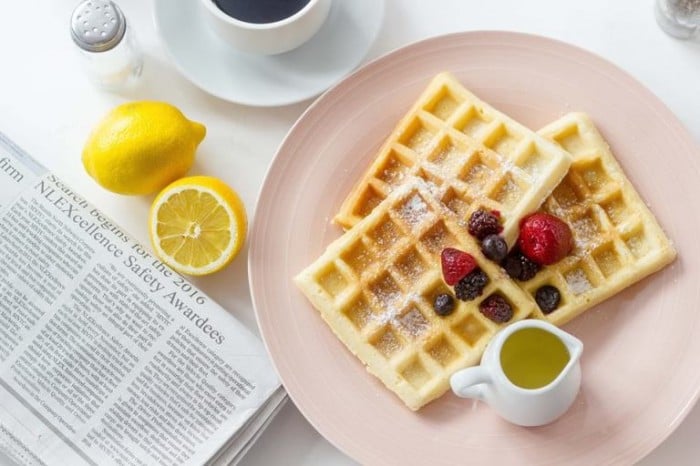 That moment when you really want to reward your self with good food because you've worked hard, you want to try something new but at the same time have doubts if it'll satisfy you or not since the place just opened that day.
However, this new restaurant had me at "owned by four Monster Kitchen chefs". I've attended two workshops given by one of the owners. So why not give it a try, right? We were there on the day it opened. Thankfully, we arrived just before the place got crowded.
It's one of those cafe & restaurants straight out from your Pinterest board. I love the interiors – long glass windows, mostly black & white. Minimal colours. Its appeal is refreshing to me. It kind of brightens your mood.
Four is located on the ground floor of Vines Pension House across Willshire Inn. Aguinaldo-Yacapin St., just right in the corner. It was their first day, they just opened last September 24. Most of the items on their menu were not yet available. I wanted to try their waffles but I was too hungry and wanted more than just a waffle. The photo on their Instagram was too tempting. I guess I'll have to try it next time we're there.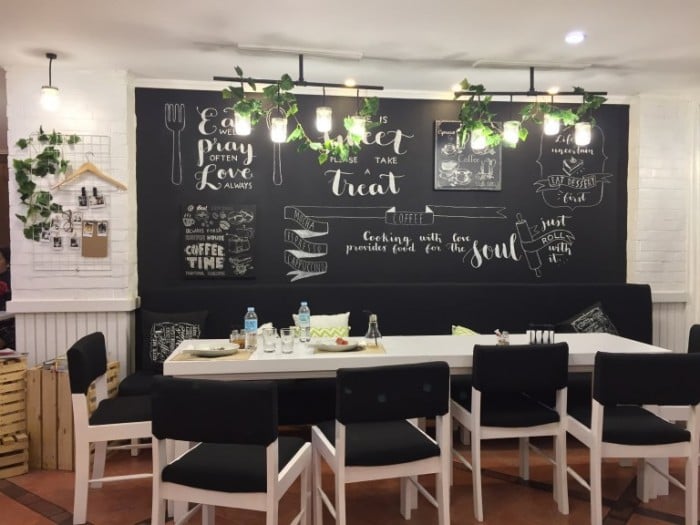 Photo credit: @fourcaferestaurant
So we decided to order Rib Eye Steak. Oh yes, we're that hungry! We were already hungry before we arrived so we were slightly impatient. Though we totally understand that it's really overwhelming and it looks like the crew wasn't prepared for it. The customers from the table across us were getting impatient, too. But when you get served this kind of food and how great it tastes, you won't mind it. Like seriously!
Rib Eye Steak. Pan seared to perfection. Served with rice, handpicked sidings of banana chocolate muffin, freshly picked cherry tomatoes and corn.
It tastes really good that I want to go back the next day and order the same food (if only I'm not health conscious). Treating yourself to this is really worth it. And oh, it comes with a dessert which is one of the best banana chocolate muffins I've tasted. It was funny because we also ordered cupcakes while waiting for this.
Another thing that I'm really excited about Four, their pastries. I love the pastries from the four owners so I can't wait for them to have it available. You can see them making it here.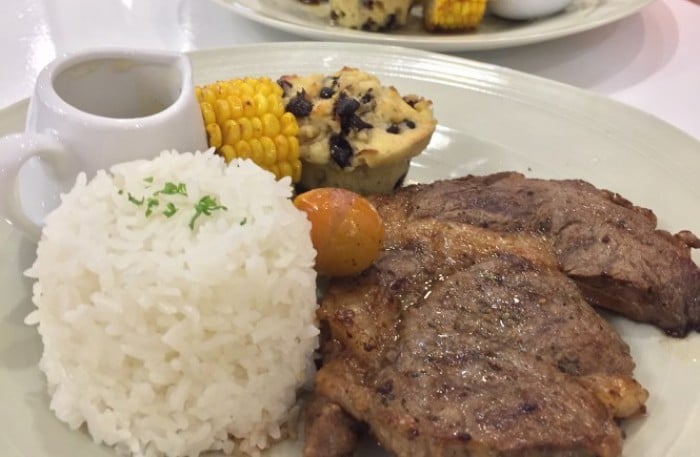 AND THE VERDICT IS? Awesome – it's a place that I'll surely recommend to family and friends. Even if we had to wait and bear with the crew, the food was really great! It didn't disappoint.
STILL GOING BACK? Yes, I'm still going back. Still so many interesting things on their menu that I'd love to try. I also want to see if the wait time and service will improve.
VALUE FOR MONEY? We ordered steak so it can be a bit pricey (according to my frugal self) but it's still within our budget range.  And hey, the slice was big enough plus it came with a dessert. Overall, the items on their menu is affordable, within budget and totally worth it.
6. Bike Republic Cafe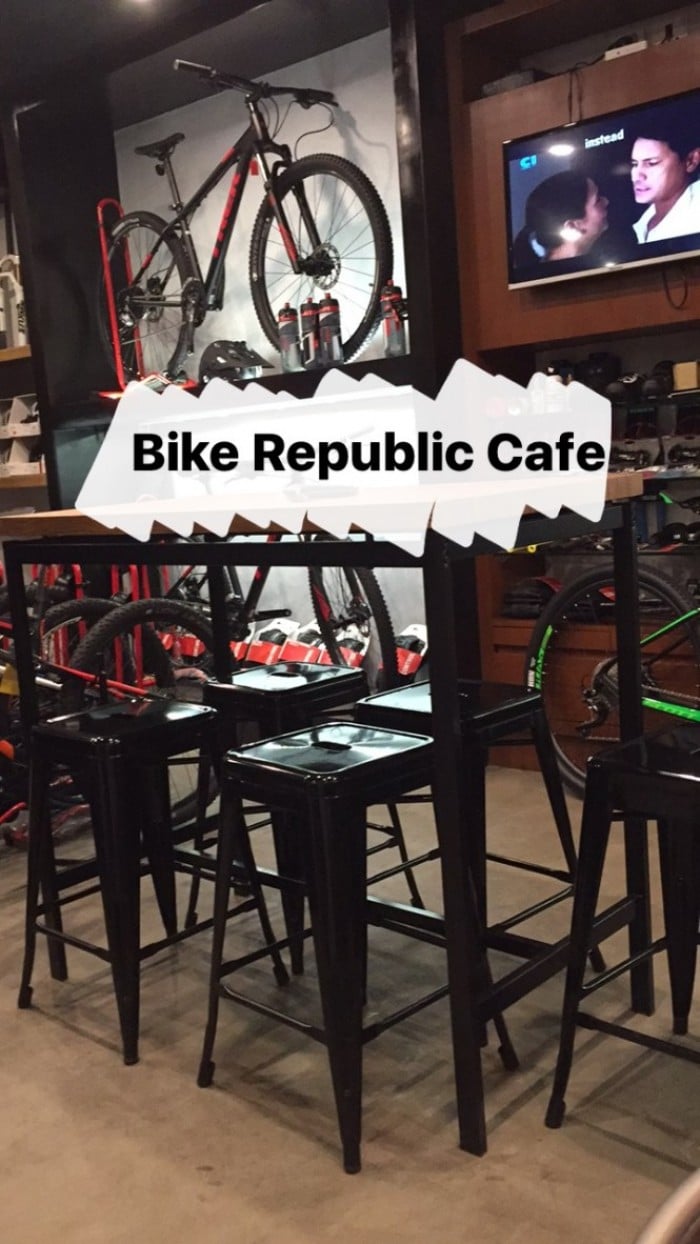 There's a new cafe in town that serves really delish churros and great burgers! Two of my faves in one place. It's a plus if you're a bike enthusiast because you can hang out in there for hours and talk to their staff about the bikes that they sell and biking in general. Yes, their staff knows what they're talking about. I was there for a few hours and can't help but listen to the same people serving food and entertaining visitors checking out a new bike and its accessories.
Before I go into detail about my first impression, I'd like to share something about myself. From time to time, you'll read about my mishaps when looking for new restaurants and cafes to try.
Fact about me: I'm super bad with directions, like seriously! Before deciding to check out this new cafe, I felt bad because with iOS10, the Maps also got updated. It was new to me. They changed it right when I was already very confident using the old one. Sounds funny, right? But yes, I only got confident using it few months ago when I was roaming around the streets of Ho Chi Minh all by myself. I also went alone because my husband wasn't available.
I called them asking where exactly it is. The woman who answered said landmark should be Boy Zugba, Parasat or simply across Maison de Bonbon. I didn't notice the cafe right away. Though she mentioned prior that there's no signage yet. I was already irritated because traffic was really bad. I did not notice Bike Republic Cafe till after walking few blocks from Boy Zugba. Apparently, it's a new building and can't remember noticing it before.
When I got there, there was no other customer. First thing I asked was if their churros were available. She said yes and I stopped sulking right away. Already felt better while waiting for my order. I ordered two sets of churros, cheese burger and cheesy fries. The other set of churros and burger was for my husband.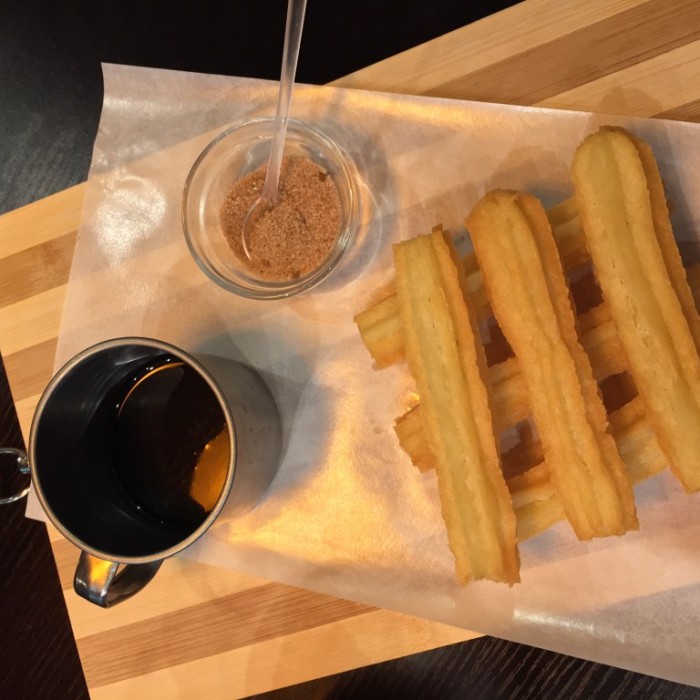 I went there for the churros and it didn't disappoint! Just like how I wanted it – deep fried, crispy on the outside yet soft inside. It's so darn good I can't stop raving about it. I don't know about you but it's probably the best churros in town. It's only ₱69 for 6 pieces.
They do have other items on their menu like these cheeseburger. 1/4 pound 100% all-beef patty!! That alone sounds mouth-watering! I only had a bite because I wasn't into burger that night. It came with chips that I really like, I just wasn't sure if it was "camote" or potatoes. It tasted really good, it can pass as a healthy snack.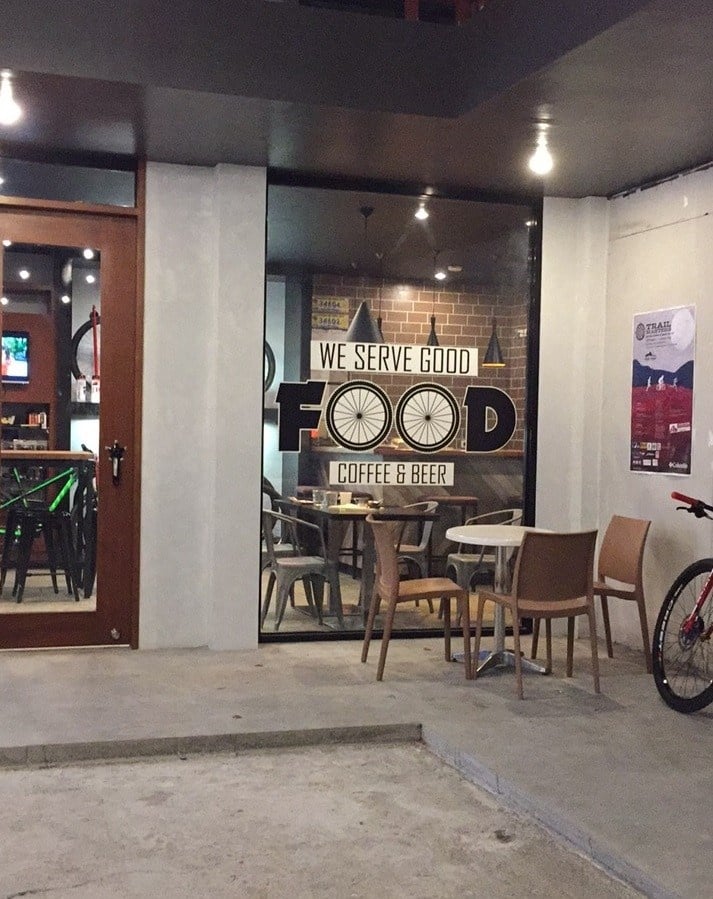 AND THE VERDICT IS? Thumbs up!!! It's a low-key, interesting, cosy cafe. Although I'm not a bike enthusiast, there's something in there that makes you feel at ease, at home.
STILL GOING BACK? Yes! I will definitely go back to try their burgers or sandwiches. I also want to see if they'll add more items on their menu.
VALUE FOR MONEY? My frugal self says it's affordable. Everything on their menu is affordable and really worth your money. It's budget-friendly for both students and working professionals. 6 pieces of churros for only ₱69! And it's not bite size! It's twice the size!
Questions for you:
Have you tried their churros already? If not, go check it out! It won't disappoint you.
Any other must-try churros in town?
7. Bean Voyage Coffee Roasters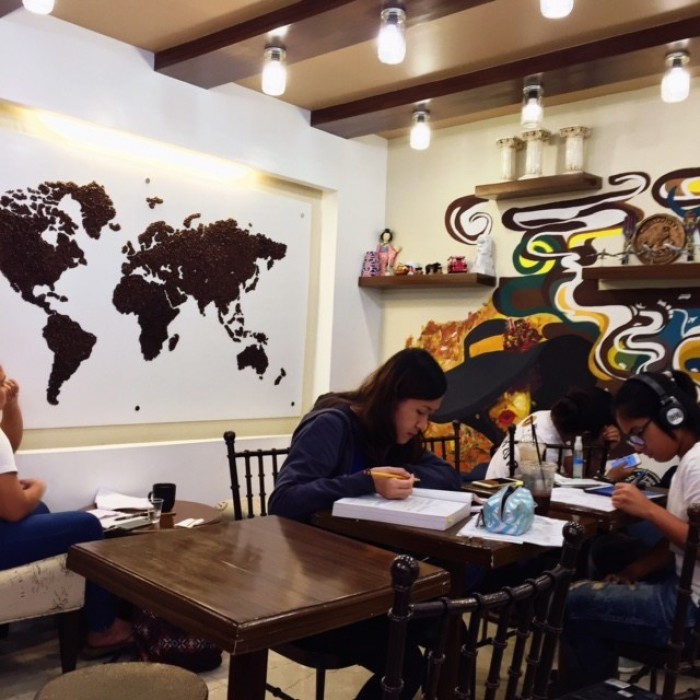 I've been in Cagayan de Oro for almost two years now and I still can't keep up with the cafes and restaurants within Divisoria. There's always something new! My husband and I tend to be very loyal every time we like a certain food outlet. We usually take time before we finally move on and try a new one.
These days, it's challenging to squeeze a quick date. Thanks to our day job and law school. I wanted to try something new that's just near school and thought of Bean Voyage. I've been hearing a lot about it, mainly because of their selfie coffee. Mind you, it's edible! It's not like the usual wherein your photo is the cover or on the lid of the drink. It's really something. Just take a selfie from your phone, send it to them and they'll have it printed on top of your drink.
Bean Voyage Coffee Roasters is a travel-themed cafe located at 27 Pabayo Gaerlan Sts., Marfori Compound. They're open from 8am – 11pm every day.  We were there for two consecutive days before I decided to write this. The place is always packed with students and digital nomads. Though the area is not that big, it doesn't make you feel uncomfortable. It makes you feel at ease.
It's one of those coffee places where I can just hang out, dream and plan the next place I'll visit. All of this while eating bananutella panini and sipping minty matcha – my new favourites.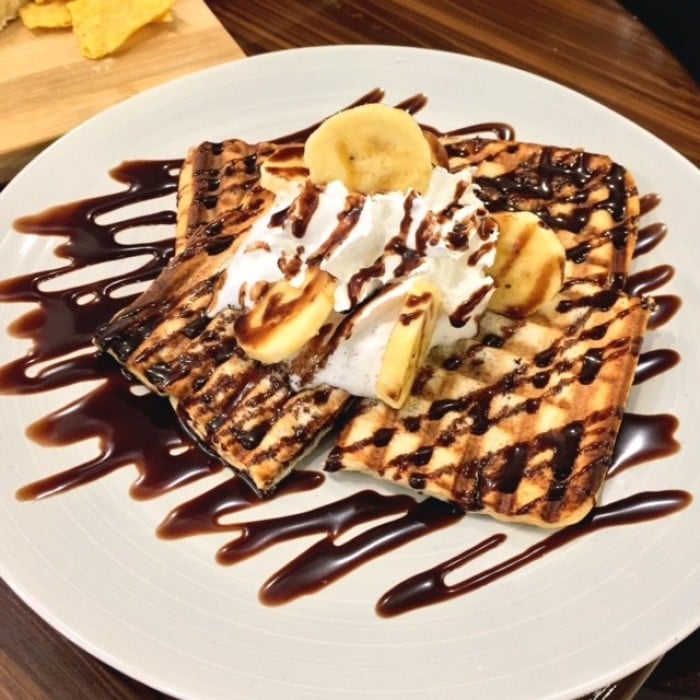 I like how the crew greets you right after you come in and before you go out. It's very inviting and makes me giddy. It makes me think of the places I've been to and the places I have yet to see.
I'm really interested to try the selfie coffee but I decided to check out what else they offer. We ordered Pesto Chicken Panini, Bananutella Panini, Nachos, Minty Matcha and Chocolate Mousse. The two days that we went there, I ordered the same thing. I'm so into the bananutella panini and matcha! I'm not really a fan of matcha because I've had a bad experience with it. However, this one taste's just right plus love the hint of mint.
The pesto chicken panini is a perfect complement to the bananutella panini, the saltyness is just perfect for me.
We're a fan of nachos, we always give it a try when it's on the menu.. I love that it has a generous amount of cheese but it would be even better if they'll add more ground beef.
AND THE VERDICT IS? Awesome – one of the cafes that I'd love to go back. It's also on my list if I want to reward myself after a long, rough day. Who can say no to their bananutella panini? It will surely brighten up your mood.
STILL GOING BACK? Definitely! A lot of interesting things on their menu that I have yet to try. I'm also looking forward to try their rainbow cake and of course, get a selfie coffee.
VALUE FOR MONEY? My frugal self finds it a bit pricey for students. But if it makes you comfortable to study, plus unlimited coffee in the morning, it's worth it. Overall, it's affordable and it's for everyone.