Like many of you, I've dreamt of doing an Indochina tour for the longest time. My six-month trip to Cambodia, Vietnam and Thailand from 2016 to 2017 was a good start. But, it took me another three years to pick up from where I left off. This time, I visited Thailand and Laos along with three of my friends. The highlight? Travelling from Chiang Mai to Luang Prabang by slow boat along the Mekong River!
The total 14-hour trip was fascinating beyond words, and for someone who wasn't so keen on setting foot in Laos at first, this proved to be the perfect way to ease myself into the country. Long story short, it's now one of my most memorable travel destinations to date! Many others have done this same route before us. However, if you're looking for an updated Chiang Mai to Luang Prabang slow boat guide, then you've come to the right place.
Note: There may be other ways to do this trip, but the information you're about to read below is based on our experience and our experience alone.
Also read: Around the Philippines Without Flying: Best Bus & Boat Trips From Manila
Chiang Mai to Luang Prabang slow boat in 5 easy steps
Step 1: Make your way to the Thai-Laos border
Technically, the trip takes three days if you count the land travel from Chiang Mai to the Thai-Laos border. From Chiang Mai, take a six-hour bus ride to Chiang Khong, a Thai town bordering Huay Xai in Laos. Several agencies sell tickets for this, or you can also walk into the Arcade Bus Station in Chiang Mai and buy from there. There are several bus classes to choose from. Just to make it easier, we booked the VIP one which comes with a toilet and extra large reclinable seats which cost us ฿448 each.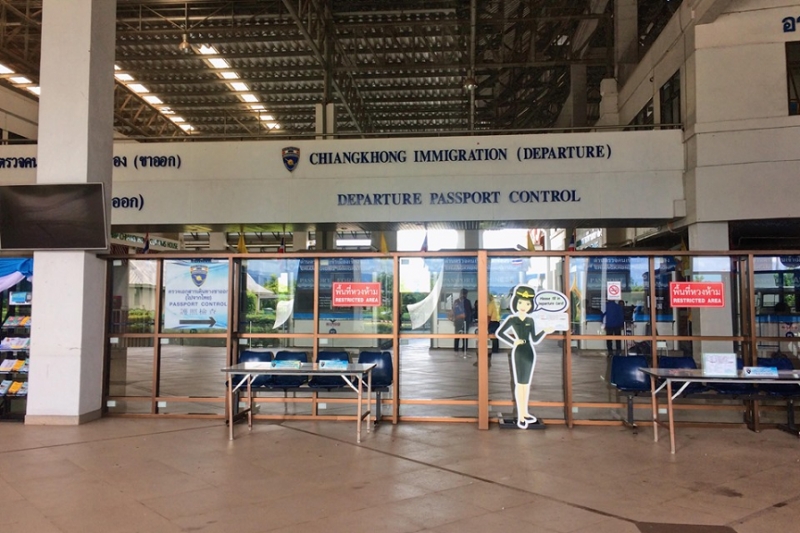 Once the bus stops at Chiang Khong, hire a tuk-tuk to take you to the Thai-Laos border for immigration. The ride will only take about 10 minutes for ฿50 each. Pass through immigration and buy a ticket for the shuttle that will take you across the Thai-Laos Friendship Bridge. This is worth ₭20,000. You can change your money to Laos Kip at the same counter, or keep your Thai Baht. Either is accepted in Laos. Upon arriving at the Laos side, fill out the arrival form and again, pass through immigration. Take note: The office closes at 5pm, so take the earliest bus possible from Chiang Mai if you plan to make it to the Laos side on the same day as we did.
Step 2: Spend the night in the border town
After officially entering Laos, take a tuk-tuk (jeepney-style) to the Huay Xai city centre where you can spend the night before starting the slow boat journey the next day. You'll find several hotels and guesthouses, as well as travel agencies, restaurants, and other stores around the area. It might have been because we travelled during the low season, but we found Huay Xai to be a traditionally quiet town with nothing much happening. If you arrive early, you can just hike to a small temple in the heart of the town where you can view the town and the Mekong River.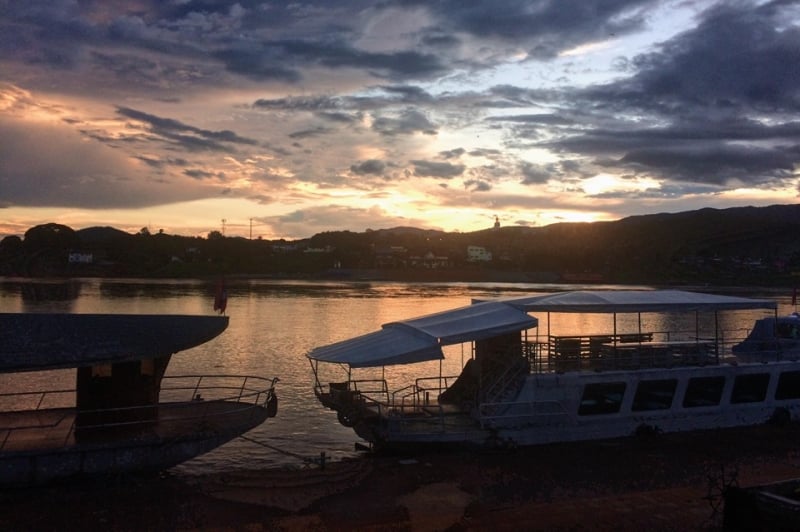 To prepare for the boat ride the next day, I suggest getting a private room at a riverfront accommodation and just enjoy the silence. While the town is generally safe to explore, you'll find nothing to do around at night. Some parts of the street are also poorly lit or don't have lights at all, so staying in will be your best option.
Step 3: Walk into the pier and buy tickets
There's only one slow boat trip per day. It leaves Huay Xai at 11.30am and arrives in the stopover village called Pak Beng at 5.30pm. After taking your breakfast at the hotel or in a local eatery, hire a tuk-tuk for ₭20,000 or walk the one-kilometre road from the Huay Xai city centre to the slow boat pier. If you want to get the best seats on the boat, be at the pier's ticketing office as it opens at 8.30am. While you will likely see stores selling slow boat tickets at varying prices, buying directly from the pier office will give you the cheapest rate of ₭200,000.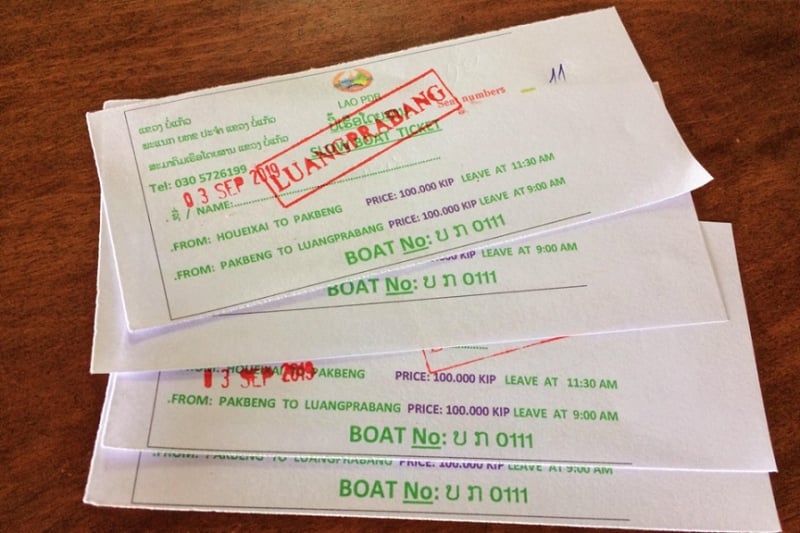 Once you have your ticket, feel free to roam around the pier or go back to the main road to buy supplies. There is a bar on the boat selling snacks and drinks, however at much higher rates. What we did was have an early lunch at a nearby café so we didn't need to worry about food while on the boat. Just be sure to be back at the pier around 15 minutes before departure.
Step 4: Enjoy the first day and spend a night in a village
The Chiang Mai to Luang Prabang slow boat leaves Huay Xai at exactly 11.30am. You'll find the boat number written on your ticket. Before you can get on, the staff will ask you to take off your footwear and put them in a plastic bag provided. This is to help keep the boat as clean as possible. After all, it's your home for the next two days! Once you're inside, find your seat according to the assignment indicated on your ticket. The tourists are usually seated at the middle to the back of the boat, while the locals occupy the front part. I'm not exactly sure why. Meanwhile, the toilet is at the very back of the vehicle next to the engine, staff quarters and a little open balcony.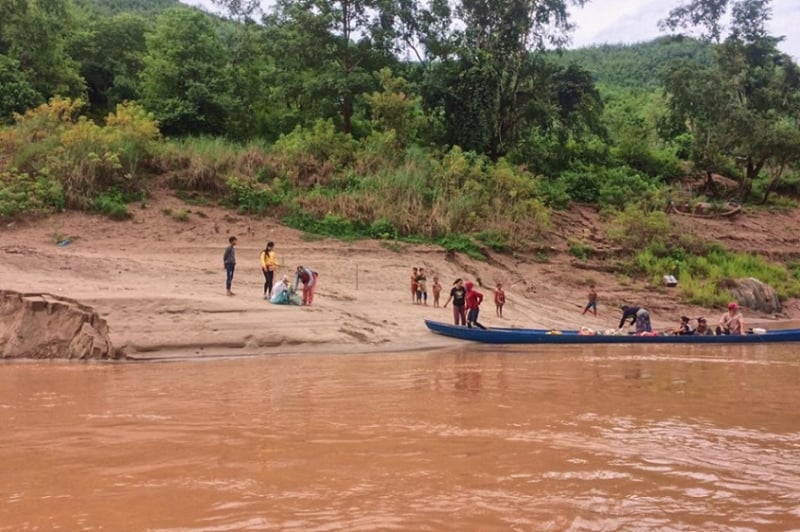 By 5.30pm, you will arrive in Pak Beng, a remote riverside village halfway between Huay Xai and Luang Prabang. It's up to you to find your own accommodation or seek the help of locals standing by the pier. In our case, we already pre-booked our night at a hotel called Sanctuary Pak Beng Lodge. It's a good thing it has a riverview restaurant where we ended up spending most of our free time as there was practically nothing else to see and do in the locale at the time.
Step 5: Continue to the second day until Luang Prabang
The second day of the Chiang Mai to Luang Prabang slow boat trip begins at 9am. But don't worry, you won't need to buy another ticket as the one you bought in Huay Xai already covers the entire ride until Luang Prabang. Also, since this second leg takes at least eight hours, you'll need to buy your own packed lunch in Pak Beng. Again, the boat bar only serves snacks such as chips and cup noodles, as well as beverages.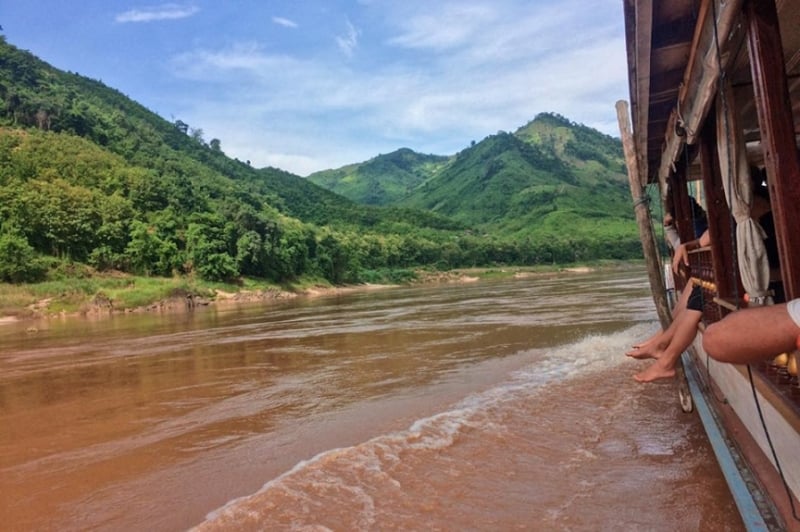 Make your way back to the pier before the departure schedule. This time, you'll be riding a different boat where the seats are more compact. There are no longer any assignments, so you're free to take a spot anywhere you wish. The views are pretty much the same except for the last 30 minutes of the trip. Instead of jungles, you'll see tall limestone hills almost similar to the ones you'll find in Palawan. The trip ends at 5pm in the Luang Prabang pier. From there, you'll need to take another tuk-tuk to the city centre for ₭20,000.
Also read: Southeast Asia by Train: 5 Train Travel Ideas for Filipinos
Chiang Mai to Luang Prabang slow boat tips and reminders
Overall, the boat ride is smooth and peaceful, especially considering the fact that we did it during the rainy season. My friend, who has a bad case of motion sickness, even endured it. But just in case, always have your meds handy.
From Chiang Mai, spend the night in Huay Xai instead of Chiang Khong which is what we did. Since our Huay Xai hotel is less than a kilometre away from the slow boat pier, we managed to enjoy our only morning in this sleepy town and take it easy before the 11.30am departure.
Separate your belongings into your main bag and a carry-on bag. Because of the limited space in the seating areas, the staff may ask you to leave your bigger luggage in the compartment. You'll need a smaller bag containing your important belongings, food, drinks, and meds that you can take with you to your seat.
The jungle scenery from the first to second day is almost unchanging. So, don't be pressured to stay awake during the entire trip for photo opportunities. You'll need some of those hours to sleep, trust me.
If you run out of food while on the boat, buy from the mini-bar using Laos Kip or Thai Baht. Again, be warned. The goods tend to be more expensive here than on land, so it's still best to purchase everything beforehand.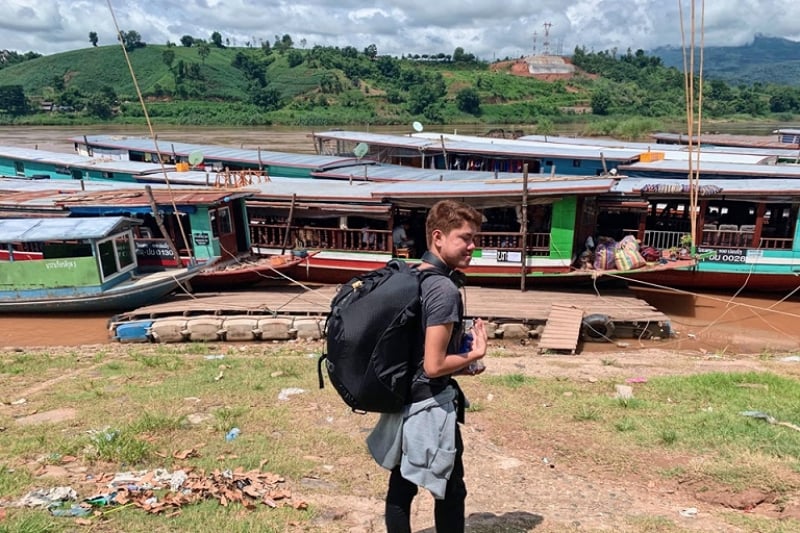 Taking the Chiang Mai to Luang Prabang slow boat is among a few ways to cross between the countries of Thailand and Laos. Although I haven't had the chance to try the land and air options yet, I can already vouch that this is the most relaxing and scenic of them all! If you're travelling alone, consider making friends with locals or fellow travellers early on. That way, you won't get too bored during the two to three-day transit. Not to raise your expectations, but it may just be one of the epic travel experiences you'll have in Southeast Asia!
To get a better idea of how our Chiang Mai to Luang Prabang slow boat ride went, watch this video!