Absolutely no one is rejoicing over the growing COVID-19 pandemic, but we're certainly all eyes and ears for everyone working to flatten the curve. And while we salute our frontliners for literally risking their lives to keep the rest of us safe, we also want to celebrate the heart and skills of our other COVID-19 heroes.
From designers creating artworks for a cause to programmers developing apps for the quarantined, here are some of our unsung COVID-19 heroes who are helping us out during this crisis by doing what they do best.
Also read: COVID-19 & Privilege: 'I Can't Travel' Is A First World Problem
Pope Egwaras, 25, interior designer and graphic artist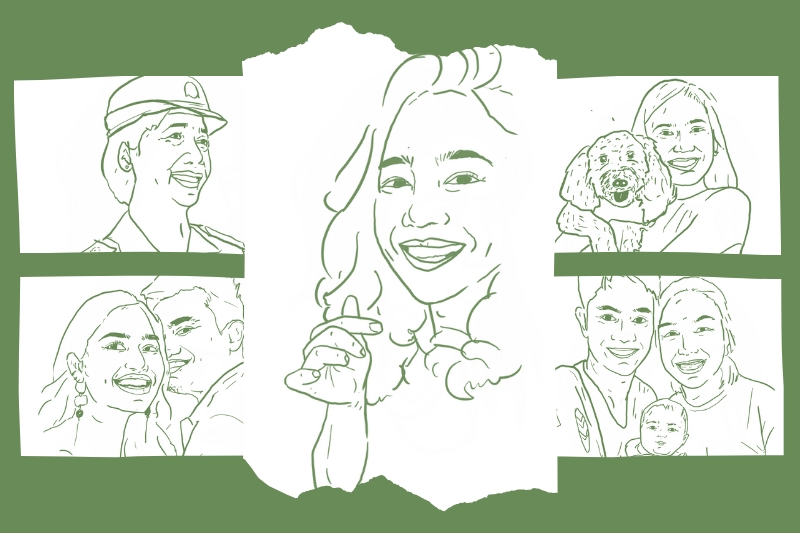 Tell us about what you're doing.
"Art4Bikes is a fundraising campaign, where I make portraits for people in exchange for donations to LifeCyclesPH! It's a pay-what-you-can-basis, so people can give what they can."
How did you come up with this idea?
"While scrolling through social media, [I saw an Instagram story of] a friend of mine asking people who wanted to do an art trade (where you draw me and I draw you). I said, 'Okay, G.' I don't really draw people a lot since I'm an interior designer; most of my drawings are limited to spaces and furniture. I wanted to get in touch with portraits again. 
I liked what I made — it was a single line portrait — and I posted it on IG stories. But while writing the caption, I thought, 'Why not ask people if they wanted a portrait like this made too, in exchange for a donation to a cause?'"
What inspires you to do what you do?
"I understand all the enhanced quarantine measures the government is imposing, but the lack of preparation and planning has resulted in our frontliners having a hard time going to work. Aside from doctors and nurses, janitors, security guards, and cashiers share the same problems, too.
I've heard firsthand the struggles of not having mass transportation. Our condo guards walk two hours every day just to secure our premises. Luckily, I and my neighbours had bikes that we weren't using because of the lockdown. So, we've been lending them our bikes instead.
Since mass transportation is out of the question right now, I think biking could be a great solution that is sustainable and environmentally friendly. Point to point shuttles are good, but bikes let our frontliners get to places — not only to their place of work, but also to other places they need to be."
How can people support this initiative?
"If you want to support Art4Bikes, just check out my Instagram account. I have the instructions in the highlights on how to donate and how to receive your portrait. You just send your photo, proof of donation/deposit slip, and wait until I mention you in a story with the illustration and link the image file. 
Turnaround is usually one to two days, but I have quite a backlog. I do appreciate everybody's patience as I draw each one. 
I've donated ₱50,000 to LifeCyclesPH, and it's been an overwhelming experience! I'm planning to help other transportation troops, specifically families of trike and jeepney drivers who are affected due to the suspension of mass transportation. I will probably use the same naming format — Art4Trikes, then Art4Jeeps, and so on.
Thank you so much who have donated, and I hope we can continue on!"
Maia Cruz, 19, BFA Information Design student at Ateneo de Manila University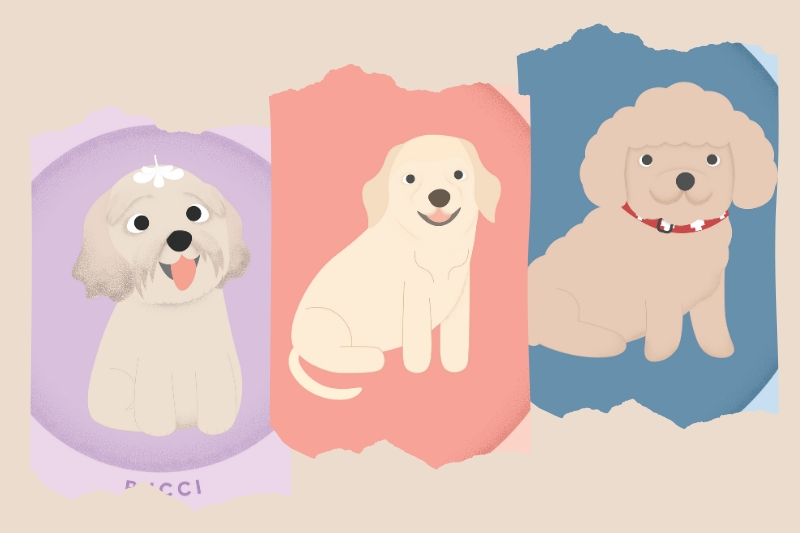 Tell us about what you're doing.
"I make simple drawings of people's pets. All the money I raise goes to Andrew's Fund PH, which is in coordination with Caritas Manila and Caritas Novaliches. It is a collaboration of NCR dioceses that coordinate with barangays or LGUs to distribute goods to support marginalised families in their areas."
How did you come up with this idea?
"I think it was from seeing how the lockdown is affecting those who do not have stable sources of income, such as daily wage earners, and wanting to do something to help. I was initially just going to ask my friends to send me photos of their pets because I wanted something to draw, but then I thought of charging for the drawings and using the money to help out in my own little way."
How are you helping fight the COVID-19 crisis?
"Many do not have the luxury of being able to work from home; the lockdown has made it very difficult for those who live on a 'no work, no pay' basis. All the payments for my drawings are deposited directly to Caritas accounts and they use the funds to distribute goods to feed poor families, daily wage earners, and [those who live in] hard-to-reach [areas]."
How can people support this initiative?
"You can DM me on Instagram and send me a photo of your pet! Each drawing costs ₱100. You may donate more if you'd like, since it all goes to the beneficiary."
MindNation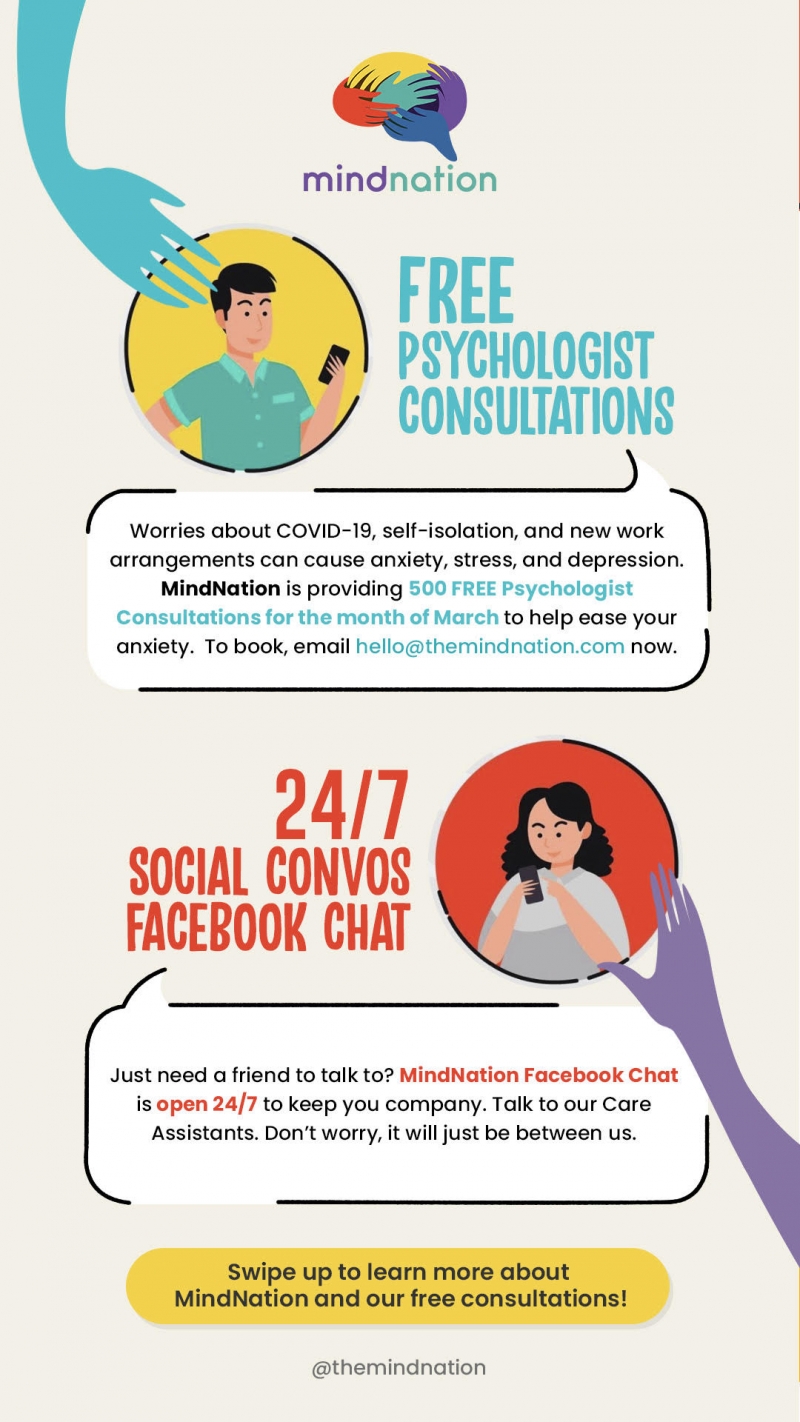 Monique Ong, Chairwoman; Kana Takahashi, CEO/Founder; CJ Sabangan, COO/Founder; Cat Triviño, CMO; Rachelle Ng, Client Partner
Tell us about MindNation.
"MindNation's vision is simple: To create a nation of happy, healthy employees. Over 32 million employees in the Philippines have no access to quality mental healthcare. In effect, they are less productive and fulfilled.
We believe mental healthcare is a business decision and should be a priority for all teams and organisations. MindNation is the country's first high-quality behavioural healthcare system, providing holistic care for employees' well-being. [We provide] easy access to psychologists, analytics, workshops, and activations that drive company culture."
What is your inspiration behind this?
"There is a growing need for accessible and affordable mental healthcare services in the Philippines. Mental health issues have always been taken for granted, especially in the workplace. [This shouldn't be the case] when, in fact, stress, anxiety, and depression linked to workload and the overall work environment are directly related to productivity and overall employee satisfaction."
How did you come up with the idea of giving free psychologist consultations during the community quarantine?
"We need to prioritise our mental health now more than ever. It's a global crisis that has led to anxiety, fear, uncertainty, and loneliness from self-isolation — all of which are detrimental to our mental health.
But because everyone is in survival mode — worrying about health, safety and security, and where and when the next pay check or food will come — mental health then becomes an invisible need. Many fail to address it, and [once] they do, they still have to worry about [the] cost and accessibility [of managing it].
We want to do our part in addressing this 'invisible need.' We want to show employees the benefits of reaching out to a professional. And at a time of crisis, many will not be able to afford it."
How has MindNation helped our fight against COVID-19?
"MindNation is providing free psychologist consultations (with our licensed psychologists) to all employees in the Philippines. We've received wonderful feedback from those that have availed of our services — from ease of booking to how much the session has helped alleviate their stress and anxiety in time of crisis. The best part is that it's all done online or via phone call; no need to go out of the house."
How can people support MindNation?
"Encourage your employer or HR to offer Mental Health Care services of MindNation as part of your employee benefit. You can email hello@themindnation to inquire about our rates and services.
They can also follow MindNation on Facebook, Twitter, Instagram for more tips, information, and inspiration on how they can take care of their mental health! We encourage all to ease the anxiety and be well!"
Denise Fabella, 24, affiliate director of I Support the Girls Manila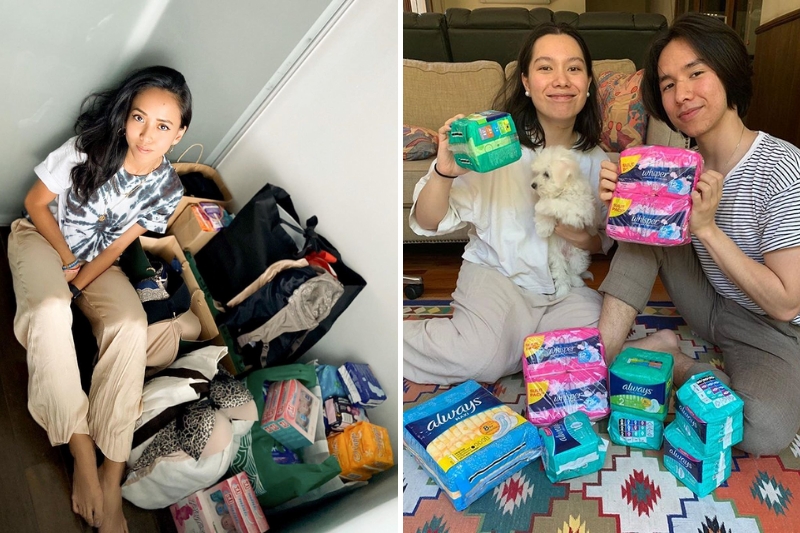 Tell us about I Support The Girls.
"We collect and distribute essential items — including bras, underwear, and menstrual hygiene products — [to allow] women experiencing homelessness, impoverishment, or distress to stand tall with dignity."
What is your inspiration behind this?
"I first learned about I Support the Girls when I attended a university event where Dana Marlowe (the organisation's founder) gave a talk. I told her I wanted to help out in a similar way here in the Philippines. She guided me in setting up our own ISTG location here in Metro Manila."
How has I Support The Girls helped our fight against COVID-19?
"We've donated over 10,000 menstrual and personal hygiene products to at-risk communities at our frontliners."
How can people support I Support The Girls?
"People can send monetary donations through this link. Note that this is in US$. People can also purchase feminine care products and menstrual hygiene products through Shopee and Lazada, and have these products shipped directly to our address when they check out:
I Support the Girls c/o Denise Fabella 
394 Shaw Boulevard Mandaluyong City, 
Brgy Pleasant Hills Metro Manila 
Hazel Roldan, 23, founder of And Again Clothing and COO of KatHa Lifestyle Store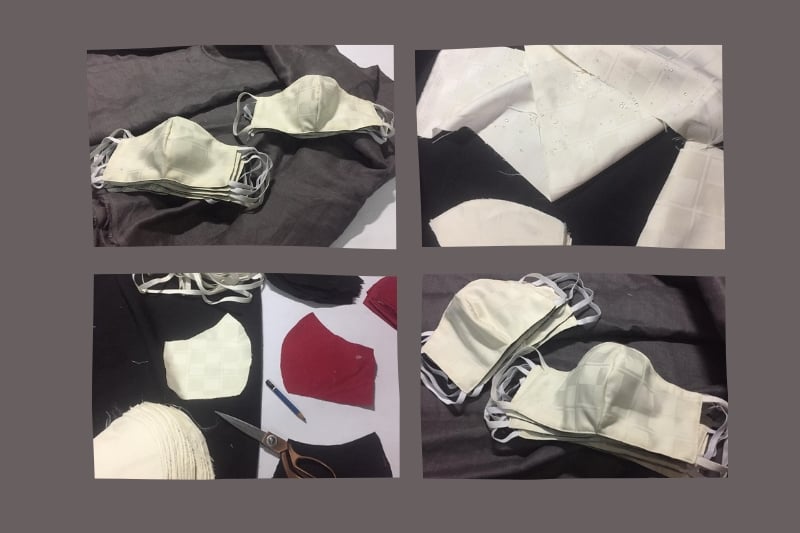 Tell us about what you're doing.
"I'm part of Manila Protective Gear Sewing Club — a group of local designers, fashion owners, and fabric suppliers. We have an online directory of where we are, what we can do, or what we can donate. In that Facebook group, we have a team of admins that takes care of the logistics — they connect suppliers to the cutters, and cutters to sewing volunteers. 
We have a good amount of production volunteers, but not enough fabric. We have specific requirements for the fabric material to make it as close to medical-grade as possible. Our call for donations is for raw materials for the PPE suits and facemasks for frontliners, so that we can start making them."
How are you helping fight the COVID-19 crisis?
"There are a lot of guidelines for DIY masks available online, so I've started rummaging through my retaso stockpile and decided to make what I can. I've donated to the frontliners in my area, like security guards and sanitary engineers. For the centralised production of PPE suits, that is a group effort and credits go to our Facebook admin Cynthia Diaz, her team, and their collaboration with the Office of the Vice President (OVP). 
This effort has produced PPE for our medical frontliners and we send the finished products directly to the OVP for proper distribution."
How can people support this initiative?
"People can support this initiative by helping us find the raw materials that we need; but that's a band-aid solution. We should all still stay at home and demand proper service from our government to stop the spread of the virus. We want our medical teams not to be overwhelmed with the number of infected patients so that they'll need fewer PPEs. Prevention is better than the cure, we cannot keep producing PPEs to end this pandemic.
Bukas Ba?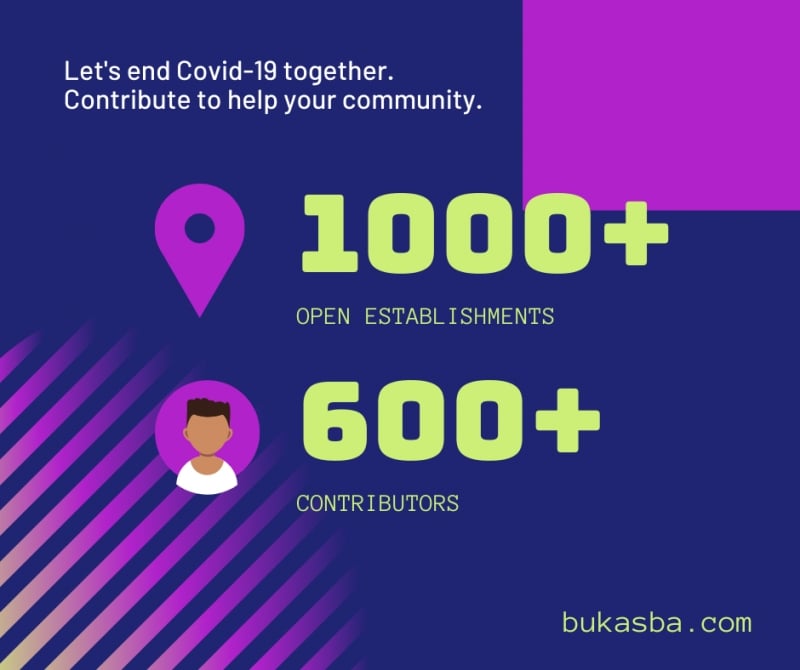 Justine Kapunan, 23, developer; Benjamin Intal, 37, founder and lead developer of Gambit Technologies Inc.
How are you helping fight the COVID-19 crisis?
"Bukas Ba? is a free crowdsourcing web app that lets you check if a community store that offers basic goods and services is OPEN (meaning it is still operational) during the community quarantine. It is an app to help people minimise the time they spend out of their homes. It also helps community businesses continue to thrive during the lockdown.
We think that Bukas Ba? helps people out by letting people know where to get what they need quickly and easily. The idea is if people know what is open in their community, they will cut the unnecessary detours and they can minimise their time outside their homes. 
Also, if people go to a certain store and see that the line is long, they can just check the app to find alternatives. In this way, we think we also help practice social distancing.
We also thought that Bukas Ba? would be a great way to help community stores thrive by letting people know that they are still open for business."
How did you come up with this idea?
"We wanted to put our development skills to good use and to help others. So we developed the app while working from home."
What inspires you to do what you do?
"When the community quarantine was first imposed, one of the first things we did was to head out and get stocks that we would need to sustain us for the coming week. We realised that we needed to scout for what remains to be open and came up with a list of establishments.
We thought about having something like Bukas Ba? for people in the community can share their own list of open stores so other people would not need to move around too much to get to what they need."
How can people support this initiative?
"The best way that people can support the app is by contributing. They can add open establishments that are not yet on the map, and they can flag if establishments that already appear are still open or already closed.
People's contributions are at the heart of the app — the more contributions we get, the better data we'll have and the more communities we can help.
We've observed that a lot of the data we have is centered in Metro Manila, with a few entries for the provinces. It would be great if people could also input data for other parts of the Philippines so the communities there could also enjoy the benefits of the app."
#1Wavefor100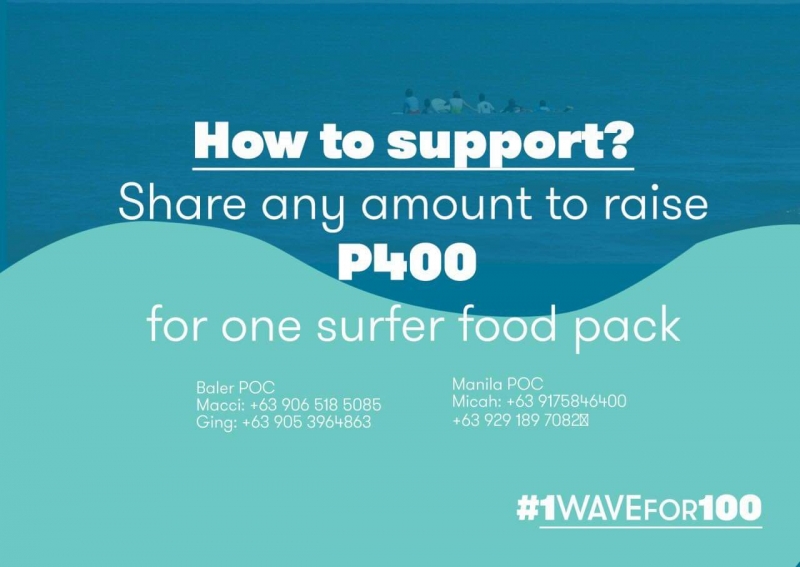 Micah Asistores, 28, incubation consultant and founder of WaveKo; Macci Macaranas, 30, web developer and co-founder of WaveKo; Louise Dagoy, 27, co-founder of WaveKo; Ging Palo, 28, web designer and co-owner of Sonia's at Surfers Garden Baler; Mafel Zabarte, 31, Owner of Kokoa Concept Baler
How are you helping fight the COVID-19 crisis?
"#1WAVEfor100 is an initiative of WAVEKO, Kokoa Concept, and Sonia's at Surfer's Garden to alleviate the suffering of a local community of surf instructors in Baler whose livelihood is affected by the current global pandemic. Manila Surfers Association is also helping us promote the initiative."
How did you come up with this idea?
"We came up with the term #1WAVEfor100 as a representation of uniting as one in order to raise a fund to provide food packs for 100 (and hopefully more) surf instructors. Different organisations and individuals come together as one in order to make a big wave of impact for the community.
#1WaveFor100 started out when Micah, a surfer who frequents Baler, had a conversation via messenger with a few of the surf instructors on what the situation is like in Aurora. These instructors mentioned that they were struggling to get by on a daily basis, where to get food for themselves and their families as everything is restricted for the health and safety of many.
From there, Micah realised that there are more people who probably need help as the tourism industry dropped since COVID-19 started along with the enhanced community quarantine. Micah, along with Louise and Macci, shared the idea and initiative to Ging and Mafel. From there, the collaboration between our organisations emerged and brought life to #1WAVEfor100."
What inspires you to do what you do?
"We believe that everyone is affected by this pandemic. Our fight is more than just about eradicating the virus; we're making sure that everyone whose livelihood is affected will also be able to face the challenge and prevent bigger problems to emerge."
How can people support this initiative?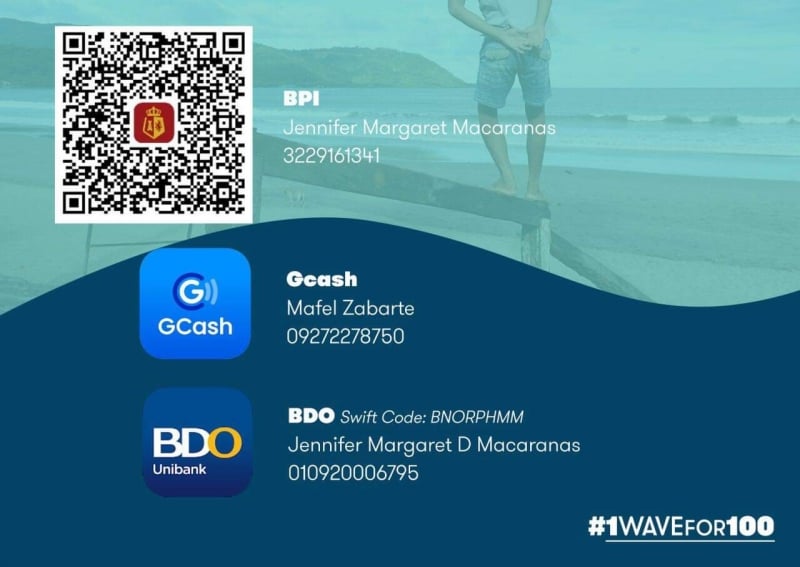 "Any amount of support will go a long way. We have three channels that they can transfer some funds to — BPI, BDO, and GCash. People can also share the word to their families and friends for us to reach more people. Hopefully, we will be able to raise enough funds for other locations, too."
PPE Fundraiser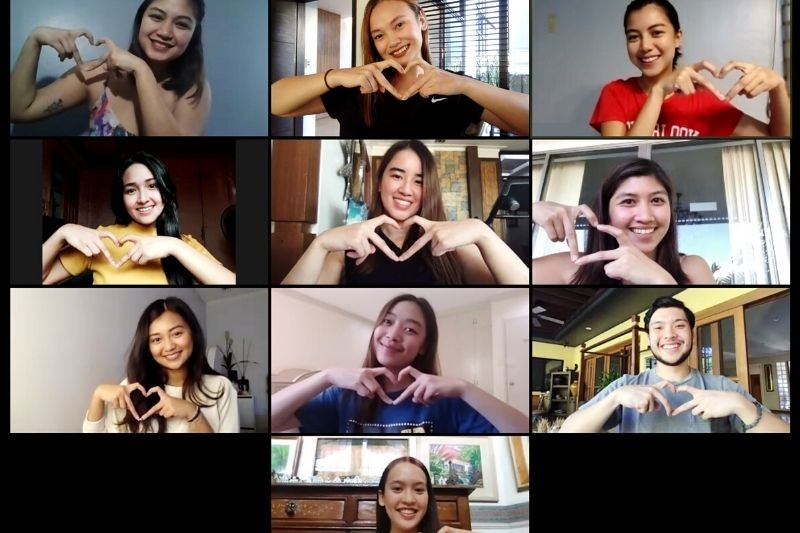 Apple David; Ariel Bucsit; Arielle Escalona; Danica Chong; Katrina Romasanta; Kate Katigbak; Kiesha Silayan; Kristine Badon; Luis Puno; Sam Quiambao
Tell us about what you're doing.
"We are fundraising to secure Personal Protective Equipment (PPEs) in the form of suits for our COVID-19 frontliners in the medical field. We have partnered with seamstresses from Marikina, Masinag, and Malabon to produce the PPEs. These PPEs are made of a durable and water-resistant material which will allow health workers to reuse them after proper disinfection."
How did you come up with this idea?
"The coronavirus caught all of us off-guard. The most affected by this sudden rise in cases were the people at the frontlines — our medical workers. Weeks into the lockdown, there were a lot of articles and photos going around that [showed us that] our healthcare professionals were not given the right protective equipment to overcome this threat. It was heartbreaking to see posts of doctors who literally gave up their lives to protect us.
One of our friends [just] so happened to have contacts for seamstresses who had quite a bit of time on their hands and that's how this idea got rolling. We realised that each of us had something we could contribute, whether it was our design skills, marketing experience, networks, or even just our time and effort."
How are you helping fight the COVID-19 crisis?
"We know that this effort pales in comparison to many of the other initiatives that are being done. We feel, however, that it is our duty to protect the people that are protecting us. If we are able to help them in any way, shape, or form then we are doing our jobs."
How can people support this initiative?
"You can find the details on our Instagram account. There, you will be able to find out more on how to donate, what we are donating, and track where our efforts are going.
We urge you all to do your best given your current situations and help our frontliners — even smallest of gestures can create the biggest impact."
#ParaPoTulongTayo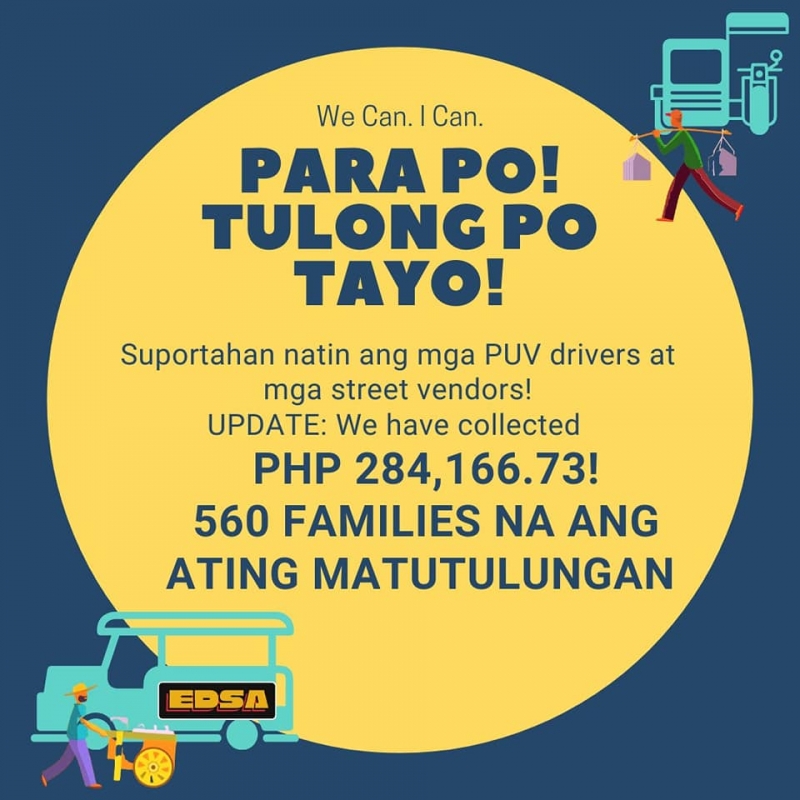 Nikki Directo, 28, Human Resources; Clarizze Alcaraz, 26, Marketing; Ja Reyes, 27, Sales
Tell us about what you're doing.
"#ParaPoTulongTayo is a fundraising drive for PUV drivers and street vendors who found themselves without any source of income during the enhanced community quarantine."
How did you come up with this idea?
"We saw help coming in for frontliners, but we got worried about those people who wouldn't have the means to provide for their families during the quarantine. Tara Baraha and their initiative for daily wage workers inspired us.
We decided to do our own fundraiser and [we] chose [to help] drivers and street vendors. These people help us get around where we need to go. Street vendors are there for us when we need a yosi break, [an umbrella] during an unexpected rain shower, or a simple pantawid-gutom for daily commutes. We felt the need to show up for them at this time when help is needed."
How are you helping fight the COVID-19 crisis?
"I'm not sure if we helped fight COVID-19 exactly. I guess what we aim to do is provide relief: That for at least a week, we can provide for their families."
How can people support this initiative?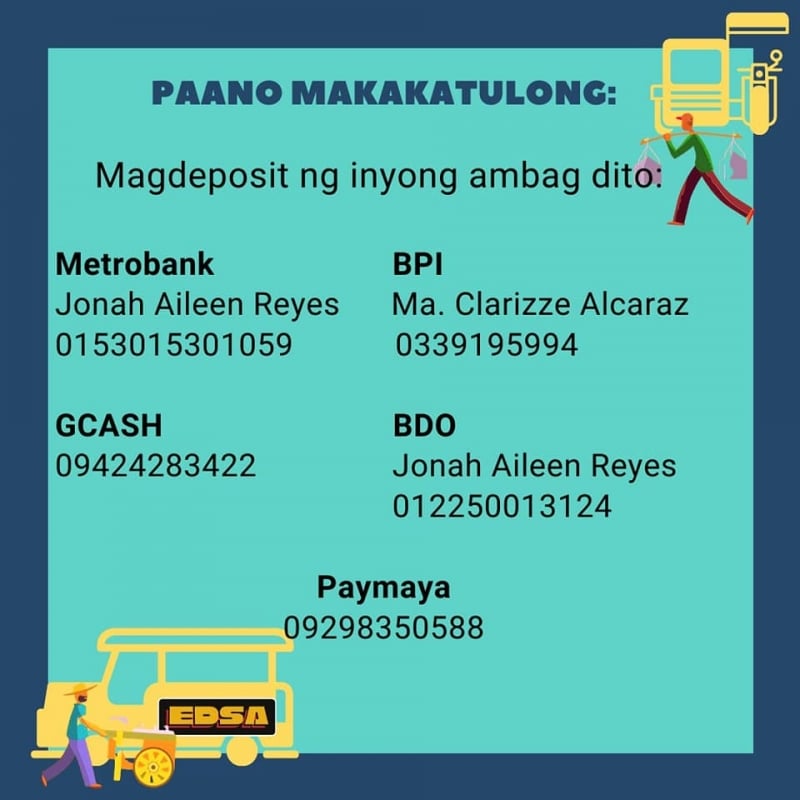 "Please continue donating! If you can mobilise efforts in your locality, go for it! If you know drivers who are in need, send us a message!"
Project Protect, St. Paul College, Pasig Batch 2011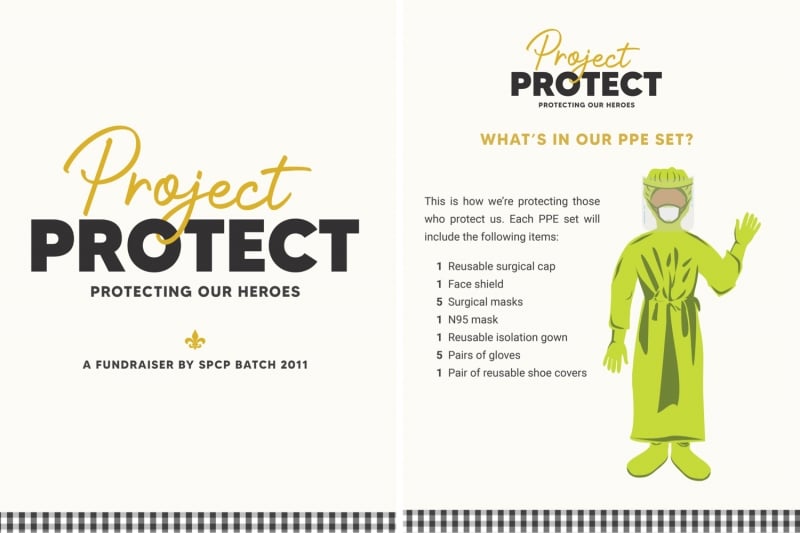 Tell us about Project Protect.
"We are alumnae from St. Paul College, Pasig and we're raising funds to protect those who protect us – our medical frontliners. Our initiative, Project Protect, aims to provide frontliners from various hospitals both in NCR and surrounding provinces with lifesaving PPE sets."
How did you come up with the idea?
"The Philippines has the highest mortality rate of medical professionals in the world at a little under 10 percent, which is alarming, knowing that the ratio of medical professionals to patients continues to decrease during this critical time.
Taking inspiration from the valiant efforts and extreme sacrifices that our medical frontliners have made to keep up safe in the battle against COVID-19, we wanted to do our part and keep them safe as well by providing them with much-needed PPE sets. We were also inspired by the fact that a number of our batchmates are medical frontliners, and we wanted to do this as a tribute to them."
How has Project Protect helped our fight against COVID-19?
"We've been so overwhelmed by the support we've received not just from our batchmates, but also from friends, family, and colleagues. Beyond the monetary pledges, they have helped us connect to suppliers, sourced materials, and provided logistical support.
Our initial goal was to supply two hospitals (the Southern Isabela General Hospital and the Jose R. Reyes Memorial Medical Center) with 50 PPE sets (each set consists of a reusable lab gown, reusable cap, reusable shoe covers, five surgical masks, one N95 mask, five pairs of surgical gloves, a face shield, and a case of disinfectant) each; but thanks to the generous donations we've received, we were able to meet our initial goal in under 24 hours.
With the funds we currently have (~PHP 350,000), we can supply eight hospitals with 75 PPE sets each. Our first batches of PPEs are in production (we have three suppliers at the moment), and we hope to get them to our first set of beneficiaries by the third week of April."
How can people support this initiative?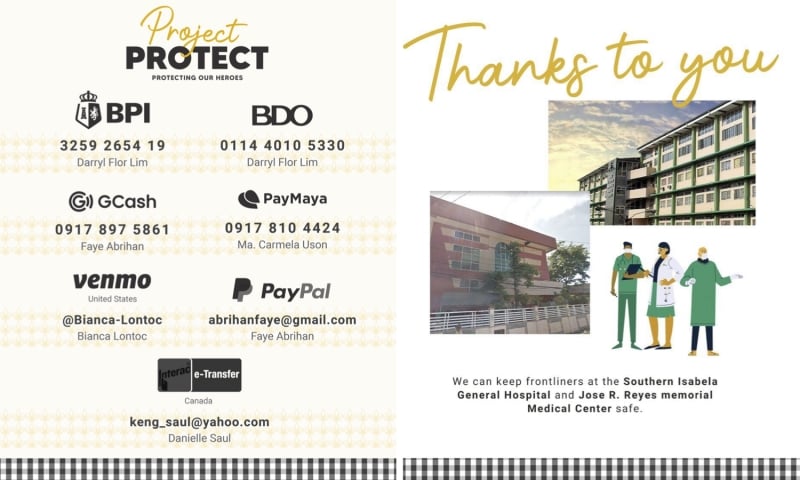 "Although we've exceeded our initial goal, we're still open to donations. As long as people are willing to donate, we promise to keep supplying frontliners with PPE sets. We believe that by working together, we can beat COVID-19! For more information about Project Protect and how you can help out, you can follow our Facebook or Instagram pages."
Also read: Luzon-Wide Community Quarantine Due to COVID-19: What You Need to Know
Staying at home during these times may make us feel powerless, but these COVID-19 heroes only prove that we don't need to leave our homes to help out! Every profession, skill, and passion matters — as long as we put them into good use.
Jim Stovall once said, "You need to be aware of what others are doing, applaud their efforts, acknowledge their successes and encourage them in their pursuits. When we all help one another, everybody wins." 
So as we stand up for our frontliners, we also cheer for those who work behind the scenes. Yes, it's cool to be on the battlefield; but even the bravest soldiers need support on the ground. And with a global crisis like this, there is plenty of space for more COVID-19 heroes.
---
Facebook image credit: Arielle Escalona; And Again Clothing; Pope Egwaras | Instagram.