Contributed by The Backpack Couple
All over the Philippines, perhaps it is only in this part where parks, museums and experiential centres are abound for public viewing and use. But these are not just your run-of-the-mill museums and recreational centres. Instead, these parks and museums are modern, state-of-the-art, world-class, unique and they are waiting to be discovered and immortalised in your social media pages.
Where do you think can you find such parks and museums? Manila? Cebu perhaps? Probably Davao? Surprise, surprise — these are spread all over this booming province in the easternmost seaboard of Mindanao: Davao Oriental. So, on a long weekend trip to Davao, we made a quick side trip to Davao Oriental to see these attractions for ourselves. Check out why this province is our choice for the title of museum and parks capital of the Philippines.
1. Pintatagan Welcome Park, Banaybanay
The hunt for parks and museums begin in the town of Banaybanay at the boundary of Davao Oriental and Compostela Valley where this welcome park is situated. An enormous pink welcome marker signals your entry to province. Perhaps the only one of its kind, the welcome park is also a pit stop and a favourite selfie spot for tourists and locals alike and it is complete with new facilities like a tourism outpost, clean restrooms, and a mini cafe.
2. Subangan Provincial Musem, Mati City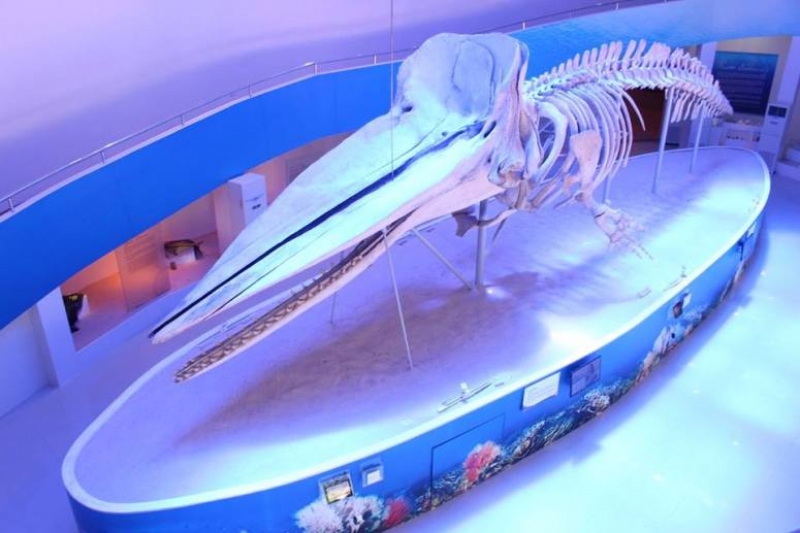 This is the centre of arts and natural history collection of Davao Oriental and doubles as the provincial museum. It houses a selected collection of the province's historical and cultural heritage well-preserved under its roof featuring the Mandaya and Kaagan/Kalagan indigenous groups. Completed only in 2014, the museum is also the resting place of one of the world's largest sperm whales named Davor (short for Davao Oriental), whose skeleton weighing 20 metric tons and measuring 53 feet long welcomes you at the entrance. It is the seventh largest of its kind in exhibition in the world. The museum also showcases the province's natural wonders, from the UNESCO World Heritage Site to the highest and one of the most beautiful waterfalls in the country.
Note: Video is not allowed
Entrance Fee: ₱50.00
Getting there: The museum is right along the main city road towards Dahican Beach and can be reached by a short tricycle ride from the van terminal.
Also read: I Spent 3 Days Surfing and Flying an Ultra-Light Plane in Mati for ₱3,900
3. Mount Hamiguitan Eco Park & Natural Science Museum, San Isidro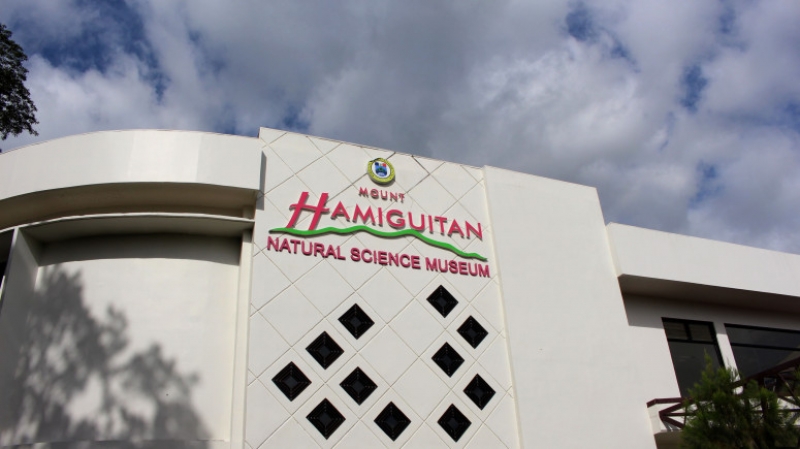 Nestled at the foothills of Mount Hamiguitan Range in the town of San Isidro, the Mount Hamiguitan Eco Park and Natural Science Museum is testament to the province's and the country's commitment to preservation of the country's natural heritage. The protected mountain range is home to the Philippine Eagle and the unique bonsai forests, making it the first site in the country that is both a UNESCO World Heritage Site and an ASEAN Heritage Park. Amidst its isolation and lush greeneries and vegetation, it is worth to visit this site and intimately commune with nature. A world-class and interactive natural science museum dedicated to nature, specifically to the mountain, is the highlight of your visit. There is also guided tour along a nature trail where you can see and take selfies with native and endemic species mostly of plants and trees including rare endemic species like the pitcher plants. More facilities are also up for development in the coming months.
Entrance Fee: ₱50.00
Getting there: The Eco Park and museum is located around 30 minutes from San Isidro town proper and can be reached by private vans direct to the site. For public transport, buses ply the Davao-Mati and Davao-Sigaboy (Governor Generoso) routes that pass through San Isidro town. One can hire a motorcycle to bring you to the eco park.
4. Aliwagwag Falls Eco Park and Riverview Park, Cateel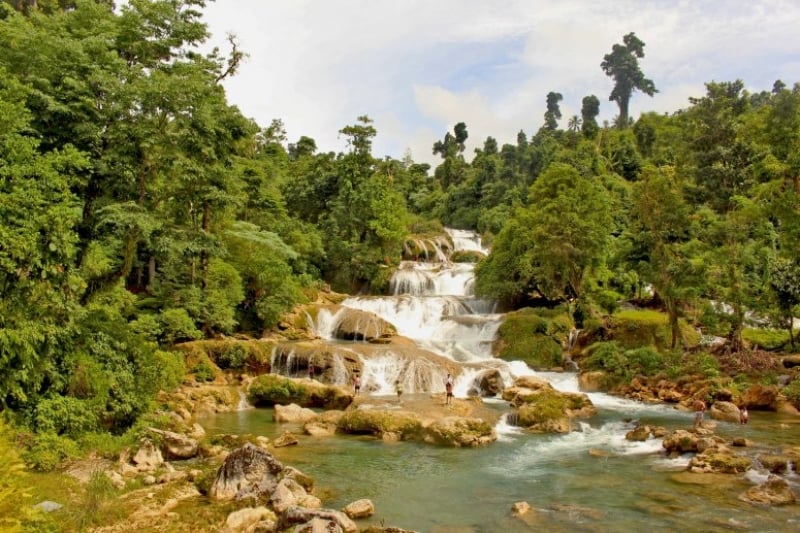 Aliwagwag Falls is perhaps the crowning glory of the province being considered as one of the most beautiful and the tallest waterfalls in the country. It's only natural for it to be developed into an ecological park complete with facilities and essential amenities for tourists. Aside from its multi-tiered cascades, the park also has a zipline and a monkey bridge available for thrill-seekers. Since Aliwagwag is a protected area, restrictions are being observed within its vicinity. Outside the park entrance are lines of souvenir shops and food establishments for your convenience. 
Entrance Fee: ₱50.00
Getting there: The town of Cateel can be reached by bus or van coming from Davao via Mati City. The falls is about 30 minutes away from Cateel town proper by motorcycle/habal-habal.
Also read: Southern Mindanao 4-Day Itinerary with a Budget of Only ₱6,971 (All-In)
5. Pusan Point Science Discovery Center and Eco Park, Caraga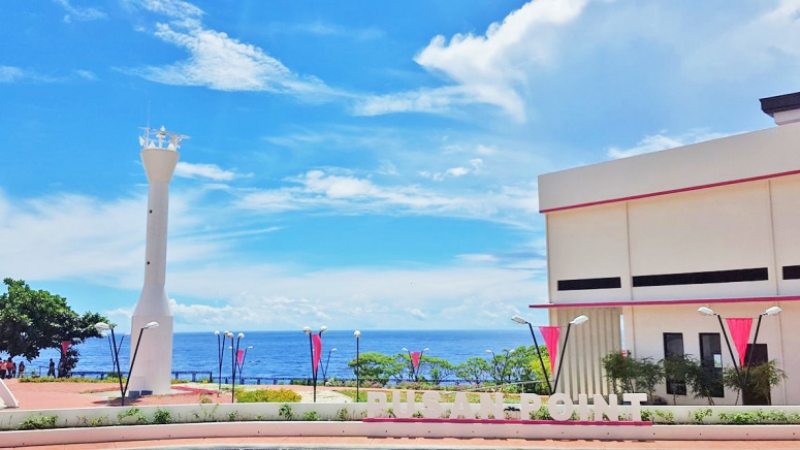 Located in the municipality of Caraga, off the vast Pacific Ocean, Pusan Point is the easternmost point of the Philippines. On the 1st of January 2000, this particular site was the setting of the first sunrise of the new millennium. Given its geographic significance, this site was recently developed into a full-fledged eco park and science centre known as Pusan Point Eco Park and Science Discovery Center. Complete with educational features and amenities featuring a galaxy walk, planetarium and various science-related sections, the park is very accessible from the main road. It is also complete with a swimming pool facility, a lighthouse, a Jubilee cross and a campsite.
Getting there: From Davao City, take a three-hour van ride to Mati City and transfer to another van or bus (Bachelor Express/Mallen Bus) bound for Baganga or Cateel for another 1.5 hours and alight at Pusan Point in Brgy. Santiago, Caraga. Travel time is one hour and 30 minutes and the fare is about ₱100/pax. From the Pusan Point crossing, habal-habals are readily available to bring you to the park for about 15 minutes along a paved and cemented road passing through lush coconut vegetation.
Also read: Pusan Point: Where the Sun Rises First in the Philippines
6. Baganga Sunrise Boulevard, Baganga
Strategically located along the main road few minutes from the town proper, the picture perfect Baganga Sunrise Boulevard is considered as the town's newest attraction for locals and tourists alike. The highlight of this park are the remains of mangroves that line up the coast which symbolise the town's resilience following the onslaught of Typhoon Pablo that struck the province in 2012. The beach park also has amenities including restaurants, shower areas, beach huts, a playground for the kids, and an information centre. The boulevard is also ideal for leisure walks and jogging.
Getting there: Buses and vans from Davao City pass through Mati City before proceeding to Baganga. A direct trip by bus from Davao takes around 6-7 hours. From Mati City, it takes about 2-3 hours to reach Baganga. You can tell the driver to drop you at the Sunrise Boulevard located in Brgy. Dapnan, few minutes after the town proper.
7. Cape San Agustin Eco Park, Governor Generoso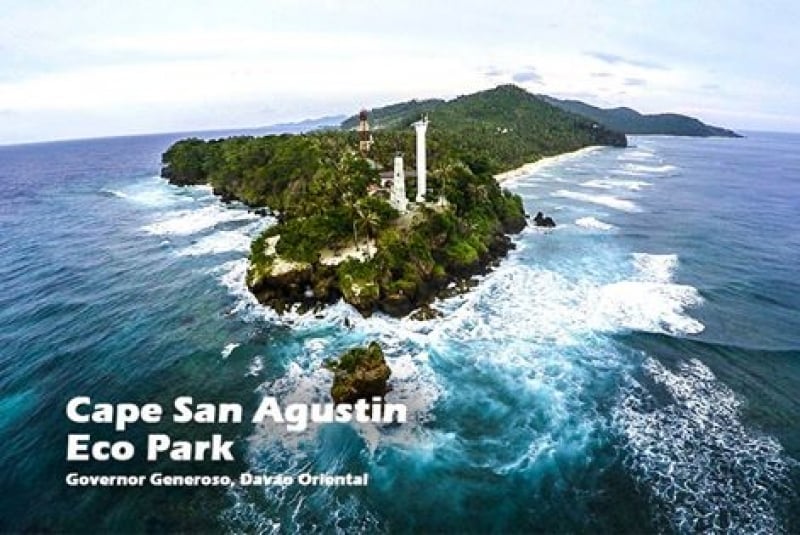 Located in the southernmost point of the Philippines, Cape San Agustin is home to three lighthouses, collectively known as Tatlong Maria, built decades apart. Two of the three structures still operate at present. It's possible to climb the lighthouses for spectacular views of the Celebes Sea and Davao Gulf in opposite directions. The shore of Cape San Agustin called Parola Beach is characterised by a mix of white to pink sand. Not far from the eco park is a historical landmark in a form of a natural rock formation called The Altar, said to be the site of the first Christian mass in the province.
Getting there: Governor Generoso is a three-hour trip by Sigaboy-bound public bus or van from Davao City and passes through San Isidro town. From the town proper, you can hire a motorcycle to bring you to Cape San Agustin which could take over an hour.
8. Cateel Riverview Park and Memorial Shrine, Cateel
Standing in the middle of Cateel town, this memorial monument is a reminder of one of the province's darkest chapter amidst the destruction of Typhoon Pablo in 2012. The park also symbolises the courage and resilience of the people of Cateel and Davao Oriental to get back on their feet and emerge as hopeful as ever. Along with Aliwagwag Falls, this is another landmark worthy of your photo stop when in Cateel.
Getting there: The falls can be reached by van or bus coming from Davao (8-10 hours) via Mati City (4-5 hours).
9. Boston Pacific View Park, Boston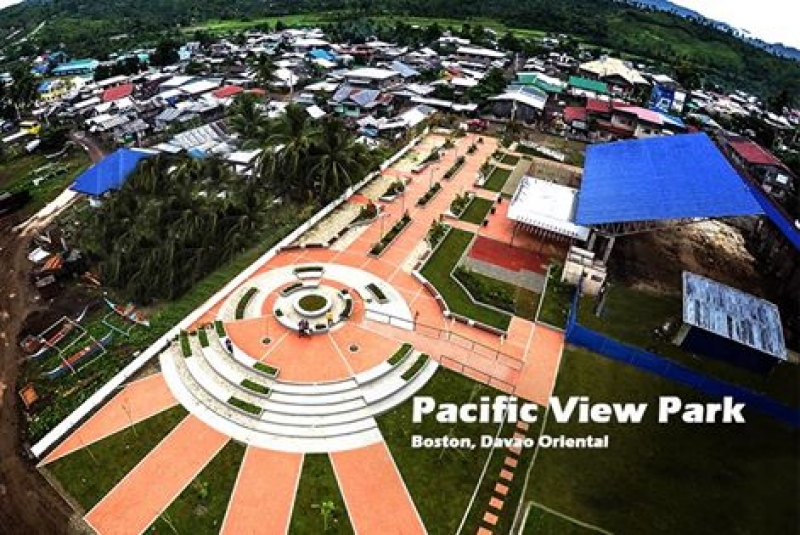 Not known to many, the Philippines has its own place called Boston, a fishing town in the province of Davao Oriental bordering the province of Surigao del Sur to the north. Boston also has its share of a newly-built park that provides an amazing view of the vast Pacific Ocean and the nearby Cabugao Island.
Getting there: Being the northernmost town of the province, it takes up to six hours by van from Mati City. It is also possible to reach Boston from Butuan City via Surigao del Sur (Mangagoy/Bislig).
Getting there
There are no direct flights anywhere to Davao Oriental. The most convenient way of getting to the province is via Davao City. It takes about three hours by van and 4-5 hours from Davao City proper to Mati City. Vans are available beside Gaisano Mall and buses (Bachelor, Mallen Bus) at Ecoland Terminal. The trip passes through the provinces of Davao del Norte and Compostela Valley along vast stretches of banana plantations. A welcome ark/park marks your entry to the province.
For updated information and proper guidance on these museums and parks as well as accommodations and transportation arrangements, please contact the Provincial Government of Davao Oriental or their Facebook account.
*Special thanks to the Province of Davao Oriental for allowing us to use some of their photos.