Before Siargao became the new hottest place for travellers in the Philippines, the island paradise was already booming on its own. Despite more direct flights being launched from Manila, Cebu and Davao, getting to the island without flying is still very much feasible and an entirely different adventure.
My trip to Siargao was one of those spur-of-the-moment trips I ended up going on during the last quarter of 2018. I actually booked my one-way flight to Davao from Clark during a seat sale. As my departure neared, I realised what I wanted from the trip were nowhere to be found in or around Davao. So you might've guessed it, I travelled to Surigao del Norte instead by land. While generally cheaper than flying directly (if seats are not on sale), it can get tiring and WILL take longer. If you're up to the challenge, here's how you can do it like I did.
Also read: Siargao Movie: Lessons & What Every Visitor Should Know
Clark to Davao
First, I made my way to TriNoma from our house in Quezon City. I heard this was where I could get a hassle-free transit to Clark International Airport. The regular ticket costs ₱250 for a two-hour journey (although it only took about an hour and forty minutes in my case). The bus terminal is just outside Landmark along EDSA. Here's the view from my seat for your reference. The bus only had one stop in SM City Clark, before finally arriving at the airport.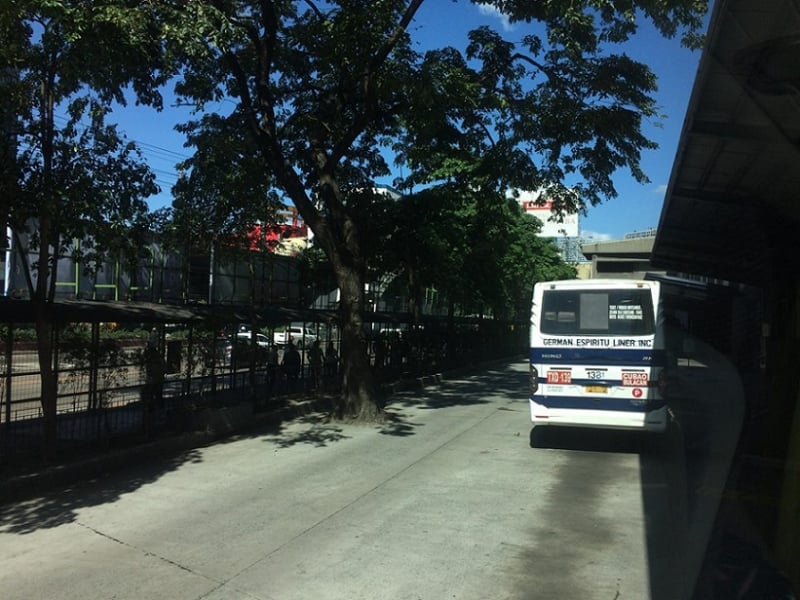 There's a ₱150 terminal fee at Clark International Airport for all passengers, which you can pay right after checking in. Unlike NAIA, there are not many food options within the building and the pre-departure area is smaller. The flight to Davao takes about two hours and the only way to get to anywhere from Francisco Bangoy International Airport is by riding a taxi. However, there's a cheaper way and that is by riding buses that ply the highway a few minutes away from the arrivals area. Not many locals will advise you to do this especially if you arrive at night.
Tip: Instead of paying about ₱300 for a taxi ride to Ecoland Bus Terminal (where you're supposed to take a bus to Surigao City), you can go to the highway outside the airport and hop on a bus marked "Davao". It costs approximately ₱20. OR, simply hail a bus going to your destination along the same highway. The tourism staff at the airport didn't tell me about this so I was surprised that on my journey from Ecoland Bus Terminal, the bus actually picked up passengers at fixed bus stops along the way, including ones just a few minutes walk from the airport. If you don't intend on exploring Davao City, you can take this option.
Davao to Surigao City
My flight got delayed for three hours in Clark. Instead of 4pm, I arrived in Davao past 7pm and didn't have the time to roam around. I intended to ride Bachelor Express' last bus trip of the day to Surigao City from Ecoland Bus Terminal at 9pm (according to another traveller). I arrived at exactly 8.30pm and the bus was already about to leave. The driver said that there would be no buses leaving after this so I immediately hopped on it before I could even compose myself after my flight (I was too busy chatting with the taxi driver en route).
There are schedules posted at the Ecoland Bus Terminal. However, I wasn't able to note the schedules as I was in a rush. The trips are usually in the afternoon and evening (with some in the wee hours of the morning). It's advised to arrive in Surigao City in the morning to catch the ferries going to Siargao. If you don't plan on staying for more than six hours in Surigao, choose the late afternoon to evening trips. This way, you will arrive just in time to buy your ferry ticket. The bus ride from Davao takes eight hours. Again, however, it actually took 11 hours in my case.
Tip: Bring earplugs and an eye mask because the bus usually plays movies throughout the journey. Since it's an overnight trip, you'll want to make sure you can still have proper sleep on the bus.
Surigao City Bus Terminal to Surigao Port
Arriving at the Surigao City Bus Terminal, a bunch of tricycle drivers will be waiting for you and invite you to ride with them. If you're in a hurry, go for them. If not, and you're on a budget, simply walk to the terminal's exit where you can find multi-cabs in various colours. Find one with an "R1" sign on it. This will take you to the Surigao City Port for only ₱10 and in no more than 20 minutes, depending on the road situation. Just ask the driver to drop you off at the port. But just in case, the port will be located to your left if coming from the bus terminal. It's a small blue building with a couple of carinderias at the opposite side of the road.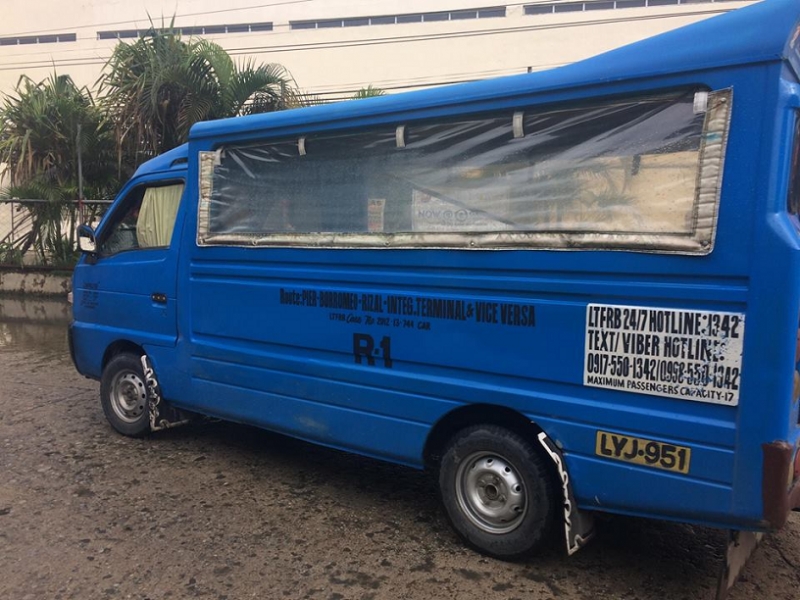 Go straight to the ticketing booths outside the building. The port only houses a pre-departure area, a couple of food stalls and souvenir shops. There are three ferry companies that you can choose from and the tickets are almost the same. EXCEPT for Montenegro Lines. I was lucky enough to catch one of their seat sales that cost only ₱100. The regular rate for the other two companies is ₱360 as of November 2018. When I was reading on information about the ferry ride to Siargao, I came across a blog that also indicated a discount offered by the same company. This was in 2017. Curious, I asked the booth clerk why they offered seat sales so often, to which the lady replied "Hangga't may competition po Sir, hindi tayo mawawalan ng promo."
Surigao Port to Dapa, Siargao
I arrived at the port around 8am and the earliest ferry ride I could book was the one leaving at 11am. The other schedules are 3am, 5am, 5.30am, 6am, 10.30am and 11.30am. I first went outside to eat breakfast at one of the carinderias and made sure to be back to the port before 10.30am for the boarding. I intended to be the first in line so I could get the best seat. I'm glad I did, because the ride ended up taking five hours! There weren't that many passengers on board so I used the vacant seats inside the air-conditioned area to sleep on.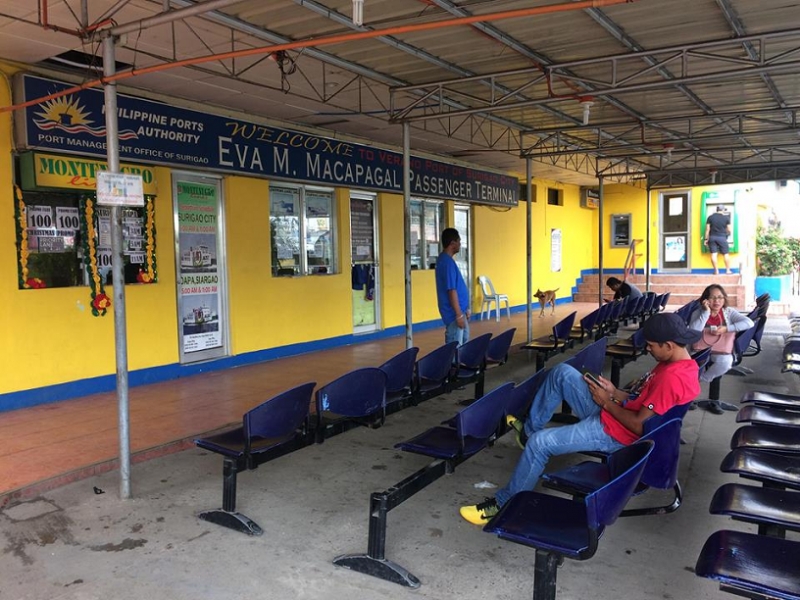 Since the ride took longer than expected because of the weather (Typhoon Samuel was just a few days away), I was happy to know that the cabin had movies playing so I didn't get too bored. We arrived in the port of Dapa at 4pm. The check-in cut-off at Villa Solaria, where I stayed, was at 5pm. So, I quickly searched for a tricycle driver. Thankfully, the ride only took about 45 minutes and cost me ₱150 (this was the driver's original offer). There were also habal-habal drivers outside but I chose to ride a tricycle so I could have space to put my backpack. Most of the ferry passengers I was with were locals (with only one or two other tourists) so I had no one to share the tricycle with. After a scenic sunset ride, I finally made it to my lodging.
Tip: Be sure not to drink or eat too much before riding the ferry to avoid going to the toilet. It wasn't as neat as I would have liked. If you're doing this route, be sure to allot a weekday for the ferry ride when there are not as many passengers. This way, you can occupy as many seats as you want for more convenience, especially since it's a three-hour water journey at the minimum.
Expenses
Excluding my Clark to Davao flight, the total cost of going all the way to General Luna in Siargao is ₱1,310. Here's the fare breakdown for your reference:
Taxi from Davao Airport to Ecoland Bus Terminal: ₱300
Bachelor Express Bus from Davao to Surigao City: ₱750
Surigao City Bus Terminal to Surigao City Port: ₱10
Montenegro Lines Ferry from Surigao City to Dapa: ₱100
Tricycle Ride from Dapa to General Luna: ₱150
Also read: Siargao for Non-Surfers: Travel Guide, Itinerary & Tips
Remember, only do this route if you are:
On a budget, as the total fare expenses is still cheaper than most regular or even promo flights to Siargao.
Only carrying one to two pieces of luggage (ideally a main backpack and one for important belongings). This way, you can easily keep an eye on your things on the bus and ferry.
Exploring Davao and/or Surigao City for a few hours too.
Have a fun and safe trip!