Once upon a time, in a kingdom far, far away, there lived a girl who wanted to travel the world. But fortune did not favour the girl — as she opened her treasure chest, she found nothing but dust and butterflies… and maybe a few receipts and coins.
In the nick of time, her fairy godmother took pity on her. She swooshed her wand and brought the girl to a place where she would be able to visit every kingdom that she has ever known — the Internet.
Okay, I admit: I am the broke, travel-hungry girl. Thankfully, during times like this that my travel fund is virtually non-existent, I have the Internet to fill my soul.
So without further ado, while we're all waiting on those seat sales to grant us our travel wishes, here's another bucket list I came up with: a list of real, but oh-so-magical, places that inspired our most favourite Disney movies.
Also read: 10 Fairytale Castles In Europe Filipinos Need To See!
1. Beauty and the Beast – Château de Chambord in France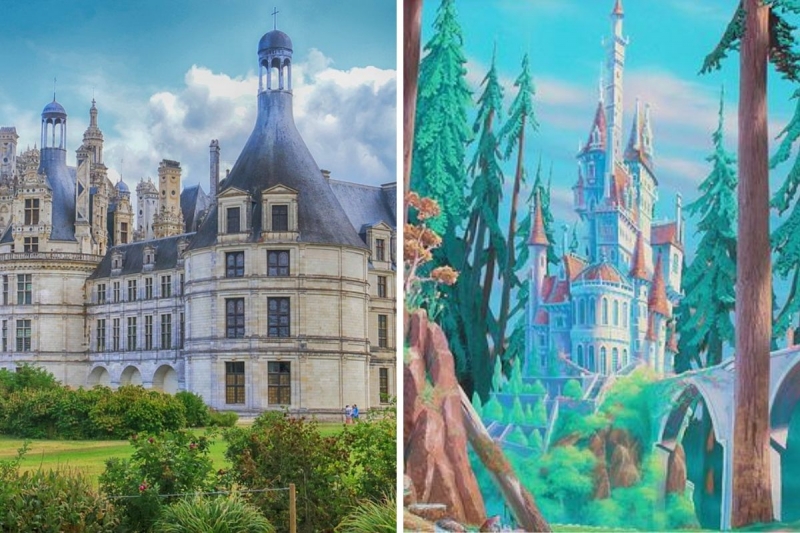 Built in the early 1500's, Château de Chambord is the tale as old as time. It stands as the largest castle in Loire Valley, and it's striking French Renaissance architecture adds even more to its allure.
As grand as it is, the château never actually served as a castle. Rather, it was a hunting lodge for King Francis I back in the day. Was he the inspiration for Gaston? Let's hope not.
2. Aladdin – Taj Mahal in Agra, India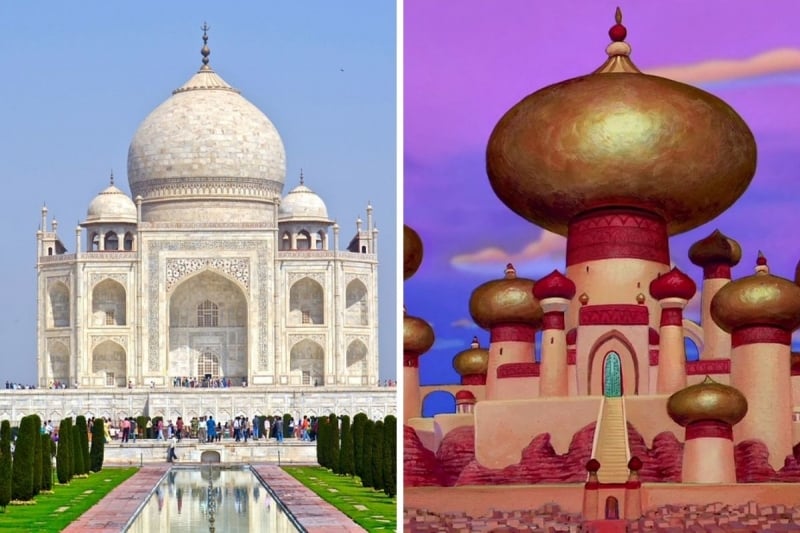 Highnesses in the Aladdin movie live in this regal palace in Agrabah, "a city of mystery, of enchantment, and the finest merchandise this side of the River Jordan." In reality, this fine air of regality stands in Agra, India.
Constructed in 1631, the Taj Mahal is widely known as a symbol of love. Mughal emperor Shah Jahan commissioned the ivory-white mausoleum to house the remains of his favourite wife. In 1983, the UNESCO World Heritage Site hailed it as "the jewel of Muslim art in India and one of the universally admired masterpieces of the world's heritage."
3. Sleeping Beauty – Neuschwanstein Castle in Schwangau, Germany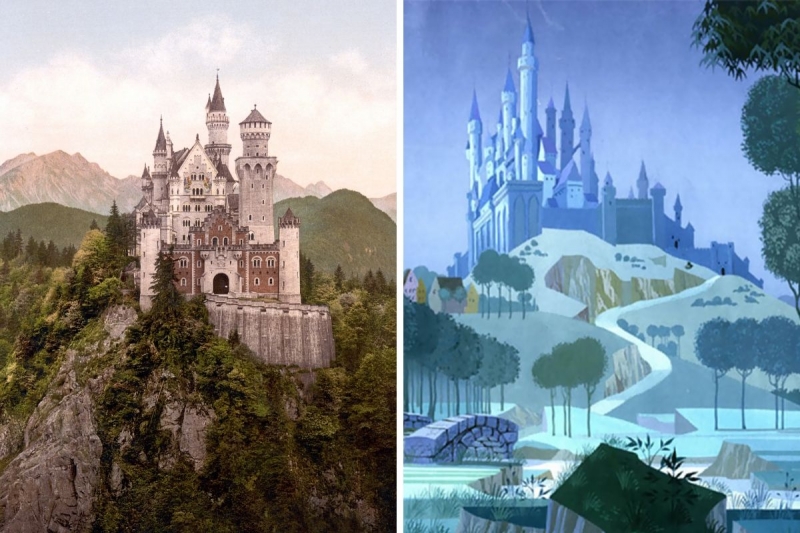 For most of her life, Princess Aurora had to live in a lone cottage in the woods, along with her three fairy godmothers. But her happily ever after was not until a hundred years later, when Prince Charming finally found her and kissed her awake. They then lived in this beautiful castle, rising atop a rugged hill for all the villagers to applaud.
Neuschwanstein Castle doesn't stray far from this dreamy castle. Inspired by 19th-century Romanesque Revival architecture, this palace also towers over the quaint village of Hohenschwangau.
4. Snow White – Alcázar de Segovia in Spain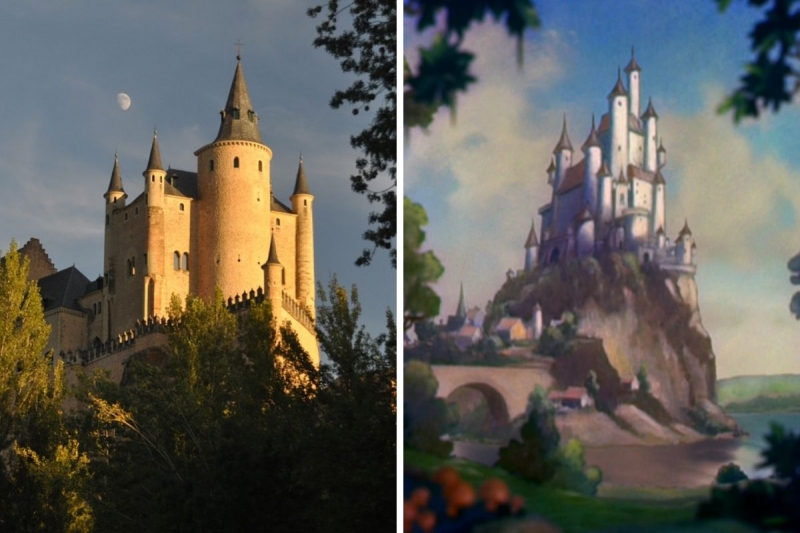 What would this list be without this classic castle that's almost representative of all Disney movies? Rumours have it that the Queen's Castle in Snow White was inspired by the Alcázar, a Spanish castle in Segovia. Historians say it was once an Arab fortress before it was transformed into a royal palace for King Alfonso VIII. Today, it functions as a museum and is open for tours.
A historic structure, the Alcázar was also once a military fort, a prison, and an artillery school. One would say its history is pretty dark, which makes it totally apt as an inspiration for an evil queen's lair. In the movie, we'd remember her castle as a haven for the queen's vanity (Mirror, mirror on the wall, anyone?), jealousy, and vileness.
5. The Lion King – The Serengeti in Kenya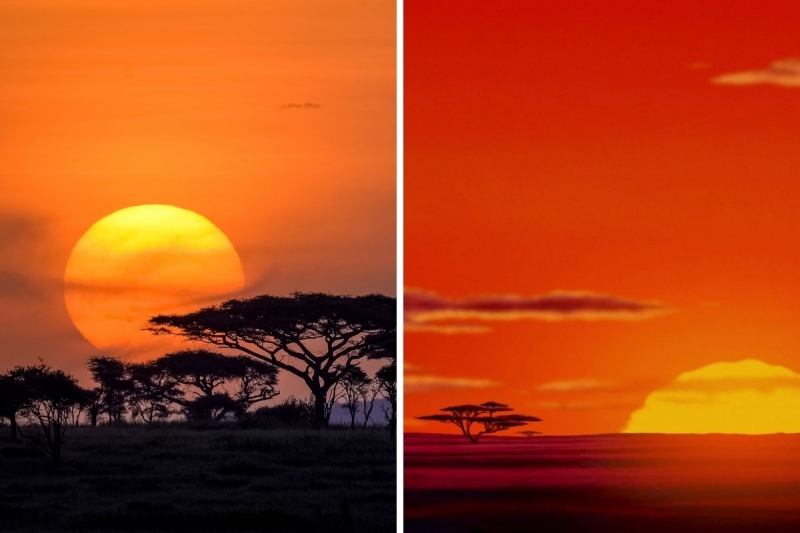 A mere peek at The Serengeti sunrise will command a roar from The Lion King fans. In the early 90's, Disney sent animators to this conservation area in Tanzania. There, the team engrossed themselves in the different colours and vibrations of Africa.
In the Maasai language, Serengeti means "endless plains" — a familiar terrain in the beloved Disney film. Aside from the iconic sunrise, The Serengeti is also the home of the Pride Rock (Yes, it does exist!) and the canyon where Mufasa dies in a stampede (sobs). Aside from lions, The Serengeti is also an abode to elephants, rhinos, and buffalos. Needless to say, the animated film was definitely #onpoint.
6. The Hunchback of Notre Dame – Notre-Dame Cathedral in Paris, France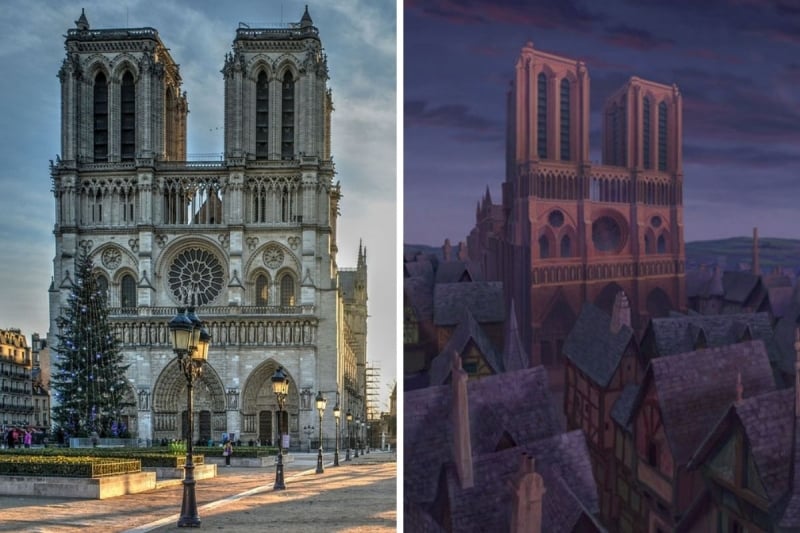 With regard to its real-life setting, The Hunchback of Notre Dame doesn't leave us guessing.
Unlike most Disney movies, this film wasn't based on a fairy tale. Rather, it was based on Victor Hugo's 1831 French Gothic novel, which originally carried the title Notre-Dame de Paris. It was in 1833 when Frederic Shoberl translated the story into English — his version bears the title we know now.
The background of this story is important to note, because Victor Hugo wrote this book to  increase the people's awareness of Gothic architecture. During his time, his contemporaries failed to acknowledge the value of this style and several Gothic structures were torn down. Amazingly, the Notre-Dame Cathedral was preserved when the people realised the importance of the structure.
7. Mulan – Forbidden City in Beijing, China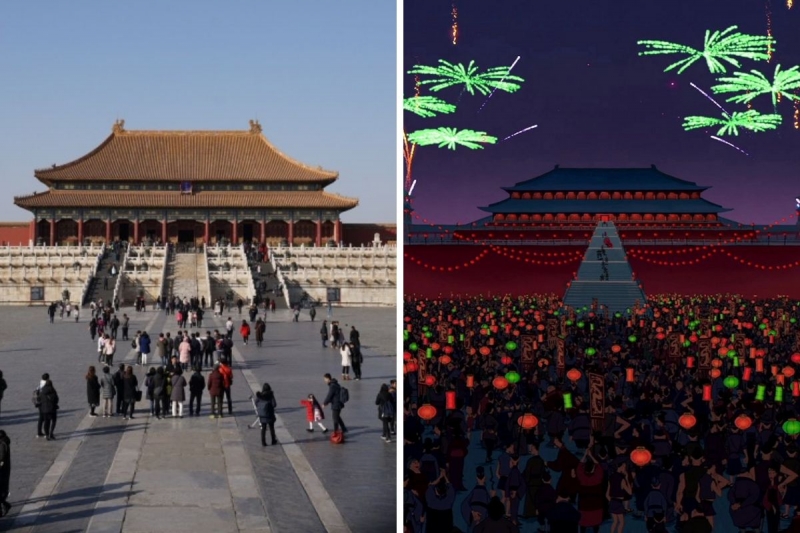 Out of all the classic Disney movies, Mulan is the only one with a storyline that revolves deeply around the protagonist's homeland. It isn't surprising that most scenes are inspired by real-life places in China.
If you remember the iconic scene where Mulan and the soldiers defeated the Huns, the Forbidden City will especially fascinate you. By the mere looks of it, the design of the emperor's palace was derived from this palace complex. But the Forbidden City is far more than an inspiration for the Disney film; it's actually become a popular tourist spot in Beijing! The palace complex is now a museum for ancient art and artifacts and is recognised by UNESCO, too.
8. The Little Mermaid – Château de Chillon in Veytaux, Switzerland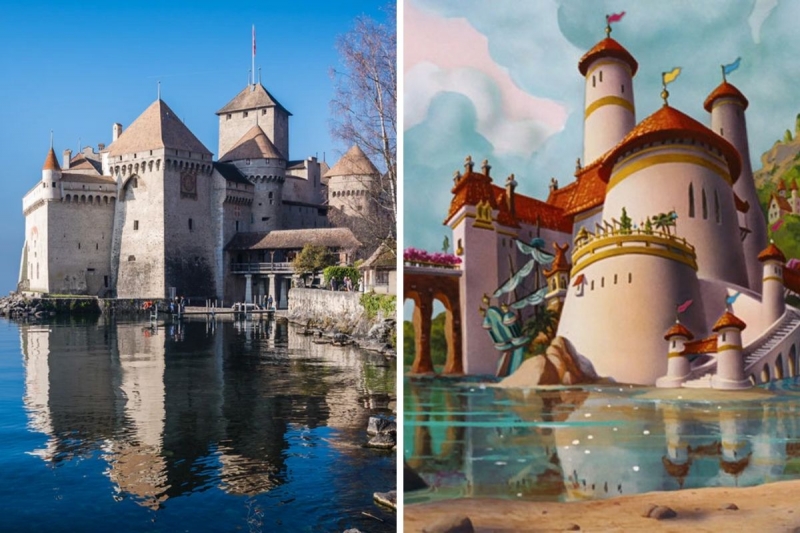 Being a well-loved princess of the sea didn't stop Ariel from wishing for more. Day after day, she'd dream of walking around on those (what do you call 'em?) feet. She'd stare at this impressive castle by the shore, and imagine what it would be like if she were human, like Prince Eric.
Ironic as it is, the real-life island castle that inspired Prince Eric's abode was actually a prison in the 14th century. In fact, it influenced the famed poem The Prisoner of Chillon by Lord Byron, which chronicled the life of François Bonivard, a château inmate.
9. Frozen – St. Olaf's Church in Balestrand, Norway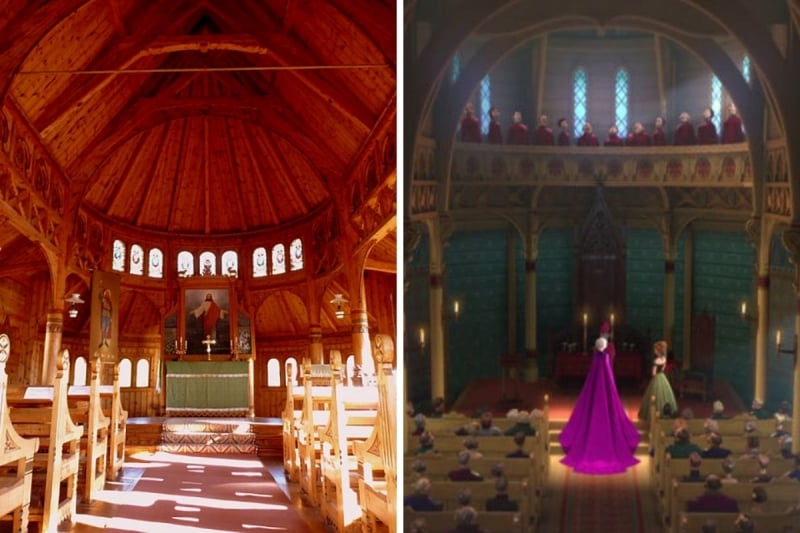 If you've watched Frozen, you've probably noticed that the majority of scenes were inspired by the Norweigian atmosphere — cool, glacial, mountainous, and very Scandinavian. To be particular, you can take a second look at the coronation scene of Queen Elsa. This chapel is actually inspired by St. Olaf's Church in Balestrand.
Built in 1897, this structure still functions as an Anglican church to date. Oh, and yes — this was also, in fact, where Olaf the snowman got his name.
10. Tangled – Yi Peng festival in Chiang Mai, Thailand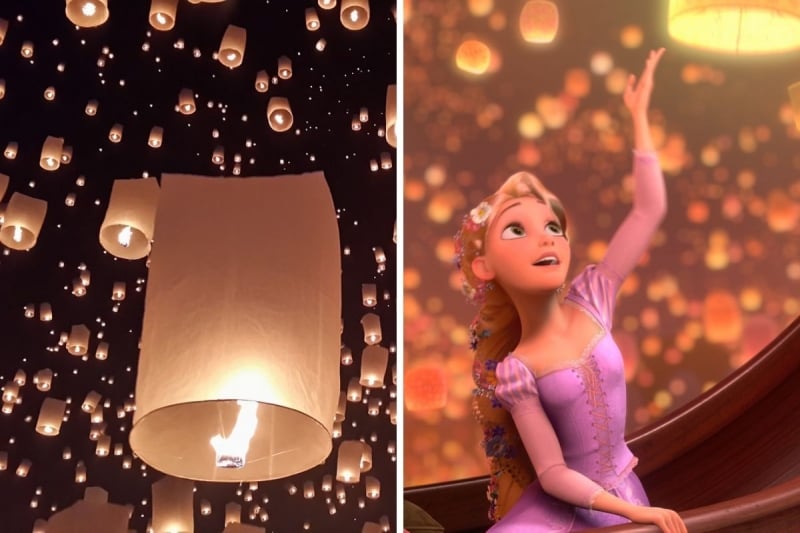 Tangled pretty much created a whole new level of #RelationshipGoals with the romance of the lantern scene. In effect, this scene was inspired by the Yi Peng festival, an annual lantern festival in Thailand.
During the festival, thousands of paper lanterns (locally called khom loi) are released into the sky. As it's celebrated every year on the evening of the 12th full moon, the floating lanterns create an especially transcendental experience for festival-goers.
Also read: 5 Movie Scenes That Were Actually Shot in the Philippines
Disney movies and travelling have at least one thing in common — they both bring so much happiness! So, here's to dreaming that we actually cross out these places in our lifetime. As Cinderella sings: If you keep on believing, the dream that you wish will come true!