This year, I decided to spend my special day by travelling in Dumaguete and challenged myself if I could still enjoy it (I have been there a few times already) with just a ₱1k budget tightly kept in my pocket. I intentionally did not want to withdraw money from any ATM while I was there just to succeed with my self-imposed challenge. And was I able to do it? Well, let's see if I did with my itinerary below.
Arrival in Sibulan Port
It was still 2am when I arrived at the port so I decided not to immediately leave the ferry. I continued to get a few more hours of sleep and set my alarm at 4am. And when it was time, I alighted from the ferry and smiled at the thought of how the familiar atmosphere never fails to welcome me with the feeling of being relaxed immediately. It was my home away from home–and literally a breather from the usual city stress. And to think, it is a city in itself!
Also Read: My Wife And I Travelled 4 Days To Dumaguete, Apo Island And Siquijor With A Budget Of Only Php 5,653 Each (All-In)
Breakfast in Jollibee
So the first cut from my meagre moolah happened here. I ordered my comfy food, Jollibee mushroom burger steak. For no scientifically explained reason in mind, I find this food healthier than a piece of fried chicken. And for just ₱55, I already got a cup of rice, a hearty burger steak, and a glass of soda. Hooray, I'm ready for the day!
Started the day in the Cathedral
After having a delightful breakfast in Jollibee, I did not have second thoughts on where to start my special day. I opened my special day by lighting a candle and saying a little prayer of gratitude in the city's famous old church. The cathedral prides itself as the oldest stone church in the whole Negros Oriental. I spent ₱5 for the round little candles that I lit to send my prayers to heaven. (Running expense: ₱60)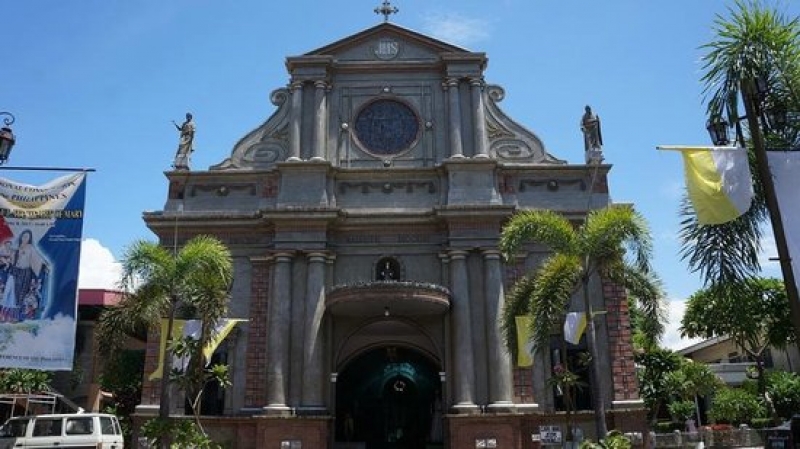 Stopped by the iconic Belfry
I found myself very lucky for I did not have to walk very far just to get a beautiful scenery from the cathedral. In just a few shakes, I already caught myself standing in awe before the 400-year old belfry of Dumaguete. It was so beautiful! Back in the days, it was built to warn the natives whenever sea pirates were in sight. Nowadays, it houses the grotto of the image of Our Lady of Perpetual Help and a small boutique where religious goods are sold.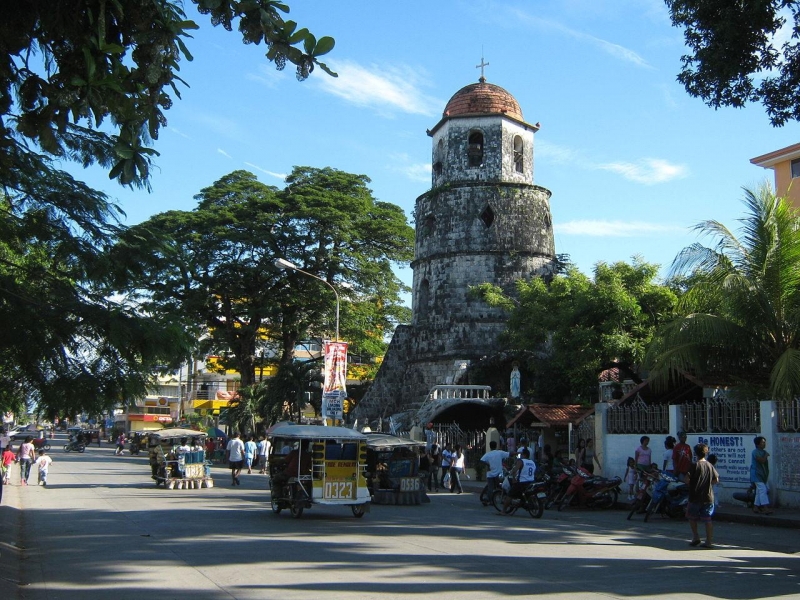 Feasted my eyes with locally made arts
As a self-proclaimed artist myself, I was itching to see the local arts and crafts of the place. So with no hesitations, I immediately chartered a motorcycle taxi (it is known in the province as 'tricycle') and paid a fare of ₱8 to see the crafts made by the local artists of Negros in the Sidlakang Negros Village Arts and Crafts shop. By the way, did you know that this boutique houses the art pieces of 19 municipalities and 6 cities in Negros? It is that big and rich of art pieces! The Negrenses (locals) display their chosen tourism assets and agricultural products, investment potentials, and their finest goods and services in the Sidlakang Negros Village.
Thrift shopping in an ukay-ukay store
To some of you, this might not come as a surprise anymore. When you are in Dumaguete, you should never lose the chance of seeing treasure troves (ukay-ukay) if you want to find brand new looking dollar bags such as LV or a pair of Ferragamo shoes sold in less than ₱500. I found a pair of Merrell hiking shoes for guess how much? One hundred fifty pesos only. And the pair was with a (US) price tag pa talaga ha! Lucky me! (Not the noodles.)
Went back to the Boulevard to eat lunch
And because I have to stick to my ₱1k budget, I opted to just eat from the many food options right along the Boulevard. Some of which I have already checked the rates and reviews on the internet. After scanning through the nice restaurants, I went inside the Mel's Cafe. The place was quite small and cosy. I noticed that it is mostly geared to students who populate the area. The food was indeed good and super affordable. I ordered the cheesy dory for ₱90 and wasn't disappointed at all. And for my drinks, I had a bottle of mineral water for ₱15.
Checked in to secure a night of good rest
Because I made sure to reserve an accommodation prior to my trip, I did not have to rush looking for a place to stay in for the night. I booked a non-aircon single economy room in OK Pensionne House for only ₱275. This is actually my go-to hotel every time I travel to Dumaguete because I find it pocket-friendly and the hotel staff is quite nice and accommodating.
Tip: Be nice to hotel staff and they would be 90% of the time get nicer to you. Just because they are the ones in the hospitality establishment doesn't mean that you cannot initiate in giving out warm smiles first.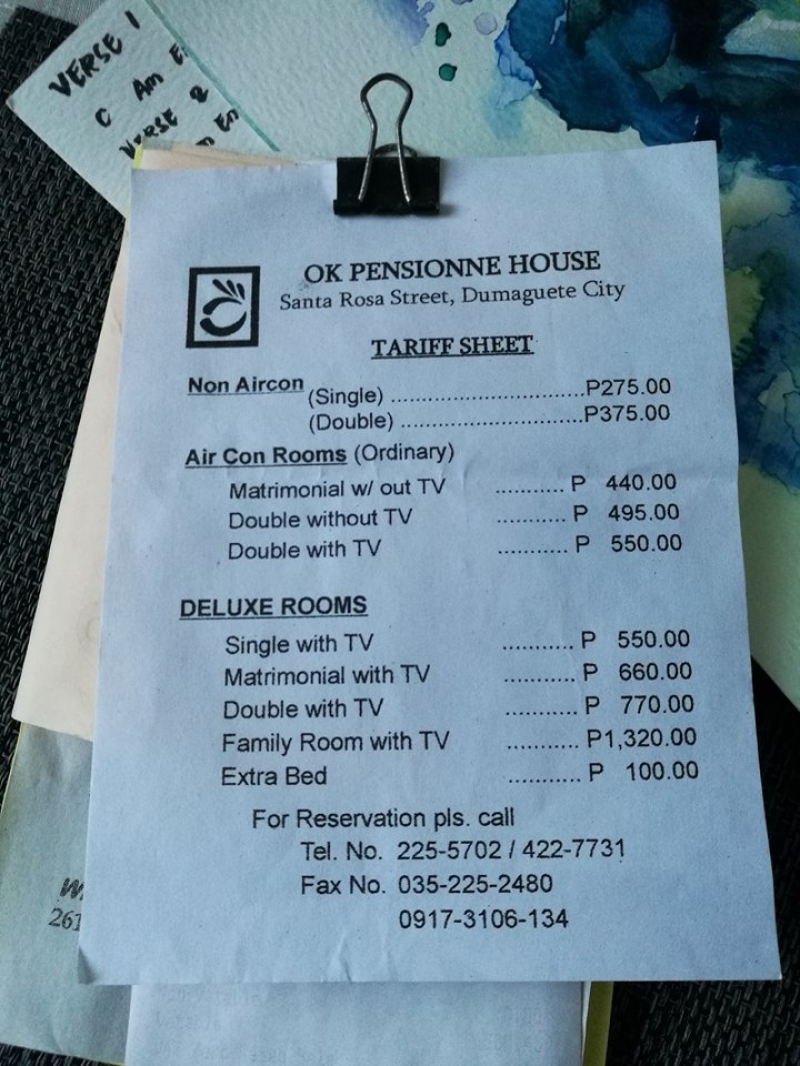 Sipped a cup of great coffee
I am one big coffee lover who does not share the belief that for coffee to be labelled great, it must come at a high price (Starbucks for one). I find budget coffees that taste awesome to be gold. And coffee shops pop like mushrooms in the metro. But really, despite the numbers, it's still hard to find a coffee nook that will not cause a great dent in your budget, and that is one thing that I always consider whenever on a trip. So I stopped by a French patisserie, The Rolling Pin, and had a sip of an aromatic americano for only ₱40 and paired it with a piece of an apple turnover at ₱18.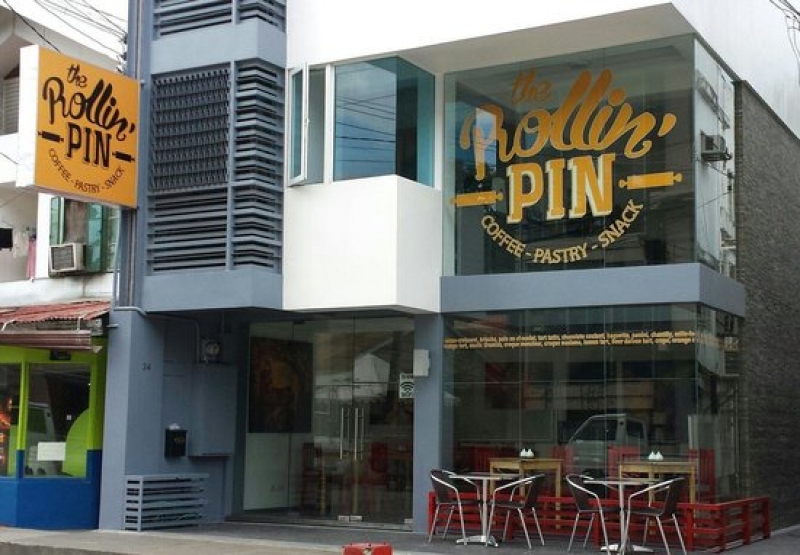 The first thing that I noticed when I headed towards the counter is as to how the pastries were irregularly shaped. That strangeness got stuck in my mind that I couldn't help but ask the attending cashier for an answer. With a smile, she said that it's because the pastries in the cafe are all handmade by the French pâtissier owner himself. As an artisan myself, that for me, is nothing short of awesome. That made me want to leap with joy at such a great find. The coffee shop also serves meals, snacks, and healthy smoothies.
Took a walk that I will always remember
At noon-dusk, when the sky was starting to look like a palette of beautiful, drastically changing washed watercolours, I was already walking by the Rizal Boulevard. I am a sunset person. And for me, this is a must do every time I travel to places, wherever my feet would take me. I would take silhouette pictures of people and post it on my Instagram gallery. And for me, Dumaguete has one of the best boulevards in the world. The dusk air gives me the tug between the warm and chilly sea breeze just before the evening atmosphere is bound to come.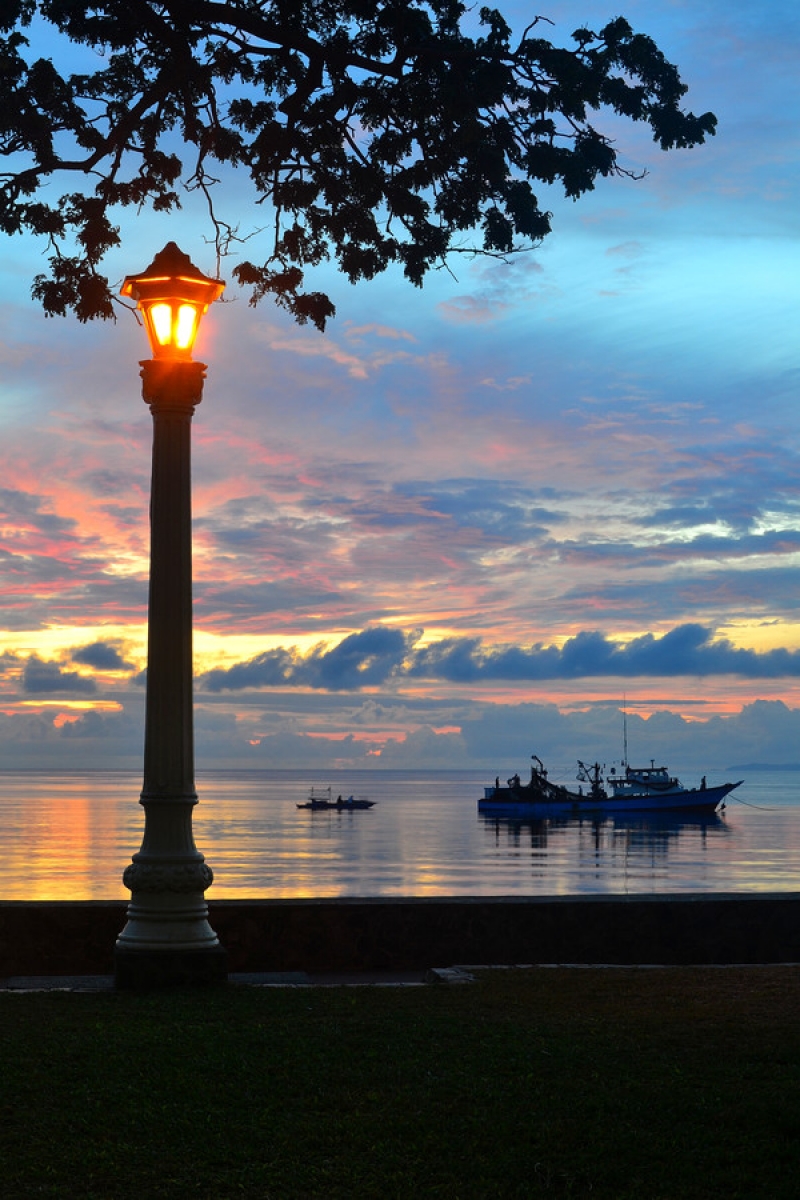 And this boulevard was named after our national hero, Dr. Jose Rizal. It was believed that he made a stopover here on his way to the town of Dapitan where he was to spend his four years (1892 to 1896) in exile. Rizal was said to have taken a stroll here a day before his departure and was said to have fallen in love with the boulevard because of its picturesque view.
Dinner in Sans Rival Pastry Shop
I dined in Sans Rival and had my fill with their heavenly spaghetti which costs only ₱38 per serving and a bottle of mineral water for ₱15. Right after dinner, I bought a box of their famous sylvanas for ₱125 to bring with me home as a pasalubong. (Running cost: ₱834.00)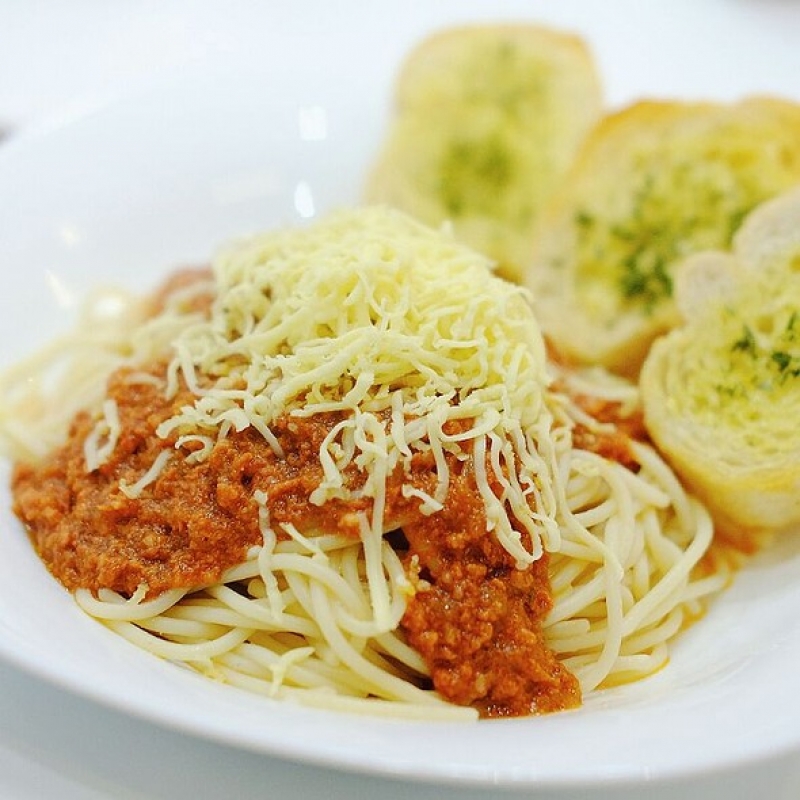 Chilled the night away
After dining, I checked my watch and realised that the night's still so young. So I walked further and took halt when I saw this nice place that plays a melodious acoustic music. I stayed there for a bit with the relaxing serenade, the amazing sea breeze that sends me sweet tingling sensations down my spine and enjoying a can of flavoured beer in my hand. This awesome shack's called the Hayahay Treehouse Bar and View Deck. (Running cost: ₱879)
And that was how I spent my 2017 birthday. As much as I want to tell you my age, I have already stopped counting it since I reached 25. 😛
So, did I enjoy celebrating my special day in Dumaguete with only ₱1k on hand? Hmm.. With a brand new pair of Merrell shoes for next year's birthday trip that I got for less than ₱200, and nailing my aim of not spending beyond ₱1k during my whole stay there? You can guess!
Also Read: I Travelled 4 Days In Dumaguete, Oslob And Siquijor For Only Php 5,827 (All-In)
Additional notes
Cebu – Dumaguete Boat Fare (via Goerge and Peter Shipping Lines) – ₱310
Sibulan Port – Liloan Santander, Cebu – ₱62
Ceres Bus from Liloan, Santander back to Cebu – ₱200 (aircon)
(Back and forth fare – ₱310 + ₱262 = ₱572)