Contributed by Escapesanddiaries
You might be curious about how the Elephant Jungle Sanctuary looks like and what's happening inside. Here's one quick description: it's a paradise for one of the most enormous and most powerful animals on the planet.
Well, finally, after a not so long discussion with my boyfriend, we set the date to visit it. Yay! I couldn't wait for that day to arrive! It's on my bucket list!
Also read: Becoming an Elephant Keeper for a Day in Chiang Mai
When I posted a picture, some of my friends and my sister asked me how to get there. Even before they asked me about it, I already knew that I wanted to write about the fantastic experience, because I wanted to share the happiness visiting the Elephant Jungle gave me.
How to book and how to get there
Chris booked online. You can do it, too! Usually, it is better to book online or find a trusted agency. I suggest to book it online, as it is less hassle. In Chiang Mai, however, you'll find travel agencies on every corner and there are many pamphlets available for every tour you desire.
Below is the real photo of our transaction.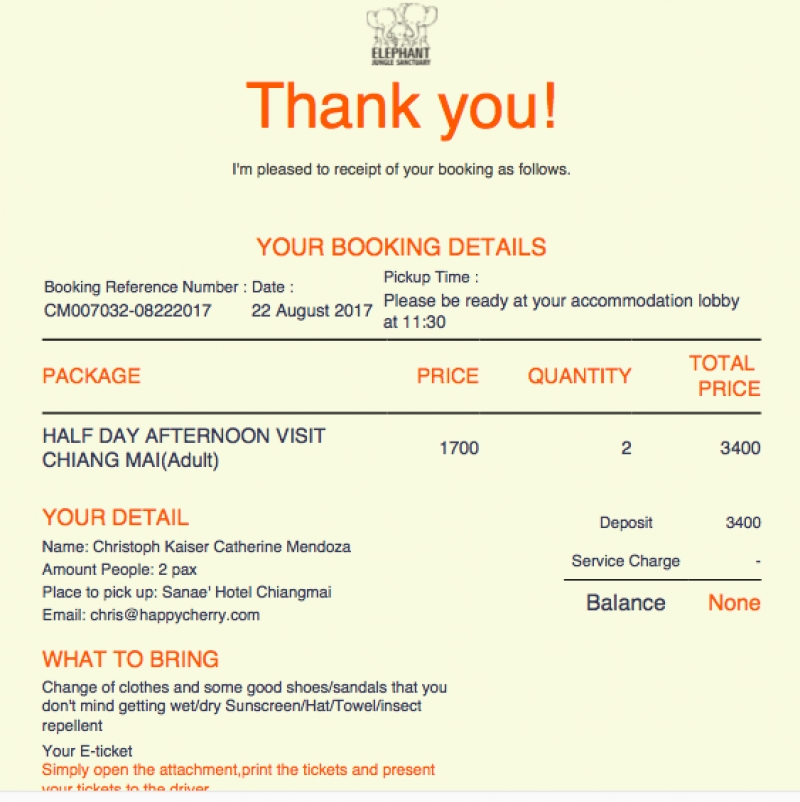 We paid 3,400 Baht for two which includes pick up from our hotel, lunch, souvenir bag, and other activities with the elephants. It's a half-day tour.
You can go to Elephant Jungle Sanctuary website or you can also check their Facebook page for more information.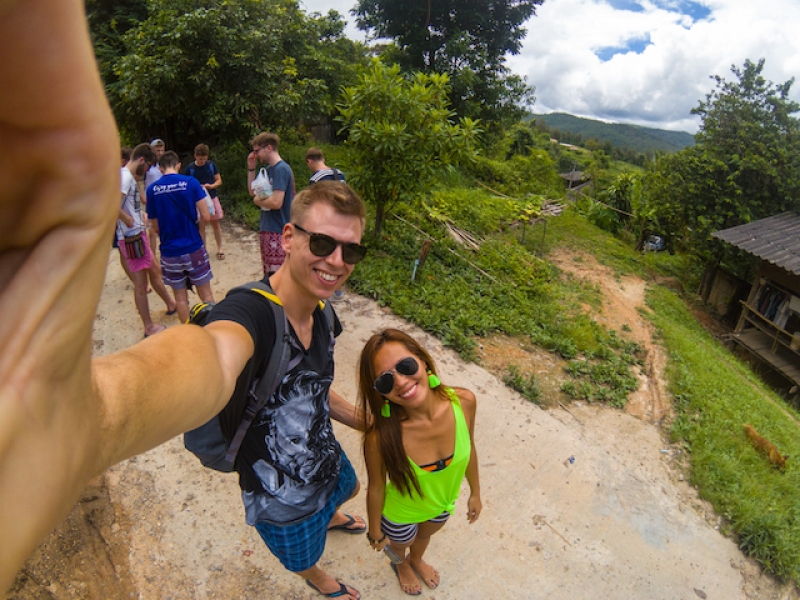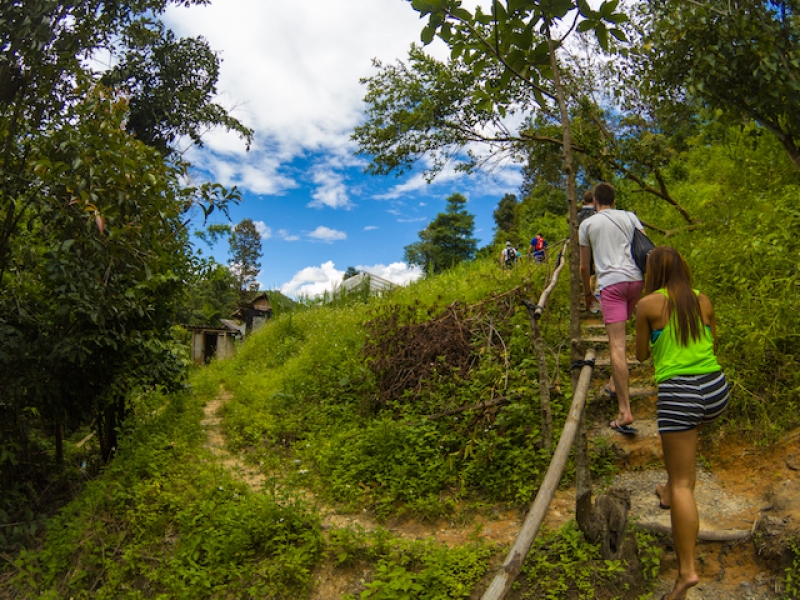 Introduction
Welcome to the Elephant Jungle Sanctuary Camp 8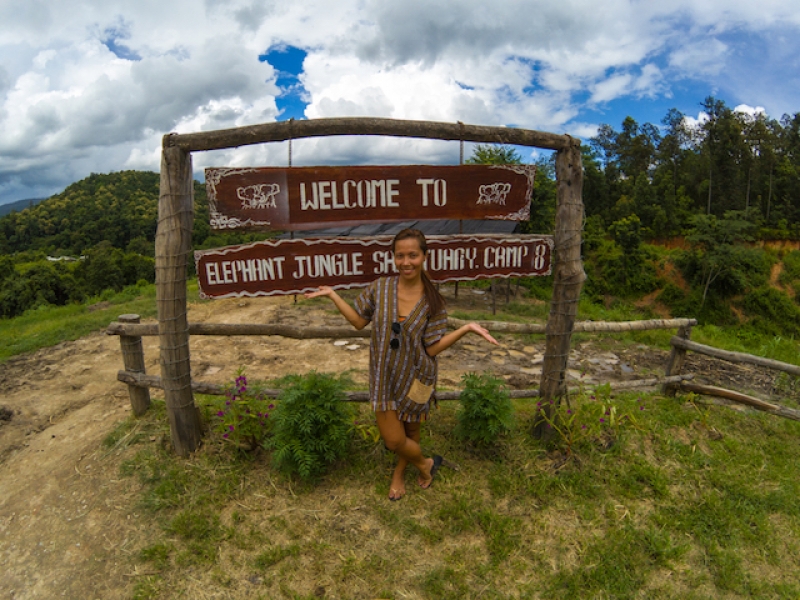 It was a fun start. We were asked to introduce ourselves to one another just to get along well since we were in the same group. I think I was the only Asian. Other travellers would always mistake me for a Thai if I didn't speak English.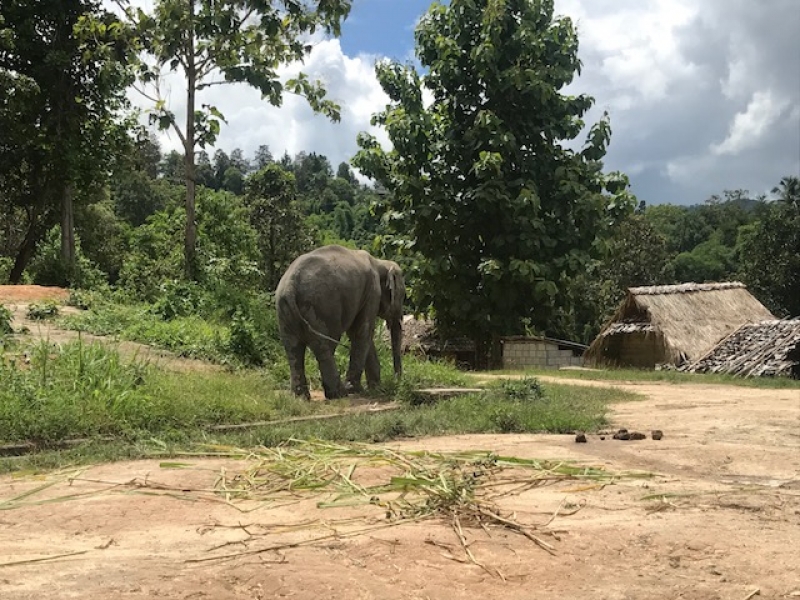 The staff conducted a briefing and explained to us what we could do during our interaction with the elephants. They also shared a short history and a background on the owner.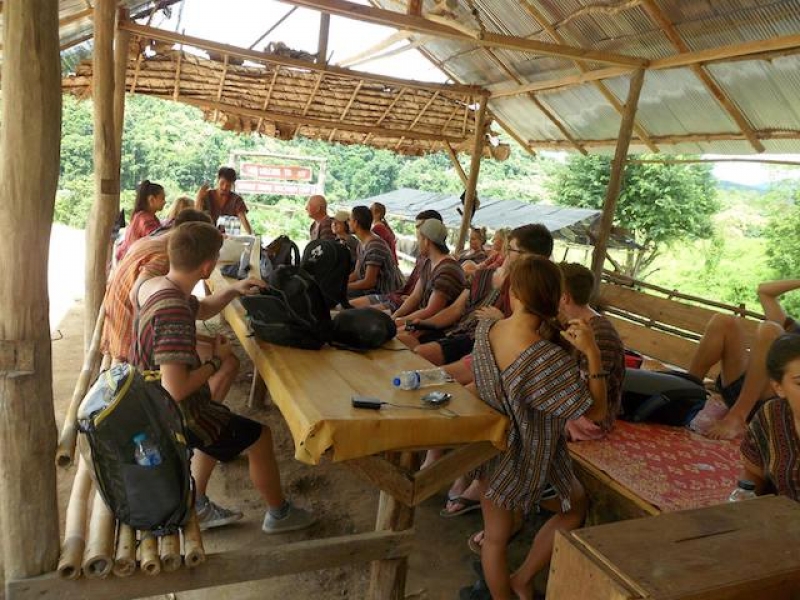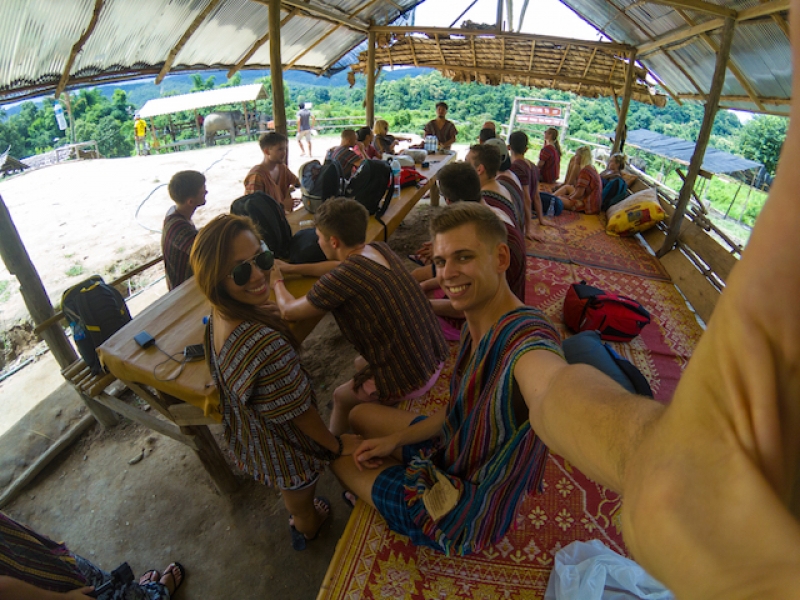 One thing that you must know, elephant riding is prohibited.
Important reminder: Please do not support elephant riding in Thailand, as they're being beaten before getting acquainted with tourists.
A little information about the Elephants in the Elephant Jungle Sanctuary Camp 8
There are two types of elephants at the sanctuary: African and Asian. African elephants are bigger than Asian elephants. Even their tusks and ears are bigger. There are six elephants at camp 8. The youngest is six years old and it's surprisingly enormous.
Tuma is a female elephant which is 10 months pregnant. Elephants carry their offspring in their womb for 22 months. They have a life span of 75 years and they can only have 5-6 babies in their lifetime.
Aside from that, the female elephants are friendlier than the male. According to the caretakers, some male elephants can have mood swings as humans do, or should I say, most women. (Haha!) They can also be more aggressive! So watch out, or you might be kicked out!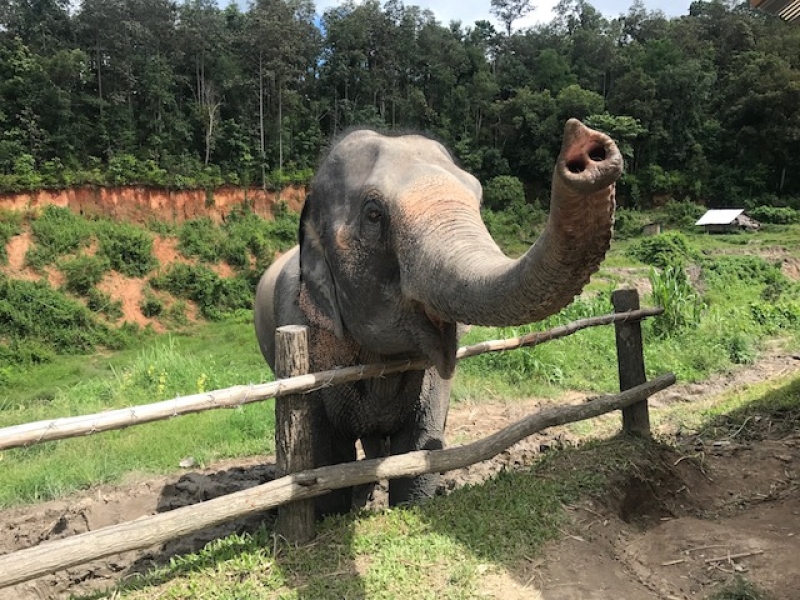 Yep! You may touch, cuddle with, embrace (if you can), and take a selfie with them! Elephants seem to be friendly, although you'd be a little bit jumpy. They don't eat human beings, don't worry.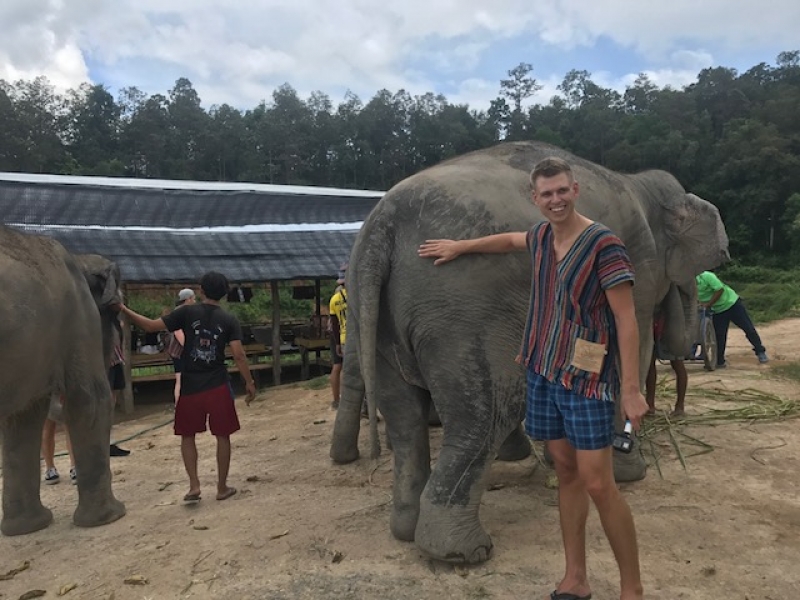 And if you're wondering how their hair or skin feels like, it's so sharp like a needle and the skin feels dry! That's why they always need a mud bath to soften their skin!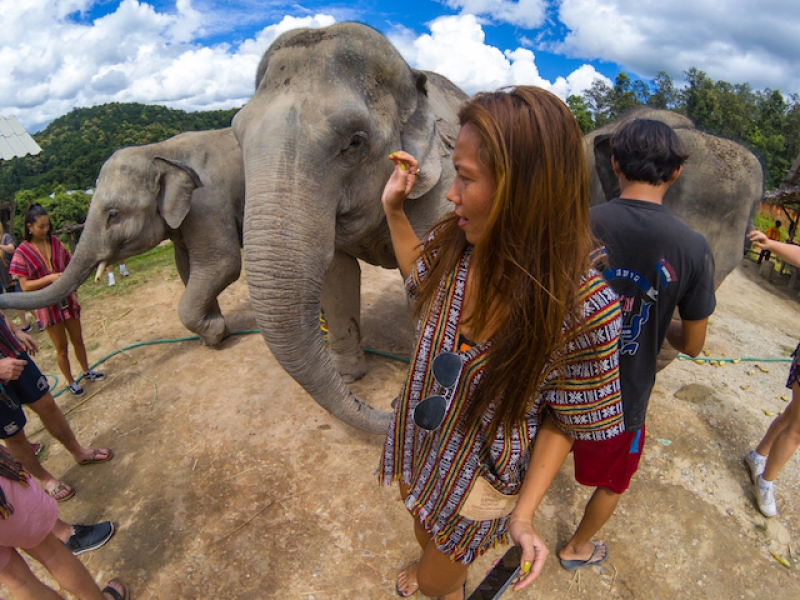 Activities
The first activity that we were advised to do was elephant feeding. Elephants eat bananas, sugar cane, sugar cane leaves and grass. Did you know that these enormous animals can eat 150-200 kg of food and drink 100-150 litres of water per day? Their poop takes about an hour!
Feeding Time! Foods!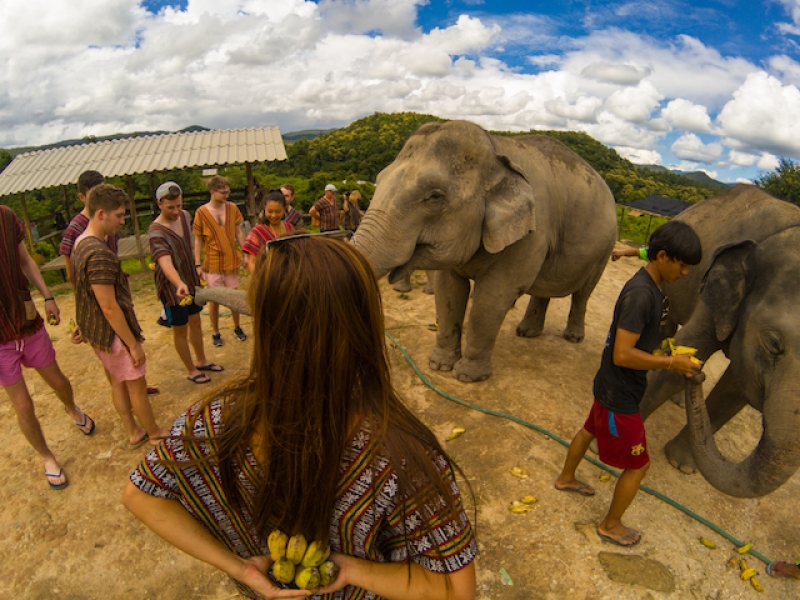 Give one piece of banana at a time, then hide the rest behind your back. Otherwise, they might finish the whole bunch.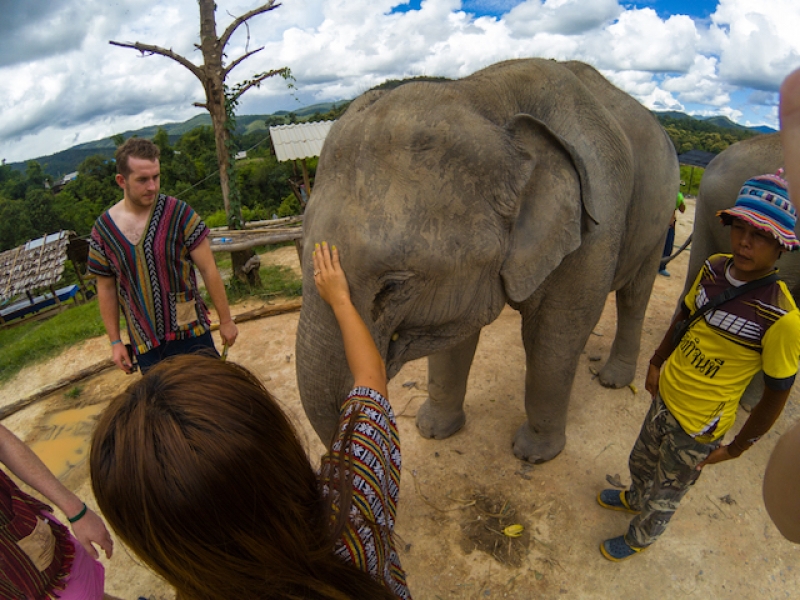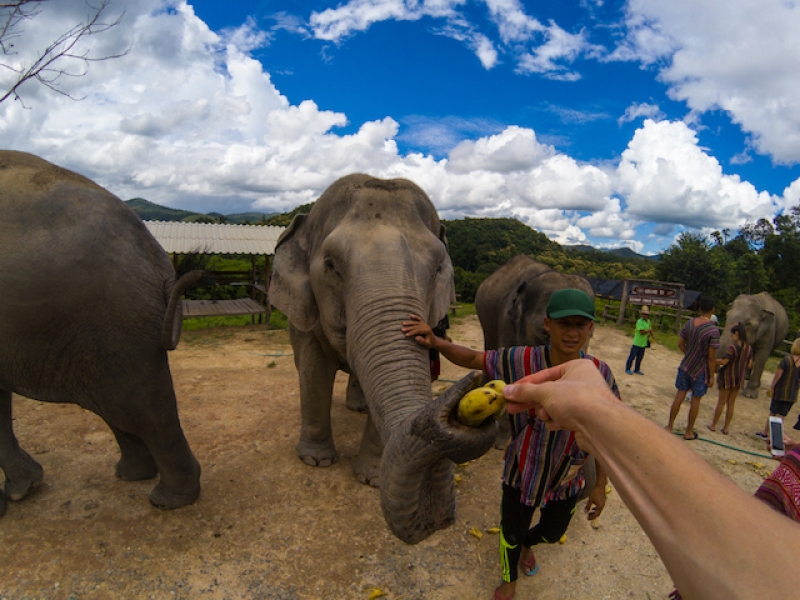 As a regular routine, after getting stuffed by delicious foods, it's time for their mud and bath! Can you guess where they bathe?
Mud Bath Time!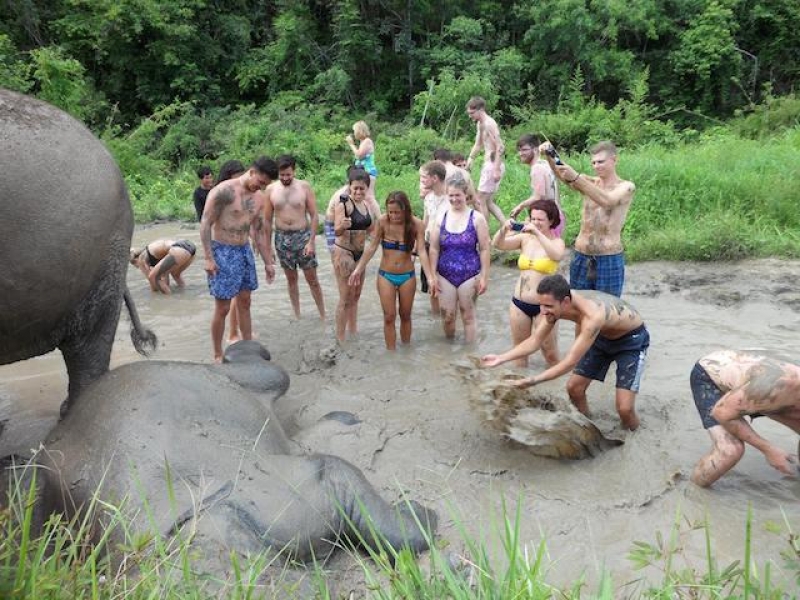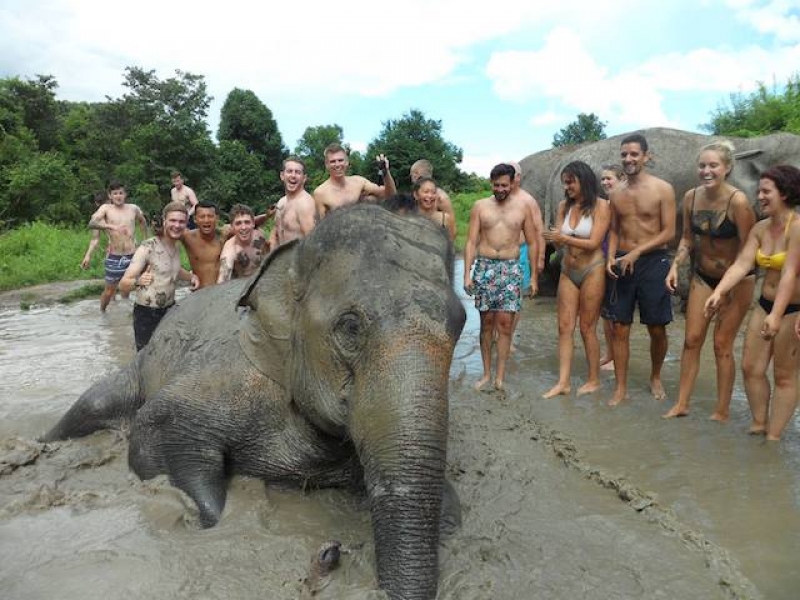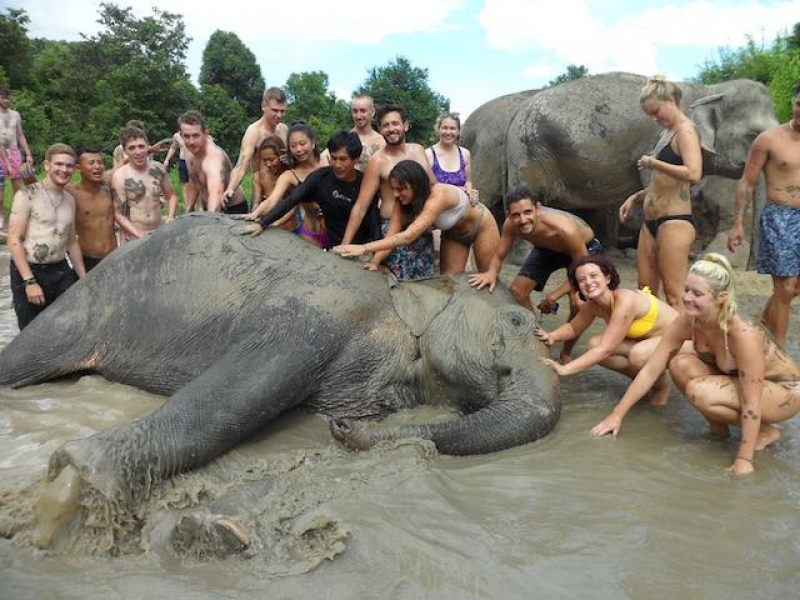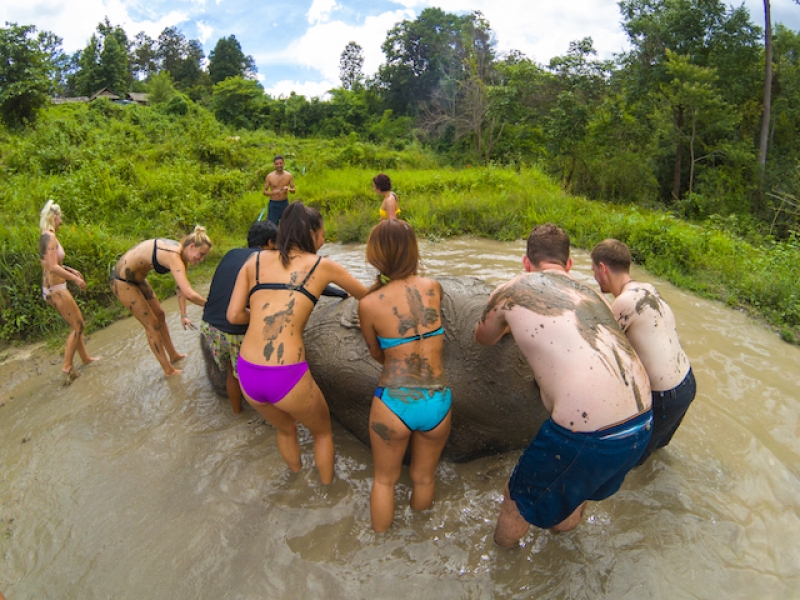 We, together with the elephants, were headed to the river for rinsing off and bathing. Yay, we badly needed this, didn't we? Haha! Just be careful, though, because it's a bit slippery down the river and the water current is too strong. But no worries, the guides are very attentive. They won't let you out of their sight.
Finally, Bathtime Baby!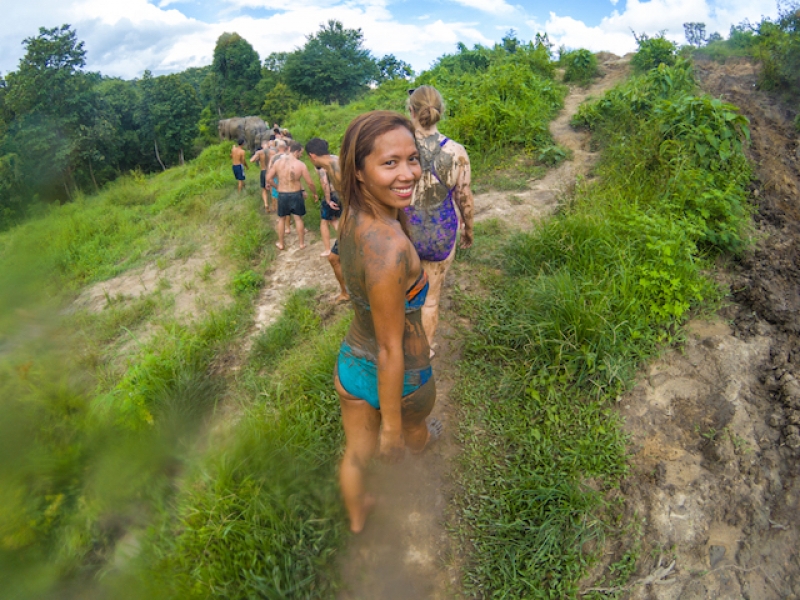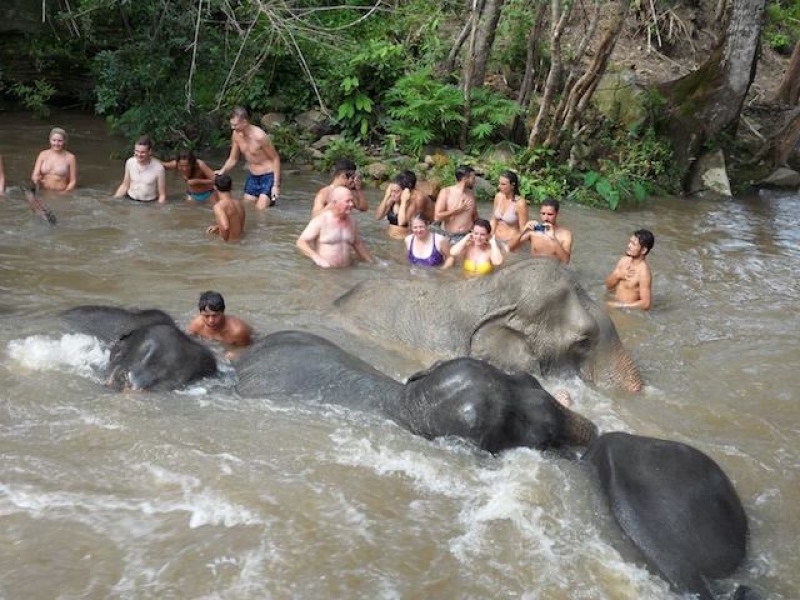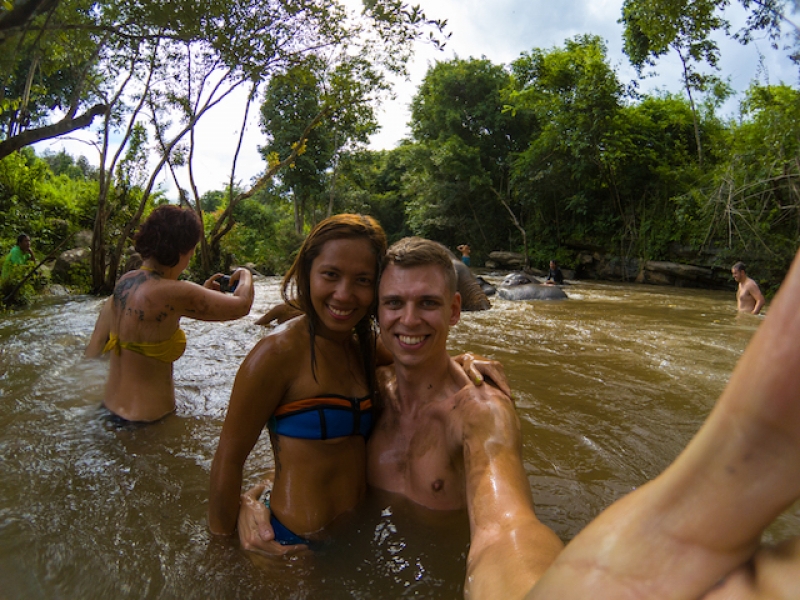 We devoured into the foods that the organizers prepared and cooked for us, chicken, vegetables, rice, and pineapple. Beer is also available for 50 baht per can. It was also a moment to chat and get to know more of the other travellers that joined the tour.
Overall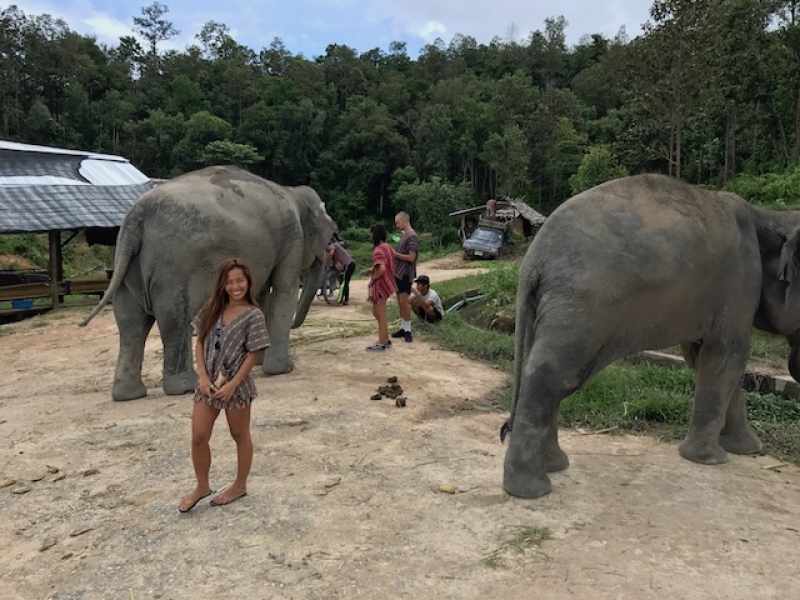 Just an observation: The caretakers sometimes pinch the elephant's ear. I don't know exactly why, but I believe they do it just to bridle the abrupt and sudden actions of the lovely animals. I never asked, but I wished I did just to clarify my thoughts.
Anyhow, no words can describe how much we indulged in spending precious moments with the elephants even just for half a day. For me, it's a priceless experience. And if I will be given another chance, I'll be more than willing to come back and babysit them! I would also probably go to see the elephant centre next time.
Also read: Be a Mahout for a Day at These 5 Elephant Sanctuaries in Thailand
I strongly suggest you go and see them with your own eyes. Indeed, photos are too inviting, but seeing them in person is much more rewarding.
Have you been here? How was your experience? Did you enjoy it? Let me know in the comments below!
Thanks for reading! ♡