The most wonderful time of the year is here! Have you thought of what to get as Christmas gifts for your family, friends and relatives? Instead of buying the usuals — toys in department stores, clothes in bazaars, chocolates and other imported items — why not buy these unique, Philippine-made products? Share the love by patronising our very own local products! Share this list of proudly Filipino Christmas gift ideas to your friends too.
Also read: A Traveller's Wishlist: 20 Gift Ideas for a Wanderlust Christmas
1. Guitar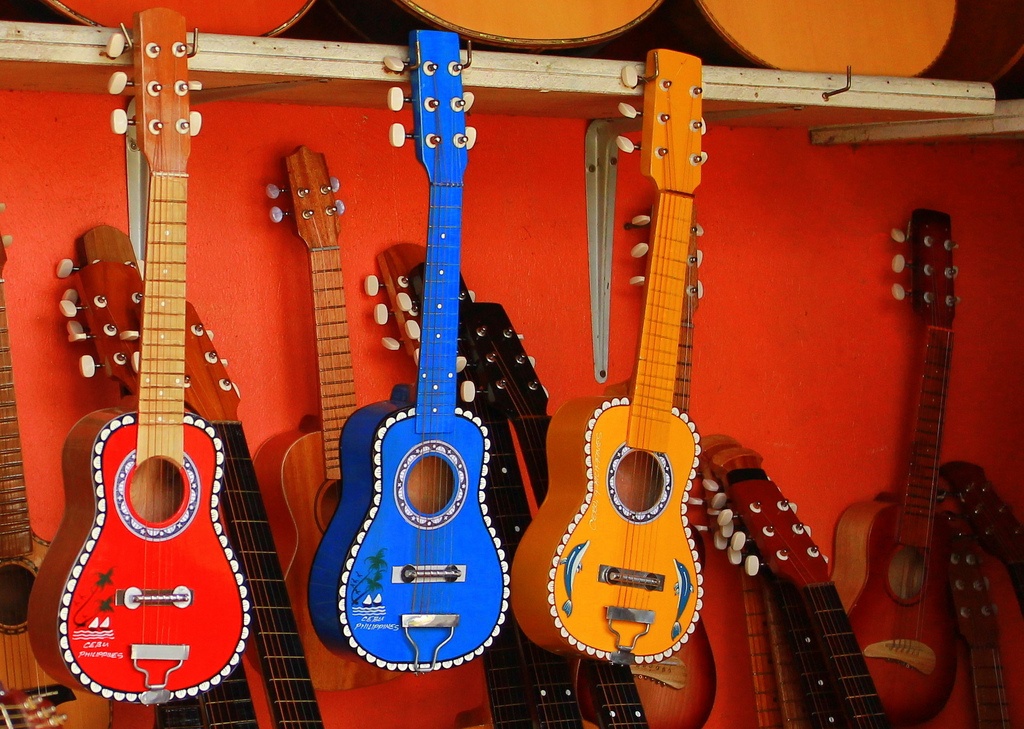 For music lovers, you can give them guitars. I'm not referring to the imported guitars sold in malls and established music stores. You should buy those that are made locally, particularly in Cebu. Cebu is well-known for producing world-class guitars that don't always come with a price tag! I bought my first guitar in Cebu for only PHP 800. Way too cheap, right? Of course, prices could range depending on the type of wood, size and quality.
Also read: Insider's Guide to Cebu: All You Need to Know Before Your Trip
2. Rainmaker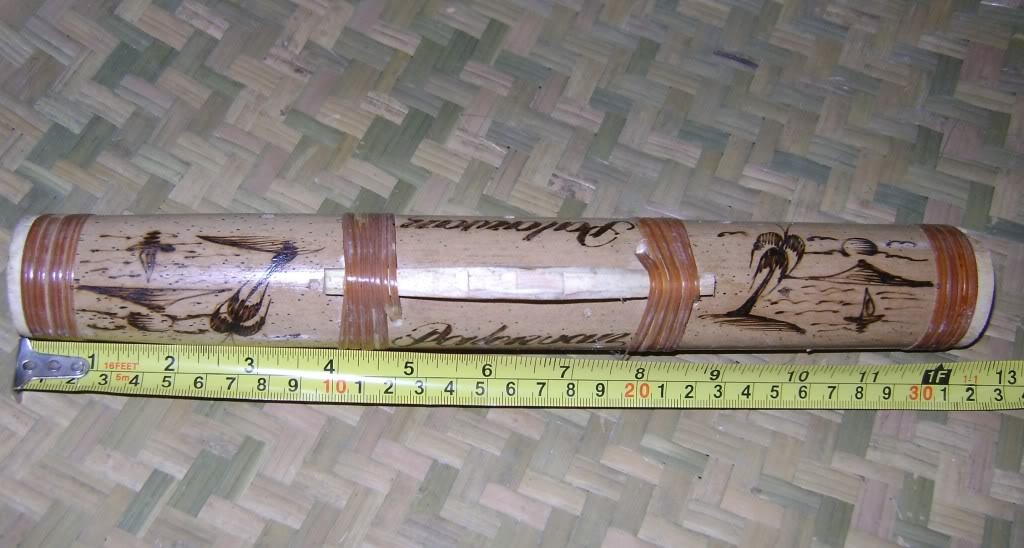 Another gift idea for the musically inclined is the rainmaker. It's a native musical instrument which mimics the sound of a flowing river. It's so soothing to the ears that you might not want to give it away as a gift to someone.
3. Native buri bag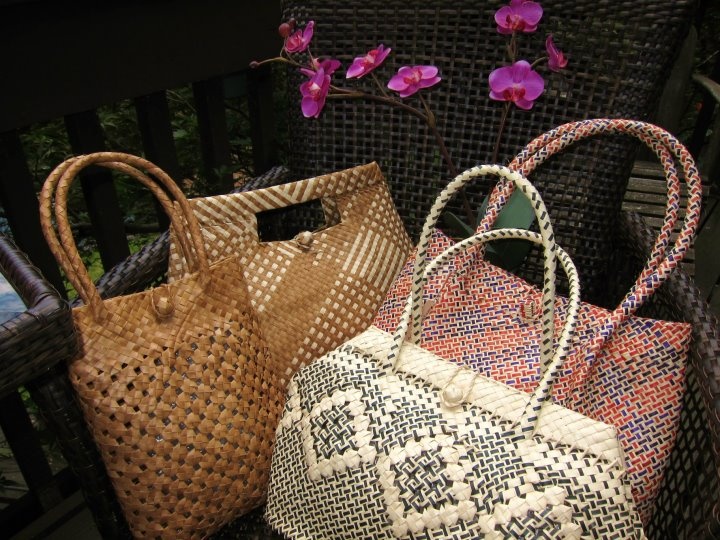 Forget LV, Chanel, Gucci or other designer bags and buy these native buri bags instead. I'm sure your moms, aunties and girl friends will appreciate these chic and eco-friendly native bags. For quality buri bags, you can check out The Buri Bag Project.
4. Weaved cloth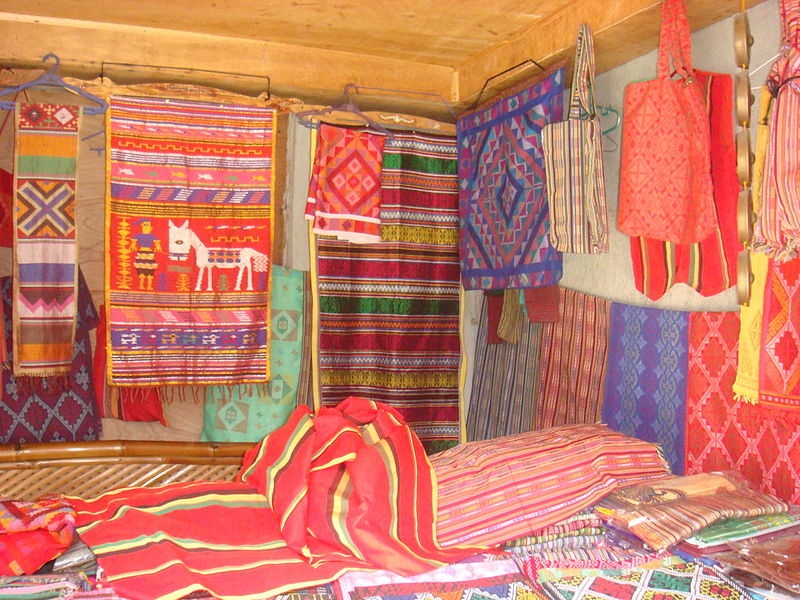 When you buy weaved cloth in indigenous villages, you are not only contributing to the livelihood of these people, you are also promoting and sharing our culture. One of the most popular places to buy weaved fabric is Vigan City, Ilocos Sur. If you're visiting this heritage destination soon, you should still buy some weaved cloth or clothing even if it's past the gift giving season.
Also read: 10 Things to Do in Vigan for a Complete Cultural Experience
5. Decor fan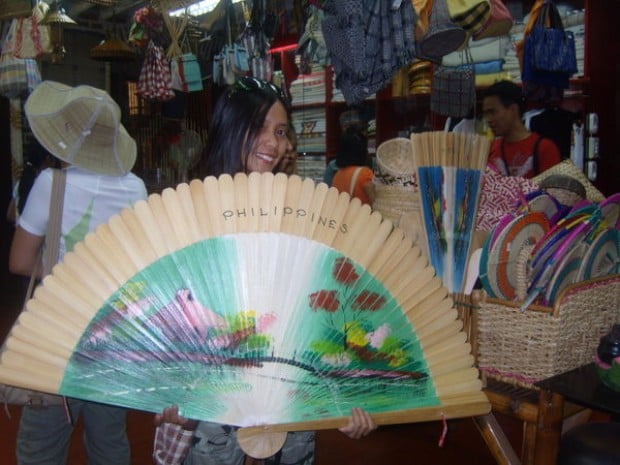 Beat the heat with this gigantic native fan! It's not just for decoration purposes, it functions as a real FAN – that is if you have all the muscles to swing it! We got this one from a souvenir shop in Vigan. Cool stuff, isn't it?
6. Coconut shell purse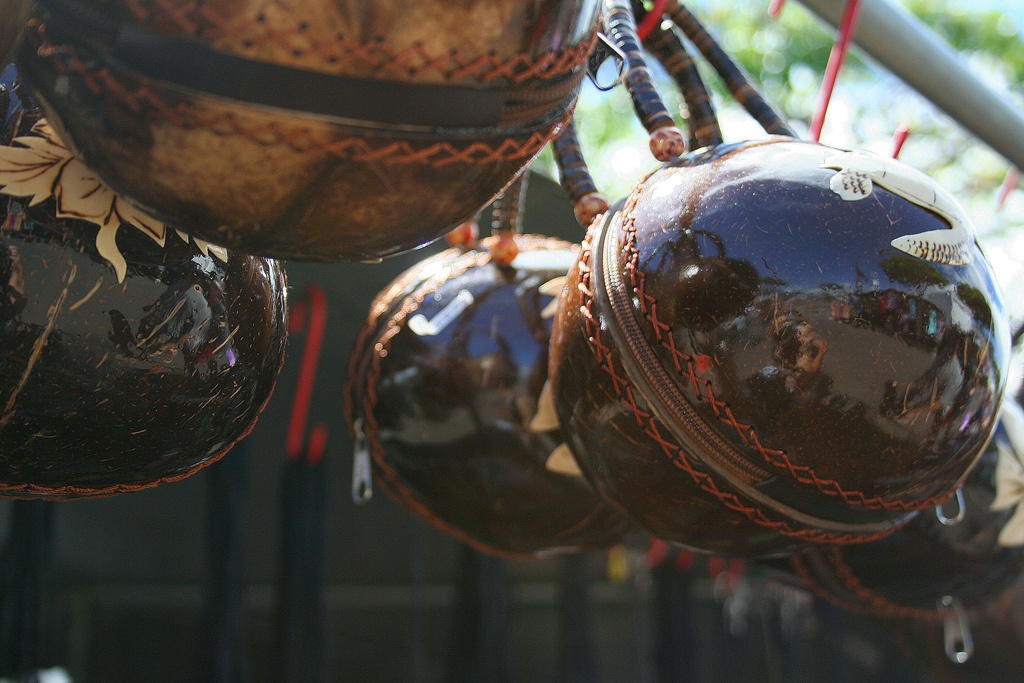 This will save your friends from pickpockets and snatchers! The thieves will think someone's just carrying a coconut shell! Kidding aside, this purse is durable, handy and eco-friendly.
7. Bamboo coin bank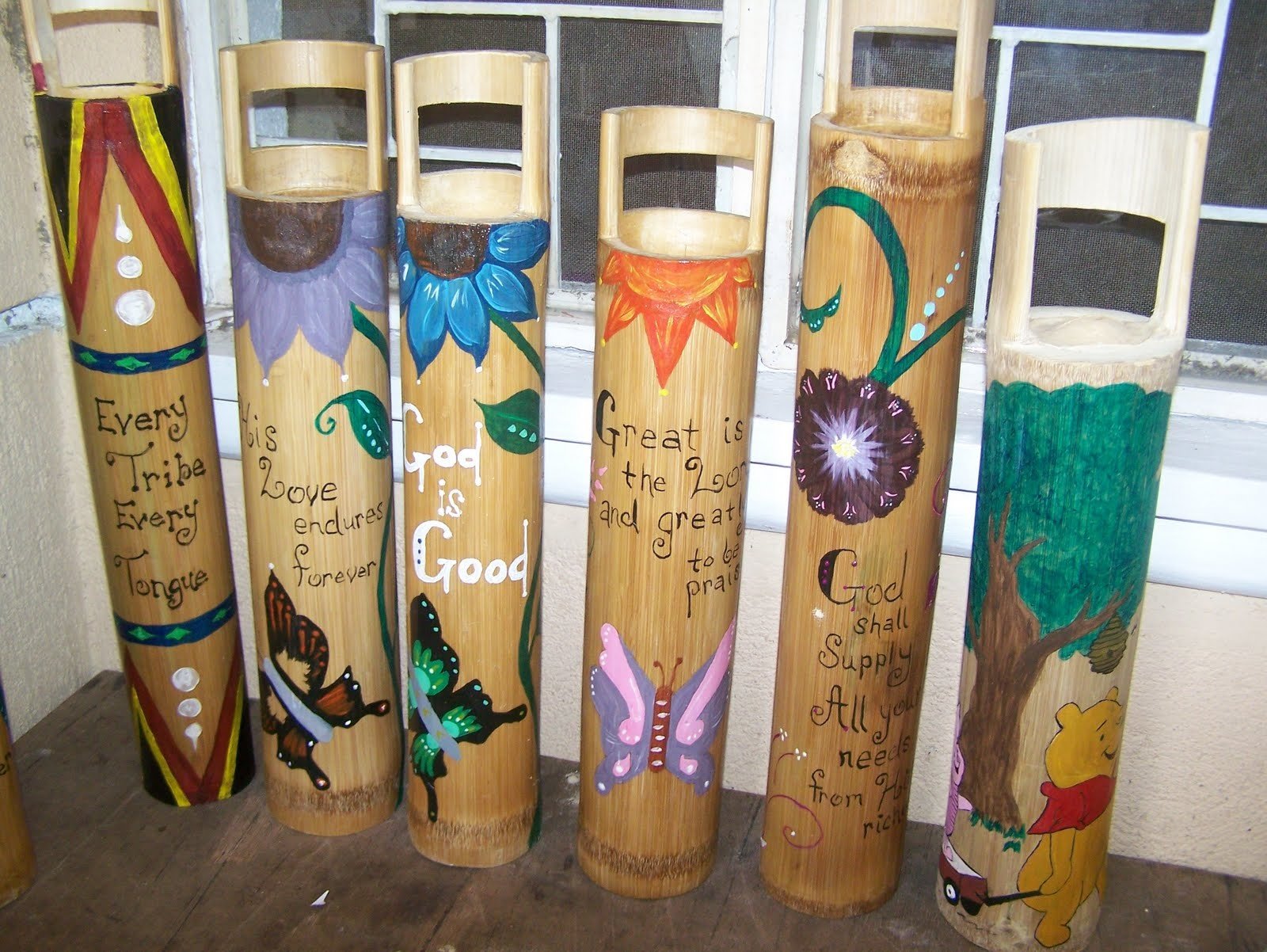 No one will be tempted to smash open their savings because this bamboo coin just won't break easily! Give this to someone who is a spendthrift.
8. Marikina shoes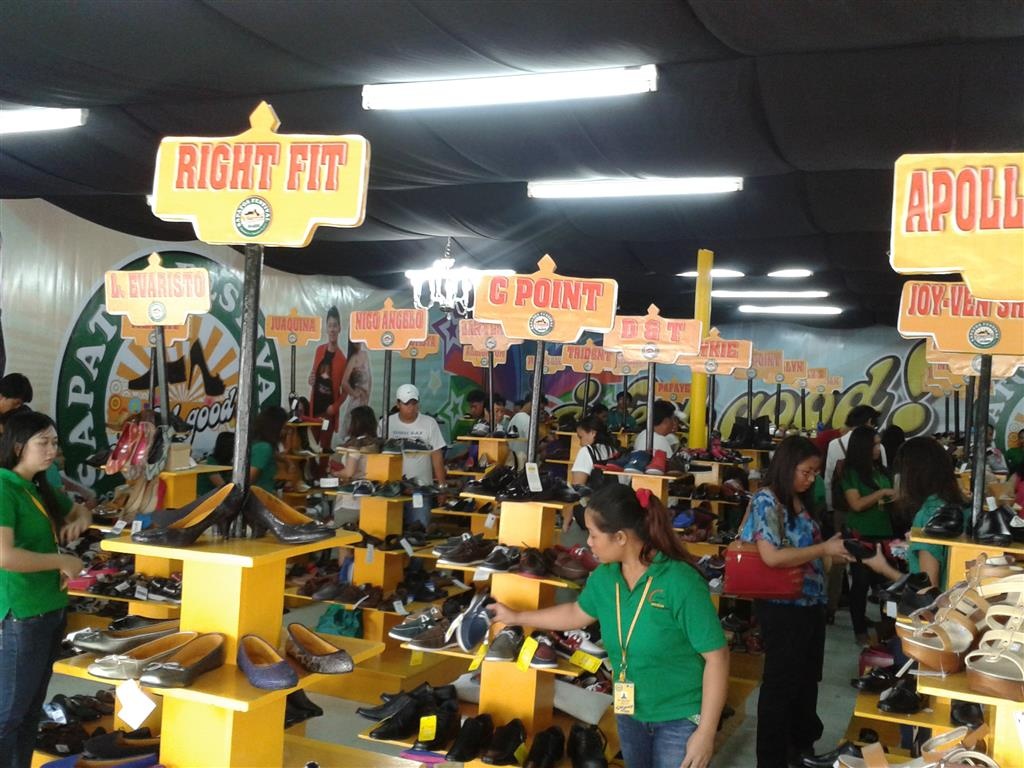 Marikina shoes are known to be of top-quality in the country. Some shops in Metro Manila sell Marikina-made shoes, but check thoroughly so you won't be ripped off. Some people take advantage of Marikina's pride to sell fakes ones, so it's still best to personally go to Marikina.
9. Accessories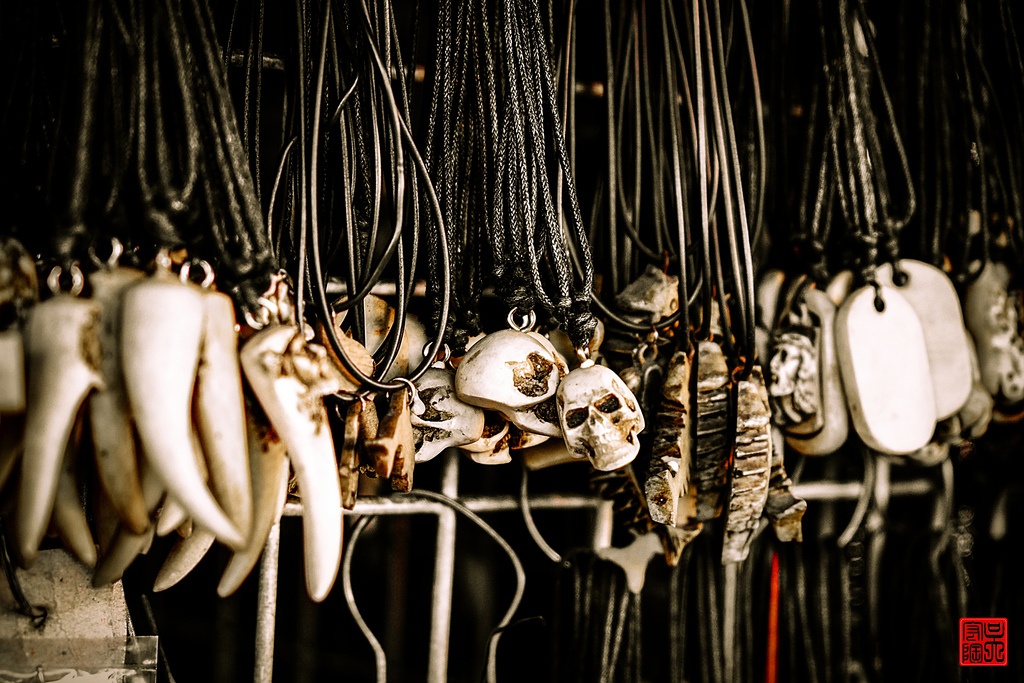 This is probably the easiest to find on the list. You can never go wrong with native accessories! They're commonly sold in popular beaches or street bazaars across the country. Just choose the design that suits the personality of the person you're gifting.
10. Filipino delicacies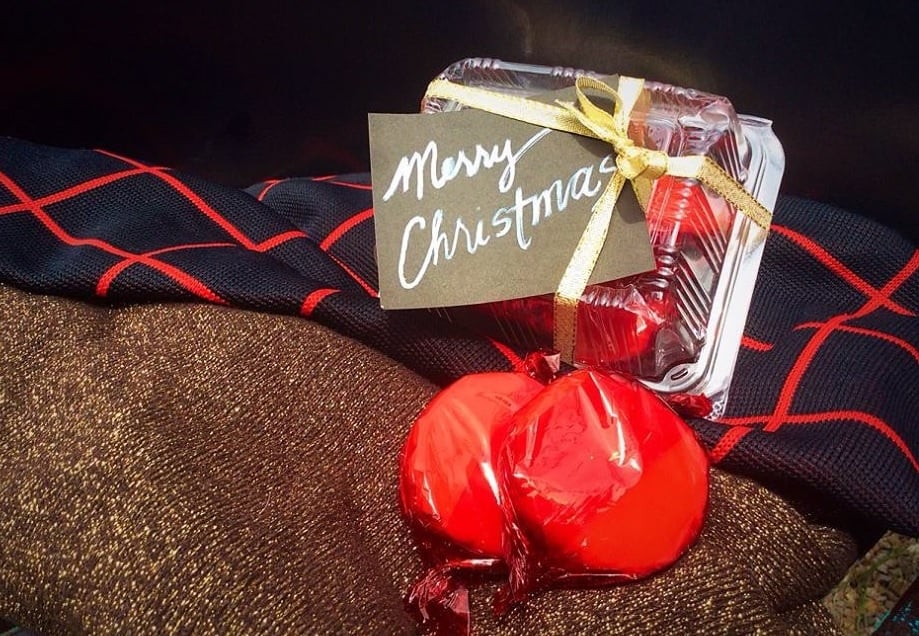 There are so many Filipino delicacies and snack items to choose from! Some of the most notable ones include the dried mangoes of Cebu and ube jam of Baguio. You can actually buy many of these delicacies in grocery stores, but you can also experiment on making some homemade goodies like polvoron, pastillas or macaroons. With a personal touch and creative gift wrap, your Christmas present will truly be extra special!
Also read: An Open Letter to Filipinos: Travel the Philippines First
These are just 10 of the thousands of Filipino-made gift items you can buy in the country. If you know more, please let us know by dropping us a comment on our Facebook and Instagram (@tripzillaph). Sharing is loving! So don't forget to tag your friends and share this list of proudly Filipino Christmas gift ideas.