Contributed by The Travel Guy Shops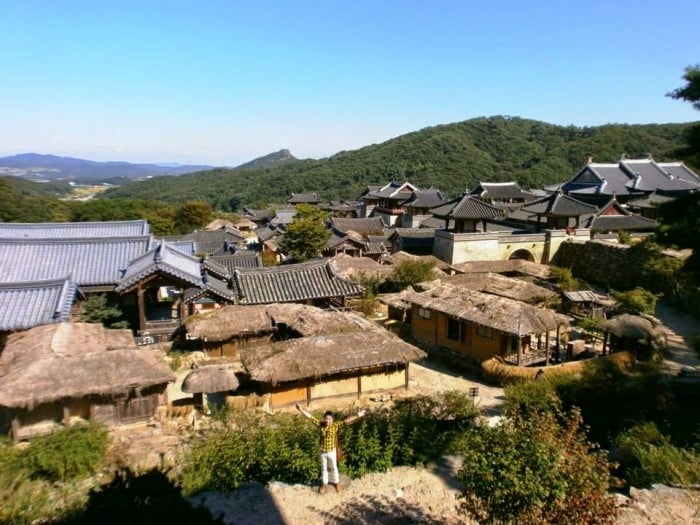 THIS IS KOREA! At the set outside of Seoul where Korean period dramas are filmed.

See the confirmed update to this post here! Subject to certain conditions below:
Travelling and Visas
One of the most bothersome concerns prior to travelling is getting a visa. This policy between states affects everyone regardless of citizenship. An applicant needs to provide an employment certificate or business registration, income tax return and most importantly, a bank certificate with a significant balance among other things — essentially documents to prove strong ties to one's country of origin and plans of returning and not overstaying.
One of those at the bottom of passport hierarchy is a Philippine passport, with visa-free access to less than 60 destinations, not only because of the country's poverty but also because you can find Overseas Filipino Workers (OFWs) anywhere in the world, leaving other nations to have a reason to place strict measures against illegal immigration especially by the OFWs' relatives. This is one reason why it is highly unlikely, if not completely impossible, that Japan will allow visa-free entry to Filipinos, contrary to previous speculations.
Thankfully, embassies are increasingly starting to become more open-minded and less paranoid, and by that I mean considering the fact that most individuals or families who apply for visas are established middle-class citizens at the very least who just want to go on a holiday. Recently, the Japan Embassy has become more lenient in issuing single entry tourist visas to Filipinos who are first-time visitors (as long as requirements are complete) and multiple entry visas for those on their subsequent trip.
Also read: 10 Countries with Easy Visa Access for Filipinos
Me at the Canola Flower Festival in Jeju Island in April 2014
You may or may not be aware but Filipinos, like Mainland Chinese, who although need a visa to enter Mainland Korea through Seoul, Busan or other ports, have visa-free access if they are flying directly to Jeju Island, Korea's popular summer, nature, island and wedding photography destination in the south.
In the absence of charter flights, Filipinos can take advantage of this by flying from Hong Kong and taking a flight to Jeju via Cathay Pacific/Dragonair. But recently, just as the Japan Embassy has become more lenient in issuing visas, so has the Korean Embassy, but better!
Also read: A Filipino Traveller's Guide to Visiting Korea for the First Time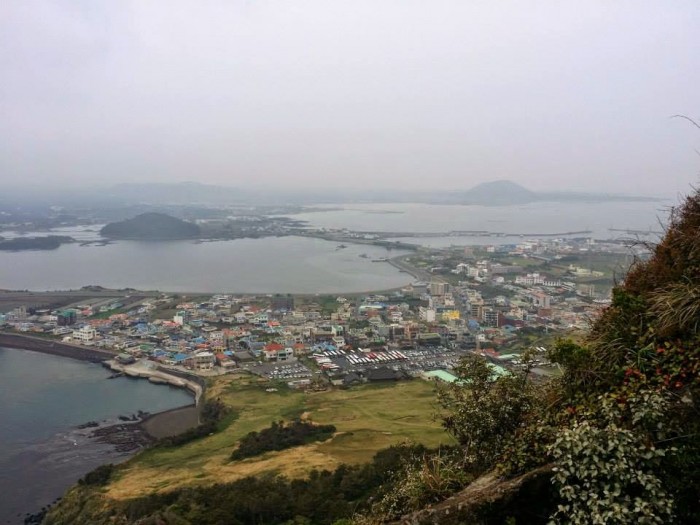 THAT VIEW from sunrise peak Seongsan Ilchubong, Jeju Island
According to a notice posted at the Korean Embassy Manila (see below), Philippine passport holders can now enter Korea VISA-FREE if they meet EITHER of the following conditions:
1. Having visited Korea at least 5 times in 2 years, or at least 11 visits in total.
Okay, maybe the first condition is a bit difficult to achieve. I imagine you'd have to be at least 40 years old for that to happen. I believe most people can better take advantage of the second one:
2. In possession of a) a valid visa or entry permit to the USA, Canada, Australia, New Zealand or Japan, and b) a confirmed ticket leaving Korea for any of those countries within 30 days.
This implies that travelers get 30-days visa-free entry to Korea prior to their departure to those countries. Wouldn't you agree that this option is far easier than the first? Requirements for getting a Japan tourist visa are simpler than those for the other four countries. This now makes the Japan Visa even more powerful than it already is, since you can also use it to enter Taiwan visa free simply by registering online.
MAJOR UPDATE (14 Apr 2016): Starting from 1 May 2016, Japan visa is no longer accepted for transit to Korea.
Source: Embassy of the Republic of Korea in the Republic of the Philippines (Entry 30)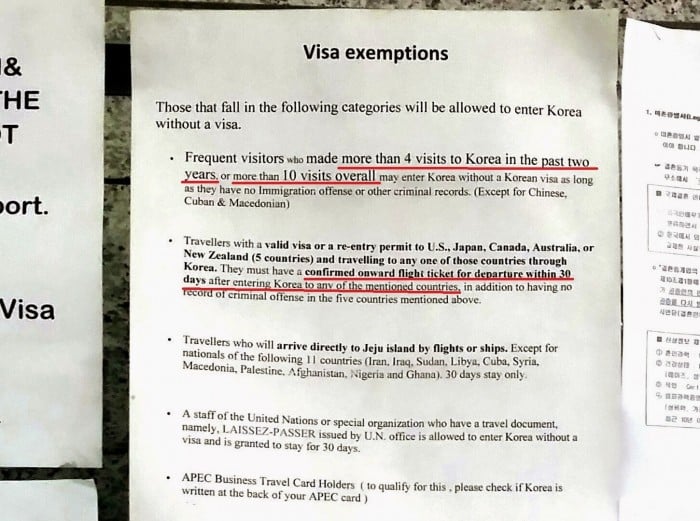 Credits to the person who took this photo
What are the implications of this new update?
This means, you can now enter more countries in one trip using just one Japan visa, as opposed to applying for separate visas. This saves you time in preparing requirements, money in expensive visa fees and costs of some flights; not to mention having to pay for the ₱1,620 Philippine travel tax and ₱550 NAIA Terminal Fee each time you leave the country.
Trendy ladies shopping in Myeongdong, Seoul
A typical itinerary I have in mind would be as follows:
Manila to Taipei (at immigration, present unused Japan visa and online form)
Taipei to Seoul/Busan (at immigration, present unused Japan visa and ticket to Japan)
Seoul/Busan to Tokyo/Osaka (use Japan visa)
Tokyo/Osaka back to Manila (with a used Japan visa, passport stamps from 3 countries and wonderful experiences in East Asia)
Sure, such a trip might entail saving up much more than for your usual trip, but for those of you who have limited time (or vacation leaves) on your hands, combining two or more countries in one trip is truly something to take advantage of. After all, there are a lot of budget airline options among those countries (I've tried one: Japanese airline Peach Air from Taipei to Osaka.) You can probably skip Taiwan (and miss out on all the delicious, affordable street food at Shilin Night Market!?) or Korea (and miss out on all the shopping extravaganza and K-pop madness in Myeongdong!?) and head straight to Japan, but it's totally your call.
After dinner at chilly Suwon City near Seoul in September 2013
Should you wish to have an actual South Korean visa take up one precious page of your passport, it may as well be a multiple-entry one right? The Korean Embassy has now also made this easier if you meet the following condition:
Bonus: 3. The Korean embassy now also allows BPI Gold and Platinum Credit Cardholders to easily get 1 or 3-year multiple-entry visas (respectively), and are exempted from submitting a bank certificate and ITR. They just need to submit their most recent original billing statement in place of those requirements, but still need to submit an employment certificate or business registration. Easy peasy!
Also read: Korea Tourist VISA Guide for Filipino Employees and Married Couples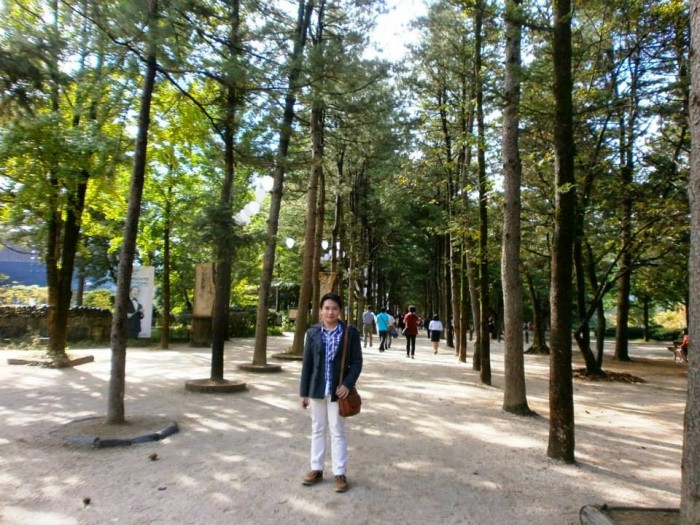 A BIG THANK YOU to the Korean Embassy Manila for its new visa policies. Photo taken at Nami Island.
I will surely post an update once I have tried entering Korea without a visa, but with just my Japan visa and onward flight ticket. 🙂
Let us now take this time to thank the Korean Embassy for their kindness and generosity!
감사합니다, 필리핀 한국 대사관 !
(Kamsahamnida, Pillipin Hanguk Taesakwan!)