Contributed by Camera and Cheese
Also read: A Simple Travel Guide to Leyte: What You Need to Know Before Your Trip
Welcome to the first of (hopefully) many articles about Tacloban City. This is my introduction to a series of stories that I've been meaning to write in months! I want to show people that there's more to Tacloban than being one of the hardest hit areas of Typhoon Yolanda (Haiyan).
Tacloban has history, culture, good food, adventure and so much more! I've listed 12 things that you should definitely do on your first visit to Tacloban. I've had many friends who asked me to tour them in Tacloban and these are the places I always take them to. In the end part, I've written a sample itinerary and a list of possible expenses to help you plan your first visit to Tacloban.
1. Salute Soldiers at MacArthur Park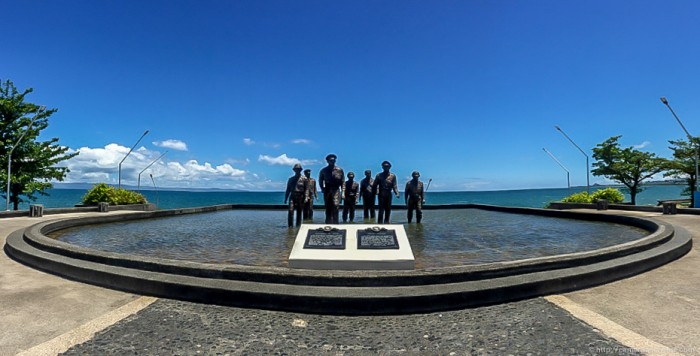 I know what you're all thinking. The (Leyte) MacArthur Landing Memorial Park, or commonly known as MacArthur Park is technically not in Tacloban City; it's in Palo, the next town. But if I have guests asking for a tour, I always include MacArthur in the itinerary. The park centres a group of giant-sized monuments of General Douglas MacArthur, former President Sergio Osmeña, Brigadier General Carlos P. Romulo and soldiers or perhaps some members of the government. When I was younger, I used to call MacArthur my lolo (grandfather).
Just a little bit more of history. This same spot on the red beach in Palo was where MacArthur fulfilled his promise when he said, "I shall return." He arrived with his group and drove the Japanese colonists away. Another tip, try the local buko juice from vendors! You'll find them scattered around the area.
2. See the Yolanda Memorial Monument (Astrodome Memorial Grounds)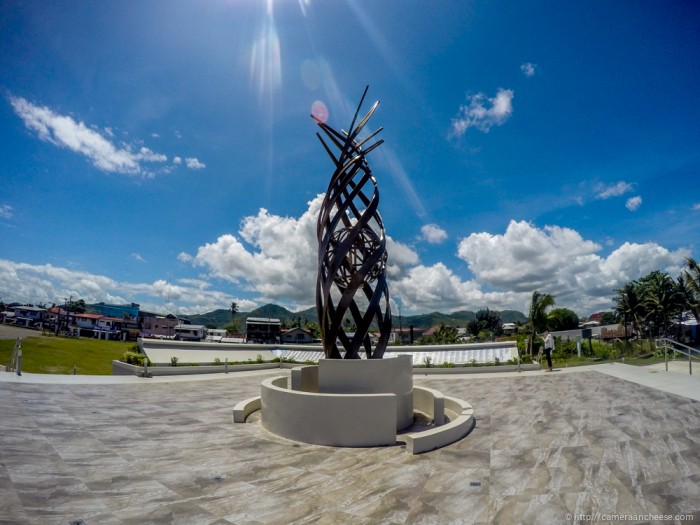 From Palo, head straight to town at the Tacloban City Convention Centre or locally know as Astrodome. There, you'll see a unique and somewhat modern architecture as a centrepiece. There's also a sort of tablet that has a long list of names of those who died during the 2013 record-breaking typhoon.
3. Marvel at the Anqiques of Sto Niño Shrine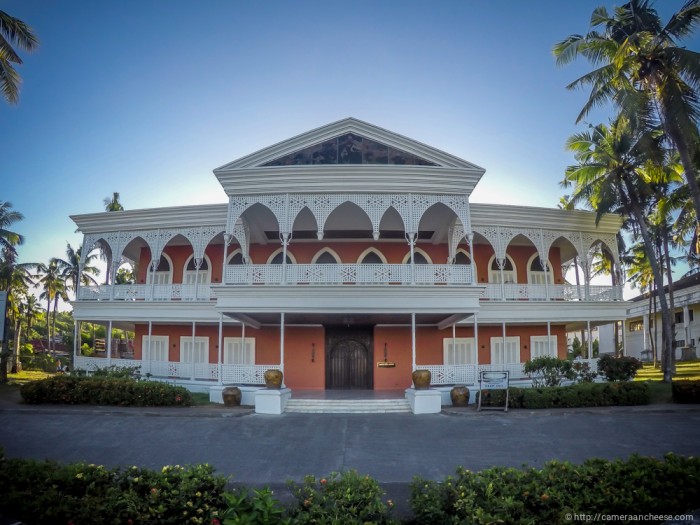 Just a few metres from Astrodome in Real Street, you will see an old mansion which used to be the home of former First Lady Imelda Marcos. It boasts vintage furniture, classic interior design, a chapel, grand ballroom, different artefacts and paintings, and a large (non-functional) swimming pool at the back which is now part of a restaurant.
When President Ferdinand Marcos was ousted, Sto. Nino Shrine and Heritage Museum and everything in it including Imelda's notorious shoe collection were turned over to the Presidential Commission on Good Government (PCGG). The mansion is open everyday from around 7:30 AM to 4:00 PM. When I asked a guy who looked like he was in charge, he said that the entrance fee was PHP 200 for three persons, and you will have to add PHP 30 if you wish to bring your camera.
4. Embrace the Spirituality of Sto Niño Church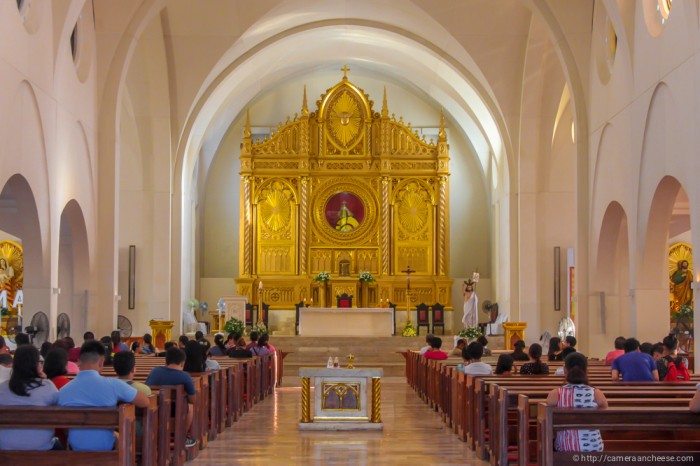 The people of Tacloban are mostly Christians, this fact does not need numbers. The church took its name after Tacloban's patron saint, Sto. Niño. It houses the image of the saint and a tall belfry. It used to have different colours and design but it has been renovated after Haiyan, and is now almost all-white. If you are interested in churches and if you also wish to light a candle to pray, you should not miss this church.
5. Gape at the Leyte Provincial Capitol's Architecture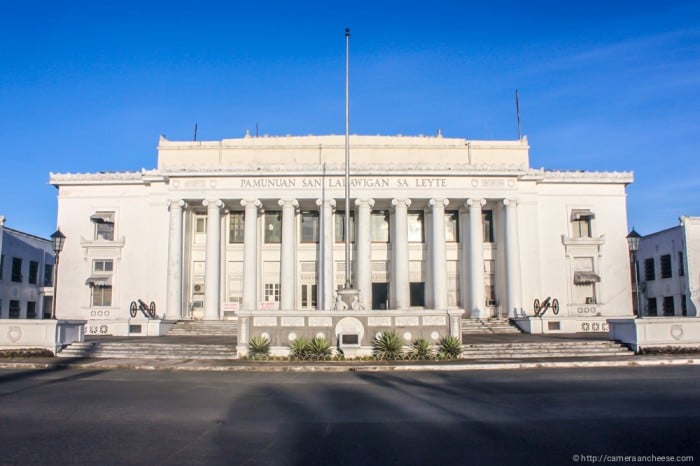 The Capitol is one of the oldest buildings in Tacloban. It was once the seat of the Philippine Commonwealth Government under President Sergio Osmeña, Sr. It is still used as a government building and is very popular for photoshoots because of it's daintiness.
6. Savour some Seafoods at Ocho Seafood and Grill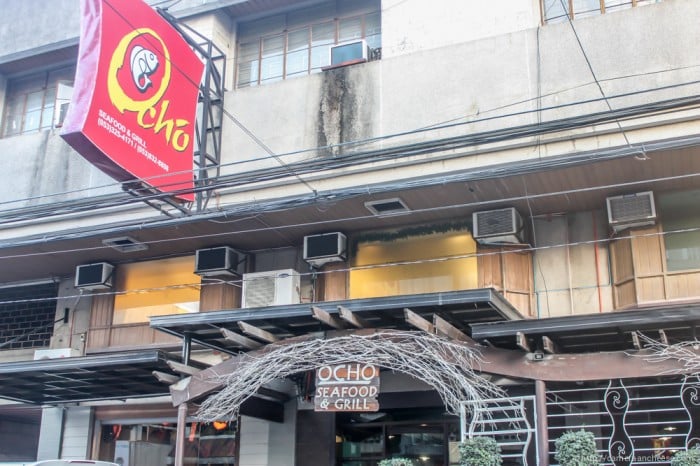 When coming to Tacloban, do not miss to eat fresh seafood at Ochos. It's one of the most popular seafood restaurants in the city. Upon entering, you will be greeted by well-trained staff who will usher you to a table. Most of the seafoods are quoted per kilogram. Among their bests are baked scallops, chicken pandan, and kebab. You can also ask them to cook your selected raw seafoods in any way you want (as long as they know how to cook them).
Also read: Kalanggaman Island Travel Guide: All You Need to Know Before Your Trip
7. Meet the Infamous Eva Jocelyn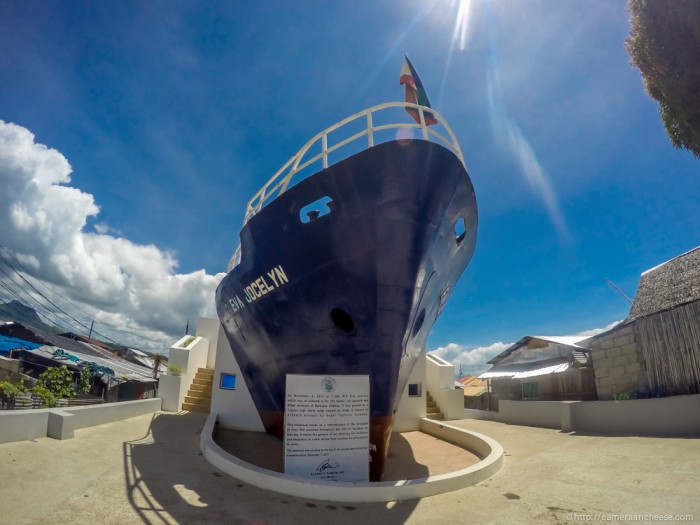 If you're not from Tacloban, you probably wouldn't know who Eva Jocelyn is. It's actually the name of the big ship that rushed from the port to a coastal residential area in Anibong District. It contributed to the destruction of the houses nearby. Instead of removing the ship, it was dismantled and turned into a memorial. Now, a small frontal part of the ship stands as a reminder of the strongest typhoon in history to have landed.
8. Have Goosebumps at the Mass Grave (Holy Cross Memorial Gardens)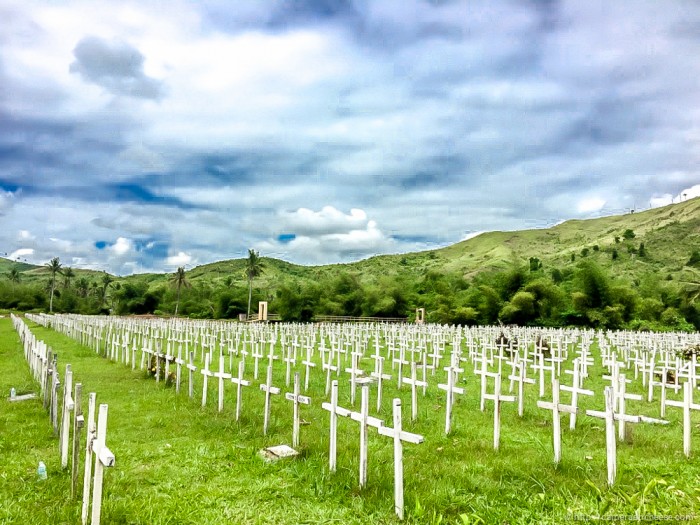 This might sound morbid but I always like to invite visitors to see the mass grave in Tacloban. When you first visit it, you will feel overwhelmed that you just can't help but pray. Just a short trivia; although the crosses have been arranged well, the bodies have actually been dumped in the area and most of the dead have not been identified by their family members. The families who haven't seen their departed loved ones claimed their own crosses so they could at least pray and offer candles and flowers.
9. Brave the Stretch of San Juanico Bridge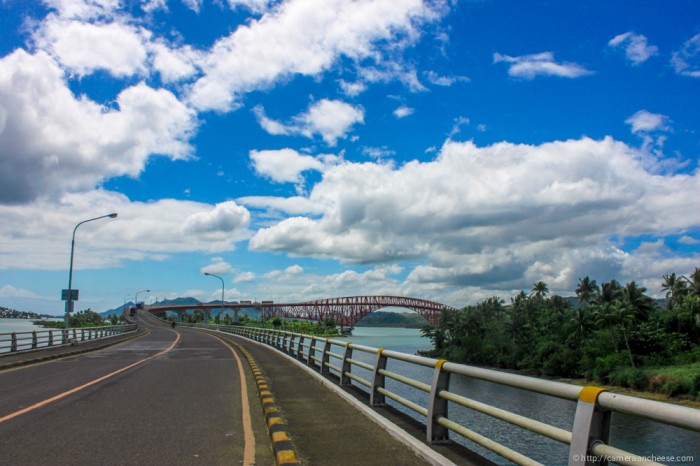 One of the things that the people from Tacloban are proud of is the San Juanico Bridge, connecting two major islands in Eastern Visayas – Leyte and Samar. It was completed in 1973 through the aid of the Japanese government. This iconic bridge has a length of over two kilometres. While it's strictly prohibited to stop your car anywhere on the bridge, you can walk along the street. Just a warning, you'll feel the ground shake when a car would pass by. If that happens, don't panic; It's safe as long as you stay on the sidewalk. Some people even like to jog there.
10. Chill at Libro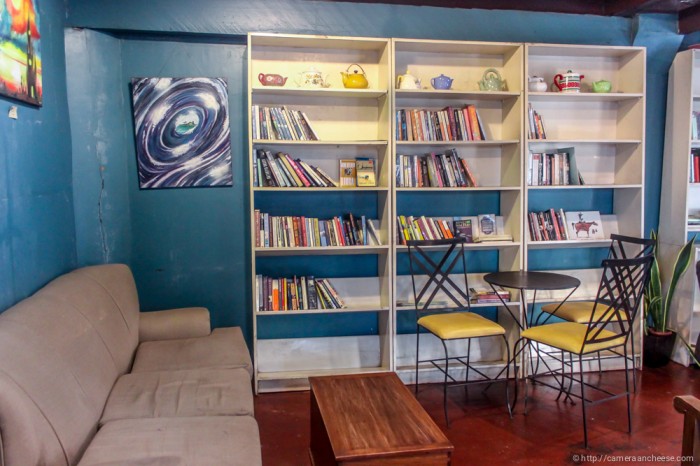 I just cannot help but include Libro in my list. It's my favourite place to hang out in the city. If my parents can't find me, they'd know I'm at Libro. I discovered the place about ten years ago and I've been an avid customer since! It's a great place to relax, (actually) talk to people (because they don't have WiFi) and eat! For first timers, try any of their coffee. I especially love their cookies and cream "frappe". It's normally caffeinated but you can ask them to remove any caffeine. Their paninis are delicious and the best part is their huge dessert fridge! I've tried most of their pastries and they're all really good. Note that it opens everyday from 12:30 PM to around 9:00 PM (depending on the number of customers) except on Sundays.
11. Take a Binagol Home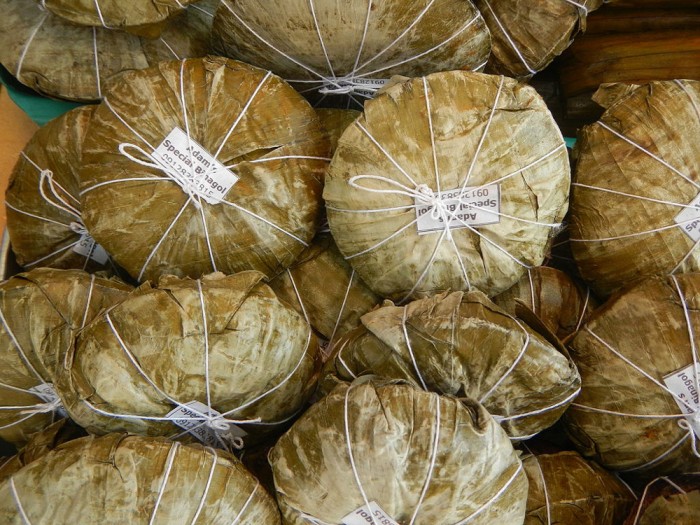 Image credit: Judgefloro (Own work) | CC BY-SA 4.0 | via Wikimedia Commons
Binagol is a local delicacy that's made up of talyan root, coconut and condensed milk and sugar. It is then packaged in an empty coconut shell. In the local dialect, bagol means coconut shell, hence its name. It might be too sweet for some but you should definitely try it. It's best to buy them as souvenir. Just make sure to put them in a dry box and check them in at the airport. Directions on where you can buy binagol are included in the itinerary below.
12. Feel the Fiesta Vibe on the Pintados Festival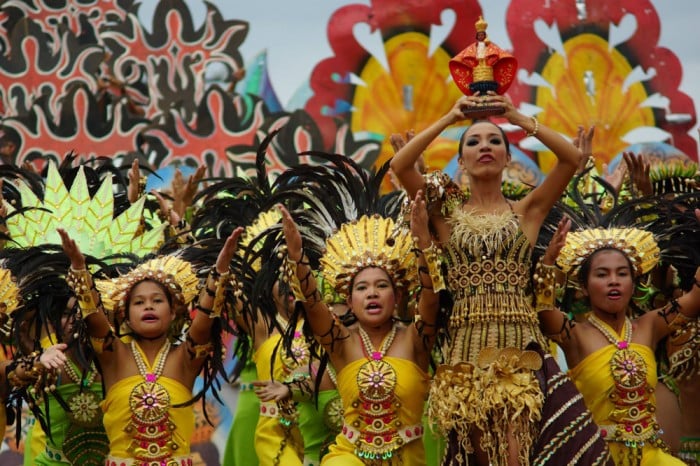 Image credit: Bobbie Alota
Festival season in Tacloban starts on June to July. The fiesta is on June 30 and all throughout the season, different activities are organised like fun runs, concerts and the culminating event – Pintados Parade. It's a celebration of the coming of Senyor Sto. Niño, the local patron saint. Get ready to see colourful displays of dancers and floats. The parade usually ends at Tacloban Sports Complex where the groups of dancers perform in the competition. While it's not as "wild" as Cebu's Sinulog, there are also street parties for those who are into dancing, and it's a great way to experience local culture. Make sure to bring extra water as you'll have to walk around for hours because the roads downtown are blocked.
Also read: The Ultimate Filipino Traveller's Bucket List: 101 Challenges You Need to Complete
Sample Itinerary and Expense
[Disclaimer: This is just a sample itinerary that you don't have to follow. It's how I would schedule a tour. If you have a car, travel time will be shorter. You can also hire a car downtown. The price will range from PHP 3,000 to PHP 3,500 inclusive of fuel and driver. Also, I may be wrong about the price, time estimates and ways to get to places. Please correct me if I'm wrong.]
In this itinerary, my main assumptions are that you:
Are starting your journey in the morning;
Are coming from your hotel/inn which is located somewhere around downtown (most practical);
Will tour the city for one day; and
Are willing to commute. Don't worry, it's not as stressful as commuting in Manila.
TIME
DESTINATION
HOW TO GET THERE
PRICE PER PERSON (PHP)
8:00 AM (start travel)

9:00 AM (arrival)

MacArthur Park, Palo, Leyte
Ride a Campetic multicab (smaller version of jeepney) along main roads (Magallanes St., Magsaysay Blvd., Avenida Veteranos/Imelda Sts., Justice Romualdez St., Rizal Ave.) and alight at BIR or Philippine Science High School (PSHS). Ride a motorcab/tricycle straight to the park.

11 + 10

9:30 AM (start travel)

10:15 AM (arrival)

Yolanda Memorial Monument (Astrodome Memorial Grounds), Real St.
Ride a tricycle back to BIR/PSHS. Ride any jeepney or multicab back to downtown. Alight at Astrodome.
10 + 11
10:30 AM (start travel)

10:45 AM (arrival)

Sto. Niño Shrine, Real St.
Ride any vehicle except Campetic headed downtown and alight at Sto. Niño Shrine, which is along the highway on the left side. I assume that you'll take a tour inside the mansion for 30 minutes.

7 + 230

11:15 AM (start travel)

11:25 AM

Sto. Niño Church, Corner Real and Zamora Sts.
Ride any jeepney or multicab. All PUVs will pass the church.

7

11:40 AM (start travel)

11:55 AM (arrival)

Leyte Provincial Capitol, Senator Enage St.
Ride a tricycle in the nearest corner and instruct the driver to drop you off at Kapitolyo.
8
12:10 PM (start travel)

12:20 PM (arrival)

Ocho Seafood and Grill, Senator Enage St.
Walk! It's just a 5-10 minute walk depending on your pace. Eat! It's best to eat as a group so you can share dishes. The price is just an estimate.
300
1:30 PM (start travel)

2:15 PM (arrival)

Anibong Memorial Marker, National Highway, Anibong
Ride a tricycle from Ocho to Savemore (J. Romualdez St.). Catch a multicab that has a Diit or Kassel sign. You can ride any of the two. Alight at the memorial along the highway, right side.

8 + 8

2:30 PM (start travel)

3:00 PM (arrival)

Holy Cross Memorial Gardens, Diit
Ride a Diit multicab from Anibong and tell the driver to drop you off at the corner before entering the road to the Memorial Gardens. Ride a pedicab to the Memorial. I'm not sure how much it costs, this is just an estimate.

8 + 10

3:20 PM (start travel)

3:50 PM (arrival)

San Juanico Bridge
Get a pedicab back to the main road where you alighted. Ride a San Juanico multicab. Be patient as there aren't a lot of these cabs. The price is just an estimate.
10 + 8-15 (range)
4:20 PM (start travel)

5:20 PM (arrival)

Binagol vendors, corner Zamora St. and Rizal Ave.
Ride a San Juanico multicab or any vehicle going downtown. The price is another estimate. Alight anywhere along Rizal Ave. or ask how you can get to Jollibee, Rizal Ave. Just across Jollibee, you can find a few stores selling delicacies. Unfortunately, I don't know how much a binagol costs.
10-30 (range)
5:20 (start travel)

5:35 (arrival)

Libro, corner Sto. Niño St. and Gomez St.
Ride a tricycle to Libro. This is optional, you can opt to eat early dinner or go where ever.

8

TOTAL (estimate w/o food)

391
Time estimates are bloated. Traffic, waiting, travel, photo ops times have been put into consideration.
Also read: Escape the Crowd: These 10 Beaches in Eastern Visayas are Totally Unspoilt
Tacloban is a beautiful city! Although I was not born in Tacloban, I spent most of my life here. I've learned to love it more because it is kind of urban but I could still feel the rural side of it. We have "malls", a sports complex and a convention centre; but we also have mountains, greens and fresher air than other urban cities. There are so many other places you can explore but these are my top picks. I hope you found this helpful. Ciao for now!