Many Filipino travellers can't help but feel bummed when they miss the blooming of the sakura in Tokyo. Over the years, we've come to associate springtime in Japan with the flowering of cherry blossoms; and the idea of going to any flower park in Japan without seeing these rosy petals floating around us feels like a huge loss. 
Luckily, there's more to love about Japan's natural beauty than one type of flower. Waiting until next year for the sakura to bloom is perfectly fine; but you can witness the same ephemeral beauty of seasonal flowers in other parts of the country, too. If anything, they might be even more breathtaking than you expect. 
Taking you from spring to autumn, these enchanting gardens and flower parks in Japan will give you something to look forward to this year. Let this guide be a travel companion in your journeys, and get ready to smell the flowers! 
Also read: These Sakura Itineraries Will Take You to Japan's Best Viewing Spots Throughout April! 
1. Fuji Motosuko Resort in Yamanashi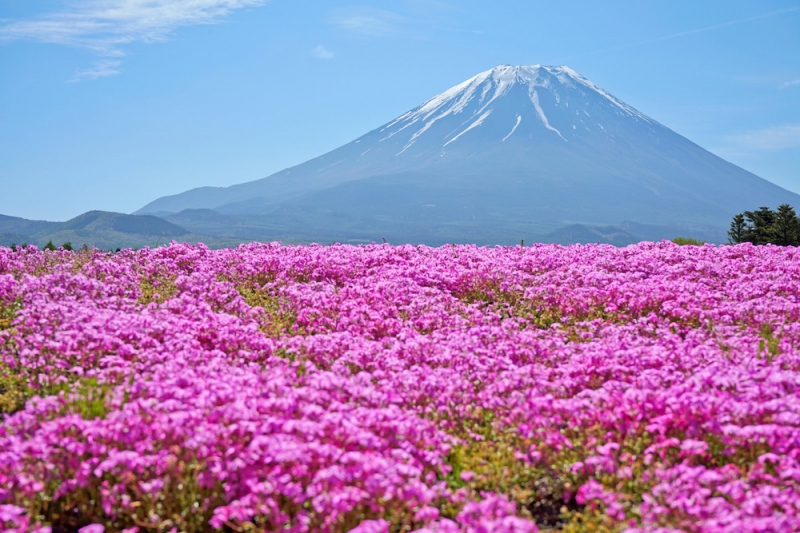 In the late spring of 2019, my family and I were dismayed to find that the sakura we had been looking for had already been stripped off the trees in Tokyo. Only a few buds remained, hanging limply on the tree branches. It was not quite the sight we had planned on seeing. But when we left the city for Kawaguchiko and the Fuji Five Lakes Area, we saw a landscape that could rival the beauty of what we had missed. 
The Fuji Shibazakura Festival takes place every year in Fuji Motosuko Resort, a flower park in the Yamanashi Prefecture of Japan. Right at the base of Mt. Fuji is a sprawling field of 800,000 shibazakura, known as "lawn cherries" or "pink moss phlox." These five-petalled flowers have a deeper shade of pink and appear much later in the spring.
True to their name, thousands of shibazakura roll out endlessly in lawns of blushing red, pink, creamy white, and a touch of purple. Out in these carpeted fields, there is nothing obstructing your view; and if you are lucky, Mt. Fuji peeks out on a clear day.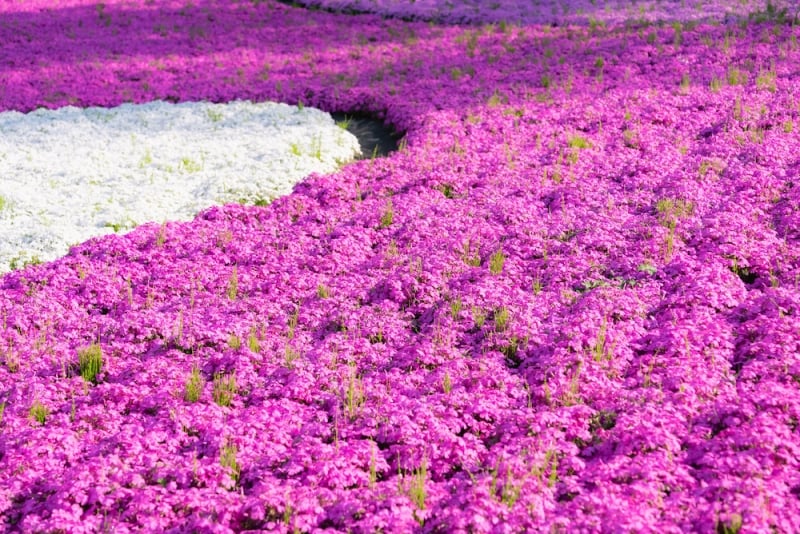 I wouldn't quite say this is off the beaten path, as many Japanese city dwellers love to gather here for vacation in May, especially during Golden Week. But even then, it isn't as crowded as Ueno Park, and you won't find a better way to sneak these dusky flowers and Mt. Fuji in the same photo. 
Other flower parks that have shibazakura in Japan are Ichikai-machi Shibazakura Park in Tochigi Prefecture, Shibazakura Takinoue Park and Higashimokoto Shibazakura Park in Hokkaido, and Hitsujiyama Park in Saitama Prefecture. 
Address: 212 Motosu, Fujikawaguchiko, Minamitsuru District, Yamanashi 401-0337, Japan
When to visit: Mid-April to early May
2. Hitachi Seaside Park in Ibaraki
Outside a jewellery shop, this is probably the largest surplus of sapphires you will ever see! At the Hitachi Seaside Park in Ibaraki Prefecture, 4.5 million baby blue eye flowers, or nemophila, cover the ground in gentle, undulating waves. Sauntering up the slope towards Miharashi Hill, you'll discover an ocean of powder-blue flowers that reflect the spring sky. Indeed, it would be difficult to locate this dreamlike colour anywhere else in the world! 
Not to be missed are the million narcissus flowers and tulips that also bloom in the spring, or the roses in early summer. But as time passes, they are replaced by something even better.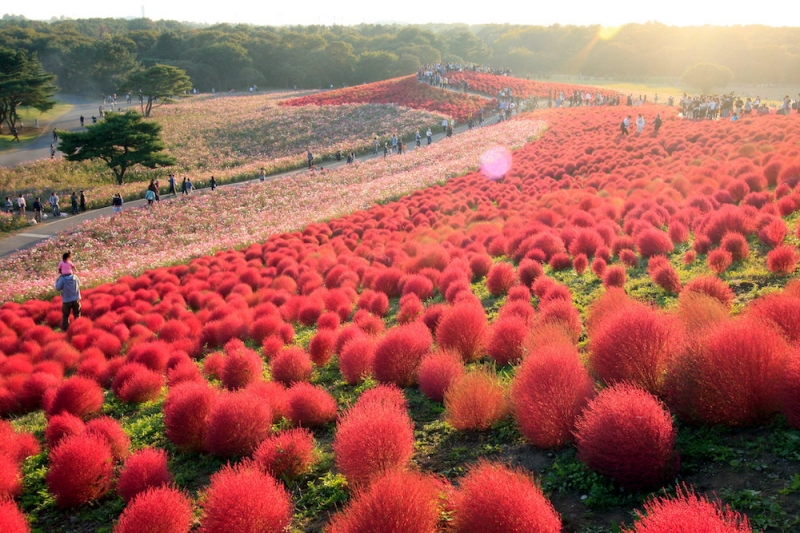 A far cry from the pastel-coloured flowers of spring, the kochia bushes at the park turn scarlet in autumn. If you are hungry enough and you squint a little, they kind of look like huge rambutan. No? Am I the only one seeing it? 
Kochia, also known as summer cypresses, are planted during the warmest season of the year and transition to the fiery colour of burning bushes in the fall. As the plants reach peak bloom, the Kochia Carnival welcomes visitors to catch them in their fiercest colours from mid-September to mid-October. Come in the autumn to observe hundreds, if not thousands, of these red bushes gracing the hillsides of this flower park in Japan. 
Address: 605-4 Onuma-aza, Mawatari, Hitachinaka-shi, Ibaraki, Japan 
When to visit: Mid-April to early May (nemophila); Mid-September to mid-October (kochia) 
Also read: 12 Most Colourful Natural Attractions Around the World! 
3. Farm Tomita in Nakafurano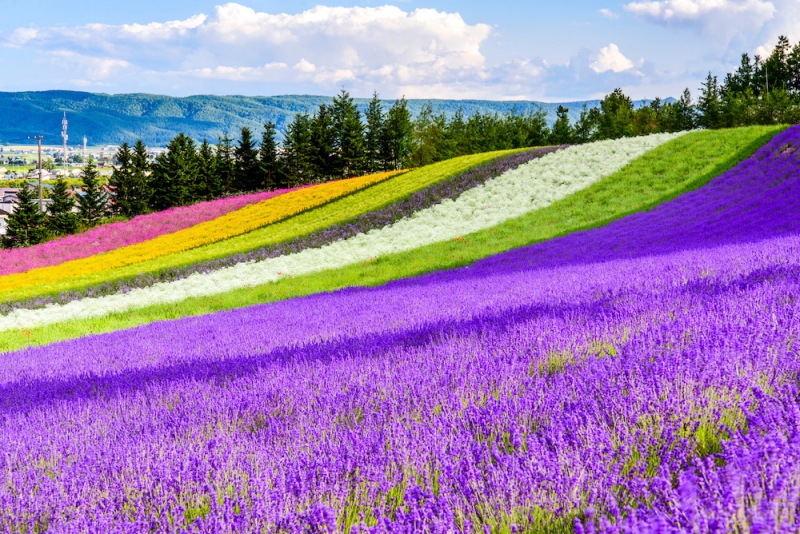 From bluish-purple shrubs to orange poppy flowers, the fields at Farm Tomita will make any traveller gasp and sigh with wonder. Most stunning are the rows blanketed with different types of lavenders, each bearing a distinct aroma and shade of violet. Fittingly enough, this lush terrain is called Sakiwai Field or the "Field of Happiness," for the farmers wished that it would always make their visitors happy. 
Around the middle of July, you can surround yourself with the sweet scent of lavenders at this flowery oasis, coupled with a backdrop of Tokachi Mountain. You can even try the lavender-flavoured jellies and ice cream sold on the premises!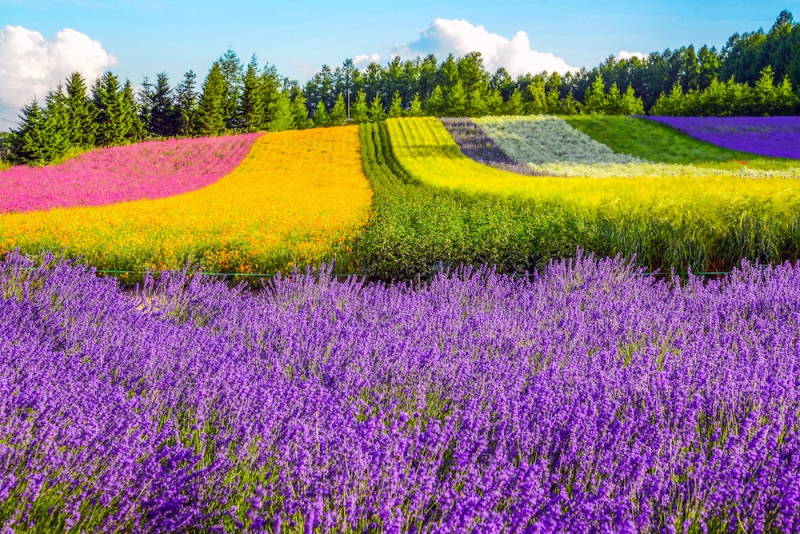 Imagine prancing around these rainbow fields! During your visit, always take care not to trample over the fragile blossoms, no matter how alluring they appear. More than anything, it's enough to pass the hours just marvelling at the gradations of colour at the farm. Nature is so astonishing, don't you think? 
Address: 15 Kisenkita, Nakafurano-cho, Sorachi-gun, Hokkaido 071-0704, Japan
When to visit: Mid to late July 
4. Hokuryu Sunflower Village in Hokkaido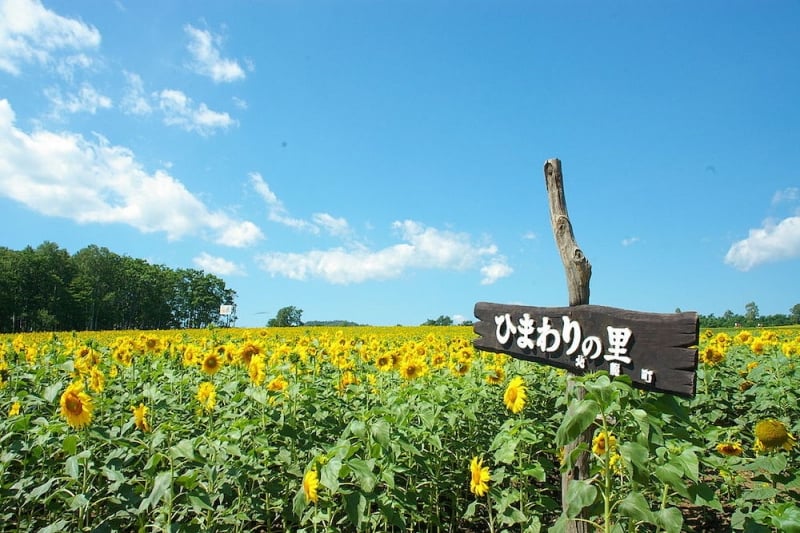 Hokkaido may be known for its snowscapes, hot springs, seafood, and desserts. But did you know that it's widely considered to be the sunflower capital of Japan? 
Every summer, the Hokuryu Sunflower Village in the small town of Hokuryu comes alive with the sight of 1.5 million sunflowers adorning the fields. The Himawari Festival creates a life-size maze for visitors to dart about the sunflowers and hop on scenic rides through flower-lined paths. 
Stand atop the east-facing hill, where the sunflowers look most sublime as they greet the morning sky. Or, simply admire how the breeze rustles these golden flowers, which never fail to attract thousands of visitors every year.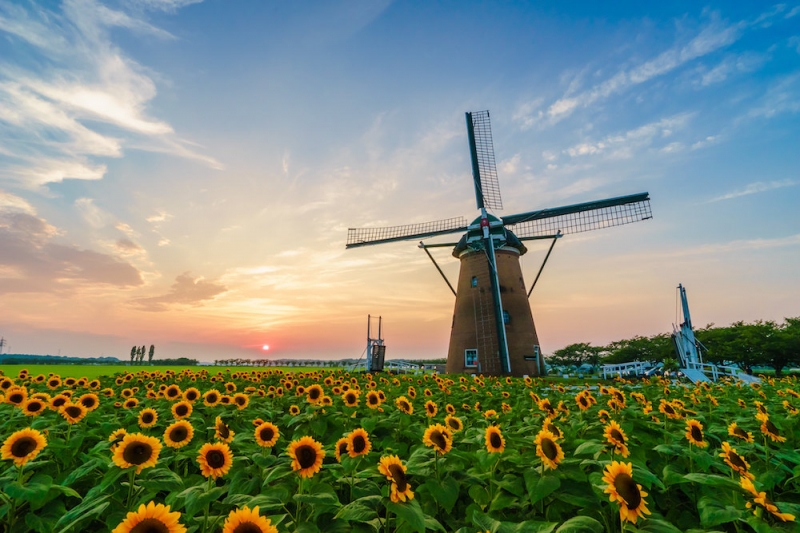 Other remarkable flower parks in Japan that have sunflowers are Hill of Palette in Hokkaido, Akeno Sunflower Field in Yamanashi Prefecture, the Sakura Sunflower Garden in Chiba Prefecture, and Zama Sunflower Field in Kanagawa Prefecture. 
Address: 143-2 Itaya, Hokuryu-cho, Uryu, Hokkaido, Japan
When to visit: Late July to mid-August 
5. Huis Ten Bosch in Nagasaki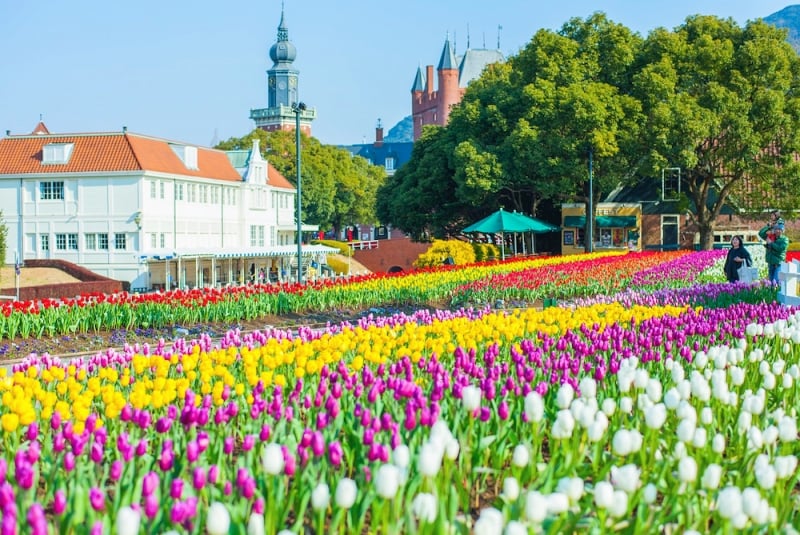 You don't have to journey halfway across the world to Amsterdam or California to find dreamlike hillsides studded with tulips! In Huis Ten Bosch in Sasebo, Nagasaki Prefecture, you will stumble upon 700,000 tulips, one million roses, and thousands upon thousands of hydrangea. Why all of this effort, you might ask? That's because this park was created as a love letter to Holland. 
Celebrating the relationship between the Netherlands and Japan, the amusement park is packed with spectacles and activities for visitors. Last year alone, the Huis Ten Bosch Tulip Festival produced a canal boat ride that passed through a parade of music, complete with night-time illuminations that set the flowers aglow. You could spend more than one day in this charming enclave of restaurants, cafés, theatres, and rides — and after all that, you still won't run out of sights to see!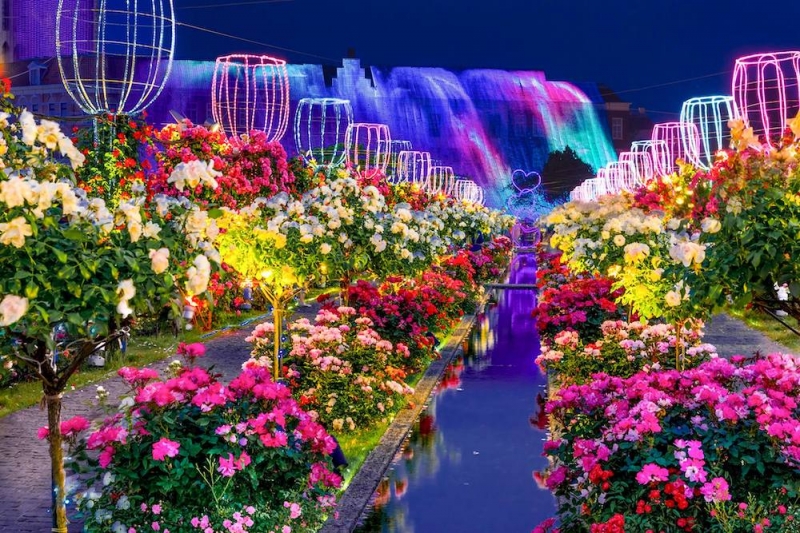 Between the European architecture and the candy-coloured tulip gardens, this Dutch-style flower park in Japan will cast a spell on anyone who enters its kingdom. 
Address: 7-7 Huis Ten Bosch-cho, Sasebo-shi, Nagasaki, Japan
When to visit: Early February to mid-April
6. Serakogen Farm in Hiroshima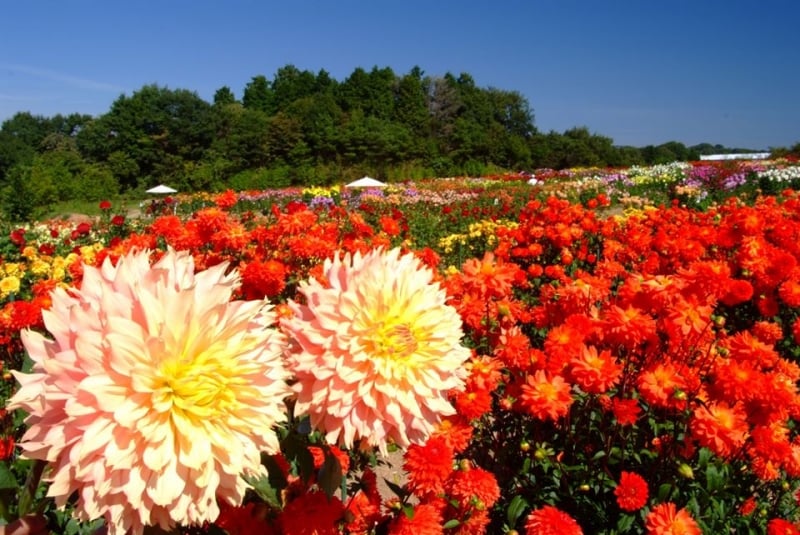 In every Studio Ghibli or Makoto Shinkai film, there is always a moment that steals your breath — a sight that forces you to take a step back and dwell in its beauty. The Serakogen Farm in Hiroshima feels like it was lifted straight out of those scenes, a flower-filled fantasy that seems too good to be true. But make no mistake: All 150,000 square metres of this park are very real. 
Picture flamboyant petals waving across the fields and hills, and you get something like this vast flower park in Japan. Here, the dahlia flower bursts into its ripest shade from mid-September to late October, right during the Autumn Dahlia Festival. With over 450 types of dahlia, this flower park has the biggest collection of dahlia in Western Japan.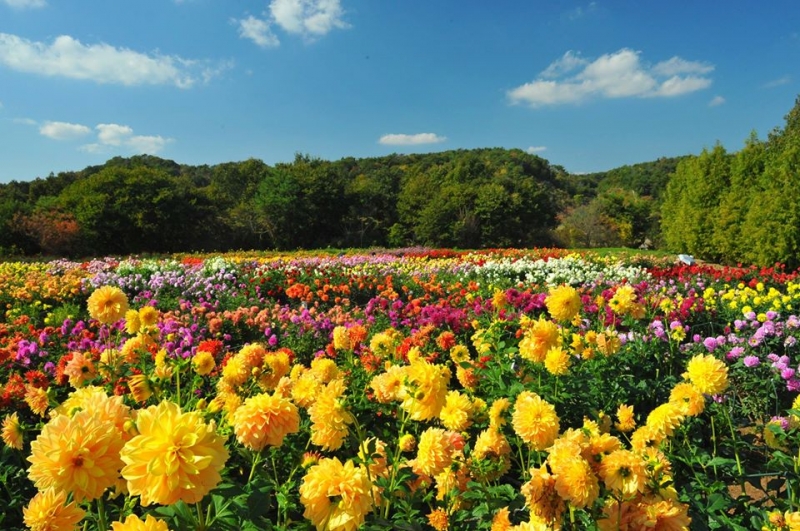 Besides spring tulips and summer sunflowers, there are also workshops and activities for visitors. In certain flower-picking fields, visitors can pick a flower that they like for just ¥200 (₱92)! 
Address: 1124-11 Betsusako, Sera-cho, Sera District, Hiroshima 729-3305, Japan
When to visit: Mid-September to late October 
7. Kawachi Fuji Garden in Fukuoka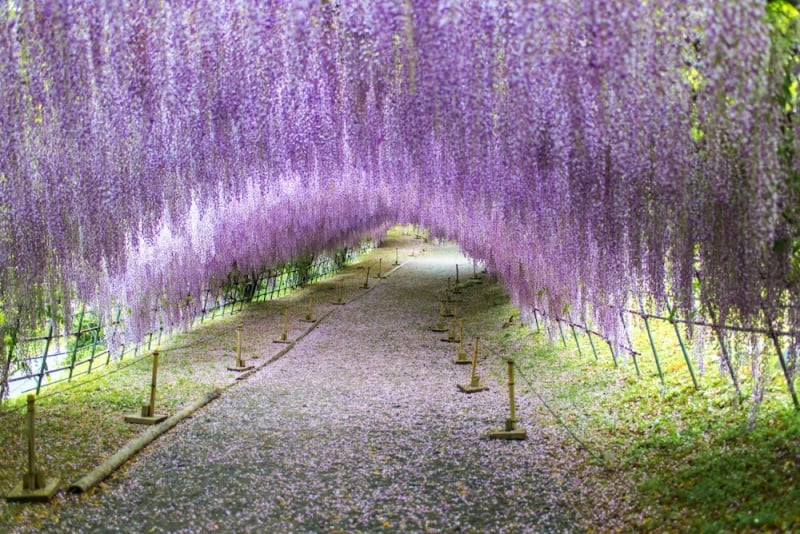 Shining, shimmering, splendid! Have you ever seen anything so beautiful? At Kawachi Fuji Garden in Fukuoka, you can stroll through lustrous curtains of wisteria. Of all the flower-filled walks in the world, this is surely one of the grandest! 
At this privately owned garden, you can experience the magic of thousands of wisteria, swaying right over your head across tunnels, passageways, trellises, flower arches, and trees. However, be sure to time your visit carefully and book your tickets well in advance. After the sakura-viewing season is over, these blue and purple-white flowers will steal the show. And the tourists!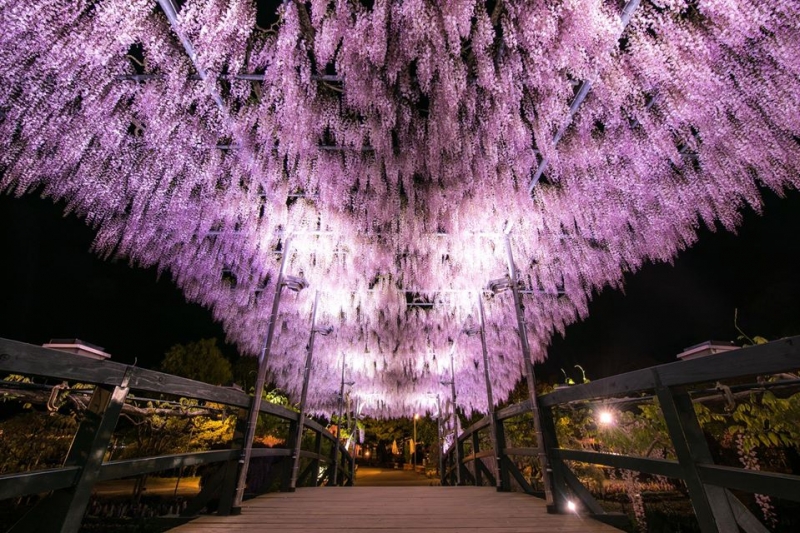 Another popular flower park in Japan where you can find wisteria is the Ashikaga Flower Park in Tochigi Prefecture, where the climbing vines take on four colours: purple, pink, white, and yellow. It attracts more than 1.5 million visitors each year.
Address: 2 Chome-2-48 Kawachi, Yahatahigashi Ward, Kitakyushu, Fukuoka 805-0045, Japan 
When to visit: Late April to mid-May 
Also read: Why Do Filipinos Love Japan So Much? Here Are 15 Reasons
By keeping time with these ephemeral flowers growing across Japan, travellers can also celebrate the changing of the seasons. Even if your plans change or circumstances make it difficult to travel to Japan right now, all is not lost. There will always be the next season to enjoy, and these flower parks in Japan will be waiting for you then!