Updated as of 19 Aug 2020
GrabCar is back, thank heavens! For many people in Metro Manila, the ride-hailing app and Transportation Network Vehicle Service (TNVS) is a lifesaver; especially for those who don't own their own vehicle or those who'd rather do without the hassle of driving themselves and finding parking space.
Following the declaration of General Community Quarantine (GCQ) in Metro Manila on 17 Aug 2020, GrabCar announced the resumption of its ride-hailing services beginning 19 Aug, Wednesday. Passengers and drivers are now required to wear face masks and face shields at all times when riding with GrabCar.
Metro Manila returns to GCQ status after being placed under stricter Modified Enhanced Community Quarantine (MECQ) last 4 Aug in an effort to hear medical frontliners' plea for a two-week #timeout. This happened when the number of COVID-19 cases ballooned across the National Capital Region, pushing most hospitals to full capacity.
The initial resumption of GrabCar services followed shortly after authorities first placed Metro Manila under GCQ last 1 June. To be clear, though, only a minute fraction of the GrabCar fleet has been allowed to operate. Out of the initial list of 31,000 drivers Grab submitted to the Land Regulatory and Franchising Board (LTFRB) for accreditation, only 2,025 government-validated GrabCar drivers were deployed on 1 June.
#GrabContactlessRide: A safety campaign against COVID-19
The LTFRB drastically limited the number of GrabCar drivers servicing Metro Manila to ensure the strict implementation of COVID-19 measures. Grab launched a campaign dubbed #GrabContactlessRide to communicate the basics of safe travel using GrabCar these days. Here's what you need to know if you intend to use the ride-hailing service anytime soon under GCQ, which could still last the whole month of June in Metro Manila.
GrabCar goes fully cashless
First off, GrabCar is now completely cashless. This move was essential to lessen physical contact between drivers and passengers, especially when the COVID-19 virus remains contractible on different surfaces for hours on end. Yes, that means it stays on money, too.
To book a ride with GrabCar, you will now need to activate your GrabPay wallet (if you haven't yet). This will allow you to cash in through several methods. You may connect your debit or credit card directly to the GrabPay system, or transfer funds from your bank account to your GrabPay wallet.
I personally transfer funds from my savings account into my GrabPay wallet just because I feel that it's an added layer of security and financial management on my part. This means if I just place ₱3,000 into my GrabPay wallet, then that's the only amount I can spend on Grab until I cash in again. Whatever cash-in method you use, you can rest easy knowing that GrabPay is safe and secure; it's regulated by the Bangko Sentral ng Pilipinas (BSP)!
Also read: Here's Why We Should Shift Towards Cashless Payments
The best thing about activating your GrabPay wallet is its flexibility. You can use it for all Grab services: GrabCar, GrabFood, GrabExpress, GrabMart, GrabPabili, among others. In fact, several partner shops and merchants also allow you to pay for goods and services through GrabPay. To know more and see a list of GrabPay merchants, click here.
Remember: No mask & face shield, no ride
Another thing you have to note about your next GrabCar ride is: No mask and face shield, no ride. This protects you, the driver, and all people who may be riding in the same vehicle on the same day. Rest assured, GrabCar has rolled out strict protocols for daily disinfection. Since each driver was approved by the LTFRB, you can take comfort in the fact that both Grab and the government determined which drivers can actually adhere to the 'new normal' rules.
Question: Can you take your mask and face shield off once you're inside the vehicle? Of course not. Let's be responsible for ourselves and for others trying to make their way around the metro.
Also read: Face Shields Will Be Required for ALL Forms of Public Transportation in PH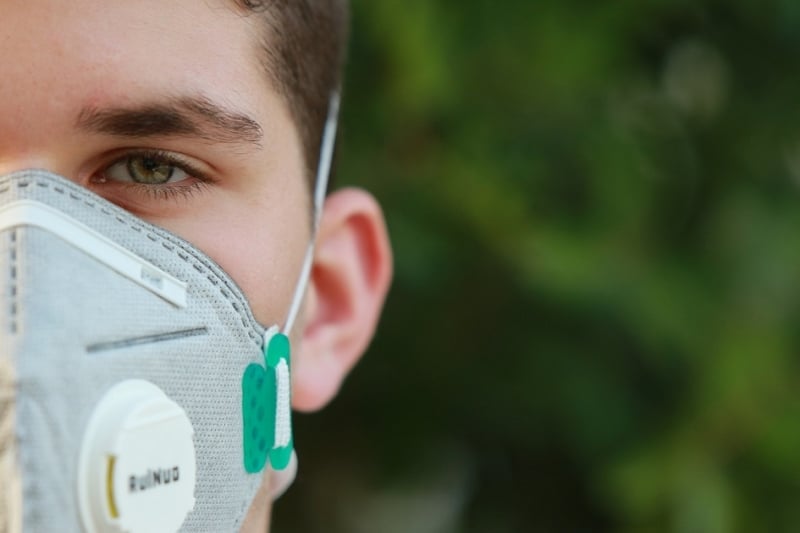 Social distancing applies
You'll also notice that there is now a physical barrier between passengers and the driver. These non-permeable, see-through barriers were put in place to guarantee that your ride is completely "contactless", as promised by Grab.
In line with social distancing measures, only two passengers may board a GrabCar at any given time. This means that both passengers should maintain distance at all times in the backseat, while drivers sit alone in front.
Follow implemented routes & hours
Last but certainly not least (and quite obvious since we still observe curfews under GCQ), all GrabCar passengers and drivers should follow permitted hours and routes! Note that GrabCar operates a free car service 24/7 for frontliners, though. Here's a simple guide for all GrabCar users out there, subject to further announcements and adjustments from Grab and LTFRB:
There you have it — the new normal basics of your next ride with GrabCar. Let us know how it goes once you try it out. Be safe and stay healthy, folks! Most importantly, remember that most areas in the Philippines are still under GCQ; head out only for essentials!
---
Featured image credit: Dan Gold | Unsplash.