Mention Hong Kong, and I'm sure most of us will think of the bustling street markets in Mong Kok, the dazzling Symphony of Lights at Victoria Harbour, or the many luxurious shopping malls found throughout the city. Also, not forgetting the fresh dim sum that Hong Kong is famous for. Did you know, however, that over the last two years, this bustling city has added plenty of new and exciting attractions to its impressive lineup of bucket-list experiences?
Whether it's your first time planning a trip to Hong Kong or your umpteenth return visit, there are new adventures at every turn! Case in point: Here are eight cool attractions and experiences in Hong Kong that even frequent visitors have not been to before!
Also read: A Different Side of Hong Kong: Green Spaces, Idyllic Islands, and More!
1. Visit the stunning Castle of Magical Dreams at Hong Kong Disneyland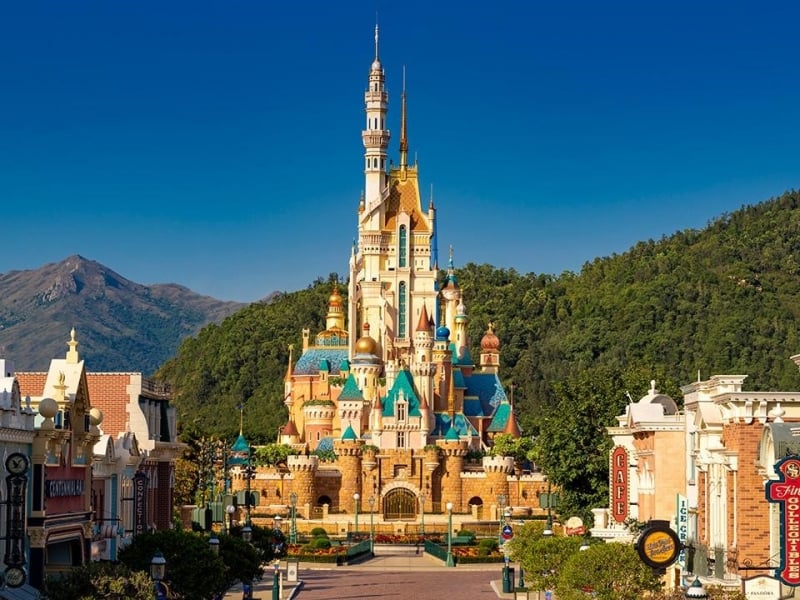 Hong Kong Disneyland is undoubtedly one of the very top attractions in Hong Kong. After all, nothing beats a memorable trip to the "happiest place on Earth"! While Hong Kong Disneyland opened in 2005, the park has undergone regular upgrades over the years, with its more recent significant upgrade in November 2020, when the majestic Castle of Magical Dreams was unveiled in conjunction with its 15th-anniversary celebration.
The new castle is an ode to the recent influx of memorable female characters in Disney movies. It consists of 13 towers, each representing a different Disney heroine, complete with majestic rose gold domes, stained-glass rose windows and eye-catching design elements that incorporate the stories of each Disney princess.
But Hong Kong Disneyland's new centrepiece castle isn't just a pretty landmark to look at. It is also the stunning canvas upon which guests can enjoy the magical new night-time show, "Momentous"! The spectacular show is a celebration of beloved Disney characters and classics, such as Peter Pan, The Lion King, and more. The show features large-scale projections that transform the Castle of Magical Dreams as the story unfolds, bringing viewers on an unforgettable journey as they enjoy the compelling story unfolding before their eyes!
2. Have fun in the sun at the brand-new Ocean Park Water World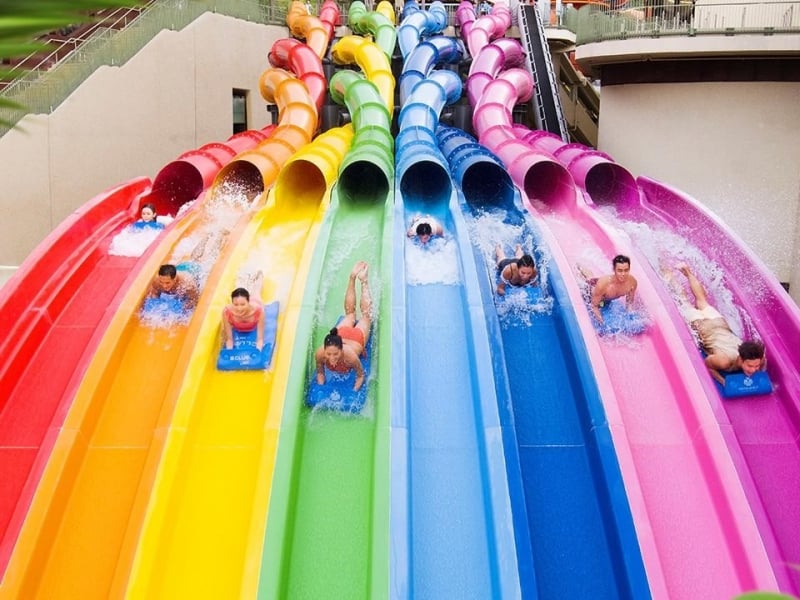 Another famous theme park in Hong Kong that most avid travellers know about is the popular Ocean Park, known for its animal-themed attractions and shows. However, did you know that Ocean Park now has its very own water park?
Ocean Park Water World opened in September 2021 and is currently Asia's one and only year-round, all-weather waterfront water park! Not only can you enjoy thrilling rides and splash around, but you'll also be treated to incredible views of the South China Sea! What's more, the verdant surroundings (the water park is set amidst lush hills) also offer a rejuvenating escape into nature, offering a fun yet therapeutic experience for the whole family.
There are 27 attractions to enjoy at Ocean Park Water World, spread across five distinct zones. Get your adrenaline pumping with the numerous state-of-the-art water slides, hop on a leisurely ride around an indoor flowing river, or catch some waves at Surf Striker, Hong Kong's first indoor surfing simulator! The possibilities are endless!
3. Head (back) to The Peak by riding the brand-new Peak Tram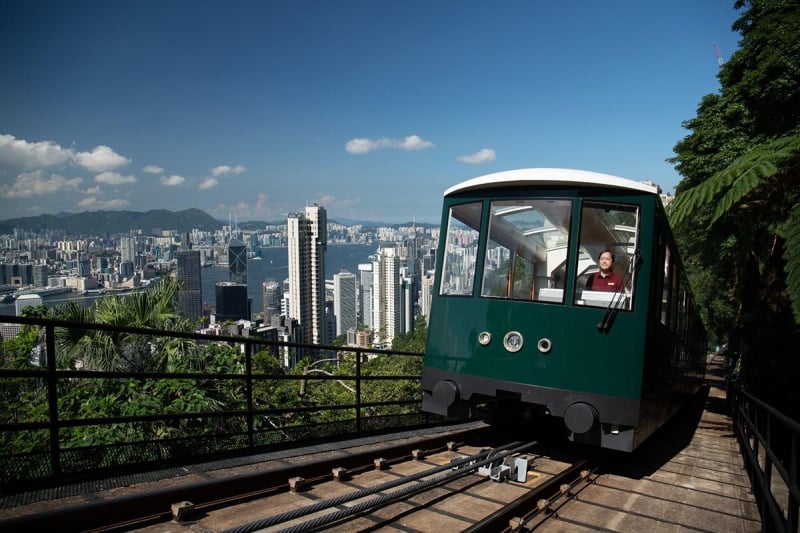 Those who are familiar with Hong Kong will all agree when we say that Victoria Peak (or simply The Peak) is one of the most iconic destinations in Hong Kong and one that is popular among both locals and tourists.
After all, it is here that you can enjoy a stunning view of Hong Kong's cityscape and its gleaming skyscrapers, both during the day and at night. That said, perhaps what is most memorable for most visitors is the ride up to The Peak on the nostalgic Peak Tram.
The Peak Tram, which departs from Central to Victoria Peak, first went into service in 1888, making it Asia's oldest funicular railway. The ride to The Peak takes approximately 10 minutes, offering panoramic views of Victoria Harbour along the way.
In Aug 2022, the Peak Tram reopened with a newly-designed tramcar, refurbished termini, and upgraded facilities, offering visitors a brand new experience when they visit! The tramcar now features larger windows which offer an even better view on the ride up, and more importantly, is now able to ferry 210 passengers in one go, cutting short the waiting time in between rides.
Even the termini have been given a facelift, with engaging entertainment zones having been added to offer an enhanced experience. For example, as you enter the Central Terminus, you'll be welcomed by the Eye of Infinity, a 10-metre tall sculpture that features an evolving light display. Meanwhile, The Peak terminus now features an immersive wrap-around video installation, Go Wild At The Peak which showcases the diverse wildlife found at the location!
4. Visit the first Monopoly-themed attraction in the world, Monopoly Dreams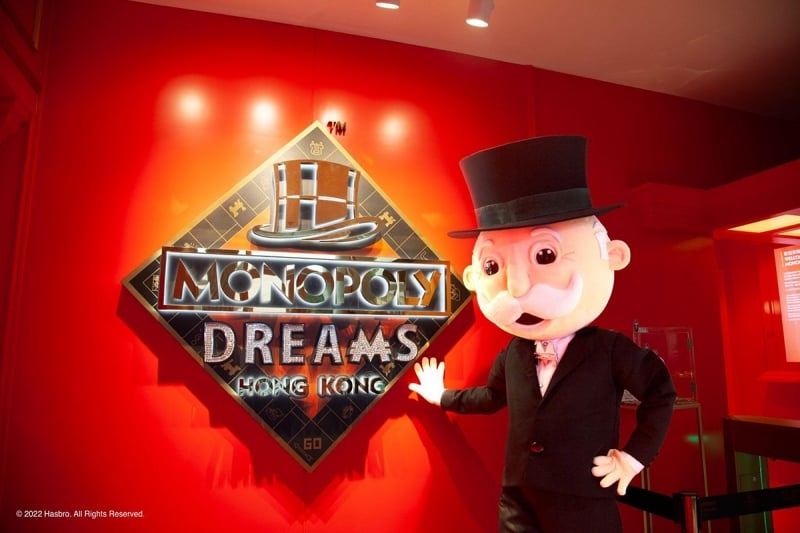 Upon reaching The Peak, you'll notice that plenty of the beloved attractions are still there and have even been upgraded with new additions. However, the one brand new attraction in Hong Kong that stands out at the Peak is the dreamy new Monopoly Dreams which opened in 2019! As the name suggests, Monopoly Dreams is a themed attraction — the first ever of its kind in the world, based on the classic board game. Here, you get to immerse yourself in the colourful world of Mr. Monopoly.
You could print your own unique Title Deed (property not included though!) or try your luck at Fortune Board where you can spin the wheel to win great prizes! Most importantly, don't forget to drop by the souvenir shop to stock up on limited edition Monopoly sets, and to enjoy delicious snacks at Monopoly Cafe! In addition to Monopoly Dreams, other new attractions at The Peak include the new heart-shaped Love Padlock at Sky Terrace 428, complete with AR-enabled special Instagram filters for a lovely photo-op, and new additions to Madame Tussauds Hong Kong's ever expanding-list of wax figures.
5. Rediscover your childhood at the new Legoland Discovery Centre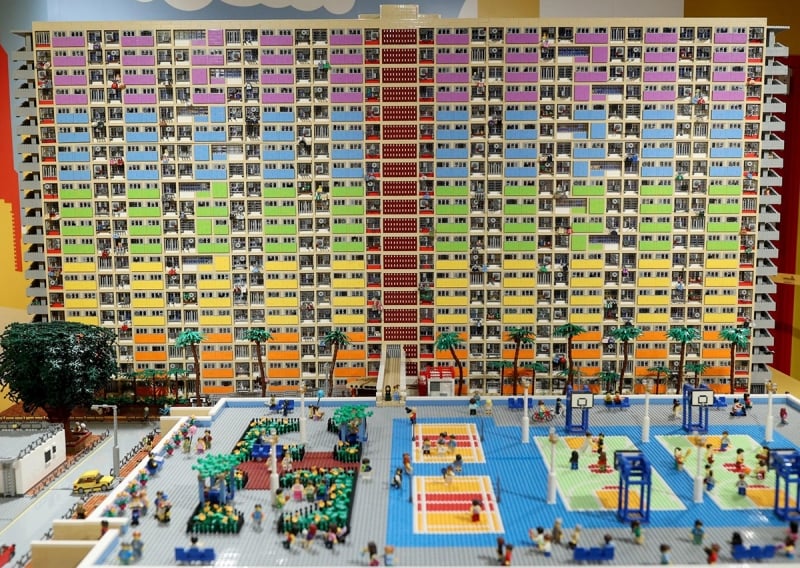 From one nostalgic childhood memory to another, Legoland Discovery Centre is another one of the new attractions in Hong Kong that takes visitors both young and old on a trip down memory lane.
Opened in 2021, this extensive indoor playground is the first of its kind in Hong Kong, featuring interactive experiences, Lego-themed play areas, and plenty of magnificent lego creations. MINILAND® Hong Kong, in particular, is a highlight of any trip as it contains miniature iconic local Hong Kong landmarks, such as the Star Ferry Central Pier, Temple Street, and more, all constructed using over 1.5 million Lego bricks!
Before you leave, head on over to the on-site souvenir shop and treat yourself to some awesome Lego sets that you can build at home with your loved ones.
6. Shop 'til you drop at K11 Musea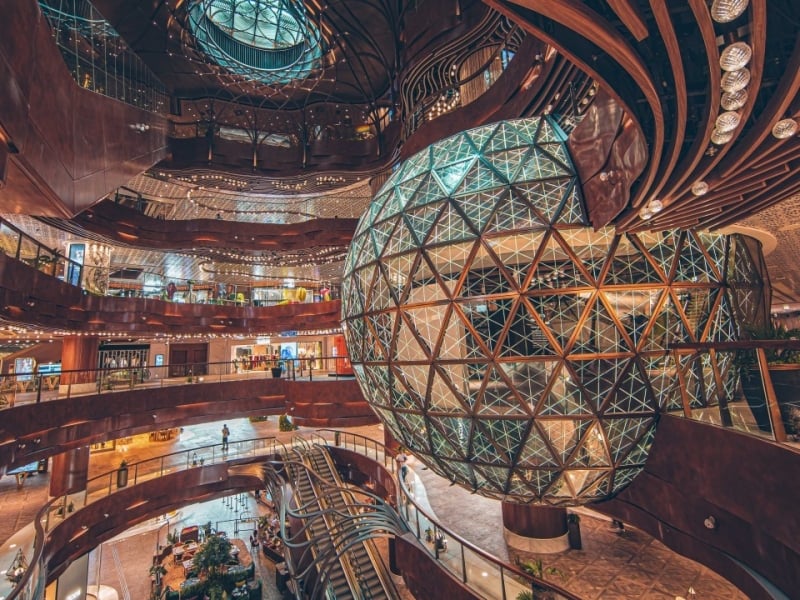 While visiting the aforementioned Legoland Discovery Centre, why not spend some time also exploring the brand new mall in which the playground is housed? Despite only opening in 2019, the swanky K11 Musea has quickly become one of the trendiest shopping malls in Hong Kong, which is saying a lot given the city's reputation as a shopping paradise.
Dubbed the "Silicon Valley of Culture", K11 Musea features an incredible array of internationally renowned retail brands including Asia's largest MoMA Design Store, destination eateries, and art installations, seamlessly combining shopping, art, and culture under one roof. There's also a Nature Discovery Park and plenty of art galleries and exhibitions to admire. In short, it is one of the newest attractions in Hong Kong that caters to all sorts of travellers.
7. Head up Sky100 to the Hong Kong Observation Deck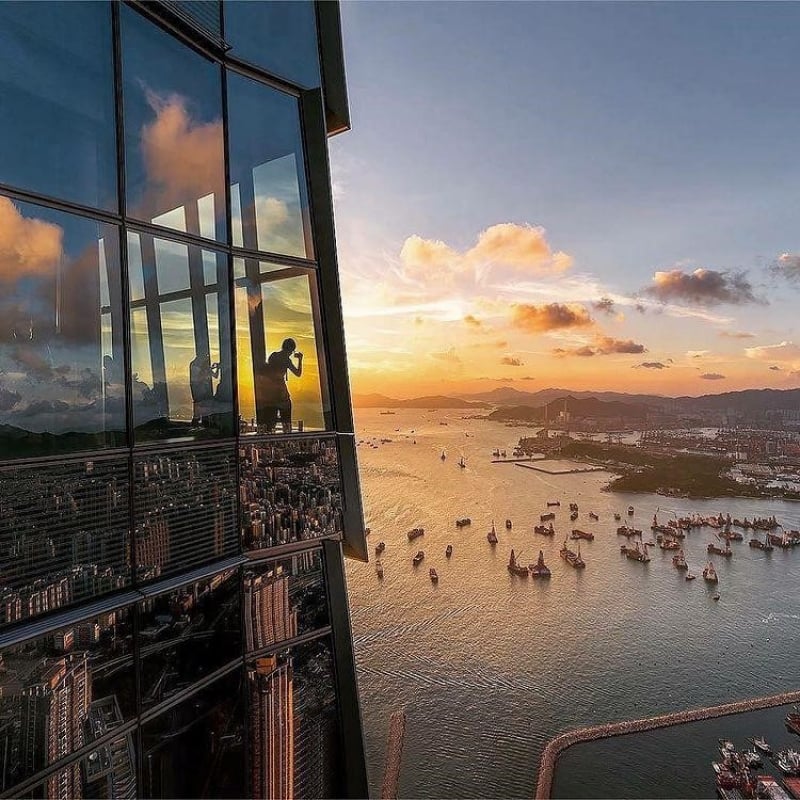 Most travellers are familiar with Hong Kong's iconic skyline, especially the silhouette of the towering skyscrapers across both sides of Victoria Harbour. But have you ever admired Hong Kong's mesmerising skyline from up high?
The Sky100 Hong Kong Observation Deck is located on the 100th floor of the International Commerce Centre in West Kowloon. Featuring stunning floor-to-ceiling windows, the observation deck offers alluring views of Hong Kong Island, Victoria Harbour, the Kowloon Peninsula, and Tai Mo Shan. You can even use one of the telescopes there for an even closer look!
While the observation deck opened in 2011, it's still one of the lesser-known attractions in Hong Kong, despite featuring plenty of interactive zones and multimedia exhibits. We recommend visiting at night for an even more memorable view as you gaze out at the gleaming lights in the city.
8. Take an artsy step back in time at Tai Kwun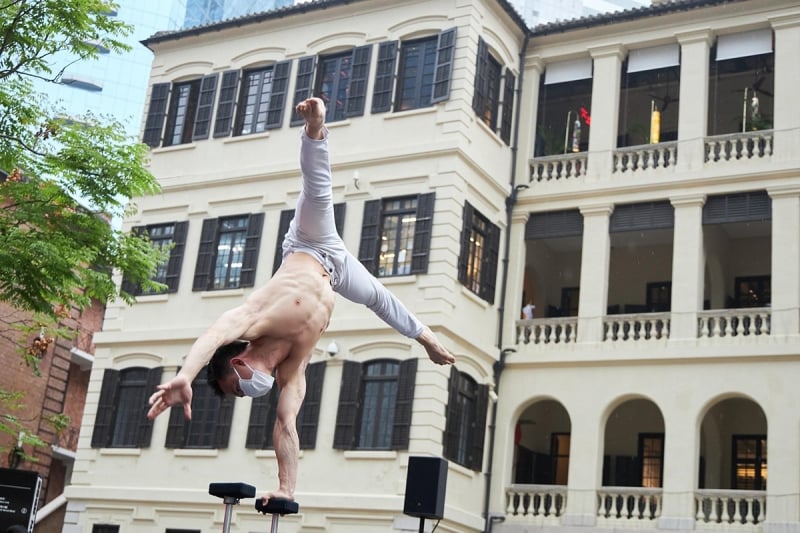 When it comes to Hong Kong, something that many travellers seem to forget is that there are memorable experiences even beyond the typical touristy areas. Take Tai Kwun, for example, an ambient cultural oasis located smack dab in the middle of Central's SoHo district. Despite this, the atmosphere at Tai Kwun is far removed from the bustling streets of the area surrounding it. Instead of endless skyscrapers, here you will find 16 revived heritage buildings that date back to the 19th century!
A visit here is akin to taking a step back in time to witness Hong Kong in its olden days. At Tai Kwun, you'll be able to check out three Declared Monuments of Hong Kong, important heritage sites that tell the history of the city. These are the former Central Police Station, Central Magistracy, and Victoria Prison, all of which have been meticulously conserved to retain their authenticity. There are also open spaces here where you can take plenty of photos, and even enjoy music and theatre performances, attend film screenings and explore exciting new digital art installations.
Also read: When Old Meets New: 9 Cultural Attractions in Hong Kong to Visit
With so many new attractions and experiences in Hong Kong, it's high time to start planning your return visit to the bustling city. Hopefully, we can soon travel quarantine-free to Asia's World City, because we just can't wait to be able to experience the colourful faces of Hong Kong again!
---
Brought to you by Hong Kong Tourism Board.