"Are you up yet? You need to be at the station by 8am", read my mother's message sent through Viber. "Yes, mama. But remember, Vietnam is an hour behind the Philippines. I promise to be at the station in time for my 9am departure", I replied. "Still, try to leave as early as now if you can, you have no idea how bad the traffic will be. You can eat your breakfast there".
I checked Google Maps to reassure her that it only takes a few minutes to travel from my hotel to Ga Saigon, the main railway station in Ho Chi Minh. I'd been staying in the city for not even six hours following my red-eye flight from Hong Kong. With hardly any sleep, there I was, about to take on the 34-hour journey from Ho Chi Minh to Hanoi aboard a single train. I was excited as heck.
"Don't forget to pray the rosary at least once during the journey and always update me so I know that you are okay", my mother reminded, as she always does whenever I would leave the Philippines on my own. I quickly packed away my things and ran downstairs for check-out. There was a taxi stationed in front of the building and I immediately went to its direction. Through the front window, I showed the driver a copy of my Ho Chi Minh to Hanoi train e-ticket, which he recognised right away. I arrived at the station 17 minutes later.
Also read: What to Expect When Travelling to Vietnam: Expectations vs Reality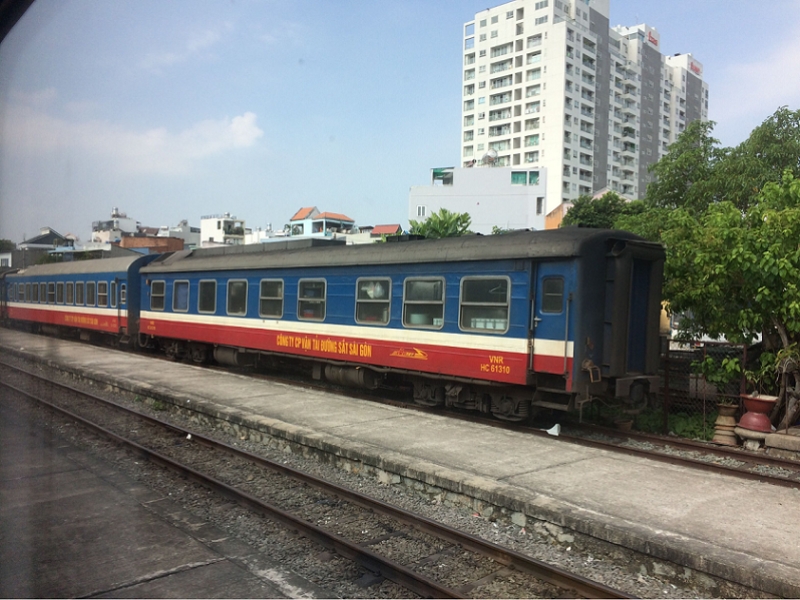 Ho Chi Minh to Hanoi by train: Day 1
Empty. That was my first impression upon entering Ga Saigon. If I could count the number of people in and out of the station, I'd say there were no more than 50. Strange for a major railway in the city, I thought. I went directly to Circle K inside the station to buy some supplies. Then, with my boarding pass already saved on my phone, I breezed through the building, to the platform and into Cabin 9, which I had pre-chosen while booking online because I wanted to be as far back of the train as possible.
"Weren't there supposed to be queues? Incoming passengers scrambling around for their luggage? Station officers shouting announcements endlessly?". I went out of the cabin to make sure I was on the right train (or at the right station for that matter) and the staff said yes. Great! Perfect, actually. With only a few people on board, there'd be less noise during the journey and I could take selfies conveniently outside my four-bed berth. I only shared it with one other passenger — a local in his early 50s, I suspect, who speaks zero English but came with an amazing playlist of Vietnamese love songs which I secretly enjoyed.
By 9am, the Ho Chi Minh to Hanoi train departed just as a crew member announced the itinerary for the trip along with other reminders. I positioned myself beside my window to get ready for spectacular views. But it wasn't until the third hour or so into the journey that we finally got out of the city and saw views without village walls and blocking concrete structures. By then, the scenery outside began to remind me of one of the reasons why I fell in love with Vietnam when I first set foot in the country in 2016. Simple, laid-back and filled with lush greenery everywhere.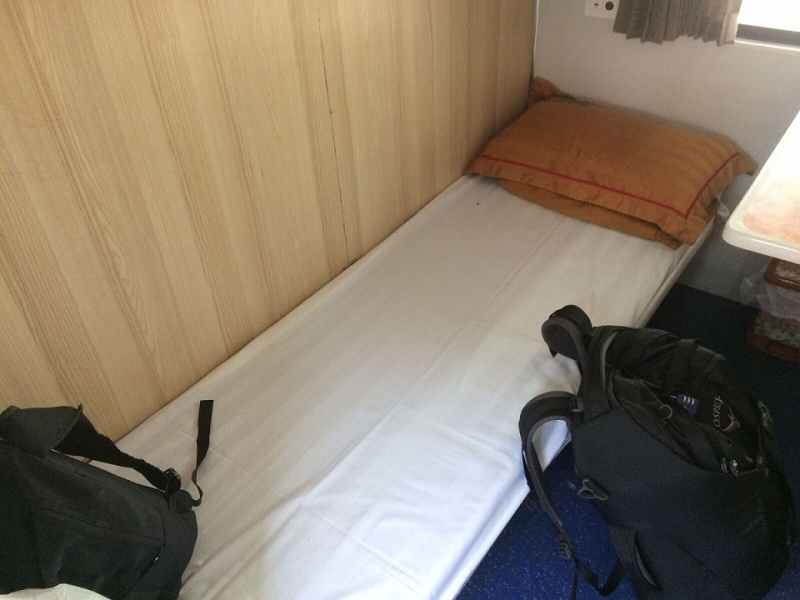 Before taking this trip, I had read online about how Vietnamese meals were served on the train. One article said that an old lady normally shouts in Vietnamese around 11.30am for lunch and 5.30pm for dinner. I doubt I was taking the exact same train the writer was on during her trip (about 10 trains operate on the same route), but I made sure to pay attention. Other than a half-emptied 16-piece Oreo pack, I only had MilkyWay bars and a piece of banana with me (I bought two but ate the first one as soon as the train left Saigon) for sustenance.
Indeed, there was a loud call in the hallway before noontime and I could hear carts coming closer. There were three of them. One, which the old lady carried, contained the main course comprised of meat, vegetables, egg and rice. A pair of male train staff carried the rest of the carts, which had the soup and utensils, and drinks, respectively. It was ₫40,000, or no more than ₱100, for everything.
It was hard enough to keep the plastic cup of soup (yes, no bowls) still during the trip, let alone devour my entire lunch while keeping an eye for Instagram-worthy landscapes through the window. My roommate, less bothered by the sceneries, finished his meal in less than 10 minutes.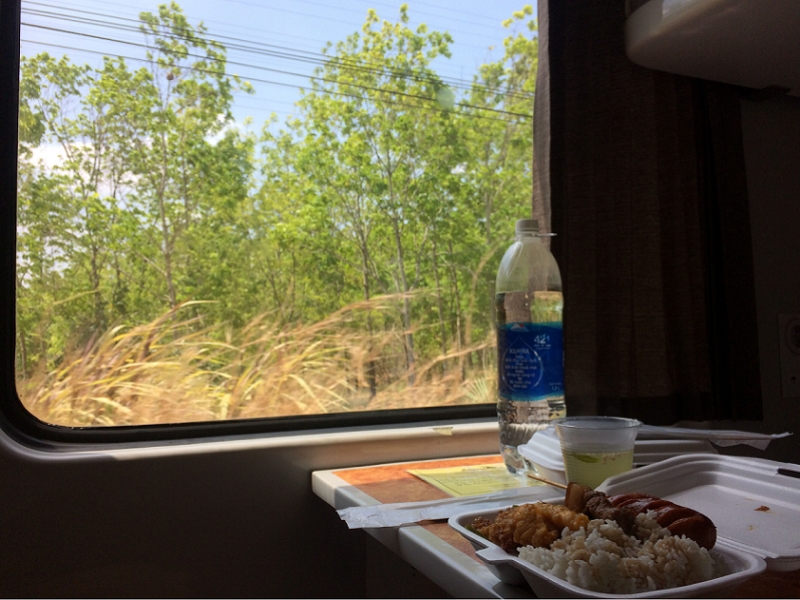 By late afternoon, views of the ocean took over the right side of the windows while the other stayed filled with rugged mountains. I continued standing by for photo opportunities through the rest of the afternoon while squeezing in quick naps when I was sure I wouldn't catch anything "interesting" outside. Of course, this proved to be quite a challenge.
I took my third nap on the train prior to sunset. About the same time, the old lady entered our cabin carrying our dinner. I got up straight away. "Right, I completely forgot about the time". The guy carrying the soup cart (henceforth "the soup guy") slid his head through our half-open berth door to ask me if I wanted to buy dinner, and I signalled yes. Half-awake, I took out my money pouch from my smaller backpack and handed him my payment. He looked at me in confusion and I began to wonder if I had given the correct amount. Then, he started speaking to me in Vietnamese while holding one of the bills in front of my still groggy face. "Shoot. He's holding a Hong Kong Dollar bill." I just mistook the bills for Vietnamese Dongs!
Embarrassed, I asked for the two HK$20 bills I gave him and took out ₫100,000. He gave me ₫60,000 change. But it didn't end there. The soup guy gestured for me to take out my HKD bills again and excitedly grabbed one of them from my hand. "You want to have it?", I asked him in complete English even though I knew for sure he wouldn't understand.
The other guy who carried the utensils took a second look at the bill. I saw their eyes lit up, like a couple of 10-year-olds receiving their first set of gaming device on Christmas day. A lady at Tan Nhat Son International Airport already ripped me off earlier so I couldn't afford to give some of my money, no matter how small, away. Through a few hand movements, again, I told them that I was willing to exchange it for Dongs instead. The soup guy agreed. After that, both men followed me back into my cabin, the latter still holding the HKD bill. In the local language, he tried to start a conversation with me. Nods and a smile. That was the best I could do despite learning a bit of their language two years back. But that didn't stop them from staying in the berth for a few more minutes, admiring their present, before finally going back to duty.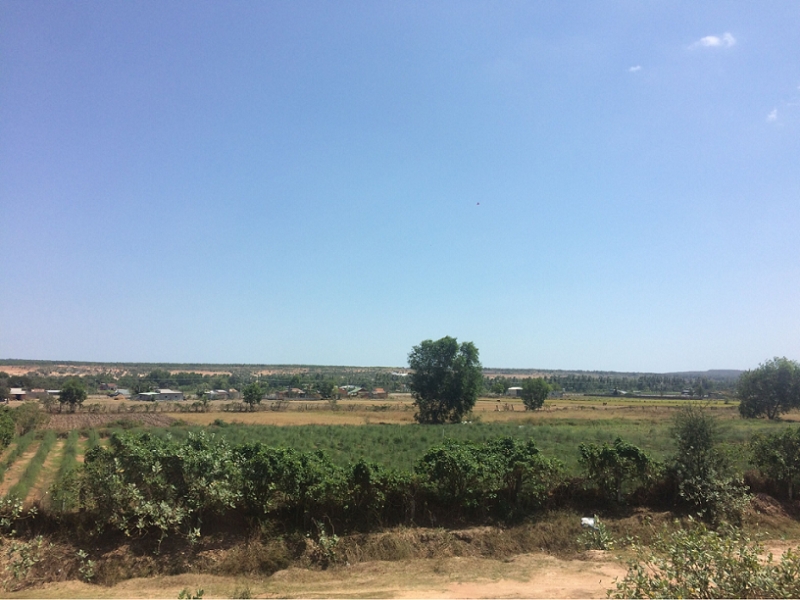 Eight hours in and I'd already been to the toilet three times. It was located beside one of the cabin's entrances, about 30 steps away from my berth. Although small, it had everything from a window, a bidet, a sink and a small trash bin. Other than the floor being a bit damp, I would say it was decent enough for a nearly two-day transit. There were additional bigger sinks stationed in either side of the cabin, each with its own mirror, a soap dispenser and a hand dryer. Opposite one of them was a coffee and tea machine, where the elder passengers from my cabin would usually head to for a drink every now and then.
Less than satisfied with a similar long-haul train journey from Thailand to Malaysia in 2017, I made sure to have a lower bed in a spacious (in train standards) soft-sleeper berth for this trip. I was able to place my 46-litre backpack and bulky trekking shoes under it, and stretch my legs comfortably. There's a metal handle at the foot of the bed (I guess for coats or towels) and two smaller ones in the middle where I hung my smaller backpack and a plastic bag containing my supplies. At the other end was my personal lamp and a USB socket. Meanwhile, a table about the size of an ironing board separated the two bunk beds for dining purposes. Under it were two additional sockets and a trash bin. Each guest also had a complimentary pair of slippers, which meant I didn't have to take mine out which I'd thoroughly packed in my main bag.
With nothing else to see through the window that night, I cuddled up in my bed and opened my laptop to watch some videos to sleep. As early as 9pm, I was lulled.
Also read: Hanoi Travel Tips for First Time Filipino Travellers (From a Former Expat)
Ho Chi Minh to Hanoi by train: Day 2
At 7am, I woke up alone in my berth. My roommate had gotten off in the middle of the night at one of the stations near Da Nang. We heartily bid each other farewell despite not having had the chance to get to know each other. I went out to go to the bathroom and promptly smelled the aroma of pho down the hallway. The other passengers in the cabin were already having their breakfast. The old lady must have gone by already while I was still sleeping. It was a good thing I kept the other banana from yesterday.
When the snacks cart came, I ordered a hot cup of milk coffee for ₫20,000. The person manning it was the soup's guy colleague who also took an interest in my HKD bills the day before. "One dollar, one dollar", he said as I paid him the money. I then figured out he was also asking for HKD. So, I searched my pouch for a HK$10 coin and gave it to him, which he was happy about. I went back to my bed to eat my late breakfast and lazily prepared my phone for the day's window photography sessions.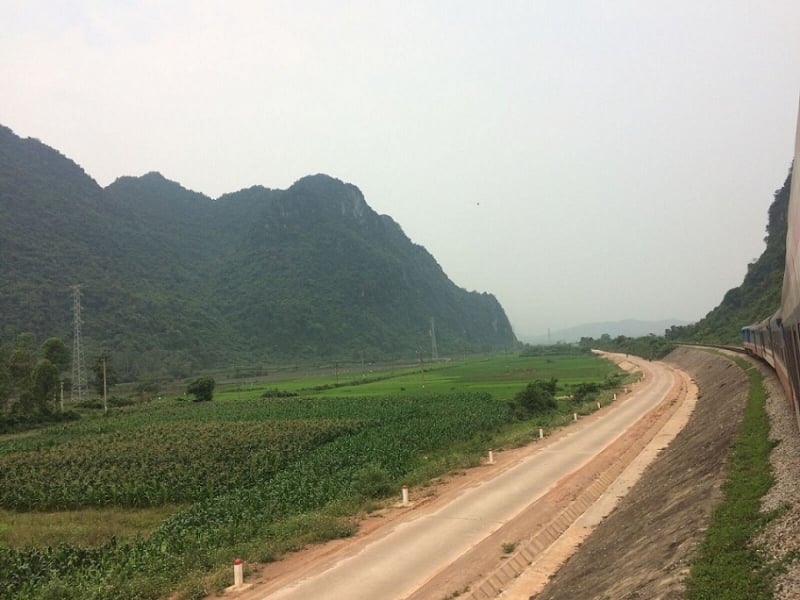 Weird. We seemed to be moving in the opposite direction this time. Yet again, I questioned whether I was on the correct train or not. But I immediately shrugged off the thought recalling my encounter with the Ga Saigon train station personnel on the first day. There was no need to worry.
It felt colder in the cabin, too. Yet, even with the thick morning fog, I could make out trees, bushes and rice fields out the window and see how green they were. Quaint temples also started to appear in the most random places. Naturally, I snapped a few photos for documentation.
Compared to yesterday, there were more "curves" in the rail which gave me a chance to see how far back my cabin was on the train. The vehicle was shorter than I had expected. This made it difficult for me to catch a decent shot of its front half. When I went back to the toilet, I began to think of ways to improve my shots. "Give it up, you don't have the proper equipment anyway", I told myself. It was then I realised the toilet window was slightly open, just enough to slide my hand through the opening while holding my phone. Alas! The moment we passed by tall limestone mountains like the ones I'd seen in Ninh Binh before, I took some shots and a short clip. "That would do".
11am. I'd been on the Ho Chi Minh to Hanoi train for over 24 hours already and I didn't feel even a tad tired. The lunch lady and her convoy of carts came to our cabin earlier than usual. The meal pretty much resembled the one from the previous day, except this one had those Vietnamese meatballs I grew fond of in my first time in Hanoi. I got more pumped up thinking I was getting closer to my second home.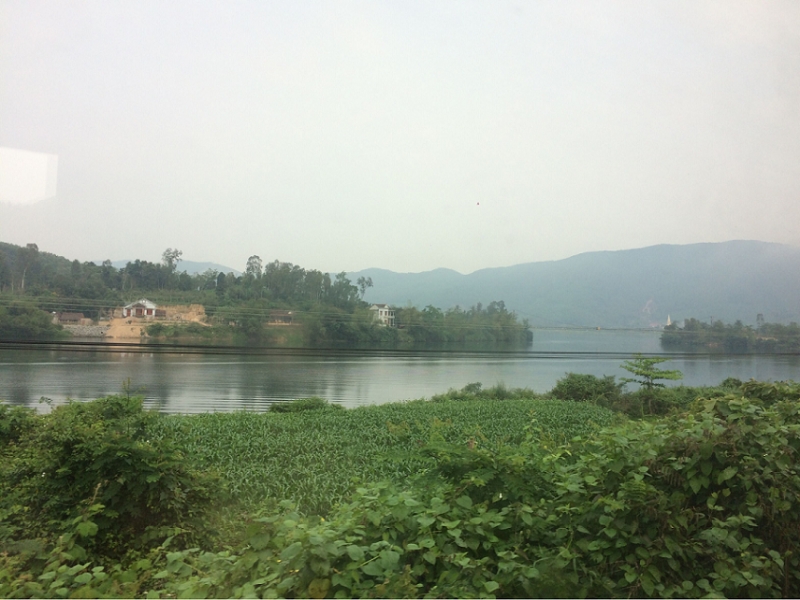 After lunch, the stunning landscapes turned to the right side of the train. There were now jungles, rivers and French towers popping out in many of the villages. Most of the views remained covered in fog, but I made the effort to get out of my bed and still watch them from the hallway. Suddenly, I felt someone briefly tap me on my arm. It was the old man from the berth next to mine who I usually shared the space with, but hadn't had the opportunity to talk to. He was asking me something in Vietnamese, and I stood there perplexed. How could I answer this man when I couldn't even understand what he was saying?
"Where are you from?", I made up my own translation in my mind and, convincing myself it was right, I told him "Philippines", intentionally silencing out the "s" as I knew this was how the Vietnamese pronounced my country's name locally. "Philippine". He repeated it in question. I nodded and he smiled, seemingly satisfied. I guess I was right. While we went back to our positions, I couldn't help but feel bad about how poorly I must have handled the situation. I didn't want him to think I was a snob who cared for nothing else but to take photos. So, I started to think of something to make it up to him.
"What's the native word for 'beautiful' again?", I thought to myself. "Ah, đẹp!" I subtly angled myself to face him. Upon catching his gaze, I pulled out a smile and cheerfully said "Đep, đẹp!", referring to the views outside, while holding my thumbs up. He nodded, then smiled awkwardly, as if telling me "I have no friggin' idea what you just said". Did I even pronounce it correctly? "I guess you'll never know, Joser."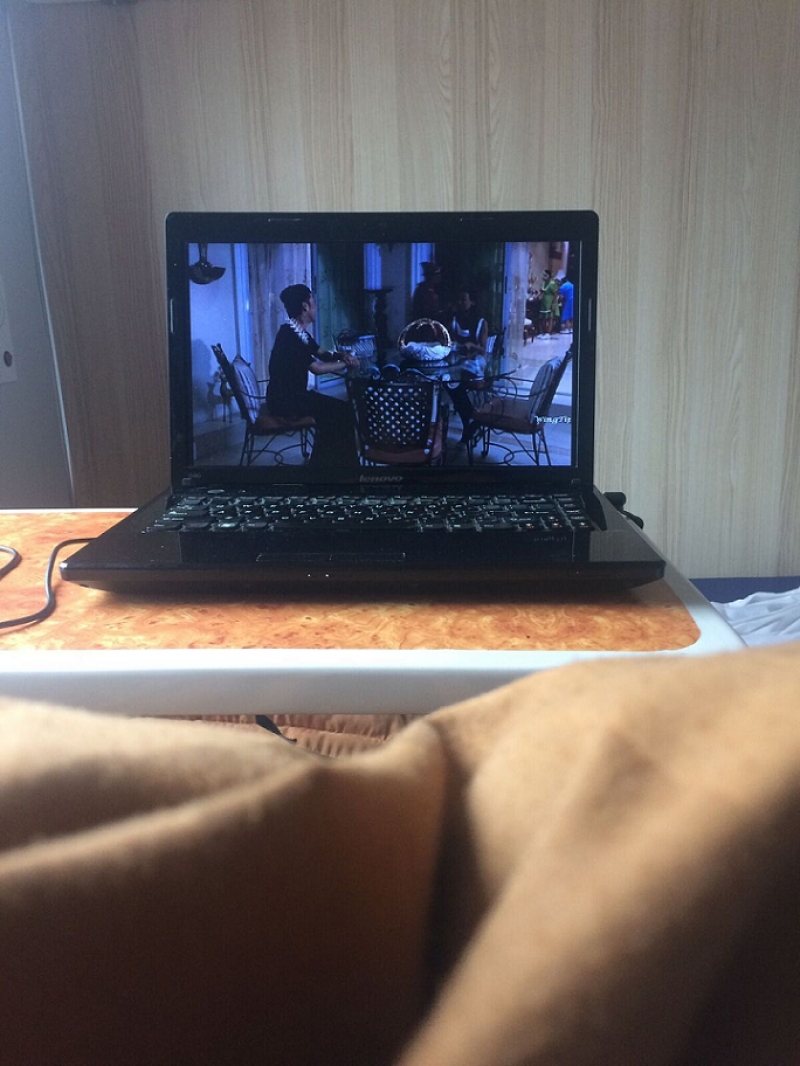 Back in my cabin, I continued watching videos while writing on my laptop. More and more passengers rode the train every time we stopped in cities most of which I'd never heard of. So far, the majority of them came from Vinh, the biggest city in central Vietnam. By this time, I still had the berth to myself. Whether I actually wanted to be accompanied or not on my last few hours on the train, I wasn't sure. Despite the growing noise in the cabin, I managed to take a nap once more.
Take photos, shoot clips, watch videos, write, walk around, stand by the hallway, go to the toilet, wash and dry hands, eat Oreo, drink water, order meals, take a nap… Just as I was getting the hang of life on the Ho Chi Minh to Hanoi train, we were less than two hours away from our destination. The thought of being back in the city that saw me live for the second time, where I met absolutely amazing people from all across the globe and ate the best and worst servings of bun cha ⁠— finally started to hit me.
By 5.30pm, I hoped for the food carts to come by one last time, but they never did. I'd eaten enough chocolates for this weekend and I longed for real food. No more soup guy. No more window sightseeing with the old man from the neighbouring room. And no more struggling to finish my Vietnamese food and drinks in front of my small berth table.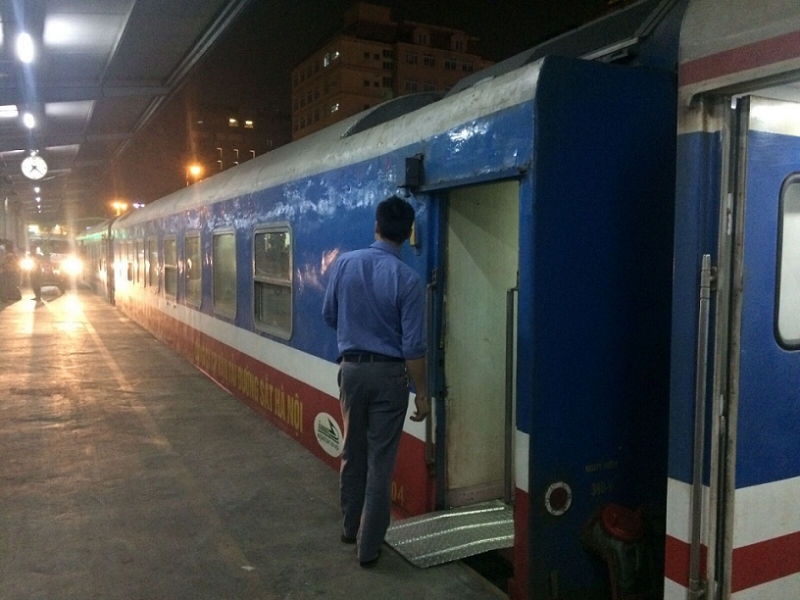 Every now and then, the same green fields appeared out of my window. But, they would quickly vanish to make way for more villages, shops and apartments. I didn't mind. I lived in one of them many months ago, in fact. No more uninterrupted writing on my laptop because I normally can't help connecting to the Internet when there's any. And there's none on board.
An hour and four minutes till Ga Hanoi, a family of three came into my berth. I removed my laptop from the table as they settled in the opposite bunk. But first, the father switched the main room light on, which I'd turned off the night before. I'd forgotten the berth had any lights to begin with. He then helped his son, who was about five years old, climb up the upper bed which they shared. The mother stayed in the lower bed.
The train journey continued and we found ourselves in the middle of a highway. I started seeing yellow, blue and red buses, which I remembered taking almost every day when I resided in the country for five months in the past. The buildings grew taller and taller, and the store lights got flashier. Not a mountain, ocean nor rice field in sight.
7.12pm, local time. Just as my booking indicated, we arrived in the Vietnamese capital. I got my bags, threw my remaining trash in the tiny bin, put on my favourite Lou Hoàng song and skittishly made my way out of the train. Well, not after taking a few more photos to commemorate my nearly two-day Vietnam train journey, the longest transit I've ever taken until now. "Ahh, home". That was all that's left to say.
Watch my entire Ho Chi Minh to Hanoi train experience below!