Last month, I visited Hong Kong for the third time and it was by far the craziest, most unpredictable trip I've had… partly because I wanted it to be. There were a lot of running, sweating and even a few failed hitchhiking attempts. After one such attempt to get to Macao (my companion had problems with his passport so we urgently needed to go to the neighbouring city), we found ourselves in Lantau Island to cross the new Hong Kong to Macao bridge by bus.
Opened in Nov 2018, the 55-km long Hong Kong-Zhuhai-Macau-Bridge (HZMB) is the world's longest sea crossing. It serves the cities of Hong Kong, Zhuhai and Macao, and plays a key part in China's plan to develop a Greater Bay Area in the region. For Filipinos travelling between Hong Kong and Macao on a budget (which are both visa-free to Philippine passport holders, by the way), the HZMB is a great way to cheapen your expenses while exploring both cities. Not to mention, crossing the Hong Kong to Macao bridge will cut your travel time to just 30 to 45 minutes, in contrast to the one-hour ferry ride. Here's how to do it based on our personal experience!
Also read: Hong Kong-Zhuhai-Macao Bridge Now the World's Longest Sea Crossing
Hong Kong to Macao bridge by bus in 4 easy steps
Step 1: Make your way to the HZMB port
The HZMB port lies in Lantau Island, the largest island of Hong Kong. But, most of you probably know it as simply the home of Hong Kong International Airport (HKIA) and Hong Kong Disneyland.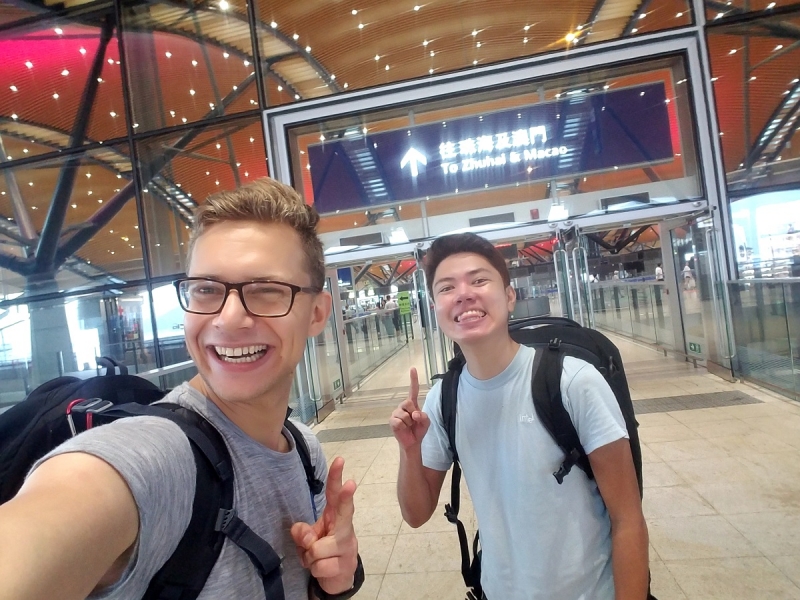 If you're going to Macao immediately upon arriving in Hong Kong, just take bus A21 and get off at the next stop, which is the HZMB port itself. If you're coming from downtown Hong Kong, take the same bus (going north from Nathan Road) and get off at the stop before HKIA. The entrance of the port looks a bit like that of the airport. So you don't get confused, make sure to spot the "To Zhuhai & Macao" sign before alighting. Or, simply ask your bus driver by saying "Macao" or Zhuhai (pronounced choo-hai).
Step 2: Go through immigration
Once at the entrance, make your way to the immigration counters. Yes, you'll first need to go through immigration even before you can purchase your tickets! Take out your passport with your Hong Kong arrival slip, and fall in line. If I remember correctly, there are at least 20 counters inside the port. By the time we arrived (around 2pm on a Saturday), there were nearly no other passengers queuing so we just went straight to one of them.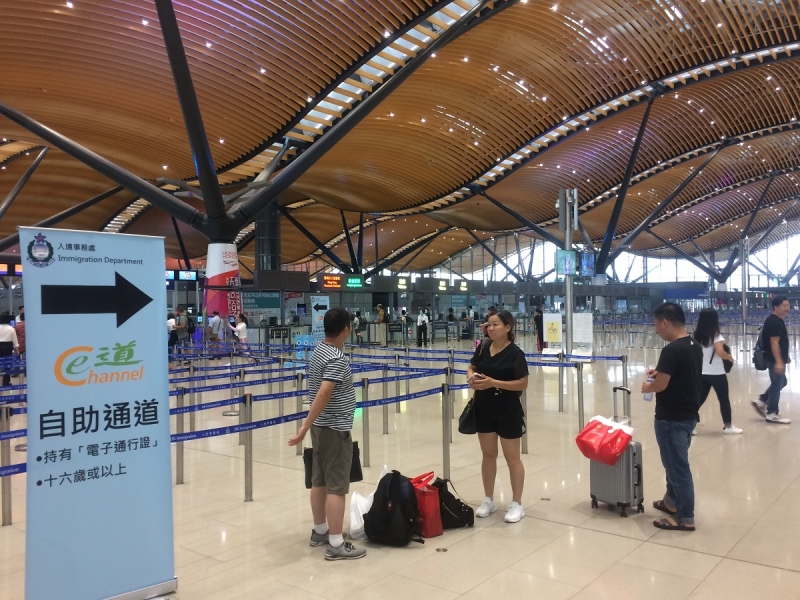 Like in HKIA, the officer will usually just screen your passport and take your Hong Kong arrival slip. Then, you're good to go! In our case, my friend first had a quick talk with the officer in our line to explain his situation. Everything went smoothly on my end.
Step 3: Buy your tickets
After successfully passing through immigration, it's time to purchase your Hong Kong to Macao bridge bus tickets! From the immigration counters, turn left and walk to the direction of the ATM slash giant smartphone-like machines. This is where we got our tickets using the Octopus Card, which costs HK$65 or around ₱430 per way (HK$70 or around ₱460 from 12am to 6am). Service counters are also available if you prefer paying by cash.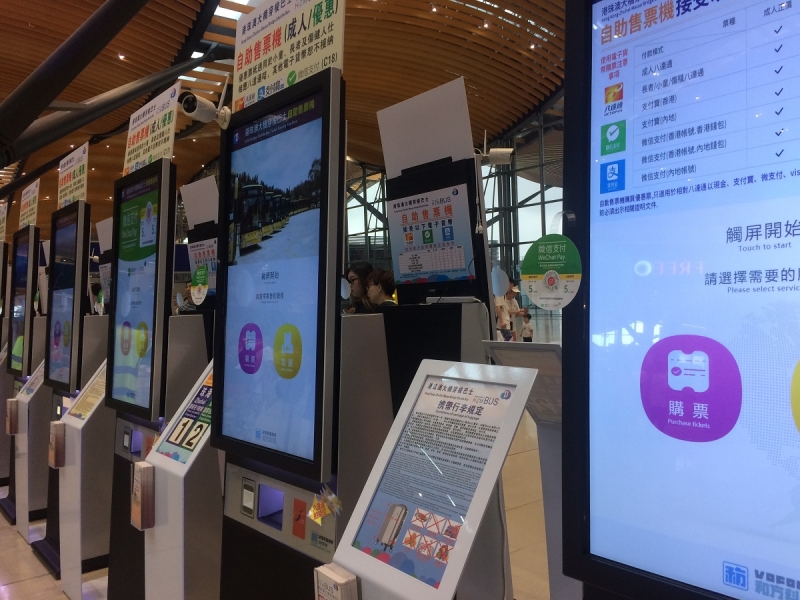 Follow the steps shown on the ticket vending machine screen. As I recall, it was as quick as buying or loading a Beep Card in Metro Manila! However, there are also port officers standing by the area who you can ask for assistance. At the end of the process, the machine will issue you your ticket (which doubles as your boarding pass). Keep it with you until you actually make it to your bus!
Step 4: Time to board the shuttle!
When you have your ticket, you can go directly to the departures area at the back of the port. It's basically a parking lot filled with the Hong Kong to Macao bridge buses. Head towards the port exit wherein a port official will be checking your ticket. Then, leave the building and cross the bridge until you reach the boarding gates, in which another batch of officers will be waiting to scan your document.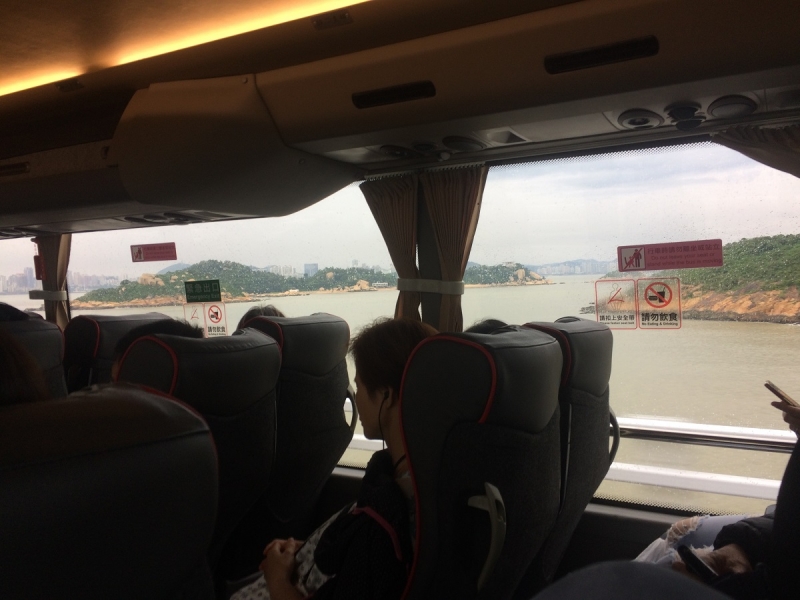 Finally, follow the path to the parking lot and look (or ask) for any Hong Kong to Macao bus. There should be plenty of them there. Present your ticket or boarding pass to the conductor and hop on. After that, enjoy the view and let the fact that you're crossing the world's longest sea crossing sink in!
Hong Kong to Macao bridge by bus tips and reminders
From Macao, you can only use cash or credit card to pay for your bus ticket going to Hong Kong (unless you have a Macau Pass). My companion had a slight issue with this as he didn't bring enough cash with him (HKD or MOP) so he had to use his credit card. Basically, have extra cash with you!
The Hong Kong to Macao bridge bus journey ends at the HZMB port in Macau, which lies on an artificial island about 10 minutes away from the Macau Outer Harbour Ferry Terminal. Upon disembarkation and passing through immigration, you can ride any of the buses at the arrivals area going to downtown Macao. As we were really travelling on a budget, we took the free shuttle going to the Macau Outer Harbour Ferry Terminal, then hopped on the Grand Emperor Hotel free shuttle to take us to the city centre.
It was pouring the entire time we were on the bus so we didn't get the chance to enjoy the view until we actually made it to the Macao side. Within the last 10 minutes of the ride, you'll be greeted by the view of Macao's lush islets on the right side of the bridge. On the left, you have the city skyline, highlighted by the towering Grand Lisboa.
The bus trips go on for 24 hours every day, so you can pretty much do the journey anytime you wish. But if you're after the view, definitely do the trip during the daytime. And, if you can, time your Hong Kong and Macao visit during the region's summer season for less fog or rain!
You can find toilets within the passenger clearance building of HZMB port itself, but none inside the bus or the parking area outside. You won't find food stalls in the parking area nor complimentary snacks on the bus either. If you need to buy refreshments for the journey, you can do them while inside the building around the immigration and ticketing areas.
Also read: How I Spent My First International Trip in HongKong and Macau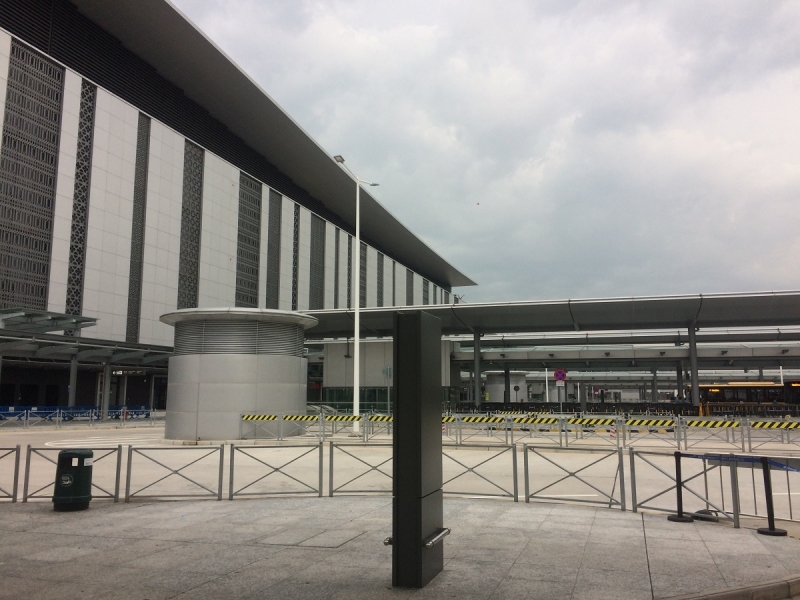 Ready to conquer the world's longest sea crossing? Just follow these steps and tips, and it may just be one of the most memorable land journeys you'll take while exploring East Asia! Meanwhile, for affordable flights to Hong Kong or Macao, regularly visit our Travel Deals section and join our Facebook group Flight Deals – Philippines!
---
In light of the Hong Kong protests, make sure to check with your airline first for possible cancellations or changes on your flights to Hong Kong. For safety purposes, always stay updated on where these events might potentially take place by asking locals or following Hong Kong news outlets. Have a safe trip!