Contributed by Jiejie The Traveler
It's been a packed, epic, crazy yet worth it temple run and backpacking journey, I should say. After months of saving and planning, and two weeks of sleepless and nosebleed-worthy nights just to finish our itinerary with a very small budget – finally, here comes Indochina!
Until now, I can still feel the excitement, amazement and the fulfilment I felt after crossing Indochina (Cambodia, Vietnam, Thailand and Laos) off my bucket list. It was a milestone for me and my friends to pull off a four-country tour in just six days. Was it tiring? Yes! But it's all worth it, and it's also really fun!
Travelling to these countries in the shortest possible time, given our limitations of having full-time jobs and just having ₱14,000 to spend for the whole trip (excluding airfare) – was a dream come true. All these would not have been possible if not for the promo flights of Cebu Pacific which we booked six months prior. We booked a one-way trip to Siem Reap, Cambodia and another via Bangkok, Thailand as our exit point.
During our second day in Cambodia, I had been receiving a lot of messages asking for my complete itinerary and budget. I know a lot of you are wondering how we conquered Indochina in a short time, so here's how.
Also read: Exploring Vietnam, Cambodia and Thailand for Just ₱15K All-In
Day 1: Siem Reap, Cambodia
After a two-hour flight from Manila, we arrived in our first stop, Siem Reap, Cambodia.
Siem Reap is very beautiful and has so much to offer. It is home to iconic ancient temples which are rich in history and architecture. It is also one of UNESCO's World Heritage Sites and is truly one of the must-see places in the world.
A lot of travellers come here every day waiting as early as 5am just to witness the most famous Angkor Wat sunrise. These people, who have different faces and come from different races, are scattered around the temple with their cameras and tripods ready to take their most Instagramable shot of Angkor Wat's silhouette.
According to the people I've met during our stay in Siem Reap, it is still a debate as to how long should one stay in the city to be able to see all of the temples. But as for my own experience, one day is enough and totally worth it.
These temples are somehow alike although they each have their own stories. So if you are planning to do a temple run, you better know which temples you want to see.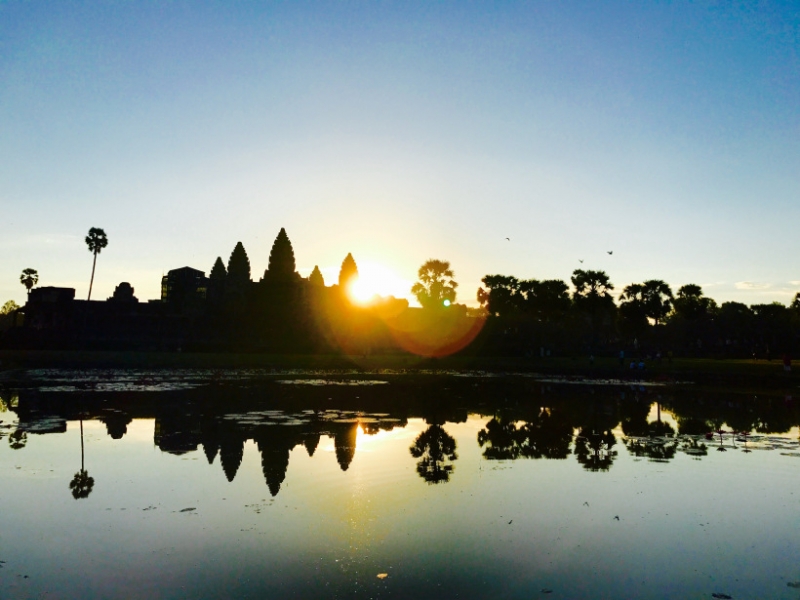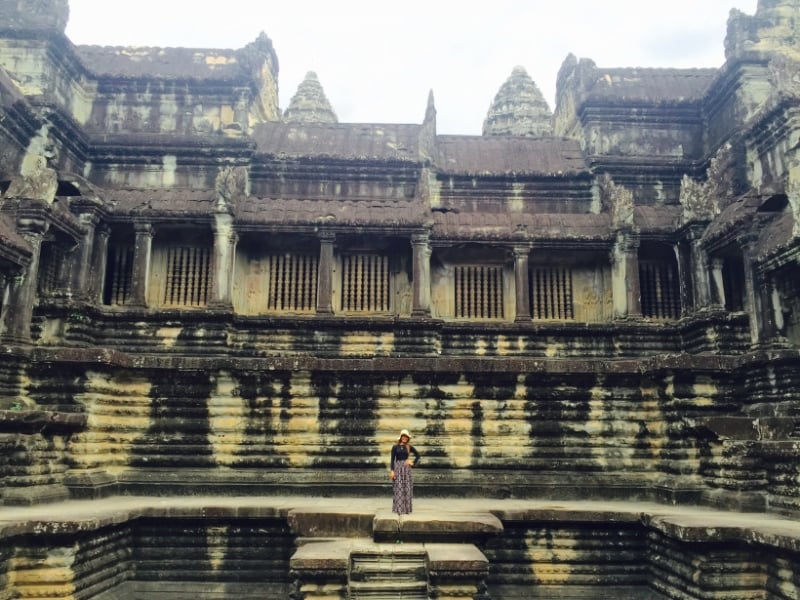 All of the temples are amazing. But there are also the most visited ones. Here is a map for reference.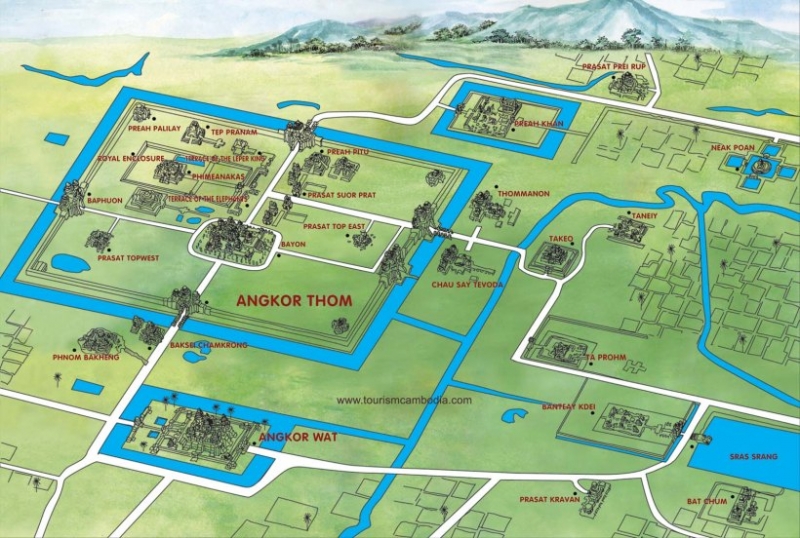 Expenses
Transportation: ₱612.50
Hotel: ₱437.50
Angkot Wat Ticket: ₱1,000
Food: ₱180
Total: ₱2,230
Note: As of Feb 2017, the Angkor Wat One Day Pass costs about ₱1,900.
For a detailed guide and itinerary, you may read my blog, One day in Siem Reap: A real Temple Run Adventure!
Day 2: Phnom Penh, Cambodia
Phnom Penh is the bustling capital of Cambodia. It was once a gem but was tarnished by the impact of war and revolution. The city still maintains considerable charm with so much to see, from it's Angkorian architecture and palaces to their amazing boulevards and more.
We visited all spots which were previously used as jails and killing areas like the Toul Sleng Genocide Museum and the Choeng Ek Killing Fields. Until now, I can still remember how they gave me goosebumps and took me back to the era of darkness and wars. I can't help but feel sad for the victims.
Nevertheless, it was still an amazing experience of being able to see and experience the city's history and culture. I recommend you to come and see Phnom Penh now as it may not be the same in the next few years.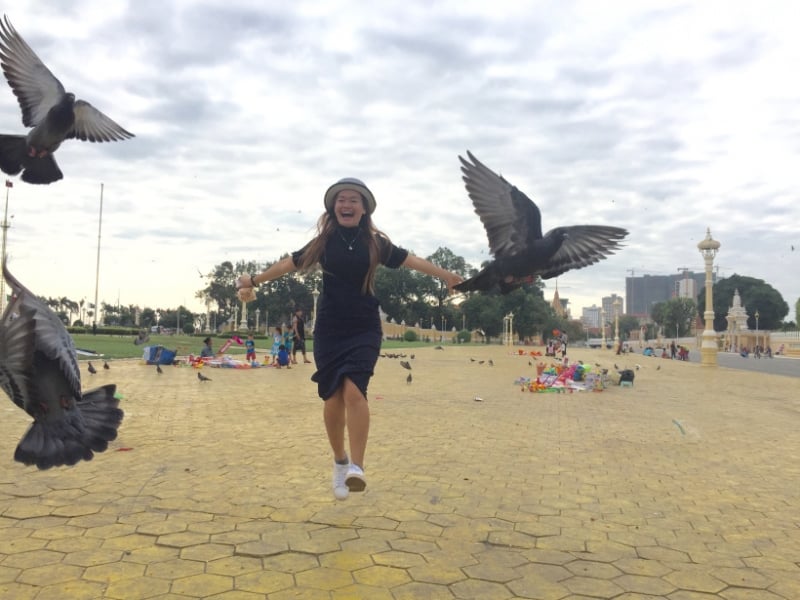 Expenses
Transportation: ₱875
Hotel: ₱250
Tickets/entrance fFees: ₱650
Food: ₱362.50
Total: ₱2,137.50
For a detailed guide and itinerary, you may read my blog, One day in Phnom Penh, Cambodia: Unveiling the past!
Day 3: Ho Chi Minh, Vietnam
Welcome to one of Asia's most compelling cities! Ho Chi Minh offers endless exploration opportunities and one day won't be enough to cover everything in the city.
This was our third destination for our Indochina tour and we only had one day to explore the place. I swear it wasn't enough and we will surely plan for a Vietnam tour again soon. Nevertheless, we still had so much fun and our adventures here were unforgettable indeed!
From noodle breakfasts to art tours and tunnel visits, here's how we made the most of one day in this city formerly known as Saigon.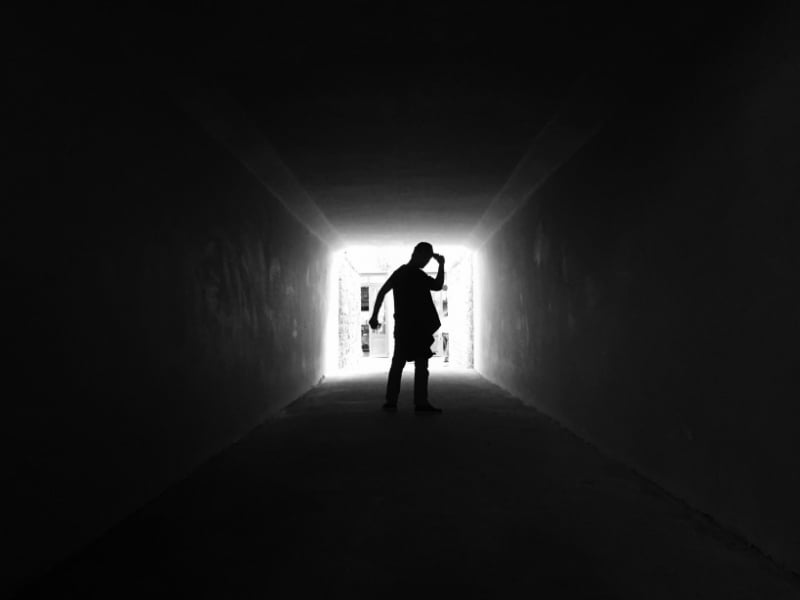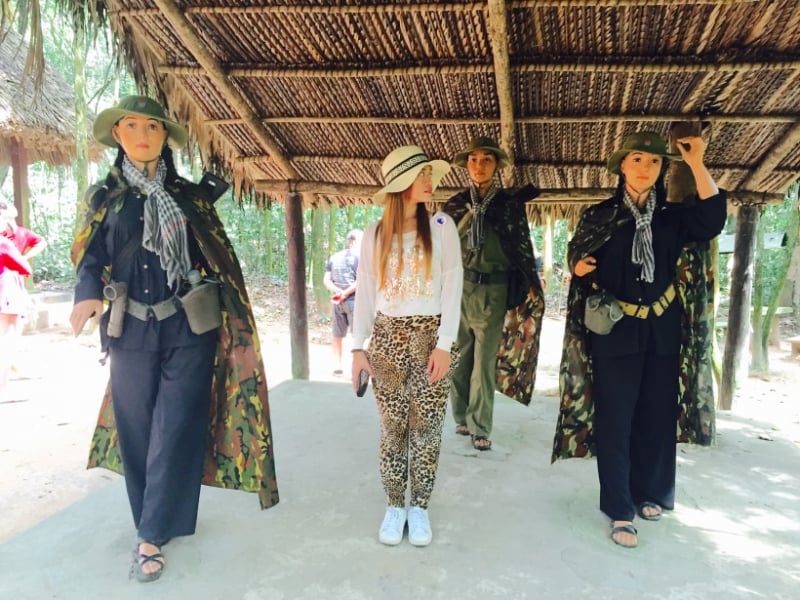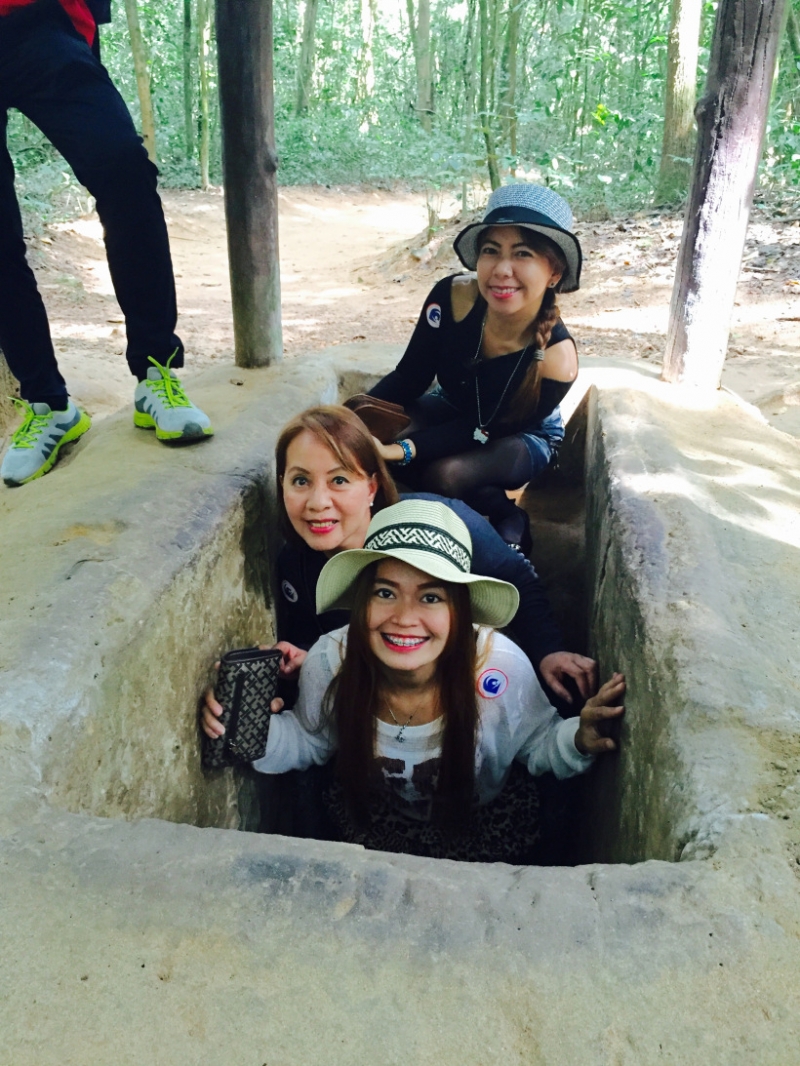 Expenses
Transportation: ₱737.50
Hotel: ₱299
Tickets/entrance fees: ₱400
Food: ₱350
Total: ₱1,786.50
For a detailed guide and itinerary, you may visit my blog, One day in Ho Chi Minh, Vietnam: an endless exploration!
Day 4: Bangkok, Thailand
As one of Asia's most travelled and best-valued destinations, Bangkok offers a plethora of experiences. Truly, this city is one of the busiest cities I've been to. The traffic buzzes everywhere, the city streets are always teeming with life and vendors are scattered all over the place.
Thailand was our last stop for our Indochina trip. During our visit here, the country was still mourning the death of the late King Bhumibol Adulyadej. At the airport, people were giving out black tribute ribbons to be worn as a sign of respect. Thais had been wearing dark colours while travellers were asked not to wear flamboyant colours when in public places.
Most of the tourist spots were closed for operation including Bangkok's Wat Phra Kaeo (Temple of the Emerald Buddha) and the Grand Palace, as they were the venue of the royal funeral rites. The roads were blocked, route guides were posted everywhere and people were asked to walk to reach the main entrance of these temples. Luckily, we were still allowed to enter since it was opened for public viewing for free.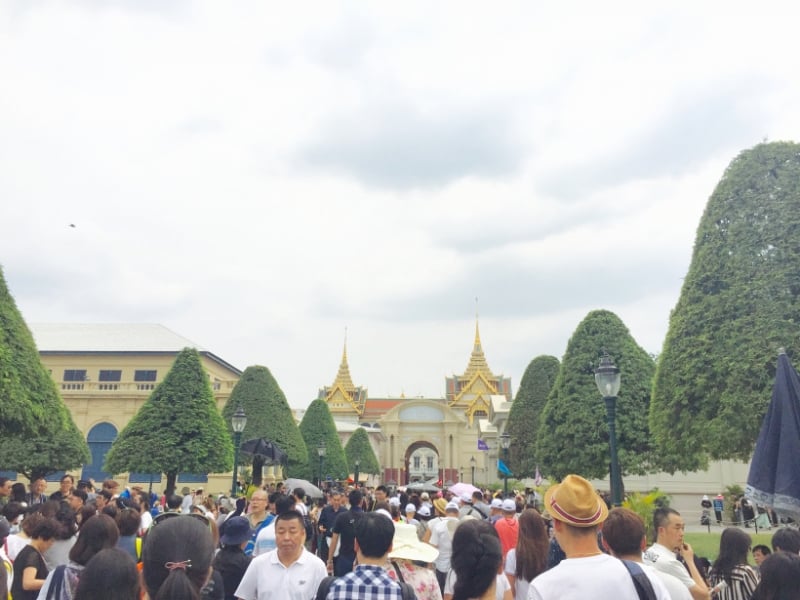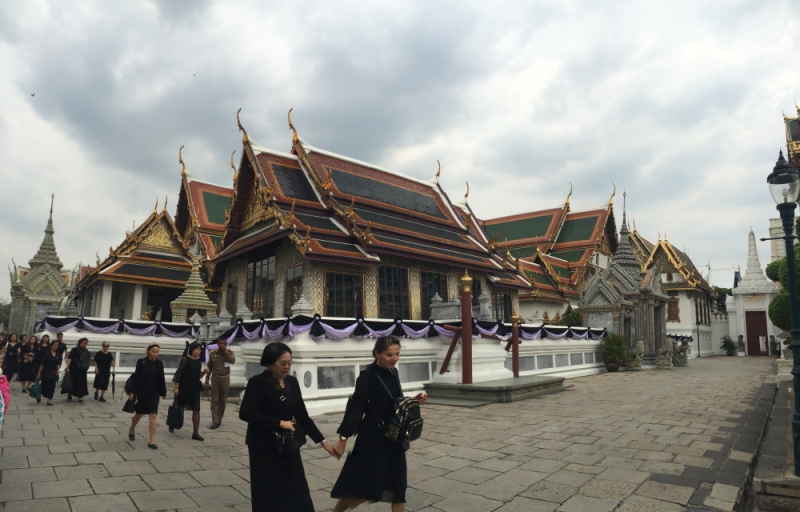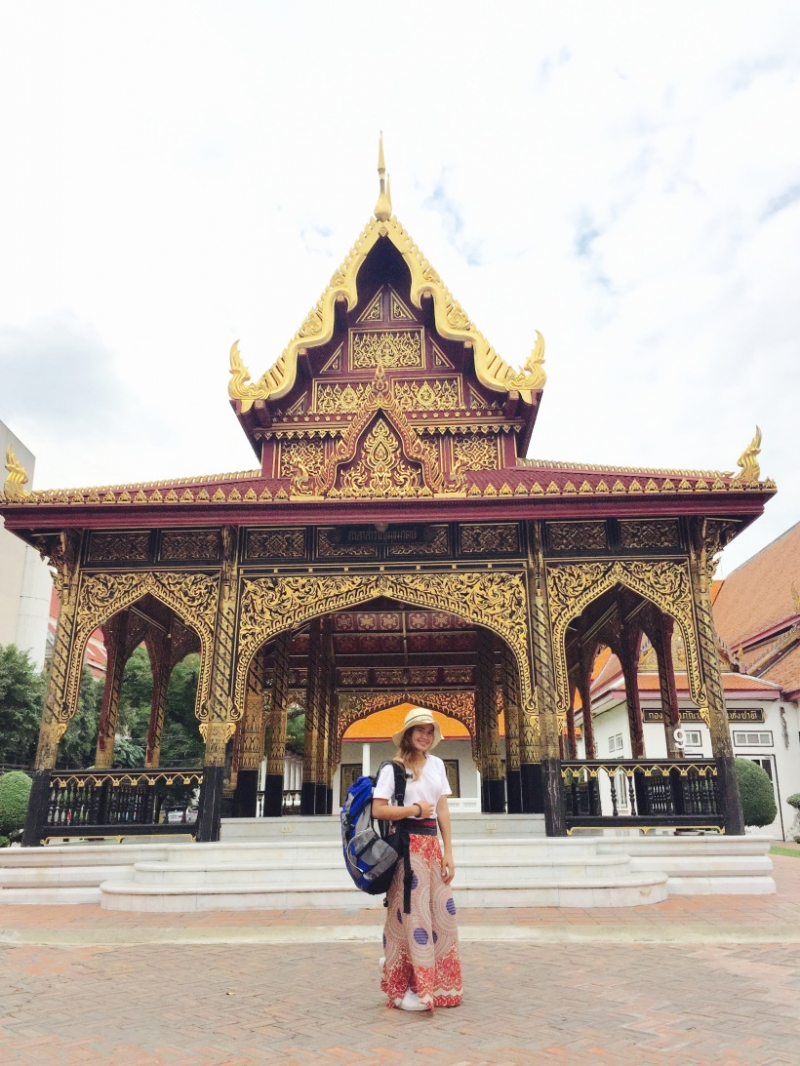 Expenses
Transportation and airfare: ₱2,777.78
Hotel bag drop: ₱28.40
Food: ₱300
Total: ₱3,106.18
For a detailed guide and itinerary, you may visit my blog, Bangkok, Thailand – A one of a kind experience!
Day 5: Vientiane, Laos
This was our final destination and it was again full of temple run adventures! Our first plan was to visit Vang Vieng, Laos and try their river tubing. But due to time limitations as we only had one day to allotted for the country and since Vang Vieng is four hours away from Vientiane, we decided to just explore the latter.
Vientiane, despite being the largest city in the country, still maintains its spectacular beauty. It is laid-back and uncrowded. Roaming around is relatively simple as it can be done either on foot or by hiring a car for a day tour just like what we did. The temples and other sites are just close to each other and everything just blends with the rural foundations of the city.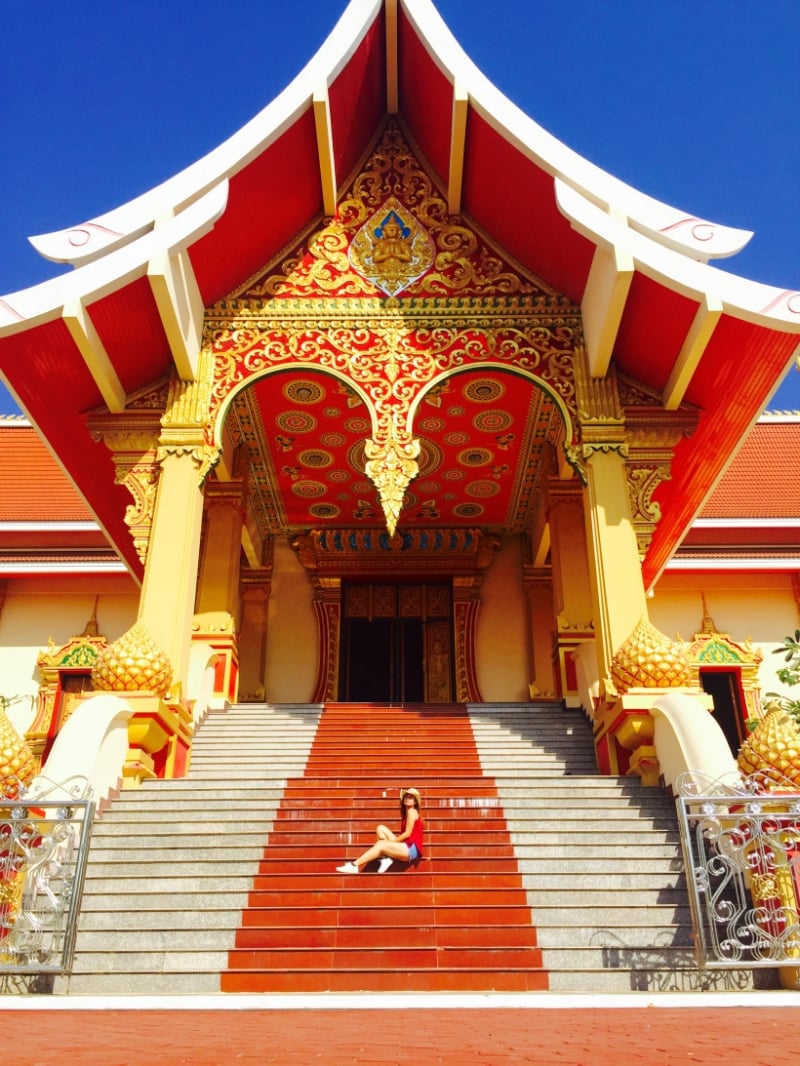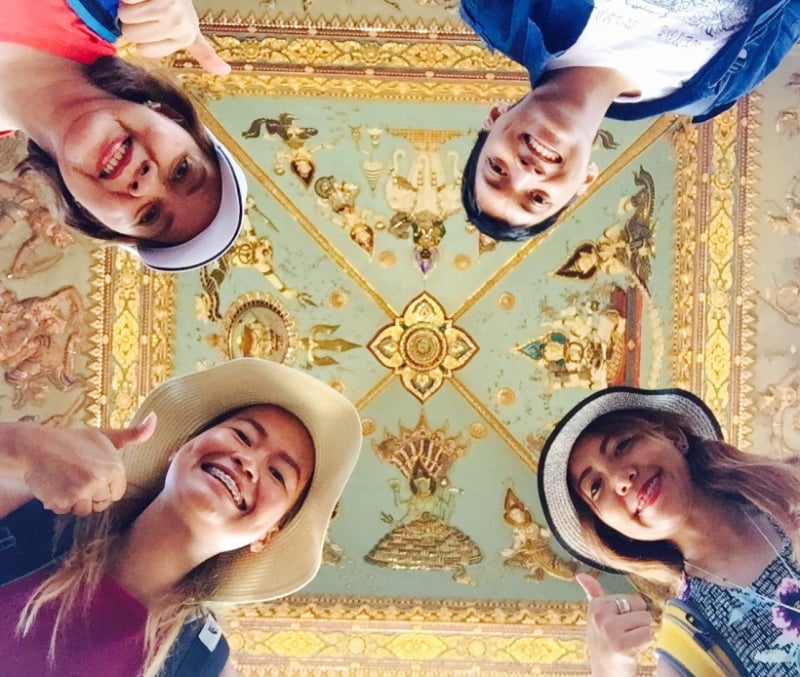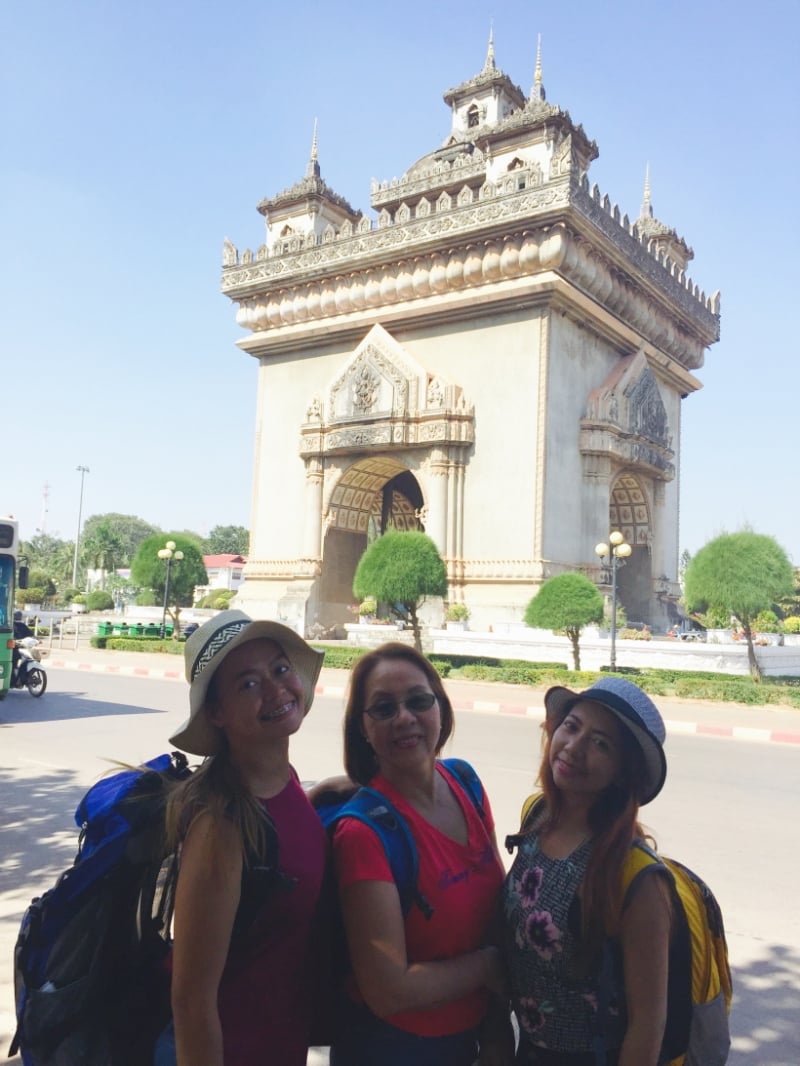 Expenses
Transportation and airfare: ₱2,366.46
Food: ₱250
Total: ₱2,616.46
Day 6: Bangkok, Thailand
Finally, we're back in Thailand for our flight back to Manila.
Summary of expenses
Manila: ₱1,843.25
Siem Reap, Cambodia: ₱2,230
Phnom Penh, Cambodia: ₱2,137.50
Ho Chi Minh, Vietnam: ₱1,786.50
Bangkok, Thailand: ₱3,106.18 + ₱280.25
Vientiane, Laos: ₱2,616.46
Total: ₱14,000.14
Here is our complete itinerary for the whole trip.
I hope you found this helpful. If you have any questions, just leave us your messages and we will do our best to answer them.
Also read: Backpacking Southeast Asia: 10 Days in 5 Countries with Just ₱25k (All-In)