Did you know that the Philippines is one of the world's biggest contributors to ocean plastic waste? According to the World Bank, a staggering 2.7 million tons of plastic waste are generated in the country every year. And an estimated 20% ends up in our oceans from coastal areas. On top of that, plastic consumption and plastic recycling challenges have been amplified by the COVID-19 pandemic.
So, what can we do to help counter the scourge of single-use plastic? Well, ditching the takeaway coffee cups and water bottles is always a good start! Make the switch and invest in quality reusable drinkware and other eco-friendly plastic alternatives. That said, other than Kleen Kanteen and Hydro Flask, here are some of the best insulated tumblers in the Philippines that'll help you ditch the plastic and save Mother Earth! 
Also read: 10 Best Reusable Bottles and Tumblers for Your Travels
Best brands in the Philippines that sell reusable 1L insulated tumblers
1. AquaFlask
AquaFlask's proudest boast is its double-wall insulation technology that keeps water cold for 24 hours and hot water for eight hours. Their insulated tumblers and flasks are designed to be extra durable and functional. With dozens of designs and colours to choose from, you get to decide which one best suits your lifestyle and needs. On top of that, all customers are granted a limited one year warranty with their purchase!
Where to buy: Shopee, Lazada, Aquaflask Official Website 
2. Bukas Flask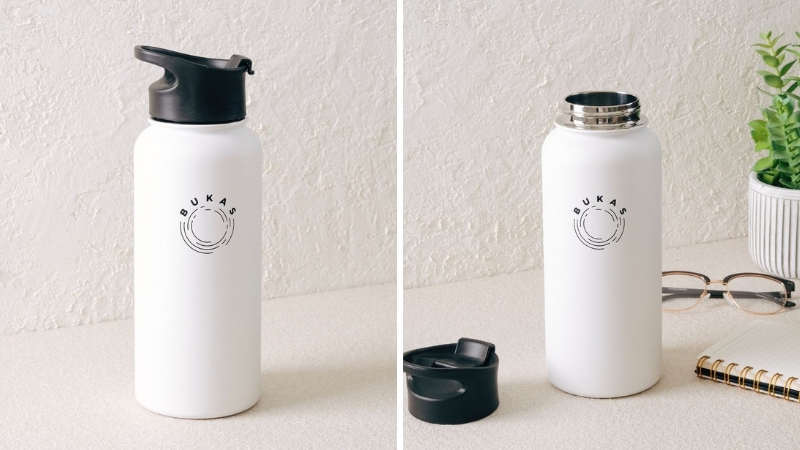 By offering reusable drinkware, Bukas Flask hopes to empower local communities to become more sustainable. Apart from that, the brand supports homegrown talents by advocating for education. This led them to partner up with Yellow Boat of Hope Foundation, a non-profit organisation whose mission is to make education more accessible to children.  For every Bukas Flask tumbler sold, a donation worth ₱50 will go to the Bukas Scholarship Fund. 
Quit single-use plastic, keep your drinks ice-cold, and contribute to nation-building with "the flask that matters!"
3. Hydr8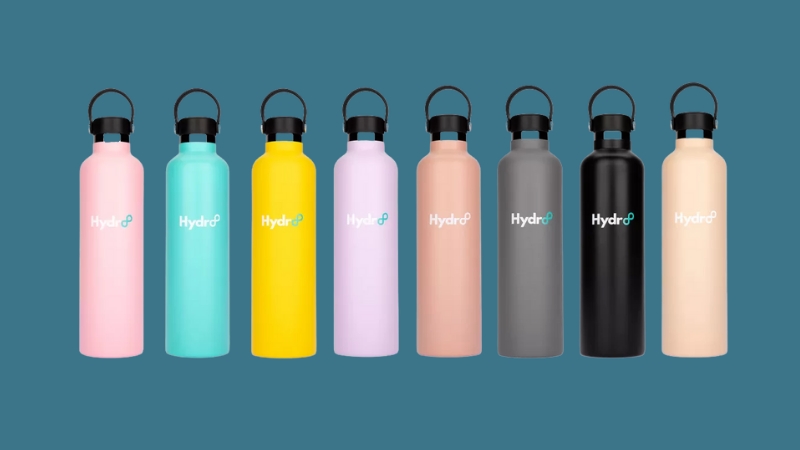 Hydr8 offers a wide range of reusable tumblers and drinkware accessories to fit your style and personality. Guaranteeing quality and durability, their bottles are made with 18/8 food-grade stainless steel and are powder-coated for maximum protection from scratches. Its double-wall vacuum insulation technology keeps refreshments cold for 24 hours and hot for 12 hours. Ultimately, Hydr8 tumblers are simply perfect for everyday use! 
4. Iceberg Insulated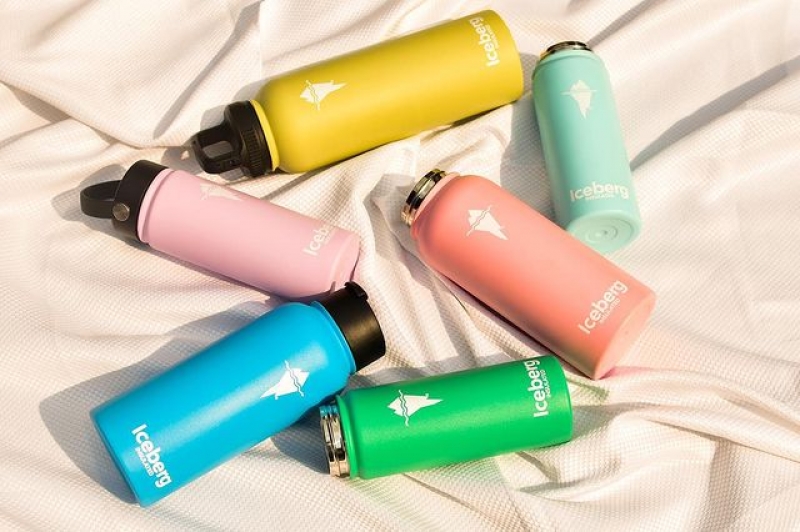 Breaking a sweat at the gym? Getting your much-needed morning coffee fix? Iceberg Insulated has got you covered! Their vacuum insulated bottles come in bold colours and pretty pastel hues to choose from. But beyond the aesthetic, their bottles' most notable feature would be their powder coating. This is to ensure the bottle has a sweat-free exterior that's easy to grip. 
Want to make your tumbler extra durable and unique? Take your pick among their accessories, such as silicone rubber boots, caps, and handles. Personalise your Iceberg Insulated drinkware and make it your own! 
Where to buy: Shopee, Lazada, Iceberg Insulated Official Website  
Also read: Where to Buy Cute Mugs and Coffee Cups in Manila 
5. Kool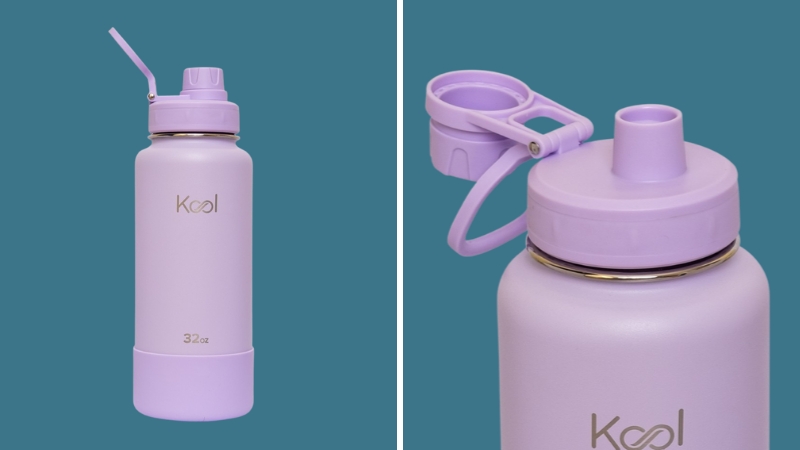 Kool promotes sustainability by combining function and fashion to make their tumblers. By offering stylish and useful alternatives to plastic bottles, they're also encouraging more people to be more eco-conscious!

Enjoy hot and cold beverages within arm's reach, anytime and anywhere! Kool's double-wall insulation technology keeps hot drinks hot and cold drinks cold for hours. Its condensation-preventing exterior improves grip and protects your hands against the heat. Plus, the leak-proof spout lid comes in handy, so you don't have to worry about spillage!
Where to buy: Shopee, Lazada, Kool Official Website 
Also read: 5 Helpful and Practical Tips to Beat the Summer Heat 
6. Hydrofied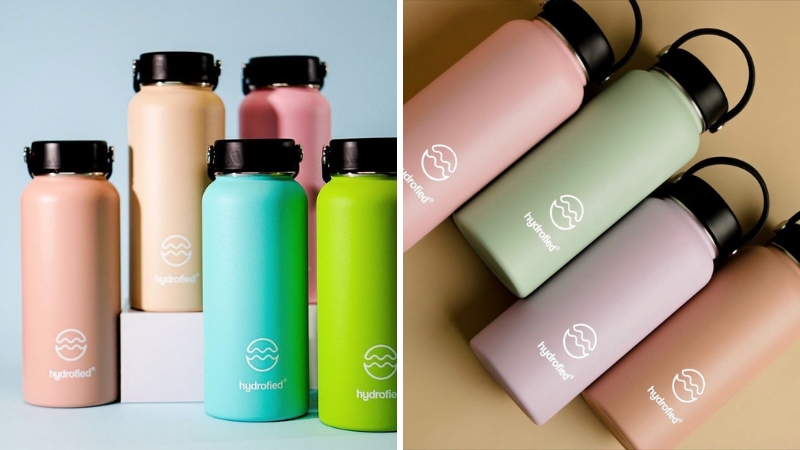 Develop better hydration habits by keeping a water bottle beside you throughout the day! Hyrdrofied's trendy and customisable drinkware helps you stay cool from the summer heat. It also keeps your drinks ice-cold for up to 24 hours and hot drinks steaming-hot for up to 12 hours. 
For those who love personalising their tumblers, they also offer an array of accessories. Take your pick among silicone tumbler boots, paracord handles, and wide-mouth straw lids. An added bonus: You can ask their in-house artists to make custom designs for your tumbler when you make your order! 
Where to buy: Hydrofied Official Instagram Page 
7. Sinag PH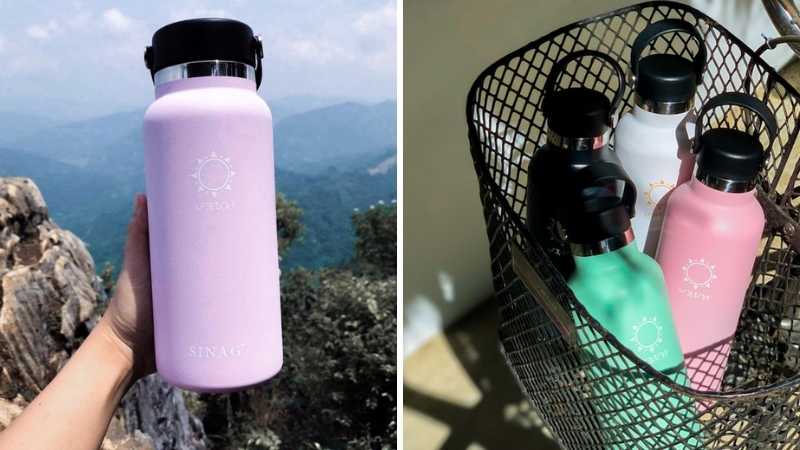 The Sinag insulated bottle is another great way to encourage yourself to drink more water and carry your Pinoy pride wherever you go! The tumbler bears a minimalist Filipino-inspired design with baybayin detailing. You don't often see insulated tumblers in such fashion, which easily makes this one stand out!
Of course, Sinag doesn't just design their bottles for the appeal! Their insulated bottles are also made with food-grade and BPA-free materials to guarantee quality and usability. And just like other tumblers made with double-wall insulation technology, you can keep your drinks cold for 24 hours! 
Where to buy: Shopee 
8. Acqua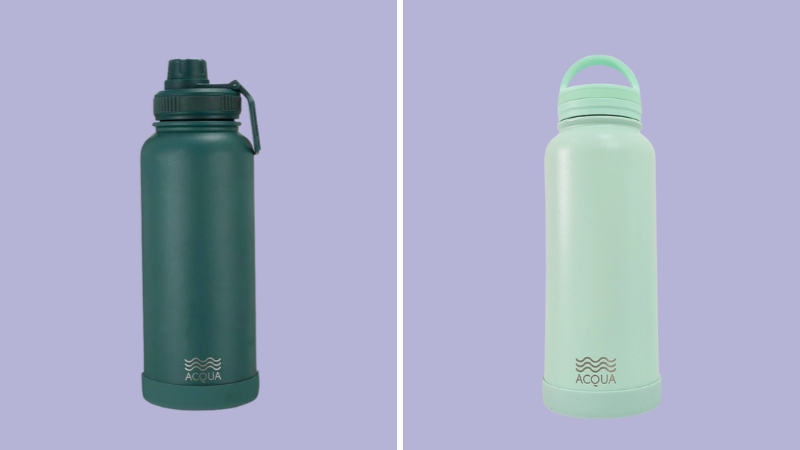 Milk tea tumblers, double-wall flasks, insulated coffee mugs; you name it, Acqua has it! The brand was founded by like-minded friends who share a similar passion for hydration. This inspired them to create beautiful, sustainable, yet affordable drinking vessels for people to incorporate into their lifestyle.

Acqua's insulated tumblers are made with durable food-grade, BPA-free stainless steel. A notable feature worthy of your attention might be its wide mouth opening, which makes it easier to clean. Plus, its powder-coated exterior helps prevent scratches.
Where to buy: Shopee, Lazada, Acqua Lifestyle Store Official Website 
9. Hydrofresh from Surplus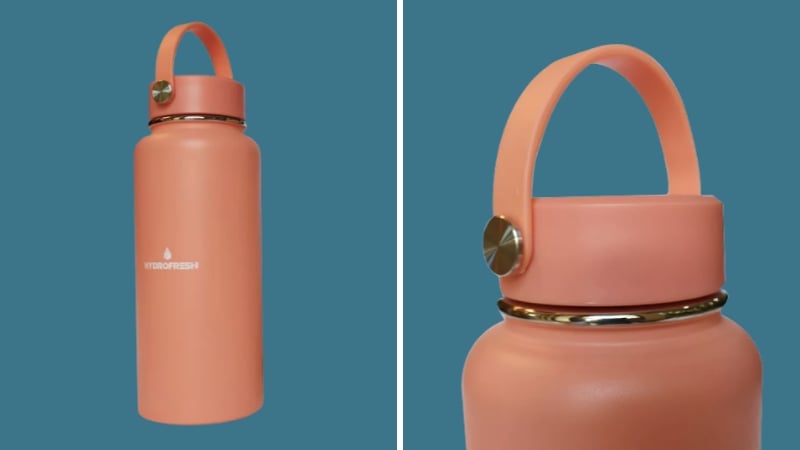 Who says quality tumblers have to be expensive? For budget-friendly scavengers, the Hydrofresh tumbler from Surplus is the way to go! It's simple, sleek, and cheaper than most insulated vessels on our list. Despite being half the price of most insulated tumblers in the Philippines, Hydrofresh does not sacrifice durability.
Key features of the Hydrofresh bottle include vacuum insulation, stainless steel material, and a wide mouth opening for a satisfactory drinking experience!

Where to buy: Lazada 
10. Youth Sports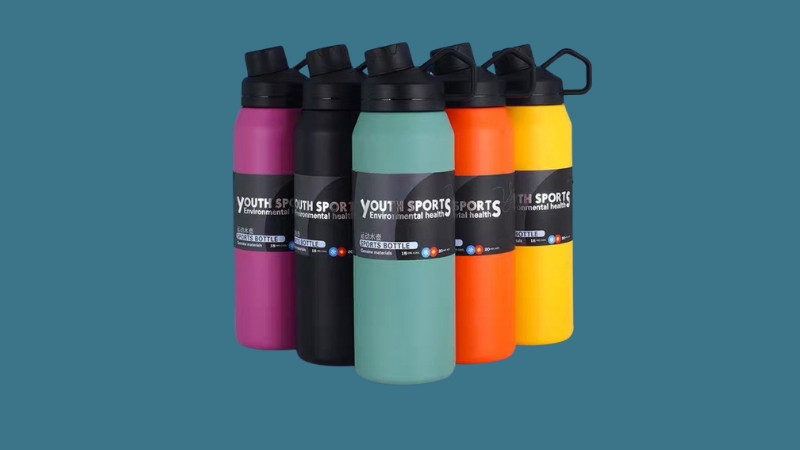 Last but not least on our list is the Youth Sports leak-proof, vacuum insulated water bottle. This particular one is another cheap yet quality alternative that should be under your radar! It's perfect for at-home use, outdoors, and sports, provided that the bottle is designed with maximum temperature retention. In addition, its standard size fits most cup holders, bike cages, and kid's bags, making it easy to lug around! What's not to love?

Also read: Pinoy Traveller Must-Haves: 16 Eco-Friendly Travel Items
Tons of brands carry all sorts of insulated tumblers in the Philippines, and we bet you're excited to pick out the perfect one for you. By reducing single-use plastic consumption, you're already contributing to waste management in your own simple way. While there is still an urgent need for more radical changes, let's continue to partake in a culture of sustainability to help save our waters!

---
This article contains affiliate links. When you make purchases through these links, we may earn a small commission at no additional cost to you.